We test and review fitness products based on an independent, multi-point methodology. If you use our links to purchase something, we may earn a commission. Read our disclosures.
I'm a big fan of most things hybrid, whether that be cars, cooking, or home gym equipment. I mean, don't we all get excited when we see "Two for the price of one?" That said, there's a fine balancing act that any hybrid needs to achieve if they don't want to fall short of people's expectations.
In this ProForm Carbon HIIT H10 review, I'll let you know if this hybrid elliptical and stepper machine does a good job of delivering the best of two worlds, or if it's an experiment gone wrong. And as always, we'll let you know whether it deserves a spot in your home gym.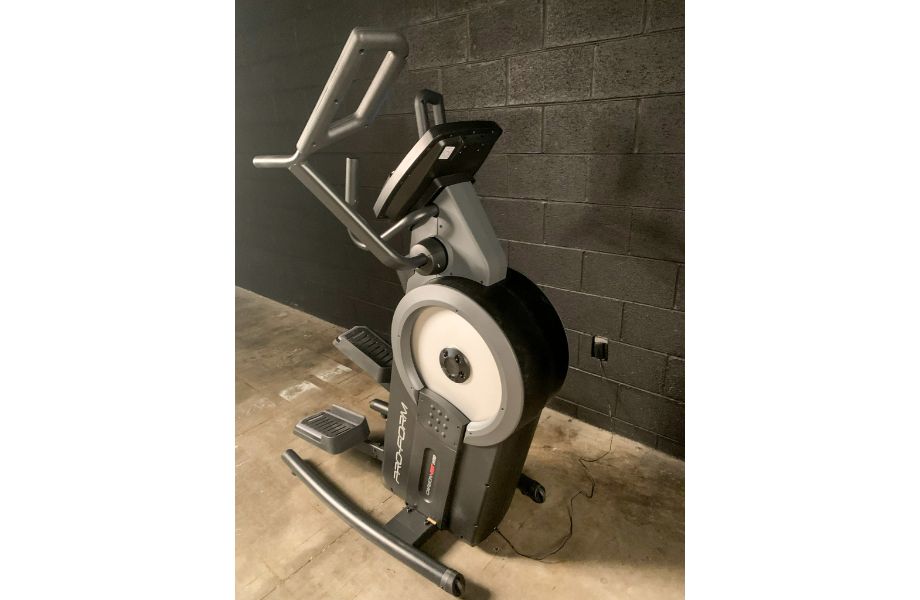 Taking Home Gym Equipment Reviews to New Heights
The internet is filled with influencers trying to sell you on things they don't actually believe in or try for themselves. You'll find none of that here. Not only are we passionate about finding the best cardio machines on the market today, but we've personally tested most of them (and thoroughly researched all) to give you the most accurate and honest reviews.
Our testers include certified personal trainers, competitive Olympic weightlifters, and CrossFit L-1 coaches, so we know how to spot quality exercise machines.
ProForm Carbon HIIT H10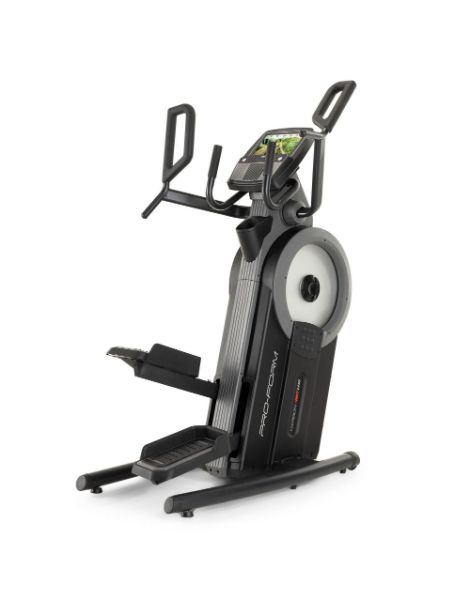 ProForm Carbon HIIT H10 Elliptical
If you are looking for a low-impact but high-intensity workout or you are short on time or space, the ProForm Carbon HIIT H10 may be for you. This compact hybrid trainer combines a vertical and horizontal footpath with multi-functional handlebars to create workouts that activate both upper and lower body muscle groups.The H10 comes equipped with over 50 workout programs (WiFi required) and is iFIT-enabled for those who enjoy immersive, trainer-led workouts. Included in your purchase is a free 30-day family membership which provides access to a library of workouts, global scenery, and a community for motivation which can be enjoyed on the 10-inch smart HD touchscreen monitor. A paid subscription is required beyond the 30 days.24 levels of silent magnetic resistance and the inertia-enhanced flywheel ensure that you won't disturb neighbors with noise from the H10. It also features a water bottle holder, dual 2-inch Bluetooth speakers, front-mounted transport wheels, oversized leveling feet for stability, a cooling fan, and oversized cushioned pedals for your comfort.While the H10 stomps out a compact footprint, it is a heavy machine and assembly is reportedly difficult. This is not a deal breaker but certainly worth noting.
A Quick Look at the ProForm Carbon HIIT H10
Look up in the sky! It's an elliptical. No, it's a stair stepper. No, it's the ProForm Carbon HIIT H10…alright, that last one doesn't roll off the tongue.
This machine combines the compactness of a stair climber, at 52 inches long and just shy of 30 inches wide, with the stride of an elliptical machine. What we mean by that is that unlike a traditional stepper, you have a vertical and horizontal stride (10 and five inches long, respectively) instead of just a vertical footpath.
It also comes equipped with multi-functional handlebars that help work the upper body, so you can get a full-body workout. Along with the iFIT programming you can access on the 10-inch HD touchscreen, the ProForm Carbon HIIT H10 elliptical comes with 50 built-in workouts (but you must be connected to WiFi to access them).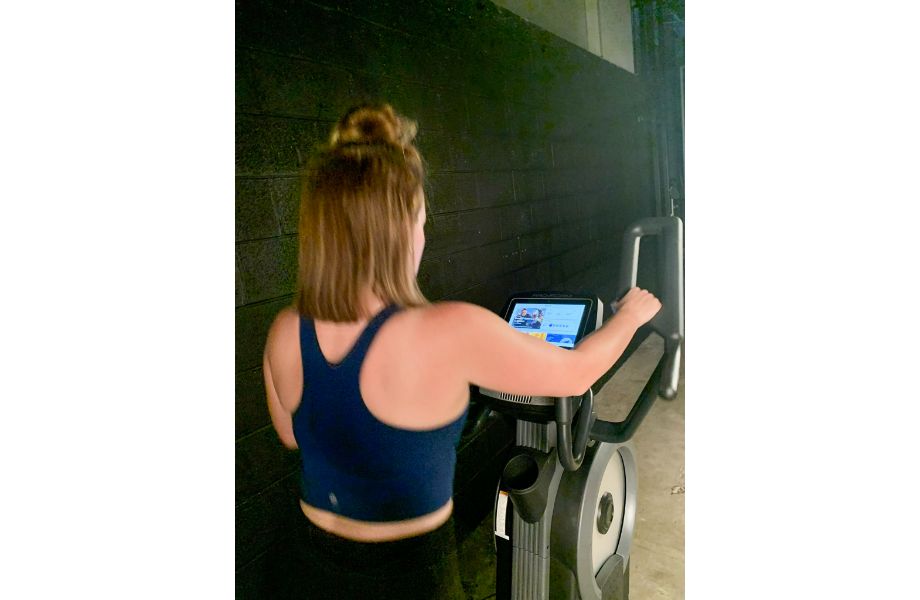 My Tips
Pros:
Comes with built-in workouts and iFIT programming
24 levels of silent magnetic resistance
Compact footprint
Multi-functional handlebars target upper-body muscles, turning this into a full-body workout machine
Cons:
Difficult assembly
Expensive, at $1,299
Weighs 225 pounds, and even though it has transport wheels it's still heavy
Is the ProForm Carbon HIIT H10 Worth It?
The ProForm Carbon HIIT H10 sells for $1,299—not a small amount of smackeroos to part with. Then again, there are some people who think paying millions of dollars for a .jpeg of money is a wise investment.
Now I'm not saying this elliptical-stepper machine is anything like an NFT, especially since it actually serves a purpose. It's just that some people may find it worthy of their money, and others might not.
Here's who I think might fall into those categories.
Great for:
Anyone who wants to do elliptical HIIT workouts
Those looking for compact exercise equipment
Home gym owners looking for a quiet cardio machine
Not recommended for:
People looking for a casual workout machine
Those who can't or don't want to move heavy machines around their home gym
Anyone looking for a dedicated elliptical machine or stair climber
ProForm Carbon HIIT H10 Specs
| | |
| --- | --- |
| Footprint | 52″ L x 29.25″ W x 66.7″ H |
| Weight | 225 lbs |
| Weight capacity | 325 lbs |
| Stride | 10" vertical, 5" horizontal |
| Workout programming | iFIT |
| Display | 10" smart HD touchscreen |
| Flywheel | 30 lbs |
| Resistance | 24 levels of silent magnetic resistance (SMR) |
| Handlebars | Fixed and moving handlebars with multiple grips |
| Pedals | Oversized cushion pedals |
| Conveniences | Fan, water bottle holder, leveling feet, transport wheels |
| Warranty | 10-year frame, 2-year parts, and 1-year labor warranty |
A Step-by-Step Look at the ProForm Carbon HIIT H10
The ProForm Carbon HIIT H10 is listed under ellipticals on ProForm's website, but expert product tester and Garage Gym Reviews editor Nicole Davis says it's more of a stepper that walks to its own beat.
Let me explain what I mean. With a traditional stair climber, sometimes called a stepper or stair-stepper, you have a vertical stride similar to…well, climbing a flight of stairs. With an elliptical, it's more like walking where you're slightly raising your feet but you're using forward momentum.
Both are low-impact cardio workouts (your feet aren't striking the ground like they do on a treadmill), but the elliptical is slightly lower impact because you're not raising your feet quite as high as you are on a stepper. With the stepper, you have less momentum to achieve the vertical climb.
The ProForm Carbon HIIT H10 combines the vertical and horizontal stride, but Nicole says the latter is hardly noticeable. "That five inches on the horizontal path doesn't feel like much of anything," she says.
With the vertical footpath, Nicole noticed the stride felt a little less challenging than on traditional steppers. "It's more of a fluid up-and-down motion, whereas regular steppers sometimes feel like you're truly climbing."
Nicole said the machine felt sturdy during her workouts.
Your lower-body muscle groups will certainly feel the burn on this machine, and your upper body will get a workout as well thanks to the multifunctional handlebars. There's fixed and moving handlebars with multiple grips, kind of like you'd see on any other elliptical machine, which is where you'll also find the heart rate monitor.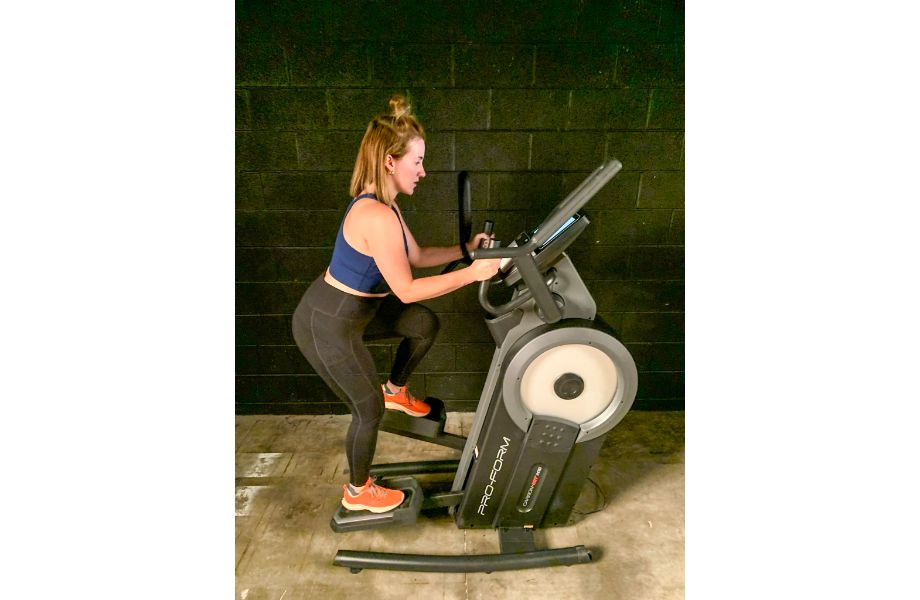 Resistance
The ProForm Carbon HIIT H10 has 24 resistance levels that utilizes silent magnetic resistance, and it truly lives up to that name. Nicole said there was actually more noise coming from the built-in fan than from the machine's 30-pound inertia-enhanced flywheel.
Display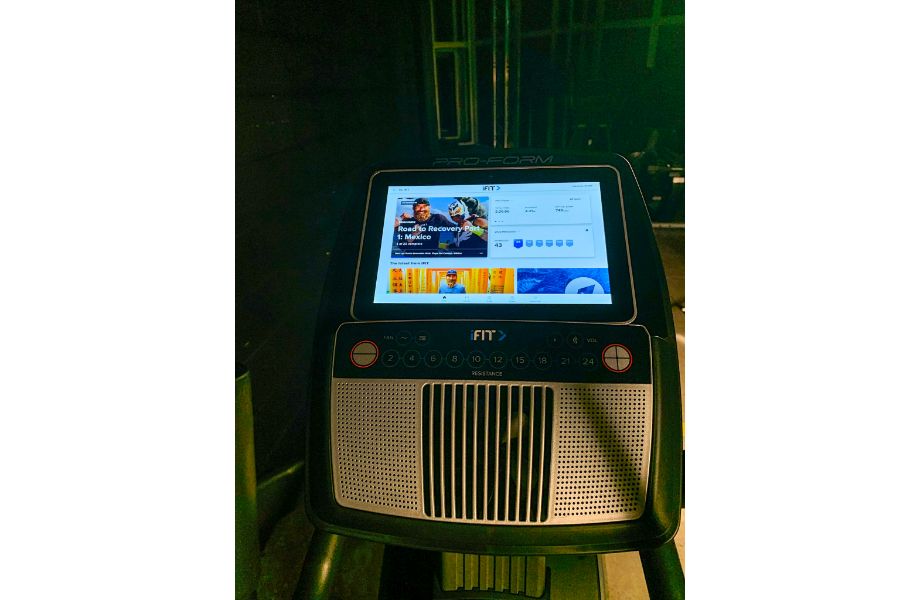 Normally we would say that a 10-inch screen is too small for an elliptical machine, especially one as pricey as the ProForm Carbon HIIT H10, but due to its compact footprint and the stride, you're much closer to the display than on a traditional elliptical.
Workouts and iFIT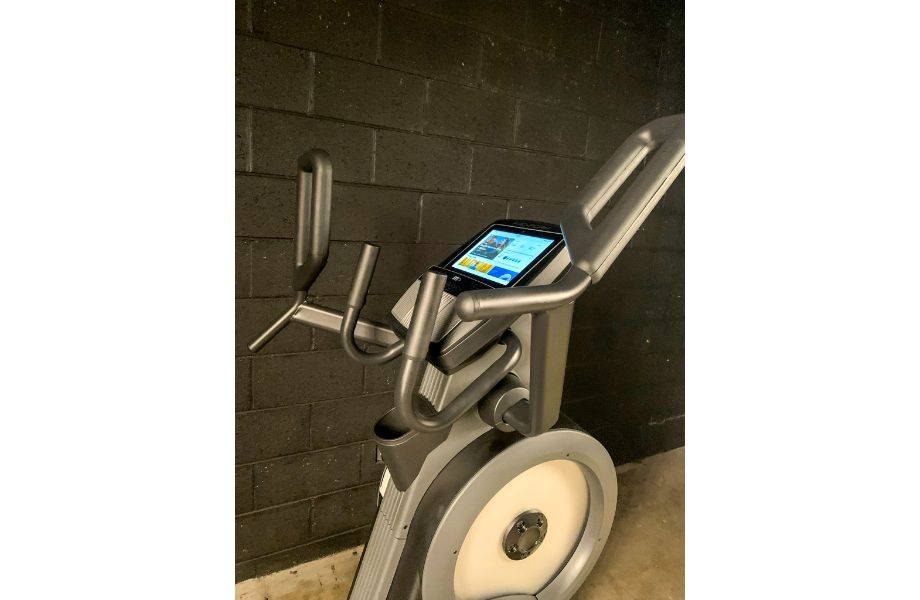 The ProForm Carbon HIIT H10 comes with dozens of built-in workouts, and if you couldn't guess from the machine's name, they're all high-intensity interval training circuits. For those who don't know, HIIT workouts involve short bursts of all-out cardiovascular activity followed by a brief rest period, which is then repeated until your workout is done.
If you're looking for a machine that has casual built-in workouts, this isn't it. The programs are designed to make you sweat.
For a more easy-going program, you can search the countless classes on iFIT to find one that works for you. They have live and on-demand classes based on fitness goals, music choices, and more.
Unlike many ProForm machines, you don't need an iFIT monthly subscription to access most of H10's features. However, if you decide to get this machine, it comes with a free 30-day iFIT family membership.
Conveniences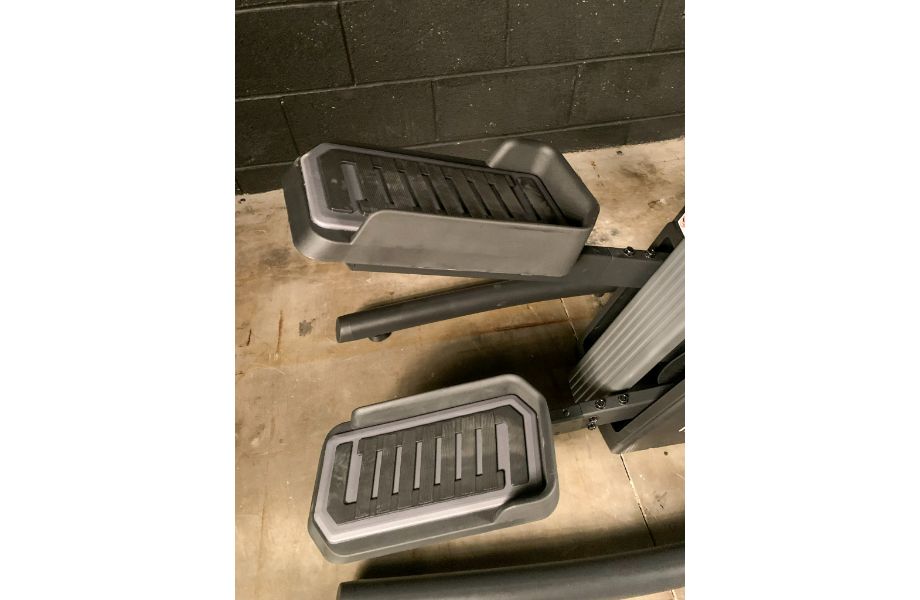 The ProForm Carbon HIIT H10 comes with oversized and cushioned pedals, a Coolaire workout fan (which Nicole said was pretty noisy), a water bottle holder, leveling feet, transport wheels, and Bluetooth and WiFi connectivity.
Durability and Construction
The ProForm Carbon HIIT H10 weighs a whopping 225 pounds and has a weight capacity of 325 pounds. It was incredibly stable during Nicole's testing, and while it does have a plastic shell, it's nothing to be too concerned about. We're sure it will last for many years.
Footprint and Portability
At 29.25 inches wide, 52 inches long, and 66.7 inches in height, the ProForm Carbon HIIT H10 is a fairly compact machine. You'll need at least 10 inches of head space and five inches in front of the machine to accommodate the stride, but that shouldn't be a problem for most home gym owners.
The machine weighs 225 pounds, and while there are front-mounted transport wheels, it's still not an easy piece of fitness equipment to move around. We'd recommend finding a space for this and leaving it there, if possible.
ProForm Carbon HIIT H10 vs Bowflex Max Trainer
Bowflex Max Trainer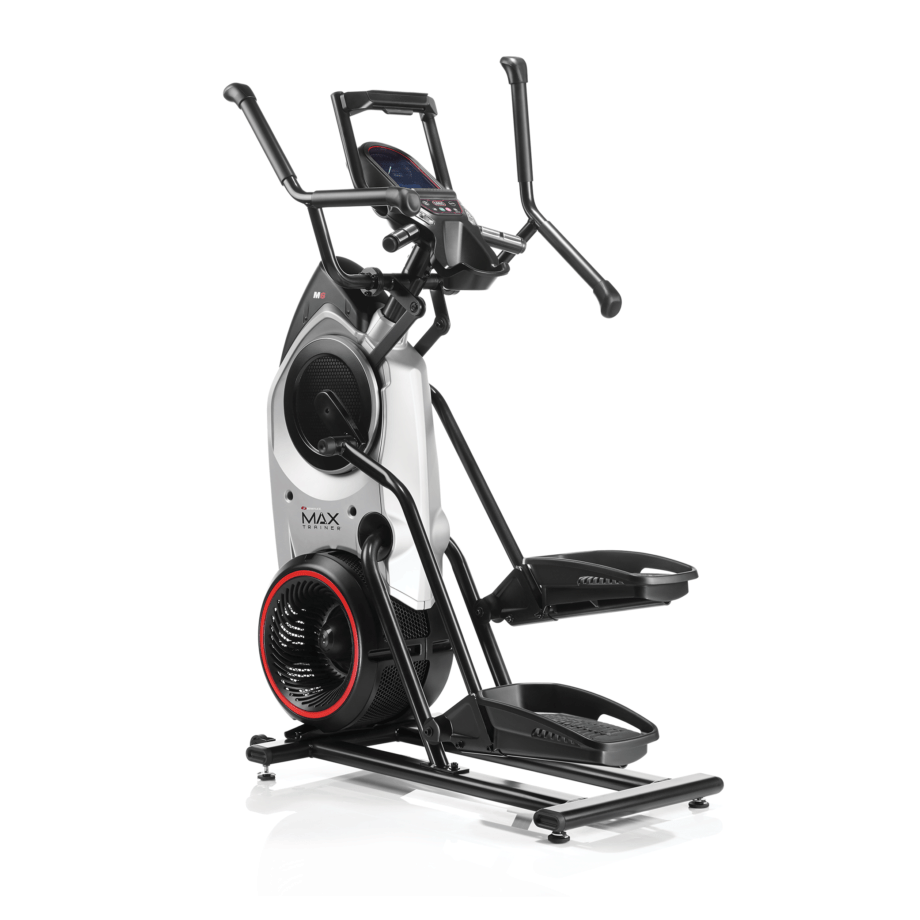 Bowflex Max Trainer M6
The Bowflex Max Trainer delivers full-throttle, high-intensity cardio that progressively gets harder as you get stronger. Challenge yourself with addictive, fast-paced, HIIT-style workouts that skyrocket your heart rate and propel you into the best shape of your life.
The Bowflex Max Trainer is just like the ProForm Carbon HIIT H10, in that it combines an elliptical and stepper into one machine. Really, the only difference is that Bowflex charges $1,499 for their machine, compared to the $1,299 for ProForm's.
Honestly, there's nothing that great about Bowflex's machine that makes it worth the extra cash. In fact, you're getting fewer resistance adjustments (only 16 digital resistance levels, compared to ProForm's 24 magnetic resistance levels), and a small LCD screen.
If your heart is set on an elliptical-stepper, go for ProForm.
Warranty, Financing, Returns
The ProForm Carbon HIIT H10 has a pretty standard 10-year frame warranty, two years of coverage for parts, and one year for labor.
You can apply for financing through ProForm's website at checkout, with plans starting at $34 per month with 0 percent APR.
You have 30 days from the date of receipt to return the ProForm Carbon HIIT H10 for a full refund, minus a $250 shipping fee and 10 percent restocking fee.
Ordering and Assembling the ProForm Carbon HIIT H10
One of the many complaints of the ProForm Carbon HIIT H10 is that it's difficult to assemble. This is one of those cases where we didn't put the machine together ourselves, but looking at the instructions on the BILT app (which has assembly instructions for thousands of pieces of gym equipment), we believe people when they say it's a doozy.
The BILT app recommends two people for assembly, and even with a partner, you're looking at a 34-step process that takes, on average, an hour and a half.
ProForm does offer expert assembly at checkout for an additional $199.99.
Customer Reviews
There are no published reviews for the ProForm Carbon HIIT H10 on ProForm's website, but the machine has a 2.8 average rating on Best Buy with only four reviews, two being positive and two being negative. The reviewers who left a bad rating said they were barely able to use the machine due to the difficult assembly process and missing parts.
The two people who liked it noted its compact footprint and grueling workout options.
Final Verdict of Our ProForm Carbon HIIT H10 Review
If you're looking for a stair-climber, the ProForm Carbon HIIT H10 is a great machine we'd recommend. The footpath feels smooth, even better than most steppers, and there's a wide option of workouts thanks to the built-in programs and iFIT capabilities.
If you're looking for an elliptical trainer, we'd recommend something like the NordicTrack AirGlide 14i, which is a dedicated elliptical. The horizontal footpath was barely noticeable on the HIIT H10. 
Some other important points:
Don't buy this machine if you can't, or don't want to, move bulky equipment.
The $1,299 price point is expensive, but there are financing options.
This is one of the best pieces of compact exercise equipment.
24 levels of resistance is pretty good for an elliptical.
ProForm Carbon HIIT H10 Rating
ProForm Carbon HIIT H10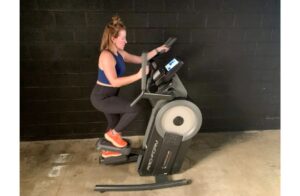 Step right into our ProForm Carbon HIIT H10 review to see if this elliptical-stepper hybrid is right for you.
Product Brand: ProForm
Product Currency: USD
Product Price: 1299.00
Product In-Stock: InStock
ProForm Carbon HIIT H10 FAQs
Does ProForm work without iFIT?
All ProForm machines work without iFIT, but you may not get your full money's worth out of them without a monthly iFIT membership. The ProForm Carbon HIIT H10 is not one of those machines, thanks to the dozens of built-in workout programs.
What muscles does the ProForm HIIT trainer work?
The ProForm HIIT trainer primarily works your lower-body muscles, but the multifunctional handlebars help to create an upper-body workout as well. In other words, it's a full-body workout machine.
How heavy is the ProForm HIIT trainer?
The ProForm Carbon HIIT H10 weighs 225 pounds, but other models like the Pro HIIT H14 vary in weight.