We test and review fitness products based on an independent, multi-point methodology. If you use our links to purchase something, we may earn a commission. Read our disclosures.
For those who have never heard of a "pump," you probably have your headphones permanently glued on when you go to the gym because it's a ubiquitous topic in the world of bodybuilding and fitness fanatics. For the uninitiated, a "pump" can be defined as a temporary surge in muscle size as a result of an increase in blood flow to the muscles that happens after an intense workout.
Bodybuilding competitors chase it to make them look bigger and weightlifters in general crave it just for the simple fact it makes you feel awesome. Science is even beginning to debunk the claim that a pump has no lasting benefits outside of the temporary aesthetics and an ego boost as we are finding it can actually lead to more muscle gain1.
As a dietitian, I will always recommend prioritizing foods like simple carbs and timing them correctly for better nutrition. However, if you're already adopting a pretty healthy sports nutrition approach, where does pre-workout come in? The best pre-workout supplements are often taken for that extra energy boost and bump in motivation to make the most of your workout. However, many also stimulate better blood flow which, in turn, means a bigger pump.
So, here are the best pump pre-workout supplements on the market that are known for giving you just that, according to our criteria. As a final note, please remember NOT to try dry scooping pre-workout.
Medical disclaimer: This article is intended for educational and informational purposes only. It is not intended as a substitute for medical advice. For health advice, contact a licensed healthcare provider.
Best Pump Pre-Workout
Best Pump Pre-Workout Overall: 4 Gauge
Good for: People looking for a potent pre-workout that's not too sweet
This pre-workout supplement comes in a container that looks like a literal shell casing; of course it's going to be at the top of our list for being the best overall pre-workout for a killer pump! Nicole Davis, GGR senior editor, tried this product, known for being one of the strongest pre-workouts around. "The effects of this are legit—I felt a pump for sure, and I only take about half the recommended dosage!" she said. "I wasn't a huge fan of the flavor, but if you're someone who cringes at overly sweet drinks, you'd probably like this."
The 4 Gauge pre-workout also contains creatine2 which has not only been thoroughly researched in its ability to help with muscle gain, but pulls water into the muscles. It's a phenomenon called "creatine bloating" and is most pronounced in the first few days of taking creatine. A 2016 study3 found that athletes reported a weight gain of 2-3 pounds after taking creatine, with most of this being water weight.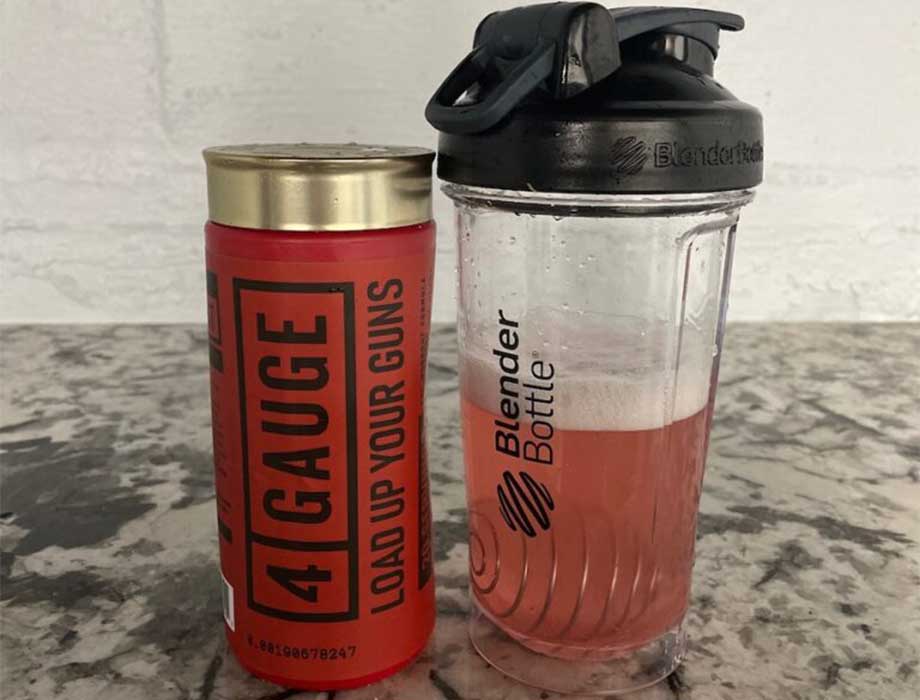 What I'm getting at is that the tremendous pump 4 Gauge gives you by increasing blood flow is likely even more pronounced with the 1,000 milligrams of creatine monohydrate per serving. You'll also get a solid workout along with your pump thanks to other ingredients like caffeine and l-citrulline.
RELATED: Best Creatine
| | |
| --- | --- |
| Price Per Serving | $2.25 |
| Flavors | Frozen Lemonade, Fruit Blast |
| Contains Caffeine? | Yes |
Best Natural Pump Pre-Workout: Legion Pulse
Good for: Individuals who want a tasty pre-workout without all of the additives
Legion is one of my favorite sports nutrition supplements as they have some of the best tasting, high-quality, and transparently formulated products out there. Their supplements are all-natural and known for their super fun flavors that are made with no artificial sweeteners. As far as their pre-workout supplements, they offer two types of Pulse: The one we're going to talk about here and a stimulant-free pre-workout.
Our GGR team member Nicole tried Pulse and has her own thoughts about it: "I have Blue Raspberry. It's sweet, but a touch bitter, and you taste the sweetener afterwards. It's grown on me the more I've used it, though. I take a half a dose and it's just what I need to power through a workout without some of those yucky pre-workout side effects."
Pulse contains 350 milligrams of caffeine, which is about how much you'd find in a typical cup of coffee. Additionally, it contains l-theanine, an amino acid typically found in green and black tea.
L-Theanine is known to help promote enhanced blood flow4 which can certainly help with achieving a pump. However, it's also been found that l-theanine, when combined with caffeine, can help improve mood and mental focus5, so you feel good about working out, which can translate to improved exercise performance.
Check out our full Legion Pulse review for more information.
| | |
| --- | --- |
| Price Per Serving | $1.80 |
| Flavors | Mojito, Fruit Punch, Apple Cider, Arctic Blast, Frosted Cranberry, Peach Ring, Strawberry Kiwi, Blood Orange, Blue Raspberry, Blueberry Lemonade, Cherry Limeade, Grape, Green Apple, Pink Lemonade, Sour Candy, Strawberry Margarita, Tropical Punch, Watermelon |
| Contains Caffeine? | Yes |
Best Stim-Free Pump Pre-Workout: Transparent Labs PUMP
Good for: People who are sensitive to caffeine and want to know exactly what is in their pre-workout
As if Transparent Labs could make it easier on us—"Pump" is literally right in the name! Though it is a non-stim pre-workout, meaning it's made with no stimulants, it does not skimp on the ingredients that dilate the blood vessels to help increase blood flow.
RELATED: Best Stim-Free Pre-Workout
Transparent Labs PUMP contains L-citrulline, NO3-T® arginine nitrate, BetaPure™ betaine anhydrous among other common pre-workout ingredients. I particularly want to point out arginine nitrate, which science has suggested can help keep nitric oxide levels high, and its influence on blood flow7.
PUMP also contains 50 milligrams of AstraGinTM, a compound that may enable the body to absorb other ingredients in PUMP through selective enhancement of gastrointestinal permeability and modulation of gut microbes. Basically, science has suggested that AstraGinTM can help get your gut more ready to fully digest your pre-workout so all of those performance-enhancing, pump-giving goodies get into your system efficiently7.
Transparent Labs PUMP shows that even a stim-free pre-workout can be just as effective, especially if getting a good muscle pump is your goal. So, if you're very sensitive to caffeine or are just cautious about how much you take in, Transparent Labs PUMP is a safe bet.
RELATED: Transparent Labs BULK Pre-Workout Review
| | |
| --- | --- |
| Price Per Serving | $1.67 |
| Flavors | Blue Raspberry, Strawberry Lemonade |
| Contains Caffeine? | No |
Best-Tasting Pump Pre-Workout: Huge Supplements Pump Serum
Good for: People who care more about flavor and pump than an energy boost from their pre-workout
Huge Supplements Pump Serum is a caffeine-free pre-workout that seems almost formulated just to give you a pump and taste good while doing it. This pre-workout contains GlycerPump which is a form of glycerol, a compound that studies have established8 as being effective at increasing blood volume which can help improve exercise performance and definitely give you a muscle pump, hence the name.
Just be careful if you drug test for performance enhancing drugs. The same GlycerPump that makes you look huge also has properties that are banned by the World Anti-Doping Agency (WADA) which prohibits supplements that expand blood volume.
If you're wondering about the flavor, we here at GGR quite enjoyed it. However, you need to make sure you have just the right water-to-supplement ratio if you're sensitive to sweetness, as Jacob Penner, a USA Weightlifting Level 1 Coach and member of the GGR expert panel will tell you:
"I tried Cherry Berry and liked it—it isn't incredibly tart, but it is definitely sweet. It does taste like cherry with berries," he said. "The instructions say to mix it with 8 to 12 ounces of water; that made the taste too concentrated, so I mixed it with about 20 ounces and it was better. You definitely feel a pump, as well—gets the blood flowing. Doesn't have that high-energy effect, of course, because it's stim-free."
| | |
| --- | --- |
| Price Per Serving | $1.37 |
| Flavors | Jungle Juice, Strawberry Mojito, Cherry Berry, Island Dream |
| Contains Caffeine? | No |
Best All-in-One Pump Pre-Workout: Kaged Pre-Kaged Elite
Good for: People who take multiple supplements and are looking to condense
Kaged Pre-Kaged Elite contains a whopping 20 ingredients all included to help give you some seriously intense workouts. That's why we've crowned it the best all-in-one pre-workout, as it contains compounds that most people would take as separate supplements including beta-alanine, two types of creatine, hydrating coconut water, electrolytes, and B vitamins.
That's probably why Kaged says its pre-workout supplement is "not for the faint of heart." Due to the number of ingredients they managed to include, the scoop is practically 35 grams! The main ingredient, though, is 10 grams of l-citrulline which has been shown to increase blood flow to the muscles9. If you've been paying attention, that means a serious muscle pump for you. We would have liked to see BCAAs in this formulation as well, but given everything else they managed to include, we can't complain too much.
RELATED: Best Pre-Workout with BCAAs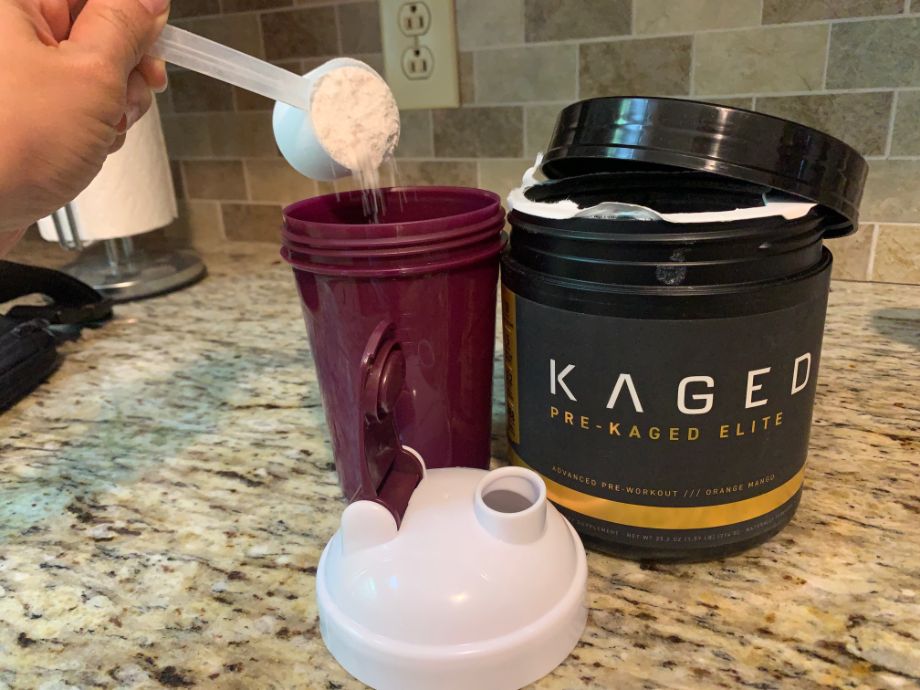 One thing we gotta ding Kaged on with its Elite formulation is how costly it is. A regularly priced tub is about $60 and there are only 20 servings per tub. Sure, the serving size is likely due to the sheer size of the scoop, but if you plan on using this pre-workout on a regular basis, we hope you'll become comfortable with the cost.
Jacob Penner, USA Weightlifting Coach and member of the GGR expert panel, shares, "I feel like I have a constant amount of energy—not hyper, no spikes, no lows. Not tingly at all. I'd use this again! Really like the flavor and the effects. Wouldn't use it on a day I need a massive burst of energy or pump, but would use it for routine training."
RELATED: Kaged Muscle Pre-Kaged Review
| | |
| --- | --- |
| Price Per Serving | $3.00 |
| Flavors | Glacier Grape, Caribbean Sunrise, Orange Mango, Strawberry Lemonade, Fruit Punch |
| Contains Caffeine? | Yes |
Best Budget Pump Pre-Workout: BPN Endopump
Good for: Beginners looking for a simple pre-workout formula
Yet another stimulant-free pre-workout on our list, BPN Endopump has a refreshingly minimalist pre-workout formula. Vitamin C, l-citrulline, and betaine make up most of the formulation by weight. Betaine in particular is one of the most common pre-workout ingredients.
There was a study conducted in active males10 who underwent a two-week supplement program with betaine, and showed that those in the betaine group performed significantly more repetitions than those in the control group, which indicated that the betaine group had a greater level of muscular endurance.
I would be a failure as a sports dietitian if I didn't warn you that this supplement contains over 500% of your daily value of vitamin C. This typically isn't a bad thing, as vitamin C can help improve immune health, but it can be a disastrous thing if you're going for muscle growth.
Studies show that, for people looking for muscle gain, free radicals can actually help the muscles achieve adaptations that result in muscle growth11. So, in this way, antioxidant supplements like vitamin C can actually blunt muscle gain if taken too regularly. As a final note, we want to point out that BPN is third-party tested by Informed Sport and has a near-perfect taste, according to our GGR team member, Jacob:
"The taste is really good—we have Blue Raspberry. It very much tastes like a blue raspberry drink; it's palatable, not overly sweet, not too tart. I like that it mixes clear—no artificial coloring for the win! I would use this again, especially for heavier training days."
RELATED: Best Pre-Workout for Muscle Gain
| | |
| --- | --- |
| Price Per Serving | $1.35 |
| Flavors | Blackberry Lemonade, Blue Raspberry, Sour Watermelon |
| Contains Caffeine? | No |
Best Pump Pre-Workout for Focus: JYM Supplements Pre-JYM
Good for: People who want more of a mental boost from their pre-workout than a physical one
Along with the 300 milligrams of caffeine found in Pre-JYM, it also contains taurine, which is a compound known to help improve brain function12. That's what puts Pre-JYM on our radar as a prime pre-workout to help you keep mental focus during those intense workouts.
Usually, pre-workouts have a scoop size of 5-10 grams, but this pre-workout has a scoop size of about 26 grams, which is likely due to how many ingredients they were trying to fit into this pre-workout formula. Our performance editor, Anthony O'Reilly, agrees, saying, "When it comes to pumps, move over Michelin man. My ego was through the roof after working out with this, but other than that it's a standard pre. Keeps you energized and focused, but again nothing special when compared to other products. I'd buy this for the pump, though. It's also quite a large scoop (26 grams)."
The good news is that you have the option on Amazon to purchase different sizes of tubs of Pre-JYM if you get addicted to the pump, so hopefully scoop size won't be an issue when it comes to keeping your supply stocked.
Check out our full JYM Pre-workout review for more details.
| | |
| --- | --- |
| Price Per Serving | $2.80 |
| Flavors | Raspberry Lemonade, Rainbow Sherbet, Grape Candy, Cherry Limeade, Orange Mango, Tangerine, Pink Lemonade, Black Cherry, Pineapple Strawberry, Strawberry Kiwi |
| Contains Caffeine? | Yes |
Best Pump Pre-Workout with Creatine: Gorilla Mode
Good for: People who want a serious, lasting pump and can handle a wide range of ingredients
One look at Gorilla Mode's ingredient list and you'll know they weren't playing around about giving their users a serious pump. According to Gorilla Mode, their 9 grams of l-citrulline makes their pre-workout the only one on the market that features the maximum effective dose.
In fact, in total, Gorilla Mode contains nootropics for focus and a total of 23,500 milligrams of nitric oxide boosters, plasma expanders, and volumizing agents, making it the most potent pre-workout formula on Amazon, as boasted by Gorilla Mode. The best part is, despite all of these ingredients, there is no beta-alanine (or perhaps there wasn't a need to include that, too!), so you won't get the jitters or tingles often associated with the ingredient. Here's what one of our testers, Jacob, had to say about Gorilla Mode: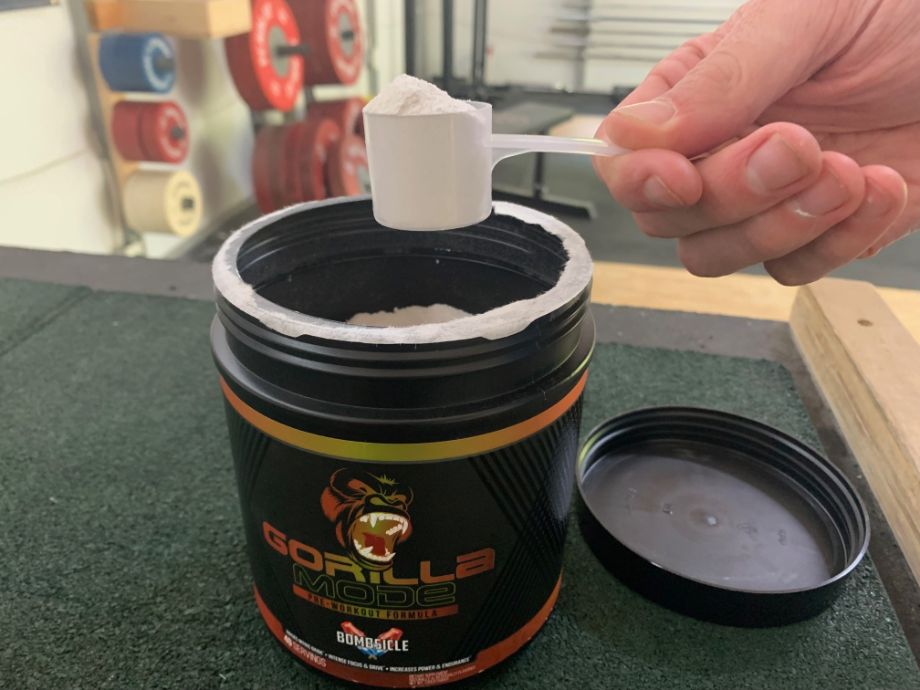 "I took this about 15 minutes before my workout; two hours later, and I still have a pump. I felt very calm but energetic—I felt confident. I got a pump almost immediately. I didn't notice tingling at all with this one, which makes sense, because there is no beta alanine. I've tried 50+ pre-workouts, and this is one of my favorites. I'll definitely be using this in my workout routine."
Read our full Gorilla Mode Pre-Workout review for the full scoop.
| | |
| --- | --- |
| Price Per Serving | $1.25 |
| Flavors | Bombsicle, Cherry Blackout, Fruit Punch, Jungle Juice, Lemon Lime, Lemonade, Mojo Mojito, Orange Krush, Tigers Blood, Volcano Burst, Watermelon |
| Contains Caffeine? | Yes |
Best Pump Pre-Workout with Beta-Alanine: RYSE Godzilla Pre-Workout
Good for: People seeking some endurance with their pump who aren't phased by the pre-workout tingles
At 40 grams of powder per scoop, RYSE Godzilla has the biggest serving size on our list, so be prepared to chug! The good news is this pre-workout will get you a city-crushing pump, in RYSE's own words. It contains citrulline nitrate and other compounds to support nitric oxide production, but it also contains beta-alanine.
Beta-alanine is a common ingredient in pre-workout due to research suggesting that it could delay lactic acid buildup and muscle fatigue which can help you lift more weight for longer13. Beta-alanine is also the culprit for paresthesia, or what we call the pre-workout tingles (well, that's what I call it).
This amino acid also affects your nervous system, albeit in a harmless way, so the nerves on the skin become stimulated after taking it. If you don't mind this pins and needles feeling, you can place your bets on getting a pump with this one. Rose, a member of GGR head of content Kate Meier's weightlifting team, had this to say after testing it out:
"We tried MonsterBerry Lime. The taste is really strong—we put 2 scoops in 16 ounces of water, as instructed. This particular flavor is pretty sour; I wouldn't say I loved the taste, but it doesn't bother me. I've tried about half a dozen pre-workouts; I would definitely take this again. About 10 minutes after taking it, you can feel tingles from the beta-alanine. This is a stronger pre-workout than what I have used before, and this is the first time I really felt the strong tingles. I have a strong tolerance to caffeine."
Lastly, this powder contains significant amounts of sodium and potassium which can help you with maintaining hydration throughout your workout, as well.
Get all the details with the full RYSE Godzilla Pre-Workout review.
| | |
| --- | --- |
| Price Per Serving | $1.38 |
| Flavors | Blackberry Lemonade, Monsterberry Lime, Passion Pineapple, Strawberry Kiwi |
| Contains Caffeine? | Yes |
Other Pump Pre-Workouts We Researched
Here are some other pump-focused pre-workouts we researched that we liked, but didn't think quite fit on this list.
How We Picked and Tested the Best Pump Pre-Workout
Pre-workout supplements can contain some obscure and often-confusing ingredients. Of course the labels are going to try to educate you in their own way, by promising it'll allow you to lift cars and bust through walls after just one scoop. In our review of high-quality pre-workout powders, we used the following criteria to narrow down the list:
Stim vs Non-Stim
One of the wonderful qualities of caffeine is that it affects everyone differently. Some people become so jittery that they can't sit still or even focus, while others can't even begin their day without it. No matter where you fall on the spectrum of stimulant-tolerance, we wanted to provide a pre-workout review that included options for both parties.
Luckily, you don't need stimulants in your pre-workout to get a pump or even to have a better workout. It's just a really nice addition to these powders for the people who appreciate a nice jolt of energy they get before they pick up their first set of weights. It is entirely up to your personal preference which one you choose to go with.
Third-Party Tested Options
Pre-workout supplements are the most notorious supplements in the sports supplements world for having adulterated formulation. Basically, the odds of being exposed to banned or unsafe substances is high. When speaking purely about safety, this is why third-party testing exists and choosing a pre-workout that's been evaluated by an unaffiliated lab all but assures your safety.
Another reason this is important, though, is that many pre-workouts that are aimed at providing a pump include compounds that, by nature, increase blood volume. Not to be confused with nitric oxide boosters, which increase blood flow, but do not manipulate the amount of blood and plasma you actually have. Compounds like glycerol actually increase the volume of your blood, which is considered a prohibited practice by the World Anti-Doping Agency.
You should choose a third-party certified pre-workout supplement if you want to protect yourself from ingesting these compounds even accidentally. Keep this in mind when shopping around if passing drug tests is something you are concerned about.
Price
If you're a workout junkie, you'll use up these supplements quite quickly since it gives you the kick you need to make it to the gym. For this reason, we tried to select brands with prices that reflect their quality, but are also affordable for most people. After all, we all should be able to get the pump we deserve.
Benefits of Pump Pre-Workouts
In addition to their performance benefits, there is also a more aesthetic reason for taking a pump pre-workout. Let's quickly review the benefits of downing an amino acid cocktail before hitting the gym in order to get the most out of your workout.
Increases Nitric Oxide Production
It is common for pump pre-workouts to have multiple compounds that promote increased blood flow to the blood vessels in order to help fill up the muscles with the volume we're aiming for. Not only does this help give a satisfying pump, but this increased blood flow can help exercise performance. Which brings us to our next point…
Delays Fatigue
Aside from a pump, these types of pre-workouts may also contain substances that can delay fatigue, like beta-alanine and certain stimulants. As a result, it can not only help you extend your workouts significantly, but it also allows you to crank out things like supersets more efficiently, which means that you can achieve an even bigger pump.
Increases Confidence
There are some people who take pre-workout just because the pump makes you feel dang good about yourself on a purely aesthetic level…and there's no shame in that! Confidence can be a vital mental benefit to stay consistent with a workout regimen.
Furthermore, if you have more energy in the gym as a result of a pre-workout, you might navigate the gym with more tenacity and conviction. For beginners who are starting a gym routine for the first time, the potential mental benefits you can get when you take a pre-workout can be essential for some people.
Dosing and Interactions
It's always important to use sports nutrition supplements exactly as directed on the label. However, it is arguably the most important to do so when taking pre-workout. The compounds and proprietary blends often contained in these powders have a powerful ability to alter heart rate, blood pressure, and generally ask a lot of your liver and kidneys to process and metabolize. If taken incorrectly, your health could be at serious risk.
Firstly, if your selected pre-workout contains stimulants such as caffeine, keep an eye on how much caffeine you are consuming from sources other than your pre-workout, such as green tea and coffee, as this could cause you to overdo it.
Generally speaking, if you have heart problems, we cannot recommend you take pre-workout due to the blood pressure thing we talked about earlier. Furthermore, taking pre-workout supplements is not recommended if you suffer from liver or kidney disease.
Pre-workout supplements should be discussed with your physician before starting a regimen that includes them, especially if you take prescription medications as there can be several dangerous interactions.
Third-Party Testing
It is very likely that you will be exposed to banned substances and illegal stimulants in pre-workout powder because these supplements are specifically designed to get you totally amped, which is good for business. Thus, since supplements aren't regulated by the FDA like foods and prescription drugs are regulated, there's no real incentive for them to formulate them ethically.
We're not joking—there have been pre-workout powders that have been found to contain meth and cocaine as ingredients that obviously weren't listed on the label. The only reason they were discovered was because the athletes who were failing their drug tests were all found to be taking the same pre-workout.
This is why third-party testing is pretty much non-negotiable for elite athletes. When I was with the San Francisco Giants, they wouldn't even allow me to bring certain energy drinks in the clubhouse around the athletes because they were not third-party tested. Third-party tested supplements have been analyzed by an independent lab to confirm the product is free of these substances and safe for the athlete to take.
Consequently, if you are concerned about this, look for pre-workout supplements that are third-party-tested and labeled as NSF Sport or Informed Choice-certified.
Buying Guide: What to Look for in Pump Pre-Workouts
As mentioned, navigating the dizzying amounts, types, shapes, and sizes of pre-workouts all out on the market today can be overwhelming. Try to keep the criteria below in mind when you plan your venture out to find your new favorite.
Ingredients That Increase Nitric Oxide Levels
This is a huge one. In order to increase blood flow to the muscles during a workout, pre-workout powders that increase the level of nitric oxide in the blood are beneficial. There are many benefits that can come from this ingredient, but if you're looking for a pump, it is the most valuable ingredient to have.
So, look for substances like beetroot, l-citrulline or citrulline malate, arginine, and betaine on the ingredient list as these are all nitric oxide boosters. "Vasodilation," "nitrates," and "increases blood flow" are also terms to look for on the label of your prospective pre-workout.
Scoop Size
In general, pre-workout supplements that are packed with multiple effective ingredients tend to be formulated with a relatively large scoop size in order to fit everything in. In other words, it means either having a flavor that is highly concentrated or that the large amount of powder needs to be diluted with a large amount of liquid in order to mix it completely or taste tolerable.
If either of these scenarios sounds like a low price to pay to still be able to go absolutely beast mode, then you don't have to factor this into your decision. However, if you don't think you can consistently commit to this practice, you're better off settling on a pre-workout with a scoop size in the 10-20 gram range. Just check the grams next to the serving size on the label to find out.
Presence of Beta-Alanine
Beta-alanine is a non-essential amino acid that can help with delaying fatigue and muscle soreness. However, it is also a neurotransmitter that stimulates the nerve endings right below the skin.
This gives beta-alanine a kind of yin and yang quality in that one side of it helps you work out longer, but the other side of it gives you a mad tingling feeling on your skin. It has been reported that some very sensitive people experience a burning sensation on their skin and may even experience flushing as a result of taking it.
If you're used to beta-alanine or can push through these tingles despite the effects, then you need not worry. However, if you're like me and find this sensation so distracting that it is counterproductive to your performance, then you'll want to choose a pre-workout that is beta-alanine free.
FAQs About Pump Pre-Workouts
What gives you a better pump in a pre-workout?
In a pre-workout, ingredients that give you a better pump are those that increase blood flow, namely to the blood vessels in the muscles. These ingredients can include, but are not limited to, agmatine sulfate, beetroot extract, citrulline malate, L-arginine, and betaine anhydrous.
Is pump pre-workout good for you?
The presence of a pump doesn't necessarily mean you're healthier or in better shape. However, a pump from a pre-workout may be able to help your muscles adapt to build more muscle and, at the very least, can give you a nice ego boost.
What pre-workout gets you the most hyped?
Pre-workouts that contain stimulants have a high likelihood of getting you hyped. Tyrosine, Alpha-GPC, caffeine anhydrous, taurine, and theanine are all common stimulants included in pre-workout powder.
What is the best muscle pump?
Taking a pre-workout with a good amount of nitric oxide boosters and lifting a high volume of weights will be the most effective ways to achieve the best muscle pump.
These statements have not been evaluated by the Food and Drug Administration. This product is not intended to diagnose, treat, cure, or prevent any diseases.
References