We test and review fitness products based on an independent, multi-point methodology. If you use our links to purchase something, we may earn a commission. Read our disclosures.
Choosing a pre-workout is insanely hard when every manufacturer claims that its pre-workout powder is the best pre-workout, that it produces the best muscle pumps, and it promotes long-lasting endurance and focus.
If they all do the same thing, how's a person to choose?! Well, that's just the thing: Not all pre-workouts are actually created equal, despite the marketing hype. That's why our product testers at GGR actually try products and write in-depth reviews on them.
In our RYSE Pre-Workout review, you'll learn everything you need to know about RYSE Godzilla Pre-Workout, so you can decide whether or not it's the right pre for you.
Medical disclaimer: This article is intended for educational and informational purposes only. It is not intended as a substitute for medical advice. For health advice, contact a licensed healthcare provider. GGR also recommends choosing a product that has been third-party tested for quality.
45+ Pre-Workouts Tested
Our product testers, who are also certified personal trainers, certified nutrition coaches, and athletes, have collectively tested nearly 50 pre-workout supplements to bring to you guides like the best stim-free pre-workout. Thanks to our backgrounds in fitness and nutrition, we know how to cut through marketing jargon and decipher the actual benefits (or not) of a product.
RYSE Godzilla Pre-Workout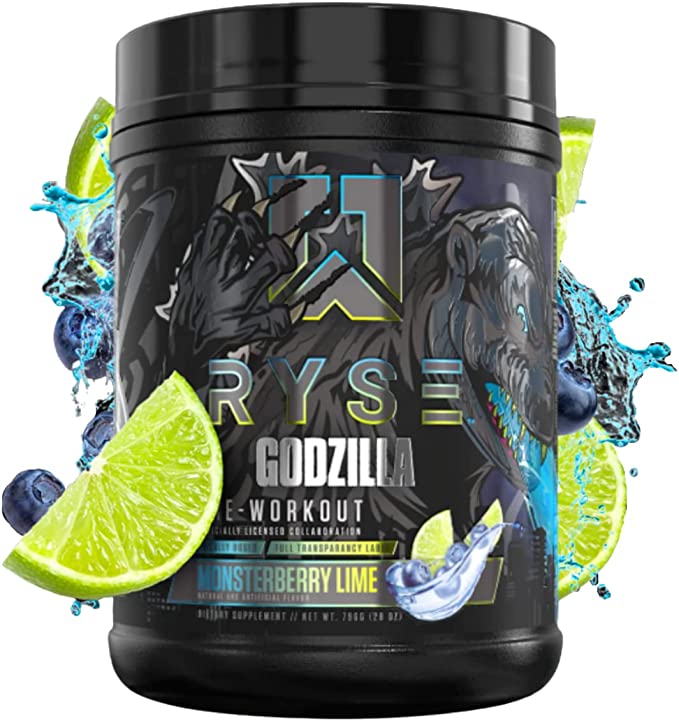 GGR Score: 3.5
Product Highlights
Loaded, fully transparent label

Full doses in 1 scoop

Nootropics

Extended release caffeine
Pros & Cons
Pros
Salt included
RYSE pump fuel (2 forms of citrulline)
200 mg of caffeine makes this suitable for most
Extended-release caffeine
Label includes dosages for both 1 and 2 scoops
Full doses in 1 scoop
Trademarked Thinkamine for improved focus and euphoria
Competitively priced at $1.42/serving
Cons
18.3 g scoop size requires a lot of water to blend
Only 2 flavors available
Bottom Line
Ryse Supplements' Godzilla Pre-Workout is a top-notch supplement for anybody looking to improve their gym experience and get the most out of their workouts.
A Quick Look at RYSE Pre-Workout
RYSE is a supplement brand that manufactures a full range of supplements, including pre-workout, protein powder, branched-chain amino acids (BCAAs), essential amino acids (EAAs), creatine monohydrate, L-glutamine, fat burner, and testosterone support.
RELATED: Best Pre-Workout With BCAAs
There are a few different pre-workout supplements available from the company: RYSE Godzilla Pre-Workout, RYSE Loaded Pre-Workout, RYSE Element Pre-Workout, RYSE Non-Stim Pre-Workout (Pump Daddy), and RYSE Project Blackout Pre-Workout.
Our testers tried the Godzilla Pre-Workout, which is a very high-stimulant pre-workout. Godzilla Pre-Workout is a trademarked collaboration between RYSE Supplements and Noel Deyzel, an IFBB Heavyweight Bodybuilder.
Before You Buy
This pre-workout is not for those who are sensitive to stimulants. Even a one-scoop serving contains 200 milligrams of caffeine and 3.2 grams of beta-alanine, so you will definitely get the tingles and the jitters if you are not used to this type of supplement.
There are options for a one-scoop serving or a two-scoop serving. If your stimulant tolerance is medium, we recommend taking one scoop only.
Is RYSE Pre-Workout Worth It?
If you can tolerate heavy stimulation and you need or want a lot of assistance with focus and mental endurance in the gym, RYSE Pre-Workout is a good choice. The cost per serving is pretty standard if you take a one-scoop serving—about $1.42 per serving—but that skyrockets to nearly $3 per serving if you take the double scoop. Depending on your budget and stimulant tolerance, RYSE could be the right pick for you.
Great for:
Individuals who can tolerate a high dosage of caffeine
People looking for heavily increased blood flow for pumps
Anyone looking for something free of proprietary blends
Not recommended for:
People who do not want a high-caffeine or high-stim product
Those who would prefer a more natural pre-workout
RYSE Pre-Workout Specs
| | |
| --- | --- |
| Price per serving | $1.42 or $2.84 depending on if you take 1 or 2 scoops for a serving |
| Flavor(s) | Blackberry Lemonade, Monsterberry Lime, Strawberry Kiwi, Passion Pineapple |
| Calories per serving | 10/5 |
| Caffeine per serving | 400 mg/200 mg |
| Key ingredients | Caffeine anhydrous, L-citrulline, beta-alanine, betaine anhydrous, creatine, choline bitartrate, theobromine, Pink Himalayan sea salt, VasoDrive-AP, Thinkamine |
Experience Using RYSE Pre-Workout
Our product tester Rose is a member of the Olympic weightlifting team that Kate Meier, GGR head of content and product tester, competes with.
Rose has taken about a half-dozen different pre-workouts and says she "would definitely take this again."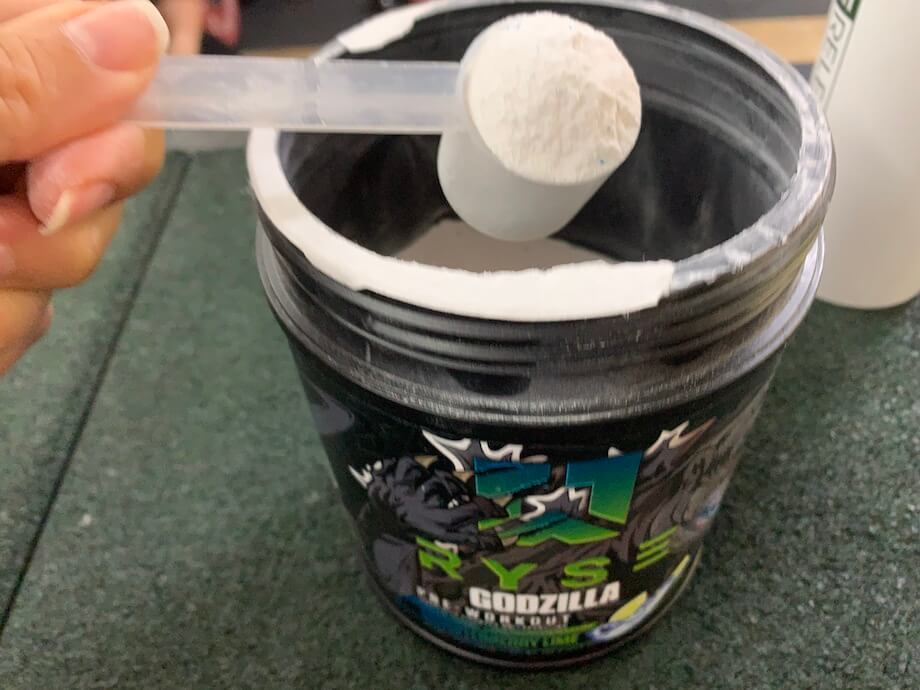 "This is a stronger pre-workout than what I have used before, and this is the first time I really felt the strong tingles," Rose says, noting that she has a strong tolerance to caffeine.
"About 10 minutes after taking it, you can feel tingles from the beta-alanine," Rose says, "because you get a full dose of beta-alanine in just one scoop, and I took two scoops."
Price Per Serving
RYSE Godzilla Pre-Workout costs $1.42 per serving if you take a one-scoop serving, and a wild $2.84 per serving if you take two scoops as one serving.
A $1.42 cost per serving isn't bad, and is in line with what we generally expect from most supplements.
In reality, most people probably shouldn't be consuming two scoops at once given the 400 milligrams and 6.4 grams of beta-alanine in the two-scoop serving. But for those who do, be prepared for this pre-workout to make a dent in your budget.
Formulation
The full formulation of RYSE Godzilla Pre-Workout, and the purpose of each pre-workout ingredient, is as follows (for a two-scoop serving):
Choline (as choline bitartrate), 640 mg: focus2
Sodium, 610 mg: electrolyte (hydration) and muscle contraction3
Potassium, 200 mg: electrolyte, muscle contraction3
L-Citrulline, 9 g: nitric oxide booster (pump formula)4
Citrulline nitrate as NO3-T, 2 g: nitric oxide booster5
Beta-alanine, 6.4 g: aids in production of carnosine, which plays a role in muscle endurance6
Betaine anhydrous, 5 g: assists in production of carnitine, which plays a role in ATP production7
Creatine monohydrate, 5 g: strength and power output, overall exercise performance8
Choline bitartrate, 1.6 g: focus2
Pink Himalayan sea salt, 500 mg: hydration
Caffeine anhydrous, 350 mg: energy and focus
Hydrolyzed casein tripeptides as VasoDrive-AP, 300 mg: increased blood flow9
Theobromine, 200 mg: performance enhancer10
zumXR extended release caffeine, 50 mg: long-lasting energy
Vincamine as Thinkamine, 20 mg: nootropic for focus11
RELATED: Best Pre-Workout Ingredients
By the looks of it, Godzilla Pre-Workout is capable of giving you more than a decent pump and good energy—this ingredients list, including patented ingredients NO3-T, VasoDrive-AP, zumXR, and Thinkamine, should produce a next-level hype through your entire workout.
As mentioned previously, it's not recommended that people who are sensitive to stimulants take a full dose of this pre-workout, or any of it at all. But for those who have a high tolerance, Godzilla Pre is stacked to the max in a good way. 
However, the problem with halving the dose is that you then only get half of the clinically recommended doses for various ingredients, such as creatine.
RELATED: Creatine vs Pre-Workout: Should You Take Both?
Taste and Solubility
Our product tester tasted the Monsterberry Lime flavor. "The taste with two scoops is really strong," Rose said, "even when mixed with 16 ounces of water as instructed."
"This particular flavor is pretty sour; I wouldn't say I loved the taste, but the taste doesn't bother me," she says. "Be ready for a strong flavor, or mix it with more water."
As for the texture, Rose says it blends well, noting that "the drink has a thicker, smoother texture to it; it's pleasant."
Side Effects
Rose says you will "Definitely feel the tingles!" Whether that's a good or bad thing depends on the individual. In a two-scoop serving, you're getting double the recommended daily amount of beta-alanine, which is already known for its common side effect of paresthesia, the pins-and-needles feeling you get in your skin, lips, fingers, and toes.
Creatine can also cause GI distress in some people; I personally struggle with bloating when taking creatine. I
The caffeine content may increase your heart rate, give you the jitters, or make you feel nervous. There's also the potential crash-and-burn effect to consider when the caffeine wears off, or the inability to fall asleep if you take this in the afternoon or evening.
When perusing customer reviews, I did see some reports of digestive problems such as diarrhea, which might be due to the high caffeine content12.
Third-Party Testing
RYSE Godzilla Pre-Workout does not seem to be third-party tested. I came across some language on the website that the product is tested, but that is the extent of any information regarding verification of the safety and efficacy of the product.
At GGR, we believe that third-party testing is one of the most important factors in supplements due to the lax FDA regulations around supplement products. Third-party testing shows consumers that what they see is what they get, and that the products are safe for general consumption as well as consumption by athletes.
RYSE Pre-Workout vs JYM Pre-Workout
Pre-JYM Pre-Workout from JYM Supplement Science is another popular pre-workout and it's also formulated by someone who is prominent in the bodybuilding space, Dr. Jim Stoppani.
Here's a look at how it compares to RYSE Godzilla.
| | | |
| --- | --- | --- |
| | RYSE Godzilla | Pre-JYM High-Performance |
| Price per serving | $1.42 or $2.84 depending on if you take 1 or 2 scoops for a serving | $1.83-$2.24 (depending on size) |
| Flavors | Blackberry Lemonade, Monsterberry Lime, Strawberry Kiwi | Orange Mango, Rainbow Sherbet, Tangerine, Grape Candy, Pink Lemonade, Pineapple Strawberry, Black Cherry, Strawberry Kiwi, Cherry Limeade, Raspberry Lemonade |
| Caffeine | 400 mg | 300 mg |
| Other key ingredients | Choline bitartrate, L-citrulline, beta-alanine, betaine anhydrous, creatine, choline bitartrate, theobromine, Thinkamine | Citrulline malate, betaine anhydrous, BCAA, creatine HCl, beta-alanine, beet root extract, alpha-GPC, Huperzine A, BioPerine |
Read my full JYM Pre-Workout review to learn more.
Customer Experience
Your experience will vary depending on where you buy the product. If you buy on the RYSE website, your purchase is eligible for the following shipping policy:
All orders ship within one to three business days
Delays may occur when new products drop, on holidays, and during promotions
Free shipping is available for domestic orders worth $150 or more
And for returns:
"Returns and exchanges will only be given once item(s) have been fully returned (with order number attached). Return shipping is the responsibility of the customer. RYSE does not provide prepaid return labels but we are happy to cover the shipping costs for any new product that gets sent out during an exchange!"
"All returns must be issued within 30 days of receipt of your shipment. Returned items must be in original condition and returned in original packaging. To complete your return we require a receipt or proof of purchase."
Ordering RYSE Pre-Workout
You can buy RYSE Pre-Workout directly from the RYSE website, from Amazon, or from a variety of third-party retailers. You might find the best pricing and shipping options on Amazon, but the RYSE website generally has better and more consistent stock.
Customer Reviews
Many people choose RYSE Godzilla Pre-Workout because of the collaboration with IFBB bodybuilder Noel Deyzel. Interestingly, several reviewers on Amazon say they did not experience a boost in energy after taking this supplement, despite the very high caffeine content.
On the flip side, many buyers report that it's the best pre-workout they've ever tried. One reviewer wrote:
"I love my RYSE Godzilla, the pump I get makes me feel massive. Out of all the preworkouts that I have tried, this one is by far the best. There is enough beta-alanine to feel the tingles, and not too much caffeine to where I can't fall asleep at night. Flavor is 10 out of 10; I would 100% buy it again."
I saw some reports of digestive upset—with one reviewer writing that the product puts them "at war with the toilet." Do with that what you will.
One thing that customers seem to love about RYSE is the collection of flavors produced in collaboration with patented goodies—think Ring Pop, Kool-Aid, SunnyD, and Smarties—although those flavors and other well-loved RYSE flavors, like Tiger's Blood and Baja Burst, aren't available in the Godzilla Pre-Workout.
Final Verdict of Our RYSE Pre-Workout Review
RYSE Pre-Workout is a high-quality option—if you're prepared for intense stimulation. As a certified nutrition coach and certified sports nutrition coach in the making, this isn't something I'd recommend to people who are just starting out with supplements, or even for those who have a middle-of-the-road stimulant tolerance. I'd reserve my recommendation for this to people who have a very high tolerance for caffeine and beta-alanine.
RYSE Pre-Workout Full Rating
RYSE Pre-Workout Full
Is RYSE Godzilla the best pre-workout for pumps? Find out in our RYSE Pre-Workout review.
Product Currency: $
Product Price: 57
Product In-Stock: InStock
RYSE Pre-Workout FAQs
Finally, here are some additional questions about RYSE pre-workout.
Is RYSE a good pre-workout?
RYSE might be a good pre-workout option if you have a high tolerance for stimulants like caffeine. If you're looking for your first pre-workout or you know that you can't handle high amounts of caffeine, either halve the serving size or check out one of our other top picks for the best pre-workout for men and the best pre-workout for women.
Does RYSE pre-workout have too much caffeine?
For many people, the 400-milligram dose of caffeine in two scoops of RYSE Godzilla Pre-Workout is too much. You can halve the dose by taking one scoop, though.
Does RYSE pre-workout have creatine?
Yes, RYSE Godzilla Pre-Workout contains a 5-gram dose of creatine monohydrate in a two-scoop serving of the supplement. RELATED: Best Creatine Supplement
These statements have not been evaluated by the Food and Drug Administration (FDA). This product is not intended to diagnose, treat, cure, or prevent any diseases.
References