We test and review fitness products based on an independent, multi-point methodology. If you use our links to purchase something, we may earn a commission. Read our disclosures.
If you want to take your workouts to the next level, you might be in the market for a dietary supplement that will help you maximize your training time. Whether you're lifting weights, hitting the running trails, or rocking a HIIT workout, a high-quality pre-workout supplement can give you that energy boost to make the most of your training. But not all pre-workouts are created equal. Can I get an amen?
In this Kaged Muscle Pre-Kaged review, we'll break down the science behind the popular dietary supplement and share our experience, so you can decide if it's the right pre-workout boost for your gym days.
Medical disclaimer: This article is intended for educational and informational purposes only. It is not intended as a substitute for medical advice. For health advice, contact a licensed healthcare provider. GGR also recommends choosing a product that has been third-party tested for quality.
You Deserve an Honest Review, and We've Got the Scoop
With social media at our fingertips, it's hard to sort through the endless number of influencers promoting products they may or may not have tried. We think you deserve insight from qualified sources before you spend your hard-earned money on a product.
Our team of testers is made up of certified personal trainers, registered dietitian nutritionists, and competitive athletes, male and female. We know that what we put in our bodies matters, and we believe our readers deserve an unbiased, straightforward breakdown of the products we review.
We put Pre-Kaged to the test and are ready to share it all. So, let's get to it.
Kaged Pre-Kaged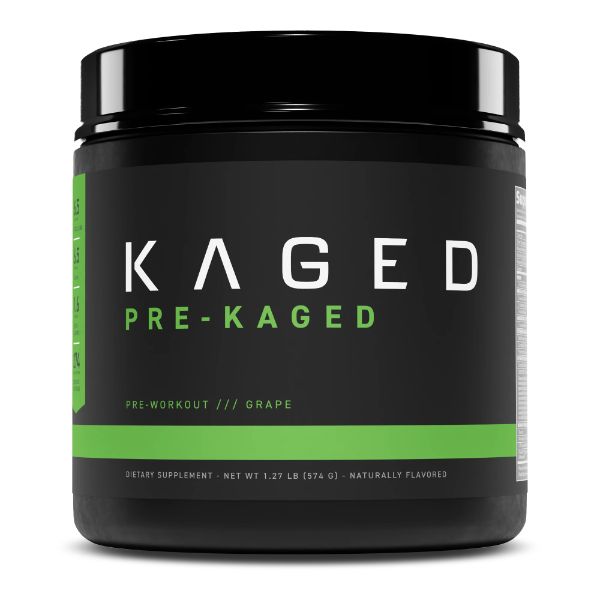 Product Highlights
Contains research-backed dosages of key ingredients like caffeine, creatine, and citrulline

Informed Sport-certified, meaning it's been tested for quality assurance and banned substances. 

7 flavors are available
Pros & Cons
Pros
Good formulation of research-backed ingredients
Label transparency
7 flavors and users overwhelmingly like the taste
Cons
Big serving size
Expensive
Bottom Line
Kaged Pre-Kaged is expensive, but is formulated with research-backed dosages of key ingredients like caffeine, creatine, beta-alanine, and citrulline.
A Quick Look at Kaged Muscle Pre-Kaged Pre-Workout
Pre-Kaged is an elite pre-workout supplement made by Kaged, a popular supplement brand whose founders saw a need for health-focused products that stood out among other brands prioritizing marketing over quality. Its science-backed ingredients are designed to work together to help you train hard and recover faster.
Kaged sells three pre-workout supplements, but Pre-Kaged, their fully disclosed pre-workout, is their best-seller. It's a vegan-friendly, gluten-free, non-GMO formula that contains 274 milligrams of caffeine in every scoop. Need a caffeine-free boost of energy before your workout? Go for the Pre-Kaged Stim-Free supplement.
Kaged recommends mixing one scoop of the pre-workout powder with 12 to 16 ounces of cold water in a shaker bottle approximately 30 to 45 minutes before your workout. You'll have to continue shaking the supplement between sips, and you should finish it within 25 minutes of mixing.
If used appropriately, Pre-Kaged should give you a boost in energy, increase your muscle pump, heighten your mental focus, and reduce your muscle fatigue.
Before You Buy
This pre-workout is suitable for vegan and vegetarian diets.
It's third-party tested and banned substance-free.
Kaged offers a discount to U.S. military personnel, first responders, teachers, government employees, and students.
Is Pre-Kaged Worth It?
After reading this pre-workout review, I hope you can decide for yourself if Pre-Kaged is worth the hype. After all, your fitness journey is your own! But here are a few groups of people that we think might enjoy Pre-Kaged and a few who we feel may need to consider our comparison section included at the end of the article:
Great for:
Advanced athletes
Those with a high-caffeine tolerance
Athletes who want a pre-workout supplement with flavor variety
Not recommended for:
People who are sensitive to high-caffeine supplements
Athletes with a tree nut allergy
Beginners
Kaged Muscle Pre-Kaged Pre-Workout Specs
| | |
| --- | --- |
| Price per serving | $2.25 ($2.02 when subscribed) |
| Serving size | 1 scoop or 28 g |
| Flavor | Pink Lemonade, Fruit Punch, Krisp Apple, Grape, Orange Krush, Cherry Bomb, Berry Blast |
| Key Ingredients | Organic caffeine, beta-alanine, fermented BCAAs, patented creatine HCL, taurine, L-tyrosine, L-citrulline |
| Third-party tested? | Yes, Informed Choice certified |
| Benefits | Energy, mental focus, pump, recovery support |
Experience Using Kaged Pre-Kaged
Our testers looked at every aspect of Pre-Kaged, from its formula to its side effects and everything in between. Two members of our product testing squad have actually tried Pre-Kaged, too, so we can give you our first-hand opinions.
Price Per Serving
As a one-time purchase, Pre-Kaged costs $44.99 for a 20-serving tub or approximately $2.25 per serving. However, if you set up a delivery subscription, you can save 10%, bringing the cost to about $2.02 per serving. And if you're U.S. military personnel, a military spouse or dependent, a first responder, a teacher, a government employee, or a student, you're eligible for a 20% discount.
(We also have an exclusive GGR coupon code to get you 25% off on all Pre-Kaged flavors—GGR25.)
Of course, these numbers don't include taxes but remember— shipping is always free for U.S. orders.
It's true; there are other, more affordable pre-workouts available. For example, C4 Cellucor and Optimum Nutrition Gold Standard Pre-Workout cost $0.78 and $1.10 per serving, respectively. But I'm a big believer in "you get what you pay for." And Pre-Kaged's formula might make it worth the extra cash.
Formulation
Pre-Kaged is vegan-friendly, gluten-free, and non-GMO. With all of its high-quality ingredients, it packs a lot of power in just one scoop. Let's check out a few of Pre-Kaged's key ingredients:
Neuro-Focus Matrix
Channeling your focus during a workout is sometimes easier said than done, right? Of course, there's no reason to make your grocery list during your workout, so whyyyyy is that when I remember all the things my kitchen needs? Thankfully, Pre-Kaged includes ingredients that help support mental focus in its neuro-focus matrix.
Every scoop of the pre-workout provides 274 milligrams of Purcaf organic caffeine, a staple ingredient for its effects on endurance, mental focus, and strength. For a frame of reference, the FDA recommends that the average adult consumes no more than 400 mg of caffeine per day.1
Kaged sources its caffeine from organic green coffee beans, unlike other pre-workouts that use lab-formulated synthetic sources.
It also includes 1 gram of N-acetyl-L-tyrosine and 850 milligrams of L-tyrosine,2 which can help stimulate the neurotransmitters associated with motivation and enhance mental performance when under stress, i.e., that crazy intense workout.
And finally, 2 grams of taurine can help your body maintain cell hydration and balanced electrolytes, both of which are essential for endurance and mental clarity.
Fermented L-Citrulline
L-citrulline is a key player in the pumps that Pre-Kaged provides. And if you feel an increase in your strength and power output during your workouts, the amino acid might be to thank.
A recent study3 examined L-citrulline supplementation in cyclists over seven days and found that the amino acid improved power output and subjective feelings of muscle fatigue. Sounds promising to me.
You get 6.5 grams of the rockstar amino acids in every scoop of Pre-Kaged.
Strength and Power Matrix
The strength and power matrix comprises betaine anhydrous, beta-alanine, and creatine hydrochloride. In the patented form of CarnoSyn, beta-alanine can help fight muscle fatigue. In addition, it can help buffer the acid build-up caused by intense training, thereby increasing your endurance.
In the patented form of BetaPower, betaine anhydrous4 can enhance exercise performance through various mechanisms. BetaPower can help prevent dehydration, increase protein synthesis, and support other biochemical processes.
Last but not least, the patented creatine hydrochloride is exclusive to Kaged. Its enhanced bioavailability and solubility help creatine5 get to your muscles fast to help them produce energy during your hard-hitting workout, and potentially cut down on recovery time. And every scoop of the pre-workout supplement provides 1.5 grams of creatine HCL.
Branched Chain Amino Acids
The BCAAs in Pre-Kaged are naturally fermented from plant-based sources. But does it matter where the BCAAs are sourced from? If you're vegan, you bet it does. The BCAAs in most pre-workout supplements are extracted from human hair and animal fur. Not a great match for a plant-based diet.
The supplement's Muscle Fuel Matrix contains L-isoleucine, L-valine, and anabolic activator L-leucine. Together, these amino acids work to build muscle and prevent muscle breakdown.
Spectra Antioxidants
Intense exercise, poor diet, and stress can contribute to the presence of free radicals in the body. But unfortunately, free radicals6 aren't our BFFs, as they can alter many aspects of our health and contribute to several chronic diseases.
Pre-Kaged contains 100 milligrams of the patented Spectra Total Orac Blend, a blend of 29 fruits and veggie extracts that helps fight free radicals and support metabolic activity at the cellular level. Unfortunately, since it's a proprietary blend, we can't be sure how much of each fruit and vegetable is in the mix.
However, it undoubtedly contributes to the pre-workout supplement's vitamin B content. Every serving of Pre-Kaged provides 20,833% of your daily vitamin B12 needs.
Coconut Water Powder
Since Pre-Kaged contains 500 milligrams of coconut water powder, it comes with an allergy warning for those allergic to tree nuts; just a heads up in case you might fall into that category. I'm sure having an allergic reaction is not on your list of things to do today.
Taste and Solubility
The question on everyone's mind— how does it taste? You certainly have a variety of flavors to choose from when ordering Pre-Kaged. The pre-workout is available in seven delicious flavors, including:
Fruit Punch
Krisp Apple
Pink Lemonade
Berry Blast
Grape
Orange Krush
Cherry Bomb
You'd think the supplement would taste horrible with just 3 grams of carbohydrates and 1 gram of sugar. Still, many customer reviews praise the taste and variety of flavors offered. Nicole Davis, CPT, PN1-NC, and senior editor here at GGR, gave Pre-Kaged a try. She shares:
"I've tried the Krisp Apple flavor—I like the taste, and it's not too sweet. It also smells strongly like apples after it's mixed, which is a nice surprise for your nose during each sip. However, there's an unpleasant mouthfeel after each sip, and it doesn't dissolve completely."
So, solubility may take some trial and error to get the liquid-to-powder ratio in the shaker bottle to your liking, but you're sure to find a flavor you like among the seven options available.
Side Effects
Pre-workouts typically cause increased energy, muscle endurance, and power. But they also come with potential unwanted side effects, too. For example, pre-workouts can cause jitteriness, itchy skin, and increased heart rate.
If you're sensitive to caffeine, you might consider starting with half a scoop to reduce the amount of caffeine you consume at one time. Then you can adjust your dose as appropriate.
Our tester Nicole doesn't take the full serving, but didn't notice any negative side effects—a plus!
Third-Party Testing
We're big fans of companies that send their formulas to third-party labs. It ensures that products meet quality and, more importantly, safety standards.
So, I'm happy to report that Pre-Kaged undergoes testing at a non-biased lab. The pre-workout is free from banned substances and is Informed Choice certified. BUT—and this is a big but—not every product batch has to be tested to earn that Informed Choice certification.
To be Informed Choice certified, the product is assessed through monthly blind testing. In other words, a lab team member purchases a container of the product at random, either online or in-store, and then sends it to the lab for testing. And unfortunately, customers don't have access to the product's certificate of analysis.
Comparison to Blackwolf Pre-Workout
Still trying to figure out if Pre-Kaged is your jam? We felt like Blackwolf Pre-Workout was a close comparison. It's also vegan and vegetarian-friendly, and we think the company does a good job of offering overall ingredient transparency. Plus, their prices are pretty dang close.
Like Pre-Kaged, Blackwolf Pre-Workout contains creatine to help with muscle recovery. Blackwolf, however, has double the amount that Pre-Kaged contains, with a whopping 3,000 milligrams per serving.
Blackwolf also provides approximately twice the amount of beta-alanine, which may cause tingling or itching of the skin— something to keep in mind.
While Blackwolf doesn't have as many flavors to choose from, it does offer a caffeine-free option if you need a stimulant-free pre-workout. The other flavors contain 200 milligrams of caffeine, slightly less than what's provided in Pre-Kaged.
Unfortunately, there is no mention of third-party testing on the Blackwolf website, but over 25 clinical trials back the product.
Customer Experience
Kaged has developed a loyal customer base over the years, which speaks to its customer experience. For example, the supplement company shows gratitude for its military, first responder, teacher, government employee, and student customers by offering them a 20% discount. And all purchases get free U.S. shipping.
Kaged also does a good job of standing behind its products. If you aren't happy with your supplement, you have up to 30 days to return it for a refund. Kaged just asks that it's not more than halfway used.
Ordering Kaged Pre-Kaged
You can order Pre-Kaged as a one-time purchase or set up a delivery subscription for a 10% cost savings. Either way, you can get your supplement as soon as 2-3 days after ordering!
Thinking of setting up a subscription? Subscribing customers can schedule their deliveries every four, six, or eight weeks. With 20 servings per container, it's easy to gauge how many servings per week you'll need.
Kaged also offers customers the opportunity to pay in four interest-free installments through Shop Pay. However, to qualify, the purchase total must be over $50.
Customer Reviews
Pre-Kaged has a rating of 4.8 out of 5 stars on its website, with 1,389 reviews posted. Most customers agreed that the pre-workout gave an effective energy boost without the stereotypical itchy skin and body jitters.
"This was my first time using a pre-workout drink," says reviewer Dwayne J on Kaged's website. "The flavor is amazing, and it mixes so well. I get zero grainy mouthfeel. I go to the gym first thing in the morning and this is like that coffee pick me up right before I start lifting. Really a great product. Would be nice to see a variety pack with single serving tubes of each of the flavors."
"Takes a little getting used to, but it definitely helps me dial into my workouts," says Malcom M., reviewer on Kaged's website. "Great focus, pump, gains so far!"
"I gave it 4 stars because the powder doesn't mix with water as well as many other pre-workout powders and requires a shaker bottle," says Amazon reviewer Thom. "Product works as advertised giving me a great boost for my workouts without a crash afterwards. One time I took the mix but couldn't work out because of an unexpected meeting (I work from home). I was VERY engaged in my meeting and after the mix wore off, I didn't crash which was great. I would give this 5 stars if the mix was more soluble in water."
Final Verdict of Our Kaged Muscle Pre-Kaged Review
If you're on the hunt for the best pre-workout supplement, Pre-Kaged is a worthy contender. While it doesn't have the highest caffeine content of all the pre-workouts, it does contain a significant amount— enough to give you a zap of energy before you head to the gym.
Each scoop provides 274 milligrams of caffeine, more than double the caffeine in a standard cup of coffee.
To start, you might consider using half a scoop to assess your tolerance and adjust from there. If you're extremely sensitive to caffeine, you may need to consider a stim-free pre-workout alternative.
In addition to its caffeine content, Pre-Kaged also provides a list of beneficial amino acids and other key ingredients to help you reach your fitness goals.
Each serving costs approximately $2.25, but Kaged offers a subscription discount and a discount for military personnel, first responders, teachers, and students.
Pre-Kaged is Informed Choice certified.
Kaged Pre-Kaged Rating
Kaged Pre-Kaged
In this Kaged Muscle Pre-Kaged review, we'll let you know how this pre-workout supplement stacks up to the rest—straight from an R.D.
Product Currency: $
Product Price: 45
Product In-Stock: InStock
Kaged Muscle Pre-Kaged FAQs
How long does Pre-Kaged take to kick in?
Most pre-workouts take 60 to 90 minutes to kick into full effect. Kaged recommends taking Pre-Kaged about 30 to 45 minutes before your workout starts.
Does Pre-Kaged have banned substances?
No, Pre-Kaged is free from banned substances and is Informed Choice certified.
Does Pre-Kaged have DMAA?
No, Pre-Kaged does not contain DMAA.
What does Pre-Kaged do?
Pre-Kaged is formulated to boost energy, increase muscle pump, heighten mental focus, and reduce muscle fatigue.
These statements have not been evaluated by the Food and Drug Administration. This product is not intended to diagnose, treat, cure, or prevent any diseases.
References
Drewnowski A, Rehm CD. Sources of caffeine in diets of US children and adults: Trends by beverage type and purchase location. MDPI. https://www.mdpi.com/2072-6643/8/3/154#B8-nutrients-08-00154. Published March 10, 2016. Accessed February 21, 2023.
Jongkees BJ, Hommel B, Kühn S, Colzato LS. Effect of tyrosine supplementation on clinical and healthy populations under stress or cognitive demands–A review. J Psychiatr Res. 2015;70:50-57. doi:10.1016/j.jpsychires.2015.08.014
Suzuki T, Morita M, Kobayashi Y, Kamimura A. Oral L-citrulline supplementation enhances cycling time trial performance in healthy trained men: Double-blind randomized placebo-controlled 2-way crossover study. J Int Soc Sports Nutr. 2016;13:6. Published 2016 Feb 19. doi:10.1186/s12970-016-0117-z
Cholewa, J. M., Hudson, A., Cicholski, T., Cervenka, A., Barreno, K., Broom, K., Barch, M., & S. Craig, S. A. (2017). The effects of chronic betaine supplementation on body composition and performance in collegiate females: A double-blind, randomized, placebo controlled trial. Journal of the International Society of Sports Nutrition, 15. https://doi.org/10.1186/s12970-018-0243-x
Wax, B., Kerksick, C. M., Jagim, A. R., Mayo, J. J., Lyons, B. C., & Kreider, R. B. (2021). Creatine for Exercise and Sports Performance, with Recovery Considerations for Healthy Populations. Nutrients, 13(6). https://doi.org/10.3390/nu13061915
Lobo, V., Patil, A., Phatak, A., & Chandra, N. (2010). Free radicals, antioxidants and functional foods: Impact on human health. Pharmacognosy Reviews, 4(8), 118-126. https://doi.org/10.4103/0973-7847.70902