We test and review fitness products based on an independent, multi-point methodology. If you use our links to purchase something, we may earn a commission. Read our disclosures.
At Garage Gym Reviews, we have covered a lot of the best adjustable dumbbells on the market, and for good reason. Space-saving adjustable dumbbells can replace hundreds of pounds worth of single dumbbells and save tons of space, and money, in your home gym. This makes adjustable dumbbells some of the best home gym equipment to make an investment in.
In this NÜOBELL vs Bowflex comparison, we'll look at two brands that are pretty established in this field of gym equipment. Bowflex is largely popular, offering competitive pricing; meanwhile, NÜOBELL, created by SMRTFT, is one of our favorite picks for a heavier adjustable dumbbell.
Which one works best for you? Let's compare and contrast these two brands to see which one stands out in our comparison, and which one might work for you.
NÜOBELL Adjustable Dumbbells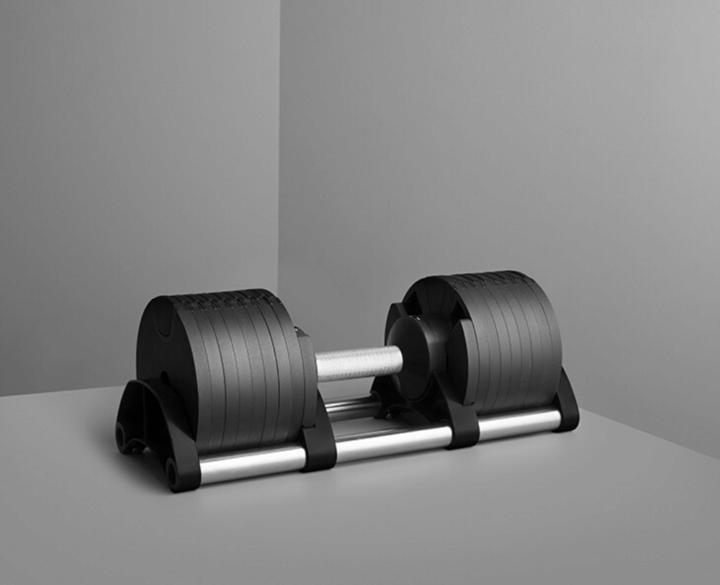 GGR Score: 4.5
Product Highlights
All-in-one adjustable dumbbell
Weight ranges from 5 to 80 lbs
Easy to use
Feels like a standard dumbbell
Pros & Cons
Pros
Feels like a regular dumbbell in hand
Easy quick-change adjustments
Knurled handle
Comes with a stand
Cons
Can be tricky to get in the stand
Unsure of structural integrity
Pricey
Bottom Line
These are great for people who want an easily adjustable dumbbell pair that feels more like a traditional fixed dumbbell
Bowflex SelectTech 552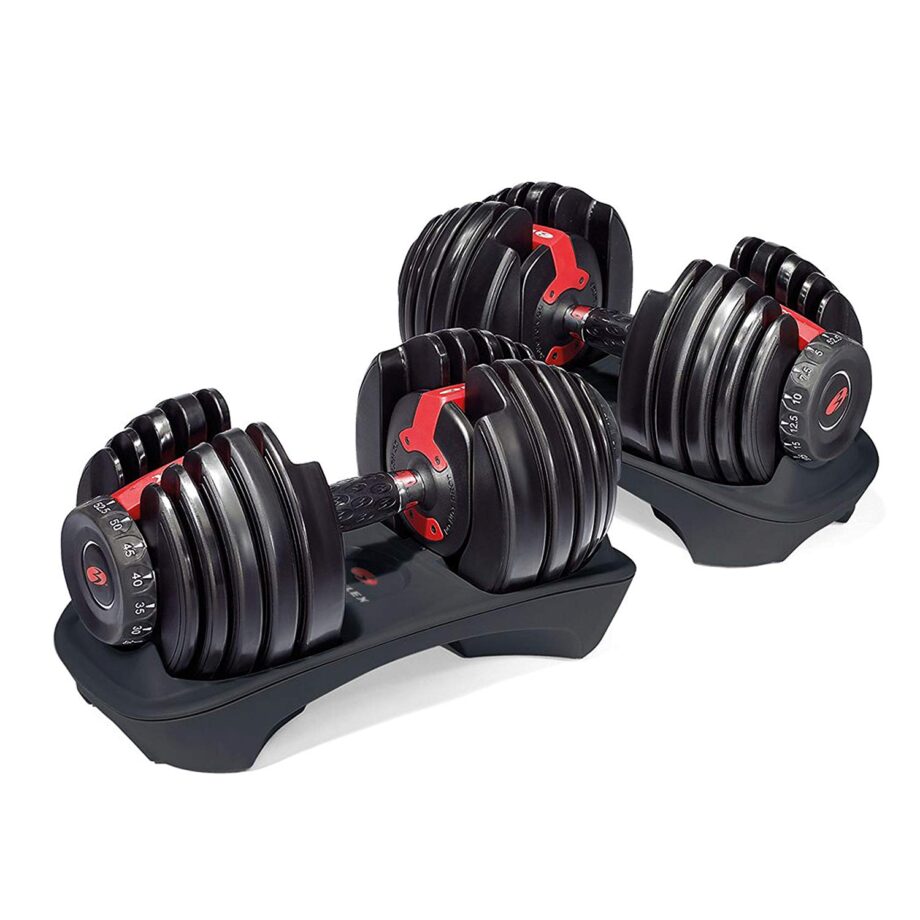 GGR Score: 4.4
Community Score: 4.4
Product Highlights
Replace 15 sets of weights
Weights adjust from 5 to 52 lbs
Extremely affordable at $329/pair
Weight adjustments in 2.5-lb increments
Pros & Cons
Pros
Replace 15 sets of weights
Weights adjust from 5 to 52 lbs
Extremely affordable at $329/pair
Weight adjustments in 2.5-lb increments
One of the fastest changing dumbbells on the market
Come with a stand
Cons
Max weight is 52.5 pounds
Wide footprint remains the same at any weight
Not meant to be dropped
Bottom Line
If you want affordable adjustable dumbbells, the Bowflex pair are a great option. Although they don't get very heavy, they are a great option for beginners and those who do not need more than 52.5 lbs per hand.
Comparison: NÜOBELL vs Bowflex
| | | | | |
| --- | --- | --- | --- | --- |
| | NÜOBELL Adjustable Dumbbells (50 lbs) | NÜOBELL Adjustable Dumbbells (80 lbs) | Bowflex SelectTech 552 Adjustable Dumbbells | Bowflex SelectTech 1090 Adjustable Dumbbells |
| Price | $595 | $745 | $429 | $799 |
| Weight range | 5-50 lbs | 5-80 lbs | 5-52.5 lbs | 10-90 lbs |
| Weight increment | 5 lbs | 5 lbs | 2.5 lbs from 5-25 lbs, then 5 lbs to 50 lbs, and then another 2.5 lbs | 5 lbs |
| Replaces | 10 pairs of dumbbells | 16 pairs of dumbbells | 15 pairs of dumbbells | 17 pairs of dumbbells |
| Dimensions | 15.5" L x 7.5" W x 7.5" H | 17" L x 7.5" W x 7.5" H | 16.9" L x 8.3" W x 9" H | 17.5" L x 9.5" W x 10" H |
| Adjustment system | Click-lock handle | Click-lock handle | Selectorized dial | Selectorized dial |
| Warranty | 2 years | 2 years | 2 years | 3 years |
Quick Look: NÜOBELL vs. Bowflex
Both these dumbbells give the feel of a regular dumbbell, unlike some other adjustable dumbbells. Although using different weight adjustment systems, both dumbbells adjust quickly in a matter of seconds. Still, NÜOBELLs will be a little faster with their rotating handle, which you crank to adjust both sides of the dumbbell at once. Each dumbbell makes weight changes through 5-pound increments—except the 552s, which have 2.5-pound adjustments at some points.
The main differences between these two brands will be the price and materials used. Bowflex is a better budget option—especially with the Bowflex SelectTech 552 adjustable dumbbells, which come in over $150 cheaper than the NÜOBELL 50-pound dumbbells. If you don't need heavy dumbbells, these can be a great choice.
The Bowflex SelectTech 1090s don't have as much value as the 552s, however, as the price is actually greater than the 80-pound NÜOBELLs. Although they can go up to 90 pounds, the primarily plastic construction of these dumbbells doesn't warrant such a high price. Read more on our thoughts about these bulky dumbbells in our Bowflex 1090 review.
With a primarily steel construction, the NÜOBELL adjustable dumbbells are a great value and much more durable than the budget-friendly 552s. There is plastic in the adjustment system and the dovetail grooves that connect the weight plates, but the usage is minimal. With the high-quality construction comes a higher price point, however. You can check out our NÜOBELL adjustable dumbbells review for more information.
Who Should Buy NÜOBELL
Lifters who want the look and feel of a traditional dumbbell
Anyone wanting the fastest adjustment system on an adjustable dumbbell
Those wanting a durable adjustable dumbbell (but don't drop your weights, please)
People wanting access to the SMRT app
Who Should Buy Bowflex
Home gym users on a budget
Those who prefer an ergonomic handle over a knurled handle
People wanting a quick and simple adjustment dial
Those interested in a 2-month trial of the JRNY app
Key Similarities Between NÜOBELL and Bowflex
Smaller and larger dumbbell versions have similar weight ranges
Similar weight increments
Maximum length of dumbbells is comparable
Plastic weight cradles are included
Fitness apps are available for each
Neither dumbbell can be expanded
Both brands have an optional dumbbell stand that can be purchased
Important Differences Between NÜOBELL and Bowflex
Bowflex 552s are over $150 cheaper than the NÜOBELL 50-pound dumbbells
Although priced more than the NÜOBELL 80-pound dumbbells, the 1090s can often be on sale
Bowflex uses a lot more plastic than NÜOBELL
NÜOBELL has a knurled handle, while Bowflex has an ergonomic rubber handle
Bowflex has a fixed length, while the NÜOBELL's length will depend on the weight loaded
NÜOBELL turns the handle to adjust weights, while Bowflex has a dial on either side
Workout Experience
Both dumbbells are pretty versatile in their ease of use. Without rails or cages, these adjustable dumbbells can be easily used for two-handed exercises, such as goblet squats and french press. The overall functionality of each dumbbell is great, feeling pretty good doing bench press, dumbbell deadlifts, and more.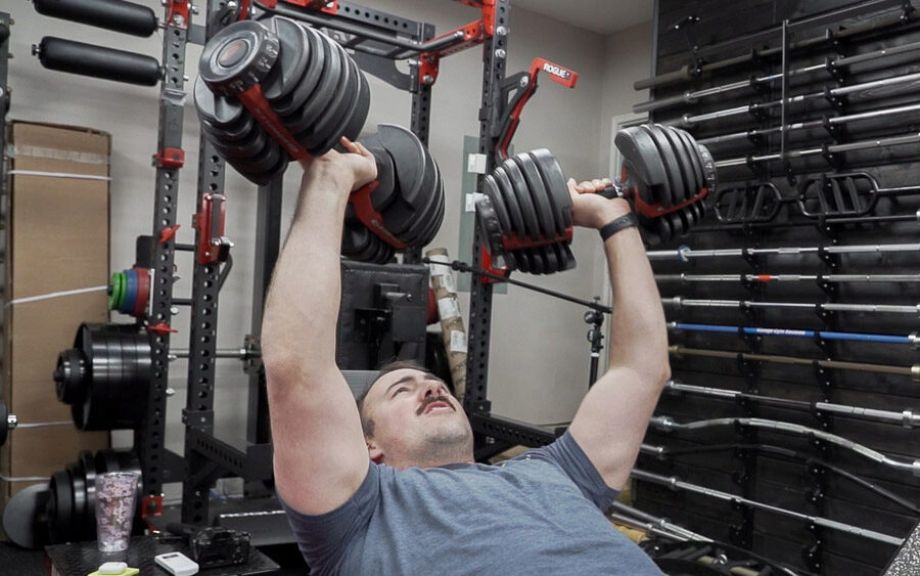 With that said, there are some differences in how these dumbbells perform in action.
Adjustment Mechanism
Both of these dumbbells move fast, although in different methods. Unlike the quick-lock adjustments of Ironmaster adjustable dumbbells, these adjustable dumbbells can shift between weights in just seconds.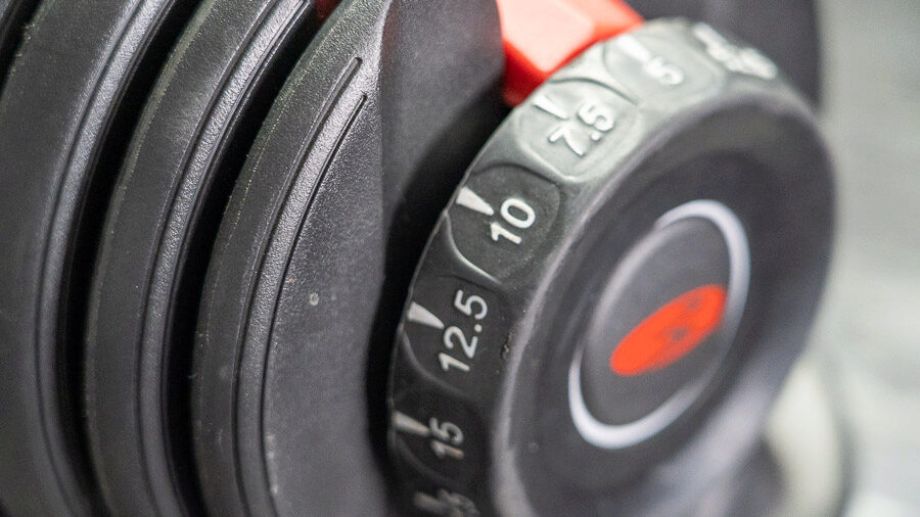 Bowflex has an adjustment dial on each end of the dumbbell, which independently controls each side. The numbers are clearly labeled for quick adjustments. Placing the weights into the storage tray and making an adjustment to your desired weight can take just seconds to perform.
The NÜOBELL dumbbells are adjusted by cranking on the handle, which quickly adjusts the number of weight plates on each side of the dumbbell. Because these adjustments can be made without taking your hand off the dumbbell handle, this is the fastest weight adjustment on the market. The weights are clearly labeled as well, so there's no confusion in weight changes.
Overall Size
At their heaviest weights, both NÜOBELL and Bowflex dumbbells will have a similar feel, pretty comparable to a traditional iron dumbbell. Unlike heavier options like the Powerblock Pro Series, the weight plates and lack of a cage give these sets of adjustable dumbbells a look and feel pretty similar to fixed dumbbells.The flat head of the NÜOBELL can give these dumbbells a more comfortable feel while resting on the thighs, however.
RELATED: Powerblock Adjustable Dumbbells Review
At smaller weights, however, it's easy to note that Bowflex remains the same length no matter how light they are. This can make some movements a little awkward at best. For example, while a typical bicep curl will work fine with a bulky dumbbell, hammer curls might be challenging with such a long dumbbell at a light weight.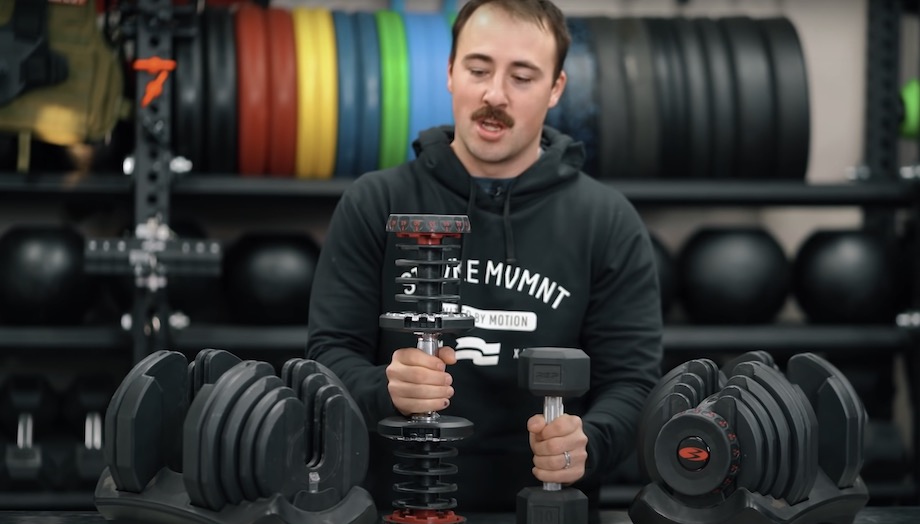 The NÜOBELL dumbbell length is affected by the weight on the dumbbell. The 5-pound dumbbell will be much shorter than the 80-pound dumbbell. This helps keep the dumbbell reasonably sized at lighter weights, making it easier to perform exercises.
Handle
The handles on each of these dumbbells is vastly different, and will probably appeal to different audiences in the home gym community.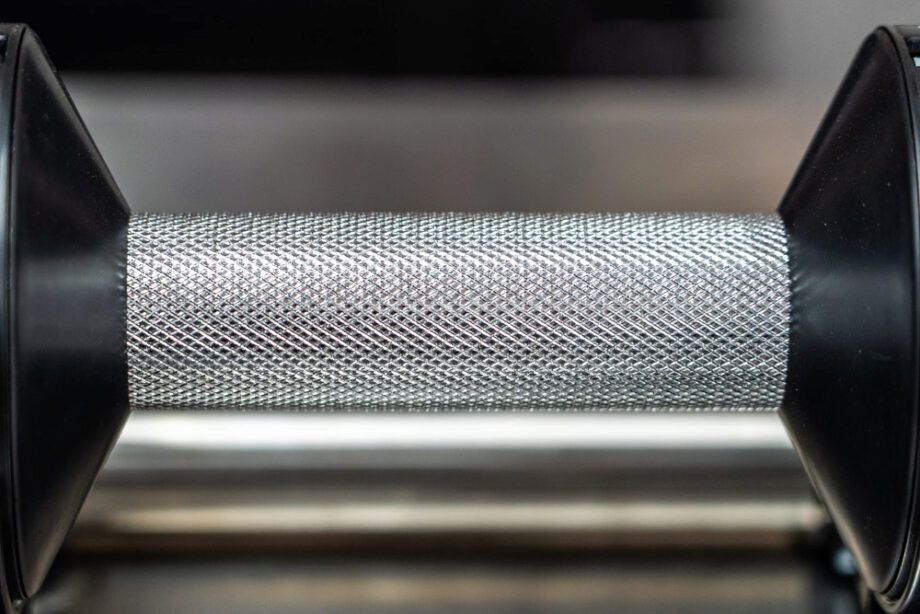 NÜOBELLs have a knurled handle like an Olympic barbell. This knurling isn't too aggressive, but is enough that it'll feel good to any lifters used to using free weights. The handle is also 28 millimeters, which is standard for a barbell. If you may prefer a thicker handle—like a cast iron kettlebell—these won't be quite as thick. Overall, they have a good feel, though.
RELATED: The Best Kettlebells for Your Home Workout
The Bowflex handle varies between the two different SelectTech models. Both handles are ergonomic, rounding out to help fit the contours of your hand. The 552s have a rubber cover on the handle, which might appeal to you if you don't like knurling. But the rubber covering can slide and slip off easily after some use.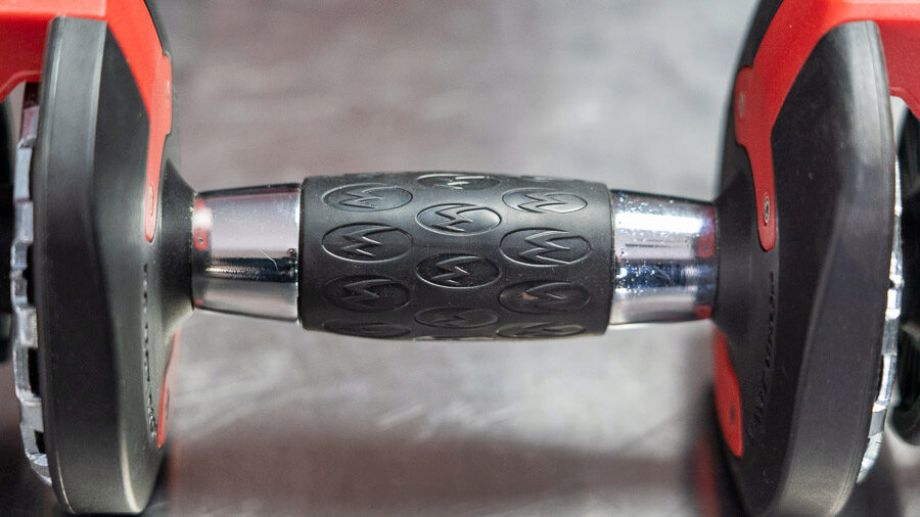 However, the Bowflex 1090s have a "knurled" handle. I use the term loosely as GGR founder Coop says in his video review of the 1090s, "This isn't knurling." The grip on the 1090s is more like metal bumps, that might help with grip, but not at the level of a true knurled handle. I'd rather have the rubber grip on these than the slightly-textured metal.
Construction & Durability
NÜOBELL adjustable dumbbells are made primarily with a metal construction and will last in your gym because of it. The weight plates do have plastic dovetail grooves to connect the plates together, and the adjustment mechanism uses plastic as well. However, the plastic used is fairly minor, and so long as you aren't dropping or throwing these around, they should last longer than their two-year warranty.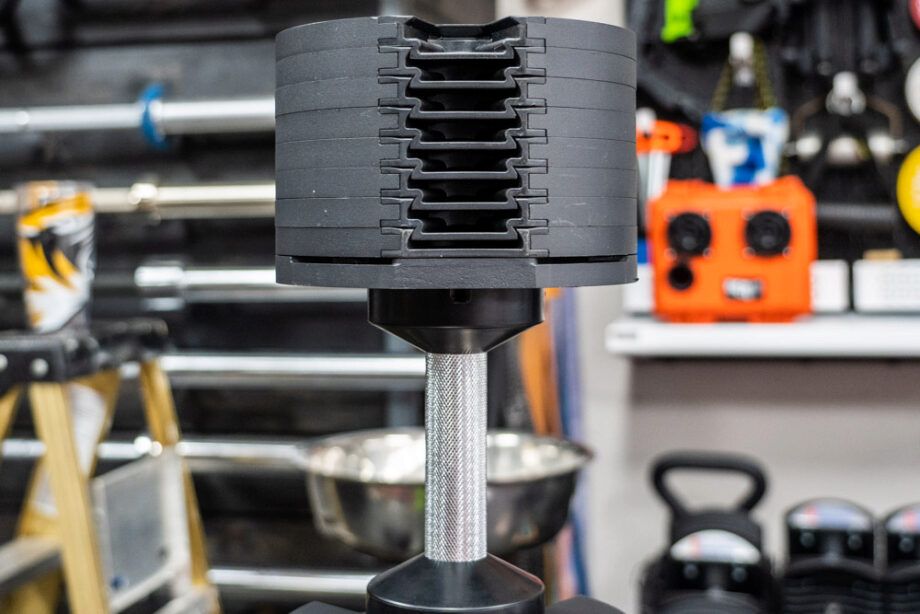 On the other hand, Bowflex dumbbells use a lot of plastic. The plastic construction can lead to durability issues down the road, once the dumbbell has experienced some general wear. This mostly helps keep the cost down, as the 552s are a good budget-friendly choice, but the 1090s are still priced as much as dumbbells with high-quality materials.
The plastic discs of the Bowflex that secure the weight plates can wear down over time, which will make the weight plates fall out eventually. This has led home gym users to create a DIY replacement using a metal disc interior. If these were made of steel from the start, this wouldn't be near as much of a problem.
Fitness Apps
A purchase of either dumbbell comes with access to a different fitness app: the SMRT app for NÜOBELLs, and JRNY for the Bowflex dumbbells. Each provides trainer-led on-demand workouts, along with progress tracking.
JRNY has begun using motion tracking to provide real-time feedback with form and technique for each rep. Just know that the SMRT app is free with your purchase, while JRNY is only a two-month free trial, and will charge you afterwards.
RELATED: Best Online Workout Programs
Company Policies
Overall, both SMRTFT and Bowflex provide good policies on warranties, returns, and financing options. There isn't much here to separate one adjustable dumbbell from the other.
Warranty
The warranties on these adjustable dumbbells are pretty similar. NÜOBELLs provide a two-year warranty with each of their dumbbells, while Bowflex has a two-year warranty on the 552s, and a three-year on the 1090s.
Both offer added protection, as NÜOBELL offers an additional one-year or three-year extended warranty for an additional $29 or $69, respectively. Bowflex offers a three- and five-year protection plan on parts for the SelectTech 552s, as well as a five-year plan for the 1090s.
Returns & Cancellations
Both dumbbells have similar return policies, the main difference being the length of time; NÜOBELLs can be returned up to 30 days after delivery, while Bowflex offers returns up to six weeks after receiving your product.
Both brands ask for the items to be returned in the original condition and in suitable packaging—preferably the original packaging. You'll need to wait for a Return Merchandise Authorization (RMA) number before you can send it back. Also, you'll have to pay for the shipping costs.
Orders can be canceled for either dumbbell, up to the point where inventory has been assigned to your order. It's important to note that although the Bowflex dumbbells can be purchased from Amazon, and NÜOBELLs from Rogue Fitness, that these return and cancellation policies apply to direct purchases from the website.
Financing Options
Both companies offer financing options for their adjustable dumbbells. NÜOBELLs can be financed through Affirm, and upon approval can be either 3, 6, or 12-month plans. Interest rates are between 0 and 36% APR.
Bowflex offers financing options through their website, plus won't add interest if the purchase is paid in full within 18 months.
Final Thoughts: NÜOBELL vs Bowflex
Ultimately, what brand dumbbell you're leaning towards for your home workouts will depend on what you are looking for in your adjustable dumbbells. The main difference between these two brands is the price tag, as well as the durability of the materials used.
If you're looking for a budget-friendly dumbbell and don't need a lot of weight, then the Bowflex SelectTech 552s are a solid choice, costing far less than the NÜOBELLs. With that said, there are competitive alternatives for a budget dumbbell, too—namely, the NordicTrack adjustable dumbbells. While a solid budget dumbbell, the 552s are starting to get a lot of competition in this field.
For those looking for heavier weights, we can't recommend the NÜOBELLs enough. While the Bowflex 1090s have a max weight that's 10 pounds heavier than the NÜOBELLs, the plastic build and bulkiness just aren't worth the $800 price tag. Unless you find the 1090s on a very good sale, the 80-pound NÜOBELLs will provide much more value for your home gym.
NÜOBELL vs Bowflex FAQs
How durable is NÜOBELL?
NÜOBELLs are constructed primarily with steel, with some plastic in the dumbbells' adjustment mechanism and the dovetail grooves that connect the weight plates together. While you should never drop an adjustable dumbbell, the NÜOBELL dumbbells are one of the more durable adjustable dumbbells on the market.
What company makes NÜOBELL dumbbells?
NÜOBELL adjustable dumbbells are made by SMRTFT.
What is the weight range of a NÜOBELL adjustable dumbbell?
The heavier version of NÜOBELL adjustable dumbbells will start at 5 pounds, and go all the way up to 80 pounds. Using 5-pound increments, the weight options available replace a full set of 16 pairs of dumbbells.
What is the difference between NÜOBELL vs Bowflex?
The main differences between NÜOBELL and Bowflex dumbbells are the pricing and materials used. Bowflex provides a budget-friendly adjustable dumbbell with plastic construction and a low price point. The NÜOBELL dumbbells are pricier, but have a steel construction with some plastic that will be more durable