We test and review fitness products based on an independent, multi-point methodology. If you use our links to purchase something, we may earn a commission. Read our disclosures.
If you're leaving a trail of sweat after that hard-hitting workout, chances are your body is THIRSTY. And while plain water is the MVP, sometimes it just doesn't cut it. Enter sports drinks.
Sports drinks are designed to replenish the fluids, electrolytes, and glucose that we lose through sweat during intense exercise. Electrolytes1, especially, are essential for many of the body's basic functions. As a result, these sports drinks include a specific amount of electrolytes and sugar to maximize hydration and absorption in the body. But with so many brands and products to choose from, finding the right sports drink for your needs can feel overwhelming.
Not to worry! We broke down the science behind hydration and found eight of the best sports drinks to add to your rehydration station.
Medical disclaimer: This article is intended for educational and informational purposes only. It is not intended as a substitute for medical advice. For health advice, contact a licensed healthcare provider.
We've Put in the Sweat Equity to Find the Best Sports Drinks Around
Our testers are registered dietitians and certified fitness experts that have experienced the benefits of sports drinks firsthand. Together we've compiled a list of some of the best sports drinks on the market to help you maximize hydration and reach your health and wellness goals.
So, if plain water isn't cutting it, don't sweat it. We've tested sports drinks from all over the market and have got you covered.
8 Best Sports Drinks
Best Organic Sports Drink: Nooma Organic Electrolyte Sports Drink
Good for: People who want to rehydrate with ingredients they can feel good about
Designed to provide rapid hydration, NOOMA's Organic Electrolyte Sports Drink is one of the best sports drinks available on the market today. The sports drink is formulated for fast absorption to help keep cramps, dizziness, and headaches at bay so you can stay at your best throughout your workout.
Its key functional ingredients include organic coconut water, Himalayan pink salt, ashwagandha, and cordyceps mushrooms. And at only 30 calories per carton, you know the electrolyte drink doesn't contain any unnecessary ingredients. NOOMA offers the beverage in five delicious flavors without any added sugars. (Throwing it out there that expert product tester and GGR Senior Staff Writer Amanda Capritto tried NOOMA, and thought the flavors were just "meh.")
The product is certified organic by the United States Department of Agriculture (USDA), and it's naturally gluten-free and contains no genetically modified organisms (non-GMO). Follow a vegan lifestyle? Not to worry! NOOMA Organic Electrolyte Sports Drink is totally plant-based.
NOOMA recommends drinking its Organic Electrolyte Sports Drink during or after your workout or any other time you feel dehydrated.
| | |
| --- | --- |
| Calories per serving | 30 |
| Carbs per serving | 7 g |
| Electrolyte blend | Sodium, calcium, potassium, magnesium |
| Flavors | Blueberry Peach, Chocolate Mint, Lemonade, Mango, Watermelon Lime |
Best Budget Sports Drink: Powerade
Good for: Those who want to rehydrate on a budget
When it comes to accessible and affordable sports beverages, Powerade gets a lot of well-deserved hype. It's been around for years, and over the decades, they've certainly figured out how to give customers the most bang for their buck.
Powerade is designed to replenish the electrolytes you lose in sweat. The formula prioritizes sodium, calcium, and potassium for maximum hydration, but it also provides carbohydrates to boost energy. Each 12-ounce serving of Powerade provides 19 grams of carbs.
Unfortunately, these carbs bump the calorie content, which may deter those trying to keep their calorie intake low. However, Powerade has sugar-free flavors available that contain zero grams of carbohydrates and provide zero calories per serving. Expert product tester and GGR Senior Staff Writer Anthony O'Reilly tends to go for the sugar-free option, which he enjoys, but people who are training really hard and for long periods of time might enjoy regular Powerade.
Regardless of your choice, all Powerades contain B vitamins, including B3, B6, and B12, that can help support important pathways essential for physical activity.
| | |
| --- | --- |
| Calories per serving | 80 in 12 fl oz |
| Carbs per serving | 19 g (varies based on flavor) |
| Electrolyte mix | 150 mg sodium, 40 mg potassium |
| Flavors | Mountain Berry Blast, Fruit Punch, Grape, Orange, Lemon Lime, White Cherry, Strawberry Lemonade, Melon |
Best Sports Drink for Athletes: Gatorade Zero
Good for: Athletes who need hydration without carbohydrate energy
Gatorade Zero offers the same hydration benefits as Gatorade Thirst Quencher but without the carbohydrate content. While it may not provide the same energy boost, its lack of carbs makes it a low-calorie hydration option. It is a zero-calorie option, to be exact.
Instead, Gatorade Zero focuses on providing electrolytes, including sodium and potassium, to rehydrate users. Each 12-ounce serving provides 50 milligrams of potassium and 160 milligrams of sodium.
And since you can choose between 10 different flavors, chances are you'll never get bored with your chosen electrolyte drink. If you enjoy the classic flavors, you might like Fruit Punch and Lemon Lime. If you prefer to switch it up, go for the Glacier Berry or Glacier Freeze.
"This is my go-to sports drink for post-workout hydration," Anthony says. "The regular stuff hurts my stomach too much, but with this it's the perfect way to replenish electrolytes after a long run or workout. The colder the bottle, the better the flavor (and I feel more refreshed if it's ice cold, but that could very well be a mental thing). I'll drink any flavor but Cool Blue is my top choice."
| | |
| --- | --- |
| Calories per serving | 0 |
| Carbs per serving | <1 g |
| Electrolyte mix | 50 mg potassium, 160 mg of sodium |
| Flavors | Glacier Cherry, Glacier Freeze, Grape, Lemon Lime, Lime Cucumber, Berry, Orange, Fruit Punch, Cool Blue, Strawberry Kiwi |
Best Caffeinated Sports Drink: Tailwind Caffeinated Endurance Fuel
Good for: Endurance athletes who also need a little pep in their step.=
Tailwind Caffeinated Endurance Fuel is a vegan-friendly blend of calories, electrolytes, and hydration designed to fuel all your endurance adventures. Each serving provides 25 grams of carbs and 100 calories. And while it's available in eight delicious flavors total, there are four caffeinated options that provide 35 milligrams of organic caffeine.
Endurance Fuel is easy on the gut, containing ingredients that the small intestine can absorb. It's soy-, dairy-, and gluten-free and doesn't contain preservatives or dyes. It mixes clear and rinses clean.
Tailwind recommends mixing two to three scoops of the supplement in 24 ounces of water for every hour of your endurance workout. You can adjust your servings as you dial in your calorie-rate sweet spot. However, on hot days, you may need to maintain your calorie intake but increase the water portion of your drink.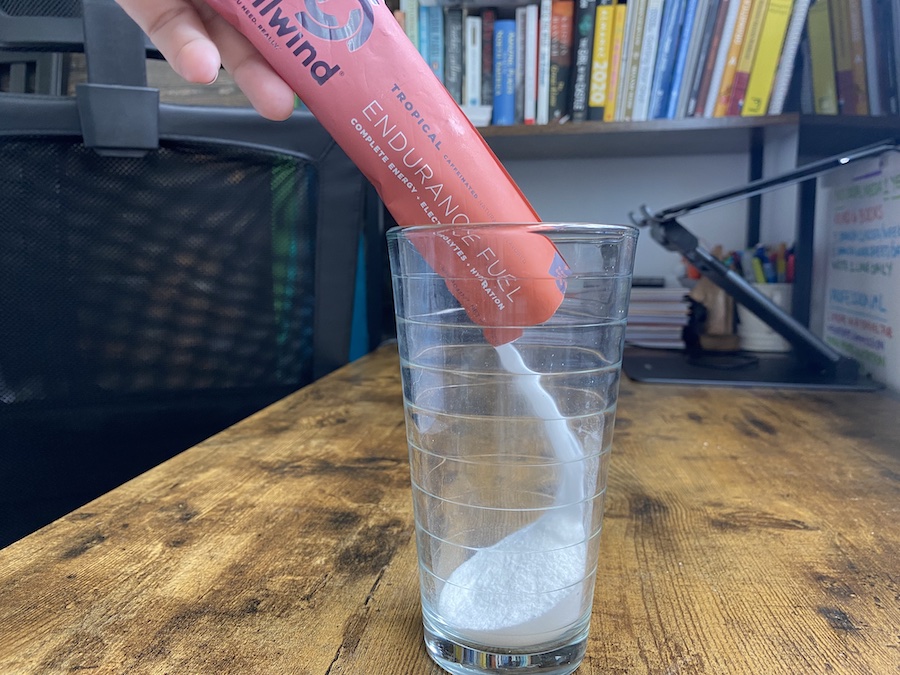 "Tailwind is not something I would (or anyone should) drink on a regular basis just for funsies or flavor," Amanda says. "It's a true endurance drink intended for long (as in, 2+-hour) workouts. I used Tailwind for some shorter workouts but wouldn't take a whole serving. When dosed correctly, Tailwind kept me satisfied on long bike rides, both in terms of hunger and thirst."
| | |
| --- | --- |
| Calories per serving | 100 |
| Carbs per serving | 25 g |
| Electrolyte mix | 310 mg sodium, 90 mg potassium, 27 mg calcium, 12 mg magnesium |
| Flavors | Cola, Matcha, Raspberry, Tropical |
Best All-Natural Sports Drink: Harmless Harvest Coconut Water
Good for: Anyone who want the benefits of coconut water without any added ingredients
Harmless Harvest was founded with the mission to make the most amazing coconut water using the most ethical practices possible. So far, they seem to be nailing it. Harmless Harvest holds a Fair for Life certification, which ensures its commitment to social accountability and fair trade.
Harmless Harvest uses organic Nam Hom coconuts from Thailand, sourced from certified organic farms. So what does Nam Hom mean? Great question. It means "fragrant ones," which is fitting for this delicious sports drink.
The coconut water is certified organic by the USDA and contains no artificial sweeteners, colors, or flavors. All you'll find in Harmless Harvest Coconut Water are naturally occurring electrolytes that can help you maintain fluid balance and hydration.
Drink it as you cool down on a hot day, or enjoy it as part of your post-workout routine. "This is a fantastic option for people who want to prioritize two things: all-natural ingredients and sustainable, friendly manufacturing and farming," Amanda says. "I drink this after workouts and just when I want something to quench my thirst a bit better—or if I'm craving flavor and freshness."
| | |
| --- | --- |
| Calories per serving | 90 |
| Carbs per serving | 23 g |
| Electrolyte mix | 69 mg calcium, 812 mg potassium, 243 mg phosphorus, 29 mg magnesium |
| Flavors | Regular or watermelon |
Best Sports Drink for Weight Loss: Propel Electrolyte Water
Good for: People who are being mindful of their calorie intake
Propel Electrolyte Water, from the makers of Gatorade, is a zero-calorie, zero-sugar fitness water. While it lacks carbohydrates, the sports drink contains B vitamins and the antioxidant vitamins C and E.
Sodium, the key electrolyte in Propel, supports hydration by stimulating thirst and encouraging fluid balance. You can choose from eight flavors, including Lemon, Black Cherry, and delicious Kiwi Strawberry. Our expert product tester and GGR Senior Editor Nicole Davis tried Kiwi Strawberry, and said that although it's a bit sweet, the flavor is good and it's definitely a thirst-quencher.
That's probably because every 16.9-ounce bottle of Propel provides 230 mg of sodium and 60 mg of potassium. Propel also offers immune support versions that prioritize vitamin C and zinc. So now you can hydrate and help your body fight germs all in one handy sports drink.
This colorless fitness water is free from artificial flavor sources and is sweetened by high-intensity sweeteners Acesulfame Potassium (Ace-K) and sucralose.
| | |
| --- | --- |
| Calories per serving | 0 |
| Carbs per serving | 0 |
| Electrolyte mix | 230 mg sodium, 60 mg potassium in 16.9-ounce bottle |
| Flavors | Berry, Lemon, Strawberry Lemonade, Kiwi Strawberry, Mango, Watermelon, Peach, Grape |
Best Electrolyte Powder: Transparent Labs Core Series Hydrate V3
Good for: All-around hydration
Transparent Labs helps users hydrate the body quickly by rapidly replenishing electrolytes. The carefully crafted formula includes critical electrolytes, including sodium, potassium, and magnesium. It also includes other bioavailable components like taurine2, an amino acid involved in almost every tissue in the body.
It is free from artificial colors, preservatives, and sweeteners. Instead, it's sweetened with stevia extract. Its ingredients include 500 mg of organic coconut water powder and 50 mg of SenactivTM3, which has been shown to promote more energy and preservation.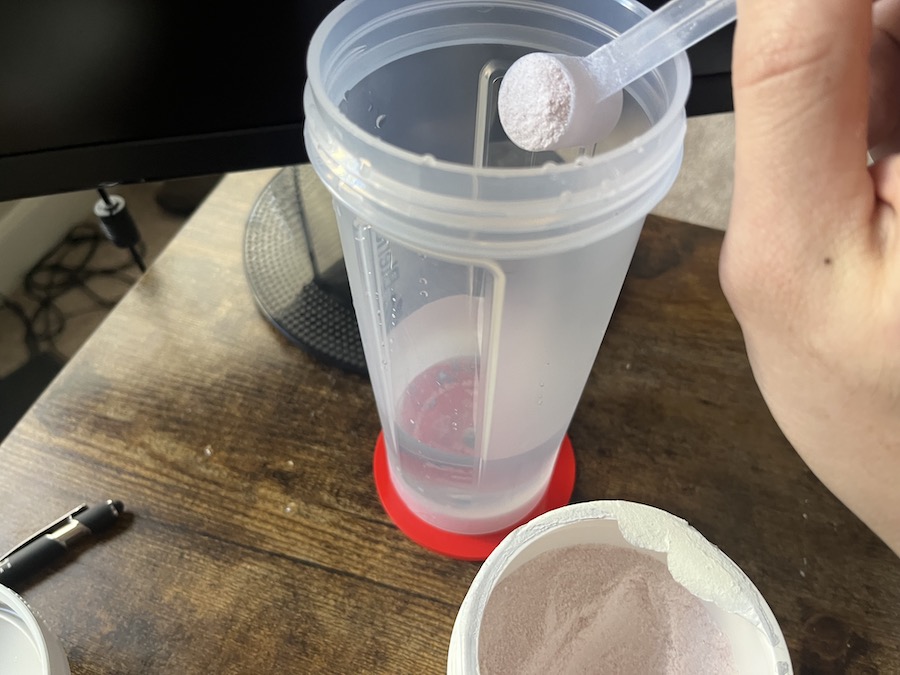 To use Hydrate V3, mix one scoop of the electrolyte powder with 8 to 12 ounces of water. Transparent Labs recommends consuming one to three servings daily, so you can enjoy it before, during, and after your workout. Anthony says when he takes this before a workout, he notices more endurance and just better overall hydration—plus, it kind of tastes like Hawaiian Punch, so that's yummy.
It's important to note that Hydrate V3 contains some ingredients with proprietary blends, such as SenactivTM. While they have many purported benefits, users don't have access to the complete ingredient breakdown of the combinations. Also, it contains tree nuts, so those with a tree nut allergy should avoid using the electrolyte powder.
| | |
| --- | --- |
| Calories per serving | Not disclosed |
| Carbs per serving | Not disclosed |
| Electrolyte mix | 84 mg calcium, 50 mg magnesium, 500 mg sodium, 250 mg potassium |
| Flavors | Tropical Punch |
Best On-The-Go Sports Drink: Liquid I.V. Hydration Multiplier Single Serving Packets
Good for: Those who appreciate portable hydration
Liquid I.V. has changed the game with its Hydration Multiplier packets. These convenient and travel-friendly packets make rehydrating easy. The non-GMO electrolyte mix is powered by their patented Cellular Transport Technology (CTT). This delivery system enhances the rapid absorption of water and other vital ingredients into the body.
Liquid I.V.'s precise ratio of sodium, potassium, and glucose creates an osmotic force that helps the body absorb hydration early in the digestive tract. Just one packet of Hydration Multiplier offers more hydration than water alone. Plus, every serving provides a list of vitamins, including vitamins C, B3, B5, B6, and B12.
There are nine delicious flavors to choose from, such as Lemon Lime, Tropical Punch, and Acai Berry. They are non-GMO and soy-, dairy-, and gluten-free. And artificial ingredients? Not a chance.
The expert product testers on team GGR are big fans of Liquid I.V., not only for its true thirst-quenching properties, but the yummy flavor options. Read our full review to find out what we like so much about this supplement.
| | |
| --- | --- |
| Calories per serving | 45 |
| Carbs per serving | 11 g |
| Electrolyte mix | 500 mg sodium, 370 mg potassium |
| Flavors | Passion Fruit, Lemon Lime, Tropical Punch, Golden Cherry, Acai Berry, Guava, Strawberry, Watermelon, Concord Grape, Pina Colada |
Other Sports Drinks We Researched and Tested
Of course, there are other sports drinks that get our stamp of approval. Other reputable hydration products that we researched include:
Nuun: We actually really like Nuun—it made it onto our "best electrolyte drinks" roundup—but because it's technically an electrolyte drink we left it off here.
BodyArmor: While this is fairly similar to Gatorade and Powerade in makeup, our testers didn't like the flavors as much.
vitaminwater Focus: Our expert product tester felt that this was just OK—there wasn't enough caffeine to really make a difference and the flavor was just so-so, so we left it off.
How We Picked and Tested the Best Sports Drinks
Like with any product we review, we made sure to look at the big picture. We were diligent about finding and including products backed by reputable branding, evidence-based formulas, and electrolyte content.
Brand reputation: Our top priority is providing our readers with trustworthy reviews, so we value trust and transparency from the brands we research. When choosing the best sports drink products, we looked for brands that offered more than just marketing ploys.
Evidence-based formulas: When it comes to dietary supplements, choosing products that are backed by science is critical. Forgoing science puts users at unnecessary risk.
Electrolyte content: The point of sports drinks is to enhance hydration efforts by including electrolytes, so we'd be silly not to examine the nutrition content. We looked for drinks that had important electrolytes, including potassium, sodium, magnesium, and others.
Benefits of Sports Drinks
Sports drinks are designed to take the power of plain water and kick it up a notch. They offer a long list of benefits to athletes of all levels, including:
Replacing Electrolytes
One of the most significant advantages of drinking sports drinks is their electrolyte content. When we sweat, we lose essential electrolytes4 like sodium, potassium, calcium, magnesium, and phosphate. When our electrolyte levels drop, we're more likely to experience muscle cramps, confusion, and dizziness, ultimately affecting our athletic performance.
Restoring Fluid Balance
Vigorous exercise increases our fluid needs since we lose a lot of fluid when we sweat.4 The electrolytes in most sports drinks help our body absorb and retain water quickly and more efficiently.
Providing a Glucose Boost
Depending on your fitness goals and the type of workout you do, replacing your glucose stores might be an essential aspect to include in your training. For example, some sports drinks contain carbohydrates to boost your glucose during or after your workout.
Dosing and Interactions
While the Centers for Disease Control and Prevention5 (CDC) recommends plain water for the average person's hydration needs, sports drinks may be appropriate and necessary for those who engage in vigorous physical activity.
However, you should talk with your doctor or registered dietitian before consuming sports drinks regularly if you have a history of blood sugar control issues or kidney concerns.
Our kidneys are responsible for filtering toxins and waste from the body. They also help maintain a balance of electrolytes, but you may retain too many electrolytes if your kidneys aren't operating at full strength, and that's a whole other ball game.
If you have a history of diabetes, you might consider drinking the zero-sugar options to avoid episodes of hyperglycemia.
Buying Guide: What to Look for in Sports Drinks
Since no two bodies are the same and we all have different training demands, there's no one-size-fits-all sports drink. Here are a few things to look for when shopping for your best sports drink:
Electrolyte Content
Replacing your electrolytes is the name of the game when it comes to sports drinks. Look for drinks containing sodium, potassium, magnesium, and calcium.
Calorie Count
Depending on your fitness goals, the calorie count of your chosen sports drink might have a huge impact. If your goal is to lose weight, consider looking for a sports drink with low to zero calories per serving.
Sugar Content
While checking the calorie count on those sports drinks, check out their sugar content, too. Most of the time, the calories in sports drinks come from their carbohydrate content. So if your goal is weight loss, look for drinks that are low in sugar. But if your training recovery calls for replaced glucose stores, look for sports drinks containing carbs.
Best Sports Drinks FAQs
Which sports drink is the healthiest?
Since health is a subjective term, choosing the "healthiest" sports drink is impossible. But when picking the right sports drink for your needs, consider how the ingredients and nutrition ratios will affect your system based on your medical history and training demands.
What are the top 5 sports drinks?
The answer to this question might vary depending on who you ask. Still, in my opinion, five of the best sports drinks include NOOMA Organic Electrolyte Sports Drink, Liquid I.V. Hydration Multiplier, Tailwind Endurance Fuel, Gatorade Zero, and Propel Electrolyte Water.
What is better than Gatorade?
Gatorade can be a great hydration option for many athletes. However, if you're looking for a sports drink with more natural ingredients, you might consider products like NOOMA Organic Electrolyte Sports Drink or Harmless Harvest Coconut Water.
Is Powerade better than Gatorade?
Both Powerade and Gatorade offer hydration benefits. However, their formulas do differ from each other. For example, Powerade contains vitamins B6 and B12, and Gatorade does not.
These statements have not been evaluated by the Food and Drug Administration. This product is not intended to diagnose, treat, cure, or prevent any diseases.
References
Shrimanker, I., & Bhattarai, S. (2022). Electrolytes. In StatPearls. StatPearls Publishing.
Ripps, H., & Shen, W. (2011). Review: Taurine: A "very essential" amino acid. Molecular Vision, 18, 2673-2686.
Senactive. (2022, November 30). SENACTIV®: ReCharge & Reenergize Muscle Cells. NuLiv Science. Retrieved February 11, 2023.
Baker, L. B. (2016). Sweating Rate and Sweat Sodium Concentration in Athletes: A Review of Methodology and Intra/Interindividual Variability. Sports Medicine (Auckland, N.z.), 47(Suppl 1), 111-128.
Centers for Disease Control and Prevention. (2022, June 6). Water and healthier drinks. Centers for Disease Control and Prevention. Retrieved February 10, 2023.