We test and review fitness products based on an independent, multi-point methodology. If you use our links to purchase something, we may earn a commission. Read our disclosures.
Garage Gym Reviews has an exclusive CLMBR discount code to help you save as much as $250
We love trying and reviewing the best smart home gym equipment on the market, so it's no surprise that CLMBR intrigues us. Unfortunately, a lot of smart fitness equipment can be pretty pricey, which can be a deterrent for potential customers. Never fear! We've found the best coupons for CLMBR to help cut down on costs. Keep reading for the best CLMBR deals.
CLMBR Discounts
Trying to save money on big pieces of equipment can be a pain, which is why we're here to help with some of the latest coupon codes and discounts from CLMBR.
Use the voucher code "GGR" for $250 off the CLMBR machine.
Check out the sale page on the website to see special offers on apparel and accessories.
*Note: promotions cannot be combined with other offers. Code "GGR" is not a sitewide code; you can only use it towards one of the CLMBR Machine Bundles.*
How to Apply the Promo Code
Step One: Add the CLMBR Connected machine to your shopping cart.
Step Two: Go to "The Gear" section and click "Sale." Add discounted items to cart.
Step Three: Enter promotion code "GGR" to get $250 off CLMBR.
When Does the CLMBR Go on Sale?
Like a lot of fitness equipment, you'll likely get the best offers and bargains on the CLMBR when major holidays roll around. Check out our sales pages for amazing deals:
Black Friday/Cyber Monday Sales Page
What We Love about CLMBR
CLMBR's main claim to fame is the CLMBR machine. However, they do offer a few more products on their website:
clmbr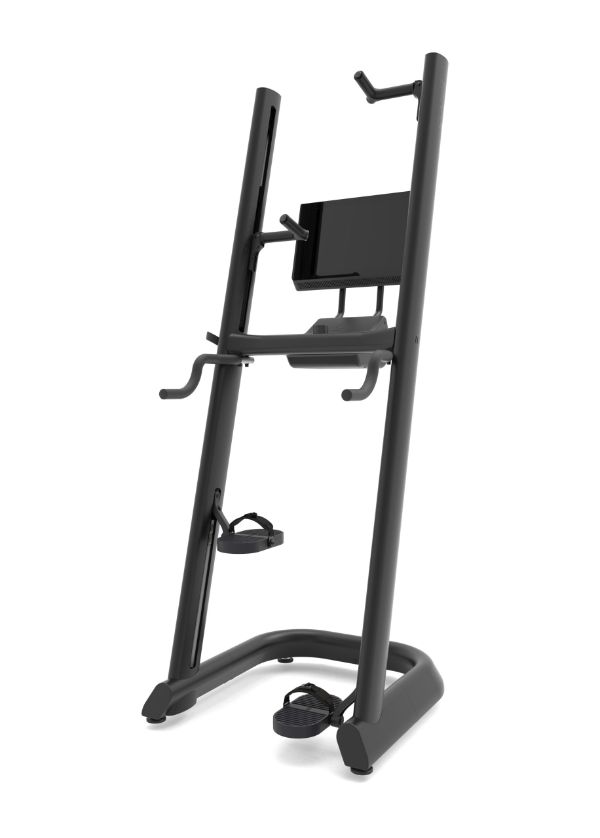 CLMBR
While vertical climbers have been around for some time, none on the market today can really compare to the CLMBR, which is the most immersive home vertical climber. This machine offers both a resistance strength session as well a high-intensity cardio workout that targets the entire body. In fact, CLMBR claims that one workout engages 86% of your muscles burning serious calories in a short time.A large interactive screen provides users with a truly immersive experience. Users can purchase a membership to their online fitness platform that provides exclusive access to on-demand workouts. What's more, when you're in an active climb, you can connect to the app through any Alexa-enabled device to start, pause, stop, or resume.Fully equipped with an integrative sound system, the CLMBR allows for multiple ways to stay entertained and connected throughout your workout. Set your own standard using your own fitness benchmarks and stay on track via the CLMBR app, which you'll pay a monthly fee for. This app records all your fitness metrics so you can analyze progress at any time. Offering three ergonomic grip positions, oversized, textured pedals, and caster transport wheels, the CLMBR is both convenient and efficient. It does, however, come with a large price tag and is available for purchase in three different bundles—Base, Peak, and Summit—with slightly different offerings. Additionally, the CLMBR only offers a one-year warranty, which is quite disappointing. It does have a 30-day return policy, but for the hefty price tag, you'd expect more in terms of warranty backing. 
The CLMBR is a unique vertical climbing machine that has the smart capabilities you might expect to see on a Peloton, the MIRROR, or the Ergatta. The included touchscreen allows you to view on-demand classes (membership sold separately) while you climb with the instructor.
There are three different hand grip options you can use to change up your CLMBR workout and a variety of class lengths and tempos to work with. Plus, according to the CLMBR website, this machine recruits up to "86% of your body's muscles" while in use. I'd recommend this machine to someone who wants a piece of unique, smart home gym equipment.
Why Buy the CLMBR?
Need a little extra nudge to get CLMBR? We got you. Here are five reasons why you should shop CLMBR:
Delivers a low-impact cardio workout
Connected CLMBR app with on-demand content 24/7
Financing options available with Affirm
12-month warranty
Able to be stowed away while not in use
CLMBR FAQ
What is the CLMBR made of?
The CLMBR is made of cast and extruded aluminum.
Does CLMBR offer free delivery and free returns?
CLMBR does not offer free delivery and free returns regularly. However, you may find that they occasionally run promotions that give a delivery discount.
Returns can be made within 30 days of purchase, but you are responsible for shipping costs accrued when sending the machine back.
Where can I purchase the CLMBR machine?
You can purchase the machine at clmbr.com or via Amazon. The CLMBR is also available at select retailers across the country such as Best Buy, Preview Active, and Better Bodies. However, you will only be able to get the best discount via the CLMBR website using code GGR for $250 off your purchase.