We test and review fitness products based on an independent, multi-point methodology. If you use our links to purchase something, we may earn a commission. Read our disclosures.
If you're looking to relieve muscle soreness, increase blood flow, and quickly alleviate tight muscle tissue, a massage gun is the tool for you. The problem is, percussive massagers tend to be quite pricey.
I've got good news for you, though: You needn't fork over several hundred dollars for a good muscle recovery tool. In fact, there are plenty of products that offer enhanced muscle recovery for $150 or less, which you'll find in our guide to the best budget massage guns.
Why You Should Trust Us
I've tested nearly 50 massage guns since I first began reviewing them in 2018. I've tracked the technology from its infancy to its current state, and I can decipher specs like amplitude, stall force, and percussions per minute to tell you what really matters. I've written guides to the best massage guns as well as more than a dozen articles for various respectable outlets on the science of percussion massagers.
Best Budget Massage Gun of 2023
Best Overall Budget Massage Gun: Ekrin Athletics BANTAM
Good for: People who want top-tier massage gun specs for a good price.
Aside from Hyperice and Therabody, Ekrin Athletics is one of my favorite manufacturers of percussive therapy devices. In fact, I may even like Ekrin products more than Hyperice products, but that's a story for another day (psst: read my in-depth Hypervolt vs. Theragun comparison).
The most notable feature about the Ekrin Athletics BANTAM mini massage gun is its 35-pound stall force. Not only is this simply outstanding for a mini massage gun, but it far surpasses the 20-pound stall force of the Theragun Mini—worth noting as Theraguns are considered the gold standard in percussion therapy.
What's interesting about the BANTAM is that it has progressive stall force, meaning the stall force increases with speed. The BANTAM has 28 pounds of stall force at the lowest speed, 32 pounds at the middle speed, and 35 pounds at the highest speed. This is unusual, but the 28-pound stall force is still higher than any mini massage gun I've tried.
The BANTAM offers three fixed speed settings of 2,000; 2,600; and 3,200 percussions per minute (PPM). It runs on a quiet brushless motor with a maximum decibel level of 50. The wattage of the motor is not specified by the brand as far as I can tell.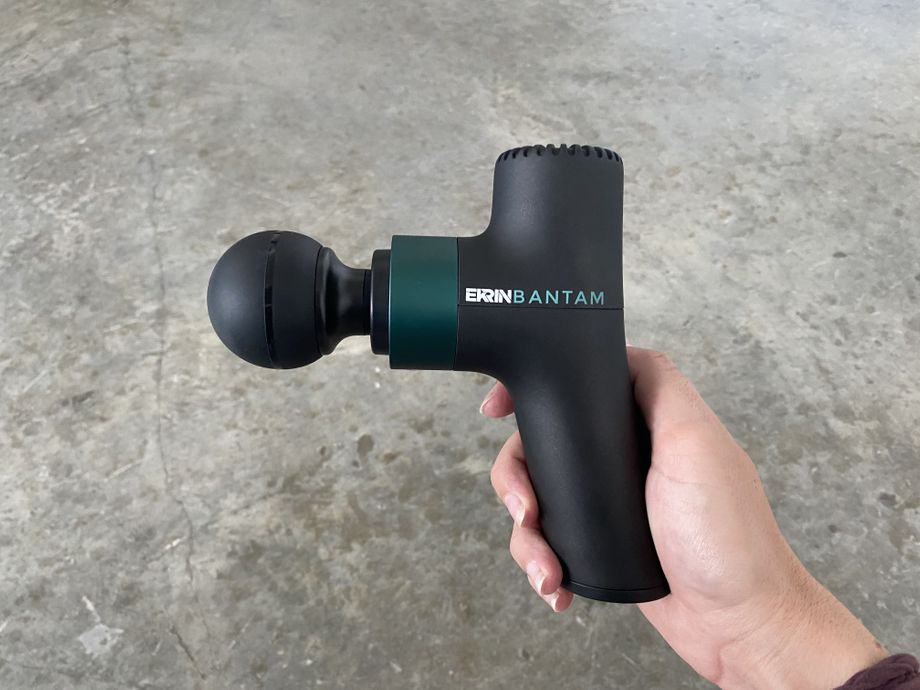 Featuring a 10-millimeter amplitude—which is average for a mini massage gun—the BANTAM comes with four attachments to treat different muscle groups. With your purchase, you get a silicone ball attachment, a flat attachment, a fork attachment, and a bullet attachment: This is everything you need for good treatment quality and versatility, but nothing special.
Aesthetically, the BANTAM looks similar to the Hypervolt Go with a slim, angled design and rubberized grip. It's easy to hold and reach all the muscle groups I want to massage, even the upper back.
Finally, the six-hour battery life is impressive AF. It also charges with a USB-C cable, which means if you lose your charging cable, you probably have an identical one lying around somewhere in your home. However, it does not come with a cube, so you'll have to use your phone cube or another USB wall converter.
The battery is a 1600 mAh Samsung lithium ion battery. The handle features an LED battery indicator that lights up blue when the massage gun is charged to between 80 and 100%; purple when it's at 60-80%; and red between 20-60%. It blinks red when the battery has less than 20% juice.
The BANTAM is not the smallest mini massage gun I've tried, but it does weigh just 1.1 pounds and comes with a nice carrying case for the gun, attachments, and charging cable. Everything in the case weighs around 1.5 pounds.
Between the impressive stall force and battery life, plus the four attachments, I think the Bantam is worth $150.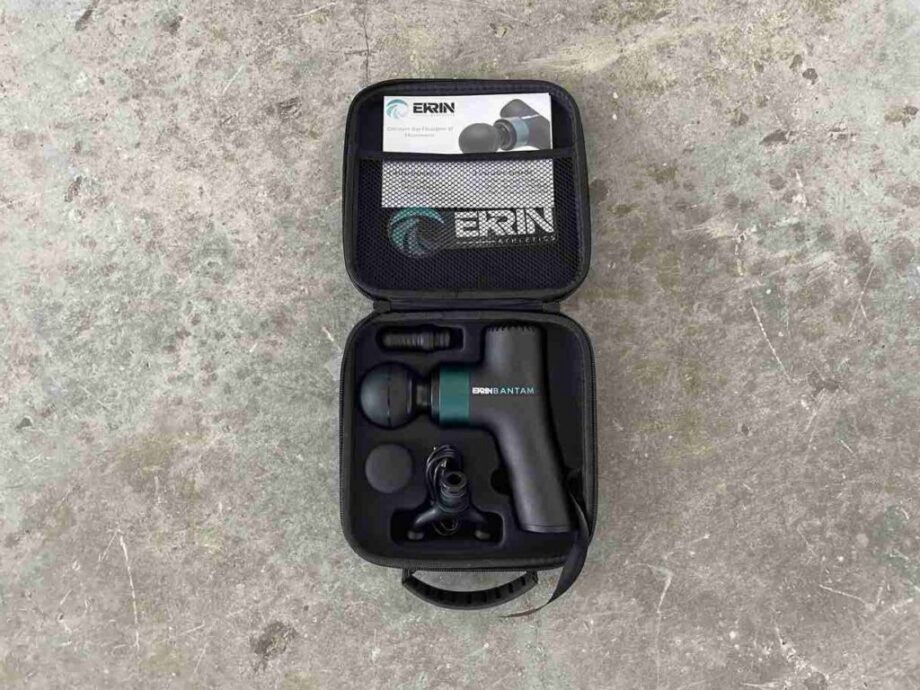 Best Budget Massage Gun Under $100: Recoverfun Massage Gun Mini
Good for: People who want a solid massager for under $100.
I like this mini massage gun very much. It actually made my guide to the best massage guns as the best budget massage gun, although since this guide allows for a price cap of $150, I chose the Ekrin Athletics BANTAM as the best overall budget massage gun.
Still, for $79, the Recoverfun Mini does a good job of massaging sore muscles and deserves a shout-out.
This affordable handheld massager reaches a top speed of 3,200 PPM with four fixed speeds. It runs at 1,800 PPM on the slow end. Despite the solid speed range, the Recoverfun Mini doesn't have an amplitude that impresses. At just 6 millimeters, this massage gun provides a vibration massage rather than a percussion massage. This doesn't mean it's bad, though: It's actually a great option for people who prefer a gentler treatment and for especially sore days.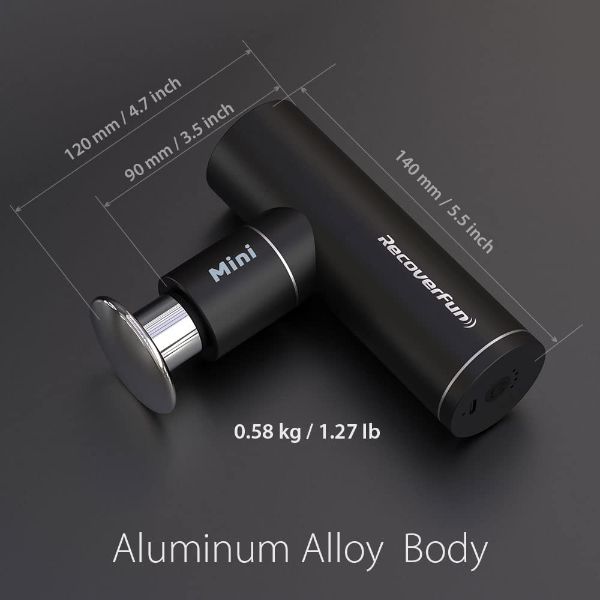 With the bullet attachment, the Recoverfun Mini became one of my favorite options for targeting tender trigger points without experiencing pain. The massager also comes with an aluminum alloy attachment that you can freeze, which makes for awesome cold therapy to reduce inflammation.
One of the best features about the Recoverfun massage gun in my opinion is the portability: It weighs just 1.1 pounds and comes in a small drawstring bag to hold the device, charger, and attachments.
Best Budget Massage Gun for Travel: REP Fitness RAPIDSTRIKE Massage Gun
Good for: Anyone looking for a high-quality, portable massage gun under $150
At $139 with free shipping, the REP RAPIDSTRIKE Massage Gun is one of the better value percussive devices out there. There are hundreds, and many have the exact same design, but the build quality, power, and price on this make it a tremendous value.
The RAPIDSTRIKE features three fixed speeds, although REP Fitness doesn't disclose the exact percussions per minute (PPM). If I had to guess based on my experience with other massage guns, I'd say this one has a PPM range of about 2,400 to 3,200.
There's one really unique feature about this massage gun: It auto-adjusts the speed based on how many pounds of pressure you're applying to your muscle tissue. Basically, the harder you press the device into your muscles, the faster it will go. While this is a really cool idea in theory, it didn't play out in reality for me. I had to press to the point of pain to reach the highest speed; I'd rather manually adjust the speed and use less pressure.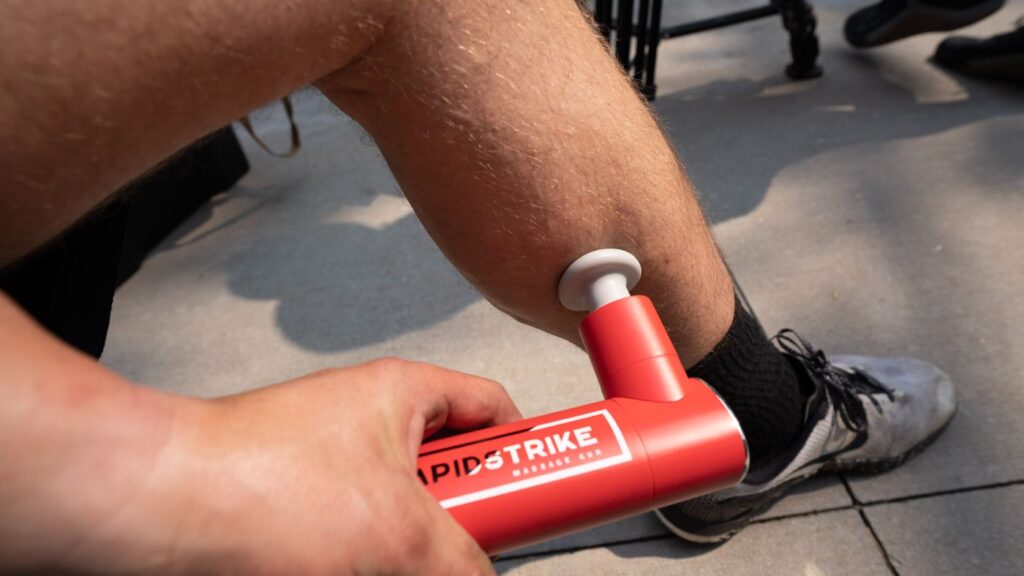 REP states the RAPIDSTRIKE uses a high-torque brushless motor but doesn't disclose the power output of the RAPIDSTRIKE gun in terms of amplitude or stall force. I really wish more brands would make these specs easily available online, because buyers should be able to compare with other products.
Anecdotally, I can say it's quite powerful for its size. I estimate the amplitude to be about 10 millimeters and the stall force to be about 20 to 25 pounds.
The REP RAPIDSTRIKE Massage Gun comes with four head attachments: round, flat, bullet, and fork.
As for the battery, it surpassed the low end of the stated 6- to 8-hour battery life. REP states the RAPIDSTRIKE will charge in 90 minutes, but ultimately it'll depend on the charging cube you use with the included USB-C cable (the cube is NOT included). I haven't felt the need to worry about battery life with this device, although I wish there was a battery indicator light.
Finally, it comes with an 18-month manufacturer warranty for defects, which is longer than the average 12-month warranty seen with massage guns.
To learn more, read our full REP Fitness RAPIDSTRIKE review.
Best Budget Theragun Alternative: Bitfinic Mini Massage Gun
Good for: People who want an affordable massage gun with a super ergonomic grip.
The Bitfinic Mini Massage Gun is my favorite Theragun Mini dupe. When I first saw it online, I thought, "No way. This thing is a total encroachment on Therabody's unique grip patent." Apparently, it's not, because this Bitfinic massage gun is flying off of virtual store shelves with no signs of slowing down.
I love, love, love the handle on this thing. This is the major selling point in my opinion. The Bitfinic Mini looks a lot like the Theragun Mini, except there's an actual handle, which makes it way easier to hold than the Theragun Mini's chunky hunk of plastic. (I love the Theragun Mini, but a handle like the one on the Bitfinic would bring it to a whole new level.) The Bitfinic would be even better if it had a rubberized grip.
This massage gun has a typical calibrated brushless motor found in the majority of massage guns. The brand provides no specifics on wattage, but it does specify that the Bitfinic Mini has 22 pounds of stall force—more than the Theragun Mini's 20 pounds.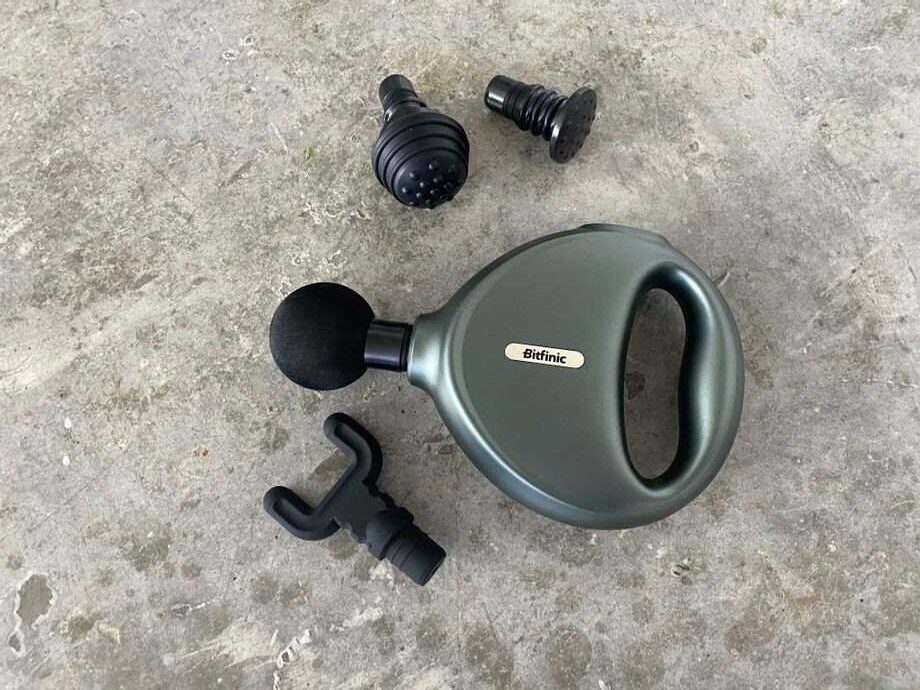 The Bitfinic has a 10-millimeter amplitude and four speeds up to 2,560 PPM. This is rather slow compared to the average range of 2,400 to 3,200 PPM across different brands, but I still feel the Bitfinic provides a good massage. There's no information on the exact PPM at each setting.
It comes with four attachments: ball, fork, dampener, and flat. The dampener and the flat attachment have little bumps on them. I'm not sure what the purpose is here: It didn't seem to do much in use and I felt like the bumps irritated my skin more than a smooth surface.
The product specs list a battery life of three to 10 hours, which is a huge range. If the battery lasts 10 hours, then this massage gun exceeds any other mini massage gun I've tried. If it's three, it's on the low end of average for a mini. I used the Bitfinic Mini every day for a week at various speed settings, and it didn't die, so that's good enough for me. It does take three hours to get a complete charge, which is rather long.
Most Versatile Budget Massage Gun: Chirogun
Good for: Anyone looking for a supremely versatile massage gun.
The Chirogun has 30 speed levels, which is absolutely wild, but I'm not sure if it's a good thing or not. It has a max speed of 3,200 PPM, but it is quite cumbersome to click through all of the levels.
In theory, it's awesome because you can make safe and small increases on sore muscles, but I'm not sure this idea played out well in reality. Still, it makes the product super versatile.
Nothing about the stall force, power, or motor is specified by the brand, which is annoying. These specs are crucial and it feels shady when brands fail to provide them. However, I can say the Chirogun feels pretty average in use. It feels exactly like I would expect a $100 full-sized massage gun to feel: it works, but it's nothing special.
As for amplitude, my experience tells me this is in the ballpark range of 9 to 12 millimeters, which is not superb but not terrible for a full-sized massage gun.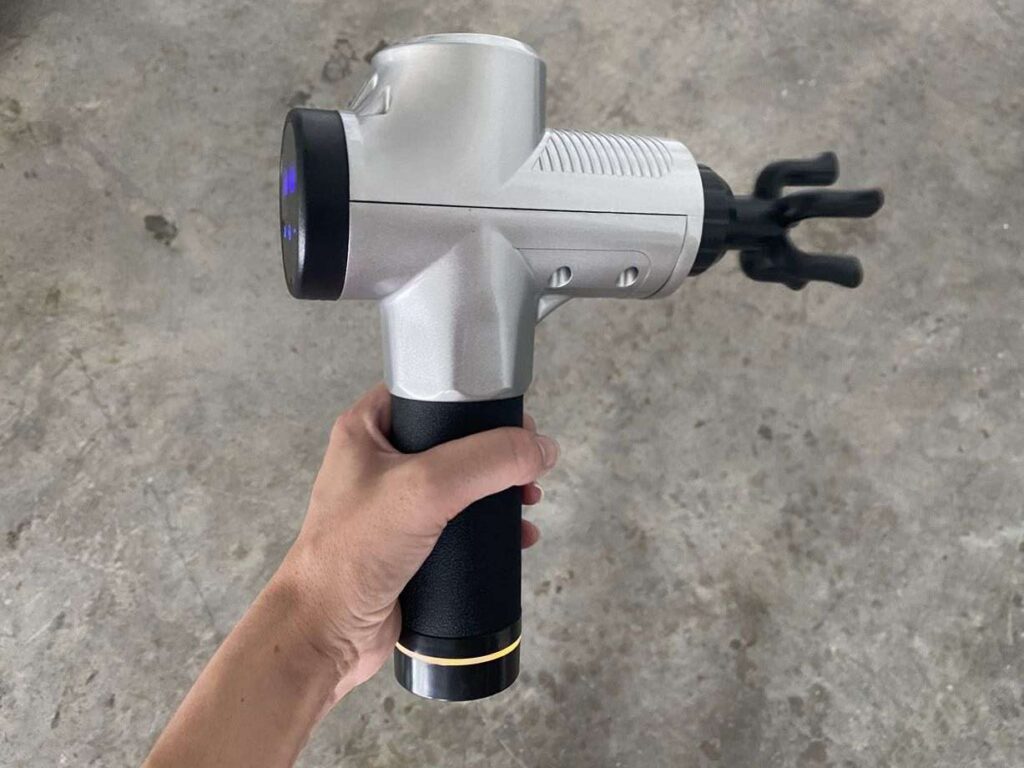 The Chirogun comes with 15 (15!) attachments and they are all of decent quality. Some of them I may never use, but it's fun to have them. There are some pretty unique shapes, such as the thumb, scraper, and pitchfork.
This massage gun has a 90-degree, T-shaped handle; it's pretty bulky and top-heavy, which makes it somewhat difficult to reach areas like the upper back.
The max decibel level is 60dB, according to the product description on Amazon. It doesn't feel too loud nor does it feel supremely quiet.
I don't recommend the Chirogun as a travel-friendly massage gun. This thing is big,and if you want to take the gun along with all of the attachments, it's gonna take up quite a bit of space in your bag. The dimensions of the carrying case with everything inside are 15.3 long by 4.29 wide by 11.5 inches tall. Everything in the case weighs more than 5 pounds.
The case itself is meh. It's kind of flimsy and doesn't seem super protective. It also doesn't keep things in place very well, but ultimately, it gets the job done.
Best Budget Massage Gun Alternative: Roll Recovery R8 Deep Tissue Massager
Good for: People who want a manual muscle recovery device that works better than most massage guns.
If you love foam rollers, you'll fall into a deep entrancement with the Roll Recovery R8. I'm talking about a major love/hate relationship. I was, quite frankly, scared of this thing when I opened the box.
My fears were not unfounded: The Roll Recovery R8 isn't gentle. In fact, it straight up hurt. A lot. Perhaps I shouldn't have used it for the first time on ultra-tender muscles tired from triathlon training, but alas, I did. And I yelped.
The R8 is a clamp-like contraption that utilizes a spring-loaded design. It truly digs into soft tissue. Featuring dual rollers that look like rollerblade wheels, it covers more surface area at one time than any massage gun can. It essentially straddles a limb: For example, you can massage your quads and hamstrings simultaneously.
I'm acutely aware that I don't have the highest pain tolerance, and I also found out later that you can purchase different rollers (much softer ones) for this contraption. I eventually figured out how to reduce pressure on the muscle tissue during use, too—although it's not easy. You have to maintain tension in the arms in order to keep some pressure off of the muscles.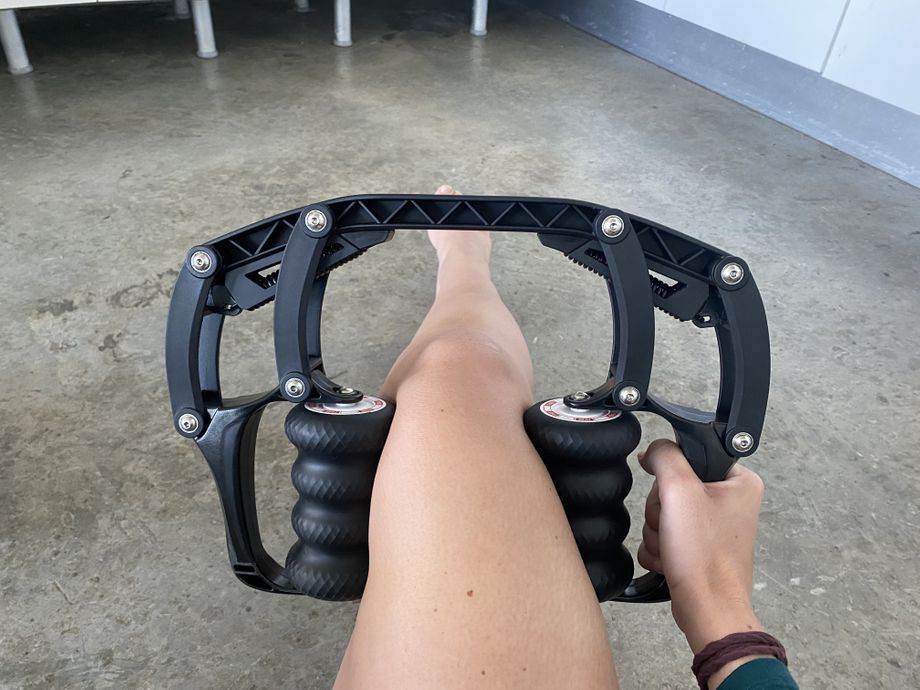 If I were to rate this thing solely on force and/or power, I give it five stars. While there are no official specs like amplitude or wattage due to the fact that this is a manual device, I can tell that this product reaches deeper into muscle fibers than most massage guns on the market. It squeezes your muscles like a MF'er.
It's clear that it reaches deeply into soft tissue, but it hurts—and there isn't any scientific literature out there suggesting that being in pain while muscle mashing is better than experiencing moderate discomfort.
The R8 is overbuilt in all of the best ways. The hardware is constructed of stainless steel, so it won't rust. It also features stainless steel ball bearings at pivot points for smooth rotation. There are rubber grips on the handles to prevent slipping, and the plastic parts are made of Zytel thermoplastic, which is a super rigid plastic. I see this thing lasting forever. Like, you may never need another foam roller in your life.
There is one major downfall, however: The Roll Recovery R8 does not work on the back at all, and not really on the shoulders, either. These are two crucial muscle groups that often need to be rolled out, so keep that in mind.
Read our full Roll Recovery R8 review.
Other Budget Massage Guns We Tested and Researched
VI Jigsaw
Originally, I wanted to include the VI Jigsaw massage gun in our top picks list for this guide. On paper, it looks amazing: rotating massage head; two replaceable and rechargeable batteries; three interchangeable massage heads; 16-millimeter amplitude; 60 pounds of stall force. These are Theragun-level specs—for less than $100!
But in use, this massage gun does not live up to its hype online. I found the Jigsaw to be obnoxiously loud, and I don't think it truly has a stall force of 60 pounds. I was able to stall this massage gun with little pressure compared to other products.
Bob and Brad C2 Massage Gun
This massage gun is pretty basic. It comes with a decent carrying case and features five speed settings, five massage head attachments, and 35 pounds of stall force. The price fluctuates between $100 and $170 often, so the Bob and Brad C2 only sometimes meets our under-$150 criteria for this article.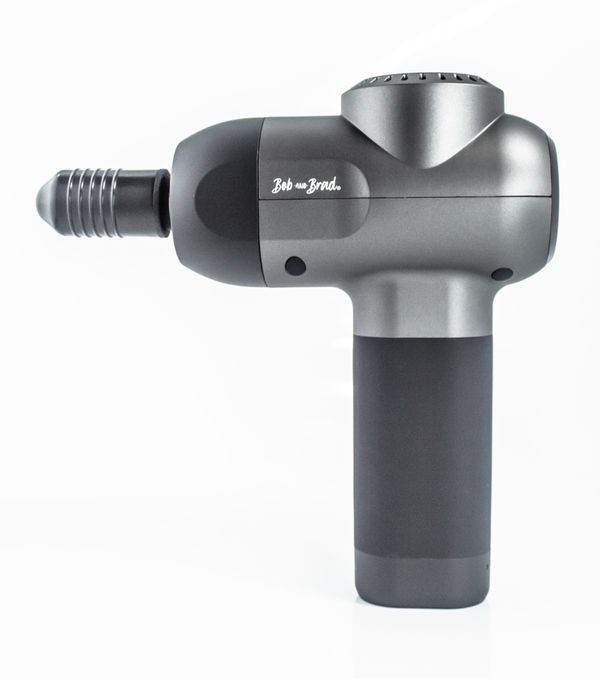 Vybe V2 Massage Gun
I've never liked the Vybe V2 massage gun. It's very loud and shaky, and it's not at all comfortable to hold. Although the specs include a 60-pound stall force and 16-millimeter amplitude, it doesn't feel anything like what you would expect—soothing deep-tissue treatment—after reading the product description.
Renpho Mini Massage Gun
Renpho makes decent percussion massage guns, and the brand's mini version is no exception. But that's really all they are: decent. This mini percussive therapy device is certainly capable of reducing muscle tension, but it won't deliver the powerful message you'd expect from something larger or pricier.
Renpho R3 Massage Gun
I'd pay $100 for the Renpho R3 massage gun. It features a typical brushless motor found in the average massage gun: it's alright, but it's not Theragun or Hypervolt quality. It's much less expensive, though. It has a 10-millimeter amplitude and five attachments, including a dampener, which is uncommon.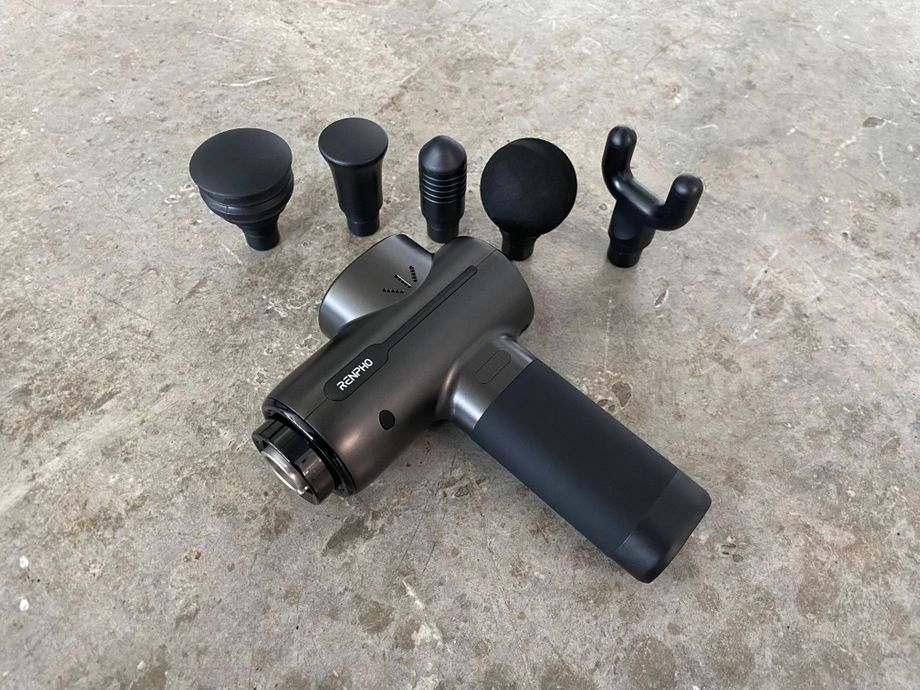 How We Picked and Tested
I personally tested every product that appears in this list, including the ones that didn't make it into the top picks. Here are some examples of how I tested these products for potential inclusion in my guide to the best budget massage guns:
Before workouts to help with circulation and mobility
During workouts for pain relief in between sets
After workouts to promote healthy blood flow and combat delayed-onset muscle soreness (DOMS)
On rest days to massage sore and tight muscles
During use, I analyzed the performance of each massage gun, noting things like speed settings, decibel level, ease of use, displays and indicators (such as for battery life), amplitude, and stall force. In addition to looking to the manufacturer for certain specs, I used my past experience with percussive devices to determine whether a product lived up to its stated specifications.
Benefits of Massage Guns
Massage guns come with many benefits. Here are three of the top benefits of massage guns explained.
Muscle Recovery
The pummeling action of a massage gun sends nutrient- and oxygen-rich blood to the treatment site, and studies show that healthy blood circulation is essential for muscle repair and rebuilding, as well as for removal of chemical byproducts of exercise (like blood lactate).
It's also possible that massage guns can work preemptively: Limited research tells us that using a massage gun as part of your warmup can reduce the total volume of muscle damage that occurs during workouts.
Related: Massage Gun For Sciatica
Pain Relief
Massage guns help to reduce pain—primarily pain from muscle soreness—in two essential ways. First, the mechanical actions of a percussive therapy device temporarily override nervous system pain signals from the treatment area to your brain. Second, percussive therapy can break up adhesions in muscle tissue and fascia, as well as relieve tension from trigger points. Massage guns may also help relieve nerve pain by relaxing the muscles around a compressed nerve.
Mobility
If you struggle with mobility and flexibility, a percussive massage gun might be your golden ticket to better squat form. While research on the effects of massage guns on mobility is limited, it is promising: One 2020 study on Hypervolt devices showed a positive effect on ankle mobility (specifically plantar flexion) compared to a control group that didn't use the devices.
Best Budget Massage Guns Buying Guide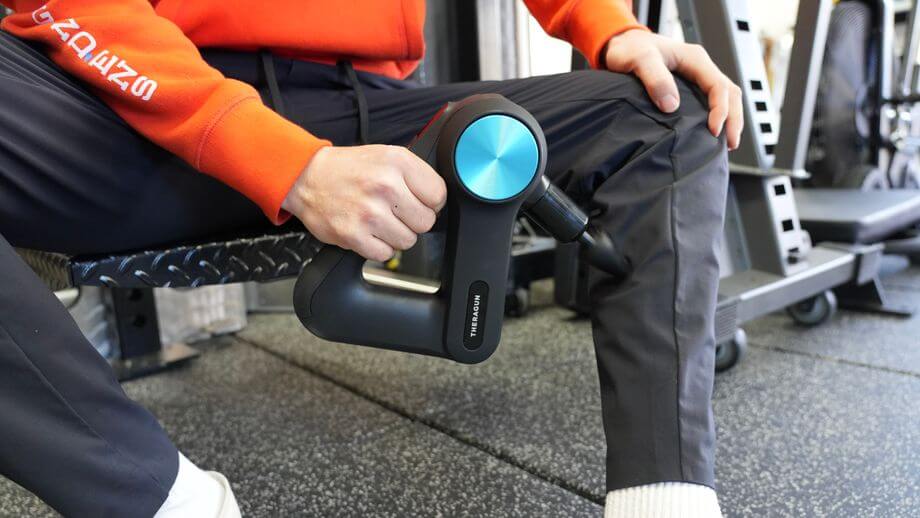 Here are a few things to keep in mind when looking for a budget-friendly massage gun.
Price Point
Obviously, if you're looking for something easy on the wallet, pricing is the stepping-off point. Budget is personal and subjective, but I chose a cap of $150 for my guide to the best budget massage guns. I feel that a price range of $60 to $150 leaves room for buyers to decide what a good value looks like to them.
Power and Speed
You don't have to sacrifice a powerful massage for a lower price tag. You can get relief from aching muscles and trigger points with a massager under $150. Look for an amplitude of at least 10 millimeters, at least three speed levels, and a stall force of at least 20 pounds, but ideally 25 or more.
Charging and Battery Life
This may come as a nice surprise: Less expensive massage guns actually tend to have longer battery lives than more powerful ones.
This sounds counterintuitive—most would think a cheaper price means a cheaper battery, and sometimes it does—but it also means less power output and that, ultimately, is what drives battery life. The super deep-tissue percussion massagers like the Theragun Pro offer fewer hours of battery life due to the power-suck of high-wattage motors.
Anyway, look for at least three hours of use in a budget massage gun: This is plenty for most people to use the device every day for a week without it dying.
Portability
A good gadget is even better when you can toss it in your travel gym bag or carry-on. Most budget-friendly massage guns are small enough to do so (as most inexpensive ones are mini versions). Still, look for products that come with dedicated carrying cases for supremely easy travel.
Smart Features
Generally, you won't get smart features like cordless charging, Bluetooth connectivity, or OLED screens with force meters (like those found on the Hyperice Hypervolt and Theragun Elite) at a price point of $150 or less. However, many muscle massagers in this price range still offer LED battery life indicators and speed indicator lights.
Noise Level
It should go without saying, but you should look for a cheap massage gun that isn't too loud. That said, cheaper massage guns are generally louder than more expensive options.
Best Budget Massage Gun FAQs
Are massage guns worth the money?
Whether a massage gun is worth the money or not depends entirely on your budget, the price point you're looking at, and the features you want. All of the massage guns on this page cost $150 or less, so are relatively budget-friendly for most people. As long as a massage gun provides pain relief, improved mobility, or another positive outcome, I'd say it's worth it for you.
What is the best cheap massage gun?
Our favorite budget-friendly massage gun is the Ekrin Athletics BANTAM, which provides up to 38 pounds of stall force, a 12-millimeter amplitude, a slim ergonomic handle, three speed levels ranging from 2,000 to 3,200 PPM, and three interchangeable heads for just $150. For a massage gun under $100, we love the Recoverfun Mini.
Do Theraguns ever go on sale?
Theraguns rarely go on sale. If Theragun does run a sale, it will generally be on older models when a new generation of models launches. Theragun also sometimes offers bundle discounts on accessories. If Theragun does offer a sale or discount, our Garage Gym Reviews team will definitely cover it on one of our holiday deals pages.
How much should I spend on a massage gun?
You can find a good massage gun for less than $150.