We test and review fitness products based on an independent, multi-point methodology. If you use our links to purchase something, we may earn a commission. Read our disclosures.
Sole treadmills have been a staple in everything from home gyms to hotels for over 20 years. Built for runners of all sizes and who are known to put a lot of miles on their treadmills, these machines are a great investment for anyone's home gym. Like any piece of fitness equipment there are going to be issues that arise with your Sole treadmill.
Have you had an issue arise and are wondering how to fix a Sole Treadmill? We've got you covered in our comprehensive guide. From troubleshooting common error codes to some simple tips and tricks, we have the information you need to either fix your treadmill at home or to know when it's probably best to call in the professionals.
RELATED: Sole F63 Treadmill Review
Troubleshooting Issues With Your Sole Treadmill
Here are a few simple Sole treadmill troubleshooting tips to try before deciding that your treadmill is done for and will NEVER work again:
1. Diagnose the Problem
Sole treadmills have three core parts: the walking belt, the motor, and all of the electronics (think circuit boards, circuit breakers, timing components, etc.). Figuring out which of the main parts is having an issue is the first step in diagnosing your problem.
It is always a good idea to test your treadmill with and without you on it when working on your diagnosis. If your treadmill is working fine without your weight on it, your issue is probably somewhere in the deck or belt of the treadmill. If it's not working properly without any weight on it, then it is more than likely an electronic or motor issue.
RELATED: Sole F63 Treadmill vs Sole F80 Treadmill
2. Read Your Owner's Manual
Many people like to just open their new purchases and skip reading over their owner's manual. This might work in the beginning, but it should be the first place you go to when trying to fix a problem with your treadmill.
One of the best parts about technology and the internet is that even if you can't find the paper owner's manual that came with your purchase, you can often find them on the manufacturer's website. Sole has a list of its owners' manuals available online.
3. Check Your Warranty
Sole Treadmills offer one of the best warranties on the market! With a lifetime warranty on the frame and deck, you will want to keep all of your paperwork together just in case you need to use it. Once you have diagnosed the issue your treadmill is having, check your warranty to see if any of those parts are covered. Taking advantage of the warranty can save you hundreds, if not thousands, of dollars in out-of-pocket costs when it comes to fixing your treadmill.
Common Sole Treadmill Repair Issues
Treadmills, in general, have a lot of the same basic components. There are a few things you can do at home based on the issue.
Display Not Working
A few reasons why your console display might not be working include:

Tether cord not in correct position
Not securely plugged into the wall
Needs new batteries
Static electricity has built up in the control panel and it needs a reset
Check each of these issues before calling a professional.
RELATED: Sole F85 Review
Treadmill Belt Slipping
If your treadmill feels like it's slipping, there are a few different ways to give it a quick belt adjustment.
If the running belt is too tight, too loose, or doesn't have proper lubrication, it can cause the treadmill to not function correctly. Correcting the treadmill belt tension will ease the stress on all of the other parts of your treadmill. Also, be sure to apply lube every six months or so in order to keep the belt running smoothly.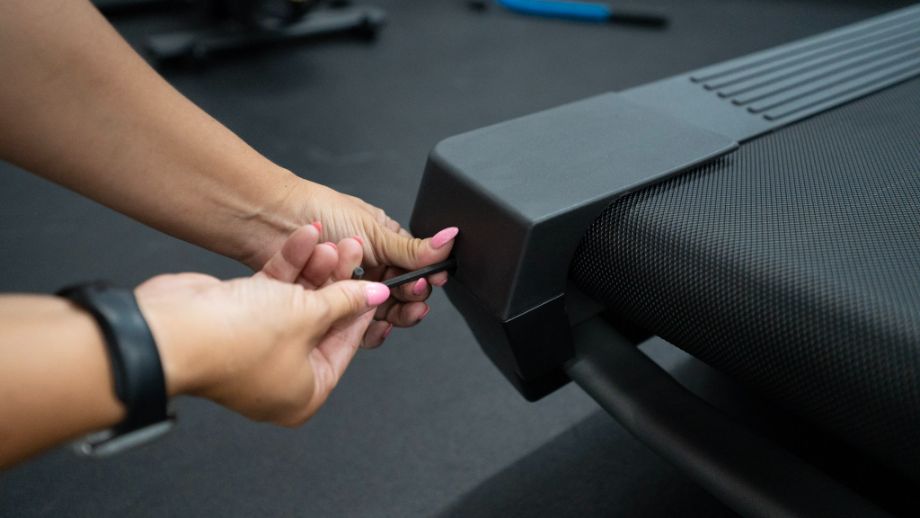 Treadmill Motor Issues
Treadmill motor issues are typically best handled by professionals as they can be very expensive to fix and possibly even made worse if you try messing with wires and cords without the proper technique or knowledge.
Some signs that your having treadmill motor issues include:
The treadmill stopping mid-workout
Treadmill not responding to speed or incline changes (possible incline motor issue)
Treadmill will speed up automatically when it's turned on
Overheating of the motor causing a burning smell (possible drive motor issue)
Erratic or inconsistent speeds due to a speed sensor issue
Sole Treadmill Error Codes
There are a few error codes that are common in Sole treadmills.
E1 error: Typically a motor issue and will be best to contact Sole's customer service
Incline Error: Restart by removing the safety key, putting it back and running a calibration cycle
LS1 error: Known as a low-speed error and can typically be fixed by turning the treadmill off and then back on again and recalibrating the machine
If you have a different error code that pops up, you can always do a quick YouTube search for a quick DIY full video and to see if other users have experienced something similar and found a result without a technician.
Treadmill reviews are also a great place to go when working on diagnosing and fixing a treadmill issue. Even the best treadmill can have some small quirks that need to be adjusted and if it has already been found by another user that can save you a lot of time and frustration.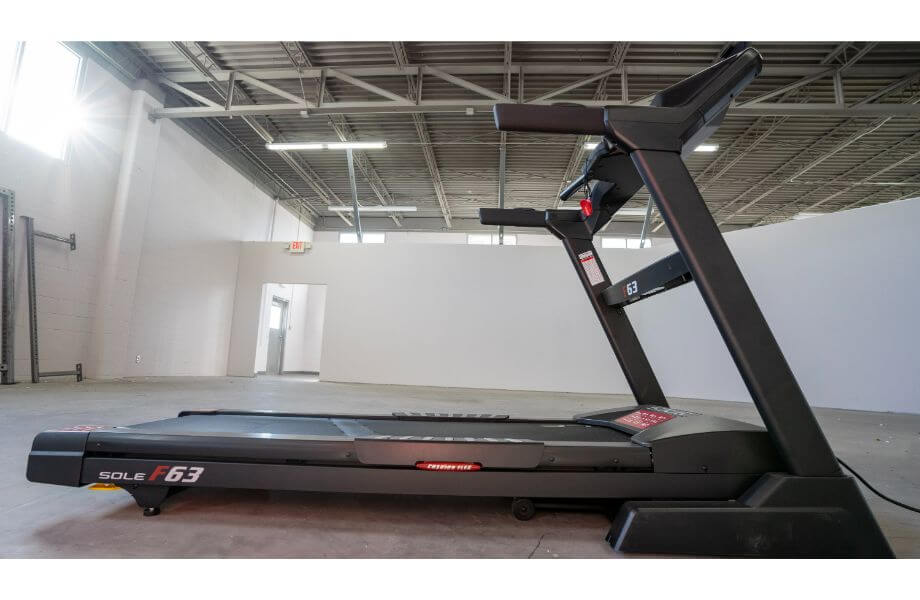 Make sure that your treadmill's power cord is grounded and not overloaded. If possible, it is best to have a separate plug-in for your treadmill without anything else plugged into it. It's also not recommended to use an extension cord when plugging in your treadmill.
RELATED: Best Folding Treadmills
How to Recalibrate a Sole Treadmill
According to the owner's manual for the Sole F63, here is how you recalibrate one of their machines:
Remove the safety key.
Press and hold the "Start" and "Fast" (speed up) buttons with one hand and replace the safety key with the other. Continue to hold the Start and Fast key until the window displays "Factory settings," then press the enter key.
You will now be able to set the display to show Metric or English settings. To do this, press the up or down key to show which you want, then press enter.
Make sure the wheel size diameter is 2.30 then press enter.
Adjust the minimum speed (if needed) to 0.5 and then press enter.
Adjust the maximum speed (if needed) to 12.0 and then press enter.
Adjust the maximum elevation (if needed) to 15 and then press enter.
Grade return – On (This allows the incline to return to 0 when stop is pressed.
Press start to begin calibration. The process is automatic; the speed will start up without warning so do not stand on the belt.
How to Fix a Sole Treadmill: Q&A
Why did my Sole treadmill stop working?
An issue with the motor, belt and electronics are the three most common reasons your Sole treadmill will stop working. This can be from improper maintenance and upkeep, age of the machine, faulty parts, or from normal wear and tear of the machine. 
How do you reset a Sole treadmill?
To reset (or recalibrate) your Sole Treadmill you need to remove the safety key, then press and hold down the "start" and speed "up" arrows at the same time, then replace the safety key. Continue to hold down the buttons until the display shows "Factory Settings" and then you will need to press the enter key. Then you will need to press the start button and the calibration will begin. This will make the belt start turning as the machine resets to factory settings. Don't stand on the belt during this time. 
What do I do if my treadmill is not working?
If your treadmill is not working you can try a few of our troubleshooting steps to determine what the problem is. If you are unable to diagnose or fix the problem you can always call the customer service department at Sole Fitness or your local fitness equipment repair business.
Can a treadmill be repaired?
Some treadmill issues can be an easy fix such as new batteries in the control panel, making sure the plug-in is secure and the treadmill is grounded, or adjusting the belt. Repairs such as these are affordable and prolong the life of your machine.
If your treadmill is having issues with higher price items such as motors or electronic motor control boards the repairs could end up costing more than the cost of a new treadmill. Between parts, labor and getting your treadmill to and from a repair shop the costs can add up quickly.