We test and review fitness products based on an independent, multi-point methodology. If you use our links to purchase something, we may earn a commission. Read our disclosures.
Diamondback Fitness might not be a household name in the fitness industry, but we think the Diamondback 1260Sc Rear Wheel Studio Cycle Bike might have what it takes to compete with top brands and some of the best exercise bikes on the market.
We like the fact that this Diamondback bike has a rear-drive system, which is not only powerful, but the rear-drive design creates a low-maintenance, long-lasting machine. We think you'll also like the fact this bike can go pretty much anywhere in your home gym because it runs off self-generated power.
Whether you're a boutique cycling fanatic, or just want a solid machine for indoor cycling, this Diamondback 1260Sc review will help break down both the pros and cons of this studio bike.
Putting Our Spin On Stationary Bike Reviews
Our expert product testers here at GGR have tested dozens of exercise bikes, including upright bikes, recumbent bikes, folding bikes, and even under-desk bikes. We're a group of fitness professionals with years of collective experience that ranges from certified personal trainers to former college athletes and nutrition coaches to CrossFit Level 1 Trainers.
Diamondback 1260Sc Bike
GGR Score: 4.3
Product Highlights
Compatible with any cycling app
16 levels of magnetic resistance
300-lb user weight capacity
Dual pedals with SPD clips/adjustable toe cages
Pros & Cons
Pros
Compatible with any cycling app
Rear-mounted flywheel
Dual pedals
Cons
Only 16 levels of magnetic resistance
Expensive at around $1,500
Basic LCD console
Bottom Line
A high-quality studio cycling bike that's compatible with any cycling or fitness app.
A Quick Look at the Diamondback 1260Sc Bike
Diamondback Fitness offers a limited selection of at-home exercise equipment to choose from including ellipticals, upright bikes, recumbent bikes, and studio cycle bikes. Although the selection is limited, the brand is committed to providing quality equipment.
Diamondback claims each product the brand brings to the market receives hundreds of hours of research and development to build the best indoor cycling bike (and elliptical machine) for your home. The brand even claims to test the packaging your equipment comes in to ensure safe arrivals.
Before You Buy
Understand that this bike doesn't have built-in touchscreen capabilities. You will, however, be able to use your own device to stream the programming of your choice. 
If you're used to studio bikes with dial resistance knobs, be ready for a quick-action lever for easy control over your resistance levels. 
You can put this bike anywhere in your home gym or garage because it does not require electricity—the bike runs from self-generated power.
Diamondback 1260sc Bike Video Review
Is the Diamondback Fitness 1260Sc Studio Cycle Worth It?
The Diamondback 1260Sc will not be the indoor bike for every home gym owner. With a fairly hefty price tag around $1,500 you'll get a heavy-duty exercise bike built with favorable aspects like a rear-mounted flywheel and a belt drive system that are often seen in commercial-grade cycle studios.
However, at this price point you won't find a touchscreen or interactive programming like you will in competitor brands like Peloton and NordicTrack. The brand states that the Diamondback 1260Sc bike provides everything you need, and nothing you don't from the compact LCD display.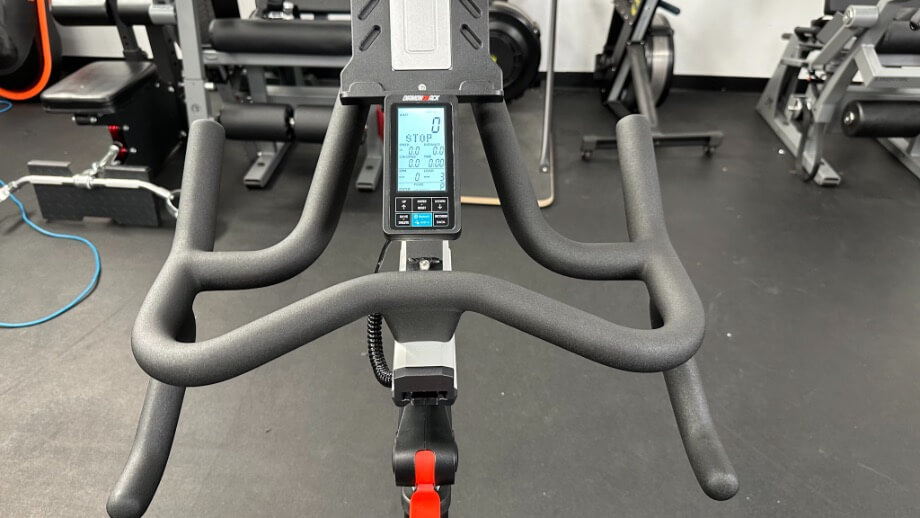 Great for:
Anyone looking for a wide range of resistance settings with a 31-lb flywheel
People who want to track simple metrics like WATT output, distance, calories, and RPM
People who don't want to be locked into a subscription service for programming
Not recommended for:
Larger folks (anyone weighing over 300 lbs or taller than 6'5")
Anyone with a tight budget
People who want built-in interactive programming
Diamondback Fitness 1260Sc Studio Cycle Specs
| | |
| --- | --- |
| Price | About $1,500 |
| Footprint | 59″ L x 23″ W x 50″ H |
| Product weight | 130 lbs |
| Weight capacity | 300 lbs |
| Suggested height range | 5'2″ – 6'5″ |
| Resistance system | Magnetic |
| Flywheel weight | 31 lbs |
| Console | LCD display |
| Seat adjustment | Up/down, fore/aft |
| Handlebar adjustment | Up/down, fore/aft |
| Foot pedals | Toe cage/SPD clipless |
| Compatibility | ANT+ and Bluetooth connectivity |
| Warranty | 5-year frame and brakes, 3-year parts, 1-year labor, 90-day wear items |
Working Out on the Diamondback 1260Sc
The Diamondback 1260Sc Rear Wheel Studio Cycle is a solid bike delivering a top-notch, studio-style ride. Coop, GGR founder and OG product tester, put the 1260Sc to the test from ordering and assembling to pedaling and sweating.
While riding, Coop felt locked to the ground with the heavy flywheel and solid build of the bike. The 31-pound flywheel made for a smooth and quiet workout and the ability to level up the resistance.
Speaking of dials, the 1260Sc does not have a traditional resistance dial. Instead, it has a flywheel lever. "I'm surprised, but really like the lever," says Coop. "It's very intuitive and quick to change. I think I prefer it to a dial, which I didn't expect."
The multi-position antler-style handlebars make riding in the saddle or out of the saddle possible with a variety of options on where to prop yourself up. The one thing that we find a little strange is the water bottle holder positioned in front of the upright, so you have to reach around the bike where the upright meets the base. Despite that, the other ergonomic features on this bike let you create a customized fit, but I'll touch more on that later.
In addition to the Diamondback feeling like a solid, well-built bike, Coop became a fan of the Diamondback 1260Sc bike as soon as he saw the rear-drive system.
"Rear flywheels are what you find in most (if not all) cycling studios as they require less maintenance and create less problems," says Coop. "The gold standard studio bike—the Keiser M3i—is rear-wheel drive. It rides like a dream and we've had no mechanical issues with it."
Bike Durability and Build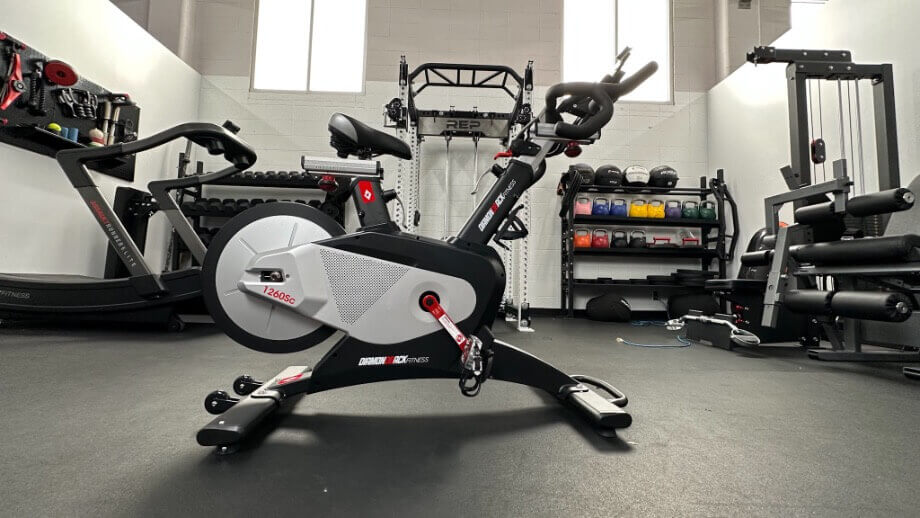 Why does Coop like rear-wheel drive bikes so much? It's because the design helps prevent corrosion because neither your sweat or drinking water will drip directly onto the metal flywheel. The less chances you have to expose the mechanical parts of your bike to liquids, the better!
The 1260Sc is constructed with a heavy-duty steel frame and features an industrial powder coating, which is chip-resistant and also designed to stand up to metal corrosion.
Not Compact, But Portable
The footprint of the bike will take up some floor space, measuring nearly 5 feet in length and almost 2 feet in width. It might sound like a big bike, but for comparison this is pretty much the same floor space you would need for the ever-popular Peloton bike.
Although the 1260Sc is not compact (or foldable), it will not be too much of a burden to move this 130-pound machine with built-in transport wheels and a front-mounted handlebar. You can simply squat down to grab the handlebar, tilt the bike on the wheels, and roll your Diamondback bike into a corner to regain your floor space.
Quality Ergonomics and Lasting Comfort
As far as riding ergonomics go, the Diamondback 1260Sc offers a fine-tuned fit. It features traditional height adjustments on both the seat and handlebar, in addition to fore and aft adjustments. Fore and aft positioning helps you find your most effective stance with front-to-back adjustments. This allows you to find the optimum pedaling position for your body.
The customizable seat and handlebar adjustments make the Diamondback 1260Sc comfortable for a large range of users—all the way from 5 feet, 2 inches tall to 6 feet, 5 inches tall. Coop is 5 feet, 9 inches tall and reports finding a comfortable position that also felt powerful while riding.
Additionally, the cushioning on the Diamondback offers a bit more than a traditional road bike, but not as much as some of Coop's favorite air bikes. Coop prefers a little cushioning in a bike seat, saying that "I spend a lot of time on bikes and want to sit on my bones instead of the muscle. I think the 1260Sc is a good compromise on cushioning."
Technology Benefits and Conveniences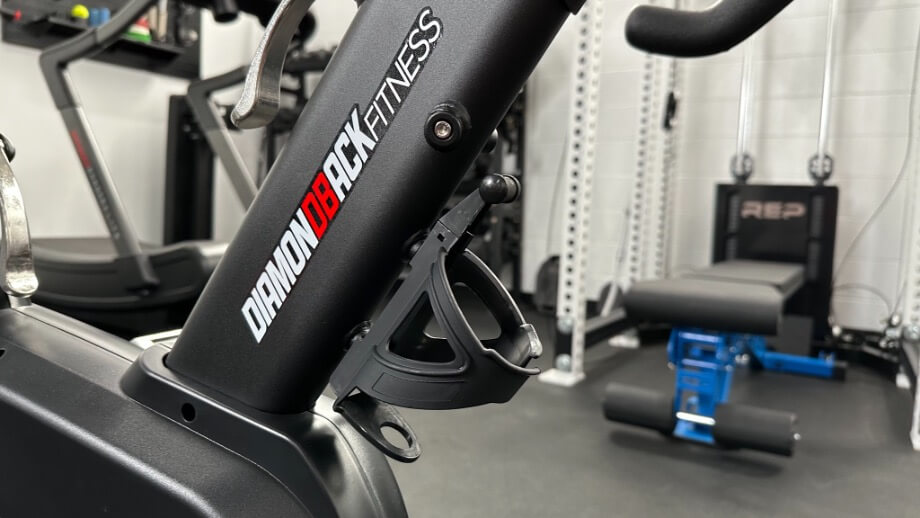 Although the purchase of Diamondback 1260Sc will not come with a touchscreen display or built-in programming, you will still have the ability to connect certain devices with the bike to track your metrics.
According to the Diamondback website, the 1260Sc is compatible with any app or wearable technology that is ANT+ or Bluetooth compatible. All you'll need to do is hop on your bike, and start pedaling to get the console to start and light up. From there, you'll open your Android or iOS device to open your desired app and start the search for new devices.
You will then press the Bluetooth and ANT+ button on the console, once the ANT+ blinks, you're ready to connect. When connecting for the first time, the device is only pairable while the ANT+ indicator is blinking, which will last 30 seconds. Lastly, on your smartphone or tablet, choose GFIT from the connection choices. With this connection, you'll have the ability to use apps like Strava, Zwift, Myzone, and Rouvy.
The Diamondback 1260Sc is "definitely not at the level of a Peloton," says Coop. The display and tech options are far less than top brand competitors, but Coop says the console didn't feel too small to track the basic metrics.
"It has a much smaller console than many higher-end, experience-driven bikes—but it's easy to use and it delivers the essentials," says Coop. He also mentions the tablet holder is nice, doesn't cover the console, and allows you to fire up any app of your choosing.
Comparison to the Keiser M3i
The Diamondback 1260Sc is most comparable to the Keiser M3i Indoor bike because both exercise bikes feature heavy-duty construction, rear-drive systems, and basic LCD displays.
The Diamondback is nearly $1,000 less than the Keiser M3i with a lot of similar features like wide ranges of height and fore and aft adjustments, compatible with a large selection of apps and wearable technology, and accommodating user weight capacities.
Here is a comparison chart of the Diamondback and the Keiser exercise bikes:
| | | |
| --- | --- | --- |
| | Diamondback 1260Sc Bike | Keiser M3i Indoor Bike |
| Price | Around $1,500 | Around $2,400 |
| Footprint | 59″ L x 23″ W x 50″ H | 51" L x 26" W x 49" H |
| Weight | 130 lbs | 92 lbs |
| Weight Capacity | 300 lbs | 350 lbs |
| Flywheel weight | 31 lbs | 8 lbs |
| Pedals | Toe cage/SPD clipless | Adjustable toe cage/SPD |
| Resistance | Lever-adjusted | Micro-adjustable dial |
| Warranty | 5-year frame, 3-year parts, 1-year labor, 90-day wear items | 3-year frame, 90 days labor |
Keiser M3i Indoor Bike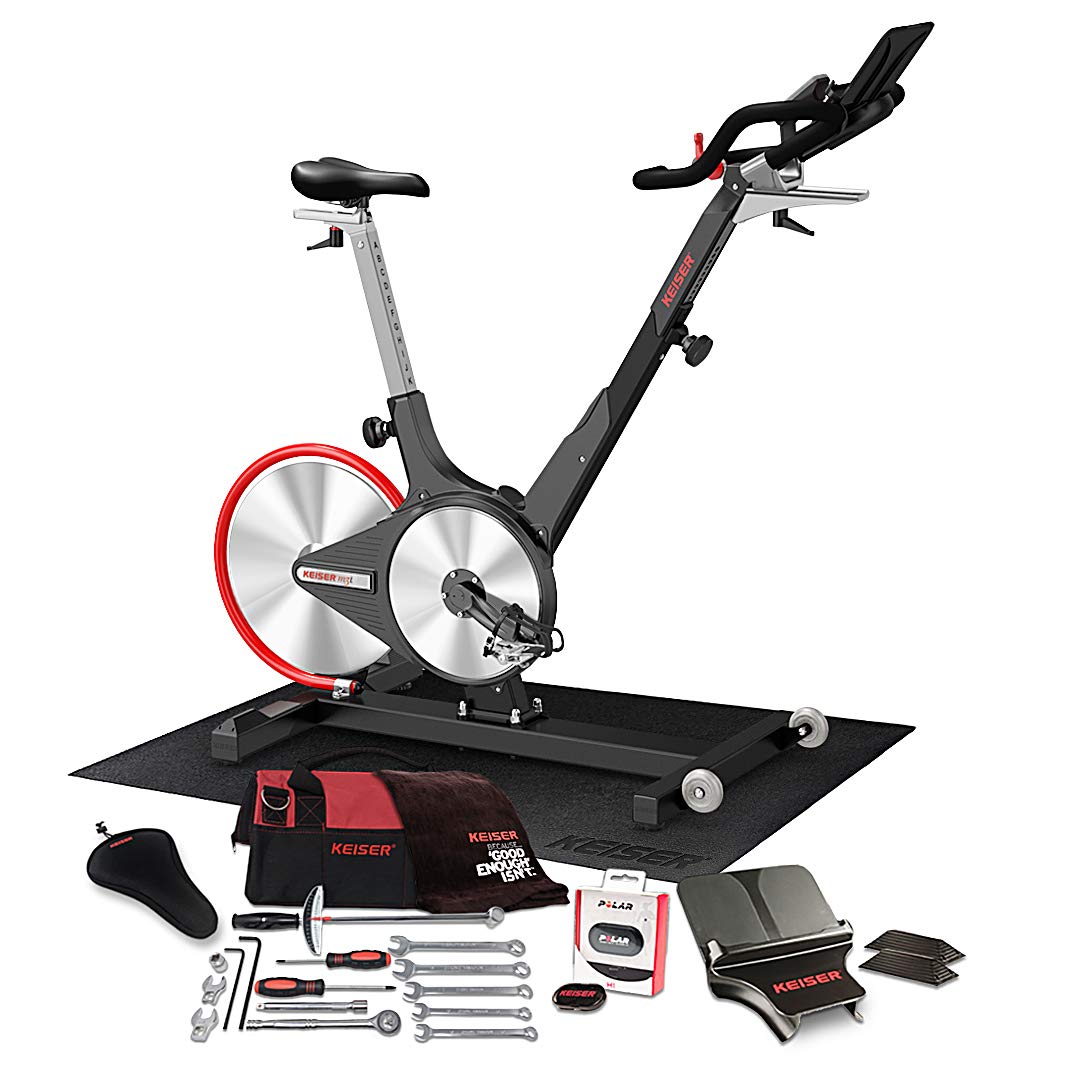 GGR Score: 3.6
Community Score: 5
Product Highlights
Comfortable for people of all heights
Durable
350-lb weight capacity
Only costs $6.99 for interactive programming
Very smooth
Made in USA
Pros & Cons
Pros
Adjustable seat that accommodates people from 4'10"- 7'
350 lb user weight capacity
Only $6.99 per month for interactive programming access
Extremely smooth ride
Cons
More than $2,400
No built-in screen to view interactive programming on
Primitive and small display
Bottom Line
A time-tested exercise bike that lacks modern conveniences but delivers a challenging cardio workout every time.
Read our full Keiser M3i review for our in-depth thoughts on this bike.
Customer Experience
Diamondback Fitness offers a 30-day money-back guarantee from delivery day. To return a Diamondback product, your return must be approved during the first 30 days.
You can seek approval for returns by submitting a request online or calling customer service at 1-385-255-9025 to get a return merchandise authorization number.
It's worth mentioning that if you do not disassemble and pack your product back into the original packaging (or comparable), the company will deduct 20 percent of the return for a restocking fee.
The Diamondback 5-year frame warranty is where the brand falls short. We like to see exercise bikes with 15-year frame warranties, but we're still happy when we see at least 10 years. That said, Diamondback does offer a 5-year "Diamond Warranty Boost" for an additional $200 fee.
Assembling the Diamondback Bike 1260Sc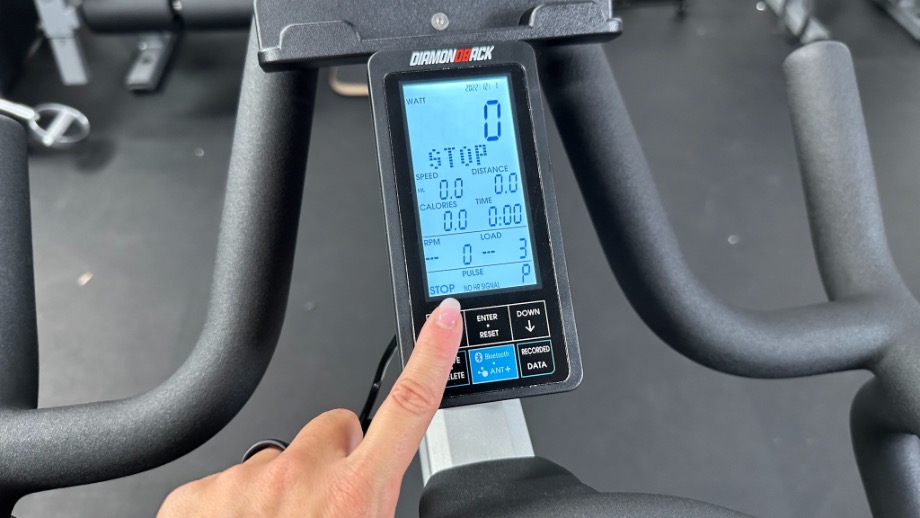 Due to the sheer weight of the bike (130 pounds), Coop suggests having another set of hands to assemble the 1260Sc. Despite the weight, Coop says the build was pretty simple and straightforward.
"The nice thing about this build is 90 percent of the bolts are pre-installed. That means instead of searching through a bag for parts you just remove the bolts and reinstall them with the part attached to the frame," explains Coop.
Coop does note that the 1260Sc comes with a lot of parts, making the pre-installed bolts a nice bonus to keep track of everything. However, for an additional $200 at checkout, you can pay for professional assembly and not have to worry about a single bolt.
Ordering Your Diamondback 1260Sc
The Diamondback website offers financing through a third-party company, Affirm. If you qualify for financing, you can choose from 3-, 6-, or 12-month plans with 0% APR.
Diamondback also offers free shipping within the continental United States, with an exclusion on Martha's Vineyard, Nantucket, and other "remote locations." Shipping to Hawaii and Alaska can be arranged, but you will have to call customer service at 1-385-255-9025 on a weekday from 9 a.m. to 5 p.m. MST.
Customer Reviews
The customer reviews on Amazon are overwhelmingly positive, with only a handful of negative reviews out of the 38 total reviews. On Amazon, the Diamondback 1260Sc is currently rated 4-out-of-5 stars.
A similar positive trend shows up on the Diamondback website, which is not surprising because fitness brands don't always like to show negative reviews (or reviews at all). Overall, people have really positive things to say about the 1260Sc and most of the negative comments centered around the basic LCD display.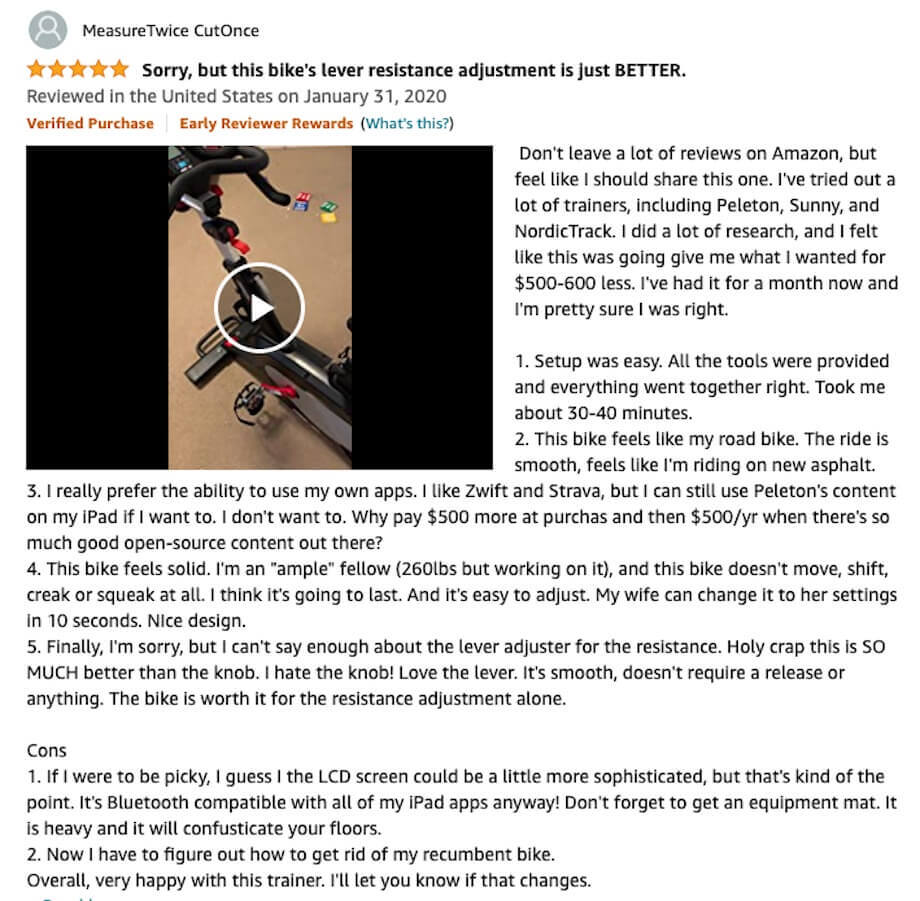 Final Verdict of Our Diamondback 1260Sc Review
The Diamondback 1260Sc will make a great addition to your home gym if you've been on the search for a studio-style bike that doesn't force you into a specific monthly subscription. Here are some features we think stand out about the 1260Sc:
Does not require electricity
Offers a customizable fit
Can accommodate users up to 300 lbs
Heavy 31-lb flywheel
Bluetooth and ANT+ connectivity
Diamondback 1260Sc Rating
Diamondback 1260Sc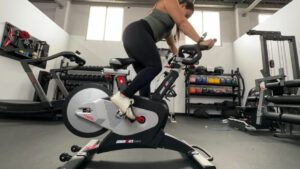 This highly adjustable, rear-drive studio bike might just be everything you've been looking for. Find out in the Diamondback 1260Sc review.
Product Currency: $
Product In-Stock: InStock
Diamondback 1260Sc Rear Wheel Studio Cycle FAQs
How much weight can a Diamondback bike hold?
Diamondback Fitness currently has five different models of indoor exercise bikes. All five bikes can support at least 300 pounds, while some user weight capacities range up to 350 pounds.
What is the right bike frame size for my height?
The Diamondback 1260Sc will work for a wide range of people and is recommended for people between 5 feet, 2 inches tall and 6 feet, 5 inches tall. To customize the fit to such a large range of users, the bike not only has height adjustments (up and down), but is also designed to have fore and aft adjustments (front to back), which helps you dial in the best distance between your seat and handlebars. 
Are Diamondback bikes worth the money?
The Diamondback Fitness 1260Sc Rear Wheel Studio Cycle bike is going to be a valuable option for indoor cycling for some home gym owners. That said, when a piece of fitness equipment feels worth it, it's highly subjective and depends on your budget, your individual goals, and the level of integrated technology you're seeking.