We test and review fitness products based on an independent, multi-point methodology. If you use our links to purchase something, we may earn a commission. Read our disclosures.
Walking into an Apple store, you may be overwhelmed by the small differences between the different computers. How the heck are you supposed to know and understand the little intricacies between CPU processing speeds and neural engines? You're not! This is where a professional should come in to explain the differences so you can decide which model is best for you.
This is extremely similar to various treadmills within one line that share very related specs with small differences, like the Sole F63, Sole F80, and the Sole F85. I'll run you through the key distinctions in this research-based, Sole F85 review. I have extensive experience with the Sole F63, which is essentially the same machine with fewer features, so I can give you an inside look on what to expect.
Obsessed With the Best
Our team of expert product testers has tried well over two dozen treadmills, and researched dozens more. We know the industry standards on deck size, warranty, and weight capacity (among many others). Why else is the team at Garage Gym Reviews qualified to give you our opinion you may ask? Oh yeah, we're certified personal trainers, nutrition coaches, and CrossFit L-1 trainers––knowing fitness is our job.
Sole F85 Treadmill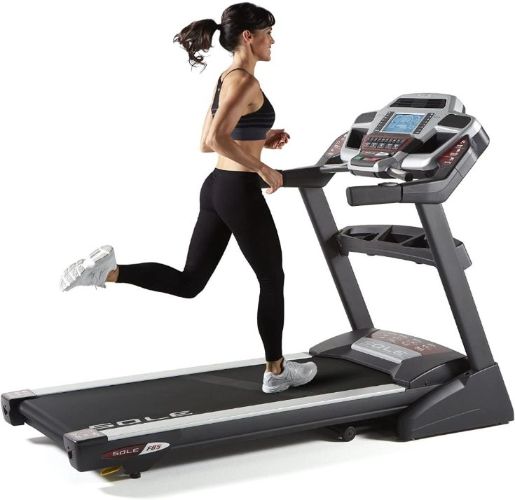 Sole F85 Treadmill
Sole's F85 treadmill is one of its highest rated foldable machines. It has a powerful 4.0 horsepower motor that is smooth, quiet and able to support high intensity, sustained running.  The F85 includes a 22-inch wide running surface with 2.75 inch rollers intended to extend the effectiveness of the treadmill's motor. The running surface is cushioned and boasts a 2-ply belt with four layers, which Sole claims to reduce impact by 40%. This treadmill offers incline options up to 15% grade for variable hill training, interval work and endurance conditioning. With a max speed of 12 miles per hour, the F85 is suited for every fitness level from casual walking to intense running. The F85 includes speed and incline buttons on the handrail, which makes it easy to adjust your settings without having to remove your hands from the handrails. And, for those of you looking for a touchscreen and improved tech features, you are in luck. The F85 now offers a WiFi connected experience which keeps you entertained throughout the toughest of workouts. The 10.1 inch touchscreen display includes seven preset apps: Netflix, YouTube, ESPN, CBC News, NBC News, and CNN News.  What's more, the F85 is equipped with Bluetooth speakers, a USB port and an integrated table holder to enhance your running experience. Connect to the new Sole+ app to track workout metrics or transfer your fitness data to other apps like Fitbit, Record, Mapmyrun and Apple Health. Constructed with an all-steel bullet proof frame, the F85 is built like a tank. Yet, folding the treadmill is effortless thanks to Sole's "Easy Deck" design. However, with a folded footprint of 44 inches by 37 inches by 71 inches, the F85 certainly is not space-saving. Weighing 308 pounds, the F85 may offer portability but users report the weight makes it very difficult to move. While the overwhelming majority of reviews are positive, it's not all roses and sunshine. Several reviews report a faulty touchscreen, software  malfunction, and Bluetooth speakers emitting screeching noises. But, backed with a lifetime warranty, the F85 stands as one of the best on the market.
A Quick Look at the Sole F85 Treadmill
Sole Fitness has a website packed with cardio equipment––picture rowers, ellipticals, bikes, climbers, and yes, treadmills. From the other heavy-duty Sole machines I've previously tested, I can tell the brand puts a heavy emphasis on making products that are durable, fairly priced, and not overly tech-y.
Think of them as the Honda of cardio machines––they aren't a flashy BMW or Tesla with the latest technology, but you know you can count on them to help you get er' done for years to come.
My Tips:
Take advantage of Sole's financing options through Citizens Pay!
Save even more cash with Sole Fitness coupons.
Pros:
4.0 HP motor
Large running surface at 22" W x 60" L
400-pound user weight capacity
Lifetime frame, motor, and deck warranty
15 levels of incline
Well-cushioned
Folding deck
Cons:
High step-up height at 8"
Heavy machine
Customer service is difficult to reach
Is the Sole F85 Treadmill Worth It?
Trying to decide if the Sole F85 is the right cardio machine for your home gym? Here's who I'd recommend this treadmill for, and who should check out a different option.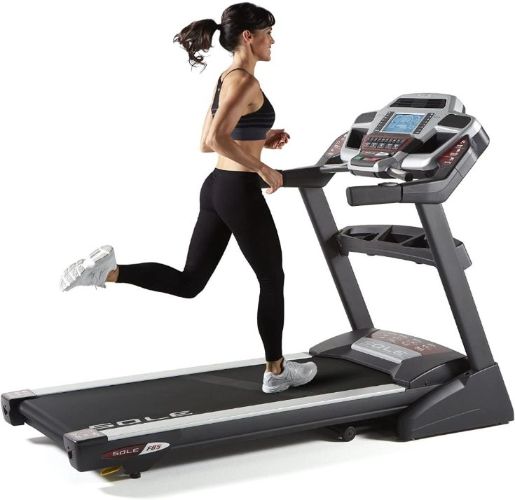 Great for:
Heavy people
Those who want a very durable treadmill
Sole F85 Treadmill Specs
| | |
| --- | --- |
| Footprint | 66" H x 82" L x 37" W |
| Weight | 308 lbs |
| Weight capacity | 400 lbs |
| Warranty | Lifetime frame and motor, 5-year electronics and parts, 2-year labor warranty |
| Incline | 0 – 15 levels |
| Speed | .5 – 12 mph |
| Motor | 4.0 CHP |
| Step-up height | 8" |
| Screen | 10.1" |
| Deck size | 22" W x 60" L |
| Foldable | Yes |
Footprint, Portability, and Durability
Although the Sole F85 has a rather large footprint, it is a folding treadmill (with a gas shock). If the folding mechanism works like the F63, it will be an easy process to fold and unfold the machine. There are also two transport wheels to help you move the treadmill around a room. Even though the machine is foldable, I wouldn't recommend it for smaller spaces. The F85 is still bulky when folded and will take up a sizable amount of space.
It is worth noting that the F85 weighs a whopping 308 pounds. If you need to move the machine up or down the stairs, I'd recommend hiring professionals if you can afford it. It isn't worth hurting yourself over.
Although I haven't personally ran on the Sole F85, everything points to this machine being durable. It has lifetime warranties on the frame, motor, and deck. The user weight capacity is 400 pounds, which is well above the 300-pound industry standard. Plus, the 4.0 CHP motor is much more powerful than the average treadmill's 3.0 CHP motor.
The Ergonomics
The Sole F63 has a very comfortable deck, which Sole claims "reduces joint impact by 40%." I can't substantiate their claims, but I do personally think it is easy on the knees. If the Sole F85's cushioning is anything like the F63's, you'll likely have a very comfortable run or walk.
I will mention––the step-up height on the F85 is pretty high at 8 inches. If you're someone who has mobility issues or you're an older adult, this might not be the best option for you. For reference, people who struggle to step up or down should look for a treadmill with a 5inch or under step-up height.
Technology Benefits and Conveniences
Unlike other Sole treadmills, the F85 has a touchscreen, which is a new addition as of 2023. The Android system touchscreen isn't huge (only around 10 inches) but it does give you free access to YouTube and Netflix (your own login is needed) apps without forcing you to pay for STUDIO programming.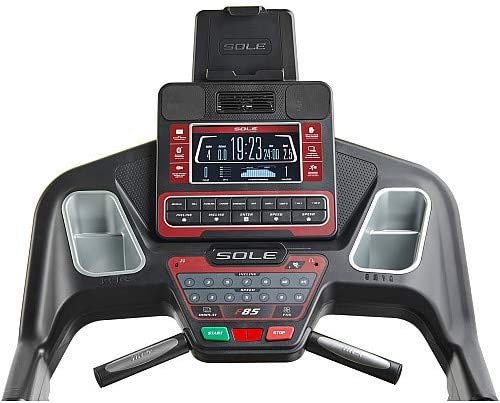 Other brands like Bowflex "force" you to pay for their interactive programming service in order to actually use the other unrelated apps, which I'm not a fan of.
If you'd rather use a larger tablet, the F85 still comes equipped with a device holder and Bluetooth capabilities. You'll be able to sync your smart device to the treadmill to see various stats like incline, speed, power, and RPM.
The F85 also has six standard preset programs, seven fitness tests, and 12 custom options. This is a nice feature for a home treadmill, especially for those who aren't keen on paying for a monthly programming subscription.
Extras
Wondering what extras come on the Sole F85? Check them out:
Cooling fan
Bluetooth connectivity
USB port
Cup holders
Easy assist folding
Tablet holder
Wi-Fi
Chest strap for heart rate monitoring
Pulse grips
Handrails
Speakers
STUDIO Programming
STUDIO is Sole Fitness' interactive programming service, similar to iFIT and the Peloton app. It was only launched in 2021, so it isn't quite as fleshed out as other options in terms of classes and production quality.
Right now, you can try the STUDIO fitness app free for 30 days. After your free trial is over, you can still access STUDIO for $19.99 monthly or $199.99 per year. You can view the programming on any smart device and sync it to a Sole cardio machine via Bluetooth (or view it on an attached touchscreen).
Curious what types of classes are available? Expect the traditional cardio options alongside more unique offerings like boxing, yoga, and meditation. Sole currently has over 3,000 on-demand classes available, which may sound like a lot. However, to put it into perspective, iFIT has close to 16,000.
Add to Cart—Ordering the Sole F85
Currently, Sole is offering free standard shipping on all orders within the United States. However, if you want professional assembly, you'll have to fork over an additional $300. Yowza!
Based on our previous experience assembling the slightly lighter Sole F63, you'll need to grab an extra set of hands to help you unbox and put together the F85. This machine is over 300 pounds, so if you don't feel comfortable moving or assembling it, I'd recommend splurging (if possible) for the professional assembly.
I like that Sole has excellent financing options through Citizens Pay. You can make monthly payments for as low as $108 if you don't want to pay almost $2,000 all at once. 
Construction
The Sole F85 has a reinforced steel frame, cushioned deck, and a durable 4.0 horsepower motor that's nice and quiet.
Console
The Sole F85 now comes with a 10.1-inch touchscreen that has Netflix and YouTube capabilities.
Customer Reviews
On the Sole website, the Sole F85 has 75 reviews with an average rating of 4 out of 5 stars. Out of the 75 people who reviewed it, 61 said they'd recommend this machine to a friend.
Happy customers enjoy the F85's durability, cushioned deck, and user-friendly design.
"I will gladly trade off the subscription-required frills of the competitors for the simple, high-durability focus of the Sole F85," verified buyer Misterpibb explained. "It has everything and more that a driven, self-motivated runner/walker could ask for."
Displeased buyers disliked the poor customer service and various software issues.
"From day 1 the speakers screeched, nothing on the console worked correctly, and there is a lag on the belt when you increase speed that's painful on the joints," explained discontented purchaser FamousCoral-26625. "I put in numerous calls and emails to support and when someone finally got back to me, I was told the replacement parts were stocked out for an indeterminate length of time."
Sole F85 vs Sole F80 vs Sole F63
Although I haven't tried the Sole F85 or the Sole F80, I have thoroughly tested the Sole F63. All three of these treadmills are heavy duty and durable, but not particularly technology-focused. However, that isn't the main draw with these machines. Even the Sole F63 has a large deck, excellent warranty, motor appropriate for running, and a high weight capacity.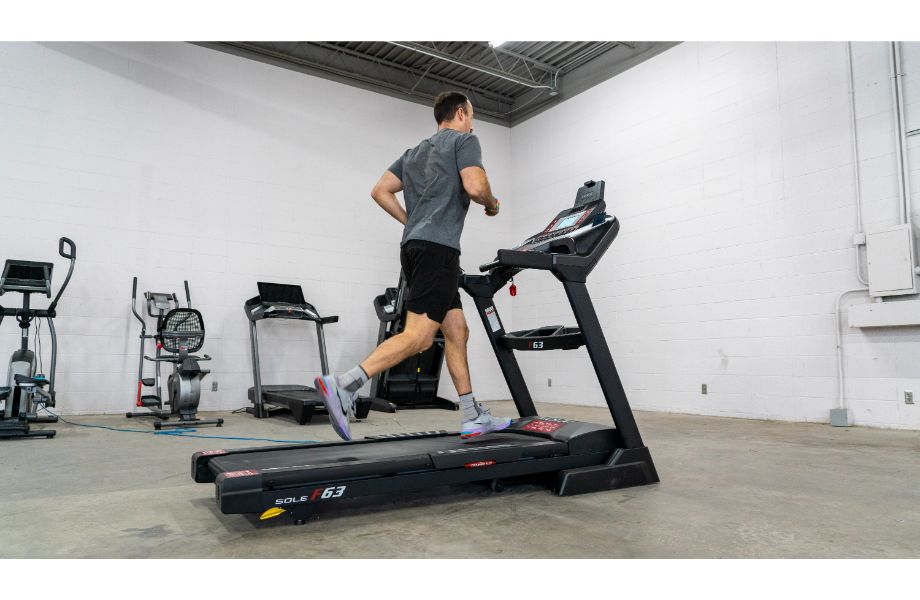 If you're looking for a more budget or mid-range machine, I'd recommend purchasing the Sole F63. For those who are more serious runners, the Sole F80 treadmill may be right up your alley, thanks to the 3.5 CHP motor. For reference, you generally want to see at least a 3.0 CHP motor on a treadmill you plan to run frequently on.
If you're a heavier person, I'd recommend the Sole F85. The 400-pound user weight capacity is really impressive, and only something I've seen on a handful of other treadmills. However, all three share overall similar stats, so you likely can't go wrong selecting any of the three mentioned—you'll just have to consider your price range.
Sole F80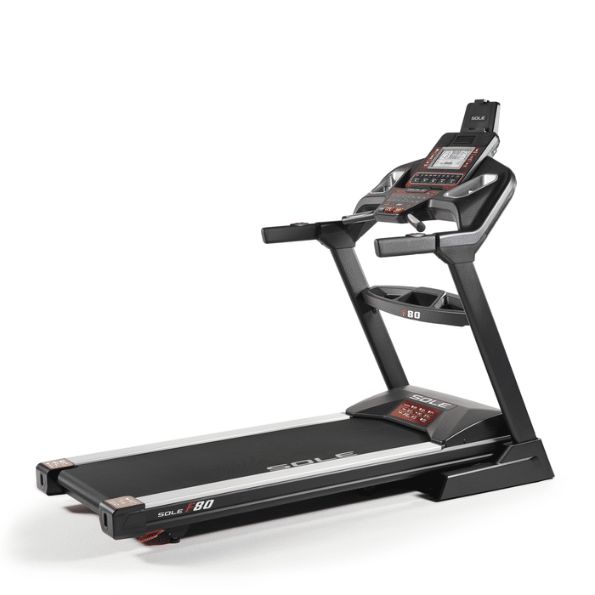 Sole Fitness Sole F80 Treadmill
When it comes to performance and stability, there are few treadmills out there at this price point that can compare to the Sole F80. This is truly a treadmill designed with heavy runners in mind as its key features are ones normally found on more expensive models. Constructed with the highest grade welded steel, this formidable treadmill is sturdy and durable yet easily folds when not in use. With a 3.5 horsepower motor and elongated running surface (60 inches by 22 inches), the Sole 80 is ideal for those looking to put the miles in. Sole claims that their patented cushioned running surface reduces impact on joints by 40%.If you are looking for a treadmill jam packed with programs and integrative technology, this is not your machine. The Sole F80 does boast console fans, two integrated Bluetooth speakers, and a USB port so you can connect your smart device and listen to your favorite playlist while you workout. But, the 9-inch display is simple and tracks the important stuf: distance, calories burned, and heart rate to name a few. Buyers receive a 30-day free trial of the Studio platform, Sole's connected fitness platform housing over 3,000 instructor-led and on demand classes. Past 30 days, a subscription fee is required to access Studio.
| | | | |
| --- | --- | --- | --- |
| Treadmill | Sole F85 | Sole F80 | Sole F63 |
| Price | $1,999.99 | $1,699.99 | $1,199.99 |
| Footprint | 66" H x 82" L x 37" W | 66" H x 82" L x 37" W | 66" H x 82" L x 35" W |
| Warranty | Lifetime frame and motor, 5-year electronics and parts, 2-year labor | Lifetime frame, motor, and deck, 5-year electronics and parts, 2-year labor | Lifetime frame and motor, 3-year deck, parts, and electronics, 1-year labor |
| Deck | 22" W x 60" L | 22" W x 60" L | 20″ W x 60″ L |
| Weight capacity | 400 lbs | 375 lbs | 325 lbs |
| Motor | 4.0 CHP | 3.5 CHP | 3.0 CHP |
Sole F63
Sole F63
Named "Best in its Price Range" by Fit Rated, Run Reviews, Treadmill Reviews, and many others. Easy Assist Folding Deck Design makes storing your treadmill easy and convenient. High-end rollers create a static free motion leading to a long lifespan. Smoothest treadmill when making adjustments mid-workout. LCD screen provides real-time statistics to monitor progress towards goals.Plus, Sole has recently released its own version of Peloton-esque programming: STUDIO. You can access a variety of on-demand classes for just $19.99 per month.
Customer Experience
The Sole F85 has one of the most comprehensive warranties I've seen. With your purchase, you'll automatically get a lifetime warranty on the motor, frame, and deck. This means the brand will send you the needed replacement parts to fix any issues you may ever have on these three components. How handy!
If you aren't in love with your Sole treadmill, simply return it within 30 days of delivery. Sole actually doesn't charge you for sending the machine back, which is awesome. Having to pay to ship a 300-pound treadmill back to the manufacturer would be very expensive.
I will say, the Sole website is slightly outdated. There is not an option for live chat support, and other reviewers said the customer service wasn't the most efficient or responsive. However, there is a provided number at the top right of the screen (866-780-7653) for you to call during regular business hours.
Final Verdict of Our Sole F85 Review
The Sole F85 has an excellent warranty, powerful motor, and high weight capacity. I'd recommend this machine for serious runners, tall individuals, or heavy people. However, it is almost $2,000, which isn't an accessible price for everyone. Consider checking out the Sole F63 for a cheaper (but still durable) option if you cannot afford the F85.
Sole F85 Treadmill Rating
Sole F85 treadmill
Check out this Sole F85 review to see if this durable treadmill is the cardio machine for you.
Product Brand: Sole
Product Currency: $
Product Price: 1999.00
Product In-Stock: InStock
Sole F85 Treadmill FAQs
What year did the Sole F85 come out?
The Sole F85 was released in 2021, but they have since released a new model with a touchscreen.
Can you watch Netflix on the Sole F85?
Yes! As of Spring 2023, Sole unveiled their new touchscreen on the F85 (which this model did not previously have). The screen has both the YouTube and Netflix (subscription sold separately) apps available.
Are Sole treadmills any good?
Sole is a good brand for treadmills. However, every person is looking for something different, so they may or may not have the type of machine you're looking for.
Does the Sole F85 have a touch screen?
The original Sole F85 does not have a touchscreen, but they have since unveiled a new version that has a 10.1-inch screen that you can watch YouTube and Netflix on.