We test and review fitness products based on an independent, multi-point methodology. If you use our links to purchase something, we may earn a commission. Read our disclosures.
Sole Fitness has a longstanding history of manufacturing solidly built treadmills for home use. While they may not be the most technologically advanced, the machines in Sole's line do offer a number high-end features, including incline, cooling fans, and Bluetooth speakers.
In our Sole F63 vs F80 comparison, we'll take a look at the basic model and stack it against one of the brand's top-of-the-line machines to assess which might be better for your home gym.
We Know Sole Treadmills
While we haven't gotten to spend time with every treadmill that Sole makes, our product testers have run on the F63 for a number of workouts. As the base model in the F Series, the F63 gives us a good idea of what to expect when measuring the performance and features of the other machines in the line.
Sole F63
Sole F63
Named "Best in its Price Range" by Fit Rated, Run Reviews, Treadmill Reviews, and many others. Easy Assist Folding Deck Design makes storing your treadmill easy and convenient. High-end rollers create a static free motion leading to a long lifespan. Smoothest treadmill when making adjustments mid-workout. LCD screen provides real-time statistics to monitor progress towards goals.Plus, Sole has recently released its own version of Peloton-esque programming: STUDIO. You can access a variety of on-demand classes for just $19.99 per month.
Sole F80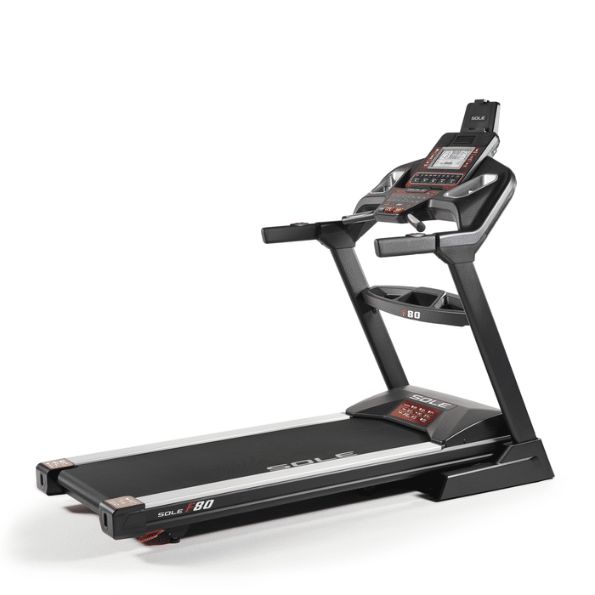 Sole Fitness Sole F80 Treadmill
When it comes to performance and stability, there are few treadmills out there at this price point that can compare to the Sole F80. This is truly a treadmill designed with heavy runners in mind as its key features are ones normally found on more expensive models. Constructed with the highest grade welded steel, this formidable treadmill is sturdy and durable yet easily folds when not in use. With a 3.5 horsepower motor and elongated running surface (60 inches by 22 inches), the Sole 80 is ideal for those looking to put the miles in. Sole claims that their patented cushioned running surface reduces impact on joints by 40%.If you are looking for a treadmill jam packed with programs and integrative technology, this is not your machine. The Sole F80 does boast console fans, two integrated Bluetooth speakers, and a USB port so you can connect your smart device and listen to your favorite playlist while you workout. But, the 9-inch display is simple and tracks the important stuf: distance, calories burned, and heart rate to name a few. Buyers receive a 30-day free trial of the Studio platform, Sole's connected fitness platform housing over 3,000 instructor-led and on demand classes. Past 30 days, a subscription fee is required to access Studio.
Quick Look: Sole F63 vs F80
Sole Fitness currently has seven treadmills available on its website, four of which are in the F Series. The F63 treadmill is the most affordable. We see the price on the F63 fluctuate from just below treadmills under $1,000 to just over $1,000. The F80, alternatively, is the second-most expensive in the line, priced around $1,700. 
(Note: Sole always lists an MSRP price and a sale price, though don't let that fool you; the machines have never not been on sale.)
For an in-depth look at both machines, check out our Sole F63 treadmill review and our Sole F80 treadmill review.
Who Should Buy the Sole F63
People looking for a more basic treadmill from Sole
Those shopping for a budget treadmill
Exercisers who don't mind a smaller display
Who Should Buy the Sole F80
Heavier users
Those looking for a wider running surface
People who need a bigger display screen
Those who want a really good warranty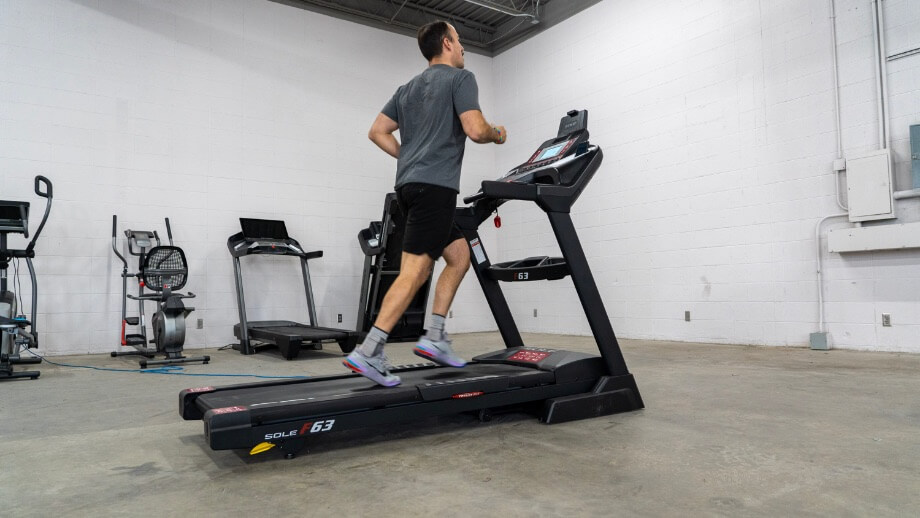 Specs: Sole F63 Vs F80
| | | |
| --- | --- | --- |
| Treadmill | Sole F63 | Sole F80 |
| Price | $1,199 | $1,699 |
| Footprint | 82" L x 35" W x 66" H | 82" L x 37" W x 66" H |
| Running Surface | 20" W x 60" L | 22" W x 60" L |
| Built-in Workouts | 6 standard, 2 custom, 2 heart rate | 6 standard, 2 custom, 2 heart rate |
| Weight | 254 lbs | 278 lbs |
| Weight Capacity | 325 lbs | 375 lbs |
| Step-up Height | 8" | 8" |
| Display | 6.5" LCD screen | 9" LCD screen |
| Incline | 15 levels | 15 levels |
| Speed Range | 0.5 to 12 MPH | 0.5 to 12 MPH |
| Motor | 3.0 HP | 3.5 HP |
| Heart Rate Monitoring | Chest strap (included) and pulse grips | Chest strap (included) and pulse grips |
| Foldable | Yes | Yes |
| Water Bottle Holder | Yes | Yes |
| Tablet Holder | Yes | Yes |
| Bluetooth Speakers | Yes | Yes |
| USB Charging Port | Yes | Yes |
| Cooling Fans | Yes | Yes |
| Warranty | Lifetime frame and motor; 3 years deck, electronics and parts; 1 year labor | Lifetime frame, motor, deck; 5 years electronics and parts; 2 years labor |
Key Similarities Between Sole F63 and F80
15 incline levels
Maximum speed at 12 MPH
Features such as USB port, cooling fans, tablet holder, water bottle holder, and built-in speakers with Bluetooth compatibility
8" step-up height
Both are folding treadmills
Preset workouts include 6 standard programs, 2 custom programs, 2 heart rate programs
Both come with a Bluetooth heart rate monitoring chest strap
LIfetime warranties on the frame and motor
Free curbside delivery
2-ply belt
White backlit LCD monitors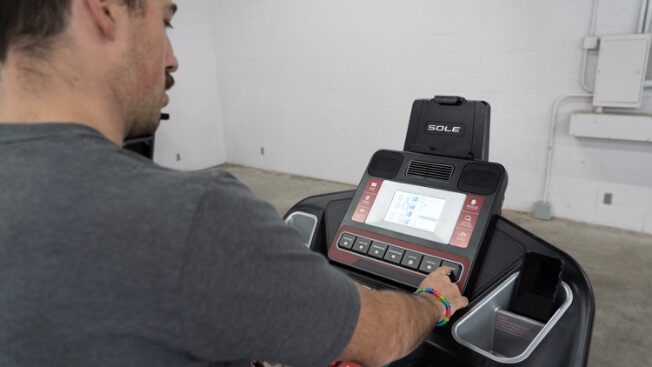 Important Differences Between Sole F63 and F80
The F63 is about $500 more affordable.
The F80 has a stronger motor at 3.5 HP.
The F80 has a larger LCD display.
The F80 is heavier and has a higher maximum weight limit.
The F80 has a 22"-wide running deck; the F63 has a 20"-wide deck.
The F80 has a longer warranty on the deck, electronics, parts, and labor.
RELATED: NordicTrack Commercial 1750 Vs Sole F85
Motor Comparison: Sole F63 vs Sole F80
The size of a treadmill motor matters for a few reasons. First, the more powerful the motor, the better suited it is for heavy use and hard runs. Secondly, the motor plays a significant role in the price of the machine.
The F80 has a more powerful motor at 3.5 horsepower (HP), versus the 3.0 HP motor on the F63. On a treadmill built for running, 3.0 HP is the minimum we like to see. Therefore, either machine is good for serious runners, but the F80's motor is more powerful and may be less susceptible to needing repairs.
RELATED: Best Home Treadmill for Running
Workout Comparison: Sole F63 vs Sole F80
I have done several workouts on the Sole F63 and found it to be a solid machine. Several other product testers at Garage Gym Reviews also attested to the treadmill's durability, though we all noticed some slight shaking once we took the F63 to maximal speeds. With a heavier frame and more powerful motor, the F80 could have the edge here, eliminating a lot of that movement.
The running deck on the F80 is 2 inches wider than the one on the F63, so it may be better suited for people with longer strides. However, all the Sole treadmills in this line have a deck of at least 20 inches wide and 60 inches long, which accommodates most tall runners.
RELATED: Best Treadmill for Tall Runners
Aside from these differences, I suspect that both machines would offer similar experiences. They each feature what Sole calls the "Cushion Flex Whisper Deck," which is a fancy way of saying that there is a cushioned treadmill belt. The brand claims that when you compare running on one of their treadmills versus running on pavement, the treadmill cushioning offers a 40% reduction in impact on your joints.
Both machines also offer Bluetooth compatibility, so you can connect with the Sole app to transfer workout data, or import the data into popular fitness apps like MapMyRun, Apple Health, and Fitbit.
Programming: Sole F63 vs F80
Both of these machines are compatible with and come with a 90-day free trial of Studio, which is Sole's app-based, interactive workout provider similar to iFIT. We have yet to be able to give Studio a try, but we know it features thousands of classes to do on Sole fitness equipment. You do have to use your own smart device and sync it with your machine via Bluetooth.
If you don't want to pay the monthly subscription for Studio, both the F63 and F80 come with 10 preset workout programs: two are heart rate-based, two are custom, and the other six include Fat Burn, Strength, Cardiovascular Function, Hills, Interval, and Manual.
RELATED: In-depth Sole F85 review
Company Policies
For the most part, Sole's umbrella policies apply to both machines, though there are slight discrepancies when it comes to the warranty.
Warranty
Sole's warranties are among the best in the industry. On both machines, there is a lifetime warranty on both the frame and the motor. However, the F80 has a slightly longer warranty on the deck, electronics, parts and labor:
| | | |
| --- | --- | --- |
| | Sole F63 | Sole F80 |
| Frame and Motor | Lifetime | Lifetime |
| Deck | 3 years | Lifetime |
| Electronics and Parts | 3 years | 5 years |
| Labor | 1 year | 2 years |
Return Policy
The return policy on both machines is the same. There is a 30-day guarantee where you can try out your treadmill and return it if you aren't satisfied. This is actually a great policy, and one that not many cardio brands offer.
A few important notes:
Original shipping costs are non-refundable.
The policy only applies to orders through Sole, not on sites like Amazon.
Returns initiated after the 30-day period will not be authorized.
Financing
Sole uses a third party called Citizens Pay for financing on both machines over a period of 24 months. You apply for financing the treadmill at checkout. If approved, the APR is 0% on your first 12 payments but jumps to 29.99% for the final 12.
By contrast, ProForm and Nordictrack treadmills come with financing options that feature 0% APR over 36 months. These companies are much larger than Sole, but it's still a difference worth noting.
Shipping
At checkout, you have a few options for shipping.
Every Sole treadmill comes with free curbside delivery, which means that the machine will be delivered to the curb in front of your home. If you want the machine placed in a specific room in your home (which is a good idea, given that both of these treadmills weigh more than 200 pounds), there is an additional $199 fee.
If you want white-glove service of delivery to a room of your choice plus professional assembly, the additional cost is $299. I personally assembled the F63, and while it's doable, it's definitely an hours-long undertaking.
Sole F63 vs F80 FAQs
How long does the Sole F63 last?
Even the best treadmills will only last as long as you keep them in good condition. The F63 has a solid 3.0 HP motor, durable frame, and solid construction. It also comes with a lifetime warranty on the frame and motor. Given these stats, we're comfortable stating that with proper care, the F63 should work well for years.
Can you run on a Sole F63?
The Sole F63 is designed to be a running treadmill. The 3.0 HP motor is strong enough to support frequent running. It also features speeds of up to 12 MPH and 15 levels of incline to simulate hill running.
Is the Sole F80 treadmill good?
The Sole F80 is a high-quality treadmill featuring Bluetooth connectivity, 15 levels of incline, a top speed of 12 MPH, and a strong 3.5 HP motor. If you want a heavy-duty treadmill and don't mind a basic LCD screen with basic programming, the F80 is a decent choice. However, on machines in this price range, we typically start seeing advanced features like touchscreens.