We test and review fitness products based on an independent, multi-point methodology. If you use our links to purchase something, we may earn a commission. Read our disclosures.
Everyone has their own strengths, and it isn't very nice to scrutinize individuals in a comparison-type battle. However, treadmills don't have feelings like people do, so we'll be doing just that with the NordicTrack Commercial 1750 vs Sole F85.
I'll be digging into the strengths and weaknesses of both of these powerful cardio machines. This is a good old-fashioned showdown, and I'll be the judge. So sit back, relax, and enjoy the duel.
So Many Treadmills, So Little Time
If you're overwhelmed by the number of treadmills on the market, you're not alone. There are hundreds of options available and each one could have good qualities for you, but how can you tell which one is the best pick?
Luckily, the experts at Garage Gym Reviews (including moi) are here to save the day! We're full of fitness knowledge––whether you're curious about treadmill industry standards, warranty comparisons, or workout experience, we have you covered. After all, we're a team of certified personal trainers, former college athletes, CrossFit coaches, and nutrition coaches. This is what we do, and luckily for you, we do it really well.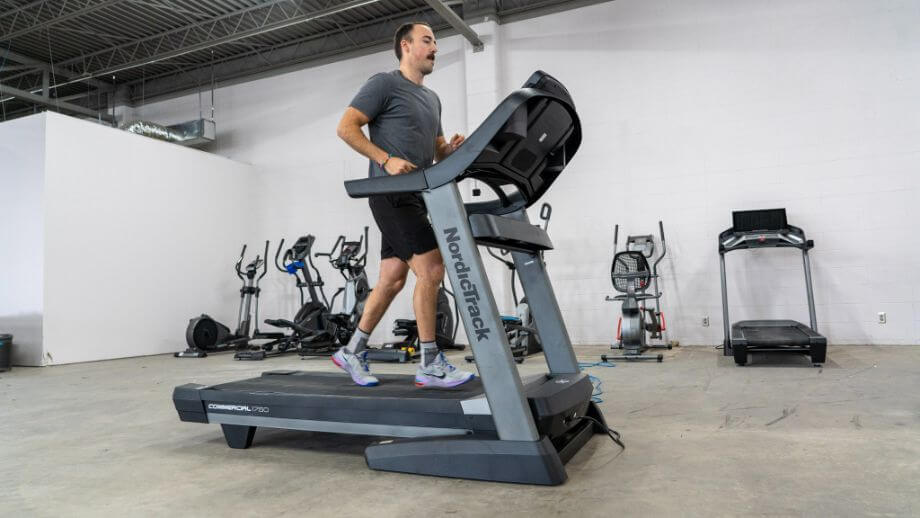 NordicTrack Commercial 1750 vs Sole F85: Video Review
Quick Look: NordicTrack Commercial 1750 vs Sole F85
NordicTrack sells a variety of cardio machines such as rowers, ellipticals, exercise bikes, and of course, treadmills. They're underneath parent brand Icon Health & Fitness, which also owns popular brands like ProForm, iFIT, and Free Motion (amongst others).
The Commercial 1750 is the less-expensive sibling to the Commercial 2450 treadmill, which clocks in at around $2,500. The 2450 features a larger touchscreen and a slightly more powerful motor than the 1750. The 1750 has a 14-inch touchscreen, powerful motor, and large deck for all of the activities.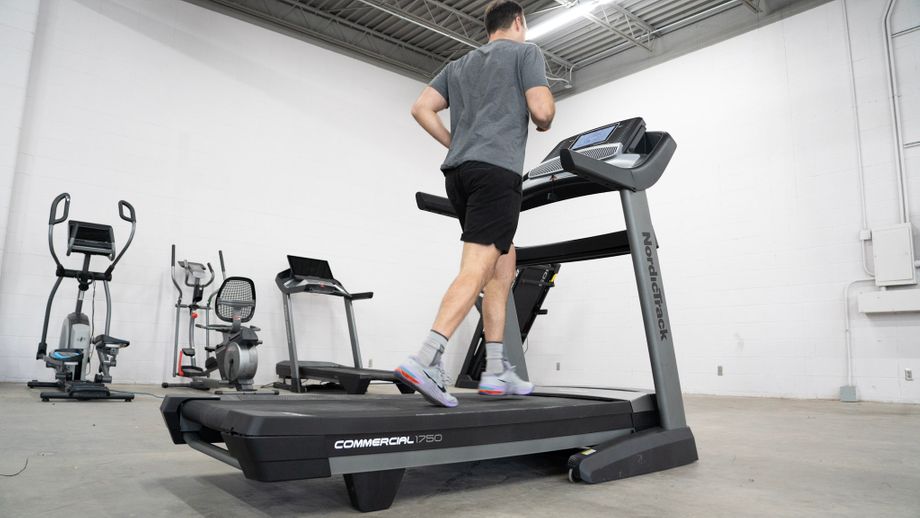 Take a look at our full NordicTrack Commercial 1750 treadmill review.
On the other hand, the Sole F85 treadmill is the brand's most expensive folding treadmill. Sole offers two other machines that are more expensive than the F85, but they're non-folding treadmills.
Want to learn more? Check out our Sole F85 treadmill review.
Who Should Buy NordicTrack Commercial 1750
Individuals who want decline options
Those who love interactive programming
People who need great financing
NordicTrack Commercial 1750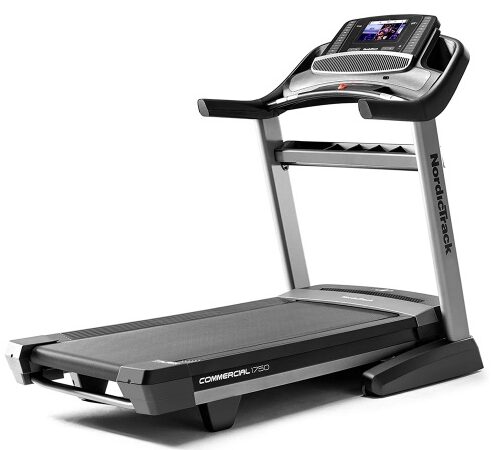 NordicTrack Commercial 1750
The NordicTrack 1750 treadmill features a 14-inch HD adjustable touchscreen with which you can stream iFIT programming on (sold separately). The under $2,000 machine can be financed through the NordicTrack website where you can get deals as low as $49 per month with 0% for 39 months.Models from 2013-2021 of the 1750 had adjustable cushioning, but the 2023 model no longer has this feature.iFIT workouts incorporate Automatic Trainer Control, which allows your trainer to digitally adjust your incline, decline, and speed. This is a nice feature to have because all you have to do is focus on the workout at hand versus frantically switching the controls.
Who Should Buy Sole F85
Heavier folks
People who want a long warranty
Individuals who need more deck cushioning
Sole F85 Treadmill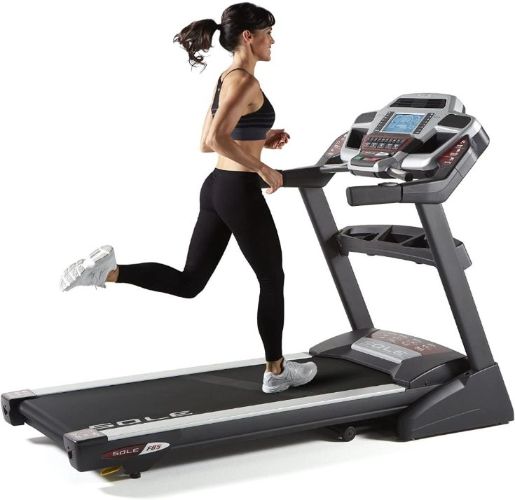 Comparison Chart: NordicTrack 1750 Treadmill and Sole F85 Specs
| | | |
| --- | --- | --- |
| Treadmill | NordicTrack Commercial 1750 | Sole F85 |
| Price | Around $2,000 | Around $2,000 |
| Footprint | 80" L x 38" W x 65" H | 82" L x 37" W x 66" H |
| Running surface | 22" W x 60" L | 22″ W x 60″ L |
| Warranty | 10-year frame, 2-year parts, 1-year labor | Lifetime frame, motor, and deck warranty, 5-year electronics and parts, 2-year labor |
| Pulse grips | No, but it is compatible with a heart rate monitoring strap sold separately | Yes |
| Weight | 340 lbs | 308 lbs |
| Incline and decline | -3%-15% | 0-15% |
| Speed range | 0-12 MPH | .5 – 12 MPH |
| User weight capacity | 300 lbs | 400 lbs |
| Water bottle holder | Yes | Yes |
| Motor | 3.5 CHP motor | 4.0 CHP motor |
| Folding treadmill | Yes | Yes |
| Workout programs | iFIT (subscription sold separately) | STUDIO (subscription sold separately) |
| Tablet holder | No | Yes |
| Wi-Fi | Yes | Yes |
| Bluetooth connectivity | Yes | Yes |
| Touchscreen display | 14" HD touchscreen | 10.1" touchscreen |
Key Similarities Between NordicTrack Commercial 1750 and Sole F85
The same generously-sized running area of 22" W x 60" L
Priced around $2,000
Speeds maxes out at 12 MPH
Heavy machines with large footprints
Water bottle holders (yay for hydration!)
Touchscreens are built in
Important Differences Between NordicTrack Commercial 1750 and Sole F85
The NordicTrack Commercial 1750 has a weaker motor than the Sole F85
The NordicTrack Commercial 1750 has a larger touchscreen than the Sole F85
The NordicTrack Commercial 1750 has a shorter warranty period than the Sole F85
The NordicTrack Commercial 1750 has decline options and the Sole F85 only has incline
The NordicTrack Commercial 1750 has a lower weight capacity than the Sole F85
The NordicTrack Commercial 1750 has Google Maps and the Sole F85 doesn't
The NordicTrack Commercial 1750 is slightly heavier than the Sole F85
Workout Comparison: Sole F85 vs NordicTrack 1750
Although I've used the NordicTrack Commercial 1750 quite a bit, I haven't had the pleasure of testing the Sole F85 for myself. However, I have used the Sole F63, which is essentially the less-expensive version of the F85.
Both the F85 and the 1750 are extremely sturdy machines. If the F63 gives any indication to the F85's durability, you likely won't feel much movement even when cranking up the incline and speed. The 1750 is just as sturdy––I've tested it for jogging, walking, and sprinting and didn't notice any play in the frame as I used it.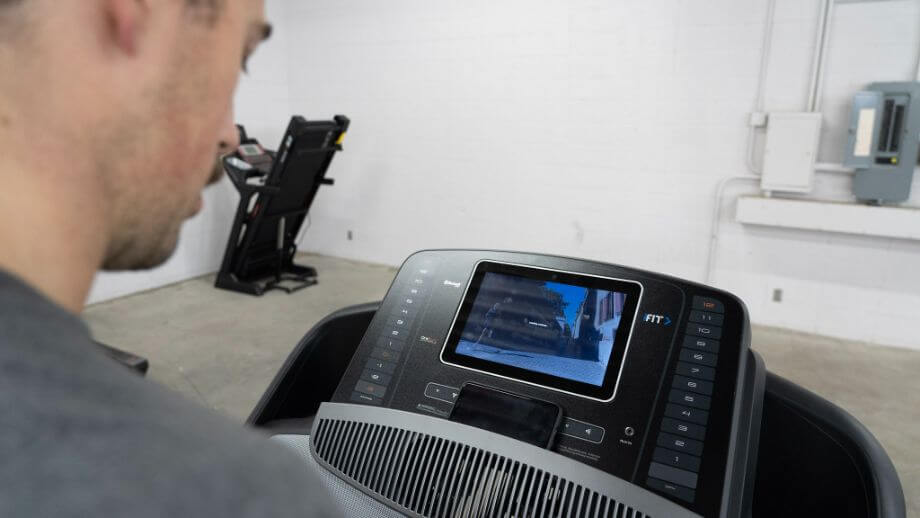 Although both the 1750 and the F85 have touchscreens and interactive programming subscriptions to subscribe to, I prefer NordicTrack's iFIT. iFIT has tons of different classes available on-demand for $39 per month (for multiple profiles). Whether you're into running, strength training, or yoga, iFIT has a well-produced class for you.
Sole has their own programming called STUDIO, which is $19.99 per month. This was only really refined in the past year, so the production quality, class variety, and instructors are less streamlined compared to iFIT. However, if you don't want to pay $39 per month for iFIT, STUDIO may be a good option for you at around half the cost.
Both the Sole F85 and the NordicTrack 1750 have the same speed range that taps out at 12 miles per hour. This is the industry standard––you'll be able to complete an all-out sprint, a long-distance run, or a pleasant walk with either of these machines.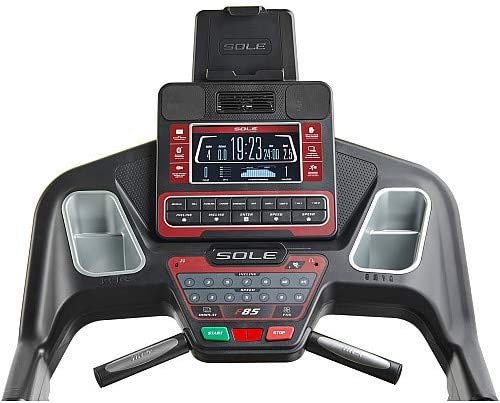 In terms of incline, both the F85 and the 1750 have a maximum 15 percent incline, which is plenty for most people. However, the 1750 does have decline, and the F85 does not. If you're interested in pretending to run down a hill (while in the comfort of your own air conditioning), you may appreciate the 3% decline you'll find in 1750.
Although not apparent to the casual exerciser, the motor horsepower of both treadmills are strong. However, the F85 does feature a slightly stronger motor at 4.0 CHP (compared to the 3.5 CHP of the 1750). This just means the motor will be able to sustain serious running for longer lengths of time without struggling.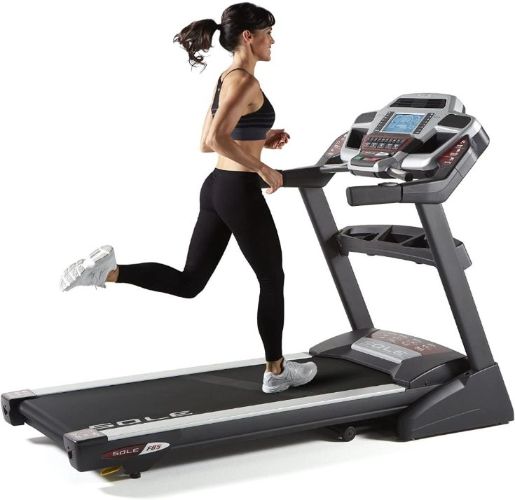 Company Policies
Although it probably is not the first thing you look at when checking out fitness equipment, company policies are good to be aware of. Here's a quick breakdown of the things you need to know about NordicTrack and Sole Fitness' customer service and policies:
Warranty
The industry standard for a treadmill frame warranty is between 15 years to life (I always feel like a judge sentencing a suspect in a crime when I say that).
Winner: Sole
NordicTrack
All of NordicTrack's home treadmills have a 10-year frame warranty, which is below the industry standard of at least 15 years. I've always been surprised by this, especially since NordicTrack produces such sturdy machines. Maybe this is something they will amend in the future.
Sole
Sole offers excellent warranties. All of their treadmills have a lifetime frame guarantee. Some of the higher-end models (like the Sole F85) have a lifetime motor and deck warranty as well. Sole Fitness definitely stands fully behind their products.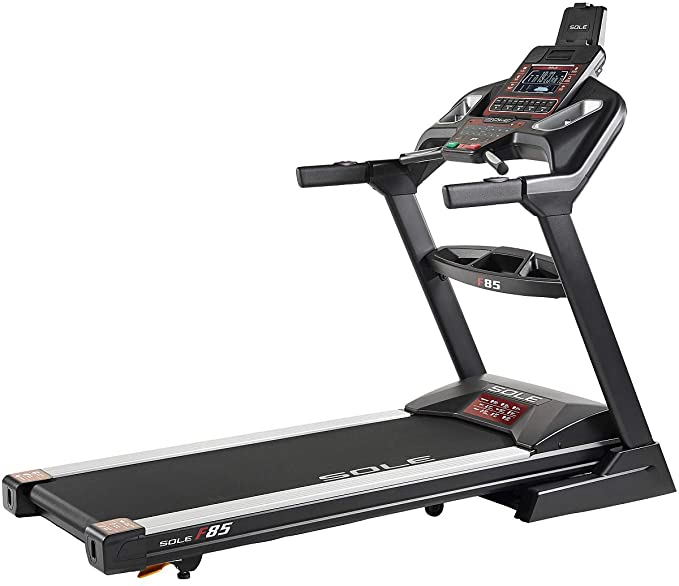 Returns
A typical return policy is usually 30 days from receipt. Most companies will charge return shipping and some will also add on a restocking fee.
Winner: Sole
NordicTrack
NordicTrack has a return policy of 30 days from delivery. You will be responsible for a $250 shipping fee to get the machine back to the warehouse.
Sole
Sole allows the customer to return a machine within 30 days of receipt. Plus, you don't have to pay any return shipping fees, which is pretty unusual.
Financing
Good financing is generally 0% APR for a number of months (depending on how expensive the machine is to start with).
Winner: NordicTrack
NordicTrack
If you qualify, NordicTrack offers stellar financing through T.D Bank––you'll get 0% APR for between 12 to 48 months.
Sole
Sole offers financing options through Citizens, which you have to qualify for. If you qualify, you could pay as little as $108 per month for the Sole F85.
NordicTrack Commercial 1750 vs Sole F85 FAQs
Can you watch Netflix on the Sole F85 treadmill?
As of now, you can't watch Netflix on the Sole F85 treadmill. However, you can always stream Netflix on your personal smart device while using the Sole F85.
Can I watch TV on NordicTrack 1750?
Currently, you cannot watch television on the NordicTrack 1750. I'm hopeful they will add this feature in future iterations.
How much does the NordicTrack Commercial 1750 weigh?
The NordicTrack 1750 weighs a whopping 340 pounds in the box. If you don't go the professional assembly route, definitely have a few friends around to help with the assembly process.
How long do Sole treadmills last?
Considering the lifetime frame warranty, you'll likely have a Sole treadmill for years to come. However, the durability of your Sole treadmill will partially depend on you––if you don't do proper maintenance or you store the machine in an overly hot or cold environment, you'll decrease the longevity.
What are some of the best treadmills to consider purchasing for at home use?