We test and review fitness products based on an independent, multi-point methodology. If you use our links to purchase something, we may earn a commission. Read our disclosures.
In 2009, the Precor 9.33 Treadmill was a Premium Series treadmill that was designed to be an upgrade to the previously discontinued Precor 9.31 model. Now the 9.33 has been discontinued as well in favor of more recent models such as the 9.35. But, there's a good chance you may see one available online through sale sites or through a personal seller. If that's the case, you should know what you would be buying and using in your home gym.
That's why we're sharing this Precor 9.33 Treadmill review. You won't have to rely solely on what the seller tells you before you make a final decision. This review should tell you all the details that matter from the experts who study the best treadmills, as well as many other forms of fitness equipment.
We Know Cardio Equipment
The expert testers at Garage Gym Reviews are very passionate about fitness and learning about the best equipment and machines on the market. That's why our team of certified personal trainers, coaches, nutritionists, and dedicated enthusiasts want to share our knowledge and findings with you. Flying the flag for fitness means educating the masses, and you're more likely to reach your goals if you're comfortable using the equipment you buy. So, you can be sure the most reliable information will be shared so you can focus on what matters most—training.
Looking for an Alternative to the Precor 9.33 Treadmill?
Best Alternative to Precor 9.33 Treadmill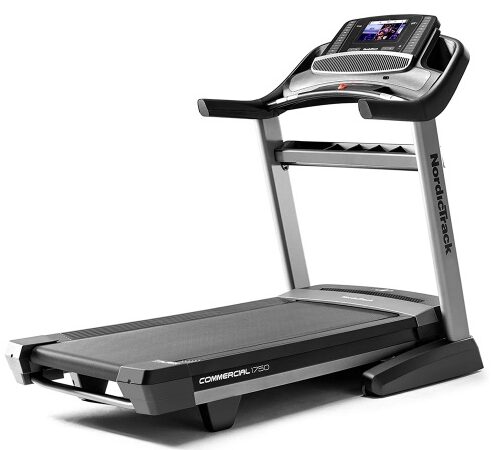 GGR Score: 4.5
Product Highlights
Spacious running deck
Compatible with iFIT
14-inch touchscreen
Incline and decline training
Financing available
Pros & Cons
Pros
Compatible with iFIT
3.5 CHP motor
Free trial of iFIT subscription with purchase
Treadmill with incline and decline training
Foldable to save space (EasyLift Assist)
Run that feels similar to road running
Financing options available through NordicTrack
Generous speed range
Wide running deck
Cooling fan
Cons
Big footprint
Heavy and not the easiest to move
Price is around $2,000
Warranty is voided if the treadmill is used/stored in a garage
Bottom Line
If you're looking to add a workhorse of a treadmill to your home gym, we recommend the NordicTrack Commercial 1750.
Maybe you had your eye on the 9.33, but you decided you would rather have a treadmill that is still on the market instead. In that case, consider the NordicTrack Commercial 1750. With its large display screen, SmartAdjust technology, and custom workouts with adjustments made by trainers on iFIT, the 1750 would be a great asset for trainees of all levels.
A Quick Look at the Precor 9.33 Treadmill
The Precor 9.33 was a top-of-the-line machine when it first hit the market over a decade ago. It's a big machine and it would still serve as a dependable piece of gym equipment now thanks to benefits such as the Integrated Footprint Technology and the unique suspension system for cushioning.
It was priced in the $4,000-$4,500 range when it was released. Fitness Superstore sold refurbished models for $3,599, but they are out of stock as of February 2023. The warranty that came with this machine helped justify the high price tag. The wide and long running surface made it beneficial for taller users as well as for occasional sprints.
Pros:
Reversible deck for longer use
Handheld heart rate monitoring
Integrated Footplant Technology
Ground Effects Impact Control System
Racing and custom programs preinstalled
Easy to read console
Tracks treated with dry silicone lubrication
Personal Best Tracker workout log
Cons:
Does not fold
Very large footprint
Does not roll
Chest strap monitor not included
Precor 9.33 Treadmill Specs
| | |
| --- | --- |
| Footprint | 79"L x 34"W x 56"H |
| Weight capacity | 350 lbs |
| Belt | Multi-ply polyester |
| Speed range | 0-12 mph |
| Incline options | 0-15% |
| Foldable | No |
| Display | LCD Backlit |
| Preset programs | 16 |
| Motor | 3.0 HP Continuous Duty Motor |
| Cushioning | Yes |
| Warranty | Frame: Lifetime; Parts: 10 years; Labor: 1 year |
Key Features of the Precor 9.33 Treadmill
This is a very user-friendly treadmill, which can be helpful for beginners who are new to working out. The console is easy to read and it has QuickStart technology, which means you can simply hit the button and go.
The running space is slightly less than 2 feet wide, which can be a bit tight for larger users. And with a running length of only about 4.5 feet, taller users may have to use an incline to run with a full stride—but it is still longer than previous editions of the Precor treadmills.
Footprint, Portability, and Durability
This is a very heavy machine, checking in at 335 pounds. It also does not fold. It is also difficult to move. So, you should make sure you have a large area reserved for this one. Even though it's a big machine, it's also a durable one that will withstand a lot of use.
Ergonomics
There is an integrated flywheel to keep the motor cool and prevent it from overheating while the treadmill is on. The treadmill also comes with a clip and quick-stop button so the machine will shut down immediately should you slip on the belt or need to stop immediately. The full-length arms on the side as well as the handle on the front allow you to hold the machine in a position that is comfortable for you.
The deck is non-slip PVC and the polyester belt will also help prevent slipping. Even if you sweat while you're training, you can feel confident about the next step you take. The machine will even adjust belt speed to foot speed.
Technology Benefits and Conveniences
This treadmill has both wireless and touch telemetry as well as password protection. This is beneficial because if you don't want a small child or someone who shouldn't be on the machine to use it, the password keeps it locked until you choose to unlock it. The User IDs also help you and others track their specific information and data to support your fitness goals.
SmartRate technology will also provide you with measurable information such as distance, time, and calories burned. You can make adjustments during the session with the easy to use keypad.The console has accessory pockets for keeping items like your smartphone, water bottle, towel, or your remote if you're watching TV while walking.
Final Verdict of Our Precor 9.33 Treadmill Review
The Precor 9.33 Treadmill can be a valuable piece of exercise equipment. Some of its technology can stand the test of time, and it was made to last the owner a long time. Beginners can use this machine to start on the right foot, while seasoned home gym owners can be assured the machine will be dependable for many workouts to come.
Precor 9.33 Treadmill Rating
Precor 9.33 Treadmill
In the market for a treadmill? Learn about this premium, now-discontinued, model in this Precor 9.33 Treadmill review.
Product Currency: $
Product Price: 2499
Product In-Stock: InStock
Precor 9.33 Treadmill FAQs
How much does a Precor 9.33 treadmill weigh?
The Precor 9.33 weighs 335 pounds when it is assembled, which is very heavy for a treadmill. It also has a high weight capacity. The 9.33 will support users up to 350 pounds. It would be a good choice for multiple users or people who have weight loss goals.
How much does a Precor treadmill weigh?
Different machines will have different weights and weight capacities. Most Precor machines will fall in the range of 225 to 335 pounds. The 9.33 weighs 335 pounds when assembled.
Who used to own Precor?
Precor was its own company until 2020 when it was bought by Peloton, who agreed to purchase all assets and properties for a grand total of $420 million USD. The deal was finalized in the spring of 2021. Peloton still owns Precor as of February 2023.