We test and review fitness products based on an independent, multi-point methodology. If you use our links to purchase something, we may earn a commission. Read our disclosures.
*The Nautilus T618 treadmill was recalled on June 9, 2023, due to reports of the treadmill self-starting. Customers should immediately stop using these recalled treadmills and contact Nautilus to receive a free USB flash drive with a software upgrade and installation instructions.*
If you're on the hunt for the best treadmill for your home gym, Nautilus may be on your radar. The brand is a longstanding name in the conditioning equipment space, and is historically known for well-built, but pricey, machines.
Nowadays, they offer just two treadmill options, and they're both under $1,500. We have our eyes set on the T618 here, and in our Nautilus T618 treadmill review, we'll dive into the nitty gritty: the hits and misses, who this machine is good for, who should pass, and even comparison stats for like-priced models across the marketplace.
Spoiler alert: If all you care about is a heavy-duty machine that you can get on and go, the T618 may be right up your alley.
Why You Should Trust Us
Our expert testers have run on the Nautilus T618 and close to three dozen other treadmills in our warehouse in Springfield, MO, plus researched dozens more. While we're definitely strength enthusiasts, we know our way around cardio machines, too, and can guide you to your purchasing decision based on our extensive knowledge of industry standards for treadmills, as well as our firsthand experiences using them.
Also trust that we won't be sugarcoating anything either—if there's something we don't like about a piece of equipment, we'll be sure to let you know to hopefully save you a headache down the road.
I tested this treadmill—I ran on it, walked on it, put it on an incline, used it with its companion app—so not only do I have firsthand experience with it, I'm also an ACE-certified personal trainer, so I can look at the machine through that lens as well. Rest assured, you're in good hands.
Nautilus T618 Treadmill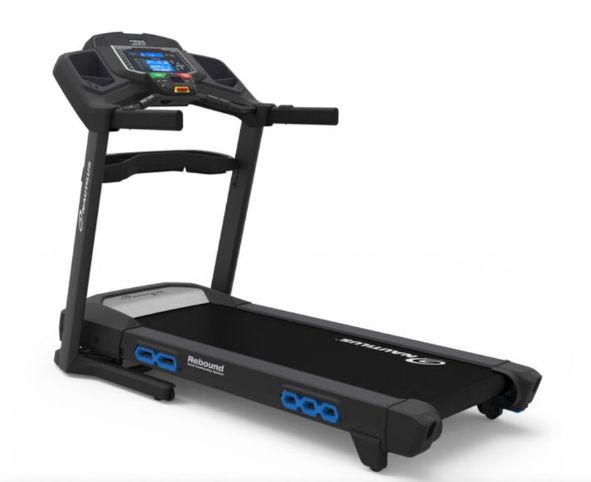 Nautilus T618 Treadmill
For $1,499, the T618 provides impressive quality features such as the 3.5 horsepower motor, 27 on-board training programs, soft-drop folding technology and Bluetooth connectivity to not only enhance your workout but connect runners with others as you train. The T618 is programmed to integrate with the Explore the World app so you can run through 19 locations with 27 routes alongside people from all over the world in real time. The fully loaded console has two blue backlit DualTrack screens which display the chosen training program including heart rate, weight management and interval. Since there are dual screens, you are able to also view workout metrics even when the media tray is in use. With a weight capacity of 350 pounds, the T618 boasts a 20-inch-by-60-inch commercial grade running deck with durable three-ply 2.5 millimeter belt to increase traction and durability. The 2.75-inch crowned rollers also serve to extend belt life and contribute to smoothness and balance. What's more is the exclusive cushioning system both softens the landing at the front of the deck and propels kick off at the back of the stride to reduce impact.  The ergonomic handrails have integrated incline and speed controls so you can easily adjust the intensity during your workout. Equipped with impressive features such Bluetooth technology that connects to Explore the World, folding capabilities and a fully loaded console with 27 interactive programs, the Nautilus T618 is a great value. That said, buyers should beware of reported issues with the deck breaking. And, as always, with the good there is usually some bad. There were several reviews reporting that the base cracks after only several uses. This is where warranty is critical. For the T618 you get 15 years on the frame and motor, five years on parts and two years on labor.
A Quick Look at the Nautilus T618 Treadmill
Nautilus is just one of the brands owned by Nautilus, Inc.—Bowflex, Schwinn, and JRNY round out the portfolio—and the T618 treadmill is the higher-end tread offering from Nautilus specifically.
As a home treadmill, this machine has plenty of the qualities I'd recommend: It feels heavy-duty with a 60-inch-long deck, 350-pound user weight capacity and a nice cushioning system (if that's your jam), plus it folds.
However, there's no touchscreen or even fitness app compatibility beyond the Bowflex Explore the World app and a few other Nautilus partner apps, which is limiting. And, compared to other machines in its price range of $1,500, tech misses, plus its shorter warranty, make me pause.
My Tips
Have a friend available to help unpack and assemble this puppy, or pay for expert delivery—it's huge.
It comes with a heart rate monitor, so don't buy one.
Pros:
Cushioning system made for a nice run
Generous running surface
High user weight capacity
Extremely quiet treadmill
Foldable for space-saving options
Plenty of storage for water bottles, keys, a phone, and more
Free companion app with interactive programming
Cons:
Assembly process has a major flaw
Cumbersome to move
Limited third-party app compatibility
Is the Nautilus T618 Worth It?
As you'll see in our Nautilus T618 review, the machine has some respectable features, including its 20-inch by 60-inch running deck, 3.5 CHP motor and 15% incline grade; this is a quality treadmill when you're looking at its physical stats.
However, this tread lacks in the tech department. There's no touchscreen display, built-in interactive programming, or wide-ranging fitness app compatibility. You'll have to bring your own smart device to take advantage of interactive programming via the Explore the World app.
Great for:
Those who have a dedicated space available in a home gym for a large piece of equipment
Those who will be logging some serious miles running
Those who want a machine without all the tech-y bells and whistles
Incline training
Not recommended for:
Home gym owners who want a touchscreen
Those who want robust fitness app compatibility, or native interactive programming
Those who want an easily portable treadmill
Nautilus T618 Treadmill Specs
| | |
| --- | --- |
| Footprint | 78" L x 37.6" W x 62.8" H |
| Weight | 253 lbs |
| Weight capacity | 350 lbs |
| Running deck | 20" W x 60" L |
| Motor | 3.5 CHP |
| Incline | 0-15% |
| Speed | 12 MPH |
| Display | Two backlit screens |
| WiFI and Bluetooth connectivity | Yes |
| Interactive programming | No |
| Heart rate monitor | Pulse grip sensors, plus an included chest strap |
| Warranty | 15-year frame and motor, 5-year parts and electronics, 2-year labor |
| Foldable | Yes |
Workout Experience Using the Nautilus T618 Treadmill
Now it's time for the best part of our Nautilus T618 folding treadmill review: We're spilling all the tea about actually using this machine.
After you assemble the T618—more on that process below—and plug it in, switch it on, and you're ready to roll…or run.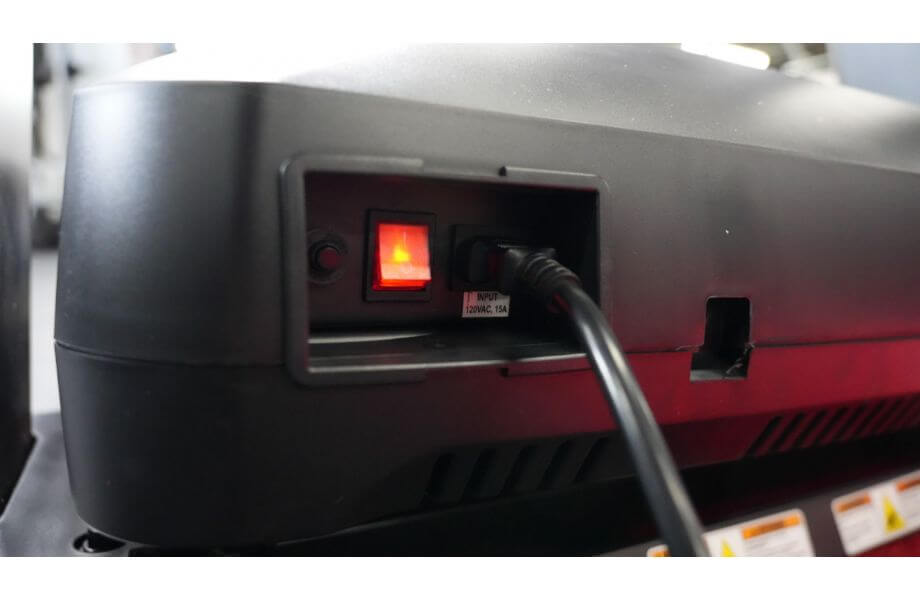 The motor power on this treadmill is 3.5 CHP, which is very respectable given industry standards. The belt was smooth, and the cushioning system made me feel super light on my feet, which is not always the case. I ran a free route through the French Riviera via the Explore the World app (oh la la), which connected easily to my phone via Bluetooth and provided a nice video to watch, plus clocked a few stats, while I ran.
Speed and incline responded quickly, and I liked the added functionality of the speed and incline buttons on the handrails for easy adjustments. Good thing, too, because I found it very annoying that if you want to adjust your speed or incline on the console, you need to push the corresponding button, then enter, for the change to take effect; too much button-pushing for my liking!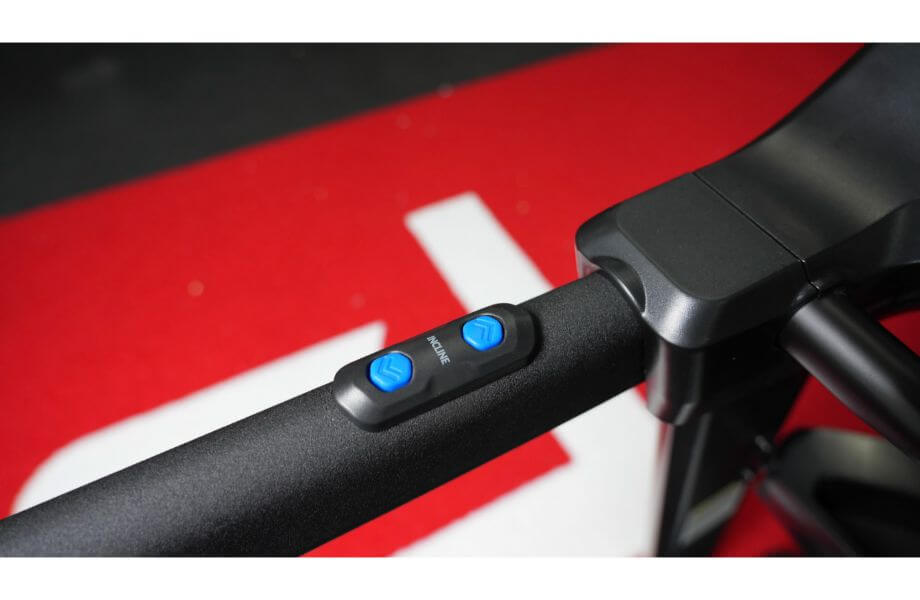 Overall, I enjoyed my experience on the Nautilus T618, but I will say that it feels a little analog without a touchscreen or wide-ranging Bluetooth compatibility, especially given its $1,500 price tag.
Companion App
Although there's no built-in interactive programming, the T618 syncs with Bowflex's free Explore the World app. You'll simply download to either your iPhone or Android, ensure your Bluetooth is turned on, and connect to the machine. (When you open the app, you'll be prompted to pair it.)
There are six free routes available, which is what I took advantage of, or you can pay for the premium routes. If you want to upgrade, an annual subscription is $59.99, or a monthly subscription is $9.99.
Once you've started on a route, the app will automatically adjust to the speed of your machine, which is a nice touch. Plus, the app tracks time, distance, speed, calories and heart rate. You can also sync with apps like Strava, UA Record, MapMyRun and Apple Health to keep track of all of your stats.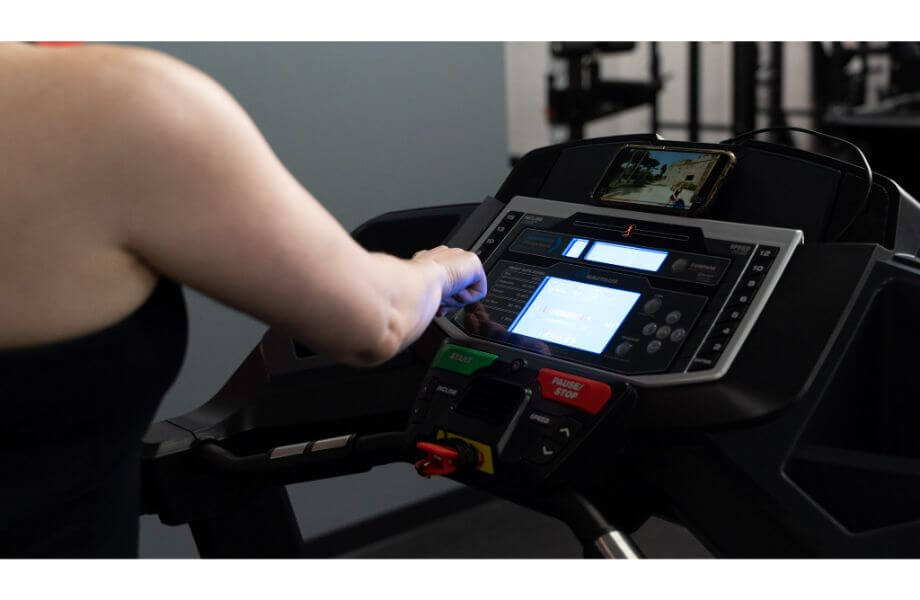 The app doesn't have glowing reviews on the App Store. In fact, it only has a 2 out of 5-star rating. General feedback includes the lack of functionality and complaints about having to have the app open for it to track your stats.
While I don't think it's a substitute for robust interactive programming like iFIT or Peloton, Explore the World does provide a "smart" feature to this machine.
Footprint and Portability
The Nautilus T618 is a large treadmill: It has a footprint of 78 inches long by 37.6 inches wide by 62.8 inches high. It does fold pretty easily, but the deck still sticks out quite a bit—it's not a completely vertical fold—so keep that in mind if the space-saving aspect of this foldable treadmill is appealing to you.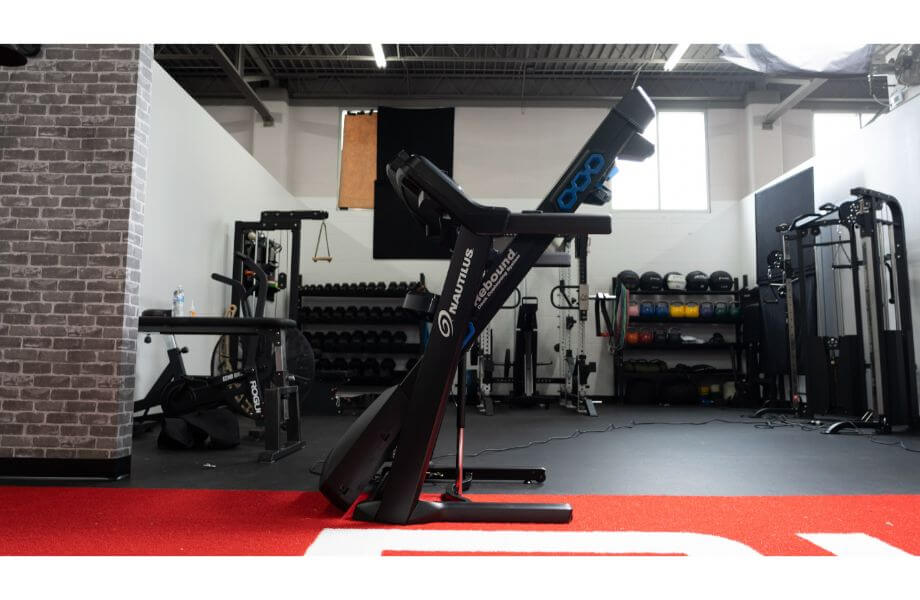 And although this treadmill does fold via a "softdrop" mechanism, and it has wheels for portability, it's not the easiest piece of equipment to move. First, it's pretty heavy at 253 lbs. Our videographer Nathan Hay so graciously offered to assist me in moving this treadmill from point A to point B, and we found that there wasn't a natural place to grab it before moving, so the whole process was a bit awkward.
Construction
The build on the Nautilus T618 has quite a few pros, but also one red flag.
Frame
The frame on the Nautilus T618 seems very durable, made of alloy steel. (Alloy steel, if you didn't know, is steel that's supplemented with another material to increase strength and hardness of the material.) However, the frame is backed by a 15-year warranty, which is actually under par with other treadmills in this price range that typically offer a lifetime warranty. This raises potential issues about durability and the lifespan of this machine, so keep that in mind.
Handles
I had no qualms about the handlebars on the Nautilus T618. I'm not one to hold onto the handles, even when I walk on a treadmill, but they are curved in an ergonomic way, which I liked. They also come equipped with pulse grip heart rate monitors. The pulse grips did work when I tested them, but we all know those are notoriously inaccurate (I also used the heart monitor chest strap that came with the machine, too—more on that below.)
Deck
The deck measures 20 inches wide by 60 inches long, which should be more than big enough for most people to run on, including tall runners. A three-ply 2.5-millimeter belt is well above standard, so that makes me feel good about its durability, and the large rollers add to the smooth feel.
RELATED: Best Treadmill for Tall Runners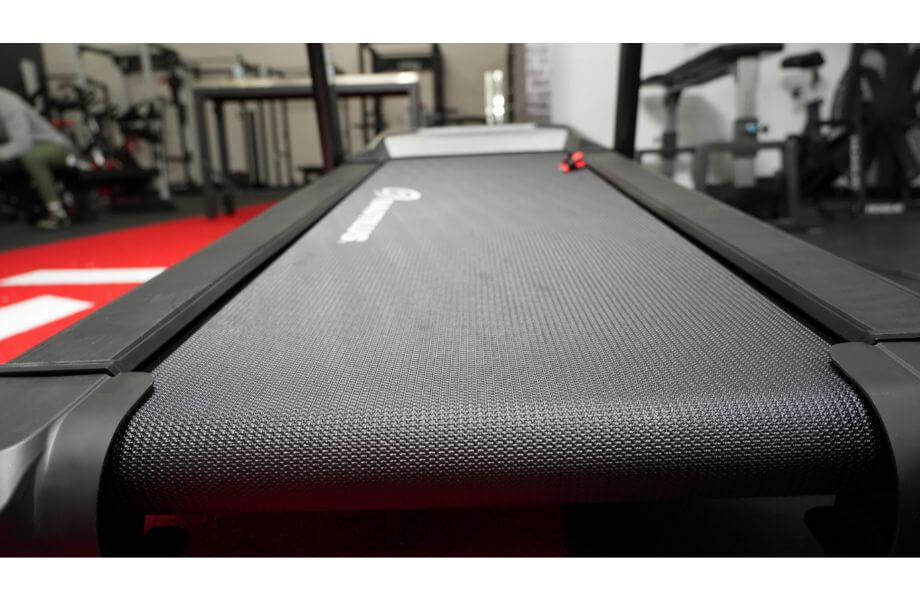 However, this is where I have to address an elephant in the room: In doing research for this article, I did find a handful of reviewers who said that their treadmill deck cracked after regular use for a few months. All users claimed to be under the machine's user weight capacity, so this is slightly concerning. I found the machine to feel very stable, but we haven't been using it for that long. We'll be sure to keep our eyes—and feet—peeled for any defects that crop up.
Motor
The Nautilus T618 has a powerful motor—3.5 CHP, or continuous horsepower—to be exact. CHP motors are preferred over peak duty horsepower motors for treadmills because they can sustain higher speeds for a longer amount of time. A 3.5 CHP motor is quality—we recommend a 3.0 CHP motor for runners, and walkers don't even need one that powerful.
The Ergonomics
I must say, this treadmill provides a nice ride. Nautilus' Rebound Cushioning System provides a soft landing at the front of the deck, as well as a propelled kick-off at the back of the deck to lower impact, according to the company.
From the ample storage to the quick-adjust speed and incline buttons, you can tell the brand really thought about what would make an experience on the T618 easy and enjoyable.
Functionality
Overall, I found the T618 easy to use. Let's break down its functionality.
Performance
The Nautilus T618 treadmill has a top speed of 12 MPH, which you can control easily via the speed controls on the right rail, or via buttons on the console. If you want to adjust the speed on the console, you'll have to press a number—say 5—then also hit the Enter button for the speed to change to 5 MPH. This is cumbersome and distracting, so I just avoided it all together and relied on the rail controls.
Incline/Decline
The Nautilus T618 can reach a 15% incline, which is a nice feature, but there's no decline option—that's pretty typical at this price point, but I'm still pointing it out nonetheless.The incline grade adjusts in 1% intervals. Similarly to speed, you can adjust the incline via the console (with the double button push) or the quick-adjust buttons on the left rail.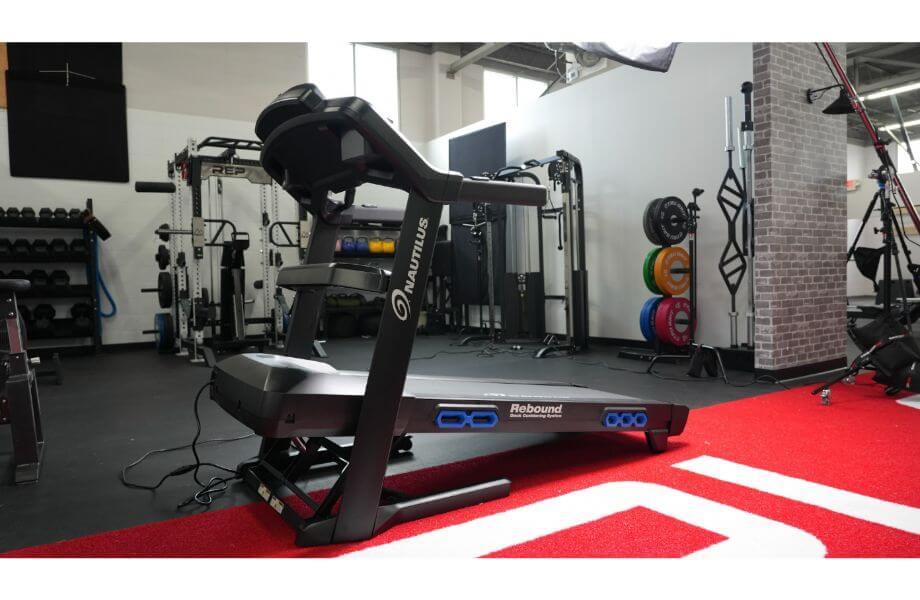 Programs
There are 26 integrated workout programs available on this machine, including interval training and heart-rate training. You'll see your metrics on the dual backlit LCD screens when you're working out, including duration, distance, and heart rate.
The machine allows for four user profiles to be created, so you can track your progress. Each profile allows you to enter:
• Name
• Weight
• Height
• Age
• Gender
• Lap Distance
• Scan
• Value (Customized Workout Display)
If you've created a profile, you'll also see a Fitness Score displayed after your workout. This number is based on an estimate of your Vo2 max and calorie burn over your last five workouts, calculated using data points including time, distance, and average heart rate.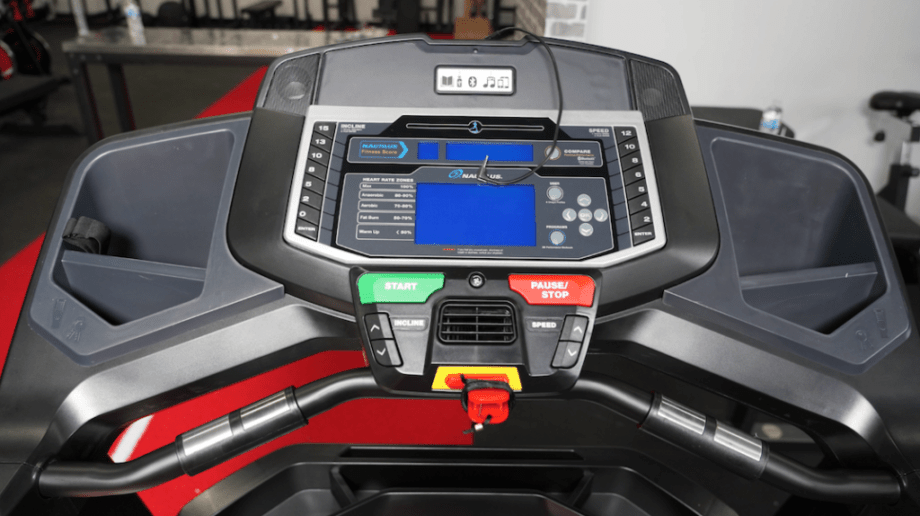 While the Nautilus T618 doesn't offer built-in interactive programming or leaderboards (a la Peloton) that some competitive people might thrive on, this Fitness Score could be an interesting benchmark for some self-competition.
There's also a Compare Pacer display, which helps you to stay on pace, literally. It analyzes your current pace and compares it to your goal, or previous workouts, to give you cues to speed up or slow down—another interesting feature for those who like accountability.
Noise Level
This thing is quiet. Have you ever been on a treadmill where you can't even talk on the phone without shouting? And it sounds like you're walking on the highway to the person on the other end of the line? IYKYK. No concerns with that here, and reviewers overwhelmingly agreed.
RELATED: Best Treadmill for Walking
Storage
If there's one thing the Nautilus T618 isn't lacking, it's storage. On the console there are two generous water bottle holders, plus two compartments for keys or the like. There's also a media shelf on the console for you to place your phone or tablet during your treadmill workout.
Below the console there's yet another integrated towel and accessory shelf, perfect for stashing any extras you might have with you.
Everything felt secure in the holders while I ran, too, which makes it even better.
Technology Benefits and Conveniences
The T618 does have Bluetooth connectivity, but only for streaming to the Explore the World app or other Nautilus partner apps.
Side note: From what I can tell, Nautilus treads used to integrate with the RunSocial app, but recently made the switch to Explore the World.

You won't be able to use other popular third-party fitness apps, like Peloton, seamlessly like you can on similarly priced treadmills, like the Horizon 7.4 AT. There are also other treadmills at this price point that offer a touchscreen, like the ProForm Pro 2000—just something to consider.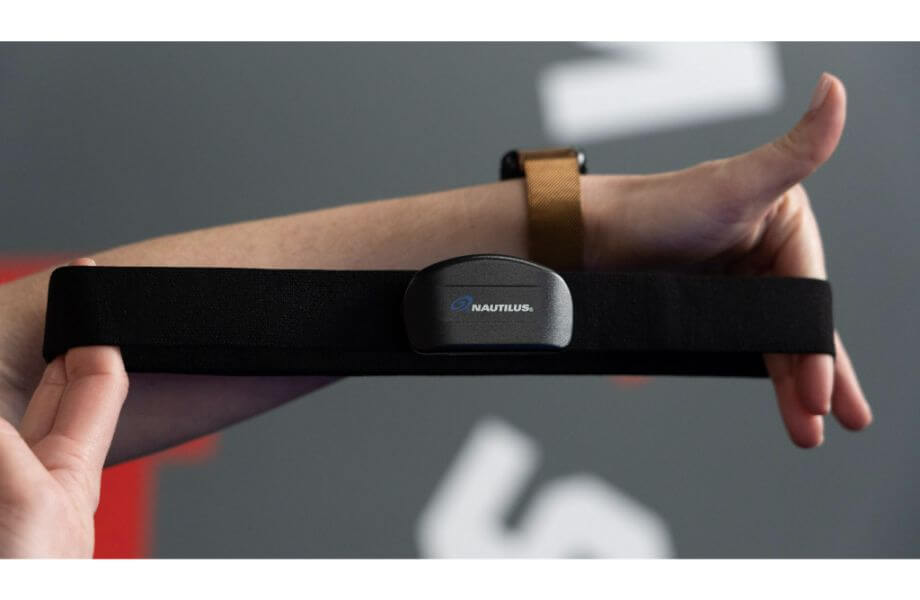 While there are pulse grip sensors integrated into the handles to clock your heart rate, the T618 also comes with a wireless chest strap, which I found connected easily and worked immediately—a definite plus in my book, because it's pretty frustrating when you have to troubleshoot something like this.
There's a USB port on the back of the console that will charge your device while you're streaming programming via the Explore the World app, or simply listening to music or watching a show, too.
A three-speed cooling fan also provides a nice touch. I'm on the shorter side at 5 feet 3 inches tall and I still found that it hit my face just fine. Hopefully, taller runners wouldn't have an issue with the breeze placement.
RELATED: Treadmill Benefits
Comparison to the Sole F80 and Horizon 7.4 AT
For a similar price, you can snag yourself a Sole F80 treadmill or a Horizon 7.4 AT treadmill. How do they compare? Let's check it out. (Prices listed were the prices of each machine at the time this article was published.)
| | | | |
| --- | --- | --- | --- |
| | Nautilus T618 | Sole F80 | Horizon 7.4 AT |
| Price | $1,499 | $1,599 | $1,599 |
| Footprint | 78" L x 37.6" W x 62.8" H | 82" L x 37" W x 66" H | 76" L x 37" W x 63" H |
| Weight | 253 lbs | 278 lbs | 318 lbs |
| Weight capacity | 350 lbs | 375 lbs | 350 lbs |
| Running deck | 20" W x 60" L | 20" W x 60" L | 22" W x 60" L |
| Foldable | Yes | Yes | Yes |
| Motor | 3.5 CHP | 3.5 CHP | 3.5 CHP |
| Incline | 0-15% | 0-15% | 0-15% |
| Display | 2 backlit screens | 1 LCD backlit screen | 1 backlit screen |
| Bluetooth compatible | Only with the Explore the World app | With speakers and your phone | Yes |
| Preprogrammed workouts | 26 | 10 | 10 |
| Heart rate monitor | Pulse grips plus an included chest strap | Pulse grips plus an included chest strap | Pulse grips plus an included chest strap |
| Warranty | 15-year frame and motor, 5-year parts and electronics, 2-year labor | Lifetime frame and motor, 5-year electronics and parts, 2-year labor | Lifetime frame and motor, 5-year parts, 2-year labor |
| Financing available | Yes | Yes | Yes |
These three treadmills are comparable in most stats—the main differences lie in the technology capabilities and programming. If you're looking for a machine with the most app compatibility and smart features, the Horizon 7.4 AT treadmill is your best bet hands down. If you're looking for something a bit simpler, the Nautilus T618 is the best option.
Customer Experience
Nautilus offers a money-back guarantee; if you're unhappy with your T618 purchase, simply contact the company within six weeks to get the return process started. If you do return the machine, though, your refund will be less shipping and handling. If you purchase the T618 from another retailer, like Amazon, you're subject to their return policy.
The frame and motor of the T618 are covered under a 15-year warranty, which again is not the lifetime warranty that other machines in this price range typically offer. Parts and electronics are covered under a five-year warranty, while labor is backed by a two-year warranty—these warranties are more on par with similarly priced machines. Make sure you register your machine with Nautilus after your purchase it so you'll be eligible to cash in on the warranty.
If you do need to contact Nautilus, you can do so via phone or email. While Nautilus doesn't have a live chat option available on its website, it does seem as though you can use the Bowflex live chat option if you need to get in touch with the company and prefer doing so via chat.
Ordering and Assembling the Nautilus T618
We ordered the T618 to our warehouse, and our Operations Manager Sam "AsSAMbly" Presley accepted the delivery.
Shipping costs a flat $99 in the contiguous U.S. via the Nautilus website (sorry, Alaska and Hawaii—no shipping to you), and the company says products ship within one week via standard shipping. You can also pay $250 for in-home assembly, which includes full assembly by a qualified technician and removal of all boxes.
And about the moola: Nautilus does offer financing through its website via the Nautilus credit card, which promises no interest if the purchase is paid in full within 18 months. You can apply at checkout to take advantage of this offer.
Back to AsSAMbly: He put together this beast of a treadmill and said that overall, the build is pretty simple. But, there's one major flaw.
"You have to take the plastic housing off the front and back of the control panel in order to bolt it to the frame of the treadmill, then reinstall the plastic once done," Sam explains. "As someone who has built probably a dozen or more treadmills, I think there are several other much easier and less time-consuming ways to mount the control panel."
Because of this quirk—and because the machine weighs 253 pounds—Sam says it'll be easiest if you have a friend help you with the assembly process.
Customer Reviews
Honestly, reviews of the T618 are mixed.
This machine has a 3.7 out of 5-star rating on Nautilus.com, a 3.3 out of 5-star rating on Amazon, and a 4.4 out of 5-star rating on Best Buy.
The reviewers who gave the machine 5 stars commented on its professional-grade feeling and its quietness when in use, plus its overall feeling of durability.
Several reviewers, like Minneapolis Treadmill User on Amazon, did mention the issue of the deck cracking after only a few months' use.

Another echoed criticism was about the weight of the machine, which makes it hard to put together on your own, and hard to move. Our team of testers can corroborate both.
Final Verdict of Our Nautilus T618 Treadmill Review
Overall, the Nautilus T616 treadmill is a straightforward machine—a work horse, if you will. If you just want something you can get on and go, and you have the room for it, this could be a reliable option. 
However, at a price point of $1,500, tech capabilities are lacking, so if that's important to you, consider a different choice.
Nautilus T618 Rating
Nautilus T618 Treadmill
In our Nautilus T618 treadmill review, we'll let you know if this machine is a better investment than something with more bells and whistles.
Product Brand: Nautilus
Product Currency: $
Product Price: 1499.00
Product In-Stock: InStock
Nautilus T618 Treadmill FAQs
Are Nautilus treadmills any good?
Nautilus is a well-known brand in the conditioning equipment space and has a reputation of offering well-built machines. Its current treadmills have about a 3.8 out of 5-star average rating on big sites like Amazon and Best Buy.
Which is better, Nautilus or NordicTrack?
It totally depends on your budget and the features you're looking for. NordicTrack has more treadmills to choose from, and even its most basic models are equipped with iFIT for interactive programming, if you're someone who wants the bells and whistles. In general, NordicTrack treadmills are more expensive, too. Nautilus treadmills provide a solid and simple option if you just want to get on and move.
When did the Nautilus T618 come out?
From what we can tell, the Nautilus T618 was released in 2016.
Does the Nautilus T618 treadmill fold up?
Yes, the Nautilus T618 treadmill folds up with the company's Soft Drop folding mechanism.
Who makes Nautilus treadmills?
Nautilus treadmills are manufactured by Nautilus, Inc., which owns a portfolio of brands including Nautilus, Schwinn, and Bowflex.