We test and review fitness products based on an independent, multi-point methodology. If you use our links to purchase something, we may earn a commission. Read our disclosures.
Branched-chain amino acids were once primarily used by bodybuilders and powerlifters, but they've recently skyrocketed in popularity as more people have discovered their purported benefits, including improved muscle recovery and enhanced performance.
As a result, many companies claim to produce the best BCAA for men, but a closer look at their nutrition labels show they're nothing but a glorified flavored drink mix. That's why we've asked nutritionist, registered dietitian, and supplements expert Bob Iafelice to weigh in on which ones actually provide bang for your buck. He and our team of certified personal trainers, nutrition coaches, and athletes tested each product on this list to evaluate factors such as:
Formula: Does it contain clinically-backed ingredients and dosages?
Effects: Did our testers experience positive or negative effects?
Price Per Serving: Does the cost match the value of the product?
Ultimately, we're just like you—people who are obsessed with fitness and want to find the best supplements to help fuel our training and keep us on top of our game. We used our in-depth testing to produce this list of the best BCAAs for men and ensure that if we recommend it, we would take it ourselves.
RELATED: Best Protein Powders for Men
Medical disclaimer: This article is intended for educational and informational purposes only. It is not intended as a substitute for medical advice. For health advice, contact a licensed healthcare provider. GGR also recommends choosing a product that has been third-party tested for quality.
Best BCAA for Men
Best BCAA for Men Overall: Transparent Labs BCAA Glutamine
Good for: Someone looking to support their recovery and immune system
Transparent Labs BCAA Glutamine has all the ingredients you'd expect in a high-quality BCAA supplement, with the added benefit of l-glutamine—which in addition to being the most abundant amino acid in the body, has also been linked to several health benefits, according to Bob Iafelice, R.D..
Nicole Davis, GGR senior editor and certified nutrition coach, tried the Strawberry Lemonade flavor, which wasn't her favorite, scoring it just a 3.5 out of 5. "It seems like I'm in the minority though, based on customer reviews," she adds. "The powder dissolves well, which is appreciated in my book."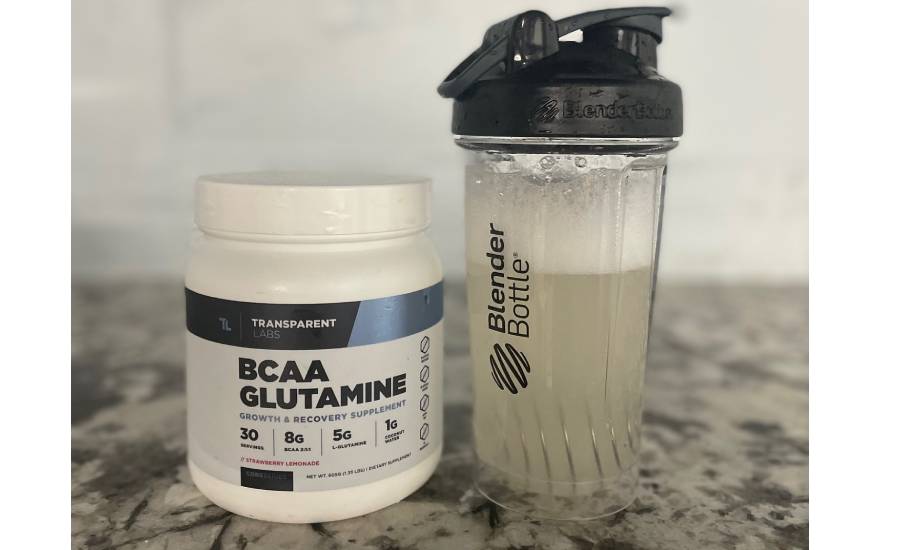 "While I often recommend glutamine for immune and gut health, some evidence suggests that glutamine may help expedite muscle recovery after exercise," Bob says. Let's talk about the immune and gut health benefits first.
Studies1 have shown that glutamine is essential to cell growth and can enhance immune cells' ability to protect the body against infection and inflammation. The problem is our cells are depleted of glutamine when fighting an infection, which is why glutamine supplementation can be beneficial for immuno-compromised individuals.
A 2021 study2 also found that glutamine could help support gut health and could even be used when treating people with depression (remember that gut health could affect our brain and mood).
Transparent Labs also packs its BCAA supplement with 4 grams of leucine, which as Iafelice points out is more than the research-backed 2.5-gram dose recommended to support muscle protein synthesis.
For more, check out our in-depth Transparent Labs BCAA review.
| | |
| --- | --- |
| Price per serving | $1.33 |
| BCAAs | 8 g (L-Leucine: 4 g, L-Isoleucine: 2 g, L-Valine: 2 g) |
| Dosage | 1 scoop |
| Flavors | Sour Green Apple, Tropical Punch, Strawberry Lemonade, Blue Raspberry, Orange |
Best Protein Powder with BCAA for Men: Legion Whey+
Good for: Those who want a whey protein powder that's chock full of BCAAs
Like all of the best protein powders, Legion Whey+ has all of your EAAs and BCAAs (every complete protein will have these) in a good-tasting and all-natural protein powder.
Each scoop comes with 5.6 grams of BCAAs, 22 to 24 grams of protein (it varies by flavor), and a moderate amount of carbs and fat. It also has a Labdoor Tested for Purity certification to show that it's been checked for heavy metals, banned substances, and THC (the psychoactive compound found in marijuana).
Another reason we love it is because of the Truly Grass-Fed certification, which tells us the cows that produced the dairy spend most of their time outdoors and eat grass instead of wheat and artificial fillers.
I tasted the Cinnamon Cereal flavor, and it tastes like the milk that's left at the bottom of a bowl of Cinnamon Toast Crunch. I give it a solid 4.5 out of 5 for taste. It mixed easily with milk or water, though I highly recommend using milk.
Studies have shown that grass-fed cows produce milk that contains anti-inflammatory antioxidants3 and has a better omega-3/omega-6 ratio4 than conventional milk.
Legion Whey+ is on the expensive side, at $1.99 per scoop, and comes in 15 different flavors.
Check out our full Legion Whey+ review.
| | |
| --- | --- |
| Price per serving | $1.99 |
| Protein | 22-24 g |
| Carbs | 2-6 g |
| Fat | 1-2 g |
Best BCAA for Muscle Building: Huge Supplements Huge BCAA
Good for: Men who are looking for a high-quality BCAA supplement
Huge BCAA by Huge Supplements lives up to its name by including a larger-than-average dose of branched-chain amino acids and the other six essential amino acids (EAAs) needed to create a complete protein (EAAs are the ones our body can't create on their own and must be obtained through diet).
As Bob Iafelice, R.D., notes, a complete protein with all nine essential amino acids is needed to maximize muscle protein synthesis and muscle gains. "With all the essentials that include a herculean 8-gram dose of BCAAs, Huge BCAA certainly fits the bill as a potent muscle-builder," he adds.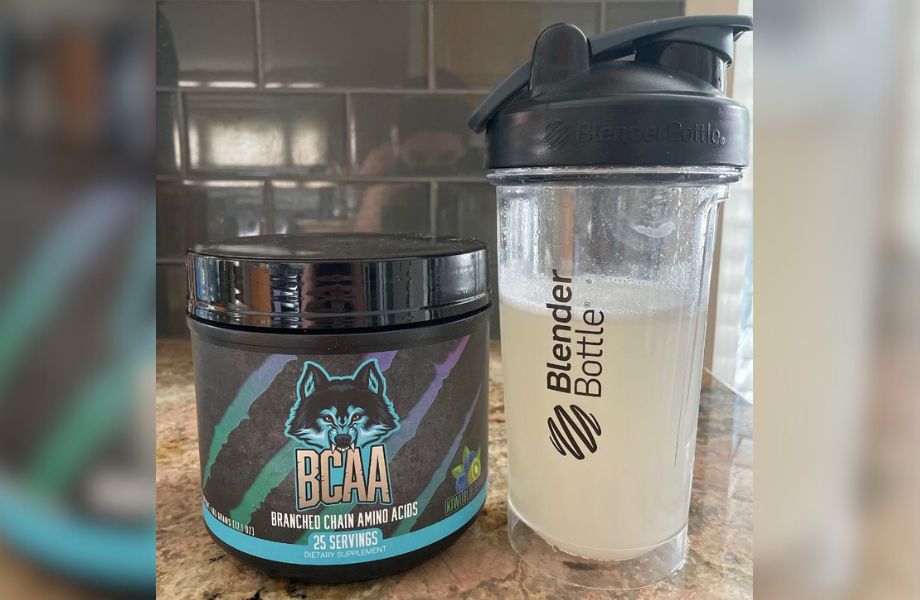 Another reason we like Huge BCAA is that it includes coconut water powder, a source of electrolytes that can help support hydration during intense exercise. There are also generous amounts of potassium and sodium, two other electrolyte sources that need to be replenished after sweating.
Your muscles will lose some potassium during exercise, but you lose even more sodium, which if not replenished could result in muscle spasms, nausea, vomiting, and other symptoms, according to the Mayo Clinic5.
There are four available flavors, but we should note that they're sweetened with sucralose (this might not matter to some people but it has been known to cause digestive issues).
Nicole Davis, GGR's senior editor, went with Kiwi Blueberry flavor and rated it a 4.5 out of 5. "I didn't find it overly sweet, plus I like its unique flavor profile—I definitely got the kiwi taste. The powder also dissolves well and doesn't feel gritty in your mouth."
| | |
| --- | --- |
| Price per serving | $1.60 |
| BCAAs | 8 g (L-Leucine: 4 g, L-Isoleucine: 2 g, L-Valine: 2 g) |
| Dosage | 1 scoop |
| Flavors | Kiwi Blueberry, Bomb Popsicle, Watermelon Lemonade, Sour Grape |
Best Unflavored BCAA for Men: Kaged BCAA 2:1:1
Good for: Anyone who wants an unflavored BCAA supplement that's easily mixed with water
If you're not a fan of the fruity flavors often used in BCAA supplements, then you'll love the mostly-unflavored Kaged BCAA 2:1:1. Erin Chancer, certified nutrition coach and senior editor for Garage Gym Reviews, tried these BCAAs. "It tastes like water…but not water," she says, noting that she recommends mixing it with something other than water to cover the hint of … something … she could detect.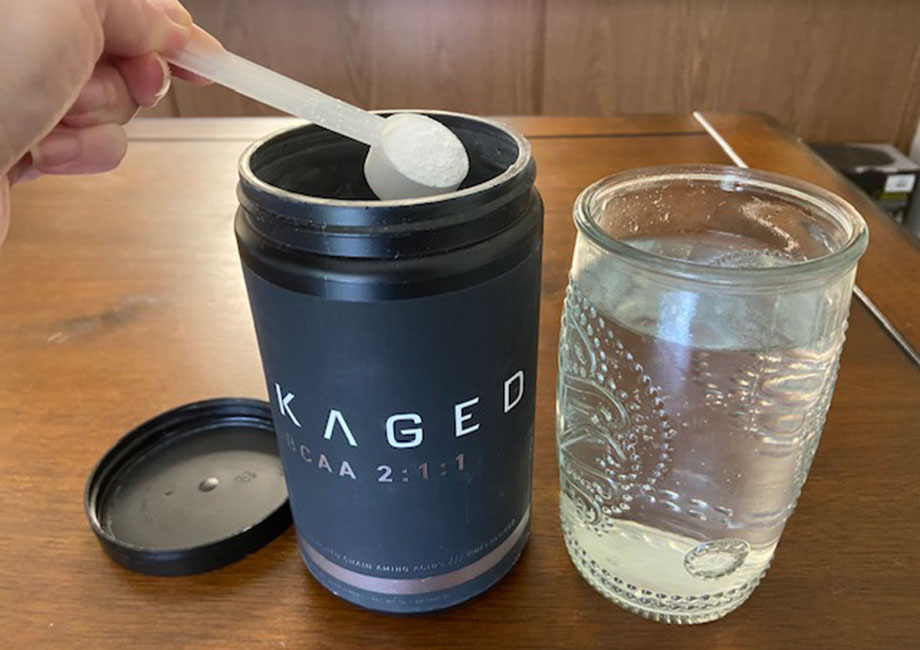 While the taste may be bland, the nutritional value is anything but.
It contains a 2.5-gram dose of leucine, the optimal dose for muscle protein synthesis, and 1.25 grams each of the other two BCAAs, valine and isoleucine. It's also vegan-friendly, has more than 330 5-star customer reviews, and only costs 42 cents per scoop. Those are all wins in our books.
"When I mix together various nutritional powders, different flavors can often clash," Iafelice says. "Kaged Muscle BCAA avoids this issue by providing a robust 5 grams of BCAAs without any flavors."
Consider this a great pre-workout or intra-workout supplement that can be mixed with a greens powder or other supplement.
We did knock it a bit on its solubility rating, giving it a 3 out of 5 because Erin says unless you use a blender or shaker cup, you'll find clumps in your drink.
| | |
| --- | --- |
| Price per serving | $0.42 |
| BCAAs | 5 g (L-Leucine: 2.5 g, L-Isoleucine: 1.25 g, L-Valine: 1.25 g) |
| Dosage | 1 scoop |
| Flavors | Unflavored |
Best BCAAs With Electrolytes: Swolverine BCAA 2:1:1 Powder
Good for: Anyone who's looking to ensure they're properly hydrated during training
We don't have to tell you that electrolytes found in Swolverine BCAA 2:1:1 Powder help with proper hydration on hot days or during intense exercise because you already knew that. What you might not know, however, is that the electrolytes potassium and sodium can also help with muscle contraction and help you get a better pump at the gym6.
"This tastes good, and it's refreshing," says GGR's head of content Kate Meier, who tested the Swolverine BCAAs and gave the flavor a 5 out of 5. "It tastes very similar to lemon lime Gatorade; you can tell there is sucralose in the aftertaste. Not bad at all!"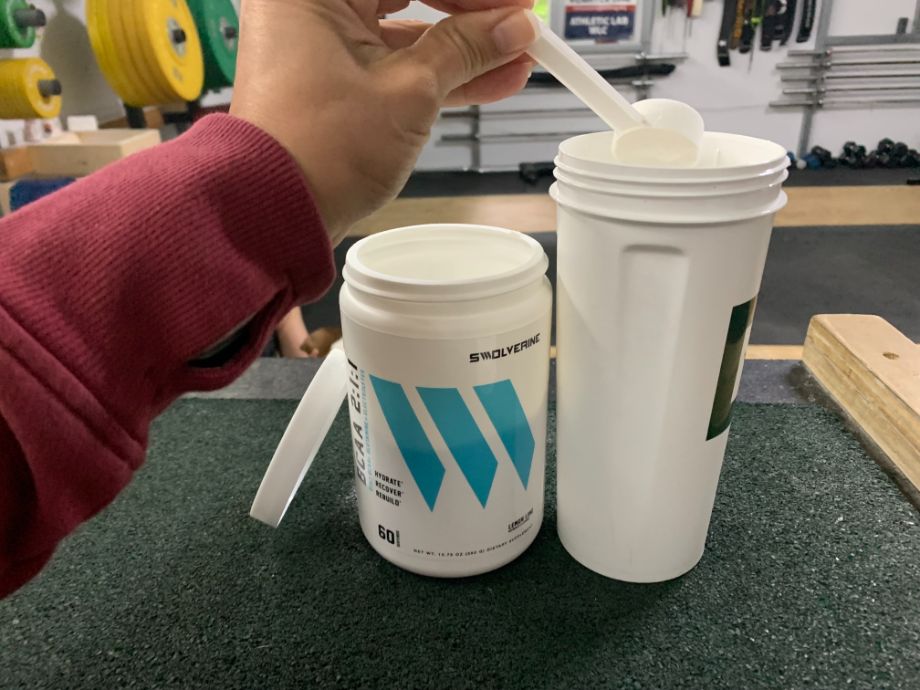 The electrolyte-BCAA combo makes Swolverine BCAA Powder a great intra-workout option. Another benefit is the 1 gram of L-Glutamine, which helps the body fight against infections,4 as we point out in our guide to glutamine as a supplement.
The sucralose-sweetened powder is only available in Lemon Lime. We do love that Swolverine's products are all third-party tested.
| | |
| --- | --- |
| Price per serving | $0.83 |
| BCAAs | 4 g (L-Leucine: 2 g, L-Isoleucine: 1 g, L-Valine: 1 g) |
| Dosage | 1 scoop |
| Flavors | Lemon Lime |
Best BCAA Pills for Men: Pure Encapsulations BCAA Capsules
Good for: Anyone who wants to take BCAA pills instead of a powder
Don't want to bother with scoops or mixing a powder into your shaker bottle? Pure Encapsulations BCAA Capsules have all the muscle-building and post-workout recovery benefits of a BCAA supplement, but in capsule form, which Iafelice says could be beneficial.
Capsules are more easily absorbed and generally contain fewer additives, Iafelice notes. "While multiple capsules are still needed to supply enough BCAAs for muscle protein synthesis and recovery, Pure's BCAAs furnish a comparatively large amount of amino acids per capsule, lessening the number of capsules required," he adds.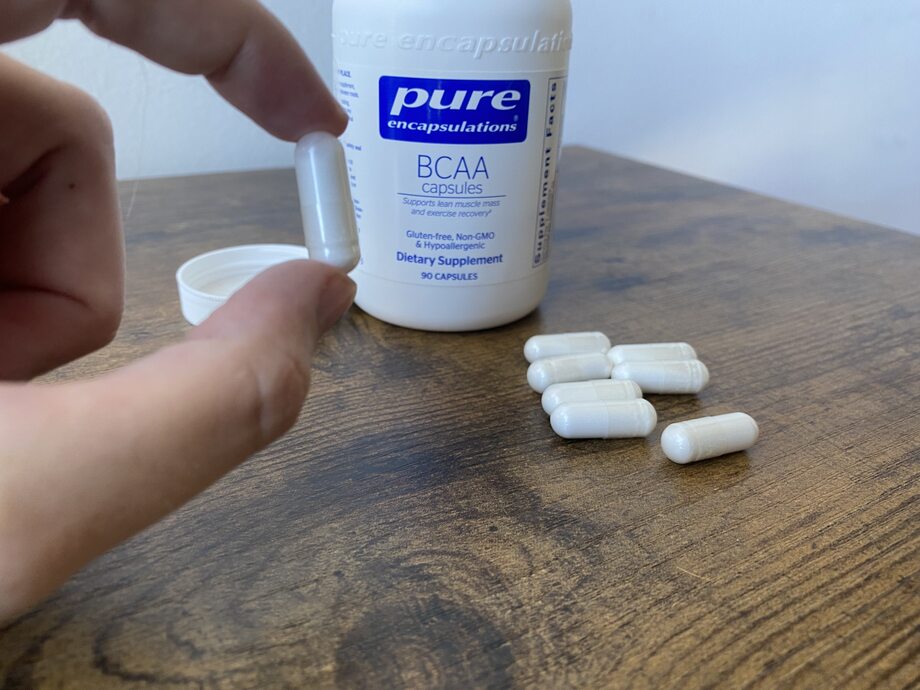 Still, a two-capsule serving only gets you 1.2 grams of BCAAs, so you'll have to down eight of them (four servings) to get the recommended 5-gram dose.
Customer reviews state these pills are easy to take, and some people have noticed quick results after taking them. We didn't find any quick results, though we did find these easy to swallow.
| | |
| --- | --- |
| Price per serving | $0.60 |
| BCAAs | 1.2 g (L-Leucine: .6 g, L-Isoleucine: .3 g, L-Valine: .3 g) |
| Dosage | 2 capsules |
| Flavors | None |
Best Budget BCAA for Men: Xtend Original BCAA Powder
Good for: Anyone who's on a budget but still wants one of the best BCAA powders
At just 63 cents per serving, Xtend Original BCAA Powder is an affordable and efficient BCAA supplement that contains 3.5 grams of the branched-chain amino acid leucine, which helps regulate cellular functions such as muscle protein synthesis7 (or the process of producing new muscle proteins) and muscle tissue repair.
"What's more, Xtend BCAA Powder contains citrulline malate, a combination of the amino acid citrulline and the alkalinizing compound malic acid (found naturally in many fruits)," Iafelice says. "Citrulline malate has been demonstrated in several studies8 to enhance exercise performance, possibly via blood vessel dilation."
Talk about a high-value supplement.
If that's not enough, Xtend also contains several electrolytes to help support proper hydration during workouts.
You have 12 flavor options to choose from, so if you really wanted to, you could try a different flavor every month.
Kate Meier, GGR head of content, is a big fan of the Watermelon Explosion flavor. ""I don't like super sweet things, but if I mix this with enough water—12 to 16 ounces—it's perfect," she says, rating it a 5 out of 5 for taste.
| | |
| --- | --- |
| Price per serving | $0.63 |
| BCAAs | 7 g (L-Leucine: 3.5 g, L-Isoleucine: 1.75 g, L-Valine: 1.75 g) |
| Dosage | 1 scoop |
| Flavors | Watermelon Explosion, Blue Raspberry Ice, Freedom Ice, Glacial Grape, Italian Blood Orange, Knockout Fruit Punch, Lemon Lime Squeeze, Mango Madness, Smash Apple, Strawberry Kiwi Splash, Strawberry Mango, Tropic Thunder |
Best Vegan BCAA Supplement for Men: Naked Nutrition BCAAs
Good for: Men living a plant-based lifestyle
Naked Nutrition BCAAs are branched-chain amino acids in their purest form and are a high-quality training supplement that should be on just about everyone's radar (regardless if you're plant-based or not).
Iafelice is a fan, calling Naked BCAAs a clean vegan product that's free of additives. As a bonus, it's sourced from non-GMO carb sources and provides 2.5 grams of leucine, the research-backed dose for muscle protein synthesis, muscle gains, and muscle recovery.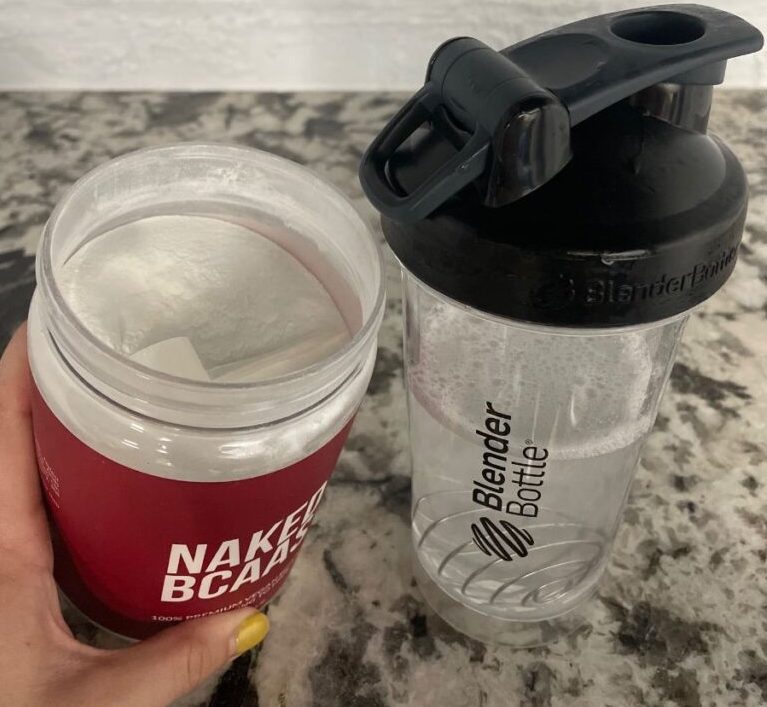 Naked BCAAs are unflavored, but Nicole Davis, GGR senior editor, and some customer reviewers noted there was a bitter taste to it when mixed with water. It did, however, mix easily with water.
It's also only 35 cents per serving and you get 100 servings per container.
| | |
| --- | --- |
| Price per serving | $0.35 |
| BCAAs | 5 g (L-Leucine: 3 g, L-Isoleucine: 1 g, L-Valine: 1 g) |
| Dosage | 1 scoop |
| Flavors | Unflavored |
Other BCAAs for Men We Researched
There are hundreds, if not thousands, of BCAA supplements on the market, and so it'd be impossible to discuss the pros and cons of every single one. Here are two, however, that we came across during our research that we wanted to highlight.
BPI Sports Best BCAA: BPI will have you believe the inclusion of conjugated linoleic acid (CLA) can help speed up your metabolism and support weight loss, but a meta-analysis of 18 studies9 on CLA found it only resulted in "modest" fat loss (about a tenth of a pound per week). 
Optimum Nutrition BCAA 1000: Optimum Nutrition is a great budget-friendly supplement manufacturer, but that usually means their products are less effective than more expensive brands, such as their BCAA capsules only containing 1 gram of BCAAs per serving.
RELATED: Best BCAA for women
How We Picked and Tested the Best BCAA for Men
We wrote down every BCAA supplement on little pieces of paper, put them in a hat, and then picked out seven at random…we're joking, obviously. In truth, we put hours of research into looking at the most popular supplements and then narrowed down our list by looking at the following factors:
Formulation: Did the product contain a research-backed amount of BCAAs per serving and have the proper ratio of l-leucine to isoleucine to l-valine?
Form: Powder or capsules? We looked for both to give you options.
Serving size: In addition to giving you 30 servings per container (enough to last a month), we wanted to see how many scoops or capsules you needed to get the 5-gram dose recommended by most researchers.
Taste/Flavors: Did the flavored options taste good, and did unflavored supplements actually have no taste?
Solubility: Did the powders easily dissolve in water?
Cost: Is the container affordable, and what's the per-serving cost?
Third-party testing: We wanted to see if the products had been tested by Informed Sport, NSF, or Banned Substance Control Group (BSCG) for banned or harmful substances.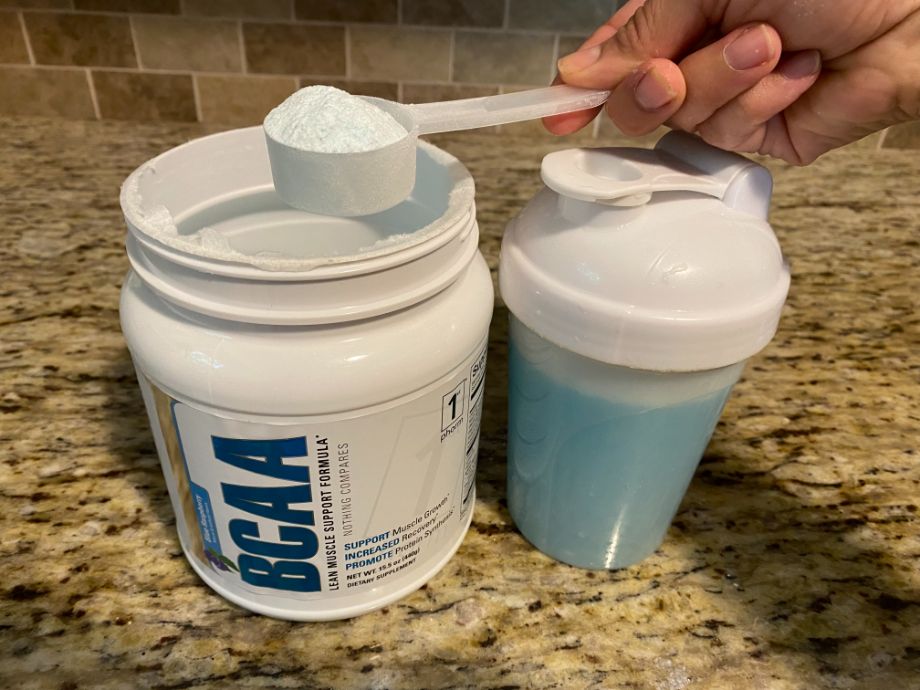 What are BCAAs?
Branched-chain amino acids, or BCAAs, are a type of amino acid called an essential amino acid, meaning they must be obtained through diet because our body can't produce enough of them on its own (amino acids created in sufficient quantities by our body are called non-essential amino acids).
There are three BCAAs: leucine, isoleucine, and valine.
Benefits of BCAAs—Do They Work?
Here's the truth: BCAA supplements have some benefits for resistance-trained individuals, but not nearly as much as the manufacturers and marketers would want you to think. Here, we'll mythbust some of the purported benefits of BCAA supplements and let you know which ones they're actually useful for.
Muscle-Building
Truth: BCAAs are needed to stimulate muscle protein synthesis along with the other amino acids needed to create a complete protein (a protein molecule containing all the EAAs), so a BCAA supplement alone won't do much to support muscle growth or lean muscle mass unless the other 6 EAAs are included, according to Iafelice and this August 2019 review10.
If your main goal is building muscle, we recommend a protein powder.
Improved Performance
Truth: BCAAs can actually help you perform better in the gym, though with the caveat that it's only for people who engage in intense workouts—so people who lift weights for more than an hour, endurance athletes, and professional athletes.
BCCAs ability to support these type of athletes is supported by recent studies showing that they increase exercise capacity and endurance, Iafelice says.
Post-Exercise Recovery
Truth: This is probably the best reason for taking BCAA supplements, according to Iafelice. There have been systematic reviews11 of clinical trials showing that BCAAs reduce the markers of muscle damage and support reduced delay-onset muscle soreness (commonly known as DOMS) after rigorous resistance or endurance training.
Studies10 have also shown that branched-chain amino acid supplementation can help prevent excess muscle breakdown and muscle fatigue.
How Much BCAAs Should I Take?
You'll want to look for two things: the BCAA ratio and the total amount of BCAAs in a supplement. The ratio should be 2:1:1 (leucine-isoleucine-valine) per kilogram of bodyweight, so for a 150-pound person that'd be 2.7 grams of leucine and 1.4 grams each of isoleucine and valine.
A 5-gram scoop or capsule serving will give you the proper dosage, though people who weigh more might want to look for a product with a bigger serving (or you can double scoop).
Buying Guide: What to Look for in BCAAs
There are many factors to keep in mind when considering which BCAA supplement is best for you.
Ingredients
Does the supplement contain all three BCAAs in the proper ratio and doses, and does it contain other ingredients like electrolytes (potassium, sodium, and magnesium), taurine, or glutamine? If you're gluten-free or have any other food sensitivities, make sure no added ingredients will trigger your allergies.
Also look for artificial sweeteners or artificial colors, if you're someone who experiences digestive issues with these ingredients.
On the flip side, some BCAA powders might contain micronutrients such as Vitamin C or Vitamin B6.
Pill Or Powder?
Do you want a tasty mid-workout drink, or do you just want to take a few pills for your BCAA needs?
Taste
If you go with a powder, make sure you like the flavor (especially if you're paying good money for something that lasts a month).
Customer Feedback
In addition to seeing what we've had to say, skim through Amazon customer reviews to see what everyone else likes or dislikes about certain BCAA products.
Banned-Substance Testing
An Informed Sport, NSF, or BSCG logo will let you know that a BCAA supplement has been screened for banned substances and other harmful materials, which is especially important if you're an athlete.
Side Effects
A 2012 study in the American Journal of Clinical Nutrition12 found men would have to ingest 35 grams of leucine per day to experience any side effects, meaning it's unlikely that you'll experience any issues when taking BCAA supplements.
Iafelice adds that BCAA concentrations in the blood aren't necessarily connected with BCAA supplementation. If you do experience any side effects after taking BCAAs, discontinue use and talk to your doctor or a nutritionist.
FAQs About Best BCAAs for Men
Which brand is best for BCAA?
Which is the best BCAA for muscle growth?
Our vote goes to Huge BCAAs because it contains the six other essential amino acids needed to stimulate muscle protein synthesis.
What does BCAA do to men?
BCAAs can support post-exercise recovery and improve athletic performance in men who workout for prolonged periods.
Do BCAAs really work?
Not nearly as well as most manufacturers would have you think, but there is research connecting them to improved performance and recovery if taken in proper doses.
These statements have not been evaluated by the Food and Drug Administration. This product is not intended to diagnose, treat, cure, or prevent any diseases.
References