We test and review fitness products based on an independent, multi-point methodology. If you use our links to purchase something, we may earn a commission. Read our disclosures.
If you're thinking about a treadmill for your home gym but can't fathom paying a boatload of money on a cardio machine, have no fear, because I'm all about sticking to my budget and finding deals.
There is a fine line of spending too little and winding up underwhelmed with your purchase, and spending too much and you're left feeling robbed. Therefore, in this roundup of best treadmills under $600, I'm going to give you my top picks on cheap treadmills. I'll stick to the ones I think are high-quality for this price range and will still add value to your fitness routine.
We Know Treadmills
The GGR team comprises expert product testers ranging from certified personal trainers to CrossFit Level 1 Trainers to nutrition coaches and former college athletes. We're a group of fitness nerds who love to test everything from the best budget treadmills to the newest specialty barbells.
Our product testers have used everything from top-of-the-line manual treadmills to under-the-desk walking treadmills. This review will have a variety of treadmills to choose from, so you get the product that best suits your needs.
5 Best Treadmills Under $600
Best Treadmill for Running Under $600: ProForm City L6
Good for: Casual runners who are short on space but still need a quality treadmill
ProForm City L6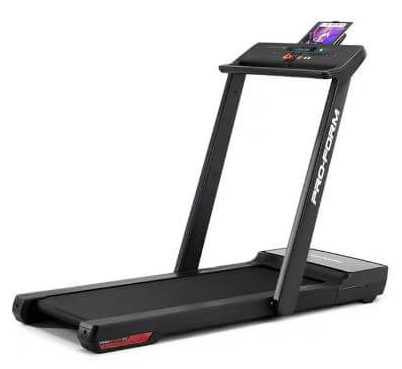 ProForm City L6 Folding Treadmill
The ProForm City L6 Folding Treadmill is the currently most affordable treadmill offered by ProForm. The L6 does not come with a built-in screen, instead it has a device holder for your table or phone. Similar to the other ProForm models the L6 utilizes iFIT programming with trainer-controlled speed, but you will have to stream classes from your phone or tablet.The L6 has a tread belt size of 17.5 by 45 inches, which is on the smaller side, but this treadmill is built to be compact. The overall footprint of this treadmill is 29 inches wide by 70.25 inches long and 44.5 inches tall. The treadmill handlebars fold down so it can be stowed away. The 1.6 CHP motor can achieve speeds of 0-8 miles per hour.There are limited online reviews of the L6 treadmill. Most users had positive experiences, enjoying the quick and easy assembly and compact design. One user did have the treadmill arrive broken and had difficulty with customer service. At the time of publishing, there are no user reviews about using iFIT with the L6 treadmill.
Pros:
Foldable treadmill
iFIT compatibility
Easy to assemble
Cons:
Low 250-lb user weight capacity
No incline settings
Top speed 8 MPH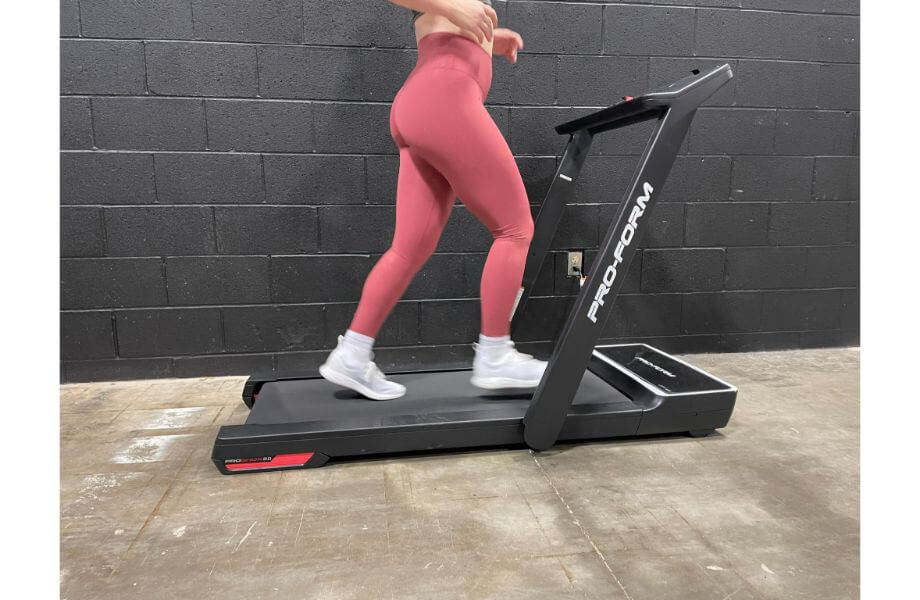 Here's the skinny on the ProFormCity L6: It's foldable, compact, and lightweight—making it easy to move and store out of the way for small spaces. What we need you to know is this treadmill is not for tall people, or those who are serious runners. The City L6 features a 45-inch-long running belt, which is well under the 55-to-60-inch decks we like to see in most home treadmills.
The thing is, the L6 will make a great treadmill for a certain type of person. We think you'll fully enjoy this treadmill if you're under 6 feet tall and not planning to use the machine for serious running or marathon training. If you're on the shorter side and plan to run, you'll be happy to know the City L6 comes with deck cushioning to help with shock absorption on your joints.
Lastly, we like the fact the L6 uses Bluetooth connectivity from your own device to connect to this iFIT-compatible treadmill. With an iFIT membership (which is sold separately) you'll have access to trainer-led classes and auto-adjust technology that controls the treadmill speed range and incline levels according to the coaching cues.
Read our full, in-depth ProForm Pro City L6 review.
| | |
| --- | --- |
| Price | $599 |
| Footprint | 70.25" L x 29" W x 44.5" H |
| Warranty | 10-year frame, 1-year parts and labor |
| Weight Capacity | 250 lbs |
| Motor Horsepower | 1.6 CHP Mach Z |
| Max speed | 8 MPH |
Best Incline Treadmill Under $600: Sunny Health and Fitness (SF-T4400) Treadmill
Good for: Beginner runners and walkers who want incline training on a no-frills machine
Sunny Health and Fitness SF-T4400 Treadmill
Sunny Health and Fitness Treadmill SF-T4400
The Sunny Health & Fitness Treadmill is a space-saving and affordable treadmill perfect for general trainees who may not have specific athletic goals, such as becoming better runners. It's foldable and comes with a soft drop feature, a top speed of 9 miles-per-hour, and 9 preset workout programs.We think this is perfect for the person who may just want to get more steps in during their day, or just wants a low-impact way to improve their cardiovascular fitness. While the tread is a little shorter than most, it does feature shock absorption technology for those who can find their stride on it.
Pros:
Folding treadmill
Speed control on handrails
Shock-absorbing running surface
Cons:
Manual adjustable incline
Fairly short running deck
220-lb maximum weight capacity
The Sunny Health and Fitness SF-T4400 treadmill will be a trusty cardio machine for the right user—it has a short 49-inch running deck, so it's best suited for people under 6 feet tall. However, for a budget treadmill, we think a 49-inch running surface equipped with shock absorbers will get the job done for a lot of people.
There are three manual incline options with this treadmill, you'll just have to physically adjust the incline when the treadmill is not running. This method is perhaps not the smoothest way to adjust your incline, but with a price tag around $400, it might be worth it for some home gym owners. This machine also features a soft-drop folding mechanism with gas shocks, making the unfolding process silent and safe.
We also like the fact the SF-T4400 has nine built-in workout programs, which means you won't be stuck with the same old steady-state cardio routine. You'll be able to choose your workout on the console and have your stats (like speed, distance, time, and calories burned) displayed on the LCD display.
Check out the full Sunny Health & Fitness SF-T4400 review.
| | |
| --- | --- |
| Price | Around $400 |
| Footprint | 62" L x 25.5" W x 50" H |
| Warranty | 3-year frame, 180-day parts and components |
| Weight Capacity | 220 lbs |
| Motor Horsepower | 2.2 HP |
| Max speed | 9 MPH |
Best Durable Treadmill Under $600: XTERRA Fitness TR150 Folding Treadmill
Good for: Those looking for a sturdy walking or jogging machine without all the extras
XTERRA Fitness TR150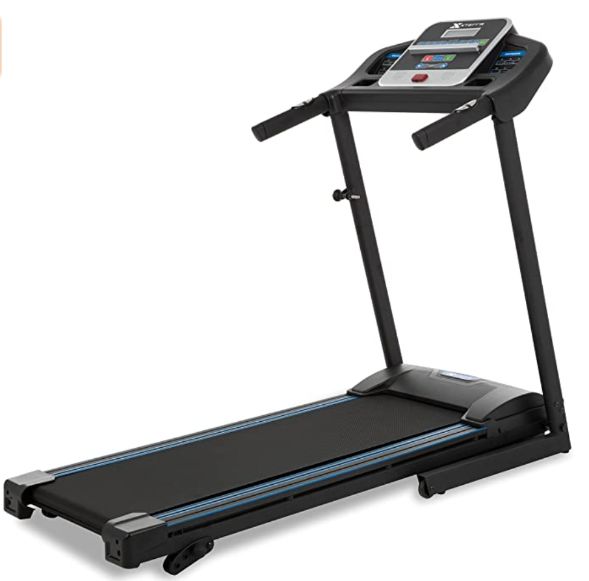 XTERRA Fitness TR150 Folding Treadmill
The XTERRA TR150 is a space-worthy investment best suited for beginner walkers to speed walkers. Featuring 12 preset programs, speeds ranging from .5 to 10 miles per hour, three manual incline settings, and an easy pull knob release for convenient storage, the XTERRA TR150 was developed with performance, comfort, and safety in mind. The 16-inch-by-50 inch walking surface is on the smaller size but is big enough to accommodate most users when walking or light jogging. The 5-inch LED display provides simple yet important stats during your workout including time, speed, distance and calories. The XTERRA TR150 is designed for convenience with an integrated bookrack and accessory holder to keep things like a remote control or phone close by. The hand grip pulse sensors are mounted on the side handlebars but users report that the heart rate readings are often inaccurate (as is often the case with grip sensors). The XTERRA also provides a soft cushioned deck intended to absorb impact and keep joints safe during workouts. If you are an avid runner looking to train hard, this is not the treadmill for you. With a 2.25 horsepower motor, the XTERRA TR150 is not intended for fast or sustained running.  Additionally, users report that the incline is almost unnoticeable. So, before you buy, be sure to know how you intend to use it!
Pros:
Lifetime frame warranty
12 preset workout programs
Heart rate monitor in handlebars
Cons:
Folding mechanism lacks a soft drop system
Small water bottle holder
50-inch-long deck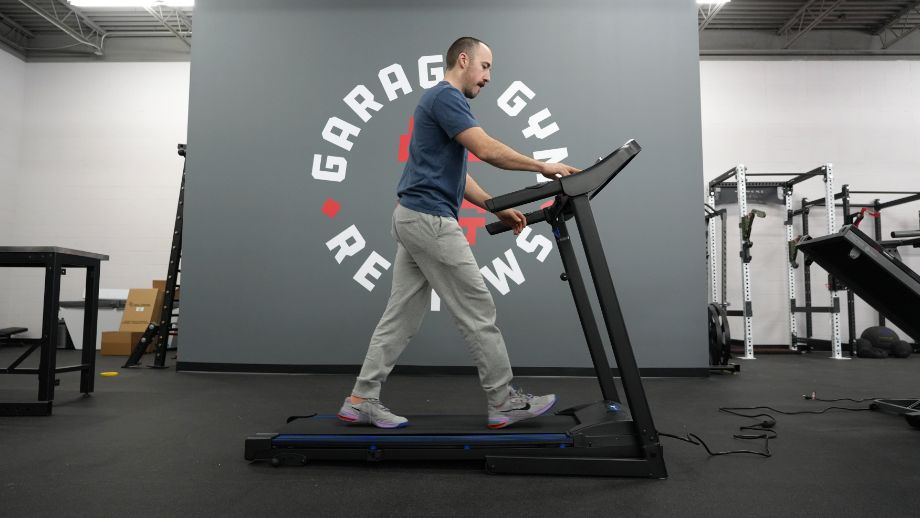 The XTERRA Fitness TR150 has a lot to love for about $500 from Amazon. The lifetime warranty on the frame really catches my eye on a budget machine such as this, as this means the company really stands by the construction. At this price point, you won't necessarily find this machine feels heavy-duty, but we thought it had a solid feel when we tested it.
The one thing about a budget machine is that you're not going to find high-tech touchscreens, interactive programming, or powerful motors for serious bouts of running. Instead, this folding treadmill has a 5-inch LCD screen and a dozen preset programs to help you achieve your fitness goals.
The XTERRA TR150 is meant for casual runners and walkers. With a 50-inch running deck, you're getting more space than the average budget treadmill, however taller people might still feel limited on running with a natural gait. If you're not particularly tall, the 2.25 HP motor will support running, but I wouldn't count on HIIT workouts or marathon training on the XTERRA.
Read our in-depth XTERRA Fitness TR150 folding treadmill review.
| | |
| --- | --- |
| Price | About $500 from Amazon |
| Footprint | 63.4" L x 28.75" W x 51.4" H |
| Warranty | Lifetime frame, 1-year motor, 90-days deck, 90-days labor |
| Weight Capacity | 250 lbs |
| Motor Horsepower | 2.25 HP |
| Max speed | 10 MPH |
Best Compact Treadmill Under $600: UREVO 2-in-1 Treadmill
Good for: Anyone who wants versatility with an affordable treadmill
UREVO 2-in-1 Treadmill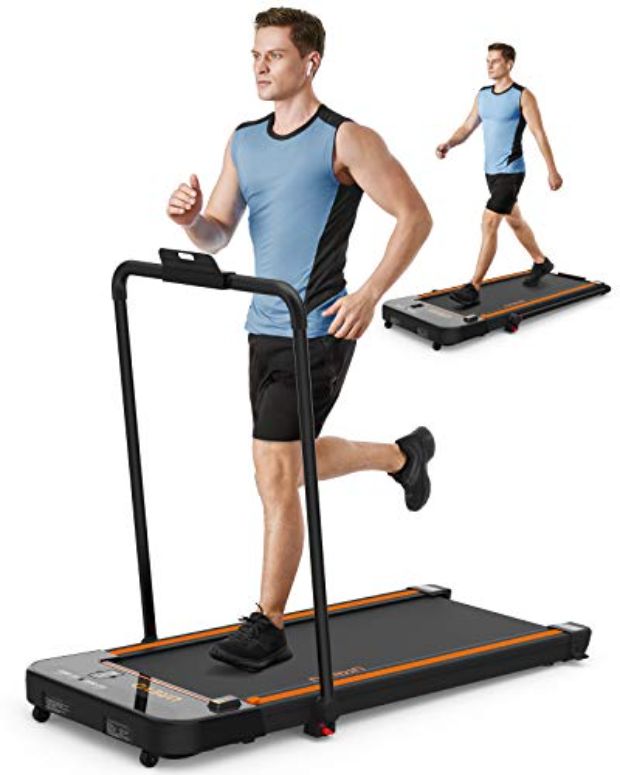 UREVO 2-in-1 Under Desk Treadmill
If you live in an apartment or other compact space, the UREVO 2-in-1 treadmill might be a good option for you. This lightweight machine clocks in at under 60 pounds, which makes it easy to fold and move into a closet or against a wall to free up space. Plus, the handle easily folds down to allow it to be used under a desk while working from home.However, the deck itself is very thin and short. If you're over 5'9", this treadmill might be too short for you to take normal length strides. Although the machine has a maximum speed of 7.6 mph, you likely wouldn't be able to take appropriate strides if you're of average height or taller. However, I personally wouldn't really recommend anyone use thew UREVO for running, as it is better suited for slow paced walking.
Pros:
Super easy storage
Lightweight and portable
Impressive 2.5 CHP motor
Cons:
No incline options
Not for serious runners
Short treadmill belt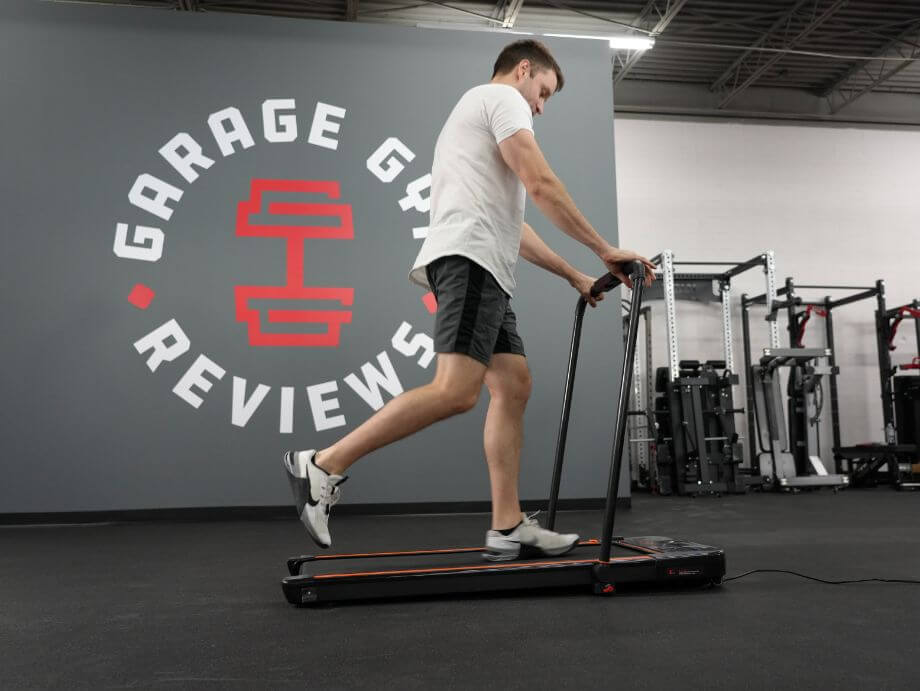 The UREVO 2-in-1 Treadmill might be your best budget option if you're not only looking for a cardio machine, but something that slides under your desk to get steps in during the work day. This treadmill has a handle bar that folds down completely flat, so you can use it under your desk.
You can fold the handlebar back up when you want to use it to walk or jog during non-work hours. The handlebar features a small console with speed controls, stop and start buttons, and a safety key.
With a 42-inch running deck, I wouldn't suggest running on this UREVO for most people. However, with the 2.5 horsepower motor, that kind of power will support running speeds if your stride is narrow enough.
Another feature our product testers loved about this machine: No assembly required. It comes right out of the Amazon box and can be put straight to use. It's also lightweight and has convenient transport wheels.
Check out the full UREVO 2-in-1 Treadmill review.
| | |
| --- | --- |
| Price | Under $400 on Amazon |
| Footprint | 52.6" L x 26.4" W x 39.7" H |
| Warranty | 1-year |
| Weight Capacity | 265 lbs |
| Motor Horsepower | 2.5 CHP |
| Max speed | 7.5 MPH |
Best Walking Treadmill Under $600: GoPlus 2-in-1 Treadmill
Good for: Anyone who wants exercise equipment for the goal of getting steps in
GoPlus 2-in-1 Treadmill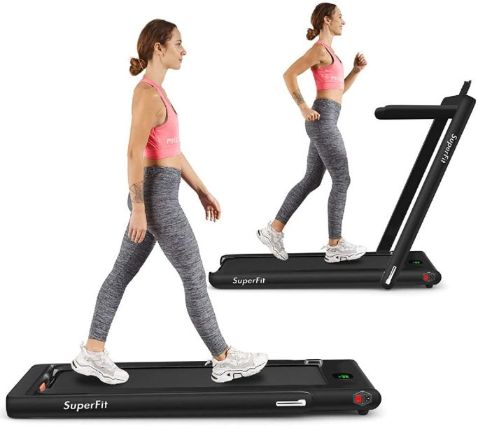 GoPlus 2-in-1 Folding Treadmill
If you are new to the world of exercising, enjoy walking, or are an occasional jogger, the GoPlus 2-in-1 Folding Treadmill could be the treadmill for you. The GoPlus 2-in-1 offers two sport modes, running and walking, with maximum speeds of 8 miles per hour and 2.5 miles per hour respectively. With a 2.25 horsepower motor, it can easily be used under a standing desk so you can get your workout in while working. The GoPlus 2-in-1 Folding Treadmill features a five-layer non-slip and shock-absorbing running belt, safety key, Bluetooth speaker, remote control to change speeds and a phone mount on the handrails. With these features, you can connect and listen to your favorite music, watch a show or talk on the phone all while getting a workout! Although the running surface is a bit smaller than most measuring 40 inches by 16 inches, it does provide cushioning to decrease the tension put on your back, joints, knees and ankles.The LED display has a sleek and minimalist design which shows time, speed, distance and calories, monitoring your movement data in real time. Overall, this is a great budget treadmill for the right customer. That said, the GoPlus 2-in-1 Folding Treadmill is not built to withstand any sustained or fast running. Additionally, because of the smaller running deck and fixed handrail height of 3.5 feet, the GoPlus 2-in-1 is not a good fit for taller people.
Pros:
Perfect for a desk treadmill
Decent motor size
Easy-to-read LED display
Cons:
Not for serious runners
Short walking deck
No incline training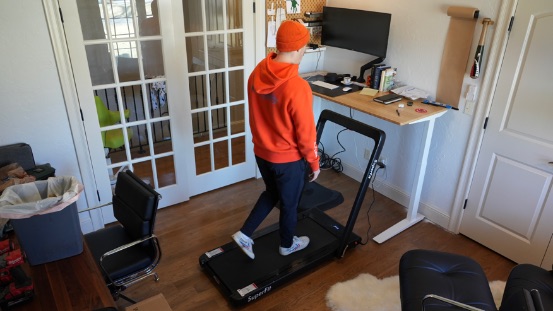 The GoPlus 2-in-1 Treadmill is another versatile compact machine with under-the-desk capabilities. To use the GoPlus under your desk, it's as simple as folding the handlebar down so it lies horizontal with the walking belt. Once it's folded flat, you can use the remote control that comes with the purchase, to start, stop, and control your speed.
Truthfully, this is an ideal option if you plan to primarily use it under your desk, but perhaps a little underwhelming if this is your main cardio machine for your home gym.
The 2.25 horsepower motor will certainly support running speeds, but the machine has a maximum speed of 8 mph and the 40-inch-long running deck will not suffice for most runners. Personally, I'm not tall, but I have long legs and a short torso, which gives me a long stride for my height. This 40-inch deck just won't cut it for my running stride, but could still make a great under-the-desk option.
| | |
| --- | --- |
| Price | Under $400 from Amazon |
| Footprint | 49" L x 27" W x 42" H |
| Warranty | 3 months |
| Weight Capacity | 265 lbs |
| Motor Horsepower | 2.25 HP |
| Max speed | 8 MPH |
Other Treadmills Under $600 We Researched
We've tested numerous treadmills under $600, so it wasn't hard to pick our top five. However, if you still are not finding a treadmill that suits your fancy, take a look at these three options our product testers have tried that were close to making this list:
The NordicTrack T 6.5 S almost made this list, but it's just over $600. It's also a discontinued model from NordicTrack, but you'll still be able to find it on sites like Amazon and Best Buy.
Sunny Health and Fitness SF-T1407M is a close contender for the SF-4400 by the same brand. The two treadmills are nearly identical in running deck length, motor power, and top speeds.
How We Picked and Tested
For our treadmill roundups, we carefully consider the parameters we're working with to deliver the best information for you to make a decision about purchasing a treadmill. Here are some things we took into consideration for this best treadmills under $600 roundup:
Price range: Is the treadmill priced under $600?
Warranty: Is there a warranty for this product and how does it compare to industry standards?
Construction: Does the treadmill feel solid while walking or running on it?
Weight limit: What is the weight capacity for this treadmill (and will it work for a large range of individuals)?
Assembly: How many moving parts are there for the assembly (and how time-consuming will it be)?
Deck size: Based on the length of the running deck, will this treadmill be better for runners or walkers?
Display: What kind of display is featured on the console and what metrics are shown?
Speed Range: What is the maximum speed of this treadmill?
Extras: Does the machine have Bluetooth connectivity or a device holder for your own programs or streaming?
Compactness: Can this treadmill fold? Does it have transport wheels for easy storage?
Benefits of Treadmills Under $600
When it comes to buying a treadmill, you might be wondering about the benefits of buying under the $600 price point? There are quite a few, so I'm here to elaborate:
The Health Benefits Are The Same
When it comes to cardio, GGR staff writer and product tester Caroline Lubinksy is the queen of cardio and can recite industry standards in her sleep. When I asked her how the average home gym owner can benefit from a treadmill under $600, she responded by saying, "you'll get the same heart-healthy benefits as a more expensive machine, but you'll be saving a ton of cash in the process." With that said, she has me sold on a budget machine.
Affordable Home Gym Addition
With all the other equipment you likely have (or desire) in your home gym, how many of us can really afford to throw thousands of dollars at just one machine? "Some of the top models can cost upwards of $4,000 (looking at you, NordicTrack Elite)," says Carloline.
"Your wallet will thank you if you choose to purchase a treadmill under $600," Caroline adds. Plus, we know that you probably also lift with dumbbells, kettlebells, and barbells—we're here to help you have it all.
Lighter and More Portable
An additional benefit we see from budget treadmills is the fact they are typically more compact and weigh less than commercial treadmills. This is great if you're working with a small or shared space (or looking for an under-the-desk option).
What to Look for in a Treadmill Under $600
When you're shopping for your budget treadmill, consider these factors:
Price: The sky's the limit when it comes to cardio equipment. Set your price range, and then find treadmills that fit into that scope. It's also worth noting that some of the less expensive treadmills on the market don't offer financing options.
Warranty: For treadmills priced under $600, not all will come with long-lasting warranties. The XTERRA T150 (lifetime frame warranty) and the ProForm Pro City L6 (10-year frame warranty) both come with more than reasonable warranties for the price. Some of the other machines on this list only offer a year tops. I suggest going with the product that you feel most comfortable with both price and warranty.
Weight limit: This is important to consider for anyone teetering around 200 pounds. Some of the machines on this list have a 220-pound maximum user weight. We suggest paying attention to this factor because budget-friendly treadmills don't often support the same kind of weight as commercial products.
Motor: This is important to consider if you plan on doing more than walking on your treadmill. Oftentimes a budget treadmill also means a less powerful motor. As an industry standard, we like to see a 2.25 continuous horsepower motor on treadmills meant for running.
RELATED: History of Treadmills
FAQs on Best Treadmills Under $600
Is it worth getting a cheap treadmill?
For the right person, buying a treadmill under $600 will be a fantastic way to get in daily steps and keep up with the 150 minutes of moderate-to-vigorous activity recommended for adults by the CDC. It's unlikely, however, that treadmills in this price range will support top speeds on a daily basis without some serious wear and tear. 
Which is the cheapest treadmill?
On this list of best treadmills under $600 (that we've actually tested), we have three options that offer the cheapest price and come in right around $350: The Sunny Health and Fitness SF-4400, the UREVO 2-in-1 under the desk treadmill, and the GoPlus 2-in-1 treadmill. 
What is a good entry-level treadmill?
We think the ProForm Pro City L6 can make an excellent entry-level treadmill without spending an arm and a leg. It's priced at a reasonable $599, it has a 10-year warranty on the frame, and has Bluetooth connectivity so you can pair your own device and access iFIT programming (for an additional monthly membership fee).