We test and review fitness products based on an independent, multi-point methodology. If you use our links to purchase something, we may earn a commission. Read our disclosures.
Can you have too many workout recovery tools?
Of course not. That's like saying you can have too many barbells or too many pairs of training shoes—it's just not possible for all of us gearheads.
However, when it comes to massage rollers, one question is of the utmost importance: Does it actually dig deeply enough to make a difference? In the case of the Roll Recovery R8, the answer is definitely yes. My Roll Recovery R8 review explains this device's insane muscle-mashing features.
Why You Should Trust Us
I've reviewed dozens of workout recovery tools ranging from basic foam rollers to the best massage guns on the market. Throughout my experience, I've learned what makes a good recovery tool and what's just a gimmick.
Roll Recovery R8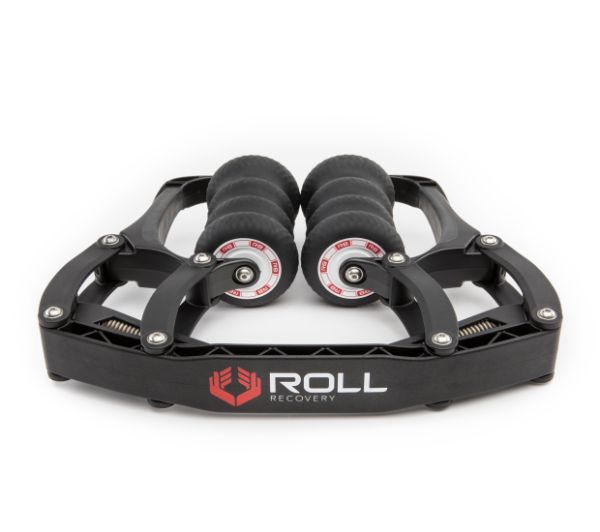 Roll Recovery R8
If you're ready to bring foam rolling to a new level as part of your recovery routine, check out the Roll Recovery R8. This newly redesigned recovery tool features a spring-loaded design, stainless steel hardware, rubberized soft-touch grips and ball bearings at each pivot point. The result? A tool that's smooth-feeling, offers consistent pressure and effectively provides targeted myofascial release.Traditional foam rollers require users to move their body on the floor to target muscles by applying pressure via bodyweight. With the R8, the force needed to provide appropriate pressure is achieved through the spring-loaded design. So, users can get the benefits of foam rolling while sitting down, standing up or laying down.The R8 uses a reinforced Zytel thermoplastic construction, which is both durable and functional. Weighing just 3 pounds, the R8 is TSA-approved and much easier to transport than a traditional foam roller. The space-saving design measures just 12.5 by 9.5 inches so it can easily be tossed in a gym bag or backpack for recovery on the run. Even with its compact design, it's versatile enough to target a wide range of muscle groups including the IT bands, adductors, quads, hamstrings, glutes, hip flexors, calves, shins and arms.Additional R8 inserts are available—including the SuperPlush for a softer experience and the SuperDeep for a more aggressive one—so you can tailor your experience to your needs. Notably, the R8 cannot reach muscles in the back, which is quite unfortunate. This means if you primarily use your foam roller to treat your back, the Roll Recovery R8 may not be for you.
A Quick Look at the Roll Recovery R8
The Roll Recovery R8 is a unique massage tool from Roll Recovery, a brand that specializes in self-myofascial release devices. Myofascial release is a type of soft-tissue therapy that uses manual manipulation, such as massage, to break up tight adhesions in the tissue and improve blood circulation to overworked areas.
The R8 utilizes a spring-loaded, clamp-like design that massages opposing muscle groups at the same time. For example, it'll clamp over your quadriceps and hamstrings; your adductors and abductors; or your calves and tibialis anterior (the muscle running along your shin bones).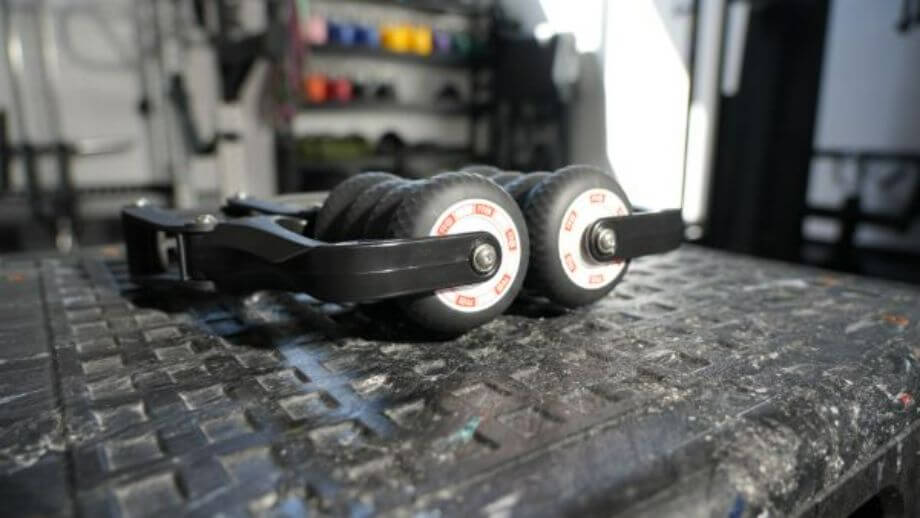 My Tips:
Be careful! This thing is powerful and it may hurt if you allow the springs to fully compress around your muscles
If the pressure is too much, loosen the bolts slightly so you can more easily manipulate the pressure level.
Check out the Super Plush R8 roller insert if you need something a little gentler (and I venture to guess many people will).
My Favorite Things:
Truly does provide a deep tissue massage
Customizable and has varying roller inserts available for purchase
Heavy-duty build indicates a long-lasting tool
FDA-registered medical device, which means it may be eligible for HSA or FSA dollars
My Callouts:
Can be painful, especially on sore muscles
Springs are tough to hold open at less than full pressure
More expensive than a traditional foam roller
Is the Roll Recovery R8 Worth It?
There are two ways to look at a device like the Roll Recovery R8, and your viewpoint will dictate whether or not you think this tool is worth it. A lot of people will say $139 is expensive for a manual roller, and I won't argue that, considering most foam rollers are in the $20 to $40 range.
But, if you look at the actual outcomes from using the Roll Recovery R8, the value is great. A price of $139 is not a lot of money for a true deep-tissue massager, and that's exactly what this is. It costs less than most massage guns on the market, but does a better job of tissue manipulation.
Great for:
People who want a true deep tissue massage to break up tissue adhesions
Trainees who have a high pain tolerance and can handle deep-tissue treatment on sore muscles
Anyone who wants a tool specifically designed for the quads, hamstrings, hip flexors, glutes, calves, adductors, and IT bands
Not recommended for:
People who tend to find themselves super sore more often than not
Anyone who intends to travel with their recovery tool and wants something super portable
People who would prefer something more passive, such as a massage gun or compression boots
Roll Recovery R8 Specs
Product weight
Dimensions
Color options
Hardware
Body material
Roller insert material
Pivot points
3 lbs
5 lbs
12.5" x 9.5" x 2.5"
Carbon Black, Alpine White, Lava Red
Stainless steel
Reinforced Zytel thermoplastic
Thermoplastic polyurethane (TPU)
Ball bearings
Using the Roll Recovery R8
If I were rating this tool solely on force or power, I would give it 5 out of 5 stars over and over again. While there are no official specs like amplitude or wattage due to the lack of a motor, I can tell that this product reaches deeper into muscle fibers than many, if not most, massage guns on the market.
It's like rolling around on a lacrosse ball with full pressure, but worse. Yes. Worse.
Honestly, the R8 can be very painful to use, particularly if you're dealing with a high level of soreness. It's also difficult to maneuver around from one muscle group to another. I think you need to have a really high pain tolerance to get the most out of this product. It's clear that it reaches deeply into soft tissue, but it may be too powerful for some people.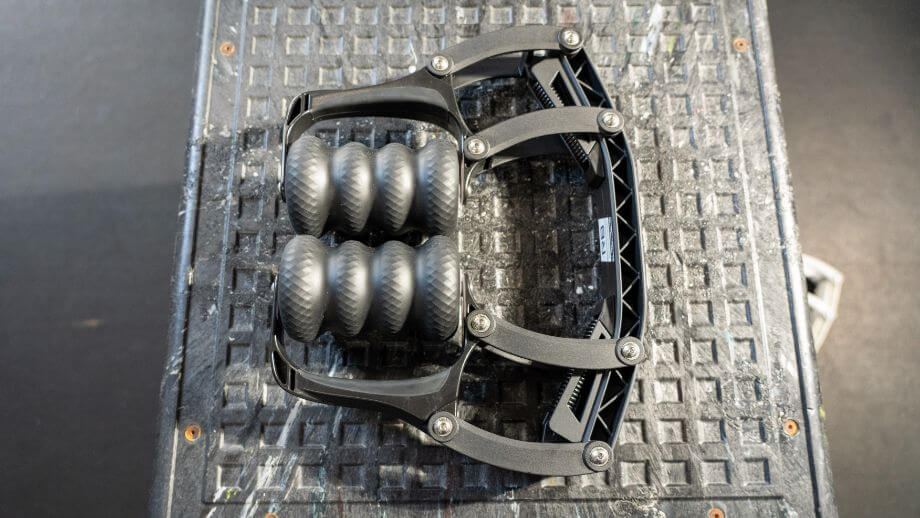 I'd like to point out that there isn't any scientific literature out there saying that being in pain while muscle mashing is better than only experiencing moderate discomfort.
It's also super painful if you accidentally roll it over a bony area, such as your shin, so take it from me: don't do that.
All that aside, if you can handle the R8 roller, it truly works wonders and provides a real deep tissue massage. It provides a level of pressure you won't ever get from lying on a foam roller.
Related: 6 Workout Recovery Myths, Busted By Experts
A Fatal Character Flaw
Unfortunately, the Roll Recovery R8 does not work on every part of your body. Despite its seemingly magical ability to roll out muscle adhesions in the legs, the R8 doesn't work on the back at all, nor does it really work on the arms or shoulders.
I was kind of able to use it on my forearm, although it seems my arms are too thin to get enough pressure from the roller. I couldn't use the R8 on my upper arms by myself; with a friend's help, I was able to, but that's inconvenient.
So, if you're looking for an all-in-one tool to massage all muscle groups, this isn't the product for you.
Ergonomics
I found the R8 somewhat difficult to use, but I'm not sure if that's because it's just hard to use, or because I'm not strong enough to keep tension in my arms in order to keep some pressure off of my muscles. My attempts at this were rather futile.
I eventually resorted to just letting this thing squeeze and mash me at full force, which wasn't ideal. The R8 has two big handles that are easy enough to grip, but the spring-loaded clamps make it tough to choose and maintain a specific level of pressure.
I also tried an older model of the R8 at our equipment testing facility, which has been through several years of use. This older one felt looser in nature and easier to manipulate, which may mean the R8 loosens up with time. Or, it could just mean the new version is stronger than the old version.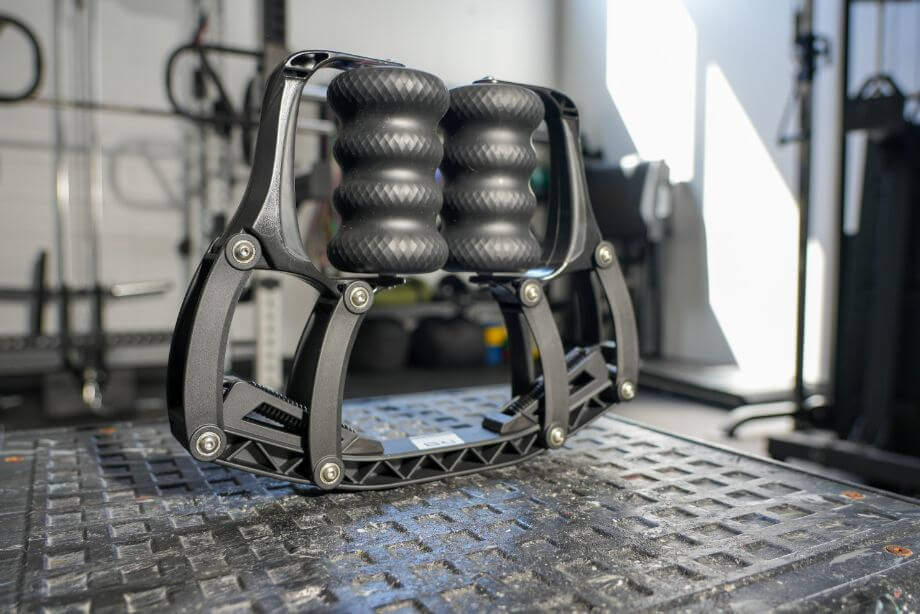 Construction and Durability
The R8 is overbuilt in all of the best ways. It features all stainless steel hardware, so it won't rust, no matter how long it sits in your humid garage. It also features stainless steel ball bearings at pivot points for smooth rotation and corrosion-resistant springs.
There are soft-touch rubber grips on the handles to prevent slipping. The plastic parts are made of Zytel thermoplastic, which is a super rigid plastic compound that resists cracking and fading. I see this thing lasting forever. Like, you may never need another manual muscle roller in your life.
Attachments and Accessories
The R8 inserts—the muscle mashers that look like rollerblade wheels in a rubber sleeve—are interchangeable. You can purchase different types of rollers to fit on your R8, which I was happy to learn because I don't really like the rollers that come with the device. They're too strong for me.
After looking into some of the other R8 insert options, I was pleased to find the SuperPlush insert. Although I didn't get the chance to try it yet, the SuperPlush seems like a better option for people who would prefer a gentler massage.
They're made of EVA foam, the same material used in the midsole of running shoes. The R8 website claims these are soft enough to even roll over bony spots. (This is big news for your calves, since it means you can safely roll over your shins and hit your calves from more angles.)
There's also a SuperDeep option, which I would likely never, ever try myself. The SuperDeep R8 insert has an intense contour that looks quite frightening, if I'm being honest. These are made of the same rigid TPU as the regular R8 inserts.
The inserts are sold individually, so you can buy just one to mix and match, or you can buy pairs.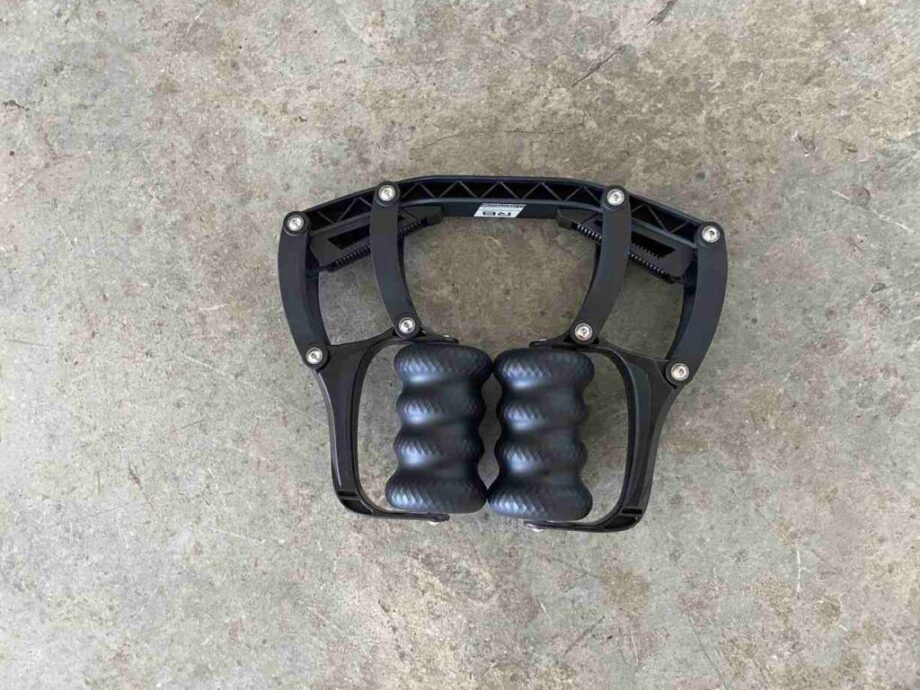 Portability
The R8 is not small. It would definitely take up a good amount of space in your carry-on. There are no loose ends like massage head attachments or a charging cable, though, so perhaps that makes up for it.
It comes with a basic mesh drawstring bag, but you don't really even need it to travel because there are no loose ends to keep collected in one place.
Weighing in at just 3 pounds, the R8 won't add a lot of weight to your bag, but the size is enough to turn some people off from traveling with it: It measures 12.5 inches in length by 9.5 inches in height by 2.5 inches in width.
And here's a good-to-know fact: The R8 is TSA-approved for carry-on.
Roll Recovery R8 vs. Roll Recovery R8 Plus
The Roll Recovery R8 Plus is a souped-up version of the R8 that addresses all of my main concerns with the base-level version of this roller.
It's essentially an adjustable version of the R8 that allows you to precisely dial up or down to the level of pressure you desire. Roll Recovery says there's a "patented integrated mechanism" nestled in the frame of the roller. You simply spin the dial to choose one of 20 settings based on your needs for that session.
The R8 Plus is compatible with all of the same R8 inserts. It costs $30 more than the original R8 at $169. For people like me, who think the regular R8 is too strong, the extra $30 will likely prove to be a worthwhile investment.
Roll Recovery R8 vs. Foam Roller
The R8 roller and a foam roller both help with relief from muscle soreness and tight tissue, but they're very different and each has its own pros and cons.
Notably, the rigid R8 roller inserts won't compress over time like traditional foam roller, except for maybe the SuperPlush inserts due to their softer nature.
In my experience, the R8 provides more power and force than any foam roller ever could, thanks to its spring-loaded design that clamps down on your muscles.
However, it's a big bummer that the R8 doesn't work on all muscle groups. You'd need a second tool like a foam roller to treat your back, upper body, and feet.
One important difference is the price. If you're on a tight budget, a foam roller will be the best option for you short-term, because they typically don't cost more than about $40, while the R8 costs about $140.
Related: Foam Rollers vs. Massage Guns
Roll Recovery R8 vs. Massage Gun
Massage guns are some of the hottest workout recovery tools and it's no surprise why: A massage gun is a relatively passive tool that works on all muscle groups and, if it's a good one, provides high-quality treatment in a short amount of time.
A good massage gun will provide a rapid massage that reaches 13 to 16 millimeters into soft tissue. Percussive massagers also come with several interchangeable massage heads that allow you to target specific muscles and alter the treatment based on what you need during a given session.
The Roll Recovery R8 isn't as versatile as a massage gun, but I would honestly say it provides just as much force—except, instead of rapid bursts of pressure, the R8 creates a prolonged, digging sort of pressure. For all my visual folks: It's like manually mashing potatoes with a big spoon instead of whipping them with an egg beater.
Price-wise, the R8 hovers around the average price point of massage guns. However, I want to emphasize that the average price of massage guns doesn't represent the best massage guns. There are certainly plenty of great budget-friendly massage guns, but those aren't the best of the best.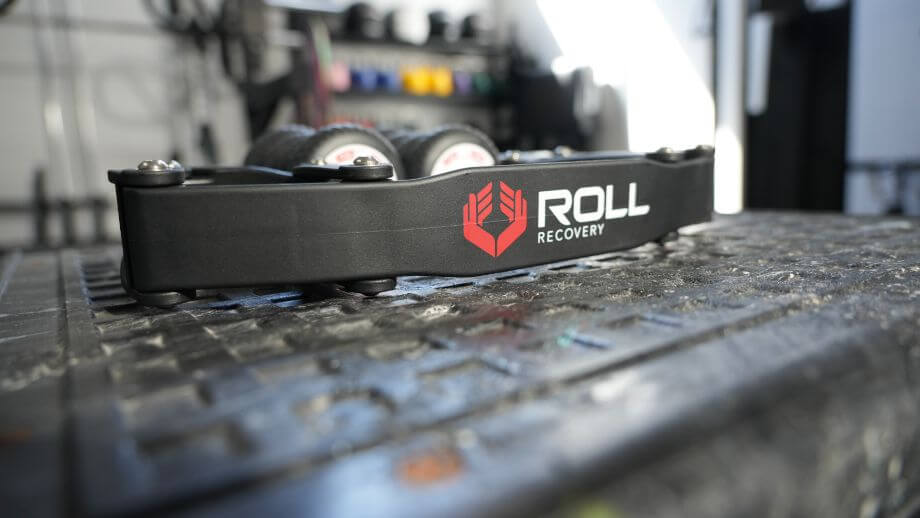 Customer Experience
The customer experience kind of depends on where you buy the R8. If you buy from Rogue Fitness or from Roll Recovery directly, you'll probably get good service. But if you buy from a different third-party retailer, such as Amazon, your experience can be hit or miss.

As for warranty and returns, the Roll Recovery policy includes a 30-day return period for unused items in the original packaging, but not your refund will be less shipping costs. Items returned after this 30-day period or not in the original packaging are subject to a 15% handling fee.
Also, the return policy does not apply to products purchased on a third-party retailer. If you buy an R8 somewhere other than rollrecovery.com, you're subject to that retailer's policies.
Ordering and Assembling the Roll Recovery R8
No assembly needed—wahoo! That's a refresher in the world of gym equipment. The R8 comes with the standard inserts already attached, although if you choose to purchase interchangeable rollers, you'll have to loosen the bolts and replace the standard ones.
The ordering and delivery process will differ slightly depending on where you purchase the R8, as you'll be subject to the retailer's shipping terms and options.
Customer Reviews
Overall, Roll Recovery R8 reviews from customers are positive. At the time this article was published, the roller had an average of 4.8 out of 5 stars on the Roll Recovery website, with nearly 1,600 total reviews. Glowing reviews include feedback such as, "This unique, solidly built device, is the most effective one that I've used to massage muscles and tendons."
On Google Reviews, the R8 has an average rating of 4.9 out of 5 stars from 43 reviews at the time of publication as well.
The limited negative feedback I could find mentions poor durability (this may have been a fluke based on the large number of positive reviews) and, to my utter surprise, a desire for even more pressure. Pretty sure the people using this thing regularly are actually Transformers.
Final Verdict of Our Roll Recovery R8 Review
Although the price tag is high for a manual recovery tool, I think the R8 is worth it. If you're looking for an effective tool to add to your recovery routine primarily for the legs, the R8 is a good choice.
Provides deep-tissue massage for the legs, hips, and glutes
Doesn't work on the back; tough to use on the upper body
Pricier than a regular foam roller, but reaches deeper into muscle tissue
Full Rating
Roll Recovery R8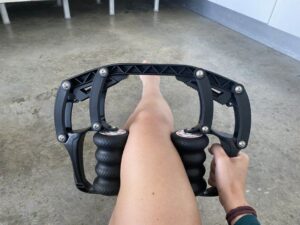 Does this strange-looking muscle roller really work or is it a gimmick? Find out in our Roll Recovery R8 review.
Product Brand: Roll Recovery
Product Currency: $
Product Price: 139.00
Product In-Stock: InStock
Roll Recovery R8 FAQs
Some common questions about the Roll Recovery R8 are:
Does the R8 roller work?
Based on my experience with the R8 from Roll Recovery, I can say that it does work. I found the R8 to more effectively massage muscles than a traditional foam roller and some massage guns. Due to its strong, spring-loaded design and contoured roller inserts, the R8 digs deeply into the soft tissue.
Related: Do Massage Guns Really Work?
How do you use the Roll Recovery R8?
To use the Roll Recovery R8, position the roller on top of the muscles you want to target. Press down on the roller until it clamps around your muscles. Then, you can maneuver the R8 to address the areas you want to massage. 
Roll Recovery includes a user guide with your purchase for further instructions. You can also check out the video library of how to use the Roll Recovery R8 on specific muscle groups.
Is the Roll Recovery R8 worth it?
Between the combination of durable materials and high treatment quality, yes, the R8 will prove worth it to most people.
What is a recovery roller?
The term recovery roller encompasses a wide range of products that assist with manual manipulation of the muscle tissue. Recovery rollers include products like the R8, as well as traditional foam rollers, vibrating foam rollers, massage balls, and roller sticks. 
Related: How to Use a Massage Gun Properly