We test and review fitness products based on an independent, multi-point methodology. If you use our links to purchase something, we may earn a commission. Read our disclosures.
I'm a big fan of function: function over fashion, functional fitness, and functioning thanks to morning coffee. When it comes to exercise equipment, the same theory applies: I mainly want to know if it will function well.
Based on my experience with Sole Fitness treadmills, I know that they get an A+ for function. They aren't flashy, but they get the job done. I used and reviewed the Sole F63 treadmill, so even though no one on our team has gotten to test the F65 yet, I have a pretty good idea of what you can expect if you're looking at this machine. I'll tell you all that and more in my Sole F65 Treadmill review.
We Know Treadmills
Our team at Garage Gym Reviews has set foot on roughly 50 treadmills, and we have provided in-depth reviews on around 30 of these cardio machines. We have spent years pounding the worst and best treadmill decks and know exactly what to look for in terms of motor quality, value, durability, and overall functionality.
As a certified personal trainer, former marathon runner, and someone who trained for a half-marathon on a treadmill, I have a solid understanding of what makes for a good treadmill and what makes for a hard pass.
Sole F65 Treadmill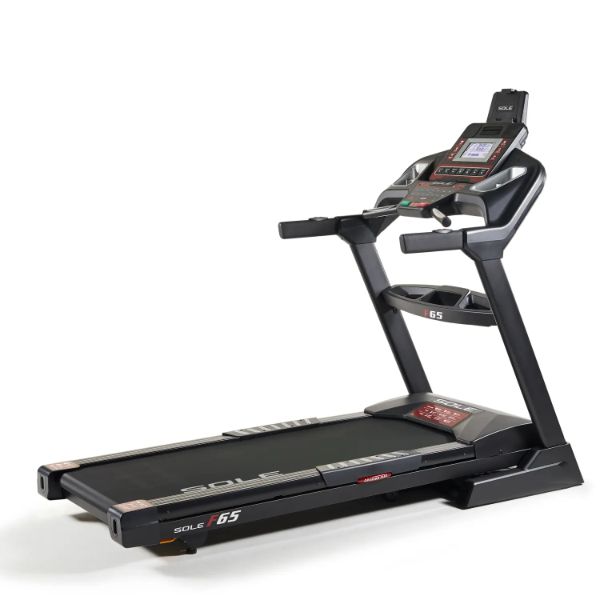 Sole F65

The Sole F65 treadmill is one in a line of almost half a dozen treadmills in the brand's F series. Priced around $1,400, this machine features a powerful motor equipped to handle speeds of up to 12 MPH, making it an ideal choice for runners. Additionally, 15 incline levels add challenges to workouts and simulate hill running.One of the noticeable upgrades the Sole F65 has is a spacious running deck that measures 60 inches long and 22 inches wide. This accommodates tall runners and those needing a little more space. Plus, it's one of the largest running surface areas you'll find on a treadmill in this price range.We love that the F65 comes with lots of extras: a cooling fan, Bluetooth-enabled speakers, water bottle holder, and tablet holder to store your smart device. There are also six preset workouts for you to choose from to do your workout.This is a large machine that takes up substantial space in your home gym, but the deck does fold to reduce the machine's footprint.
A Quick Look at the Sole F65 Treadmill
As of this writing, Sole Fitness has seven treadmills, five of which are in the F-series. I personally used the F63, the base model in this line, for a number of treadmill workouts. The F65 is the first upgrade from there, with a price tag as of this writing around $1,399.
RELATED: Check out our Sole F85 review.
(Quick note about Sole: Every one of the brand's products is always listed as being on sale. Technically, the sale price of the F65 is $1,399, and the listed manufacturer's price is $2,399, but you'll never see this machine priced there.)
For just a few hundreds dollars more than the F63, the F65 delivers a more powerful treadmill motor, a bigger screen, and a more spacious deck
My Tips
Take advantage of the cooling fan during your runs. It really does feel good.
Keep an eye on price. We see the price of the F63 go just above and just below $1,000 often, with other machines on Sole's site seemingly having the same small fluctuations.
Pros:
3.25 HP motor
Spacious 22"-by-60" running deck
Top speed at 12 MPH
15 incline levels
7.5" backlit LCD display
Compatible with Studio for interactive programming
Foldable
6 preset workouts
Two cooling fans
Bluetooth built-in speakers
USB port for charging devices
Tablet holder
Cons:
Cost is around $1,400, which may be expensive for some
Large footprint
Heavy at 262 lbs
Is the Sole F65 Worth It?
With a price tag around $1,400, it's easy to question if it's worth buying this folding treadmill for your home gym. After all, that's a significant investment in a machine. Here is my list of whom would benefit from it, and who might want to look at other options in a different price range:
Great For:
Tall runners who need a spacious deck
People looking for a commercial-grade machine
Those who don't need built-in interactive programming
Not Recommended For:
People looking for a budget-friendly treadmill
Those who want a touchscreen
Casual exercisers who just need a treadmill for walking
Sole F65 Specs
| | |
| --- | --- |
| Footprint | 82" L x 37" W x 66" H |
| Weight | 262 lbs |
| Weight Capacity | Unlisted; est. 325 lbs |
| Motor | 3.25 HP |
| Speed Range | 0.5 to 12 MPH |
| Incline Range | 15 levels |
| Workout Programs | 6 standard programs, 2 custom programs, 2 heart programs |
| Display | 7.5" LCD screen |
| Deck Size | 60" L x 22" W |
| Warranty | Lifetime frame and motor3-years deck, electronics, parts1-year labor |
| Bluetooth | Yes |
| Foldable | Yes |
| Heart Rate Monitoring | Compatible with included chest strapPulse monitors in handles |
Running on the Sole F65 Treadmill
We have yet to get the Sole F65 Treadmill into our testing facility. However, I have spent several hours working out on the Sole F63, which has only a few slight differences from its big sister.
From what I know about the F65, the overall running experience should be a good one. It has a stronger motor than the F63, so my hunch is that transitions on speed and incline will be just as smooth as they were on the F63.
Now, when I hit top speeds on the F63, I did notice some slight jostling. In general, I think treadmills have some give when someone is sprinting on them, so you might feel some movement on the F65 as well.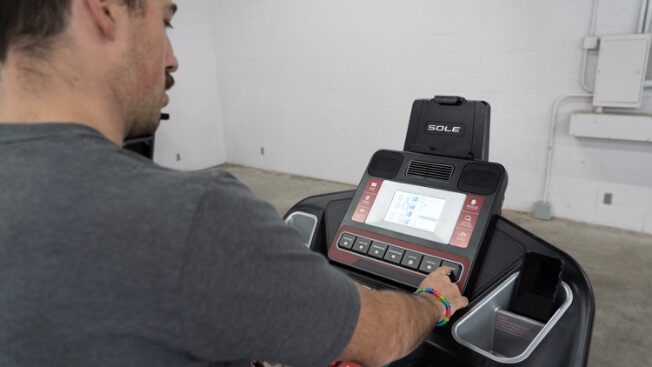 Related: Check out our Sole F80 review.
A few things that I loved about the F63 that I'm happy to see on the F65 as well are the cooling fan, Bluetooth chest strap for heart rate monitoring, and Bluetooth connectivity to the built-in speakers. I hooked up my own playlist to the machine while I was working out, and I was shocked at how clear the sound was.
I also tested the included heart rate monitoring strap with the F63, and it looks to be the same with the F65. If it is indeed the same technology, then I found there to be no issues in the setup or use of the strap. Is it the most comfortable chest strap? Probably not. But it comes with the machine and is more accurate than pulse monitors.
One upgrade from the F63 is the wider running surface. The F63 has a deck that's 20 inches wide, and the F65 gives you a 22-inch wide running space. That's fantastic news for people with longer strides or who are larger. A roomy deck means you don't have to change your stride or worry about hitting the side panels.
Footprint and Portability
The entire line of Sole treadmills is big. These are commercial-grade, heavy-duty machines that have sturdy frames and weigh well into the 200-pound range. The F65 is 262 pounds and has a footprint that is almost 7 feet long and more than 3 feet wide. It does fold, but it doesn't fold flat. Instead, you can lift the deck and lock it in place to get a little more room.
I personally moved the F63 around, and that machine weighs about 10 pounds less than the F65. It's doable thanks to the transport wheels, but I wouldn't call it easy.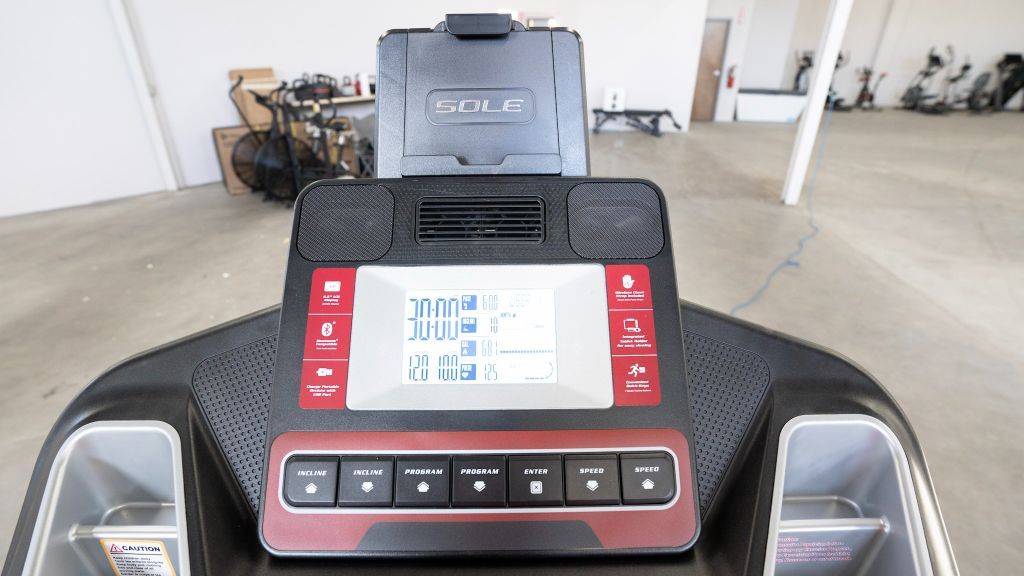 Technology
There is a slightly-more-than-basic display on the F65 that shows your workout data like time, distance, calories burned, and pace. The monitor has small animations that display which leg of an interval you're on and if an increase is coming.
Since I tested the F63 treadmill, Sole released Studio, which is a third-party fitness app that can stream workouts to your smart device. This is a lot like the Peloton or iFIT app, I assume, but we haven't gotten to use Studio yet to confirm.
According to Sole's website, Studio has thousands of on-demand cardio workouts. From what I can tell, Studio doesn't have trainer-control of the machine the way the iFIT app syncs with a treadmill or elliptical and auto-adjusts settings like incline.
You get a 30-day free trial of Studio with your purchase. After that, the cost is $19.99 per month or a $199.99 annual membership.
Customer Experience
Sole's warranty on the F65 is top-notch: lifetime warranties on the frame and motor; three-year warranties on the deck, electronics, and parts; and a one-year warranty on labor. That's right up there with the best warranties you'll find.
As far as returns go, Sole again offers one of the best policies on the market: You get a 30-day money-back guarantee on the F65 (and any other piece of Sole fitness equipment). However, if you buy the machine on Amazon, you can't take advantage of this policy! You must buy through the Sole website.
Assembly
I personally put together the F63, and from what I can tell, assembling the F65 will be similar because the parts are very much the same.
The box itself is heavy. Other brands give you options like "threshold delivery" and "in-room delivery," but I couldn't find those on the Sole website. Grab someone to help you get the box to where you will assemble and store the machine.
I found that putting the F63 together was simple and easy. Sole gave six-step instructions and included most of the tools I needed. It's possible to do this yourself, but there will be heavy lifting involved.
If you want Sole to put the F65 together for you, you'll have to pay: Professional assembly is a whopping $299.99—that's about $100 more than you'll find from other brands.
Customer Reviews
Reviews on the Sole website are all curiously 5-out-of-5 stars, and they are all from 2018. One person noted that their machine was damaged during shipping, but that Sole promptly took care of the issue.
Final Verdict of Our Sole F65 Treadmill Review
I can appreciate the upgrades that Sole made from the F63 to the F65. However, is it worth paying the few extra hundred dollars for this machine? Maybe. I like the wider running deck and the bigger screen, so if those things matter to you, this could be a great choice.
Sole F65 Rating
Sole F65 Treadmill
The Sole F65 Treadmill offers a great value in terms of high-end conveniences and a highly functional machine.
Product Brand: Sole
Product Currency: USD
Product Price: 1399
Product In-Stock: InStock
Sole F65 Treadmill Review FAQs
Is Sole F65 good?
The Sole F65 is a high-quality, commercial-grade machine. The price sits right around $1,400, which gets you a powerful motor, incline training, some built-in workouts, and a lifetime warranty.
Is Sole a good treadmill company?
Sole has seven treadmills currently for sale. We have used and tested the F63, which is the base model for the F-series, and we found it to be a great machine. We like that the brand stands by its products with a 30-day money-back guarantee as well as lifetime warranties on the frame and motor.
Does the Sole F65 have Bluetooth?
Yes, the speakers on the F65 are Bluetooth-enabled.