We test and review fitness products based on an independent, multi-point methodology. If you use our links to purchase something, we may earn a commission. Read our disclosures.
It can be tough retiring your favorite pair of shoes, but even the best running shoes can't last forever. Every mile you run adds to the breakdown of your shoes, and excessive wear can lead to some not-so-fun running injuries.
The CDC recommends1 150 minutes of moderate-intensity physical activity per week; for many of us, running is our sweat of choice. We don't even think twice when lacing up the kicks for a training run. But how do we know when to toss the old running shoes and break out the new pair?
Remember the scene in Forrest Gump when they flashed a shot of his old, worn-out shoes? I think we can all agree that he probably pushed them past their prime. He did run across the country in them, after all. But short of running across the United States, how long do running shoes last? In this article, we'll take a look at the lifespan of the average pair of running shoes as well as how we can maximize their lifespan to get us that much closer to our fitness goals. Let's dive in.
Wait, Running Shoes Last How Many Miles?
Much like the tires on a car, our running shoes have a recommended mileage lifespan. Most high-quality shoes should last between 300 and 500 miles2 or about 20 miles a week over the course of four to six months.
How long do running shoes last for walking, you wonder? Yep, you guessed it! Walking shoes last for the same 300 to 500 miles. However, other factors can contribute to the wear and tear of a shoe, no matter if you're a runner, jogger, or walker.
For example, a runner's gait, the typical terrain of their runs, and the temperature of the places they train can all impact a shoe's life. But perhaps the most overlooked factor affecting a shoe's lifespan is wearing them for non-running activities. While you may not be running the trails, you're still logging miles on your shoes when you wear them while walking the dog, chasing the kids at the park, walking around the grocery store, walking a mile, etc.
When your foot strikes the ground, whether running or walking, it compresses the shoe's midsole. Eventually, that midsole won't bounce back, and you'll be left without the shock absorption you once had (a telltale sign that you're ready for a new pair of shoes).
Thankfully, sportswear companies continue to advance their technology and develop shoes that we can wear for many, many runs. And if we put the same diligent effort into caring for our gear, we may even extend the life of our favorite running shoes to get us from point A to point B a few more times.
How to Extend the Life of Running Shoes
From the moment we lace up our shoes for the first time, they start to break down. However, there are a few things we can do to maximize the lifespan of our running shoes that don't require us to cut back on the mileage:
Get Fitted
Next time you're at the local running store, ask a knowledgeable staff member for a shoe fitting. They can find the best pair for you based on specific measurements, including your foot size, arch height, and gait analysis.
Buy Multiple Pairs of Shoes
While at the running shop, consider shopping for a second pair of shoes. You might even grab a pair for each of your training methods. Alternating between shoes can help prevent excessive wear on one single pair and help save your body from potentially alarming running injuries.
Consider stocking your closet with different types of shoes, including road running, trail running, and racing shoes. In addition, some people prefer certain brands for specific training needs, such as Brooks, Adidas, Hoka, Nike, Saucony, New Balance, and Asics.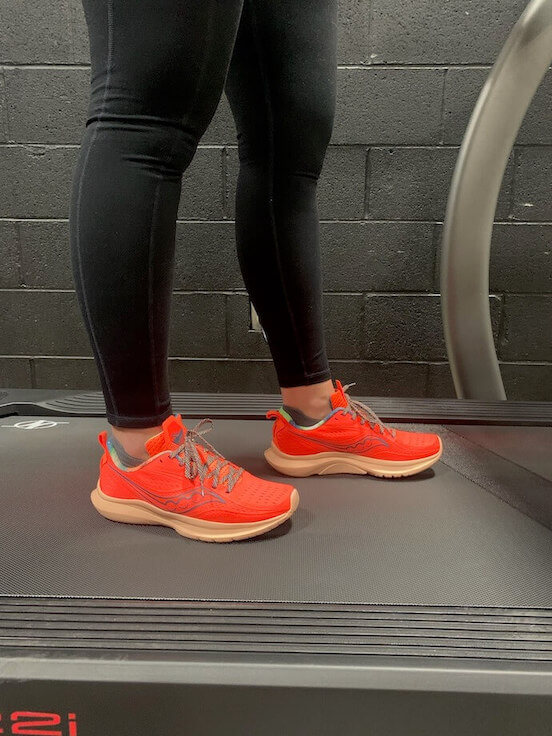 Take Care of your Shoes
If you take good care of your running shoes, they're more likely to take good care of you. While they don't need to be pampered, there are a few things you can do to help keep your shoes in tip-top shape:
Avoid leaving them in extreme temperatures (don't forget to grab them from the trunk of your car!)
Bring them in from the elements (rain, heat, snow, etc.).
Avoid putting them in the washer and dryer.
When wet, dry your shoes thoroughly by removing the insoles and stuffing the shoe with paper towels or newspaper.
Try to use your running shoes for running only.
Signs of Worn-Out Running Shoes
When life is busy and you've got big goals, it's easy to stay on the grind and forget to look up now and then. But when it comes to running shoes, it's essential to watch for signs of wear and tear to prevent injury. Your shoes may be worn out if you notice:
Your Shoes Feel Flat
Every step we take compacts the shoes' midsoles. As we put mileage on our shoes, the bouncy midsole cushion will eventually lose its rebound and leave your footstrike feeling flat.
Soreness in Your Feet
If you notice nagging soreness in your feet after your runs, especially in your arches, it might be time to pick out a new pair of shoes.
Worn Soles
The soles of your shoes sport tread, much like the tires on a car. If the soles of your shoes are worn down or even bald in some areas, that's a major indicator that you may need some new kicks.
Uneven Wear
A 2018 control study published in Clinical Biomechanics3 found an association between foot posture and running-related injuries, making it even more important to monitor for signs of uneven wear patterns. For instance, if you tend to supinate or overpronate, you'll notice signs of wear on the corresponding edge of your outsoles. Those who supinate or pronate may need to replace their shoes more frequently than those who land with a neutral, mid-foot strike.
It's important to keep an eye on your running gear to ensure you're lacing up equipment that will work as hard as you plan to work on your runs. So check your shoes before you hit the pavement, and consider logging your shoes' mileage in running apps like Strava or Garmin Connect.
Final Thoughts on How Long Do Running Shoes Last?
It can be hard to say goodbye to a favorite pair of old running shoes, but overuse can wreak havoc on your running workouts. Additionally, running in old shoes can put you at risk for running injuries that might even sideline you from the next race. So keep track of the mileage you put on each pair of shoes and monitor for signs of breakdown along the way. And when it's time to bust out the new kicks, go for it!
The average lifespan of high-quality running shoes is between 300 and 500 miles.
Your running gait can affect your footstrike and cause your shoes to break down faster.
Avoid leaving your shoes in extreme temperatures.
Do not place your running shoes in the washer or dryer.
Use your running shoes for running only.
Consider a professional fitting to help you find the right running shoes for your needs.
Alternate shoes to prevent the overuse of one single pair.
How Long Do Running Shoes Last FAQ
How often should running shoes be replaced?
Like tires on a car, running shoes should be replaced based on the mileage they've seen. On average, running shoes will last between 300 and 500 miles. However, that number may change based on a few different factors. For example, lighter shoes, like racing shoes, may break down and need replacing faster. You may also need new running shoes more frequently if your foot strike favors one side of the shoe or if your shoes are exposed to harsh elements.
How do I know when to replace my running shoes?
If you're wondering when to replace your running shoes, consider keeping track of your shoes' mileage in apps like Strava and Garmin Connect. If you feel like your shoes have lost their bounciness or you notice soreness in your feet, it might be time to break out a new pair of shoes. 
Is it OK to run in old shoes?
Running in old shoes is not ideal, as they tend to lack the support and cushion your feet and legs need to rock your workout. While it may be tough to retire your favorite running shoes, lacing up a new pair can save you from potential running injuries that may knock you out of the race. 
When should you throw shoes away?
Tracking your mileage is a great way to know when it's time to toss your shoes, but how many miles do running shoes last? The general recommendation is to replace your running shoes every 300 to 500 miles unless they see more wear and tear from your gait or other external elements.
References
U.S. Department of Health and Human Services. Physical Activity Guidelines for Americans, 2nd edition. Washington, DC: U.S. Department of Health and Human Services; 2018.
Corliss, J. (2022, May 1). Tips for choosing walking shoes. Harvard Health. Retrieved December 1, 2023, from https://www.health.harvard.edu/exercise-and-fitness/tips-for-choosing-walking-shoes
Pérez-Morcillo, A., Gómez-Bernal, A., Gil-Guillen, V. F., Alfaro-Santafé, J., Alfaro-Santafé, J. V., Quesada, J. A., Lopez-Pineda, A., Orozco-Beltran, D., & Carratalá-Munuera, C. (2019). Association between the Foot Posture Index and running related injuries: A case-control study. Clinical biomechanics (Bristol, Avon), 61, 217–221. https://doi.org/10.1016/j.clinbiomech.2018.12.019