We review free products that we receive and participate in affiliate programs, where we may be compensated for items purchased through links from our site.
See our disclosures page for more information.
The
Rogue SB-1 Safety Squat Bar
is one of the most popular specialty bars available. Although there are improvements we would like to see made, The Rogue SSB is a stout bar that can handle whatever weight you throw at it.
Rogue Fitness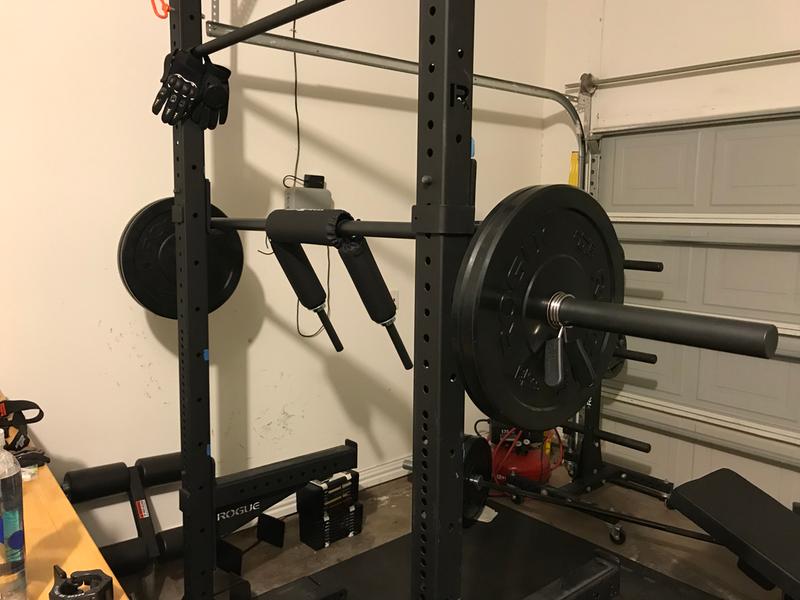 Rogue SB-1 Safety Squat Bar
The weight distribution is unique to this bar. Training with the Rogue Safety Squat bar is known to tax your anterior chain; the weight distribution falls between the front squat and the high-bar back squat to vary your power output training. This bar is a safer option for intense squat progressions or maximum load lifts.This bar is known to increase your maximum working weight when compared to the traditional back squat. Specifications: Weight: 70LB 1.5" diameter formed solid steel shaft 1" diameter formed solid steel handles Machined Olympic sleeves Fully welded design Heavy duty vinyl and closed cell foam pads
Rogue SB-1 Safety Squat Bar Review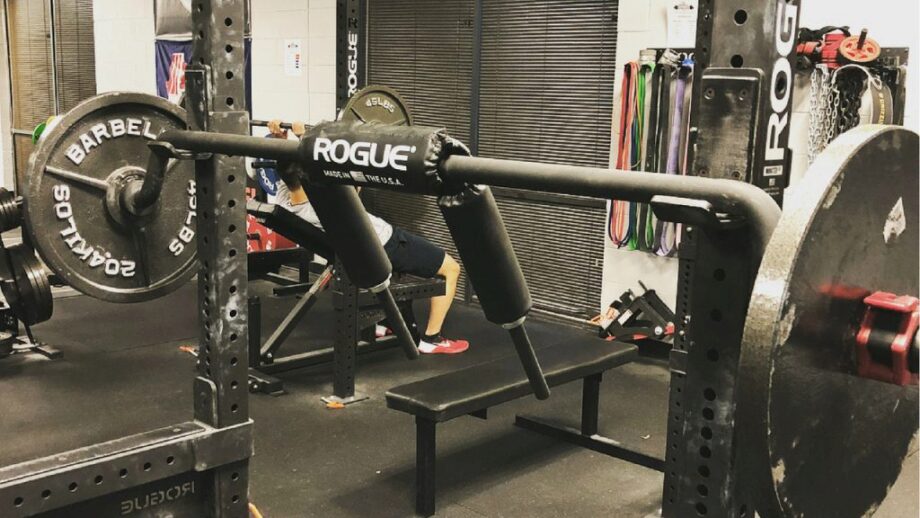 Do we need specialty bars or will a basic barbell do the job? I think that the simple answer to this question is an individual can get strong from a basic barbell and some creative programming; however, specialty bars help target different muscle groups, break up the monotony of training, and help train around injuries.
The first and most obvious time to use a safety squat bar (SSB) is when dealing with shoulder, elbow or wrist injuries. The SSB is designed in a way that eliminates externally rotating your shoulders to squat. Instead, the bar sits around your neck across your traps with handles extending forward to hold onto. This will take the strain away from the shoulders and allow the lifter to squat without pain.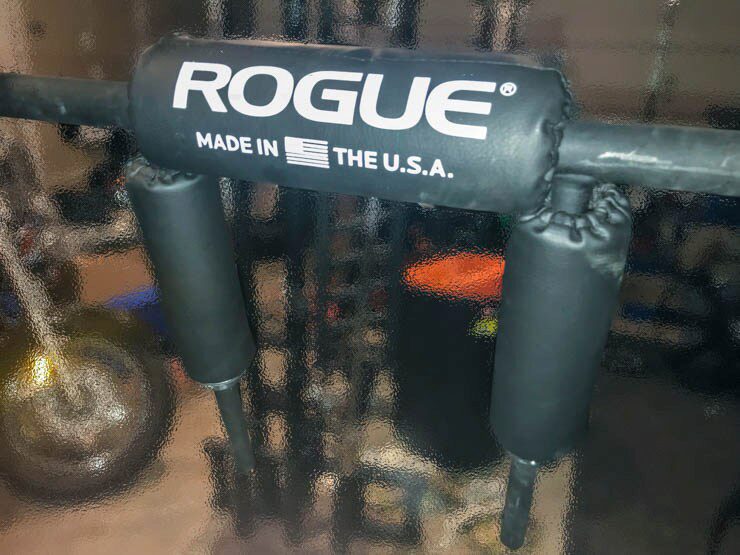 You may be thinking, "I don't have any injuries so I don't have any reason to use the SSB." This is not necessarily true.
Although the SSB was originally designed to help train around injuries, it also does a great job of building both your straight bar squat as well as your deadlift. The camber of the SSB instantly starts to push you forward when you unrack the weight. This will force you to engage to stay upright, building your back and core strength.
Additionally, the position the bar puts you in at the bottom of the squat is similar to a deadlift. This will have carry over into not only your squat, but also your deadlift.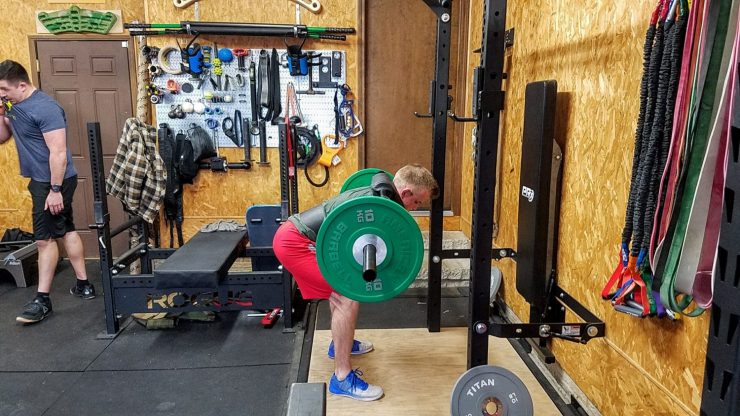 Finally, one huge benefit of a SSB versus some of the other specialty bars on the market is the versatility. We have all purchased a bar that is a one-trick pony, meaning we use it every couple of weeks for a singular purpose; this is not the case with the SSB. In addition to using the SSB in a regular squat, the bar also works very well for a front squat.
But why? The SSB handles go across your traps and takes strain off your wrists, while additionally putting a load on your abs. This bar is also great for good mornings because it takes the strain off your shoulders and the bar sits on your upper back very nicely without the fear of it falling off.
Unilateral movements such as lunges are made easier with the stability of this bar on your back. Additionally, I think one often overlooked use for the SSB is for conditioning. Loading up weight and having an athlete walk for distance (¼ mile – ½ mile) taxes their breathing and forces them to work at staying upright.

What is the first thing that comes to mind when getting the Rogue Safety Squat Bar? The same thing as any other piece of Rogue equipment – it's a tank.
This bar weighs in at 70 pounds with a flat black coating, with the handles inserting into chrome caps. In earlier versions of the safety squat bar, there were reports of the paint chipping off.
Today, it doesn't appear that the finish is 'chipping' on this bar, but it's important to know that it does get marked up easily. There is quite a bit of wear and tear from racking the bar and placing plates on the collars, as shown in the photos below. According to Rogue, this bar is constructed with 1.5" diameter formed solid steel shaft and 1" diameter formed solid steel handles, which makes for a solid bar that flexes very little.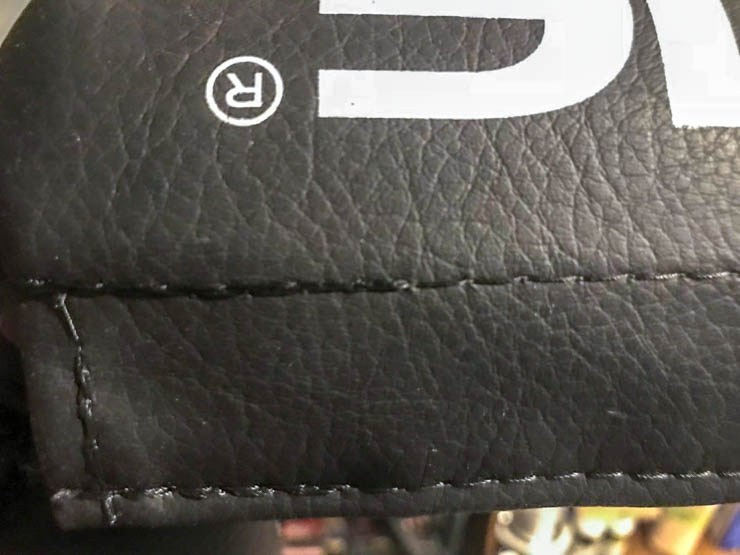 The next area I examined was the padding. The most important part of the padding is the foam used. Rogue uses a closed-cell foam that is very dense.
I have used other bars, such as the Crepinsek SSB, and believe that this foam is far superior. I have never been into a gym and used a Crepinsek bar that hadn't had some kind of tape keeping the padding together. Although some may like walking out of the gym with a sticky neck, I am happy to report that after two months of use, the Rogue SSB pad is still showing no sign of breaking down.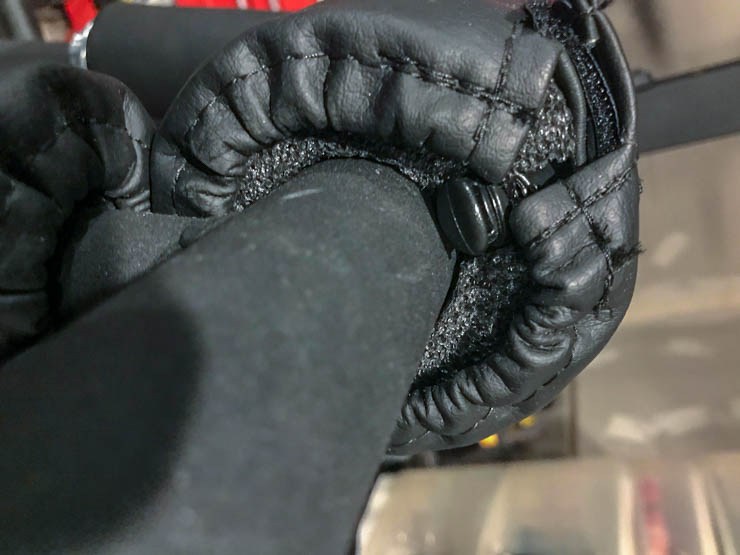 The next element to look at is the vinyl that was used for covering the foam and its stitching. Before I purchased the bar, I did what most people would do – viewed the comments on Rogue's web page. A major problem that was reported via the comments was stitching coming out.
So far, this has not been a problem for me. But when I looking at the stitching closer, I can see where it may break down and become a problem in the future. However, only more testing will reveal if this is an issue. The vinyl pad is sporting the only logo you will find on this bar – a white Rogue logo and "made in the USA" with the American flag on the back of the pad.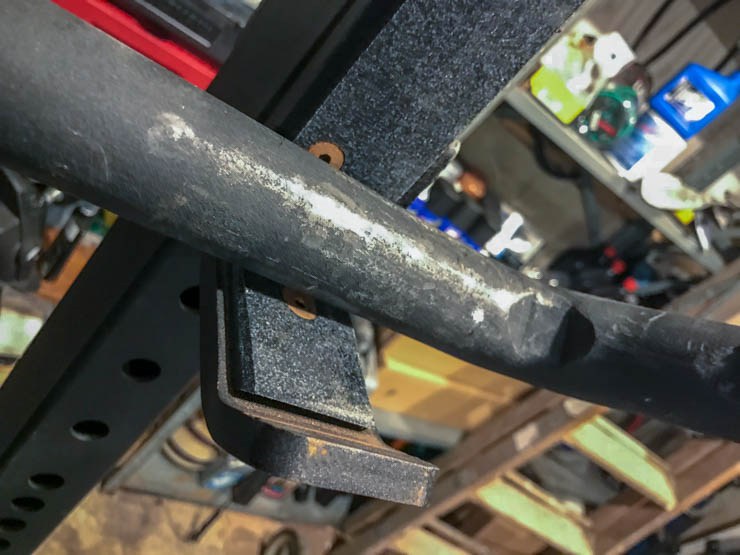 So how does the Rogue SSB feel while you're lifting? The first thing you will feel when unracking this bar, with any amount of weight on it, is the bar pushing you forward. That feeling is credited to the 5 ½" camber.
Next, the padding is fairly comfortable across your back and traps. It's important to note that you are still lifting weights with a bar on your back, and comfort is very subjective.
The next element to note is the handles on this bar are long enough to put your arms in a comfortable position. Holding onto the bar feels natural during squats, good mornings, or any of the other exercises one can do with the SSB. This is a huge plus as I have used some bars with shorter handles that do not feel as comfortable.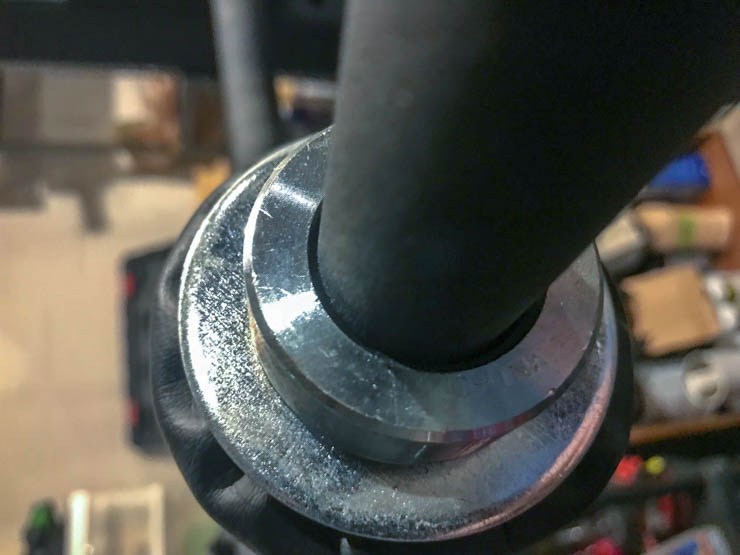 When squatting, the bar feels balanced. I have no trouble maintaining a solid position under the bar and completing the squats with correct form. Re-racking the bar inside of a Rogue R-3 doesn't present any problems. I have had trouble with different specialty bars such as the Rogue MG-4 Multi-Grip Bar.
In closing, a person who is serious about gaining strength in a safe and versatile way will not regret making this purchase. This is a bar that meets all of my expectations for functionality, and will allow athletes and lifters to improve in both strength and conditioning.
Outside of minor cosmetic issues, this bar is incredibly solid and will serve your strength needs for many years.
Rogue SB-1 Safety Squat Bar vs EliteFTS SS Yoke Bar vs Kabuki Transformer Bar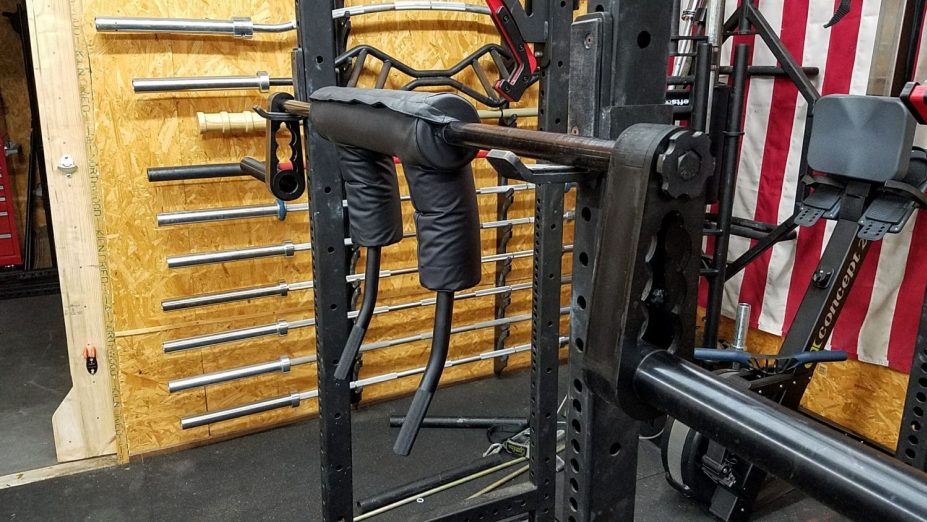 When anyone starts doing research to decide what Safety Squat Bar to purchase, the top contenders will likely be the Rogue SB-1 Safety Squat Bar, EliteFTS SS Yoke Bar, and the Kabuki Strength Transformer Bar.
The EliteFTS SS Yoke Bar is a bar that has been around for quite a while and is largely considered to be the best Safety Squat Bar available.
The Kabuki Strength Transformer Bar is a somewhat newer specialty bar that although functions as a Safety Squat Bar, also has many other additional uses thanks to the way it pivots at the sleeves.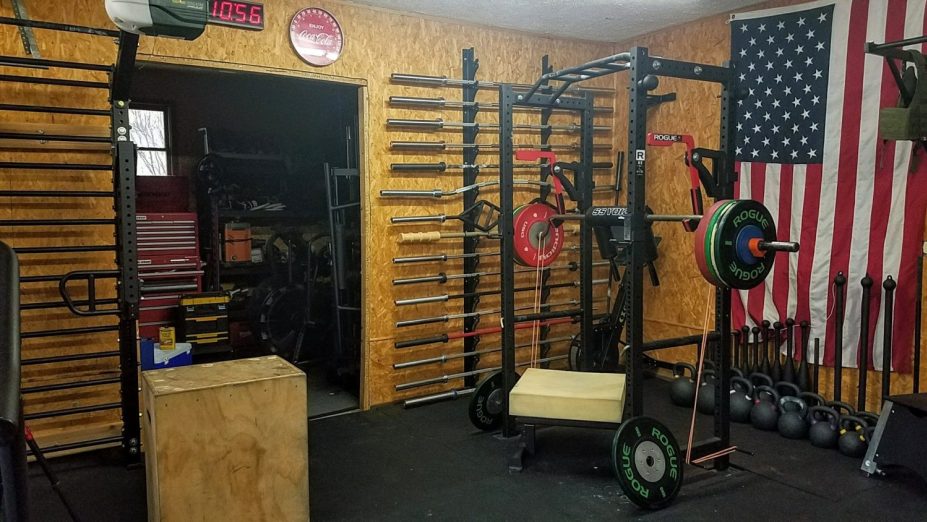 Although we've gone into more depth in our Best Safety Squat Bar round-up, in our experience, here's how we rank the bars:
After using all of the bars extensively, it's because clear that best option for most people is the EliteFTS SS Yoke Bar. It combines superior padding with a great price (look out for sales) to create the best value SSB.
This said, if you want the absolute best Safety Squat Bar along with extra functionality, then the Kabuki Strength Transformer Bar is a great option, just expect to pay for it.
Suggested Improvements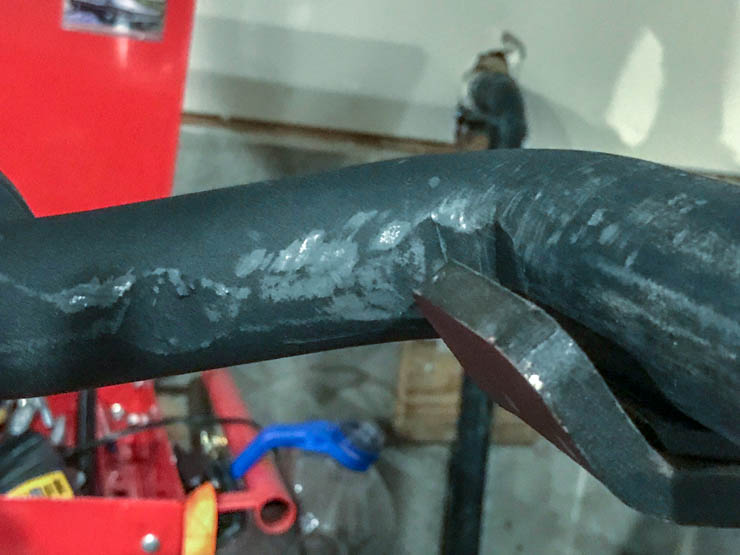 As always, even with the best equipment, there are areas for improvement.
I think the first and most obvious improvement is on the finish. Although bars with the powdercoat finish like this safety squat bar show wear and tear on the collars from plate loading, I would like to see the rest of the bar hold up better from racking in and out of the j-cups.
It is discouraging for me, and many customers, to pay nearly $400 for a bar and everything not be perfect. Perhaps we will see an upgrade to the finish now that Rogue is offering Cerakote.
In addition to the powdercoat, we'd also like to see the padding improved. Although the padding hasn't broken down yet, it likely will in the future based on reports from other users.
Full Rating
Where to Purchase
Rogue Fitness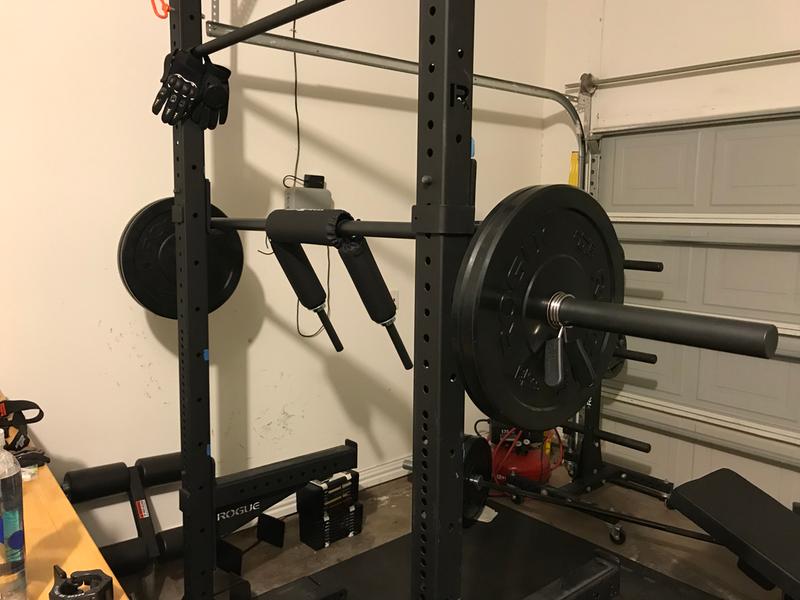 Rogue SB-1 Safety Squat Bar
The weight distribution is unique to this bar. Training with the Rogue Safety Squat bar is known to tax your anterior chain; the weight distribution falls between the front squat and the high-bar back squat to vary your power output training. This bar is a safer option for intense squat progressions or maximum load lifts.This bar is known to increase your maximum working weight when compared to the traditional back squat. Specifications: Weight: 70LB 1.5" diameter formed solid steel shaft 1" diameter formed solid steel handles Machined Olympic sleeves Fully welded design Heavy duty vinyl and closed cell foam pads