We test and review fitness products based on an independent, multi-point methodology. If you use our links to purchase something, we may earn a commission. Read our disclosures.
One thing I've realized over the years is that the best treadmill for you might not be the best treadmill for someone else. Unfortunately, many people go into the process of buying a treadmill without actually assessing their actual needs. So what usually ends up happening is that they either get a treadmill that can't handle the cardio activity they're trying to do, or they buy one that's too complicated to use.
Here at GGR, we don't want you to do that, which is why we take the time to do things like ProForm 705 CST Treadmill review. Although this particular treadmill is discontinued, it's nice to know what features it has and how they would fit into your lifestyle if you buy one secondhand. You also can make a note of what you like and don't like and look for alternatives to meet your needs.
So without further adieu, let me tell you what this treadmill brought to the table.
We Know ProForm Treadmills
Besides maybe ProForm themselves, our GGR team knows practically everything there is to know about ProForm treadmills. Our experts, which include personal trainers and endurance athletes, have tested these treadmills time and time again. We have had an opportunity to actually feel the effects of the deck cushioning and evaluate something as simple as the breeze coming from the CoolAire fan.
In addition, we know the iFIT workout app like the back of our hand. So, if anyone knows ProForm treadmills, it's us! And we're glad to share the information we know with you.
Looking for an Alternative to the ProForm 705 CST?
A possible alternative to this treadmill is the ProForm City L6. It's iFIT-enabled, so all you have to do is add the app to a compatible device and connect the treadmill via Bluetooth to access guided workouts. In addition, this treadmill folds completely in half and is easy to stow, which is ideal for those with limited space. Users also love that the assembly process is seamless and that it's incredibly lightweight.
Walkers and recreational joggers will enjoy having less impact on their joints with its ProShox cushioning. However, do note that this machine's top speed is 8 MPH, there's no incline, and the running surface is relatively small. The 1.6 CHP motor will also not be able to handle the needs of a serious runner. But this is a good pick if you're looking for something wallet-friendly and satisfied with a treadmill made for walking!
The NordicTrack EXP 7i would be an excellent option, too, and it even comes with a 7-inch HD smart touchscreen. It's similar to the 705 CST in that they both have one-touch incline and speed controls, are iFIT-capable, and have deck cushioning. They also both fold, have the same size running deck, as well as come with 12% inclines and a 0-12 MPH speed range. However, they differ in that the motor on this particular NordicTrack treadmill is a 3.0 CHP, and the user weight capacity is slightly less than the ProForm 705, at 300 pounds.
Best Alternative to ProForm 705 CST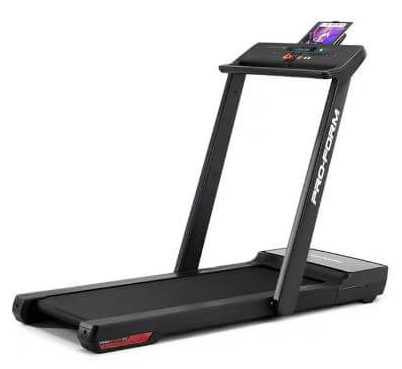 ProForm City L6 Folding Treadmill
The ProForm City L6 Folding Treadmill is the currently most affordable treadmill offered by ProForm. The L6 does not come with a built-in screen, instead it has a device holder for your table or phone. Similar to the other ProForm models the L6 utilizes iFIT programming with trainer-controlled speed, but you will have to stream classes from your phone or tablet.The L6 has a tread belt size of 17.5 by 45 inches, which is on the smaller side, but this treadmill is built to be compact. The overall footprint of this treadmill is 29 inches wide by 70.25 inches long and 44.5 inches tall. The treadmill handlebars fold down so it can be stowed away. The 1.6 CHP motor can achieve speeds of 0-8 miles per hour.There are limited online reviews of the L6 treadmill. Most users had positive experiences, enjoying the quick and easy assembly and compact design. One user did have the treadmill arrive broken and had difficulty with customer service. At the time of publishing, there are no user reviews about using iFIT with the L6 treadmill.
A Quick Look at the ProForm 705 CST
If I had to sum up the ProForm 705 CST in one word, it would be "solid." Walkers and joggers looking for a folding treadmill with all the essentials will find it in this machine. It's got a SpaceSaver design, a decently sized running surface, and tons of built-in workout programs to choose from. Couple that with the iFIT personal trainers, and you'll have no problem reaching your fitness goals.
The ProForm 705 is very similar to its cousin, the ProForm 905. The main difference between these two machines is the motor, max user weight capacity, and the number of built-in workout programs. When it was in production, it also had a slightly lower price point than the ProForm 905. However, although it cost less, it still offered a lot of value to those who purchased it.
Pros:
Folding treadmill
Quick speed and incline controls
Deck cushioning
iFIT-enabled
325-lb max user weight
22 built-in programs
Cons:
2.75 motor is not ideal for serious runners
Basic LCD
Heavy and may be hard to move
ProForm 705 CST Specs
| | |
| --- | --- |
| Footprint | 78.75" L x 36.5" W x 61" H |
| Weight | 224 lbs |
| Weight Capacity | 325 lbs |
| Motor | 2.75 CHP Mach Z™ commercial motor |
| Walking Belt | 60" L x 20" W tread belt |
| Display | 5" backlit display |
| Incline | 0 to 12% |
| Speed | 0 to 12 MPH |
| Programs | 22 preset workouts, iFIT Coach-enabled |
| Warranty | When in production, ProForm offered a 10-year frame, 2-Year parts, and a 1-Year labor warranty |
Where Can I Find the ProForm 705 CST?
Given that the ProForm 705 CST is no longer in production, it'll be pretty challenging to find. There are product pages for it if you visit the websites for Amazon and Walmart, but both say the treadmill is out of stock. As a result, you're better off purchasing an alternative treadmill.
Also, you might come across other companies selling it or may even see it at a yard sale, but you'd be missing out on the warranty program that ProForm has to offer. It's a quality machine, but there are other treadmills similar to it, as mentioned above.
Key Features of the ProForm 705 CST
So, where do I start? One of the main features of this treadmill that tall runners will appreciate is its running surface. Coming in at a spacious 60 inches long and 20 inches wide, the belt offers enough room to get your stride on without feeling cramped.
I also find the speed and incline range impressive because you can really switch up your workout. Trust me, search for the Quick Incline controls and press 12, and you'll be in for a heck of an uphill journey.
The max user weight capacity on this treadmill is worth talking about too. Most treadmills in its price range cap at 300 pounds, but this can safely and securely support someone up to 325 pounds.
Footprint, Portability, and Durability
Once you completely assemble the ProForm 705, it's 36.50 inches wide and 61 inches tall, which is a pretty small footprint. On top of that, it's easily foldable with the hydraulic lift mechanism, so you can store it out the way when you're done working out. This is perfect for folks who need to maximize their space, like those who use their living room or office as a workout area.
However, when unfolding, I want to note that the quick-drop feature could be a safety concern for some. Lifting the metal frame may be problematic as well, especially for seniors. Therefore, make sure you're safely able to lift 45 pounds and consider that moving it may require two people. Although this treadmill has wheels, you must tilt the machine back and place a foot against a wheel before moving it.
One of the things you can feel good about regarding this treadmill is that it is durable and built to last. In addition, it's nicely designed and doesn't feel cheap like some other budget treadmills in its price range.
Ergonomics
If you're looking for a treadmill designed to make working out comfortable, the ProForm 705 is it. The ProShox cushioning system on this thing is top-tier, and your knees and hips will thank you. There are a total of six shock absorbers under the deck, so it's enough impact absorption to still be firm but not so soft that it feels mushy.
Technology Benefits and Conveniences
Admittedly, the 5-inch backlit display is not the fancy monitor you'll find on high-end treadmills with screens, but it does the job. You'll be able to easily see the workout stats that matter, like your speed, calorie burn, heart rate, and more. If you want to see more, you can use the integrated tablet holder to prop up your iPad or another device to enjoy other conveniences.
For instance, if you connect iFIT, you can use Google Maps to virtually walk and run around the world. In addition, with Bluetooth connectivity, your iFIT coach can take control of your machine's incline and speed functions, so you don't have to do it yourself. Not bad for a budget-friendly machine, eh?
Related: The Best iFIT Treadmills
Now, let's imagine for a moment that you need to change the speed and/or incline, but you're not using iFIT. Will you A) have to click one button multiple times until you see your desired top speed/incline or B) press one button to make changes? On the ProForm 705, the answer is B. This treadmill has 12 keys for each category, so you press one button, and voila. The QuickSpeed controls and Quick Incline controls let you stay in your workout zone instead of pressing a bunch of buttons.
Another convenience this treadmill has is the two EKG grip pulse heart rate sensors. They're located right on the handlebar. That way, if you want to see your heart rate, you can hold your hands there, wait a few seconds, and get the results. Of course, it would be nice if this treadmill had a wireless heart rate monitor, too, but it's not that big of a deal for many people. However, those that really wanted it, could find it on ProForm Pro 9000.
Final Verdict of Our ProForm 705 CST Review
When it comes to the ProForm 705 CST, I can say that it was a good and reliable option during its time. It likely exceeded the expectations of most walkers and joggers unless they were looking for a more tech-savvy treadmill.
With this one, you could plug your device into an auxiliary port and jam out while you get your sweat on. You could enjoy the slight breeze coming from the CoolAire fan and imagine you were running on the beach alongside your favorite iFIT personal trainer. Plus, you could do all that without feeling restricted by a short running deck or feeling like you're running on rocks.
Ultimately, my final verdict is that it was a good choice, especially considering that it was one of the lesser expensive options in the CST lineup.
ProForm 705 CST Rating
ProForm 705 CST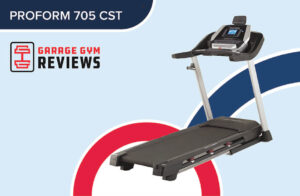 In our ProForm 705 CST Treadmill review, we take a look at the specs of this now-discontinued treadmill.
Product Currency: $
Product Price: 599
Product In-Stock: InStock
ProForm 705 CST FAQs
Can You Run on the ProForm 505 CST Treadmill?
You technically can run on the ProForm 505 CST, but its top speed is 10 MPH. So if you're a serious runner, you probably wouldn't be impressed. 
Is ProForm a Good Product?
Yes, ProForm is a reputable brand known for providing good quality at a reasonable price. 
How Long Does a ProForm Treadmill Last?
Treadmills usually can last up to 10 years, but many factors must be considered. For example, how often are you using the treadmill? What do you use the treadmill for? Are you taking care of it correctly because even the expensive ones must be properly maintained? 
Which ProForm Machine is Best?
It honestly depends on your needs. If you want to really get your run on and have the bells and whistles, the Pro Series is one to look at. For instance, the Pro 9000 has a -3 to 12% incline range and a 22-inch screen. But if you need something compact, simple tech-wise, and suitable for walking, the ProForm City L6 is best.