We test and review fitness products based on an independent, multi-point methodology. If you use our links to purchase something, we may earn a commission. Read our disclosures.
Weightlifting shoes are a specific type of shoe designed for Olympic weightlifting, which refers to two lifts: the snatch and the clean-and-jerk. However, this type of shoe has grown in popularity thanks to CrossFit, a sport in which many athletes wear weightlifting shoes for heavy squats and WODs with a lot of barbell work.
Weightlifting aficionados will be familiar with names like Nike Romaleos and Reebok Legacy Lifters. But a new pair of "lifters" just dropped from TYR, a brand formerly associated only with swimwear. Say what?
In this TYR L-1 Lifters review, I provide all the details on the new shoes on the weightlifting platform.
A Longtime TYR Stan
As I mentioned in my TYR CXT-1 training shoes review, I've been using TYR gear since long before it became popular in the CrossFit space. I wore TYR swimsuits when I was on the summer-league swim team at 7 years old. TYR garb is known to stand the test of time, and I was excited to see if their shoes could hold up to the same standard I've come to know and love.
TYR CXT-1 Lifters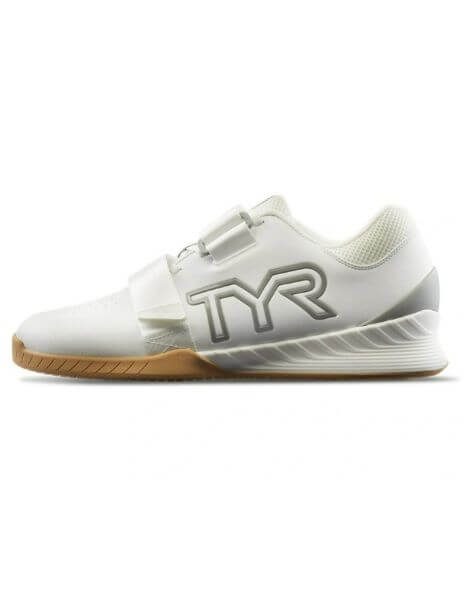 TYR L-1 Weightlifting Shoes
The TYR L-1 Lifter has the potential to be a contender in the arena of weightlifting shoes. Featuring an extra-wide toe box, 21 millimeter heel-to-toe drop, heavy leather upper, rubber outsole with decent tread, and additional heel support, these shoes are designed to support heavy lifting.In addition to all of that, thanks to the dual midfoot adjustable straps, TPU heel clip, and flat, wide outsole, these shoes are stable, supportive, and will work for the majority of foot sizes.According to TYR, the L-1 Lifter is anatomically sound, allowing for natural foot movement and increased stability. The extra steep 21 millimeter heel-to-toe drop is designed to encourage an upright torso during lifts and to improve the depth of squats. Their quality design is reflected in the premium price which may not be in everyone's budget. Also, those who have narrow feet may find these too wide.
A Quick Look at the TYR L-1 Lifting Shoes
The TYR L-1 lifting shoes are a first-generation shoe from TYR, which is known for its competitive swimwear, including training and racing suits, triathlon suits, goggles, swim caps, and swim accessories.
TYR burst onto the CrossFit scene in 2023, with many sponsored CrossFit Games athletes adorned in TYR athleticwear and shoes, including the TYR CXT-1 Trainer.
Like the CXT-1 Trainer, the L-1 Lifter has surprised many people, including shoe purists, with its patent-pending anatomical toe box and great performance. Time will tell if the L-1 lifters hold up to weightlifting cult classics like the Reebok Legacy Lifters, Nike Romaleos, and Inov-8 Fastlifts.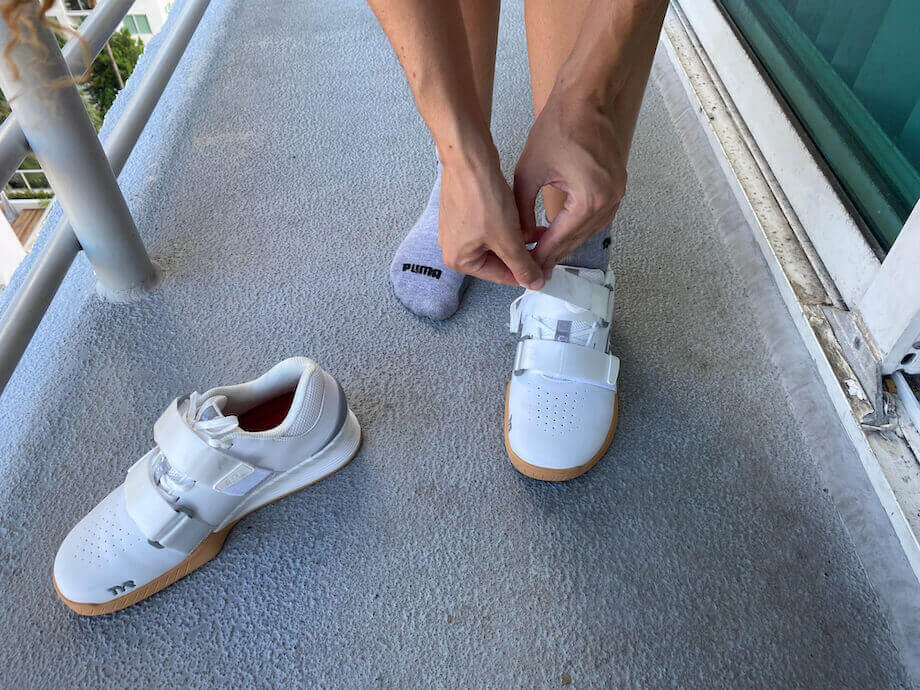 My Tips:
Monitor the website closely, as the availability of these shoes ebbs and flows. At the time of publishing, everything is sold out, but TYR might drop a new preorder link any day now.
Pros:
Wider toe box than many competitors
Anatomically designed toe box and footbed
Ultra-stable and supportive heel clip and crash pad
Durable faux leather upper
21-mm heel-to-toe-drop for ultimate squat stability
Dual adjustable straps (in a silky material for a nice touch)
Easy lacing
Lasered holes in the upper for breathability
Cons:
Hard to get (currently sold out)
Thermoplastic polyurethane (TPU) heel has more give than some other weightlifting shoes
Toe box isn't as wide as some are making it out to be (it is more accommodating for toe splay, but not crazy wide)
Are the TYR Lifting Shoes Worth It?
At $199 (to my knowledge—the current pricing isn't shown online due to the shoes being out of stock), the TYR L-1 l Lifters aren't a cheap buy. However, the price is reflective of the quality and comfort, so I'm inclined to say these are worth the coin for anyone who can afford them. Plus, similar weightlifting shoes cost the same, more or less a few dollars.
Great For:
People with wide feet who need more room for their toes and struggle with the narrow width of most lifting shoes
Athletes who prefer a weightlifting shoe with slight give (due to the TPU heel)
Anyone who needs assistance with barbell receiving positions and squat mechanics
Not Recommended For:
People who don't need a wide toe box
Athletes who prefer a more hybrid shoe with a lower heel height
Anyone looking for a versatile cross-training shoe (this just isn't that)
TYR L-1 Specs
| | |
| --- | --- |
| Price | $199 |
| Heel-to-Toe Drop | 21 mm |
| Colorways | 2 (white/silver/gum and black/gold) |
| Upper | Perforated faux leather |
| Midsole | TPU |
| Tread | Rubber |
| Shoe weight | Not specified |
Wearing the TYR L-1 Lifters
In preparation for the TYR lifter review, I wore the TYR L-1 shoes for snatches, cleans, jerks, squats, and various other versions of those exercises.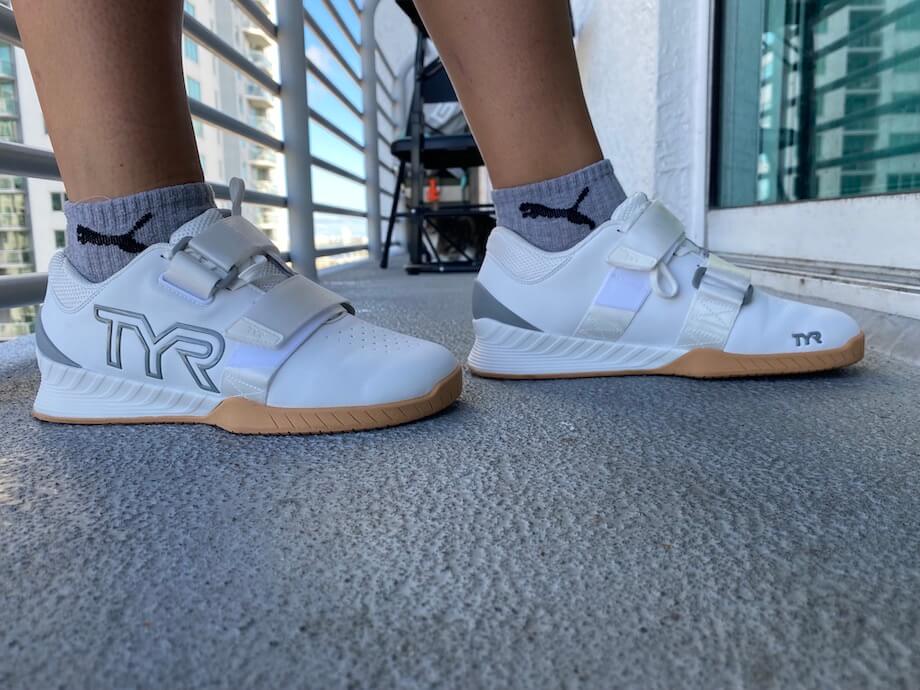 Wearing the TYR L-1 Lifters for Olympic Weightlifting
Olympic weightlifting—the snatch and the clean-and-jerk—is what most people will be buying the TYR L-1 Lifters for. So, I spent ample time wearing them for said lifts.
My take-home is that these are just as good, if not better, than any other weightlifting shoes I've tried. They feel similar in use to the Reebok Legacy Lifters, tougher and stiffer than the Adidas Adipowers, and wider and more flexible than the Nike Romaleos 4. I haven't tried the NOBULL lifters or Inov-8 Fastlifts, so I'll refrain from making a comparison to those.
I am by no means a competitive weightlifter, but I do wear lifters quite a bit throughout the week for the strength portions of CrossFit classes. I found these to be snappy and responsive, but slightly loose around the midfoot, even with the dual straps.
If you have narrow feet, this could be problematic for you—the last thing you want is to be slipping around on the insole as you receive a would-be PR jerk.
Wearing the TYR L-1 Lifters for Squats
Praise be, I love a shoe that can make me forget about my terribly tight ankles, lack of dorsiflexion, and weirdly long femurs. (Don't come at me; I'm working on my mobility, promise.)
But! In the meantime, I'll gladly lean on the 21-millimeter heel drop of the TYR L-1 Lifters. Thanks to the high heel, I can remain upright under the barbell on front squats and back squats, and dig my heels into the ground for stability.
I've read complaints online about the TPU heel being a bit too soft for heavy squats, but I must not squat heavy enough to notice any give, because I didn't have that problem. I felt plenty stable and as snug as a bug in a rug.
As for whether you can perform the other powerlifts in these, I would say it doesn't matter for bench and that I wouldn't recommend any weightlifting shoes for deadlifts, since you want a flat base during that particular lift. (We have a whole guide to the best deadlift shoes.)
RELATED: Deadlift Muscles Worked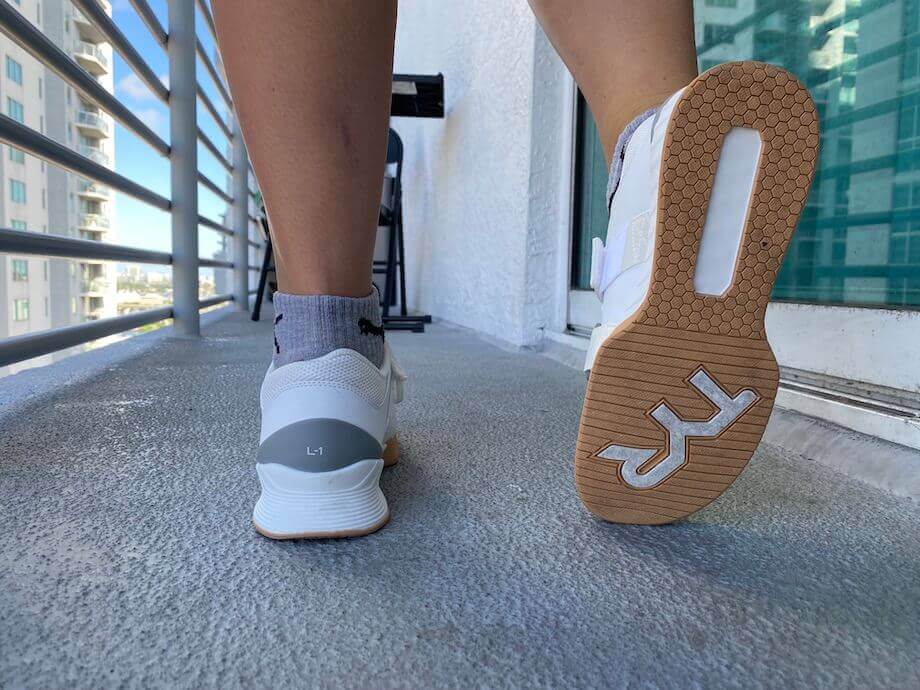 Wearing the TYR L-1 for Other Things
Since this is a weightlifting shoe, you probably won't be wearing it for anything other than snatches, clean-and-jerks, squats, and variations of those exercises. I, however, admittedly rely too much on an elevated heel for high-volume and heavy squats.
So I put the TYR lifters to use during a few WODs with a lot of barbell cycling, including overhead squats, squat cleans, and snatches. Honestly, I'm surprised at the versatility.
I'm not going to tell you to wear these shoes for all of your metcons—and they're certainly not running shoes—but for a barbell-focused conditioning piece every so often, these will work just fine, assuming there aren't any box jumps or burpees in conjunction. I even wore these lifters on a Concept2 RowErg and on a Rogue Echo Bike, and I didn't have any problems.
TYR Lifting Shoes Construction and Materials
Now that we've covered performance, let's look at the actual construction of the shoe.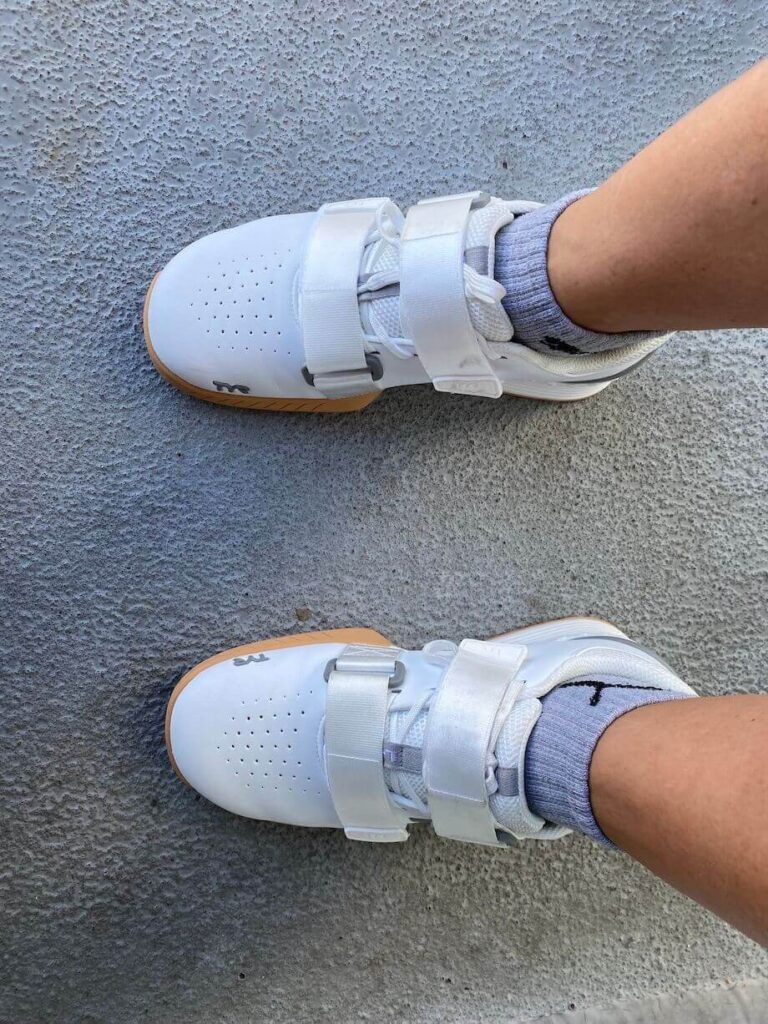 Upper
The upper is a perforated leather material that is both durable and breathable. It's quite thick, and it takes some time to break it in for optimal comfort. It's a good thing the toe box is wider, or the thick leather upper might feel too constrictive. I particularly like how easy the material is to wipe clean, considering the pair I got is white.
Midsole and Heel
In weightlifting shoes, the midsole is the heel. The L-1s feature a TPU heel. TPU, or thermoplastic polyurethane, is a common material used in the heels of weightlifting shoes. It's harder than EVA, which is used in training shoes and running shoes, but not as hard as wood or stacked leather, both of which are also used in weightlifting shoes.
I didn't have any problems with the TPU heel, but I don't lift as heavy as many others, so keep that in mind. If you lift very heavy and want supreme stability, a stacked leather heel might be a better option. But if you want a great blend of support and stability, TPU is an excellent option.
The heel height on the L-1 lifters is 21 millimeters, a common height among weightlifting shoes. This heel drop helps immensely with body mechanics in the squat position.
Outsole
These shoes have a basic rubber outsole. It's grippy on both rubber gym floors and on wooden platforms. This is important because you want to eliminate the possibility of slipping during dynamic movements like the snatch and clean-and-jerk, during which your feet will shift.
Toe Box
A major selling point of these lifters is the "patent-pending anatomical toe box." The toe box is said to be wider and allow for natural movement, or splay, of the toes. While I did find the toe box on the L-1s to be wider than competing products, I don't think it's quite as intense as some people are saying.
It was wide enough to notice, but not so wide that I was thinking about it throughout my workouts or felt a magical change in my lifts. People with narrow feet may have some problems with these shoes or may need to wear thicker socks.
TYR L-1 Colorways and Design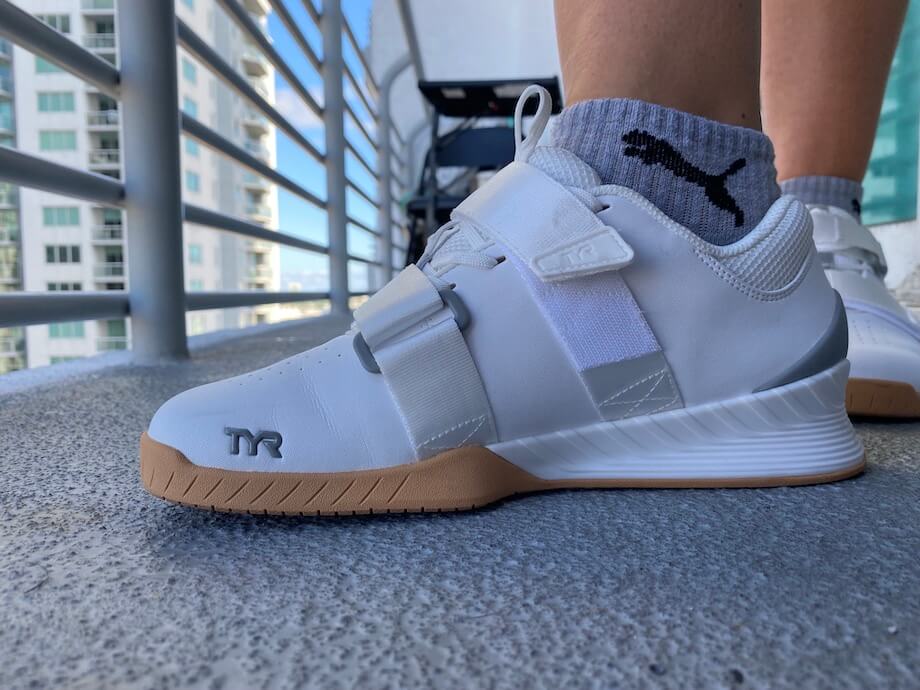 TYR has only released two colorways so far: white/silver/gum and black/gold. I'm not sure if there are more to come, but I wouldn't expect much just yet, considering even these two colorways can't be kept in stock.
I think the TYR L-1s look great, but some Redditers have complained about the large TYR logo around the midfoot. I think that's a minor complaint and the more important thing is how the shoes perform.
TYR L-1 Lifters vs Nike Romaleos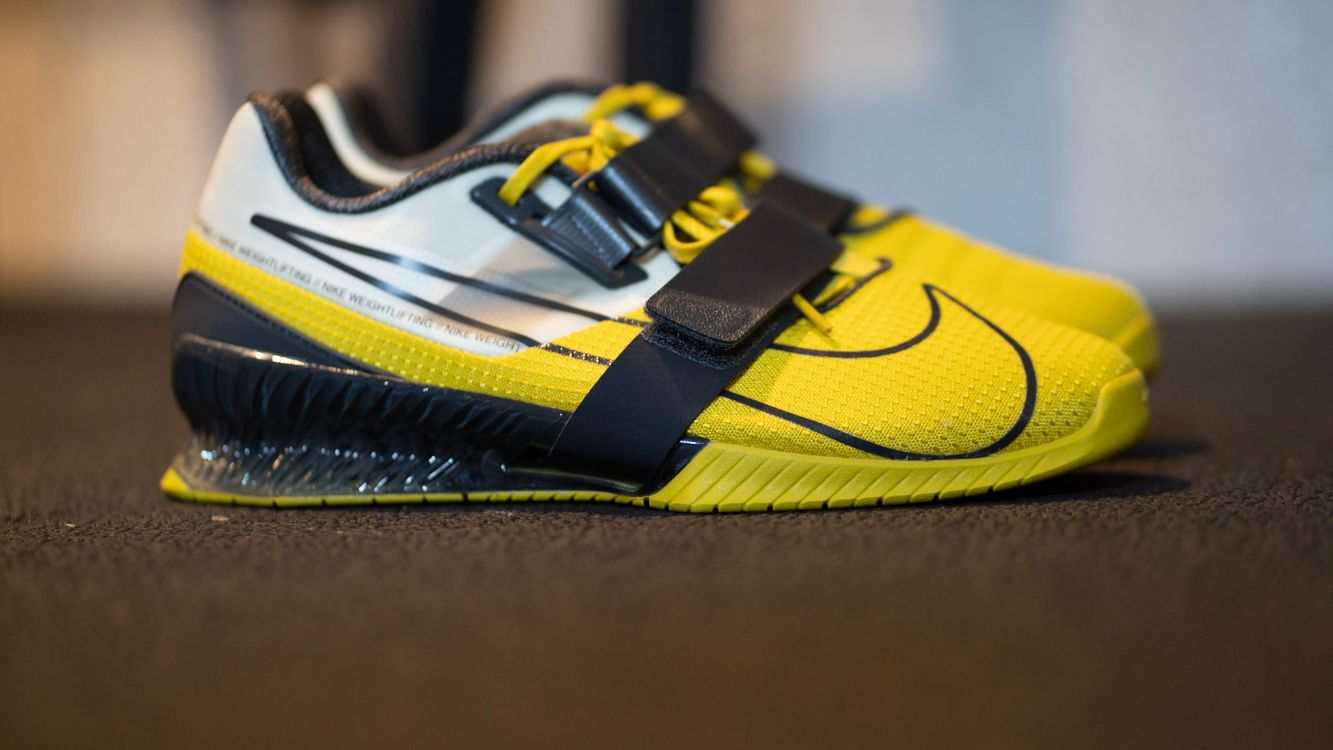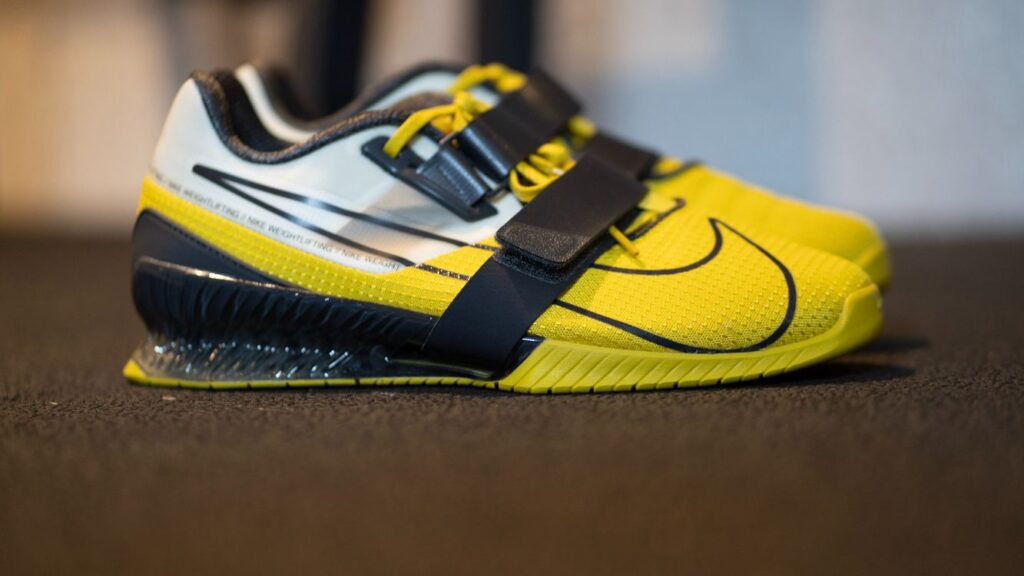 Nike Romaleos 4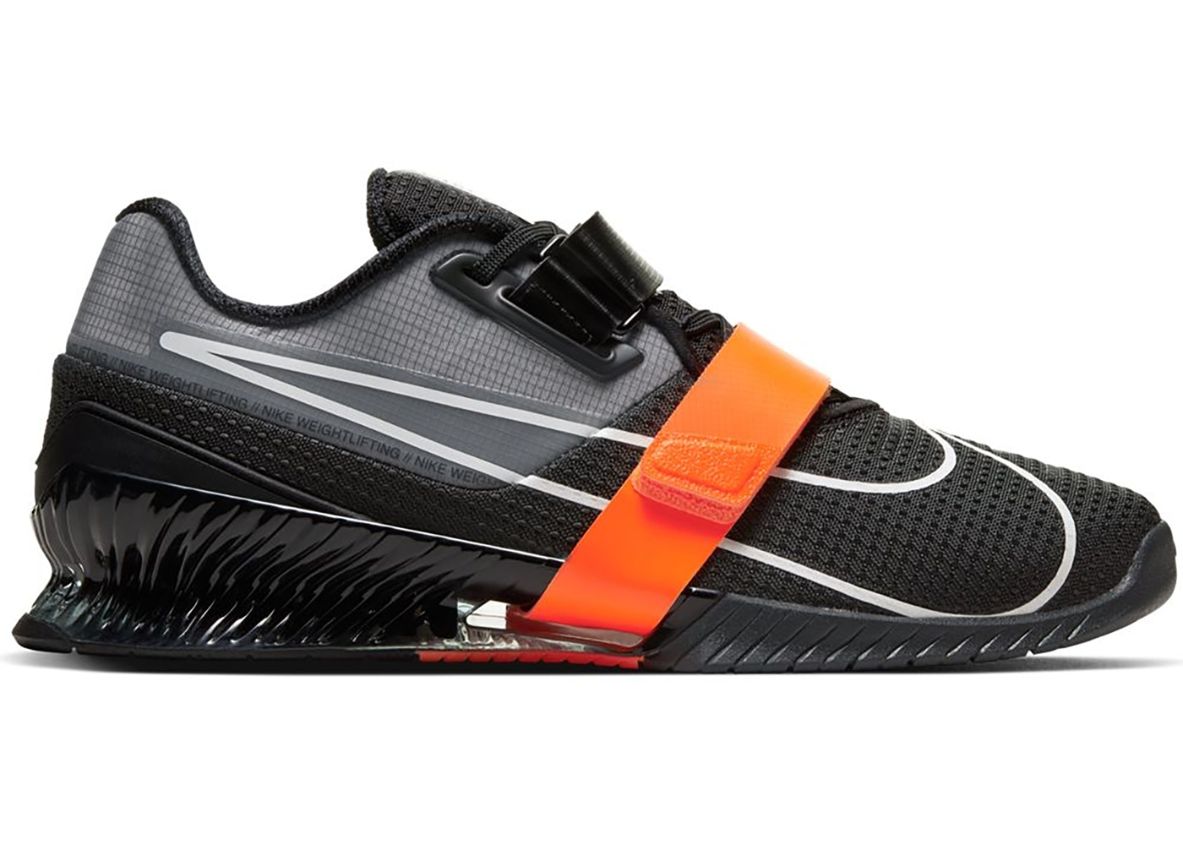 Nike Romaleos 4
The Nike Romaleos 4 weightlifting shoe is the latest iteration in this line. It blends the breathability of the Romaleos 3 with the sturdy outsole of the Romaleos 2. The Rom 4s feature a 20mm heel to toe drop as well as dual velcro straps.
The Nike Romaleos are perhaps the most popular weightlifting shoes available. In fact, they're extremely hard to get, and they almost always sell out immediately upon a new release, and prices get jacked up on the third-party market.
As Coop writes in our best weightlifting shoes guide, "…the Romaleos 4 combines function and style in a way I don't think any other weightlifting shoe has before. They look fantastic and they feel phenomenal on the platform."
With a 20-millimeter heel drop, the Roms are very similar in feel to the TYR L-1s, which have a slightly higher drop of 21 millimeters. One millimeter is honestly a negligible difference for most people.
The Romaleos 4 also cost about $200 and have many similarities to the L-1s: a perforated upper, flexible dual straps, and a flared crash pad. All in all, I think if one of these shoes works for you, the other will, too.
Ordering the TYR L-1 Lifters
TYR has been getting some shade for leaving casual CrossFitters without a bonafide way to purchase the shoes. After the CrossFit Games frenzy, everyone wanted to get their feet in a pair of TYR shoes, but they are not available en masse.
The L-1s (and the CXT-1s) are only manufactured in small batches as of now, and they sell out quickly. I recommend signing up for the TYR footwear access newsletter and monitoring your email inbox so you can be one of the first to know when they become available again. I'm signed up to get the scoop on the upcoming running shoes!
Customer Experience
TYR's customer service is no frills, no problems—all the basics you'd expect, like a 30-day return policy and relatively quick shipping.
Though I haven't had to use TYR customer support for shoes, I've had to contact the support team for triathlon gear, and they were prompt and helpful.
You can contact TYR customer support via phone, text, and online chat. You can also browse the large FAQs section to see if you have a commonly asked question that can be answered without having to talk to a real person (win!).
Customer Reviews
There are eight customer reviews of the L-1 lifting shoes on the TYR website, all positive.
One reviewer wrote, "I have to say, these could be the most comfortable lifters I've ever used. [I] was worried that the wider toe box might lead to a bit of slippage inside the shoe, but that is not at all the case." The reviewer goes on to say that the L-1s are as stable as his trusty old Romaleos 2.
On Reddit, the biggest complaint seems to be the aesthetics, with one reviewer saying they'll "give them a pass" on the giant TYR logo since it's the company's first weightlifting shoe.
Final Verdict of Our TYR L-1 Lifters Review
At the end of the day, the TYR L-1 Lifters are on par in terms of performance and price point with the suite of weightlifting shoe options currently available.
The TYR L-1 Lifters perform very similarly to other popular weightlifting shoes, including the Nike Romaleos and Reebok Legacy Lifters.
The L-1s feature a perforated leather upper, TPU heel, dual adjustable straps, lacing system, and a 21-millimeter heel drop.
We don't know when the TYR L-1 Lifters will be back in stock.
Full Rating
TYR L-1 Lifters
TYR footwear is the new kid in the CrossFit arena. In our TYR L-1 Lifters review, learn how these new kicks stand up to classics like Romaleos and Adipowers.
Product Currency: $
Product In-Stock: InStock
TYR L-1 Lifting Shoes FAQs
Does TYR make shoes? 
Yes, TYR makes CrossFit shoes (CXT-1 Trainers) and weightlifting shoes (L-1 Lifters).
What are the best weightlifting shoes?
Why do Olympic lifting shoes have a heel?
Weightlifting shoes have high heels because they intend to help you receive a heavy barbell in an anatomically correct and safe position, which should allow you to lift more weight. The higher heel "increases" ankle dorsiflexion by way of a wedge, meaning your torso will remain upright instead of leaning forward, reducing stress on your lower back.