We test and review fitness products based on an independent, multi-point methodology. If you use our links to purchase something, we may earn a commission. Read our disclosures.
A treadmill can be an excellent piece of fitness equipment that allows you to run or walk in the comfort of your home, regardless of the weather. However, there are different types of treadmills.
The type of treadmill you need depends on your fitness goals and the kind of workout experience you want to get from it. For example, some machines are great for walking out stress, and others are engineered for handling heavy sprints. Space constraints and budget may also play a role in the exact exercise equipment you need.
Let's dig into the different treadmill types.
Manual Treadmills
Manual treadmills require no power source, unlike electric treadmills. Instead, the running belt relies solely on you to move the belt. Once you start, it's up to you to get your speed up or down. This level of precision and control may be easy for some and may take time for others to get used to.
There are two types of manual treadmills: flat-belt and curved-belt. Manual flat-belt treadmills are basic, affordable, and used primarily for basic walking or jogging. In comparison, curved-belt manual treadmills offer more advanced running options and a sturdier, heavy-duty build, which typically comes with a higher price tag.
Not having a power source has its benefits. Requiring no electricity means you can put your treadmill anywhere and save money on bills. In addition, treadmill maintenance and repairs are usually quite simple due to the low-tech factor of the machine. Also notable, a manual treadmill can be safer if you need to suddenly stop running or walking because the belt doesn't continue moving if you fall or lose your pace.
At the same time, while there are some exceptions, many manual treadmills lack many of the electric-powered tech features you find on motorized treadmills, such as incline and speed control, heart-rate monitoring, performance stats, and interactive programming.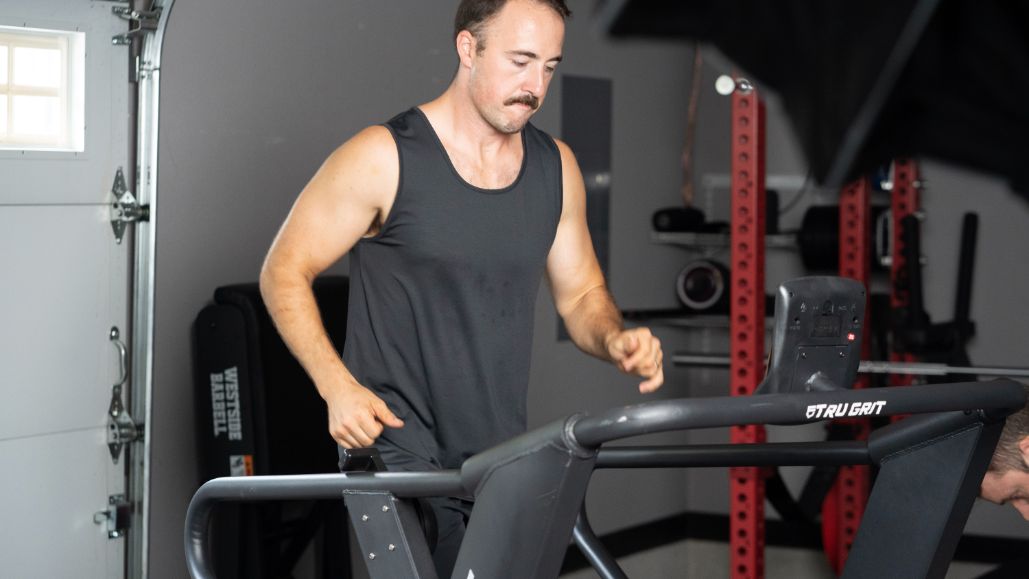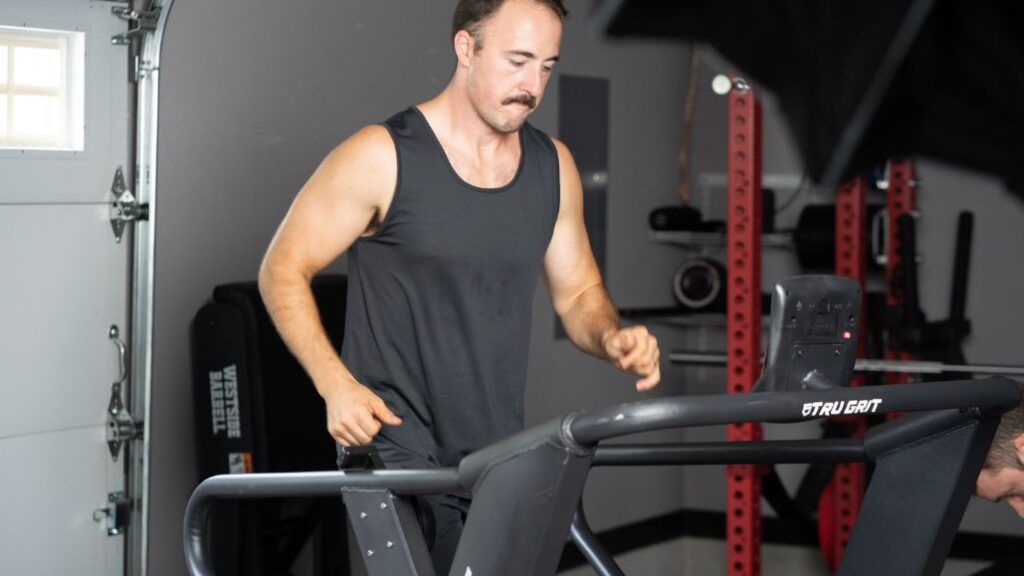 I also wouldn't think to use a manual treadmill to train for long-distance running. Flat-belt treadmills are usually designed for shorter distances. In addition, many flat-belt manual treadmills tend to be composed of cheaper parts that may not withstand rigorous running routines. In contrast, manual treadmills with a curved running deck are usually built better but intended for more intensity in less time rather than achieving distance like most motorized treadmills.
A cheap, manual flat-belt treadmill could be great if you want to add a piece of more affordable fitness equipment to your home gym for basic walking, warming up, or pre-workout light jogging. And a curved manual treadmill is excellent for having easy access to intense sprints or running during a broader workout while training in your home.
RELATED: Best Pre-Workout
| | |
| --- | --- |
| Manual Treadmill Pros | Manual Treadmill Cons |
| Requires no electricity | No digital incline or speed control |
| May improve your running balance | Many lack interactive programming |
| Able to be used and stored anywhere | May not be suitable for many fitness goals |
Motorized Treadmills
Motorized treadmills are precisely that: The belt moves due to a motor that is electrically powered. As a result, treadmills with electric motors offer manually controlled incline and speed for the treadmill's belt.
These treadmills are likely what most of us are familiar with from visiting conventional gyms. They are great for long-distance runners, as you exert less pressure on your knees when increasing or decreasing the speed of the treadmill's belt. Furthermore, motorized treadmills give you more options for designing your run's elevation and intensity.
Motorized treadmills typically include more tech features than manual counterparts, such as interactive workout programs, WiFi connectivity, speed/incline control, and data tracking of your run via an LCD monitor, touchscreen, or Bluetooth-compatible apps. As a result, motorized treadmills may better help you understand your performance based on the actual numbers (and they also come at a higher price point).
Despite the benefits, there are some downsides to motorized treadmills. For example, a good treadmill that is motorized is typically more expensive than a manual treadmill. Electricity also brings extra bills, and due to the technology, the components may need more maintenance in the long term. Also, if you fall, the belt won't stop, which could lead to injury.
Motorized treadmills are great for runners looking to improve their distance, speed, and ability to climb mountains. They are also great for fitness folks who want to get their performance stats in real time or appreciate the tech features experienced in the typically more advanced LCD screen on electric treadmills.
RELATED: Best Home Treadmill for Running
| | |
| --- | --- |
| Motorized Treadmills Pros | Motorized Treadmills Cons |
| Accurate speed and incline control | Typically more expensive |
| Less stress on your joints | Big footprint |
| Quality tracking of your running performance | May more easily cause injuries if used incorrectly |
Curved Treadmills
Curved treadmills may be either manual or motorized and typically offer a considerably sturdier high-quality foundation for training compared to flat-belt manual treadmills. In many cases, the design encourages proper running technique and superior performance.
The curved design naturally stimulates a faster pace in your run. This is due to the intensity it demands of your stride. In addition, motorized or not, the natural arc created in a curved treadmill encourages your core and leg muscles to work harder as the range of motion in your stride is pushed further by the running deck's angle.
RELATED: True Form Runner treadmill review
The curved slatted-belt cushioning design may also help you to achieve full power with better technique. It also helps with shock absorption and balance. Curved manual treadmills require you to turn the belt instead of relying on a motor. This may lead to a more intense workout.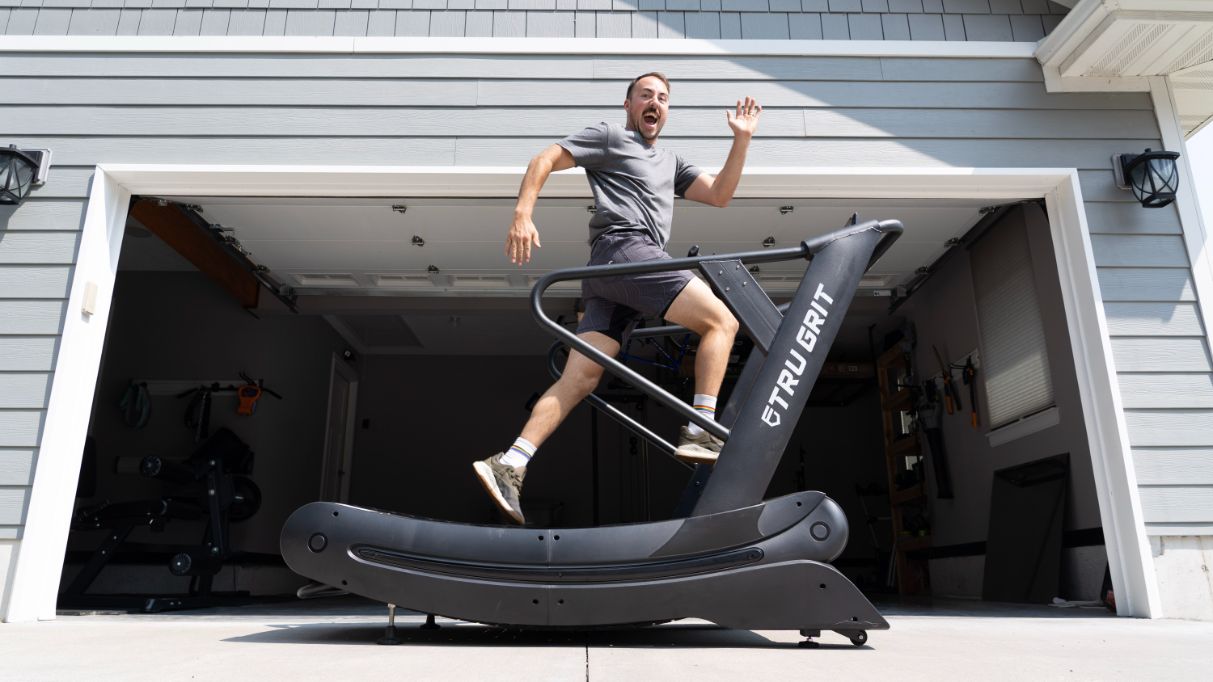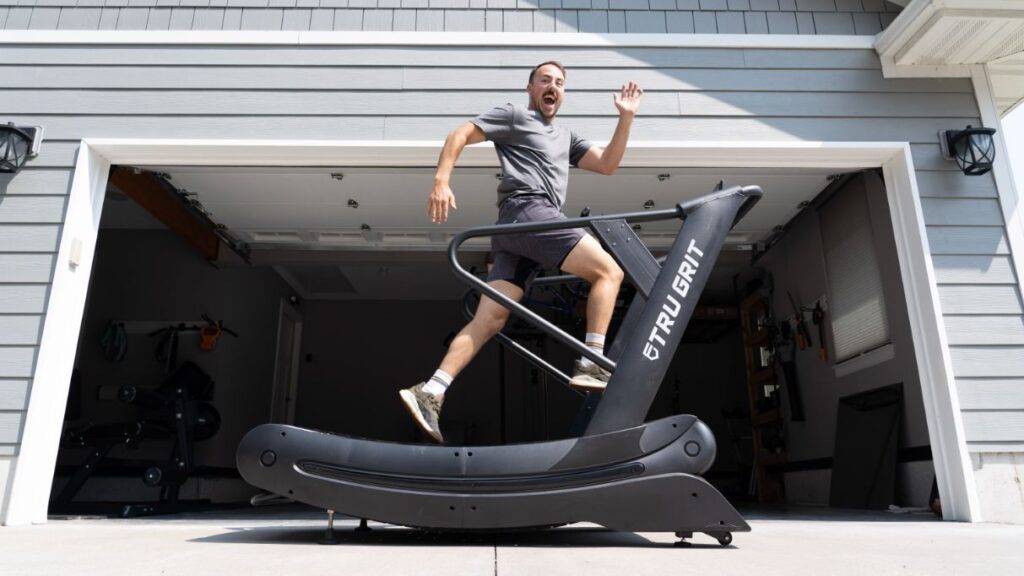 On the other hand, motorized or electric curved treadmills usually feature additional technology that enables you to achieve longer distances when training while still getting the benefits of the curved treadmill running deck.
You can expect a more intense workout in a shorter time (especially on a curved manual treadmill). This is why you often see curved treadmills used within interval training routines at CrossFit or HIIT-style gyms.
| | |
| --- | --- |
| Curved Treadmill Pros | Curved Treadmill Cons |
| Efficiently builds cardio and strength | Pricey |
| May help your running technique | Usually quite heavy and hard to move |
| Durable construction and high weight capacity | Beginner or intermediate runners may struggle more to find their pace |
Folding Treadmills
Folding treadmills are just as they sound: They are perfect if you have limited space in your home or don't consider a treadmill a decorative piece of furniture.
What you see more often than not is a deck that lifts and locks into place. In some cases, like with the Echelon Stride, the handlebars and monitor fold onto the deck, creating a completely flat machine that can be stowed under a table or bed. A foldable treadmill could be motorized or not, or include a variety of tech or the bare minimum.
Machines across the spectrum may be folding. There are high-end treadmills that fold as well as budget-friendly options.
One chief concern with folding treadmills is that a deck that isn't locked securely in place poses a safety hazard. Also, not all folding treadmills fold flat, so you don't save as much space as you might think.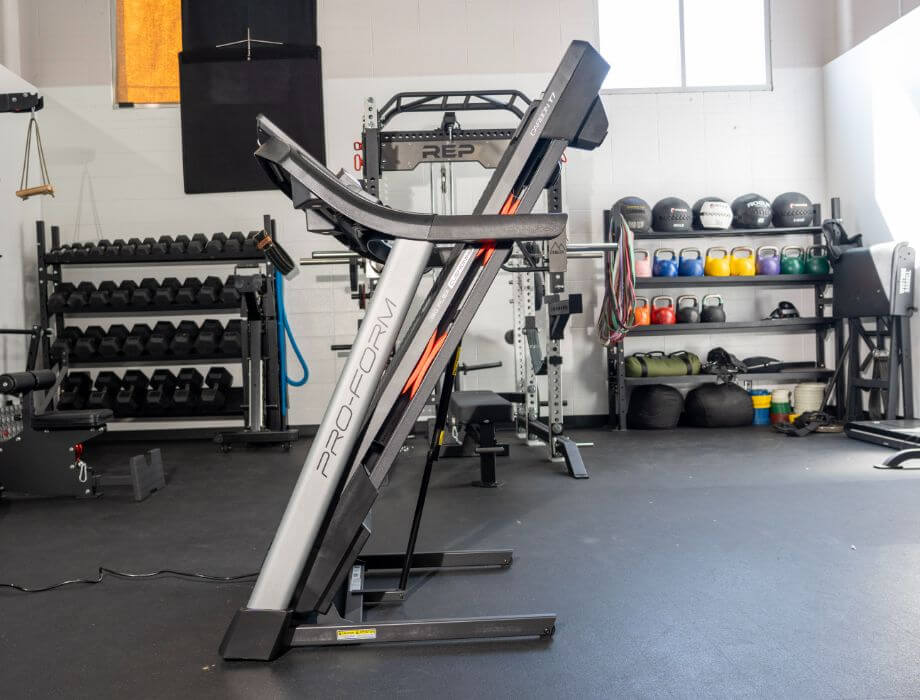 | | |
| --- | --- |
| Folding Treadmill Pros | Folding Treadmill Cons |
| Space-saving | Could be a safety hazard |
| Often offers increased portability | May lead to "out of sight, out of mind" excuses not to train |
| Don't necessarily sacrifice high-end features | Don't always fold flat |
Under-Desk and Desk Treadmills
Under-desk treadmills are compact exercise machines you can put under an office desk. Desk treadmills allow those who can't escape the office or go to the gym to get more physical activity in their lives.
Desk treadmills are usually quite basic. They typically consist of only the running deck and a step tracker, generally lacking the standard handrail or LCD monitor used on commercial treadmills. Some include adaptable standing grips for balance that can fold up and down. And you might find a small speed range, but they are not meant for running sprints or training for a marathon.
The main point of a desk treadmill is to find some relief and escape without having to leave the office. Overly sedentary lives can lead to depression, obesity, and other issues. If work demands too much, desk treadmills can act as a solution to get blood flowing regardless of your circumstances or fitness level.
| | |
| --- | --- |
| Under-Desk Treadmill Pros | Under-Desk Treadmill Cons |
| Accessible from your work or home office | Not intended for advanced running or training |
| Compact and easily stored | Limited tech features on more affordable models |
| Easy way to add steps to your day | Lower horsepower and speed ranges |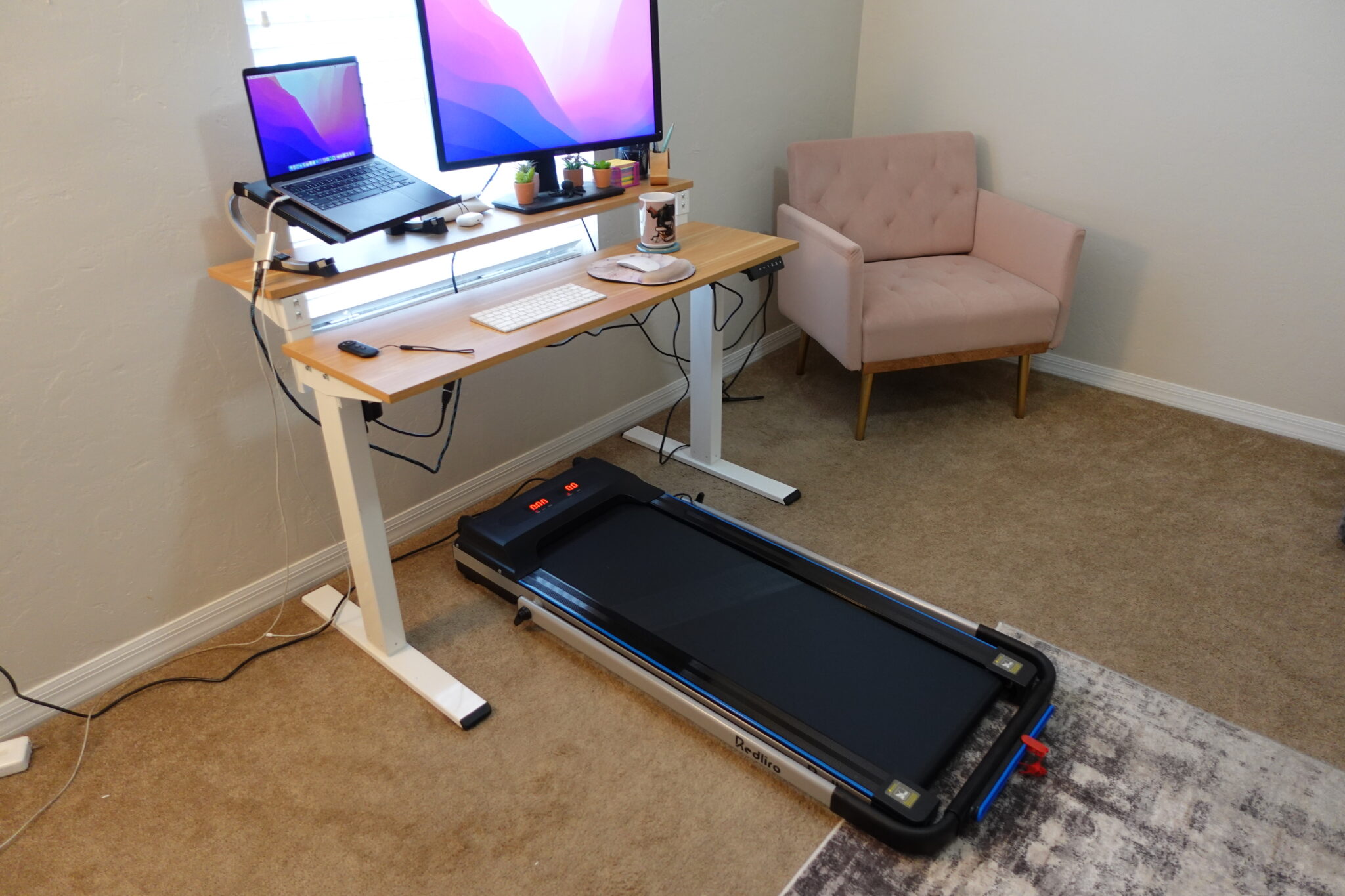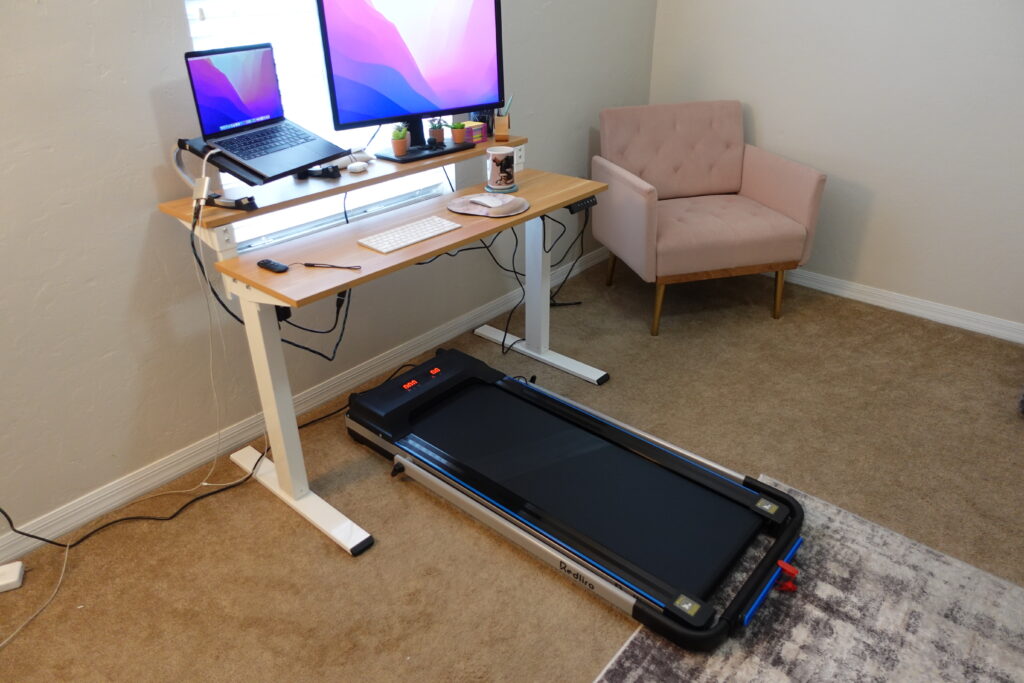 Treadmills Types FAQs
What are the top 3 treadmills types?
The best treadmill for you will depend on your budget and how you want to use it. If you're going to incorporate sprints into your interval training regimen at home, I'd suggest a curved manual treadmill. Long-distance running? I'd use a versatile, motorized treadmill with multiple inclines and speed features. Or if you just need to ensure you're getting some steps in every day during or after work, I'd go with a basic manual flat-belt or desk treadmill. 
Our top three home treadmill choices:
Best Treadmill Overall: NordicTrack Commercial 1750
Best Treadmill for Running: ProForm Pro 9000 
Best Treadmill for Walkers: TrueForm Trainer
Which is better, an incline or flat treadmill?
I wouldn't say one is better than the other. I would say it's better to have a treadmill that offers both an inclined and flat running surface. An inclined treadmill surface adds resistance to your run (think about a stair-climber), building your muscles while making them work harder. A flat surface may be ideal if you are just beginning to try and get into shape or aiming to achieve longer distances.
However, I believe having the option to experience both an incline and flat surface is best for home use of a treadmill, as you can challenge yourself when you feel you have improved and have more options when designing your run's terrain.
Which is better, a manual or motor treadmill?
In the debate of manual vs motorized treadmill, it just depends on what you are trying to achieve. I love the intensity of a curved manual treadmill as part of a broader workout routine that includes other off-machine exercises. However, if I'm looking to get a 10K in, I would definitely go for a motorized treadmill.
Standard flat-belt manual treadmills are helpful for low-pace walking or jogging. In contrast, curved-belt manual treadmills are more practical for high-intensity sprints and running paces that burn more calories and push you further in a shorter time. And for longer distances, motorized treadmills give you various speeds and inclines that help with weight loss and challenge your cardio over longer periods and distances.
Understanding your needs and budget will determine which type of quality treadmill is suitable for ensuring you have the best running or walking experience.