We test and review fitness products based on an independent, multi-point methodology. If you use our links to purchase something, we may earn a commission. Read our disclosures.
While making that final push at the end of your workout, you've probably never thought, "How much does a treadmill weigh?" While it won't help get you through that last 10 minutes of cardio, it could help you decide which treadmill is the best option for you.
Weight is important for things like how easy it will be for you to move the treadmill, having an idea of its weight capacity, and also the quality of the equipment inside the treadmill. It's just as important to consider the weight of a treadmill as it is to consider if it has a heart rate monitor or Bluetooth to play your podcasts.
Types of Treadmills and Their Weight Ranges
Just like with any exercise equipment, treadmills come in so many different forms. You have motorized treadmills or manual treadmills, there are foldable treadmills that are great for home use, and others with powerful motors that are great for commercial gyms and frequent runners.
There are treadmills that are made for walking and some for those who love to sprint on an incline. There are ones that fold to save space, and those with large running decks. There are some with basic LCD displays, and some with screens like televisions where iFIT personal trainers coach you through a workout.
You'll probably find that the more basic models are going to weigh less, and the high-quality treadmills will weigh more. Compact treadmills for walking can be under 100 pounds. One with a steep incline and technology to track your workouts to show your progress can often be over 400 pounds.
Let's dig into the types of the machines and the average weight in each category.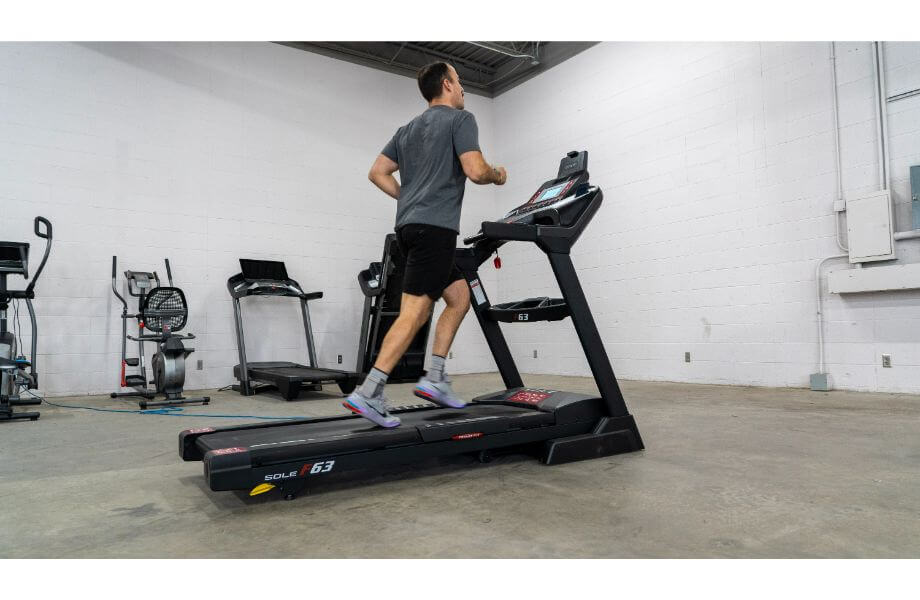 Budget Treadmills
Budget treadmills, just as the name implies, are a great way to get a treadmill on a tight budget. While your definition of what is "budget-friendly" could vary, we tend to think of affordable treadmills of those being under $1,000 without sacrificing much quality.
Our favorite budget treadmill is the Sole F63. This treadmill weighs 254 pounds, which tends to be on the heavier side. However, the F63 has great features like a powerful motor, incline capabilities, and a solid frame.
If you look at treadmills under $500, you'll see a sharp decline in weight. That's because these machines typically do not have strong motors, big monitors, or even sturdy frames. Therefore, the average treadmill weight in this category will clock in at 100 pounds or less.
Curved Treadmills
Curved treadmills have a unique concave shape. These are great because they are designed to be the best treadmills for natural movement. In fact, some machines, like the TrueForm Trainer, are meant to help you improve your form.
A curved treadmill is typically a manual treadmill. In other words, it doesn't require electricity, and instead, you power it. By design, these are incredibly heavy machines. The weight range for curved treadmills is around 300-350 pounds or more, making for some of the heaviest machines you'll find. They also boast high weight capacities of 400 pounds or more.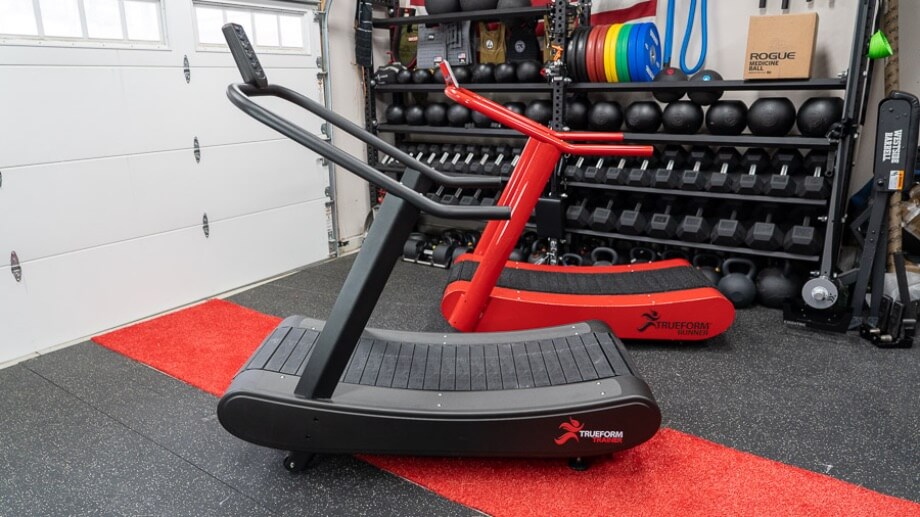 Commercial-Grade Treadmills
Commercial treadmills are built with high-quality materials to (hopefully) require less maintenance. Often used in gyms or fitness centers, they can also be a great at home option for serious cardio lovers.
The Nordictrack Commercial 1750 is an example of one. Weighing in at 339 pounds, it is one of the heaviest machines we are going to talk about here. Why? Because it has a 3.5 horsepower motor, incline and decline capabilities, and a 14-inch smart high-definition touchscreen.
If you want a treadmill with power, technology, and durability, it's going to be heavy.
Under-desk Treadmills
As more people start to work from home, under-desk walking treadmills have gained popularity rapidly. Most of us have seen at least one in a TikTok video with someone getting in their steps while at work. These machines are unique because they typically have no console, no handlebars, no incline capabilities; just a treadmill deck meant to be slid under your workstation. Their top speeds are around 4 MPH, which pales in comparison to the 12 MPH speed you'll find on other electric treadmills discussed above.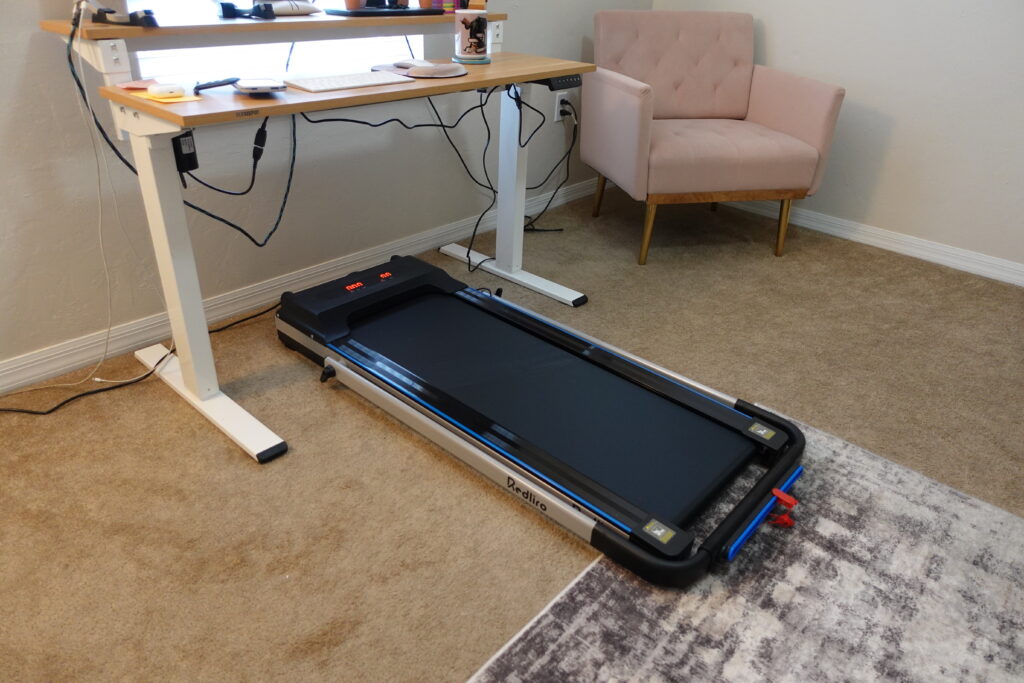 When it comes to looking at weight ranges, most of these will be around 70 pounds or less. For example, the Goplus 2-in-1 Under Desk Treadmill on Amazon is at 69.5 pounds, making it one of the lighter treadmills on the market that we would recommend.
Factors That Affect Treadmill Weight
The top factors that impact treadmill weight are motors, incline options, and weight capacity. More horsepower means a bigger motor, incline means more mechanics in the treadmill, and heavier weight capacity means a bigger, more stable running deck.
Motor
If you plan to sprint on a treadmill, you're going to be looking at a heavier treadmill. As we break down in our treadmill motor guide, for sprinting, you need at least 3.0 continuous horsepower, or CHP. Someone who only plans to walk would only need around 2.0 CHP. This is why under-desk treadmills have the smallest designs that weigh less, they do not require a big motor.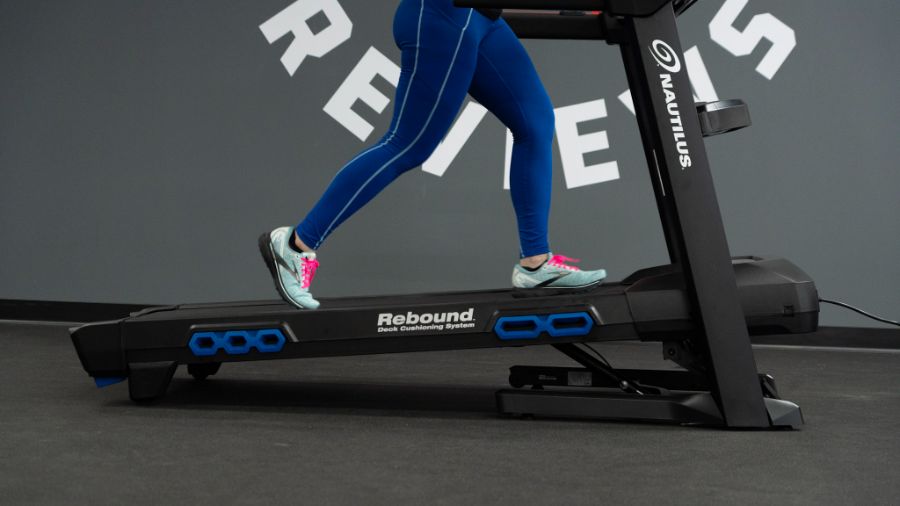 Incline Capabilities
Incline options refers to treadmills that allow you to run on an incline. The extra equipment needed to incline the deck and the extra motor power required to move the deck up and down adds to the overall weight of the machine.
Weight Limit
Heavy-duty treadmills come with a heavy duty framework. For treadmills to have a high weight capacity, they have to have a more stable deck. These treadmills are made with higher quality materials to withstand the constant use at a higher weight. They also potentially have wider and more sturdy handrails.
What Is a Treadmill's Weight Limit?
The weight limit of the machine is how much a treadmill can hold while still keeping the integrity of the treadmill. This is important because if the user weight is above the weight limits, using the treadmill consistently will put strain and wear on the treadmill.
It is also important because the range of weight capacities can vary greatly, just as the weight of the treadmills themselves varies. Most ProForm treadmills have a weight capacity of 200 to 250 pounds, while some Sole treadmills, like the Sole F85, have a weight capacity of 400 pounds.
Speaking very generally, the weight of a treadmill can be a good indication of how much weight it can hold. For example, a 55-pound treadmill will likely have a lighter weight capacity than a 300-pound treadmill.
When you're buying a treadmill, take into consideration who will be using it; if you are buying for a commercial site, you may need a higher weight capacity treadmill for the range of people who will be using it. For home gym use, also take into consideration who in the house will be using it, and choose one with a range that everyone fits into.
Staying within the limits of the weight capacity will protect your investment and help keep your equipment working optimally for the duration of its lifespan. Always check that you fit within these limits before you buy a treadmill as operating a treadmill over the maximum weight could void your warranty with some companies.
FAQs About Treadmill Weight
How heavy is a NordicTrack treadmill?
These treadmills vary in weight from around 200 pounds for a regular high-end treadmill all the way up to 500 pounds for a commercial incline treadmill.
What do ProForm treadmills weigh?
ProForm's lightest space-saving City L6 treadmill weighs 125 pounds, and their top of the line treadmill, the Pro 9000, weighs in at just over 250 pounds. The rest of their models fall within this range.
How do you transport a treadmill?
Moving a treadmill properly depends on many things like how much does the treadmill weigh? Are you moving it up or down stairs? Does it have wheels? Always refer to your user manual when you can and remember to lift with your legs.