We test and review fitness products based on an independent, multi-point methodology. If you use our links to purchase something, we may earn a commission. Read our disclosures.
Perhaps you recall the commercials for Trix cereal––a skinny, white rabbit with long, floppy ears repeatedly tries to snag the little rainbow cereal pieces that look suspiciously like cat food. Without fail, the kids remind the disgruntled rabbit that the cereal is theirs and he's just being a silly goose (er, rabbit).
Although you may not be able to wrangle the Trix cereal away from your children (à la the rabbit), you can have one type of TRX all to yourself: the TRX3500. In this XTERRA TRX3500 treadmill review, I'll give you every last detail you need to know about this reasonably priced cardio machine.
Although I haven't personally been on the TRX3500, I have been on the XTERRA TR150, which is a treadmill by the same brand. This first-hand experience––combined with my expertise on treadmill specs and industry standards––will allow me to give a solid assessment of the TRX3500.
I Promise––This Treadmill Review Won't be (X)TERRAble
A lot of things in life are (subjectively) quite terrible––the flu, a swarm of angry wasps, and whacking the crap out of your pinkie toe on the coffee table. However, treadmill reviews shouldn't be one of them––I like to make things a little more lively by injecting a few milliliters of humor and honesty between the lines of copy.
Besides my burning desire to tell bad jokes, I also have a lot of fitness experience, as do the rest of the expert product testers and reviewers at GGR. We're certified personal trainers, former college soccer players, and nutrition coaches. This is our passion and expertise––and we want to share it with you.
XTERRA TRX3500 Treadmill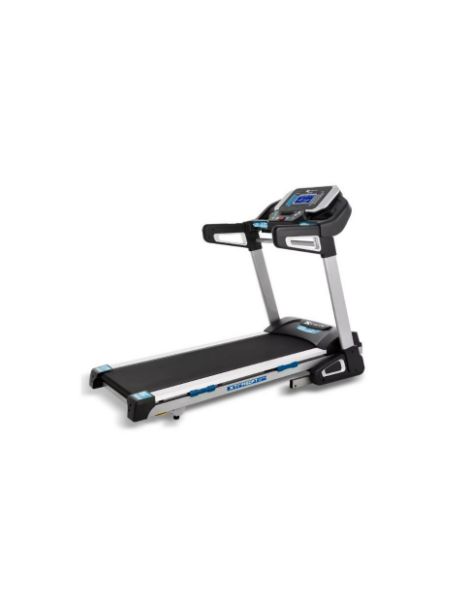 XTERRA TRX3500 Treadmill
Advertised as a machine that combines quality and performance, the XTERRA TRX3500 Treadmill comes with a lot of the bells and whistles you'll love on an at-home treadmill.The built-in Bluetooth makes it easy to listen to music, stream shows and movies, and browse various workout apps during your workout. If you want workout programs you can use but don't have a device to connect with Bluetooth, you can choose from the 30 preset programs. The best part about these is that you can customize two of your programs to fit your specific needs.With the 6.5-inch bright blue backlit LCD screen, you can view your program profile, time, speed, pace, distance, calories, incline, and pulse. On the handlebars, you can not only check your heart rate, but you can change the speed and incline as well. You can also bring your drink with you and place it in one of the two cup holders. The treadmill is also equipped with an accessory tray so you can place valuables there while on the machine. When you are finished you can use the built-in fan to cool down. And if you want to store your treadmill after use, you can easily fold it and use the wheels to transport it to a secure location.
A Quick Look at the XTERRA TRX3500 Treadmill
XTERRA currently offers 10 different treadmill models for sale on their website. These machines are split up into three different categories: Performance, Sport, and Compact. The Compact series features the brand's least expensive models, which are all under $750. Even the most expensive treadmill (the TRX5500) offered by XTERRA is decidedly mid-range at just under $2,000.
The XTERRA TRX3500 clocks in at around $1,300 and appears to offer a lot––a sizable deck, a variety of incline levels, and solid financing options. This treadmill is within the Performance series, and my expectations are high. Let's see how this machine stacks up to the competition!
My Tips:
This machine can be hooked up via Bluetooth to a heart rate monitor––however, you do need to use your own as one isn't included with your purchase.
See if you can save extra cash with our Treadmill Coupon page!
Pros:
3.0 CHP motor
350-lb user weight capacity
30 preset programs
Large running belt
Foldable
Lengthy warranty
Bluetooth connectivity
Incline and speed options hit the industry standards
Cons:
Lacks a touchscreen
High step-up height
Reviewers mention it can be noisy
Small bottle holders
Is the XTERRA TRX3500 Treadmill Worth It?
Trying to decide if the XTERRA TRX3500 is the right choice for your home gym? Check out who I think will adore this machine, and who should take a look at something different:
Great for:
Heavier people
A foldable option
Tall individuals
Not recommended for:
People who want a touchscreen
Individuals with balance issues
Someone who needs a quiet treadmill
XTERRA TRX3500 Treadmill Specs
| | |
| --- | --- |
| Price | Around $1,300 |
| Weight | 213.9 lbs |
| Weight capacity | 350 lbs |
| Footprint | 77.2″ L x 35.5″ W x 56.1″ H |
| Speed range | 0-12 MPH |
| Incline | 12 levels |
| Running surface | 20″ W x 60″ L |
| Motor | 3.0 CHP |
| Warranty | Lifetime frame and motor, 2-year parts and deck, 1-year labor |
| Foldable | Yes, folding frame |
| Cushioning | 2-ply Xtrasoft deck cushioning |
| Step-up height | 7.75″ |
| Built-in speakers | Yes |
| Cup holders | 2 |
| Display | Backlit LCD display |
| Preset programs | 30 workout programs |
| Compatible fitness apps | Zwift, Strava, MapMyFitness, Apple Health, Fitbit, Wahoo, Kniomap |
Customer Reviews
The XTERRA TRX3500 treadmill is available for purchase on Amazon, where it currently has over 1,200 reviews with an average score of 4.3 out of 5.
Happy customers enjoyed the price, large belt, and general sturdiness of the TRX3500.
"The quick-access incline and speed buttons are a huge help if you do HIIT workouts," purchaser Ultraapril explained. "Just touch the preset speed and it happens. My old treadmill was a million little clicks to increase speed or incline. Quick-access preset buttons make it so easy to focus. Plus, I love that I can make small adjustments on each handle or at the control console if I want."
Displeased patrons reported that the TRX3500 was noisy, had a lot of plastic components, and assembly was difficult.
"I had the product for one year and it squeaks way too much for a person at the weight of 150 pounds," customer Zack said. "It was so sensitive after a year of running that the bolt at the forefront of the machine could not handle the running. The actual bolt broke. This was not due to mishandling as I ensured to lubricate the running mat by the manufacturer's suggestion and this still occurs."
Diving Into the XTERRA TRX3500 Treadmill
Based on the specs, the XTERRA TRX3500 treadmill would likely be a good option for heavy or tall people. For a machine around $1,300, the 350-pound user weight capacity is impressive. Since the industry standard for a good treadmill is just 300 pounds, the TRX3500 is exceeding expectations.
Plus, the 20-inch-by-60-inch deck is lengthy enough for people with long legs or for those who enjoy running. Generally speaking, you want to see at least a 60-inch deck for runners and around 55 inches for walkers, so this fits the bill for either.
The 3.0 CHP motor is nothing to write home about, but it hits the basic standard for a machine that can comfortably support sustained running. I'm also a fan of the 12 speed and incline options on this machine––both hit the industry standard for what we'd expect to see. A reviewer even reported that the controls were quite responsive and good for quick switches during HIIT.
I wouldn't necessarily recommend this machine to someone with balance issues. The almost 8-inch step-up height is pretty high and may be difficult for older adults to mount and dismount without assistance.
Footprint, Portability, and Durability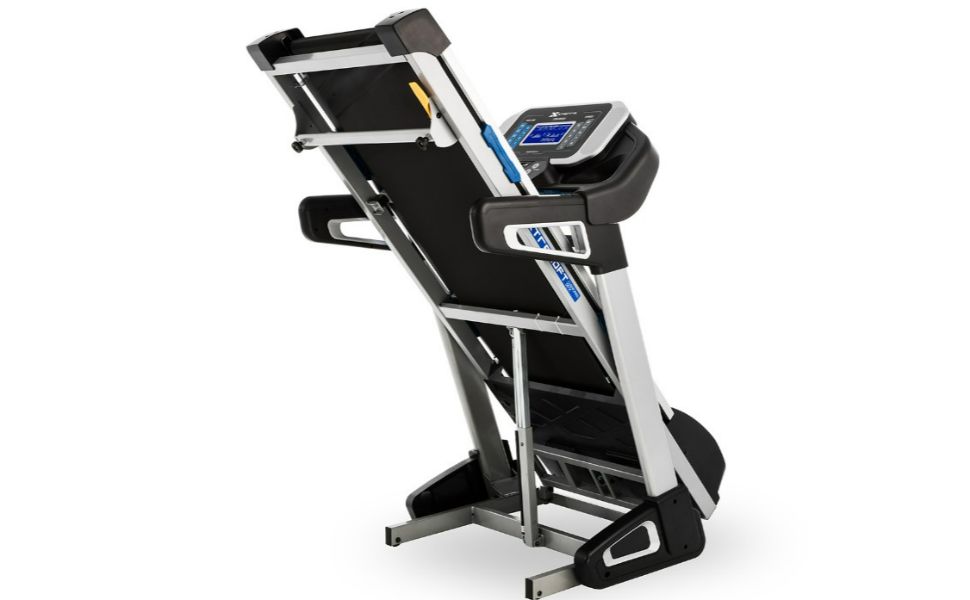 At around 215 pounds, the TRX3500 isn't exactly lightweight, but it isn't akin to the uber-heavy NordicTrack X32i either. Still, many reviewers reported needing another set or hands (or two) to get the treadmill up a flight of stairs. When it comes to wheeling this around a room, most people will be able to do this solo, thanks to the transport wheels.
This machine also has a standard footprint, but the foldability is a plus. Based on the website photos, it appears that the TRX3500 has a gas shock for folding, which would allow the deck to come down lightly. If this machine does indeed have a gas shock, this is an upgrade compared to the TR150, which does have folding capabilities but lacks any type of soft-drop folding mechanism.
A variety of reviewers noted that the TRX3500 does have a lot of plastic components, which could spell trouble for durability down the road. This isn't a deal-breaker by any means, but it is a good idea to be extra careful with the plastic pieces, since they could snap or break easily.
Technology Benefits and Conveniences
While the TRX3500 isn't exactly a Peloton Tread by way of technology, it still does have a few different offerings. Bluetooth connectivity shines on the TRX3500 because it allows the user to connect to various third-party apps. For example, if you're already a Strava member or want to track your Fitbit stats to your treadmill in real time, you're able to do so with relative ease.
Although there isn't a native programming app available on a compatible touchscreen, you can still follow along to one of many preset programs. You'll be able to play around with speed, heart rate, and incline to find a combination you enjoy. Surprisingly, not many treadmills still offer free preset programs, so this is a nice feature to have on the TRX3500.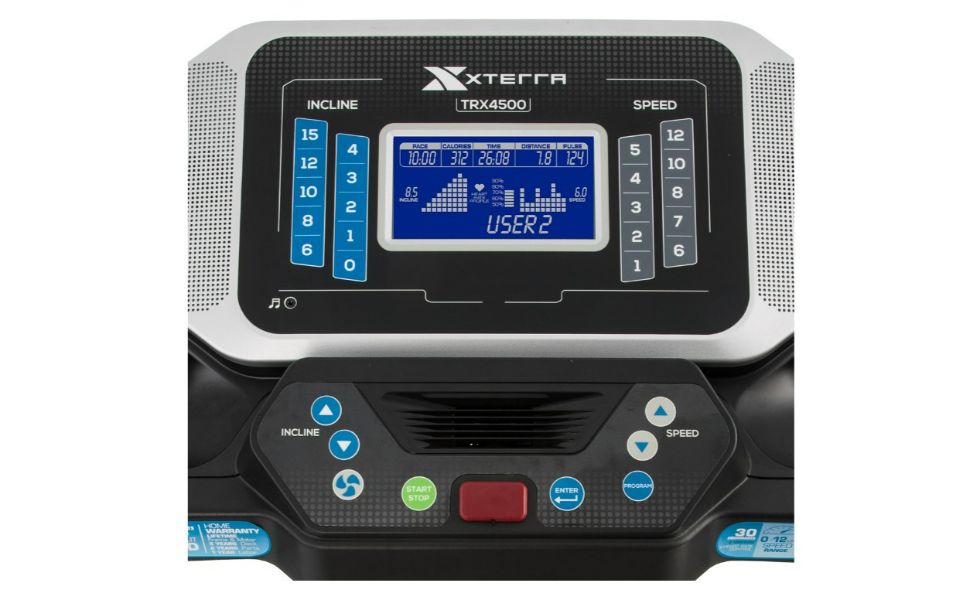 Plus, there is a media rack where you can stick your phone, tablet, or even a book. It is worth noting that the rack is placed just under the LCD display, so you won't be able to see any metrics while using the rack.
Other conveniences on the TRX3500 include dual water bottle holders (they do look a little small for my taste), a cooling fan, an audio jack, two speakers, and quick-select buttons on both handlebars.
Comparison to XTERRA Fitness TR150 Folding Treadmill
The XTERRA TRX3500 is quite a bit more expensive than the TR150, but for good reason. This machine has a variety of useful features and slight upgrades all around from the TR150. Check them out below:
Want to learn more? Read our full XTERRA TR150 treadmill review.
| | | |
| --- | --- | --- |
| | XTERRA TRX3500 | XTERRA TR150 |
| Price | Mid-range treadmill | Budget treadmill |
| HP Motor | 3.0 CHP | 2.25 CHP |
| Weight | 213.9 lbs | 97 lbs |
| Footprint | 77.2″ L x 35.5″ W x 56.1″ H | 63.4" L x 28.75" W x 51.4" H |
| Warranty | Lifetime warranty on the frame and motor, 2-year deck and parts, 1-year labor | Lifetime warranty on the frame, 1-year motor, 90-days deck, 90-days labor |
| Deck size | 20" W x 60" L | 16" W x 50" L |
| Foldable | Yes | Yes |
| Display | Blue backlit LCD display | Blue backlit LCD display |
| Preset programs | 30 | 12 |
| Incline | 12 levels (motorized) | 3 levels (manual) |
| Weight capacity | 350 lbs | 250 lbs |
XTERRA Fitness TR150 Folding Treadmill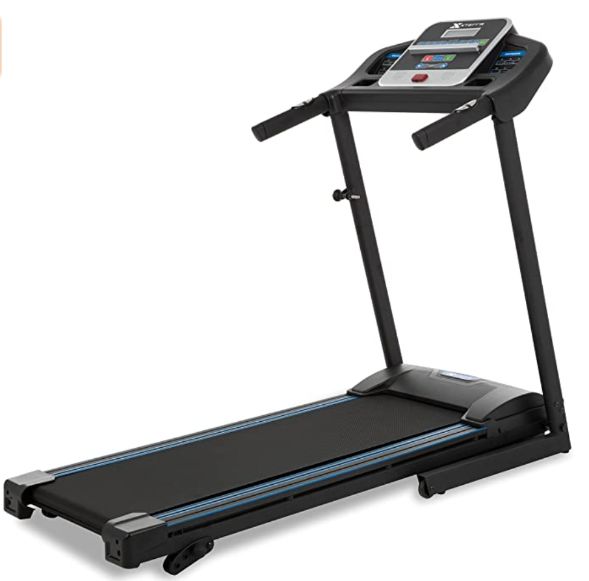 XTERRA Fitness TR150 Folding Treadmill
The XTERRA TR150 is a space-worthy investment best suited for beginner walkers to speed walkers. Featuring 12 preset programs, speeds ranging from .5 to 10 miles per hour, three manual incline settings, and an easy pull knob release for convenient storage, the XTERRA TR150 was developed with performance, comfort, and safety in mind. The 16-inch-by-50 inch walking surface is on the smaller size but is big enough to accommodate most users when walking or light jogging. The 5-inch LED display provides simple yet important stats during your workout including time, speed, distance and calories. The XTERRA TR150 is designed for convenience with an integrated bookrack and accessory holder to keep things like a remote control or phone close by. The hand grip pulse sensors are mounted on the side handlebars but users report that the heart rate readings are often inaccurate (as is often the case with grip sensors). The XTERRA also provides a soft cushioned deck intended to absorb impact and keep joints safe during workouts. If you are an avid runner looking to train hard, this is not the treadmill for you. With a 2.25 horsepower motor, the XTERRA TR150 is not intended for fast or sustained running.  Additionally, users report that the incline is almost unnoticeable. So, before you buy, be sure to know how you intend to use it!
Customer Experience
This under-$1,300 treadmill has an impressive warranty. With the purchase of the TRX3500, you'll get a lifetime guarantee on the frame and motor, which is as good as you could hope for. For additional context, a good frame warranty for a treadmill is at least 15 years.
Return-wise, XTERRA has a pretty standard procedure in place. You have 30 days to ship the machine back to their main warehouse after receiving return authorization from XTERRA. You may be subject to a 10% restocking fee and all shipping charges unless otherwise noted by the brand.
Ordering and Assembling the XTERRA TRX3500 Treadmill
The XTERRA TRX3500 can be easily purchased on the XTERRA website. Once the machine has been added to your cart, you'll input particulars like your address and billing information. I did note that the only option for shipping was the basic drop-at-your-front-door type, which is complimentary with your purchase. As much as I love free shipping, I was confused as to why there isn't a professional assembly option available for an upgraded charge.
According to some of the Amazon reviews I read, the assembly process for this machine wasn't exactly easy, so not having the option for professional assistance isn't my favorite. However, I was impressed with the financing XTERRA offers on their website. If you're approved, you can get a loan through Bread (which pays to Comenity Capital Bank), which may offer you 0% APR financing options for between 6 to 24 months.
Final Verdict of Our XTERRA TRX3500 Treadmill Review
The XTERRA TRX3500 treadmill is a machine that may work well for certain people. Here are my main takeaways after fully examining this treadmill:
The 350-pound user weight capacity makes this an inclusive option for many people.
If you want a tech-ed out machine, the TRX3500 isn't it––there is not a touchscreen on this treadmill.
The lifetime frame and motor warranty are excellent, especially for the $1,300 price tag.
On the XTERRA website, there isn't an option to pay extra for professional assembly. This means you'll likely be stuck with doing the assembly yourself (unless you hire a third-party contractor).
XTERRA TRX3500 Treadmill Rating
XTERRA TRX3500 Treadmill
Learn more about a solid, mid-range cardio machine in this XTERRA TRX3500 treadmill review.
Product Brand: XTERRA
Product Currency: $
Product Price: 2099
Product In-Stock: InStock
XTERRA TRX3500 Treadmill FAQs
What is the weight limit on the XTERRA Fitness TRX3500 treadmill?
The weight limit on the XTERRA TRX3500 is 350 pounds, which is 50 pounds over the industry standard for a home treadmill.
Does the XTERRA TRX3500 treadmill incline?
Yes, the XTERRA TRX3500 treadmill has 12 different levels of incline. This machine also has incline controls, which can be accessed through the handles on the side of the treadmill.
How do you lubricate an XTERRA treadmill?
For information and directions on how to maintain and lubricate your XTERRA treadmill, follow our all-encompassing guide on the correct process. It is worth noting that each brand of treadmill may require slightly different steps (check your manual for details), but the general advice still applies.
What are the treadmills that XTERRA offers?
There are currently 10 different treadmills available for purchase on the XTERRA website: The TRX5500, TRX4500, TRX3500, TRX2500, TR6.6, TR6.4, TR300,TR200, TRX1000, and the TR150 treadmill.