We test and review fitness products based on an independent, multi-point methodology. If you use our links to purchase something, we may earn a commission. Read our disclosures.
Although I often think about how many calories walking a mile burns, walking is more than just exercise for me—it's how I got around New York City for much of my life. In fact, walking is the unofficial Olympic sport of the five boroughs because it's faster than waiting for delayed trains and buses.
My friends and I would often use the best walking apps to track our mileage to see who took more steps throughout the day and often use screenshots to brag about our feats of endurance (my personal record is 35.2 miles). I've consulted with the rest of the GGR team—which as a reminder is comprised of certified personal trainers, CrossFit Level 1 Trainers, and competitive triathletes and weightlifters—to find the best walking apps to track your steps.
We'll go over our suggestions for the best walking apps for your smartphone to track your steps and metrics, whether you're exploring the city that never sleeps or you're just going for a hot girl walk around the block.
We walk the walk and talk the talk when it comes to reviewing and testing the best personal training apps, running apps, online workout programs, and fitness trackers.
Best Walking Apps
Best Overall Walking App: Strava
Good for: Anyone who's concerned about safety and also wants reliable maps and routes
Strava is beloved by thousands of runners but it's also a great app for those who prefer walking. There's both a paid and free version, but no matter which one you choose, there are a lot of features you can take advantage of.
One of my favorite features is the Beacon, which allows you to share your location with up to three people at once. I sometimes forget that I'm a 6 foot, 3 inch tall man who can probably walk down most streets without a problem—unfortunately that's not the reality for most people. This feature gives walkers the peace of mind that someone will be able to know where they are at all times.
The free membership allows you to tap into Strava's social media-like features such as posting and analyzing workout stats, posting on the social wall, and taking part in group workout challenges.
For those who are OK with getting the paid version, you'll also get access to walking maps and routes, the ability to create your own walking paths, and Strava Segments. Segments is a special feature that allows you to analyze your workout performance over a certain segment of a trail and compare it to your past performance and the performance of others who have walked that same trail.
Most walking apps will come with your basic fitness metrics, but Strava takes it a step further by giving you in-depth analyses of how things like your pace and moving time have progressed over time. This can, along with proper training, help you become a quicker walker.
Best Walking App for Workouts: iFIT
Good for: Those who want guided walking workout options
You probably know iFIT for its virtual exercise bike and treadmill workout classes, but did you know they also offer walking workouts as well? Garage Gym Reviews fitness writer and online workout program connoisseur Caroline Lubinsky has actually tried out quite a few and recommends them to anyone looking to shake up their walking routine.
"The iFIT walking workouts are the ideal way to be transported into another world," Caroline says. "Although apps like Peloton have plenty of walking workouts to choose from, iFIT kicks it up a notch with walks in scenic locations. Explore the forests of Costa Rica or journey up mountains with knowledgeable instructors in tow. Don't worry, if you prefer studio-based workouts, iFIT has you covered with a variety of walking classes in a more traditional setting."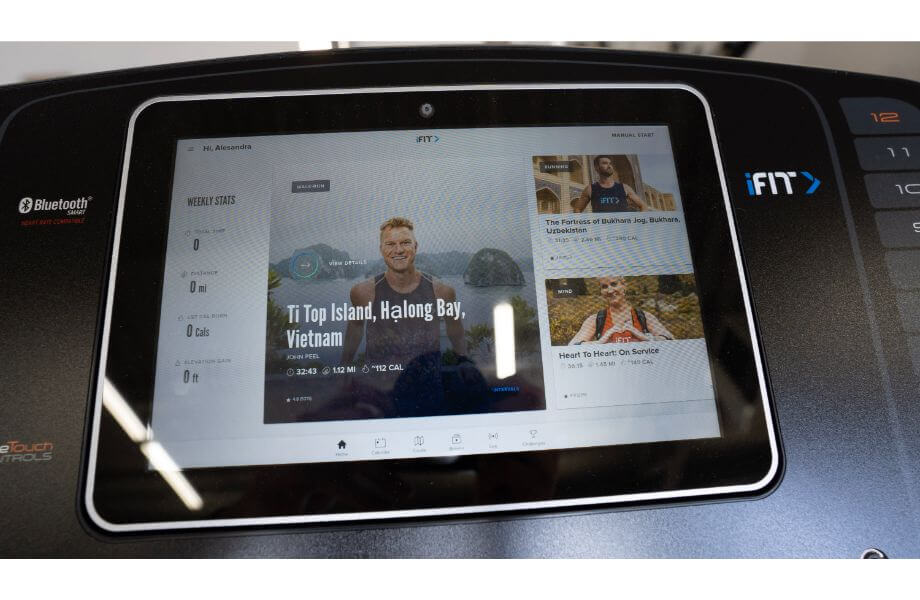 If you're like me and prefer a more self-guided workout approach, then this might not be the app for you. For those who prefer an instructor to set the tone, you're getting some of the best in the business. Each one is immersive and interactive and the Google Maps integration helps give iFIT some of the best graphics out there.
And because iFIT has a smartphone app (which isn't always the case for companies geared toward cardio equipment) you can do these workouts anywhere. Of course you can still use them on an iFIT treadmill if you want, but it's nice to have variety. 
RELATED: Best Workout Apps
That variety, however, comes at a cost of $396 per year or $39 a month for the Family Plan, or $180 a month for an individual plan.
Read our full iFIT reviews for Caroline's full thoughts on this fitness app.
Best Walking App for Motivation: Fitbit
Good for: Anyone who wants a little extra motivation to get their steps in
DON'T SCROLL PAST THIS SECTION IF YOU DON'T HAVE A FITBIT.
Now that I have your attention, I'm here to tell you that you don't need a Fitbit to use the Fitbit app. With that said, it is kind of like pizza without the crust—good, but not as good as it could be.
The Fitbit app connects to your smartphone and records basic fitness metrics like your step count, heart rate and walking distance, but that's not the reason we recommend this app. No, the real reason you'd want to download it regardless of the type of fitness tracker you own (or don't) is because of the motivation it offers.
Fitbit can remind you to get up and move every hour, and has an optional feature to send inspirational messages to your smartphone. If this is something you're interested in you should know that Fitbit automatically disables these messages from popping up in your notifications center but you can change that in your phone's settings.
RELATED: Best walking shoes for seniors
Another motivating factor is the virtual workout challenges that can be done with friends or people from around the world. Seriously, what's more motivating than seeing your name creep above someone else in a contest that has no actual consequences? Nothing, that's what.
Owning a Fitbit will give you access to more in-depth health metrics and map features, but it's still a great app regardless.
Best Walking App for Accountability: Nike Run Club
Good for: People who need to be reminded to get up and move
Listen, who amongst us hasn't set some sort of goal only to find ourselves slacking on it a few days in? It happens, and it's not a reason to get down on yourself and quit. But if you're someone who needs an extra check-in, then the Nike Run Club might be the app for you.
This app has managed to foster one of the best community feelings of any fitness app, and who better to keep you accountable to your goal than a group of friends…or even a group of internet strangers who share the same goal as you? Not only can you participate in group challenges, but you can also post and receive motivating messages from fellow participants.
The expert coaches are another nice touch and they'll often work to keep everyone in their class on track.
Lastly, the Nike Run Club has the option to sync with Apple Music and/or Spotify if you need some extra motivation in the form of your favorite playlist.
Oh, and did we mention that this app and all of its features are free? Yeah, you pay nothing.
We do have to say that the Nike Run Club is one of the glitchier apps we've tried out but it's still a great option for anyone on a budget who's looking to get a little more pep in their step and make sure they stay on the right path.
Best Walking App for Tracking Metrics: MapMyWalk
Good for: Those who want to track their health metrics such as total steps and calories burned
The MapMyFitness family of fitness apps has been around for a while and have withstood the test of time thanks to their ease-of-use and the fact that most features have remained free. So if you're someone who wants to keep track of metrics such as steps, distance, pace, as well as a calorie counter, you can do that while also marking your desired trails.
One thing I love about the trail marking is that it's clear as day, showing up as a bright red line on your smartphone screen —no having to guess where to turn. People have complained that the GPS tracking is not the most accurate and the app has been known to freeze from time to time.
On the bright side, the free version allows you to sync with just about every fitness tracker out there and even some Under Armour shoes (the app is owned and developed by the apparel company).
Although there's a lot in the free version, those looking for training plans will have to sign up for the app's MVP, or Premium version.
Best Walking App for Apple Watch: Apple Fitness+
Good for: Anyone who regularly uses an Apple Watch
Apple Watches are already great at tracking walking metrics, but the Apple Fitness+ app can help take that experience to the next level by offering workout classes with curated playlists. These self-guided workouts also come with a ton of metrics, like ground contact time and stride length, that might be a bit overwhelming if you're just looking to improve your walking time but may be good if you're looking to collect some health data.
The Apple Fitness+ app offers other training types as well, including meditation, and though the variety is nowhere near the iFITs of the world, there are new options added every week.
One of my favorite features is the Time to Walk episodes, which tell you stories about cities and places as you walk through wherever (so you could be getting an audio tour of Rome while walking around your neighborhood). Imagine if a podcast and a workout class had a baby—that's what you get here.
Although not specific to the Fitness+ app, the Apple Watch has a fall and crash detection feature that can contact paramedics and/or your emergency contacts if anything happens. I love this feature and I wish more fitness trackers and fitness apps had it because it allows people to get up and move with the peace of mind that they can get help if they ever needed it.
Best Walking App for a Cause: CharityMiles
Good for: Those who want to give back to a good cause
Exercising for charity has become a popular concept in recent years, and the CharityMiles app is a great choice for those who want to put their best foot forward and walk for a cause. It's pretty simple: You just download the free app and select the charity you want to support, and for each mile walked, the company will make a small donation on your behalf.
It works out to about 25 cents per mile for walking and 10 cents for activities like cycling, but there are caps on how much the company will donate in a certain time period. You can also post your progress to social media and work with other people to raise money for charities.
As a fitness app, CharityMiles is just OK. It'll track your total miles and steps counted by syncing with your phone's GPS and internal pedometer (Apple Health if you have an iPhone or your Android's internal step counter) but that's about it. You're not going to get any in-depth metrics from this app but that's not really its purpose.
It's also a pretty buggy app and might crash on you, and some users have reported that it doesn't accurately count all the miles they do in a certain day (there are ways to manually enter your mileage so you can make sure you're credited for every step taken).
A Word on Walking Apps
I want to repeat that I love walking apps—heck, I just wrote nearly 2,000 words on them! However, I want to make it clear that walking apps are not the crystal balls that the marketing geniuses behind them might want you to think.
When it comes to accurately tracking things like total steps1, stride length, and even gait2, smartphones have been found to be pretty reliable, according to multiple studies3. In fact, researchers have said these apps can and should be used in clinical and research settings.
These readings, however, are not always entirely on the money, especially when it comes to those who may be overweight or obese, according to one study4.
But how about metrics like heart rate zones and blood pressure? The majority of the studies done on that revolve around wearable fitness trackers, which have been found5 to provide a good baseline reading for people who are curious about their health.
All this to say, fitness trackers and apps provide a lot of great information about what's going on in our bodies, but they shouldn't replace regular doctors' visits and should never be used to make health decisions.
How We Picked and Tested The Best Walking Apps
The Garage Gym Reviews team loves tracking our workouts and walks are no different. After testing a wide variety of them we came up with our final list by considering the following factors:
Price: We looked for free walking apps and premium ones in the iOS, Android, and Google Play app stores, so people with different budgets can find one for them.
Workouts: Walking is a pretty straightforward workout but there are ways to shake it up, and we wanted to find apps that would offer exactly that.
Community aspect: Some people prefer solo workouts while others may want a more community-oriented feeling.
Compatibility: Walking apps may work well on just your smartphone but we also wanted to give people the option to find one that could sync with their Fitbit, Apple Watch, Garmin, Whoop, and other devices.
Metrics: Do you want to just see how many steps you've taken or do you want to analyze your stride length and breathing rate to chase your fitness goals? Either way, there's an app for that.
Music: You can always listen to music in a separate app but some allow you to create curated playlists within their app, or will even create playlists for you. Some even put a multimedia player in the app so you don't have to go back and forth between apps.
Safety features: Location sharing, fall detection, and other features may be an important aspect of a walking app depending on your fitness level and/or where you're walking.
Benefits of Walking Apps
"My phone already has a step tracker in it so what do I need a walking app for?" Good question, mysterious stranger. Allow us to tell you a few reasons:
Fun
Walking apps can help make your walks fun by offering new routes, workout challenges, or a community feeling that can make a rather mundane physical activity feel a bit fresher.
Motivation
Whether it's trying to beat your prior time or you're looking to climb the leaderboards, walking apps can help motivate you to push yourself.
Sense of Community
Even if you're like me and prefer working out alone, there's something about being a part of a community that makes training a bit more fun.
Increase Caloric Burn
Walking is a form of exercise that, ironically, contributes to non-exercise activity thermogenesis, which basically means the energy (otherwise known as calories) we burn outside of the gym.
This involves things like mowing the lawn, climbing the stairs, and, yes, walking, and it's also the easiest way to increase your caloric burn and achieve a caloric deficit, if weight loss is one of your goals.
Studies6 have shown that people who use a pedometer, such as a walking app, were more physically active than those who didn't track their steps.
Track Fitness Goals
Whether your goal is weight loss or becoming a faster walker, walking apps can help you keep track of key metrics as you work toward your objectives.
What to Look for in a Walking App
Here's how to decide which app is the best fit for you.
Price
Obviously you'll want to consider whether you're looking for a free app or if you're willing to pay a little extra for more premium features.
Metrics Tracked
Are you looking to just count your steps or do you want to analyze every part of your performance in the hopes of making it to your country's Olympic walking team? Yes, that's a thing.
Compatibility
Make sure the app is available for your smartphone, iOS for iPhone users and Android for the rest, and if you have a fitness tracker look to see if it can sync with it.
Interface
Your walking app should have an easy-to-use interface with a good design and doesn't crash or lag. It should be a well-designed app that allows you to find your metrics or other features in less than five seconds. If you're constantly confused about how to use the app then it isn't for you.
Best Walking Apps FAQs
What is the best app to use for walking?
Our top choice is Strava because of its many features and ease of use, but here are a few of our other top picks: 
Best Walking App for Workouts: iFIT
Best Walking App for Motivation: Fitbit
Best Walking App for Accountability: Nike Run Club
Best Walking App for Tracking Metrics: MapMyWalk
Best Walking App for Apple Watch: Apple Fitness+
Best Walking App for a Cause: CharityMiles
Is Strava a good app for walking?
Strava is a great app for just about any cardio-based training option and we'd recommend it to anyone who's looking to track their workout performance and wants the ability to create and save walking routes.
How many miles is 10,000 steps?
For the average person, 10,000 steps will equate to about five miles walked but that can change based on your stride length and gait. A 6 foot, 5 inch man may get more distance from 10,000 steps compared to a 5 foot, 3 inch man.
What walking app is best for weight loss?
None of them. Weight loss requires being in a caloric deficit, which means you burn more calories than you consume. Walking apps can help you track your caloric burn so you can ensure you're in a caloric deficit, but most apps offer that feature and one is not necessarily better than the other.
References
Leong JY, Wong JE. Accuracy of three Android-based pedometer applications in laboratory and free-living settings. J Sports Sci. 2017;35(1):14-21. doi:10.1080/02640414.2016.1154592
Rashid U, Barbado D, Olsen S, et al. Validity and Reliability of a Smartphone App for Gait and Balance Assessment. Sensors (Basel). 2021;22(1):124. Published 2021 Dec 25. doi:10.3390/s22010124
Caputo EL, Feter N, Alberton CL, et al. Reliability of a smartphone application to measure physical activity. Res Sports Med. 2023;30(3):264-271. doi:10.1080/15438627.2021.1899919
Konharn K, Eungpinichpong W, Promdee K, et al. Validity and Reliability of Smartphone Applications for the Assessment of Walking and Running in Normal-weight and Overweight/Obese Young Adults. J Phys Act Health. 2016;13(12):1333-1340. doi:10.1123/jpah.2015-0544
Baek S, Ha Y, Park HW. Accuracy of Wearable Devices for Measuring Heart Rate During Conventional and Nordic Walking. PM R. 2021;13(4):379-386. doi:10.1002/pmrj.12424
Bravata DM, Smith-Spangler C, Sundaram V, et al. Using Pedometers to Increase Physical Activity and Improve Health: A Systematic Review. JAMA. 2007;298(19):2296–2304. doi:10.1001/jama.298.19.2296