We test and review fitness products based on an independent, multi-point methodology. If you use our links to purchase something, we may earn a commission. Read our disclosures.
It's hard to believe, but it wasn't that long ago that dumbbells, treadmills, weight benches, and basically any other piece of home gym equipment seemed impossible to find (along with more important items, like toilet paper). Even if something was available on a site like Rogue Fitness or REP Fitness, it would sometimes take three to five months to ship because of labor shortages.

It wasn't just the big names, either. Retailers like Amazon and Walmart saw their name-brand fitness items fly off the shelf faster than an HD TV on Black Friday. And people selling their used exercise equipment on Facebook marketplace and Craigslist were charging high prices because of the increased demand.
Although the state of the fitness industry is looking better now, and it's a little easier to find home gym equipment online, the effects of the coronavirus pandemic are still ongoing. Many people found out the joys of working out from home, and have canceled their gym memberships even as fitness centers continue to reopen. It goes without saying, but we're huge proponents of that (and to those of you who are new to this lifestyle, welcome).

That also means more people are eyeing those fitness products you've been considering hitting "Add to Cart" on, so it's a little harder to sit on an item because it just might not be there the next time you visit the page. And there's a very good chance this will be the norm from now on.
With the worst of the home gym equipment shortages behind us (hopefully), we decided to take a look at how severe these stocking and pricing issues were at the height of the COVID-19 pandemic, and how things are going today.
Main takeaways:
Most of the products on Garage Gym Reviews saw decreased availability during the pandemic's peak
Product availability is better now, but with more people working out from home, there's increased demand for limited supply
Brands across the board saw an increase in median price on equipment
Increased prices on fitness equipment are likely here to stay
How We Looked at Availability and Price Changes
Our main objective was to look at the price change and general availability of some of the most popular products on GGR, including barbells, weight bench, dumbbells, exercise bikes, treadmills, power racks, and wearable fitness tech before, during, and after the height of the COVID-19 pandemic. 
To do that, we listed all the items within these product sets featured on our website and then searched for the item on the manufacturer's website to find the most accurate price. We then used Wayback Machine, a website that archives most changes to web pages, to compare price and availability for those products at different points in time.
Now You See Them, Now You Don't
Main takeaways:
COVID-19 caused a steep decline in equipment availability
At one point, there were no adjustable kettlebells or dumbbells available out of our sample set
The Delta variant shook up availability for some products just as stock started to rebound
Manufacturers struggled to keep up with demand
Once the first lockdown orders went into effect across the country, causing more people than ever to workout from home, the availability of most home gym equipment took a nosedive. This was partially due to people buying what was in stock, but also because manufacturers couldn't keep up with the demand.
"Everybody wants fitness equipment and there's not enough in the country to fill the demand," Matt Trayer, a manager of sporting goods store Play it Again Sports, told an Ohio newspaper in June 2020.
Adjustable kettlebells and adjustable dumbbells took the biggest hit, and at various points during early 2020, none of the products listed on our site were available. In other words, you couldn't find a single one on a fitness manufacturer's website, and your best hope was to find someone selling a used set for a fair price.
Adjustable kettlebells returned to 100 percent availability in July of 2020, but by September/October (as COVID-19 cases started to rise again), it dropped back down to 11 percent. Today, about half of all items are back in stock.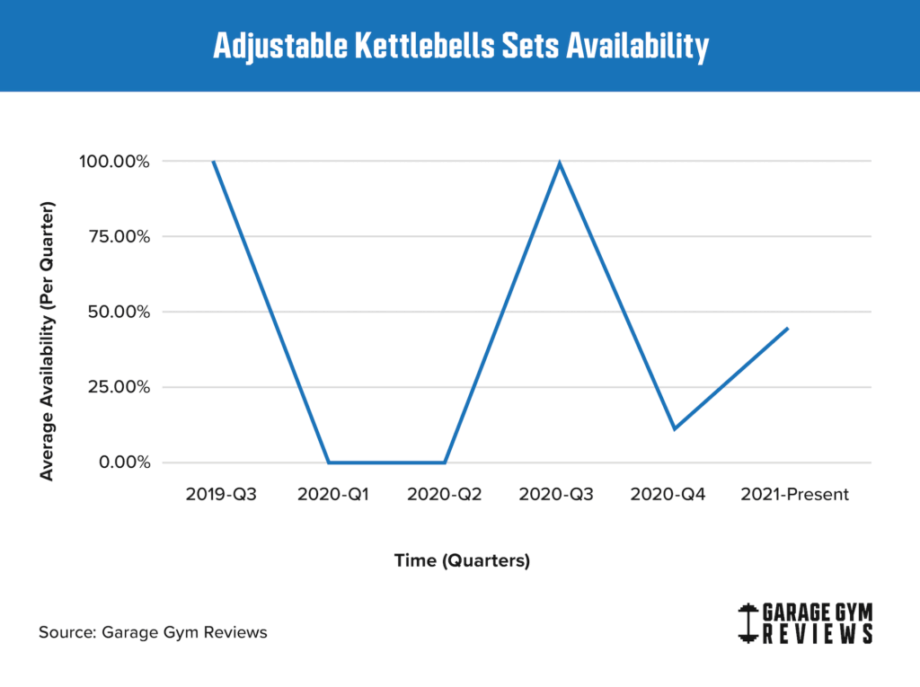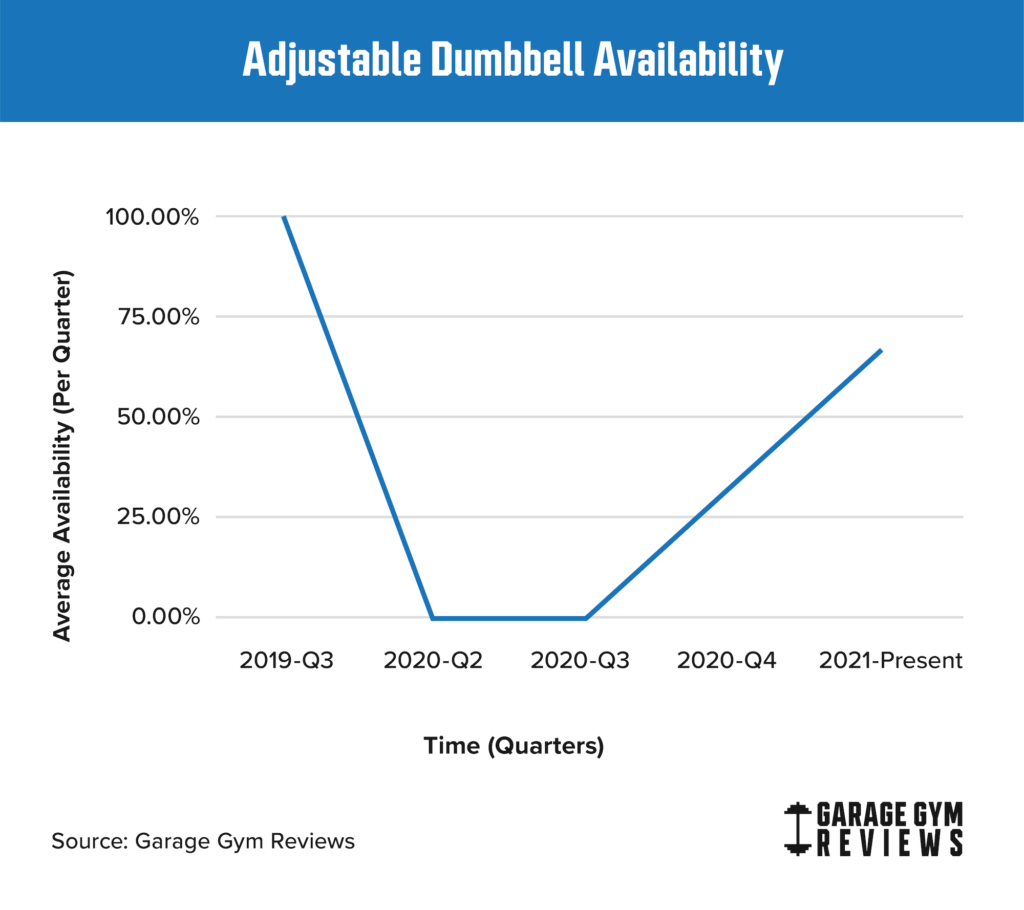 Benches were virtually impossible to find going into 2020, but actually saw steady increases in availability until they dipped again in July 2021, around the time the COVID-19 Delta variant became a global health concern and caused more people to workout from home.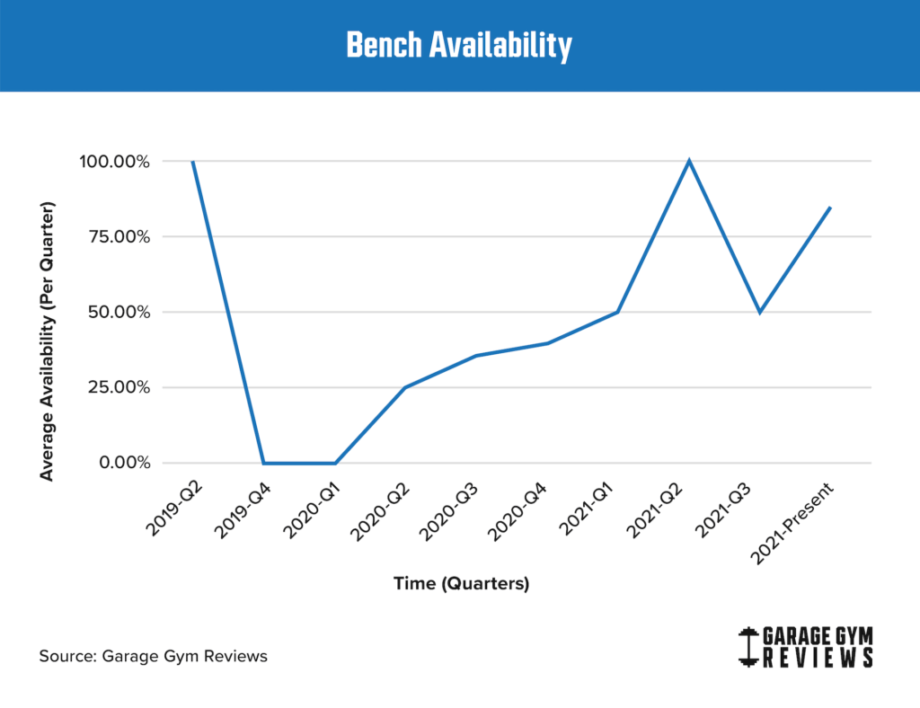 Barbell availability decreased drastically when the first lockdown orders went into effect in March and April of 2020, but supply has since remained steady even as the Delta variant has continued to spread across the U.S.
The Recovery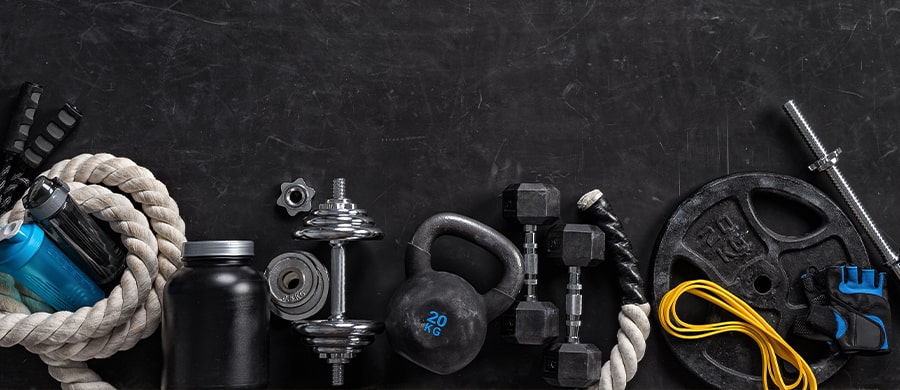 Main takeaways:
The Delta variant has caused some decreases in product availability
The launch of new wearable fitness technology may influence product availability
Fitness equipment availability is, for the most part, back to normal and you no longer need to rub a good luck charm in the hope of finding a high-quality exercise bike, power rack, or free weights. That said, there have been some drops as Delta variant cases rise in some areas –– though they're not nearly as scarce as they were at the beginning of the pandemic.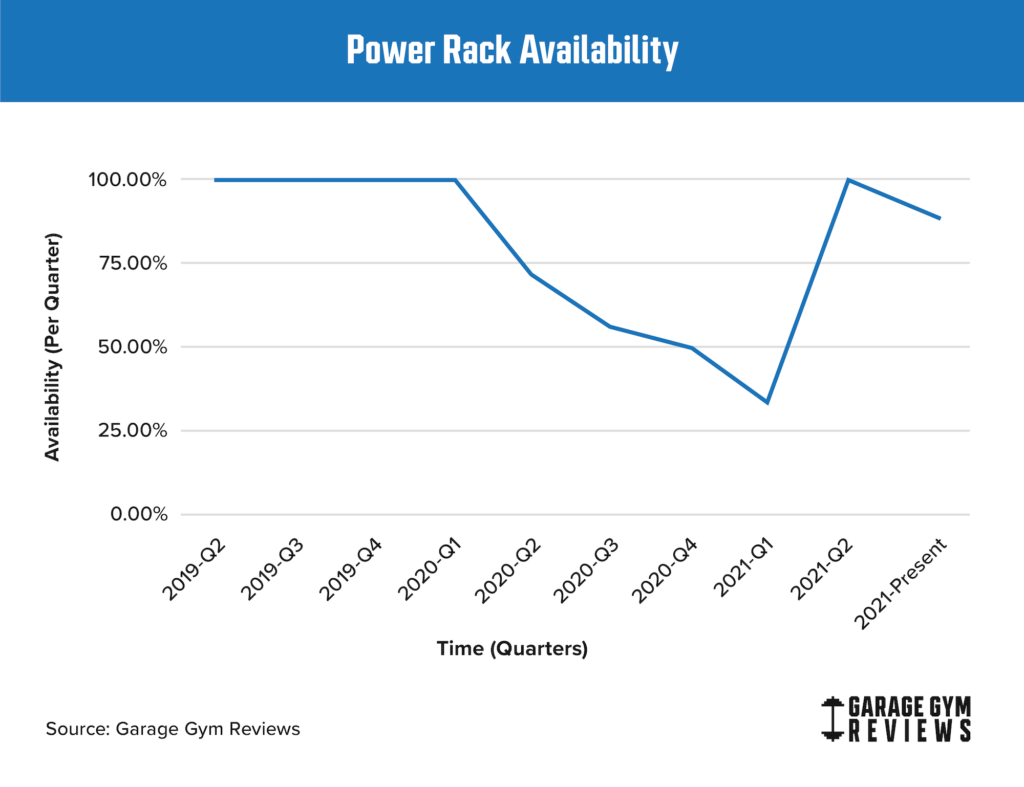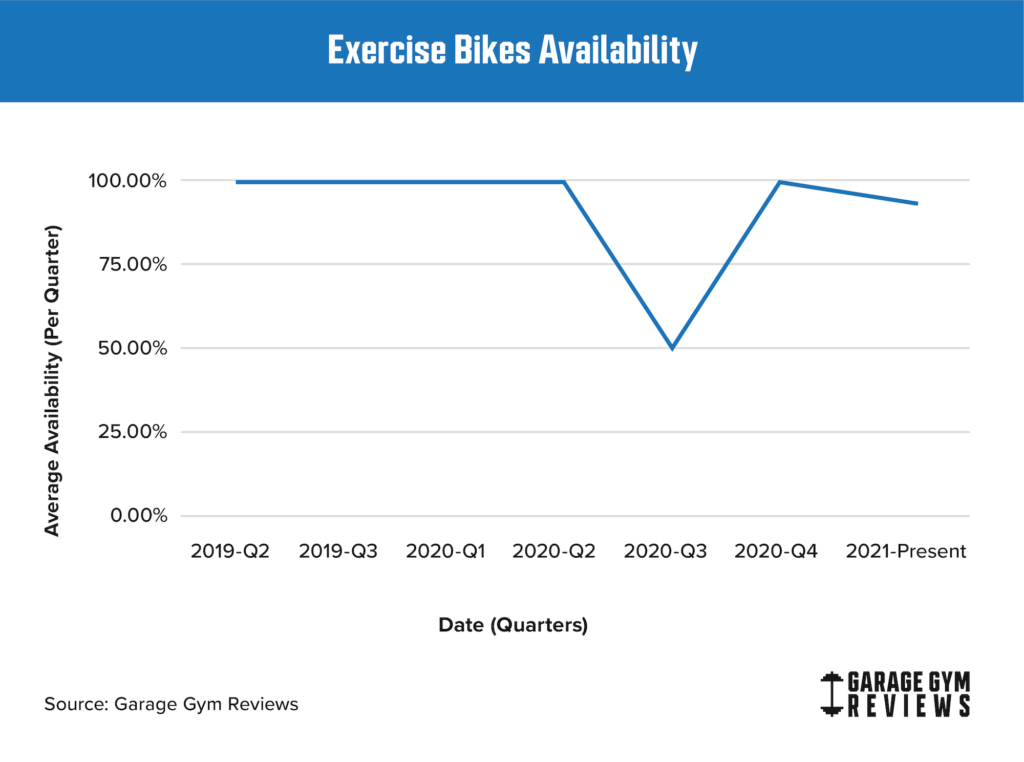 Wearable tech–– i.e. AppleWatch, Fitbit, and WHOOP— weren't spared and, like other fitness equipment, saw its biggest dip in availability happen from July to September 2020.

However, these numbers are slightly influenced by the fact that new products are often introduced to the market, and outdated products are sometimes taken off the manufacturer's website. Another likely reason for the big drop is that fitness trackers aren't as beloved by fitness enthusiasts. In fact, a recent study found 1-in-5 Americans own one, and many use them for medical research purposes.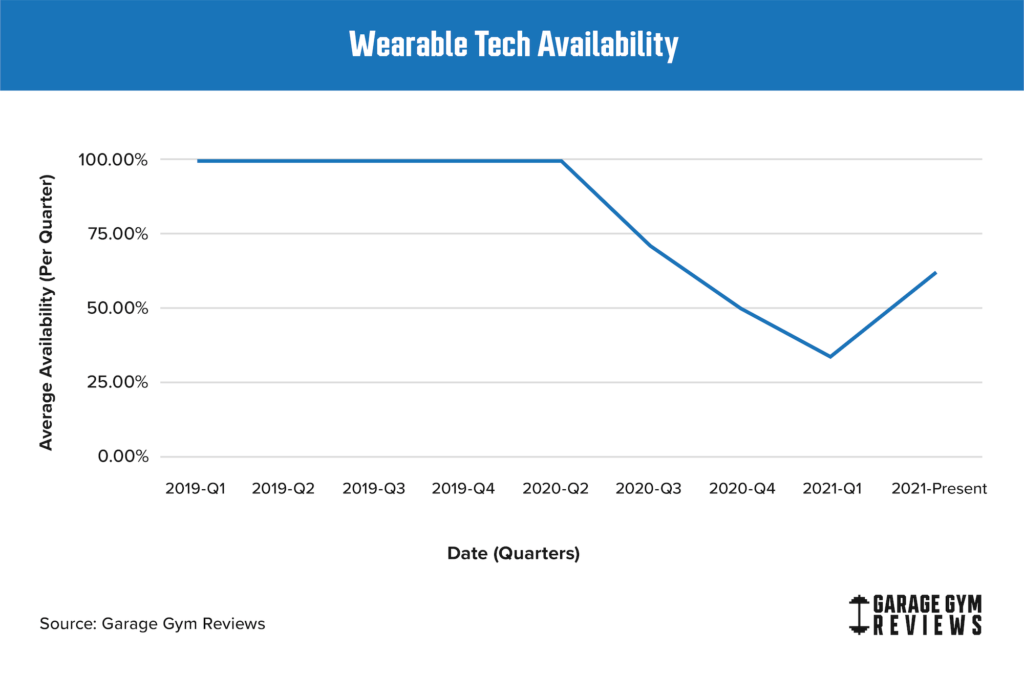 Price Changes are Here to Stay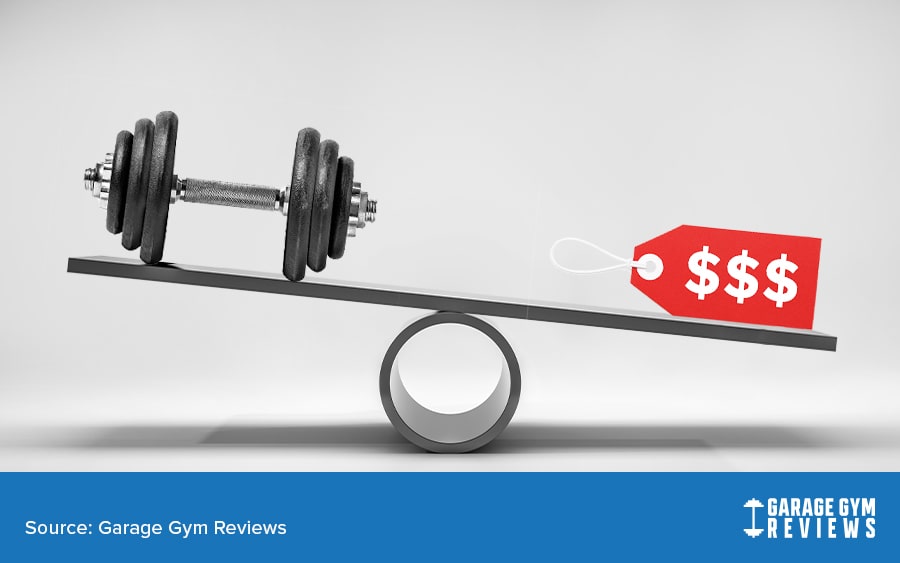 Main takeaways:
Increased demand means companies will have to charge more for fitness products
Traditional dumbbells saw the biggest increase in median price at 21.12%
It should come as no surprise that increased demand and limited supply had a significant impact on the price point of most fitness equipment. But even as the supply continues to rise in most categories, prices haven't dropped.
Free weights had the most notable price increase, and while this affected everything from barbells to weight plates it was traditional dumbbells that saw the biggest jump in median price—21.12 percent from April 2020 to September 2021.
RELATED: Free Weight Workouts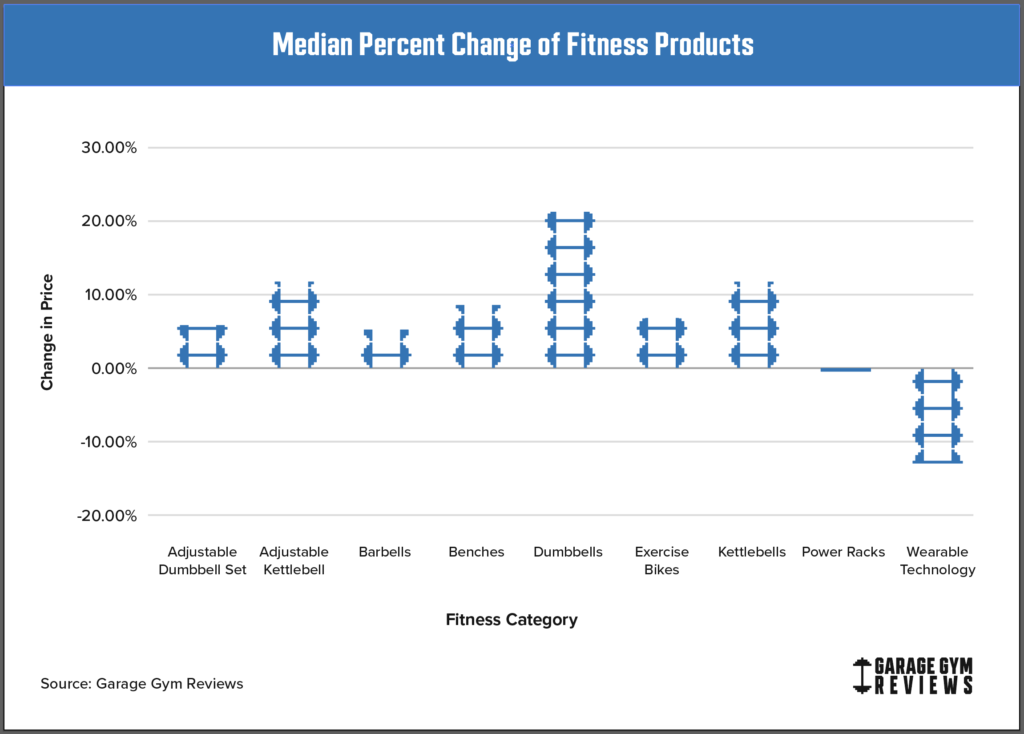 As we mentioned, most fitness brands have hiked their prices. Among the most popular ones, though, we noticed REP Fitness had the biggest price discrepancy when comparing the start of the pandemic to now. They're still one of the most affordable brands on the market today, and make some high-quality equipment.
Adjustable dumbbells also saw an increase, but only by 5.5 percent. Kettlebells and adjustable kettlebells increased by about 12 percent, the second-highest increase.
Wearable tech actually saw a 4.5 percent dip, but that could be attributed to products being introduced at a high price, and then slashing it weeks later or once new iterations are introduced.
Where Do We Go From Here?
This is the part where I wish I could tell you prices will one day go back to where they once were—but I can't, in good conscience, do that. Experts predict the home workout boom is here to stay for good, which, again, means more demand for whatever supply there is.
That's why you have us, though. We don't just look at how the best weightlifting shoe feels, or how the best smart home gyms perform––we also tell you if it's a good value. In other words, we let you know if it's worth paying a pretty penny for something, or if you should go for the bargain-brand that works just as well.
A Closer Look at Home Gym Equipment Availability and Price Changes
Here, we'll share all the charts looking at the availability and price changes of all the fitness equipment categories we collected data on.
Median Price Overview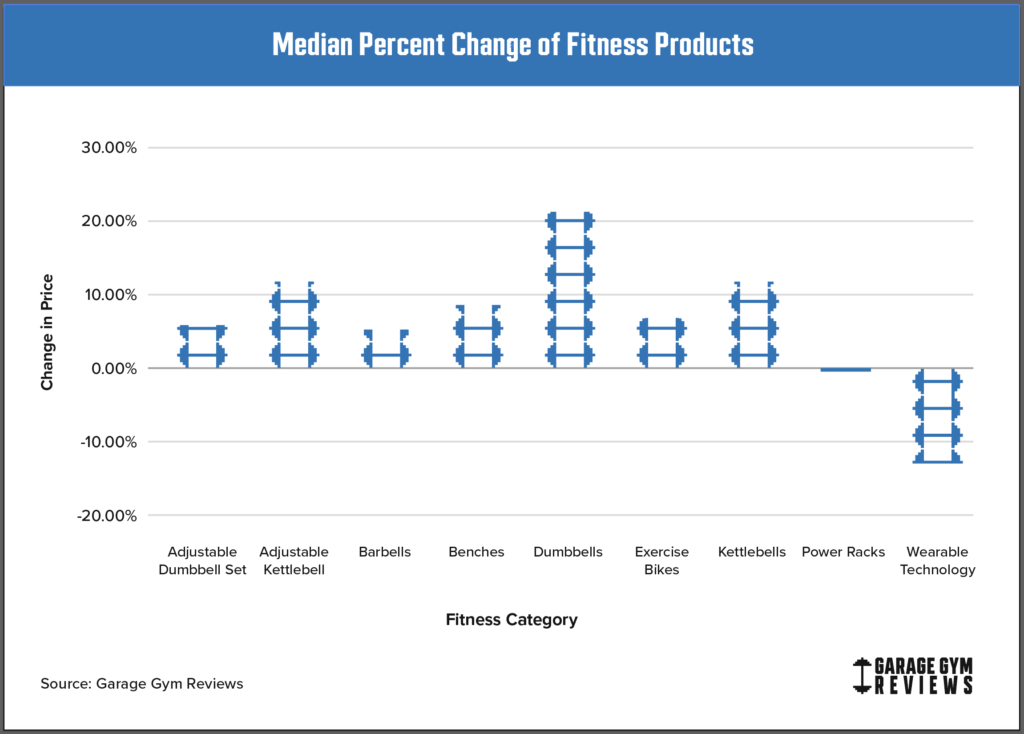 Adjustable Kettlebells
Price: 11.65 % Change in Median Price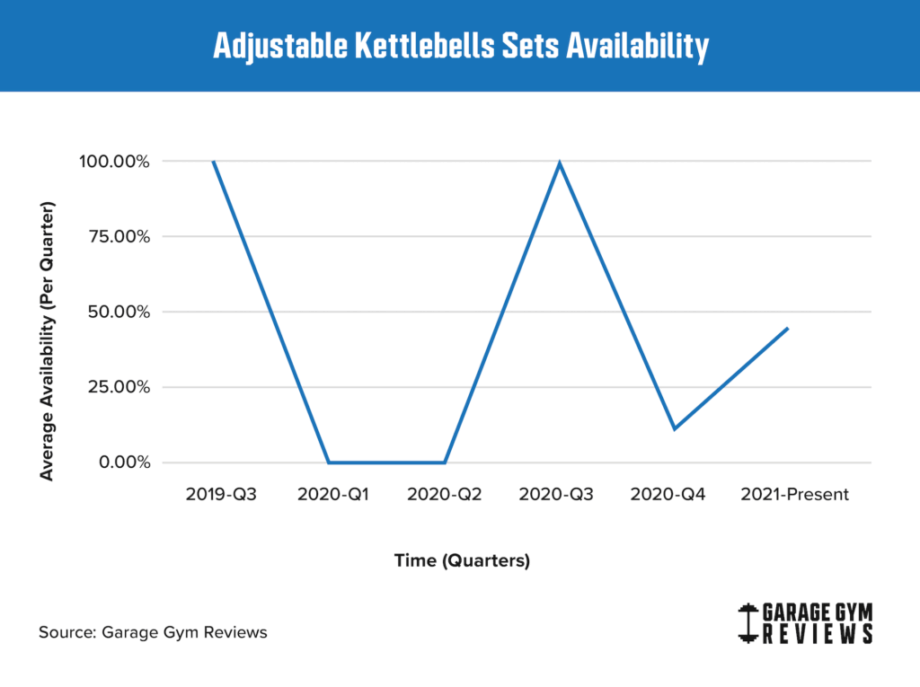 Adjustable Dumbbell Sets
Price: 5.57% Change in Median Price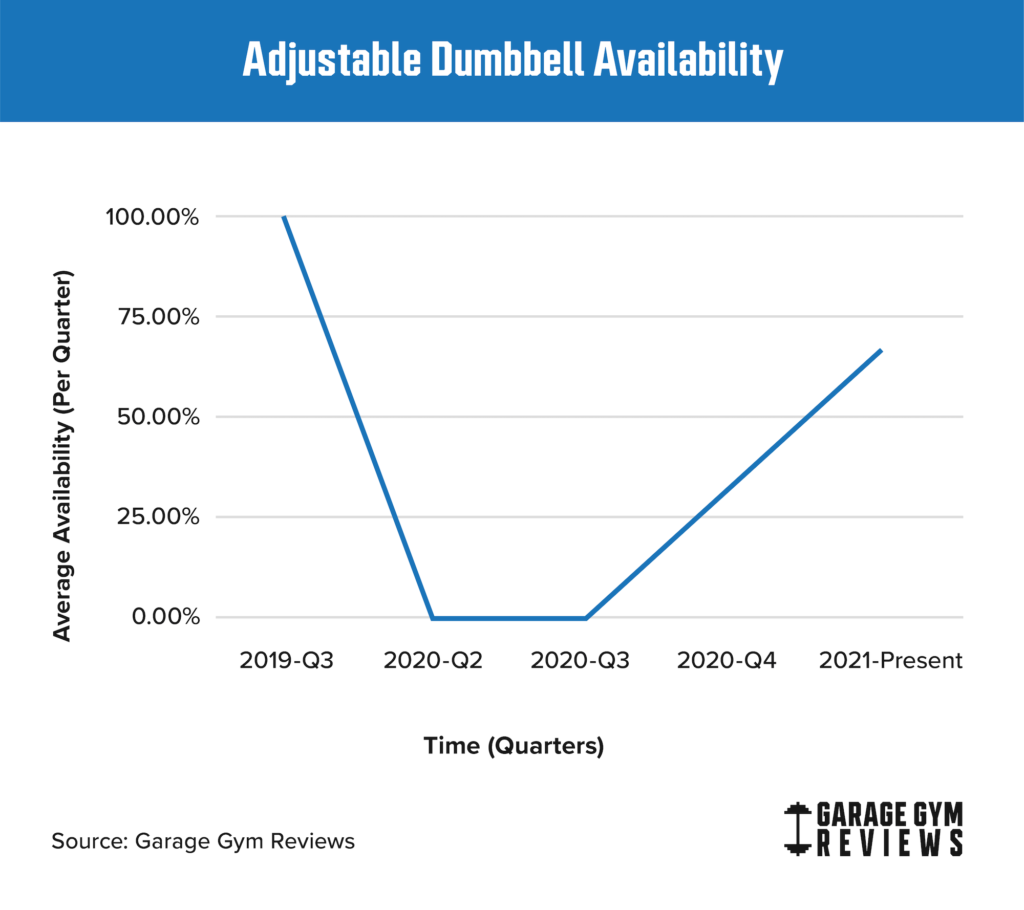 Barbells
Price: 5.08% Change in Median Price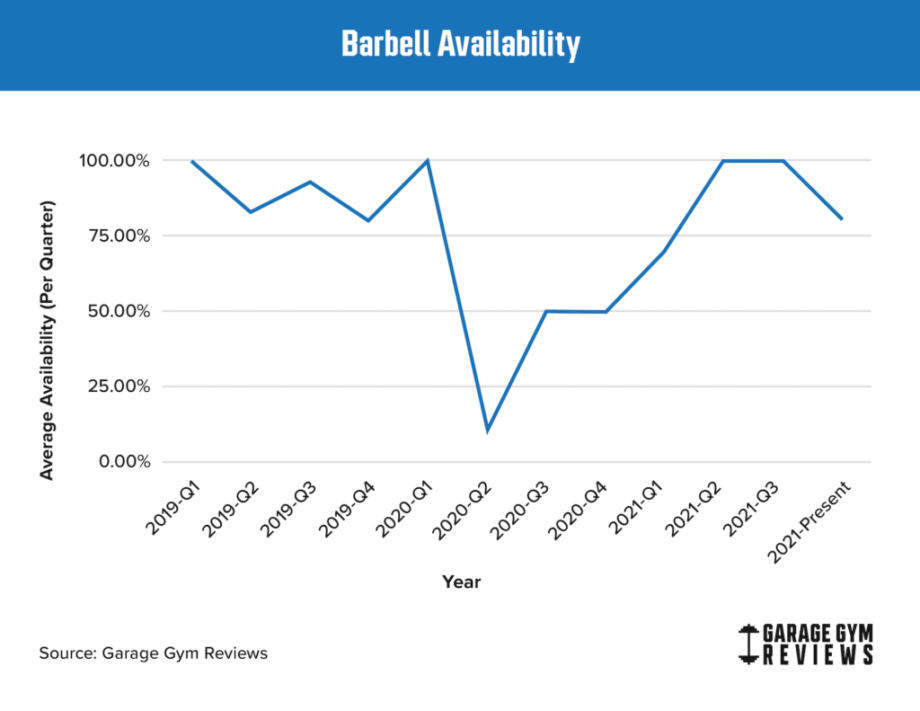 Benches
Price: 8.42% Change in Median Price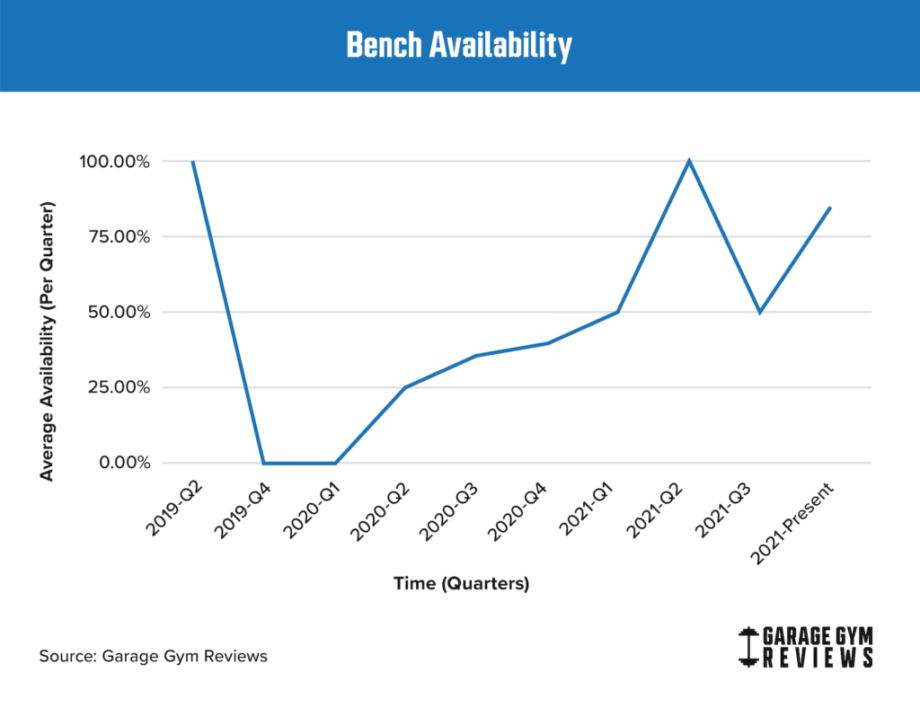 Exercise Bikes
Price: -11.51% Change in Median Price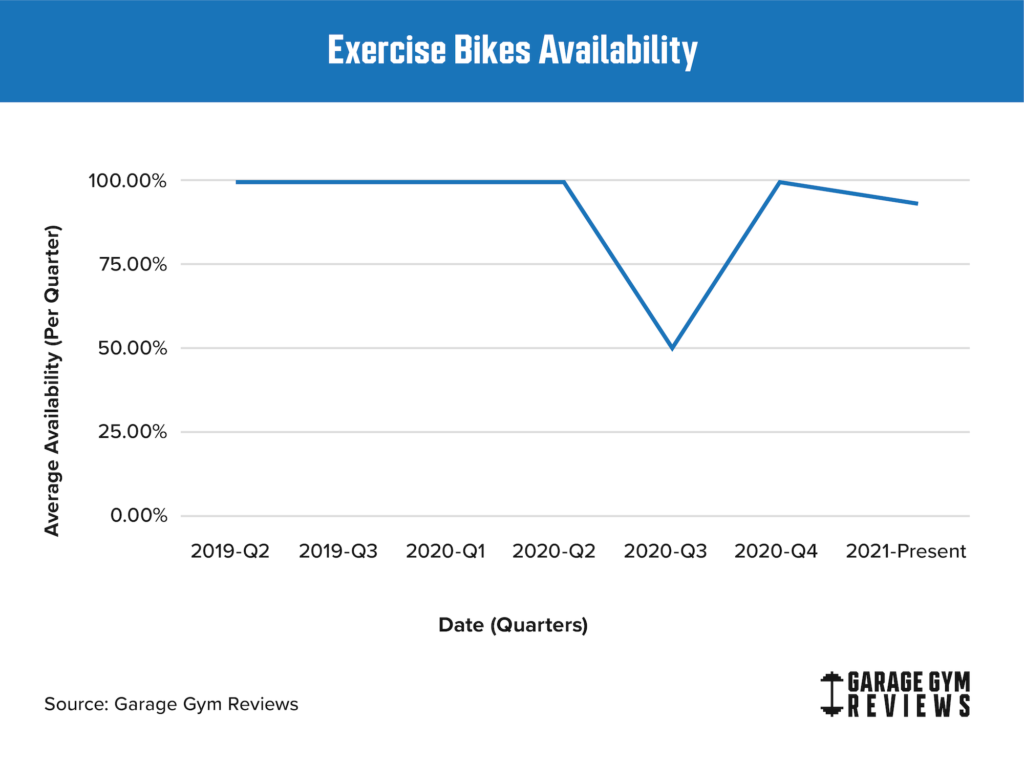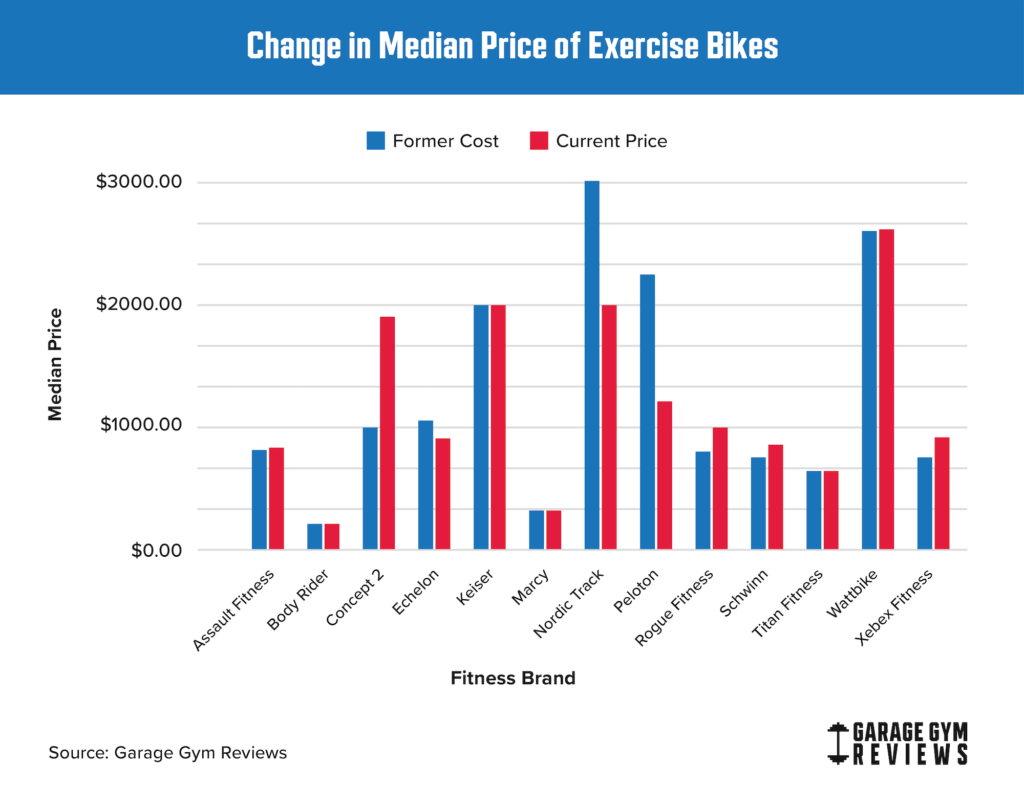 Power Racks
Price: -0.25% Change in Median Price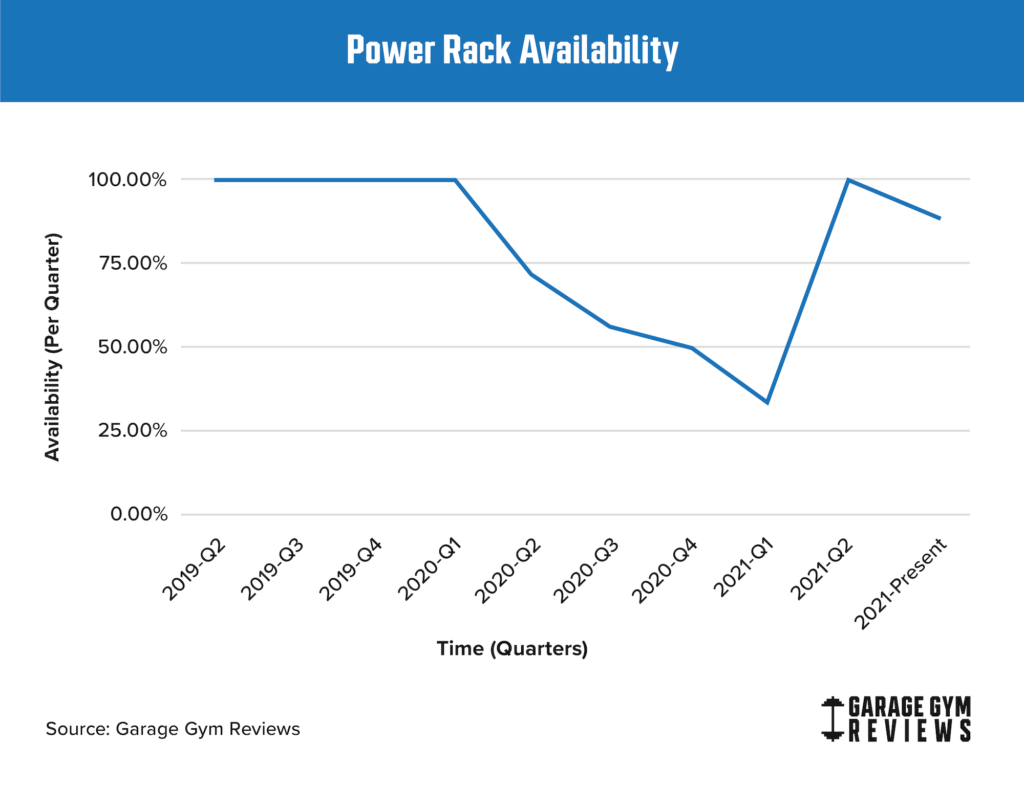 Wearable Tech
Price: -4.55 % Change in Median Price