The Okie Deadlift Bar is made for one thing, and that's picking heavy slag iron off the floor with.
There are few other bars in the world that are less versatile than the Okie Deadlift Bar. That may seem like a huge disadvantage, but that's exactly what makes it so special. It's also the reason it has stood the test of time.
Powerlifting Meet Promotors the world over continue to use the Okie Deadlift Bar despite it never having changed design. It's as if the bar was made so well, in the beginning, there were few areas for improvement. I will say that it's likely the Okie Deadlift Bar was simply a manifestation of Rickey Dale Crain's precision to everything training related.
Check out his squat:
I actually remember hearing stories from my Dad about Rickey Crain's Powerlifting Exploits. My Dad had an elite level powerlifting total and trained with Doug Furnas and Dennis Wright around the same time and area as Crain. He always said his favorite bar to use was "the slinky deadlift bar Rickey Crain used to make."
Well Pops, Crain still makes that bar, and it's as good as ever.
155,000 PSI Tensile Strength
20 kg./44 lbs. Bar Weight
27 MM Shaft Diameter
7' 7" Long (longest allowable in competition)
No Bushing or Bearing System. Metal on Metal Sleeve.
No Center Knurl
Deep, Aggressive Knurl
Raw Steel Shaft and Sleeves
Made in the USA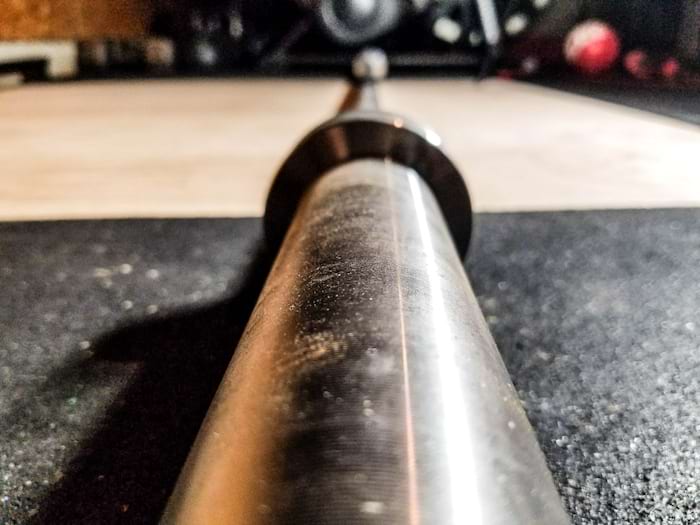 As I've said, the Okie Deadlift Bar is made for one purpose. The Deadlift. As such, it has some pretty unique features that would only be beneficial to the deadlift.
I want to make this as clear as possible from the beginning: if you're wanting to buy a bar for other lifts besides the Deadlift, then this is not for you. Check out the American Barbell Mammoth Bar for powerlifting and the Rogue Ohio Bar for general purpose training.
One of the features of the Okie Deadlift Bar that makes it so well suited for the deadlift is how thin it is.
A majority of barbells being produced today are done so at 28.5 mm. Every since Rogue popularized the "CrossFit Training Bar" it seems that other companies wanting to jump on the craze followed suit in producing similar bars.
Before that, however, nearly every bar was 29-30 mm. in thickness outside of Olympic Weightlifting Bars.
The advantage of a thick bar is that it feels better in your hand during the bench press as well as gripping your shirt in the squat. Obviously, neither of these things are done in the deadlift, and as such, they are negatives for a bar suited for the lift.
A deadlift bar should be thin enough that it's comfortable in hand without it being so thin that it's difficult to hold or overly uncomfortable.
The magical diameter decided upon by our powerlifting forefathers is 27 mm. Is it possible that a 26 mm barbell would feel better in your hand? Possibly, but I've never seen one and the smaller, the better in my opinion as I have Donald Trump hands.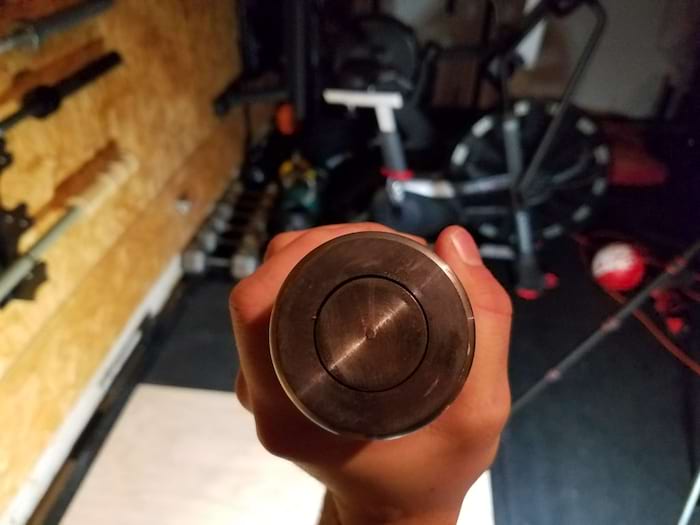 I will say this, if you've never had the pleasure of pulling on a 27 mm barbell, then you're missing out. Nothing fits the hand quite as well as the thin bar (there's a sexual joke somewhere in there.)
Moving on...
One of the things many of you are likely used to is a coated barbell.
Coatings come in all variants--whether it's chrome, zinc, or even Cerakote plated. If you have a barbell, it's likely coated.
Coating a bar has one significant advantage to raw steel bars, and that is it's resistance to oxidation. Raw steel will begin to rust VERY quickly if left unattended. In fact, keeping a raw steel bar from rusting if it's used in a garage gym like mine will become a second job for you.
Let me give you a piece of advice. If you're OCD and don't like chalk and oxidation on your bars, then a raw steel bar will likely drive you batty.
If however, you don't mind rust and understand that a raw steel bar left in the open air will do so, then there is not a better feeling bar than one that is raw steel.
You see, no matter how thin a coating is placed on a bar, it will affect the knurling. A raw steel bar leaves the knurling exactly as the manufacturer intended and as such is the perfect coating for a deadlift bar.
Speaking of knurling...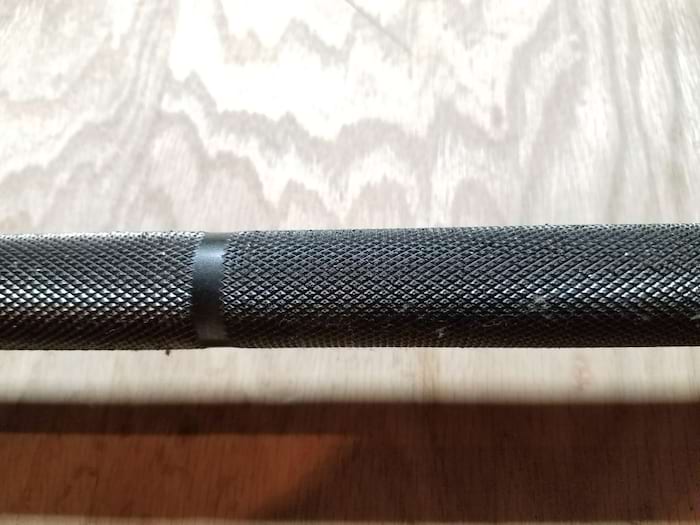 The next most important feature of a deadlift bar is a knurl that grips and won't let go. The last thing you want when going for a PR pull is the bar to slip out of your hands due to your grip.
There are a few ways to mitigate the possibility of this happening:
Build your grip.
Use chalk.
Buy a bar with shark-tooth knurling
I prefer the shotgun approach.
When I say shark-tooth knurling, I mean it. This bar will rip callouses and shred shins straight out of the box!
It will also allow you to pull heavier weight than before. Pick your poison.
One thing to note on the knurling: this bar is manufactured in the same way and place it has been for decades now. In fact, the manufacturing process is so old school and homegrown, there will likely be tiny metal shards all over your bar when you remove it from the shipping tube.
To some, this may seem like a lack of quality control, to me it just shows how fresh the bar is off of the manufacturing line. Think of a sweet Krispy Kreme donut coming off the conveyor belt!
Both the bar and the donut should put pounds on you, although in slightly different ways.
The last area of the Deadlift bar that is unique is the length of its sleeves.
For those pulling over 700 pounds, the space on a barbell sleeve is critical. For mere mortals like myself who still struggle with a quarter ton, then it's not as important.
Either way, this bar is long. Both the sleeves and the shaft are longer than a typical barbell to allow for more whip off the floor as I'll explain soon.
If the space on your bar sleeve has ever been an issue, then a longer sleeve like the one on the Okie Deadlift Bar could prove to be beneficial.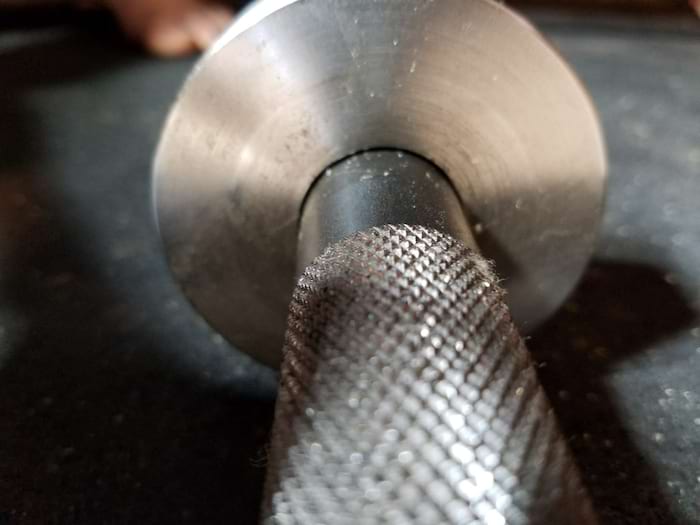 Barbells today typically have one of two spin systems.
A bushing system, bearing system, or some combination like  Uesaka Olympic Bars (best spinning bars in the world.)
Crain's Okie Deadlift Bar, however, has neither.
In fact, it doesn't really have much of a rotation system. It's a simple sleeve wrapping around the shaft.
It does spin, however not gracefully.
But, it must be understood the use at which the bar is made. In the deadlift, the only rotation you should desire is the one in which pulling the bar towards you in your setup is possible. If you don't understand what I mean, watch this video of Benedikt Magnusson deadlifting 1,015 lbs.
So, the bar is metal on metal. It doesn't really change the performance, but it would have been nice for it to include some bushings to reduce wear and tear.
Okay, so you've got a bar that is long, thin, and able to hold a lot of weight. The next thing to do is load it up and place it on the platform.
Lately, my preferred place for deadlifts has been my Banded Deadlift Platform by Rogue (it's completely unnecessary, but I love it.)
So, through a few different sessions I loaded the bar up and did everything from speed pulls ala Louie Simmons to halted deadlifts. It's hard to explain how great a feeling using a deadlift bar on deadlifts feels until you've experienced it.
One of the big benefits of a deadlift bar is how slinky they are off the ground.
Due to the lower tensile strength, length (it's over 1/2 a foot longer than most other bars), and thinness, the bar weights come off the ground one by one.
This feeling isn't experienced immediately, but as you get into the upper weight ranges, you start to notice it.
One may think, "that seems like cheating." Well, most federations use deadlift bars, and it's not like it's going to add 100's of pounds to your pull; so relax.