We test and review fitness products based on an independent, multi-point methodology. If you use our links to purchase something, we may earn a commission. Read our disclosures.
After using the REP Fitness Monolift Attachment for over a month for squatting, benching, and other movements in my garage gym, I do think they're a decent option. I think they could be improved if they are made lighter and the top arm length is reduced for better rack clearance, but the overall design and price point is attractive. We recommend them if you understand the downsides and prefer the look to Rogue. Otherwise, we suggest one of the alternative options.
REP Monolift Review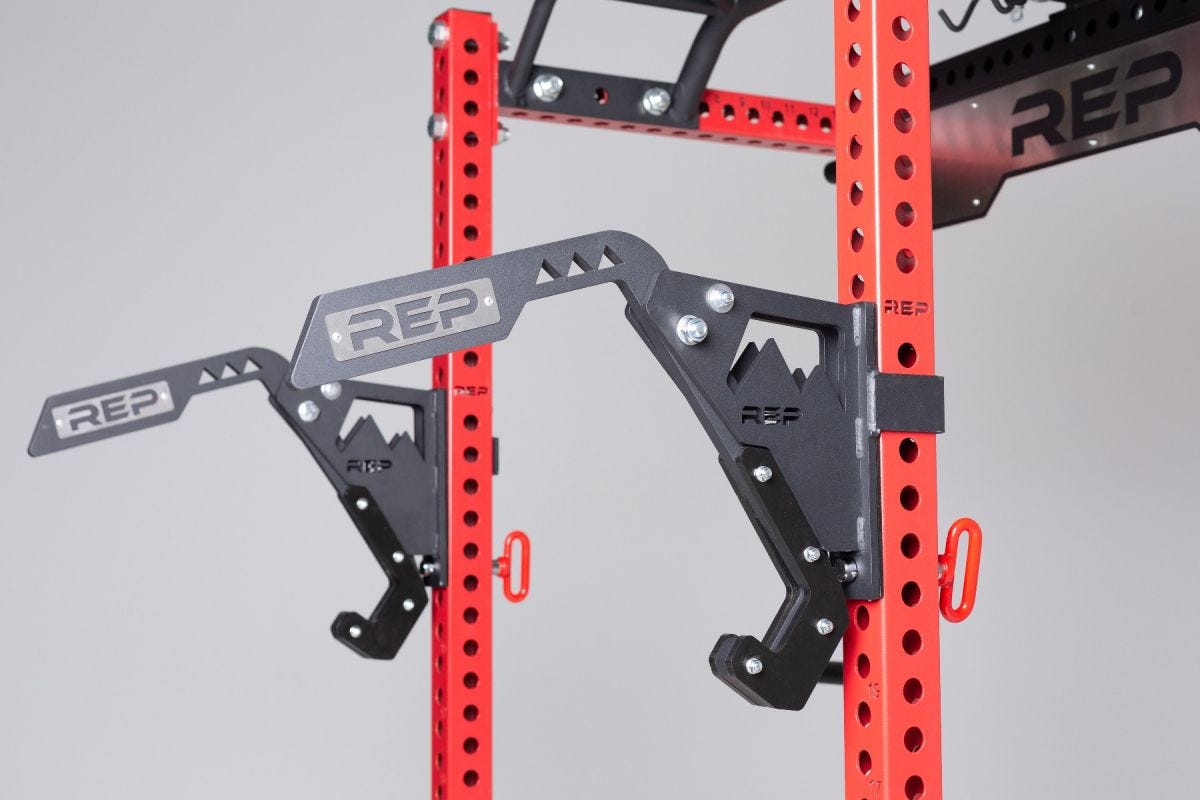 REP Monolift Attachment
Designed to fit REP's 4000 and 5000 series racks, these heavy-duty Monolift attachments deliver in the areas that count for your gym: function and form. We've designed these Monolift arms to swing smoothly and clear quickly so that you can focus on PRing your lift. This attachment is packed with unique features and high-end detailing, easily making it the best Monolift on the market (if we say so ourselves!). FEATURES:Swings quickly and neatly out of the way thanks to extra-heavy handles. Made of sturdy, thick, heavy-duty steel. Start from a stable position in your squat, bench press, hip thrusts and more. Protective plastic-lining to protect your bar and rack. Unique, extra-long handle design to allow easier manual manipulation. Laser-cut Colorado mountain details. Stainless steel REP nameplate.
The REP Monolift Attachment was introduced as the "best monolift on the market" and although I don't think that's the case, these are still a good attachment that when flaws are fixed, will be a solid option. I've used the Monlift Attachment from REP Fitness for squats, bench, and even hip thrusts and skullcrushers in my garage gym for over a month which gives me a good enough idea to do a REP Monlift Attachment Review. I compared them side by side with the Rogue Adjustable Monolift Arms as well. If you like the design and want a slightly lower priced option than Rogue, then we recommend either the Titan Fitness Adjustable Monolift or these from REP.
Video Review
What is the REP Monolift Attachment?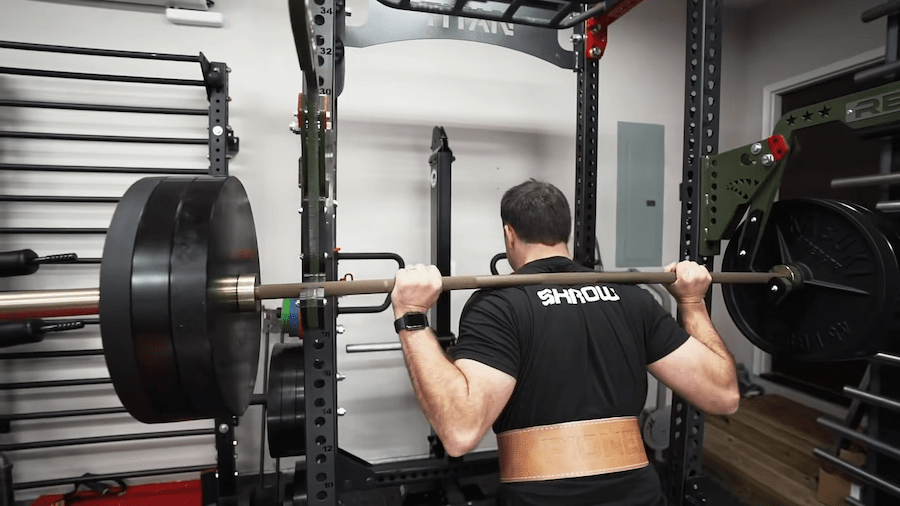 So what is the REP Monolift Attachment? Well, other than sounding like a weapon Robocop might have integrated into his armor, it's actually one of the leading attachments on the market for the best squat racks. For those few who might not be familiar, Monolifts are a free-standing rack designed to allow the trainee to lift out of the rack without having to walk the barbell out. They work by eliminating the walk-out elements of the squat, making them safer and more efficient.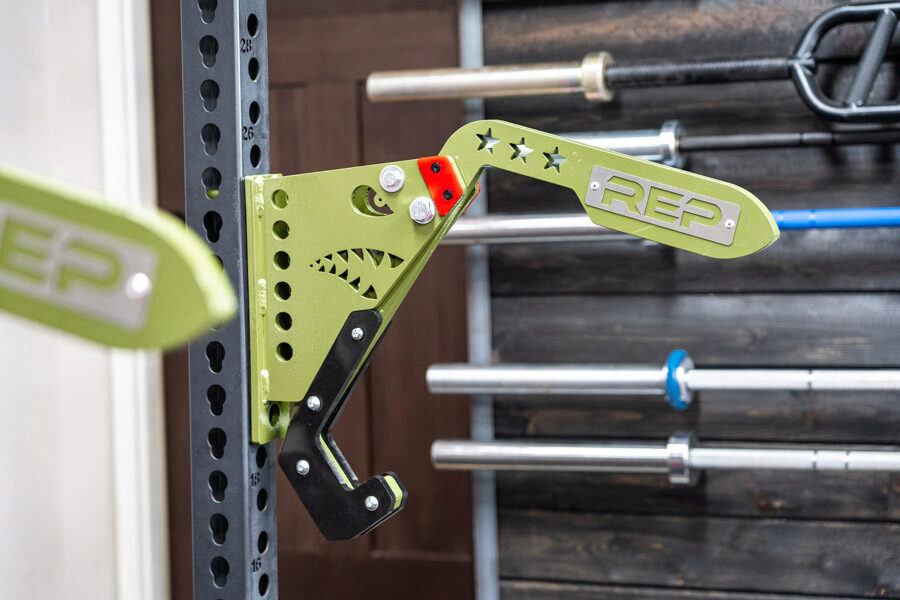 They were originally designed for powerlifters at meets squatting ungodly tonnage, but have since made their way into the home gym with Rogue Fitness releasing their rack-attachable model.
The REP Monolift attachment arms are attachments that allow you to rack a barbell and be able to lift it, perform a squat (or other movement,) and return it to the j-cup once done.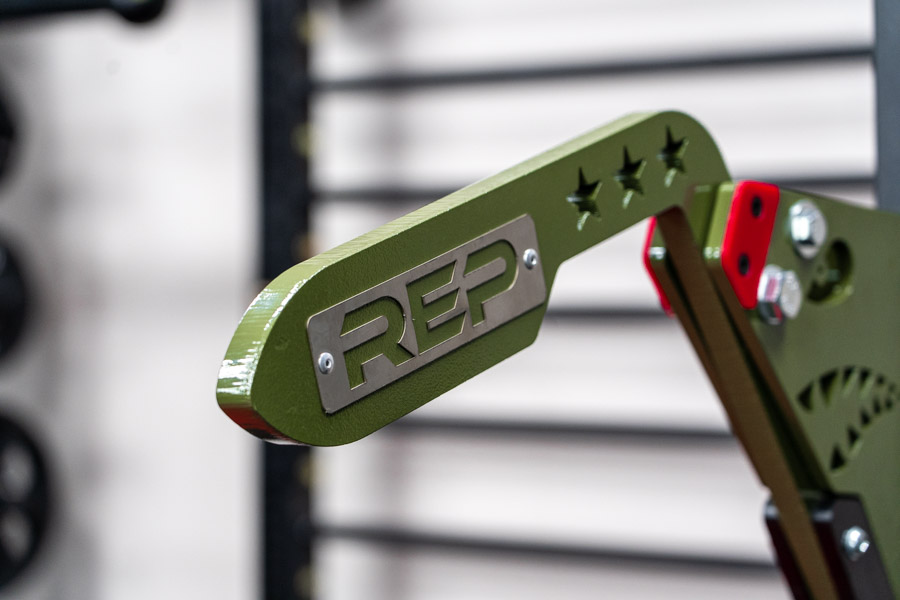 There is all different manner of attachment arms on the market, from plenty of different companies. And many of them have the same kind of hockey stick style j-cup that the REP model has. This is designed to enhance the entire squat experience, and it's something I use regularly in my garage gym. I'm going to list some of the things I dig about this model, as well as some of the products misses.
What We Like About the REP Fitness Monolift Arms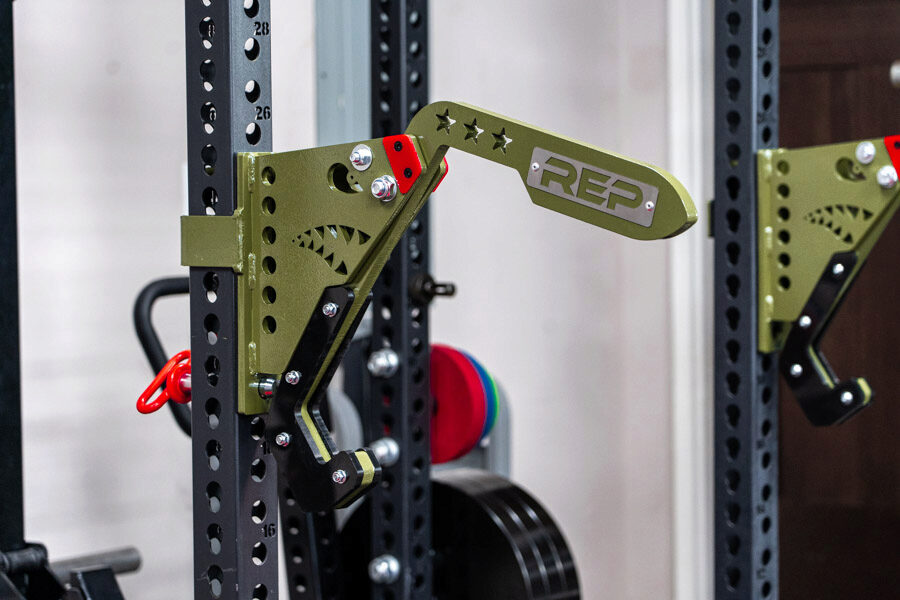 The REP Monolift Attachment Arms is not the first of their kind on the market. Mech6, a former bb.com forum member used to sell them and Rogue, as far as I know was the first to make them commercially available.
Let's start with some fo the things REP Fitness did right with the monolift arms and then we'll get into the misses.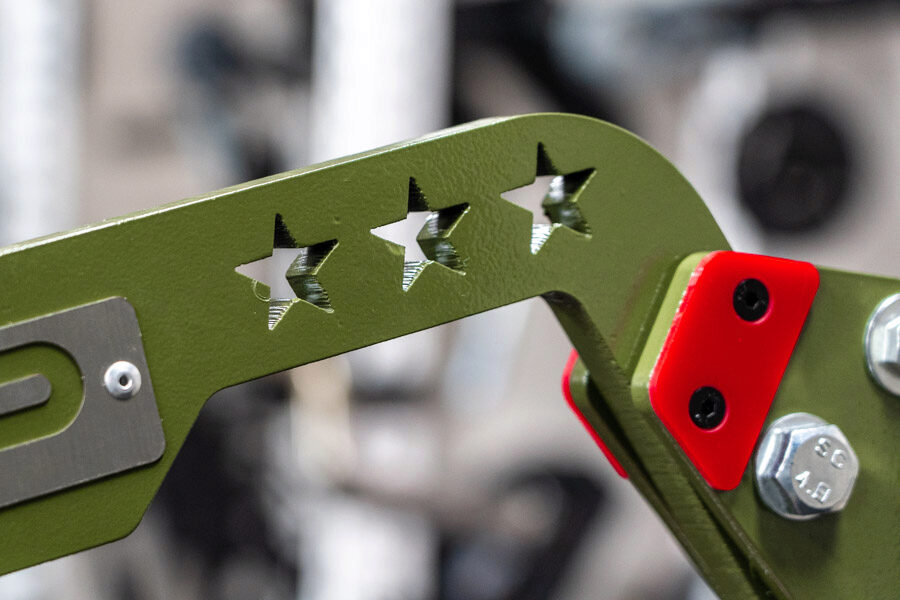 The first thing that I like about the REP attachment arms and what I think most will notice first is how aesthetically pleasing they are.
REP came out with two designs. A black, textured powdercoat version that is what most will get, and, for the people that like unique things, a limited edition designed after the Curtiss P-40 Warhawk.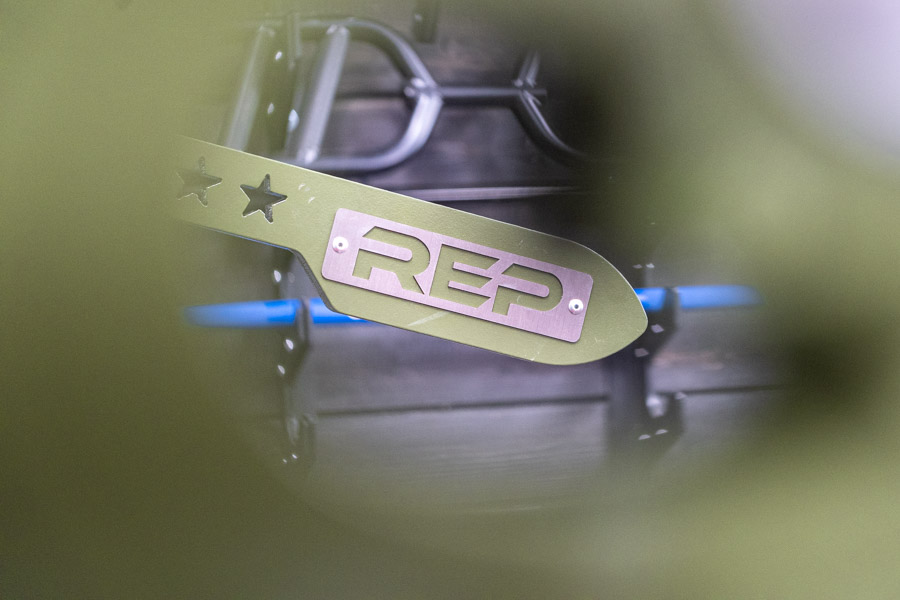 I'm admittedly a sucker for limited edition products, especially ones that are aesthetically pleasing and have a cool story. The Limited-Edition Monolift Attachment from REP Fitness have a cool color scheme (although I wish they would have thrown in some yellow, ala Boba-Fett) and although they don't match a single piece of equipment in my gym, I grabbed a pair.Regardless, the functionality is the same between the limited edition set and the black pair.It's a cool design that looks robust and high-quality; perfect for those looking for a statement piece. The functionality of these is also great (in theory, although there was an issue with the initial design that's being corrected,) and I like to use it for squat and bench due to its high weight capacity and durability. Not to mention, it's nice not having to walk the bar out or knowing the bar is centered when lifting off for a bench press. Check out my suggestions on the best weight benches now.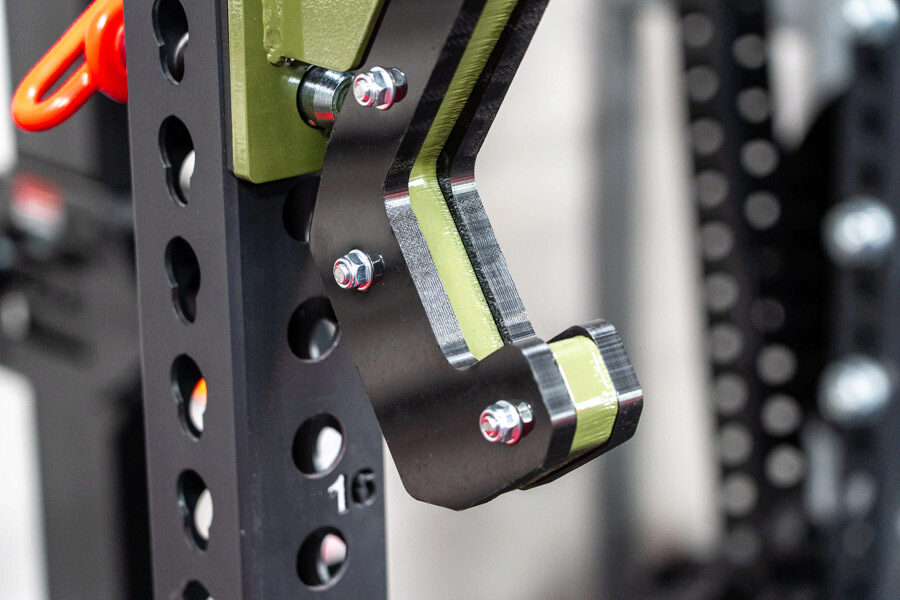 Here is a couple of the stand out features I think are worth mentioning.
The arms do feature UHMW plastic is a highly durable material that is used to help protect the knurling on the bars, although it does appear to be a lower quality UHMW compared to what Rogue is using on their Monolift arms. The arms sit a bit closer to the upright, than some of the competitors, which was a feature marketed quite heavily, however, it's not significantly different.
One thing most home gym owners are looking to do is save money in building their gym. This is how most people get started actually, trying to save money by dropping their gym membership.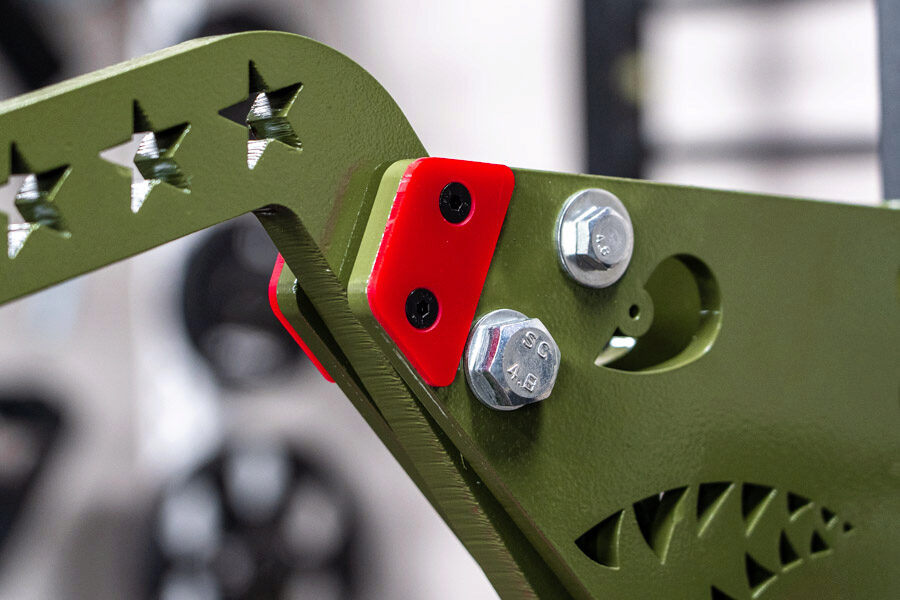 So, products with a great value proposition become popular quite fast. One of the key benefits of the REP Monolift attachment is that it is competitively priced compared with many of the other big names on the market. It's not tremendously cheaper than the alternatives like Rogue Fitness and it's actually more than Titan Fitness when you factor in the shipping cost, but it does come out a bit cheaper.
Lastly, the Monolift Attachment from REP has a lot of nice details that can sometimes get overlooked. For instance, the part of the arms that touch the squat rack uprights use UHMW plastic to prevent damage from occurring due to metal on metal contact.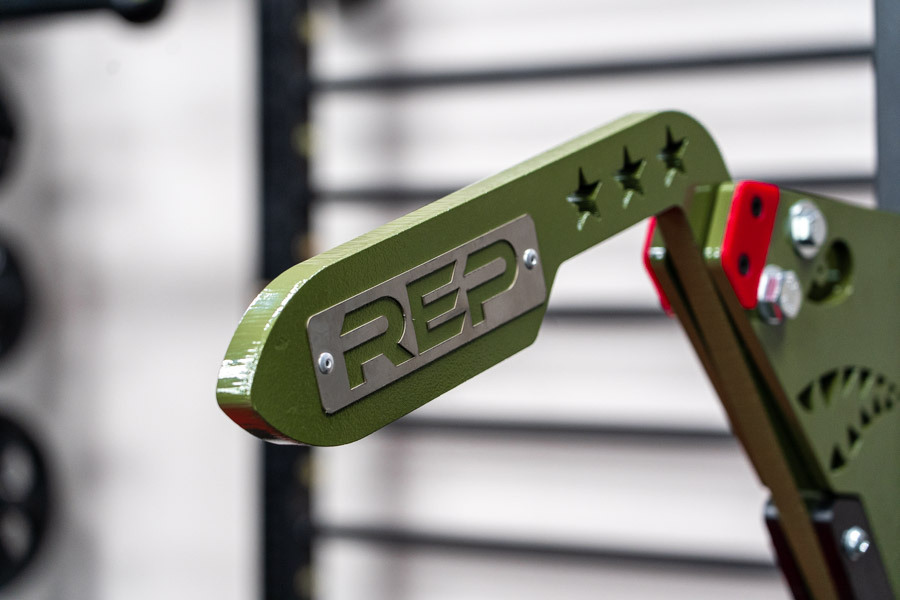 The REP logo is a laser-cut stainless steel piece that is riveted the arm instead of a sticker.
And, the side plates have holes and designs cut-out of them both for looks and to reduce the weight making them easier to attach to the rack.
What We Don't Like About the REP Monolift Arms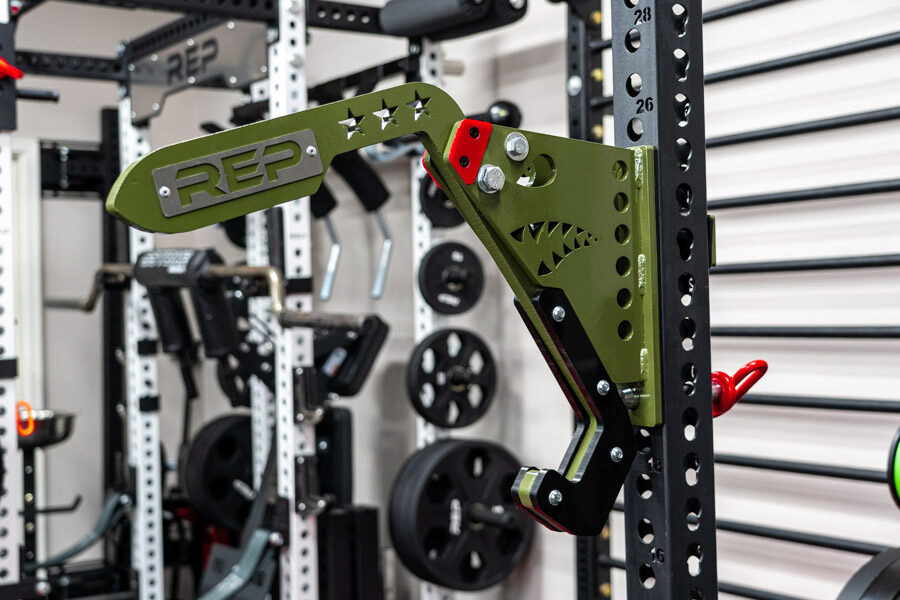 In spite of the positive elements of this attachment, there are a few things that I dislike about the REP Monolift arms. Every piece of equipment you use is likely to have some flaws or things you don't really like, and I feel it's important to point those out.
If you are buying this and having it shipped, as I did, you'll wind up paying more than you would buying one of the equivalents that is made in the US, such as the Rogue Fitness Monolift attachment. The initial runs shipped freight and cost a lot. They've since fixed this issue, but the shipping is still higher than it is from Rogue.
Additionally, I wouldn't say that this option massively differs from a lot of the other options that are on the market. There is a lot of choices out there, and many of them offer great benefits, but I don't really feel like this one offers too many differences over any of the other models on the market.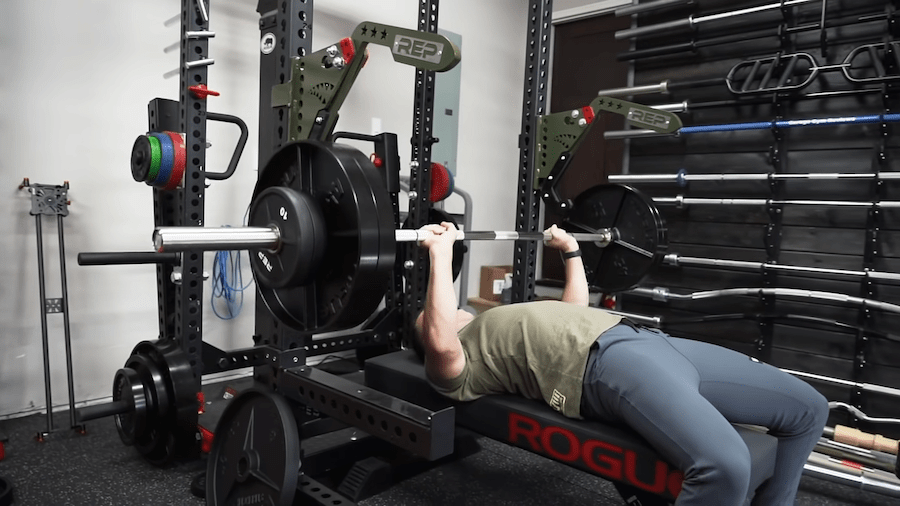 On that note, I was hoping REP would introduce some unique features, but there isn't much new to talk about other than the look.
At 70 LB, they're also heavier than Rogue's, which is a negative as they can be difficult to place on the rack. Combine this with the fact that despite being a similar price point, Rogue's are made in the USA while REP's are made overseas. This is an issue that seems to matter more and more to people in the community.
But my biggest gripe of all is the lack of clearance on the monolifts when the bar is loaded with lightweight from the uprights.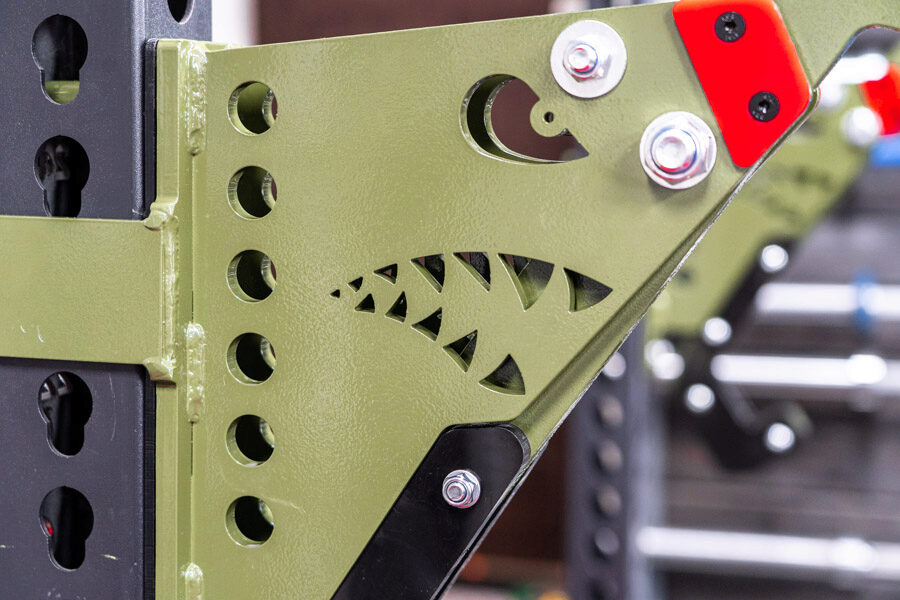 Compared to the competition, the REP Monolift Attachment doesn't offer as much clearance as it should with lighter weights. As it gets heavier (315 LB and above) it starts to get better, but the head on the arm is too heavy preventing it from sitting as far from the rack as it should.
REP has stated that they are fixing this issue in an updated design, but I think this should have been realized and fixed from the beginning. Personally, I don't think it's enough of an issue to completely avoid getting them as you should pull the bar towards you when getting under it and setting but, but it is worth knowing before buying.
REP Monolift Attachment vs. Rogue Adjustable Monolift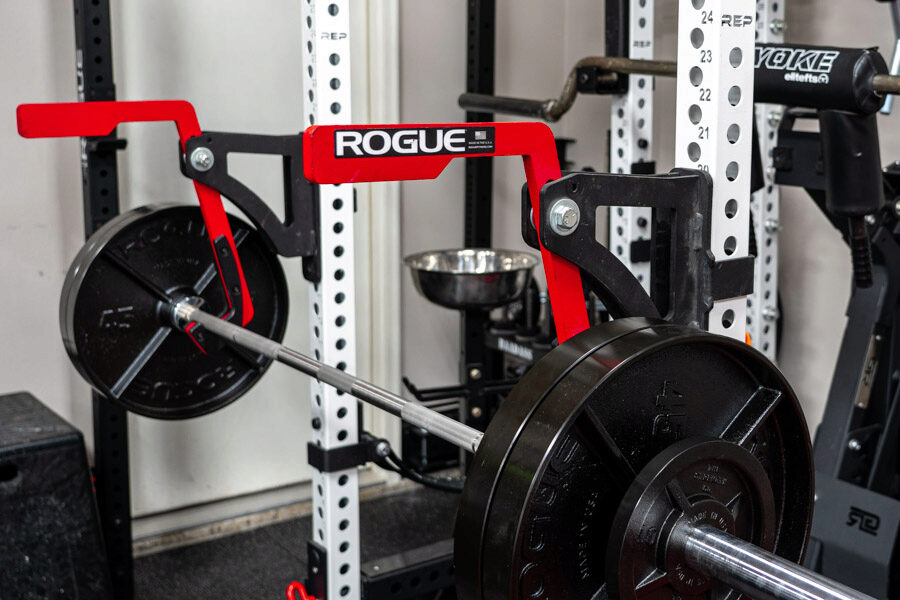 REP Monolift vs. Rogue Monolift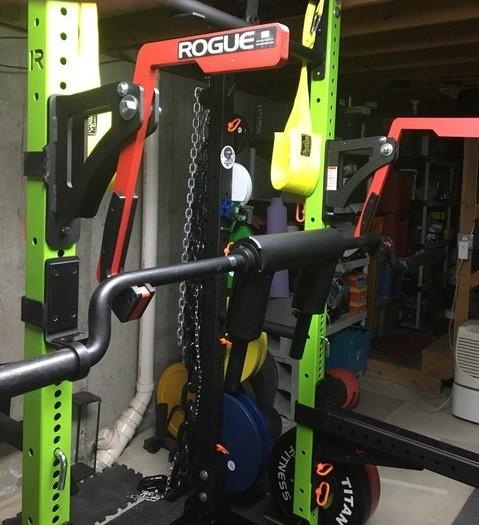 Rogue Monster Monolift Attachment
The Rogue Adjustable Monolift attachment is a great cost-efficient alternative to expensive, full-scale monolift units, giving athletes a way to perform heavy-weight squats and other lifts without having to walk the bar out from the rack.Compatible exclusively with Rogue Monster Series rigs and racks (separate Infinity and Monster Lite versions are also available), the fully redesigned Monolift includes a simpler, J-Cup-style pin system for easier height adjustments and quicker transfers from one athlete to the next. We've also reduced the overall size of the brackets and added new UHMW plastic liners along the hooks, clasps, and back of the unit to better protect both the barbell and your uprights.Each Adjustable Monolift set includes a pair of rack-mounted brackets with 0.75" thick steel Jaw hooks. These hooks are designed with special counterweight handles at the top, so when you lift a barbell off the Monolift, the hooks will swing several inches back toward the rack and stay there. This clears up enough extra space to go straight into your workout, and also enables safe re-racking, as the slanted angle of the unloaded hooks makes it easy to guide the bar in, swinging the Monolift back into its original position. A pair of 1" hitch pins is also included in every order to lock the unit into place and prevent any unwanted swinging out.Height adjustments can be made in increments as small as 1", and with Rogue's unique design–featuring a "backstop" bolt above each primary hook bolt–the Monolift cannot move further away from the rack while the user is setting up. This feature is not found on comparable attachments on the market.
Comparing the REP Monolift Attachment with the Rogue Adjustable Monolift doesn't present too many differences. They are both very similar in terms of their aesthetics and functionality.The main differences are that the Rogue Monster and Monster Lite Adjustable Monolifts are a bit lighter and they have different overall looks.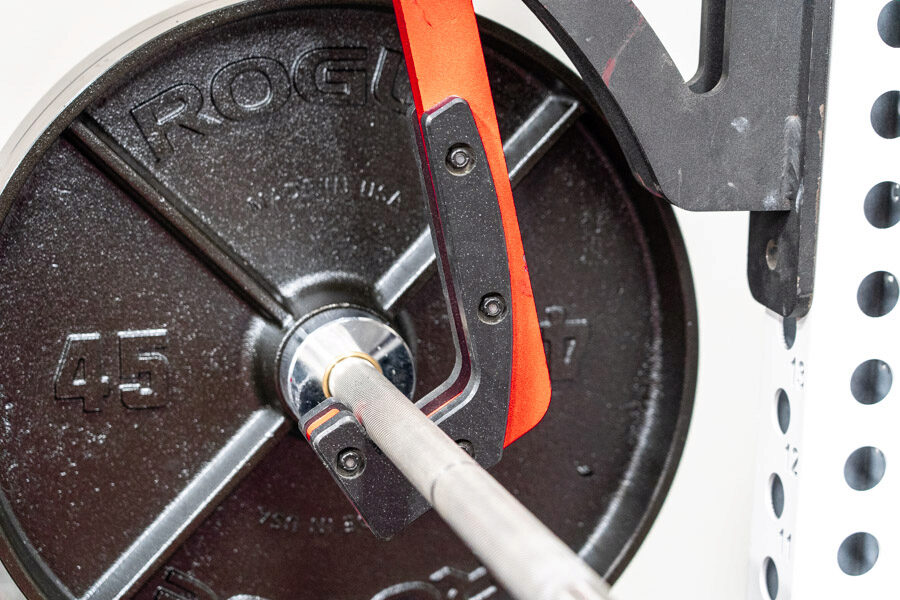 That's honestly about it.
Rogue is US-made, their monolifts are made in house in Ohio, and has proven quality and reputation, while REP's are imported needs to be shipped, and did have some issues with the lack of clearance.
Overall, these two attachments are not so different, and this is something that should make a decision a little easier for you. If you like to 'go American' as many people do, then I'd suggest sticking with the Rogue Monolifts
I think overall, Rogue currently has a better value proposition.
Full Rating
REP Fitness Monolift Attachment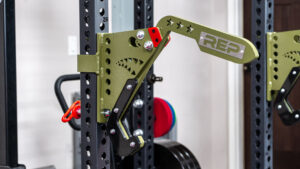 After using the REP Fitness Monolift Attachment for over a month for squatting, benching, and other movements in my garage gym, I do think they're a decent option. I think they could be improved if they are made lighter and the top arm length is reduced for better rack clearance, but the overall design and pricepoint is attractive. We recommend them if you understand the downsides and prefer the look to Rogue. Otherwise, we suggest one of the alternative options.
Product Brand: REP Fitness
Product Currency: USD
Product Price: 309
Product In-Stock: InStock
REP Fitness Monolift Attachment FAQs
What is the point of a Monolift?
Instead of having athletes squat in a power rack by height, the monolift allows you to group them according to their strength. Instead of training with guys of similar height, your athletes may now exercise with those of comparable skill and strength.
Are Monolift attachments worth it?
The Monolift Attachment is an excellent rack addition that will suffice in most commercial and garage gyms. The amount of gyms that require or even want to invest in a stand-alone Monolift is rather few, thus the fact that you can add this function for less than $300 instead of several thousand dollars is simply amazing.
What do Monolift attachments do?
Monolifts, for those who are unfamiliar, are a free-standing rack that allows the trainee to lift out of the rack without having to walk the barbell out. They function by removing the squat's walk-out features, making it safer and more efficient.