We test and review fitness products based on an independent, multi-point methodology. If you use our links to purchase something, we may earn a commission. Read our disclosures.
In a world where high-tech cardio machines and workout mirrors are all the rage (and understandably so), I love that low-tech training gear is still one of the best ways to work functional strength. What's functional strength? Being able to use your strength in environments that are outside of the gym, like carrying bags of mulch around your yard or lifting your kid over your head.
One way to build this type of strength (or close to it) is by lifting things that aren't precision calibrated the way a barbell and bumpers are. One of my favorite low-tech devices is the sandbag, and Brute Force is making some of the best sandbags on the market.
In my Brute Force Sandbag review, I'll cover the heavy-duty materials, well-planned designs, and how these sandbags can take a beating and keep on performing.
Why You Should Trust Us
Odd-object training is one of my favorite ways to get fit, and I regularly incorporate sandbags into my training. I have thoroughly tested and reviewed sandbags from some of the top names in the industry, like the Rogue Sandbag.
I put each piece of equipment through the full gamut of testing: slamming it into the ground to see if its guts fall out, throwing it overhead to test handles (if there are any), and generally using it in my own workouts to see how it feels.
Brute Force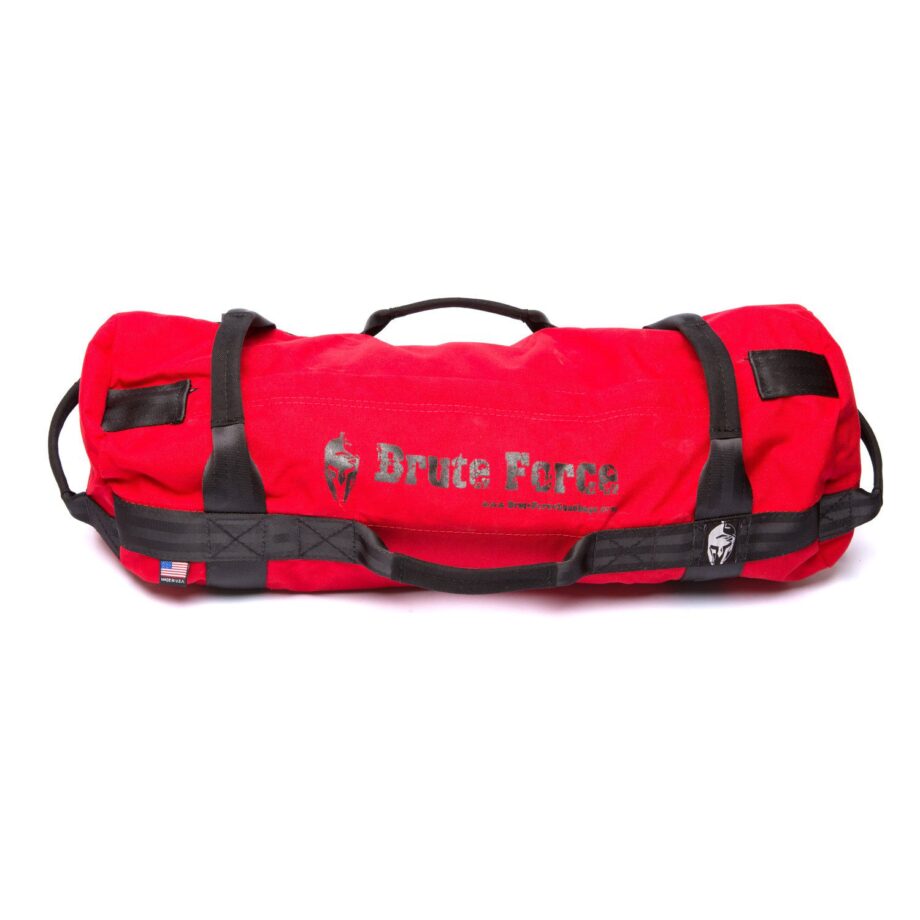 Brute Force Sandbags
The Brute Force Sandbags are without a doubt, the top selling, top performing and most used sandbag we offer. This sandbag is found everywhere from garage gyms to CrossFit boxes to the US Navy, and will humble most athletes right out of the gate. It doesn't seem like a lot of weight, but remember, All Weight Is Not Created Equal, and this shifting load will surprise you.This sandbag is built for Intermediate to Advanced sandbag training and is geared towards functional strength and conditioning.All Brute Force Sandbags are USA Made and quality produced in Denver, Colorado, and adhere to the highest manufacturing standards. They are made with tough and resilient 1000D Mil-Spec Cordura, featuring YKK Zippers and Triple Reinforced BOX X stitching. We stand by the quality of our gear and have produced equipment that will last for years. Our sandbags are tested for endurance and ease of use so you can be assured of a quality product. We built them to last and last they will! Have an issue? We got your back with the Brute Force Shield Warranty.
A Quick Look at the Brute Force Sandbag
There are a few options to choose from when looking at Brute Force Sandbags; I received the Athlete Sandbag Kit, though there is also the Strongman Sandbag Kit, the Mini Sandbag Kit, and a Barebones Kit line (those don't have handles).
Each uses military-grade materials in construction. And, these are very reasonably priced compared to the competition.
Coop's Tips
Sand is not included, so factor that into your budget and ordering (for reference, a 50-pound bag of sand is only around $5).
I think the Athlete Sandbag Kit is the most versatile, but if you want extra instability, you could get the Strongman Kit and not fill the bag as heavy.
My Favorite Things
Incredibly durable construction
Four sets of handles for multiple grips
Multiple weight options
No problems with leaking sand
Variety of colors
My Callouts
Sand not included
Max weight is 125 pounds
Are the Brute Force Sandbags Worth It?
For those who have a home gym, and are looking for the most bang for your buck equipment, this is definitely a piece I would include. The reason? It's highly versatile and can be an absolute CNS destroyer if you let it.
I also think sandbags are a great piece of equipment to travel with, especially if you're going to be near a beach where sand is free and plentiful.
In my experience with the Brute Force Sandbag, there wasn't a task that couldn't be completed. I slammed it on dirt, grass, mud, rock, and even concrete and it shows hardly any signs of wear. It's also made in the good ole' USA, something I always appreciate.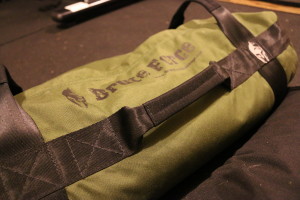 Great for:
Home gym owners who want a durable sandbag option
People who want versatility in sandbags
Those who want multiple grip options
Not recommended for:
People who don't need handles
Those who need a bag that can hold more than 125 pounds
Brute Force Sandbags Stats and Comparison
There are three options for the eight-handled sandbags from Brute Force. The main difference is simply in how much weight each holds (and, consequently, how big they get). Each is made with the same military-grade 1000D Cordura and Velcro.
It really comes down to how heavy you want your sandbag training to be, but here's a quick look at the stats you need to know:
| | Athlete Sandbag Kit | Strongman Sandbag Kit | Mini Sandbag Kit |
| --- | --- | --- | --- |
| Price | $150 | $180 | $120 |
| Handles | 8 | 8 | 8 |
| Color | Up to 20 color options | Up to 18 color options | Up to 19 color options |
| Product Weight | 25 to 75 lbs | 50 to 125 lbs | 5 to 25 lbs |
| Construction | 1000D MIL Spec Cordura, military-grade Velcro | 1000D MIL Spec Cordura, military-grade Velcro | 1000D MIL Spec Cordura, military-grade Velcro |
| Dimensions | 30 in x 13 in | 36 in x 26 in | 18 in x 9 in |
| Filler bags | 1 double-Velcro 50 lb bag and 1 25 lb included | 2 double-Velcro 50 lb and 1 30 lb bag icluded | 1 double-velcro 30 lb bag included |
| Closure | YKK Zipper | YKK Zipper | YKK Zipper |
| Made in the USA | Yes | Yes | Yes |
| Sand included | No | No | No |
Aesthetics: A Great-Looking Bag
Looks are probably the least important aspect of a sandbag, but it's the first thing you notice. And the Brute Force Sandbag is about as pretty as you can make a piece of training equipment that is designed to get absolutely destroyed.
I received the forest green color, which is, in my opinion, one of the best colors available. But each line of sandbags has more than a dozen color options, including camouflage, purple, pink, gold, and silver.
One thing that I really like about the look of the bag is that the Brute Force logo is PRINTED on the bag. This is advice to all of you equipment manufacturers from a guy who knows strength equipment: Don't put a removable logo on your product. And, especially don't put a sticker on it.
Overall, the bag looks great. Not too flashy and not too rough. Just right.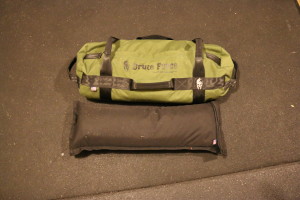 Incredible Durability and Construction
The shell is made of 1000D military-spec Cordura. I've spoken on the toughness of Cordura in general in other reviews. The Brute Force Sandbag was actually one of the first products I reviewed that uses 1000D Cordura. It is a super thick and tough fabric that we are seeing more and more of in sandbags and weight vests.
All of the stitching on the bag is thick and multi-layered, which gives you peace of mind that this bag is going to be around for a while.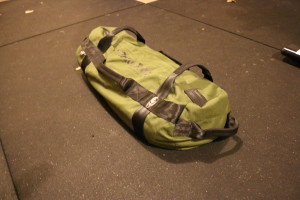 The one part of the bag that Brute Force could have royally messed up was the zipper. The zipper keeps everything in place, and if it breaks, the bag will pretty much be worthless.
Thankfully, the brand used an oversized zipper from YKK that is more than fit for the task.
Simply put, these bags are constructed to last.
Handles
The problem many sandbag makers have been unable to fix is the position of the handles. Sandbags can feel awkward to lift, and if you throw on the extra awkwardness of having poorly placed handles, it can lead to a bad time.
Thankfully, I think Brute Force has done a pretty good job.
The bag features eight handles in four sets that allow you to take different grips: barbell, suitcase, neutral and end-cap. In other words, they are placed at the edges of the bag, top, and sides. Basically everywhere. The handles I mostly use are the handles on top that allow you to pick the bag up like you would a hex deadlift bar.
The only thing I dislike about the positioning of these handles is for my body type, they are a little bit narrow. For some, they'll probably be right on, but I would have liked to see multiple handles at different distances apart so the handle position would be a better fit for each person.
This isn't a big deal, but more of me being nit-picky.
The handles are made out of seat belt webbing that was surprisingly comfortable. Instead of leaving the straps wide, they instead fold them over, lay another piece of fabric on top, and then stitch them so they're thinner, sturdier, and more comfortable.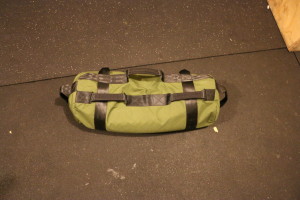 Throwing Around the Brute Force Sandbags
A sandbag is made to be packed with sand, hoisted overhead, and slammed to the ground. I don't care who you are, a sandbag is not made to be treated lightly.
When I'm in the middle of a workout, the last thing I want is for sand to start seeping out of the bag. I had this happen with my DIY Slam Ball and it drove me bonkers!
So, in my testing of the Brute Force Sandbag, I loaded up the provided filler bags (which are very tough by the way) and put it through the toughest workout I could think of for a sandbag: 100 burpee clean and jerks.
I'm not lying when I say I didn't see ONE grain of sand fall out of the bag. Not when I was lifting it or when I was slamming it. And, to be honest, I'm not that surprised. You can tell the Brute Force Sandbag is a quality product just by feeling it.
(I also overloaded the sandbags even though it's advised against. What a rebel, eh?)
The bag I received is the Athlete Sandbag Kit, which goes up to 75 pounds. If I were to choose again, I'd probably go with the Strongman Kit, as I'm more of a strength-focused athlete than I am conditioning, but you can certainly get a killer workout with the Athlete Kit.
What Do You Put in a Brute Force Sandbag?
The Brute Force bags are meant to hold sand. You can pick up a bag of sand for relatively cheap at any hardware store. You can also use pea gravel or crumb rubber or, I guess really, just about anything else. Sand is my pick.
Each sandbag comes with filler bags; the Athlete bag I received came with a 50-pound filler bag and a 25-pound filler bag. These are double-Velcro bags that do a fantastic job of keeping the contents inside.
Brute Force Sandbags vs. The Competition
Let's take a look at how this sandbag stacks up against some of the other industry leaders:
Brute Force Sandbag vs. Rogue Strongman Sandbags
Both the Brute Force and the Rogue Strongman Sandbags are made with that impeccable 1000D Cordura fabric, and price-wise, they are pretty similar. But that's where the similarities stop. The Rogue bags can go up to 400 pounds. They don't have handles (on purpose), and they come in just one color: black.
I'd recommend the Rogue Strongman Sandbags for people who want to get really heavy and do grunt work. The Brute Force Sandbags are geared more toward versatility in movement and come in much lighter options.
Brute Force Sandbags vs. GORUCK Sandbags
The Brute Force and GORUCK sandbags are really similar. They both use 1000D Cordura and YKK zippers, and they both have different sizes ranging from light (around 20 pounds) to 120 or 125 pounds. Each bag has end cap grips and neutral grips.
The Brute Force Sandbags have additional soft grip handles where the GORUCK bags do not. But, the GORUCK bags have a lifetime guarantee, but are more expensive.
This one probably comes down to personal preference. Because of the handles and weight variability, the Brute Force bags give you more options. But, I think the GORUCK lifetime guarantee is pretty amazing; if you bust your bag, the brand will replace it, no questions asked.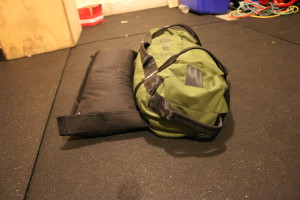 Sandbag Workouts
If you decide to grab a bag, which for the price and the amount of things you can do with them, I don't see a reason why you wouldn't, you're going to want to have some workouts to torture yourself with.
You can hit just about every muscle in your body with sandbags, because you can do squats, presses, lunges, carries and more.
RELATED: Best Workout Sandbag
Not sure where to start? Here are some of my favorite sandbag WODs:
100 Burpee Clean and Jerks
Ruck march: Every five minutes do 10 ground-to-overhead lifts
Throw the sandbag for distance
50 slambag slams (advised against, but I do it anyway)
Rent out the StubHub Center and perform a brutal sandbag loading workout such as done in the 2015 CrossFit Games
Warranties and Returns
If, by some insane instance, your sandbag is damaged, Brute Force offers repairs for what they call a "reasonable fee." I don't know what that cost would be, but the brand states that the team will take a look at the bag and determined if it can be repaired or replaced and consult with you.
In terms of a warranty, Brute Force states that it will replace any piece of gear that has a manufacturing defect.
Customer Reviews
By and large, each of the sandbags from Brute Force has overwhelmingly positive reviews. The Brute Force Athlete Sandbag in particular has nearly 150 reviews on its website, nearly all of which are five stars.
It isn't all sunshine and rainbows; one user said he experienced breakdown in the materials quickly after doing sandbag drags; several said they experienced stitching coming loose.
Final Verdict of Our Brute Force Sandbag Review
If you want a sandbag you can absolutely beat up, the Brute Force line is definitely one of the best you can find. I don't have many complaints about it and found it to stand up to just about anything I threw at it. I'd recommend it for anyone who owns a garage gym and wants to do some fun (and hard) odd-object training.
Brute Force Sandbag Full Rating
Brute Force Sandbag
Brute Force are making some of the best sandbags on the market. Combining heavy-duty materials with well thought out designs, these sandbags can take a beating and keep on performing.
Product Brand: Brute Force
Product Currency: $
Product Price: 149.95
Product In-Stock: InStock
Brute Force Sandbag FAQs
What do you fill Brute Force Sandbags with?
You fill a Brute Force sandbag with sand. Most people recommend against play sand, because it's very fine and more likely to seep out of the bag. You can also use pea gravel or crumb rubber, but my preference is sand because it's cheap and easy to use.
Can you get ripped with a sandbag?
You can absolutely build muscle with a sandbag. They are different from a calibrated dumbbell or barbell in that they are imbalanced and imperfect, which means they are going to work your muscles differently. 
Are sandbag exercises good?
Sandbag exercises are incredibly great: you can use them to build muscle, build endurance, tackle a HIIT workout and more.
What is the best material for a sandbag?
We love the 1000D cordura fabric because it is incredibly durable. You're going to really beat up a sandbag, so you need to know that the material used can withstand a lot of abuse.