We test and review fitness products based on an independent, multi-point methodology. If you use our links to purchase something, we may earn a commission. Read our disclosures.
Vitamin deficiencies can be hard to diagnose, but a 2015 report in Clinical Medicine1 estimated the prevalence of vitamin B12 deficiency in the U.S. at 3% to 6%, depending on your age. Even without a true deficiency, it's possible that your B12 levels aren't as high as they should be—a condition called marginal depletion that affects 15% to 20% of adults (and is more common in older adults).
Vitamin B12, officially called cobalamin, is crucial to forming healthy red blood cells and maintaining your energy levels. Without enough in your system, you may find yourself dragging throughout the day. And because vitamin B12 deficiency can contribute to anemia, and have lasting negative effects on your nervous system, it's important to make sure you're meeting your needs daily.
Vitamin B12 is also a water-soluble vitamin, so it doesn't stay stored in your body like fat-soluble vitamins can—that's why it's tagged as an essential nutrient (meaning you need to take it every day).
While it's always ideal to get your vitamins from food sources, vitamin supplements can help bridge the gap between what you're getting and what you need to maintain optimal health. The problem is that dietary supplements aren't closely regulated, so there's a lot of junk out there. To help you sort through the noise, we chatted with Ashley Kitchens, MPH, RDN, plant-based registered dietitian and owner of Plant Centered Nutrition to get her take. We used her general advice and our own experience trying these supplements to come up with this list of the best vitamin B12 supplements.
Medical disclaimer: This article is intended for educational and informational purposes only. It is not intended as a substitute for medical advice. For health advice, contact a licensed healthcare provider. GGR also recommends choosing a product that has been third-party tested for quality.
Advice Backed By Experts
As certified personal trainers and nutrition coaches, our testers know a decent amount about supplements. But for this guide, we also enlisted the help of a registered dietitian and a functional nutritionist to make sure we were making the best recommendations for you.
Best B12 Supplements in 2023
Best B12 Supplement Overall: Cymbiotika Liposomal B6 + B12 Liquid
Good for: Anyone looking for a supplement with superior absorption
Liposomal vitamins are packed with pockets of fat (called liposomes) to help enhance bioavailability and increase absorption rate2. This increased absorption rate is one of the reasons we love the Cymbiotika Liposomal B6 + B12 Liquid, but it goes beyond that, too. This supplement contains a combo of methylcobalamin and adenosylcobalamin—two forms of vitamin B12 that are bioidentical3 to the B12 that occurs naturally in animal foods (and humans). It also contains some other synergistic B vitamins, like B6 and folate, to help normalize levels without focusing too much on one specific vitamin.
As far as added ingredients go, there aren't many here. Cymbiotika uses natural and organic ingredients whenever possible, and stays away from unnecessary fillers or additives. Supplements are third-party tested and certificates of analysis (COAs) with specific findings are available on the site. As a final step, all supplements go through a med review where a team of doctors give the final sign off on the ingredients, the quality, and the claims.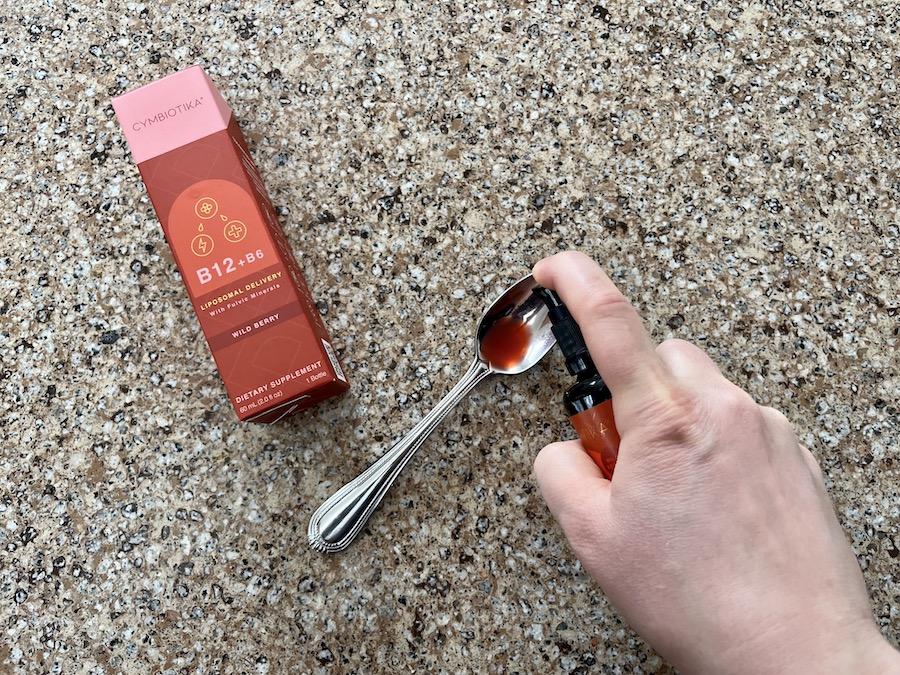 In terms of taste, GGR writer and expert product tester Lauren Strong had good things to say about this Cymbiotika liquid. "It's very fruity with its berry flavor but it's not too sweet or fake tasting," she said. "I like it and the flavor does go away pretty quickly so it doesn't give you a weird aftertaste." Lauren also noted that the bottle says "users may not experience noticeable side effects unless one is deficient in B12," but that she's been feeling totally normal.
| | |
| --- | --- |
| Form of B12 | Methylcobalamin and adenosylcobalamin |
| Type | Liquid |
| Dosage per serving | 1,250 mcg |
| Servings per container | 30 |
Best Budget B12 Supplement: Nature Made Maximum Strength Vitamin B12 Capsules
Good for: Anyone who wants a quality supplement at a lower price
It's true that higher-quality supplements are often more expensive (and that many of the cheap options are junk), but Nature Made is a testament to the fact that you can find a diamond in the rough. All of Nature Made's supplements are manufactured at the brand's own facility in Southern California, and verified by the U.S. Pharmacopeia (USP)—one of the strictest supplement testing agencies out there. They're tested for quality and potency, so you can be sure you're actually getting what's advertised on the label.
It's worth noting that this supplement does contain B12 in the form of cyanocobalamin, a synthetic version of the vitamin that has to be broken down more than natural forms, and has a lower absorption rate. That being said, each softgel contains 5,000 micrograms of vitamin B12, which is more than 200,000% (no, we didn't accidentally add extra zeros) the amount you need for the day. In other words, there's more than enough to account for the lower absorption rate.
Our product testers thought this Nature Made pill was very unassuming, in a good way—it's small, so it's easy to swallow, and there's no taste; win-win.
| | |
| --- | --- |
| Form of B12 | Cyanocobalamin |
| Type | Softgels |
| Dosage per serving | 5,000 mcg |
| Servings per container | 60 |
Best Vegan B12 Supplement: HUM Nutrition B12 Turbo
Good for: Anyone following a vegan diet or plant-based diet
Unless you're eating a lot of fortified cereals or nutritional yeast, long-term vegans and vegetarians4 have an increased risk of developing a vitamin B12 deficiency. That's because the vitamin is found in the highest amounts in animal products. 
Yet some B12 supplements contain gelatin (which is made by boiling animal bones and tendons) or other ingredients that make them an unsuitable choice for vegans. The Hum Nutrition B12 Turbo takes both of these things into account. Not only does it contain a fully vegan-friendly ingredient list, it offers B12 in the form of methylcobalamin—one of the most highly bioavailable forms. It also contains a small amount of calcium, which enhances B12 absorption5 and ensures the vitamin can actually make it past your digestive system.
Realted: Best vegan protein powder
HUM prioritizes inactive ingredient quality, too. All supplements are gluten-free, and tested regularly to ensure that they never exceed gluten levels as outlined by the FDA. The supplements are also free from artificial colors, sweeteners, flavors, and preservatives, and never include what HUM calls the "tricky 12"—various ingredients, like titanium dioxide and high-fructose corn syrup, in some commercial supplements that can actually pose health risks. Each supplement is also non-GMO certified and made in Good Manufacturing Process (GMP) compliant facilities, which basically means the purity, strength, and composition is regularly verified.
| | |
| --- | --- |
| Form of B12 | Methylcobalamin |
| Type | Tablets |
| Dosage per serving | 1,000 mcg |
| Servings per container | 30 |
Best Liquid B12 Supplement: Mary Ruth's Organics Methyl Vitamin B12
Good for: those who have a hard time taking softgels or capsules, or who prefer a sublingual supplement
While the jury is still out on this, some studies show that taking liquid B12 under your tongue (or sublingually if you want to get technical about it) leads to better absorption than other forms. One study6 even showed that it might be better than B12 injections (which are often given in the form of hydroxocobalamin). But aside from the absorption rate, some people just prefer liquid to capsules or softgels. If that's you, Mary Ruth's Organics Methyl Vitamin B12 spray is probably your best bet. Just two spritzes under your tongue provides 1,500 micrograms of vitamin B12, which is 62,500% of the daily recommended amount.
And the type of B12 is highly bioavailable, too. It's in the form of methylcobalamin which, in addition to its enhanced absorption, is also suitable for those with a MTHFR deficiency. The supplement itself carries a USDA organic seal, and only has a handful of clean ingredients, like purified water and organic berry flavor to make it more palatable. Mary Ruth also considers allergens and formulates all its products without nuts, gluten, dairy, or soy. All supplements are third-party tested to ensure potency and prevent any kind of contamination.
Although our tester, Lauren, liked the taste of this B12, she had a bit of an issue with dispensing it. "I was pumping directly into my mouth and making a big mess," she exclaims. "The bottle doesn't really spray, it's more like a liquid soap dispenser versus a spray bottle." She found out after the fact that the website recommends pumping the two sprays into a spoon and then consuming, which made it easier.
| | |
| --- | --- |
| Form of B12 | Methylcobalamin |
| Type | Liquid (spray) |
| Dosage per serving | 1,500 mcg |
| Servings per container | 120 |
Best B-Complex Supplement: Care/of B Complex
Good for: People who want to take all the B vitamins instead of just B12
While B12 tends to get the most airtime, there are a total of eight B vitamins, including thiamin, riboflavin, biotin, and folic acid/folate (collectively referred to as B complex) and each of them work really closely together. While solo B12 supplementation is important if you've been diagnosed with a deficiency, taking all of the vitamins together may be a better move for general health.
This B Complex from Care/of contains all eight B vitamins in dosages that almost meet or exceed your daily needs, as well as two additional nutrients: choline and inositol. Choline isn't a B vitamin, but it interacts with them and helps with absorption7, while inositol is often considered a member of the B vitamin family (even though it technically isn't).
All vitamins in this B complex group are in their active forms for optimal absorption, and the supplement doesn't contain any unnecessary fillers or additives. All ingredients and supplements are tested at various times throughout the manufacturing process, with the last look done by a third-party lab that verifies quality and potency. Head's up: When you purchase a bottle, you'll be automatically signed up for a recurring subscription—Care/of will send you a new bottle every 30 days—but if you don't want it, you can cancel any time.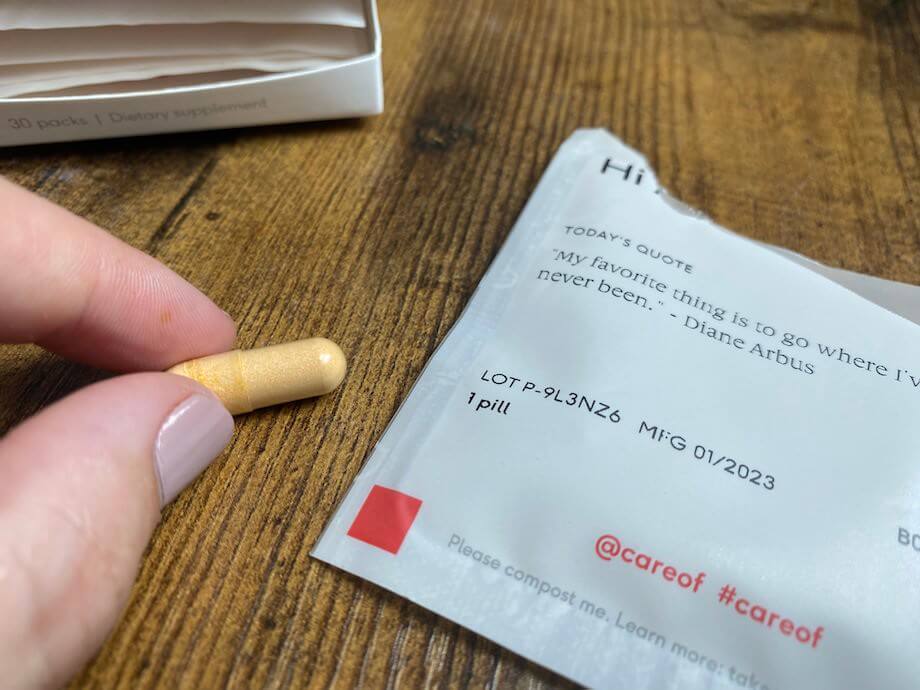 For what it's worth, the tester of this product, GGR senior staff writer Amanda Capritto, found it to have no significant flavor and to be easy to swallow.
| | |
| --- | --- |
| Form of B12 | Methylcobalamin and adenosylcobalamin |
| Type | Capsules |
| Dosage per serving | 120 mcg |
| Servings per container | 30 |
Best Multivitamin With B12 for Women: Garden of Life Vitamin Code for Women
Good for: Women who want to take B12 with the other vitamins and minerals
Instead of taking a singled-out vitamin, a multivitamin can help you cover all the bases. Basically, it acts as insurance that you're meeting your overall nutrient needs in case your diet is falling short. But needs differ, so ideally you want a multivitamin that takes a targeted approach.
Garden of Life's Vitamin Code for Women is specifically formulated for women in their reproductive years. It contains a blend of nutrients that promote heart, breast, reproductive, and digestive health, including just over 40 micrograms of vitamin B12—more than 1,600% of your daily needs.
The nutrients in this supplement come from a mixture of powdered fruits and vegetables, like apples, cauliflower, asparagus, and cabbage (just to name a few), all of which are organic. There's also an organic probiotic and enzyme blend that provides 500 million CFU of Lactobacillus probiotics8, which are especially important for women's health. It's worth noting that Amanda, our product tester, found the four-capsule dosage to be a bit cumbersome.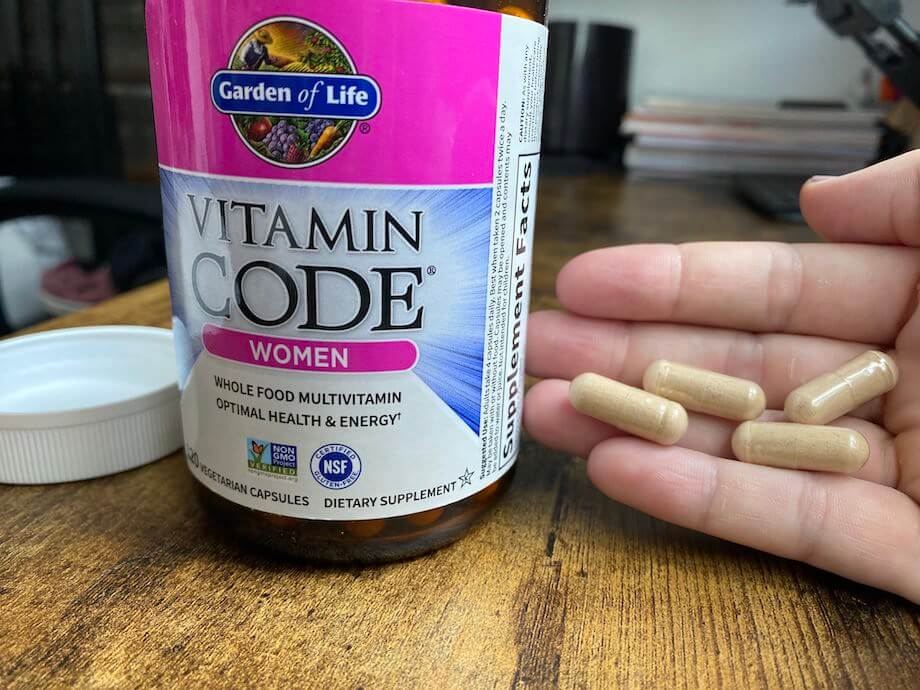 All of the ingredients are raw, which means they weren't exposed to any heat during manufacturing. This is worth noting since the water-soluble vitamins (B vitamins and vitamin C) are sensitive to heat and may become less potent when exposed to it. This supplement is also Non-GMO Project Verified, NSF Certified Gluten Free and Star K Kosher.
| | |
| --- | --- |
| Form of B12 | Methylcobalamin |
| Type | Capsules |
| Dosage per serving | 40.1 mcg |
| Servings per container | 30 |
Best Multivitamin With B12 for Men: Garden of Life Vitamin Code for Men
Good for: Men who want to optimize overall nutrient intake
We're equally fond of Vitamin Code for Men, Garden of Life's targeted male supplement. It has all the same callouts as the women's version—like Non-GMO Project verification, NSF-Certified Gluten Free and Star K Kosher—but this version is made with a blend of raw, organic fruits and vegetables that targets prostate and heart health, promotes a healthy stress response, and improves mental and physical energy.
It contains the same dose of vitamin B12, since needs don't differ based on biological sex, but has varying amounts of the other vitamins and minerals. It also has different types of probiotics, like Lactobacillus plantarum9, that are targeted more toward men's health.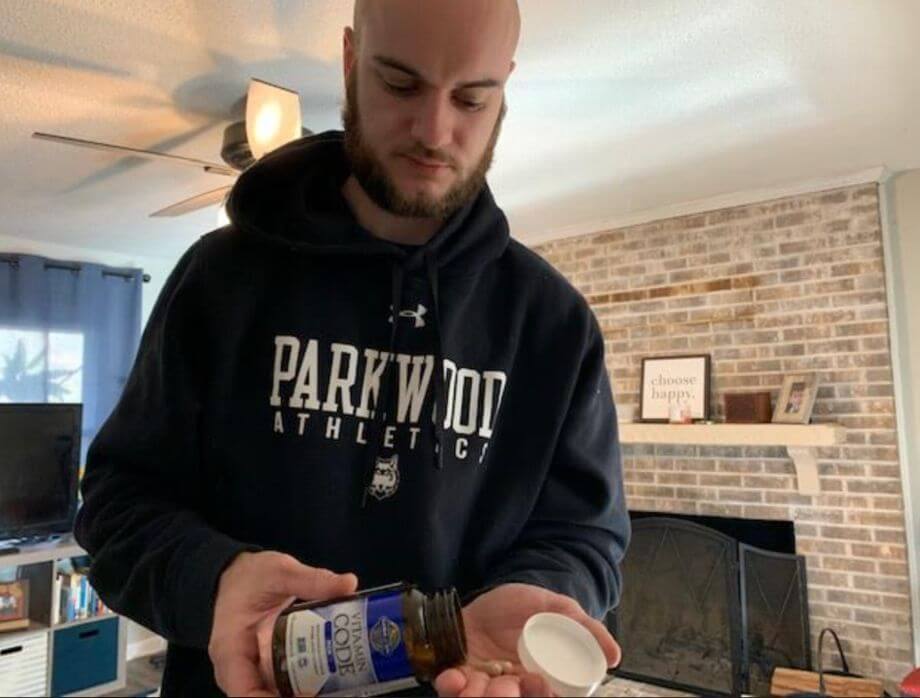 Like all Garden of Life supplements, this one doesn't contain anything synthetic binders or artificial colors, flavors, or preservatives. Instead, it's all good stuff with only a handful of inactive ingredients that help preserve shelf-life without negatively affecting the supplement's quality.
Again here, just as with Vitamin Code for Women, our gripe is that you need four capsules for one serving—what a hassle.
| | |
| --- | --- |
| Form of B12 | Methylcobalamin |
| Type | Capsules |
| Dosage per serving | 40.1 mcg |
| Servings per container | 30 |
Best B12 Gummies: Olly Daily Energy Gummies
Good for: Those who prefer gummies over capsules or liquid
It doesn't really matter how old you are; sometimes you just need a gummy vitamin instead of capsules. Unfortunately, gummies are notorious for less-than-stellar ingredients like artificial colorings and flavorings and high-fructose corn syrup. The Olly Daily Energy Gummies raise the bar though.
They do have pure sugar in the form of glucose syrup and beet sugar, which is really just white sugar under an admittedly misleading name. However, some of the sweetness comes from orange juice concentrate, while natural carrot and blueberry juices give them their pinkish hue. In other words, the ingredient list is pretty good as far as gummies go.
Each serving (that's two gummies) contains 300 micrograms of vitamin B12, as well as 100 milligrams of goji berry juice powder and Coenzyme Q10 (CoQ10). This combo is designed to boost energy, and CoQ1010 has also been linked to heart and immune health and may even help with migraines. While we certainly don't think this will take the place of your pre-workout, a little extra caffeine-free energy boost doesn't hurt.
Our tester Amanda fell in love with these gummies and would eat them all day if she could. "They taste like fruit snacks!" she says.
| | |
| --- | --- |
| Form of B12 | Cyanocobalamin |
| Type | Gummies |
| Dosage per serving | 300 mcg |
| Servings per bottle | 30 |
Related: Best pre-workout for women
Best Chewable B12 Supplement: NOW Foods Vitamin B12 1,000 mcg Lozenges
Good for: Anyone who wants a highly bioavailable chewable
Another easy-to-take option, these chewables from Now Foods provide 1,000 micrograms of vitamin B12 in the form of methylcobalamin. You just have to take one lozenge, and you'll be getting enough vitamin B12 for the entire day. This particular supplement is manufactured in a GMP facility without wheat, gluten, soy, dairy products, egg, fish, shellfish, or tree nuts. It's also vegan, halal, and certified kosher.
The chewables do have a small amount of added sugar to help with palatability, but compared to other supplements out there, the inactive ingredient list is still fairly clean. They're super budget-friendly too, and one bottle gives you more than a three months' supply.
Although there is no flavor listed on the bottle, our expert product tester Kate Meier, GGR's head of content, said they're a little sweet, almost cherry-like, and said these would be a great option for those who don't like taking pills as they are almost like a SweeTart if chewed.
| | |
| --- | --- |
| Form of B12 | Methylcobalamin |
| Type | Lozenge (chewable) |
| Dosage per serving | 1,000 micrograms |
| Servings per bottle | 100 |
Best High-Dose B12 Supplement: Bulletproof Methyl B12 5,000 mcg Lozenges
Good for: Those who need a higher daily dose, or prefer a lozenge
If you're really deficient in vitamin B12, you may need a higher dose supplement to help normalize your levels. This option from Bulletproof offers 5,000 of highly bioavailable methylcobalamin per serving in an extremely convenient package; it's a tiny lozenge that you can either chew or let dissolve right on your tongue—and it has a natural spearmint flavor so it can freshen your breath in the process (a win-win).
In addition to a very minimal ingredient list, all Bulletproof supplements are soy-, dye-, and gluten-free. They're also non-GMO and offered in clinical doses—meaning they have active ingredients that are higher than the daily average. However, there's not a lot of transparency about third-party testing or verifications, so you'll have to be willing to take the company at its word here.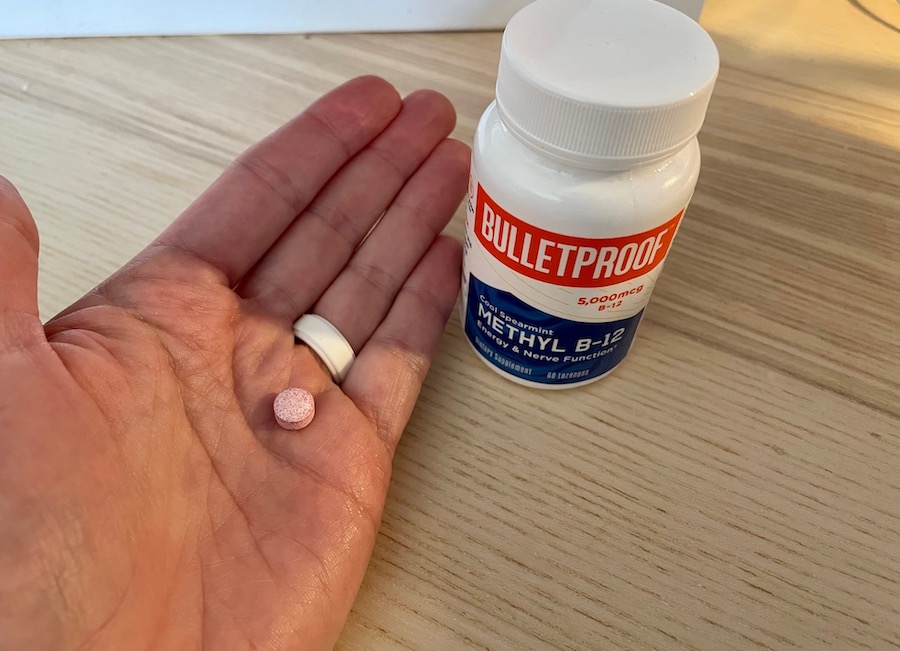 GGR Senior Editor Nicole Davis tested out the Bulletproof B12 and found the texture similar to a tum. The flavor was minty but not overpowering, and overall she thought the small lozenge was easy to get down.
| | |
| --- | --- |
| Form of B12 | Methylcobalamin |
| Type | Lozenge |
| Dosage per serving | 5,000 mcg |
| Servings per bottle | 60 |
Other B12 Supplements We Researched
Nature's Bounty Vitamin B12: This is the most popular B12 supplement on Amazon, but it has a questionable ingredient list combined with a synthetic form of vitamin B12. It might do the trick for you, but all things considered, we just think there are better options out there.
Nature's Bounty Quick Dissolve Vitamin B12: Another option from Nature's Bounty, this one also has a questionable ingredient list that includes sucralose, which may (or may not) have some harmful health effects11. Because there are so many cleaner, more highly bioavailable, options out there, we decided to leave this one off the list.
Amazon Basics Vitamin B12 Gummies: These raspberry-flavored gummies are intriguing. They're made with natural forms of vitamin B12 and have an impressive ingredient list of mostly organic components. Ultimately, they didn't make the list because we like the energy combo in the Olly gummies better, but we think these are a worthwhile candidate.
How We Picked and Tested
First and foremost, we got expert advice from registered dietitians and other nutritional experts on what makes a good vitamin B12 supplement. While answers varied slightly, the general consensus was that the supplement should have a bioavailable form of vitamin B12 in dosages that could work for a wide variety of needs.
When narrowing down this list, we chose to recommend varying forms of vitamin B12 to accommodate different needs. We also chose different delivery systems—you'll find capsules, soft gels, lozenges, and liquid on this list—to appeal to a wide variety of people. Some have no problem swallowing pills and others would prefer not to. We heard you and made sure there was an option for you on this list.
The experts we interviewed also really emphasized the importance of a clean ingredient list. Many supplements are full of undesirable fillers, artificial flavors and colors, and sugar. Those ingredients aren't necessary to the integrity of the product, so we chose brands that skipped them and kept things as minimal as possible (while still offering an effective supplement).
We also considered brand reputation. While the FDA oversees the language supplement companies are allowed to use, there isn't a ton of regulation beyond that. Basically, it's on the company to not make false claims about potency and purity, but some don't follow that honor code.
To help you weed through the millions of subpar supplements out there, and to help protect your well-being, we chose only brands that are transparent about how their supplements are made and where their ingredients come from. Most of the brands that made our list do third-party testing and have that testing data available to you on their website.
Benefits of Vitamin B12 Supplements
Vitamin B12 deficiency or insufficiency affects about 6% to 20% of the general population, and is even more prevalent in elderly adults12 and those who follow a vegan or vegetarian diet. Low levels of vitamin B12 can cause a wide variety of symptoms, from fatigue and shortness of breath to a red tongue, mouth ulcers, and pins and needles in your extremities.
"Difficulty seeing, irritability, depression, and mental decline such as with memory or judgment can also be symptoms of vitamin B12 deficiency," says Ashley, adding that "If left untreated, vitamin B12 deficiency can cause irreversible damage."
Vitamin B12 supplements are a way to fill in the gaps between what you're getting from your diet and what you need to take in daily. They can help normalize levels in people who are already deficient, or minimize the risk of becoming deficient in the first place.
Dosing and Interactions
The National Institutes of Health (NIH) Office of Dietary Supplements13 recommends that adults over the age of 19 get at least 2.4 micrograms of vitamin B12 daily. If you're pregnant or breastfeeding, those numbers jump to 2.6 and 2.8 micrograms, respectively.
However, supplements often have much higher doses because you only absorb a fraction of what's in them.
"It's recommended to supplement with at least 50 micrograms (mcg) of vitamin B12 daily. This is higher than the recommended dietary allowance (the estimated amount of a nutrient needed per day for health maintenance), which is 2.4 mcg daily, because your body only absorbs about 2% of vitamin B12 at doses of 500 mcg," Ashley says.
If you do the math, that means you'd be absorbing about 10 micrograms from a 500-microgram supplement.
This number can also vary depending on your health status and how well you absorb vitamin B12. For example, intrinsic factor14, which is a protein that's made by the cells in the lining of your stomach, helps your intestines absorb vitamin B12 and some people produce more than others. Taking proton-pump inhibitors can also affect B12 absorption because they suppress stomach acid15 which can reduce absorption rate.
Because there are a lot of nuances to consider, the proper dosing for you really depends on your individual needs and current vitamin B12 status. If you're not sure how much you should be taking, it's worth a discussion with your doctor or a qualified nutrition professional that knows your background and medical history.
There are also some potential interactions16 to consider. Certain medications, including aminosalicylic acid, colchicine, metformin, and proton pump inhibitors can limit your body's ability to absorb vitamin B12. Taking vitamin C supplements alongside vitamin B12 can also inhibit absorption. If you're on medications or taking other supplements, make sure to check with your healthcare provider before adding anything new.
That being said, vitamin B12 supplements are generally considered safe at the right dosages. If you take too much, you may experience some side effects like headache, nausea/vomiting, diarrhea, fatigue, weakness, and tingling in the hands and feet. But, toxicity is almost unheard of17.
Buying Guide: What to Look for in a B12 Supplement
The supplement industry is a difficult one to navigate. We picked out some really great vitamin B12 supplements for you, but you should consider the following when narrowing down your choice.
Type of Vitamin B12
Vitamin B12 supplements typically come in three forms: methylcobalamin, adenosylcobalamin, and cyanocobalamin. The first two are natural forms that mimic what's found in food, and the third is a synthetic form. Many experts recommend the natural forms for better absorption, but cyanocobalamin can be more shelf-stable, according to Ashley. There's no one right answer here, but consider absorption versus shelf life when making your choice.
Ingredients
B12 is the active ingredient in all vitamin B12 supplements, but you need to consider the inactive ingredients, too. These are additives and fillers that may add flavor or increase the shelf life of your supplement. When choosing a vitamin B12, try to pick one with as few inactive ingredients as possible. As a general rule: The cleaner the ingredient list, the better.
Delivery Method
Vitamin B12 comes in several forms, like soft gels, capsules, chewables, and liquid. Some studies show that liquid supplements taken under the tongue are the most bioavailable, but any form can help normalize your levels. Decide which delivery system works best for you before purchasing.
Testing
The supplement industry has gotten out of control. There are thousands of options on the market and many of them aren't even what they claim18. To make sure you're getting what you think you are, look for B12 supplements that are third-party tested or verified by national organizations like the USP or NSF.
FAQs About B12 Supplements
Which Is Better: B12 Or B Complex Supplements?
It depends on why you're taking it. "When you mix vitamin B12 with other nutrients like a B complex or multivitamin, the active form of vitamin B12 can be destroyed and our body is unable to use it," Ashley says. If you're deficient in vitamin B12 specifically, taking a vitamin B12 supplement by itself is likely the best and most effective way.
How Long Does It Take Vitamin B12 Supplements To Work?
Ashley says you can expect to see improvements in some symptoms (like fatigue and lack of energy) within a few weeks of taking a vitamin B12 supplement. "If your doctor puts you on vitamin B12 injections, you may start to see improvements after a few days of starting treatment," she says.
Is It OK To Take 1000 Mcg Of B12 A Day?
Many supplements have at least 1,000 mcg of vitamin B12, which is a commonly recommended dose. This is much more than you actually need for the day, but it accounts for losses due to malabsorption. There has never been a documented case of vitamin B12 toxicity since it's a water-soluble vitamin that doesn't get stored in the body, but you should check in with your doctor to determine the right dosage for you.
These statements have not been evaluated by the Food and Drug Administration. This product is not intended to diagnose, treat, cure, or prevent any diseases.
References