We test and review fitness products based on an independent, multi-point methodology. If you use our links to purchase something, we may earn a commission. Read our disclosures.
Tim Ferriss is known for many different things, most notably his podcast and books that delve into the lives of top performers. Nearly all top performers have one thing in common – a home gym; Tim Ferriss is no different.
The home gym is essential to keeping a prime physical and mental state for those who live busy lives. It seems obvious by the amount of content that Tim Ferriss produces that compared to many, his life is likely quite busy.
In following the recommendation of many of the guests on his podcast, Tim has built a very respectable garage gym featuring equipment we often recommend through the site. We've detailed other 'The Time Ferris Show' guests home gyms in the past (check out Jocko Willink's Garage Gym here) but have yet to show off Tim's…until now.
As expected, Tim Ferriss has a wide range of equipment. Evidenced in his various books, most notably The Four Hour Body, Tim's interests are eclectic and therefore this extends naturally to the way he trains.
Although Tim has a power rack as the centerpiece of his gym, I would guess based upon his conversations with Christopher Sommer (GymnasticBodies founder) that Tim follows a gymnastic training routine mixed with occasional weight training and kettlebell swings. I say kettlebell swings because they make up a majority of the weight in Tim's gym.
Kettlebells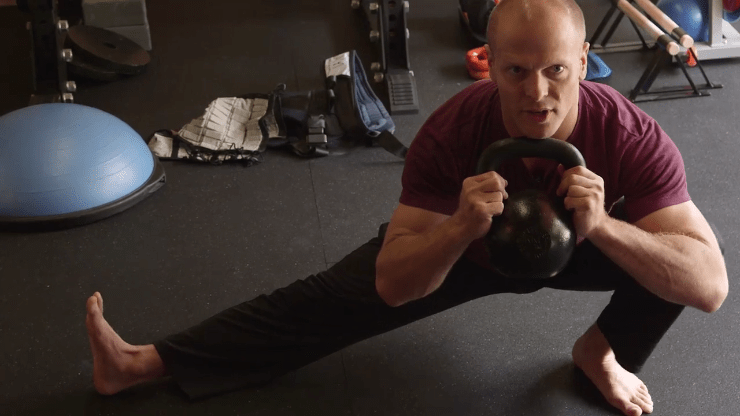 Dragon Door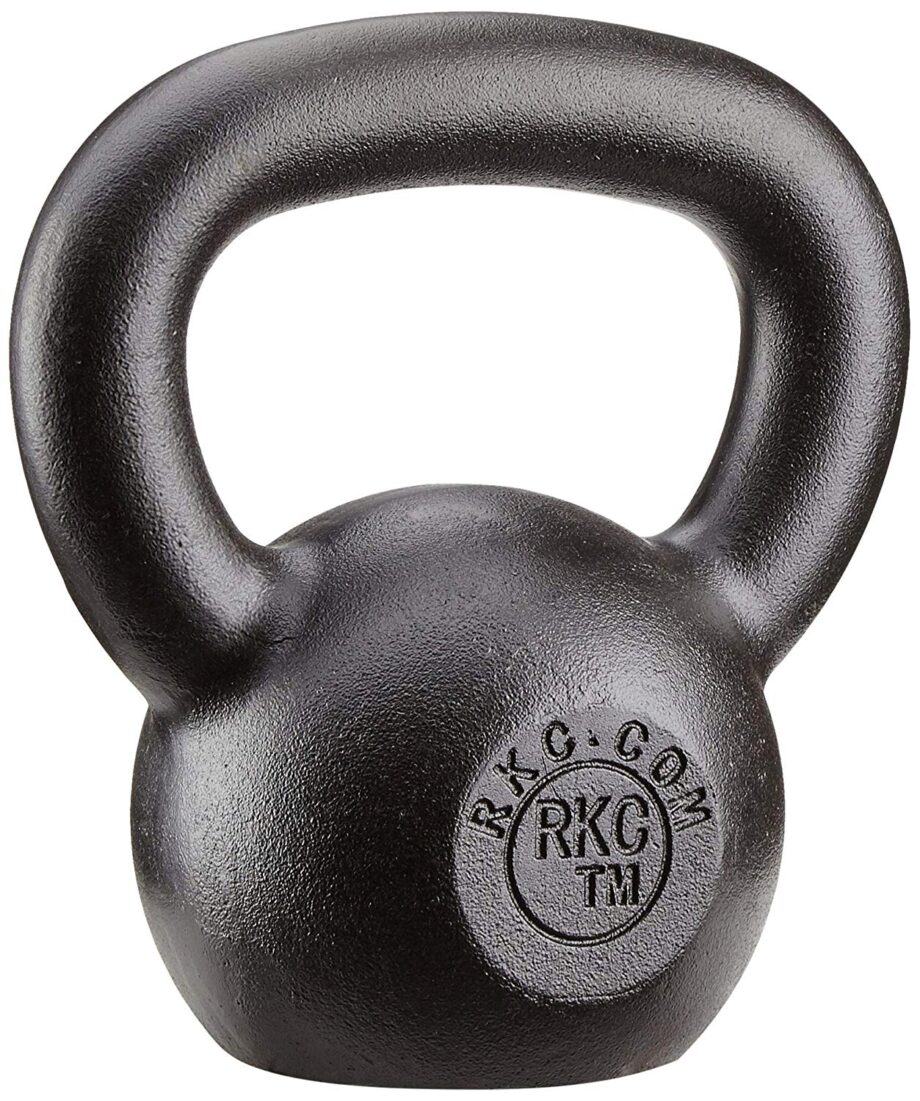 Dragon Door RKC Russian Kettlebells
The Official RKC, Military-Grade Kettlebell—Durable, Resilient and Perfectly Designed to Give You Years of Explosive Gains in Strength, Endurance and Power The 16kg (35lbs.) RKC Russian Kettlebell is Dragon Door's most popular kettlebell and is the ideal size for most men and for stronger women to jumpstart their cardio, conditioning and strength programs. Men and stronger women can use the 35lb kettlebell to train themselves effectively in the many excellent drills you'll find in Pavel's classic book and DVD, Enter the Kettlebell! Drgon Door and Pavel Tsatsouline re-introduced kettlebells to the US with their uniquely designed 35lb cast iron kettlebell—and it has remained our most popular kettlebell.Why? Even a man of average initial strength can immediately start using the 35lb kettlebell for two-handed swings and quickly gravitate to one-handed swings, followed by jerks, cleans and snatches. Within a few weeks you can expect to see spectacular gains in overall strength and conditioning—and for many—significant fat loss. Stronger men and more experienced weightlifters and powerlifters can use the 35lb kettlebell to train themselves effectively in the many excellent drills you'll find in Pavel's classic book and DVD, Enter the Kettlebell!. The 35 lb kettlebell quickly becomes a favorite for women too, once they have built up their strength using Dragon Door's lighter kettlebells. (Women, we recommend you start with either the 26lb kettlebell or the 18lb kettlebell initially.)
In a somewhat older video, Tim does a walk-through of his garage gym when it was in its infancy and said his kettlebells went up to 120 lbs. This makes sense as he's had Pavel Tsatsuouline, Chairman of Strongfirst and highly regarded kettlebell expert onhis podcast multiple times.
Although there's no brand name given, I would assume by their appearance that they are made by DragonDoor who practically brought kettlebell training to the forefront in the early 2,000's. DragonDoor Russian Kettlebells feature a classic cast iron design with a rust-resistant e-coat. They're not the highest quality bells in the world, but they get the job done at rather accurate weights.
Tim has often written on his use of kettlebells, and I agree with much of what he says, especially in relation to kettlebells being one of the most versatile pieces of equipment. This also extends to them being great for home gym owners due to the little space they take up in addition to their varied use.
If you'd like to learn more about kettlebell training, listen to this podcast between Tim and Pavel.
Power Rack
The centerpiece of anyone's gym who uses strength training as a part of their training routine is the power rack (except for Dwayne 'The Rock' Johnson, surprisingly).
Tim Ferriss has gone to the company we most often suggest to people outfitting their gym, and that is Rogue Fitness. Rogue is the most popular equipment manufacturer in the world and for good reason – they produce quality equipment with excellent customer service at pretty good prices.
Rogue Fitness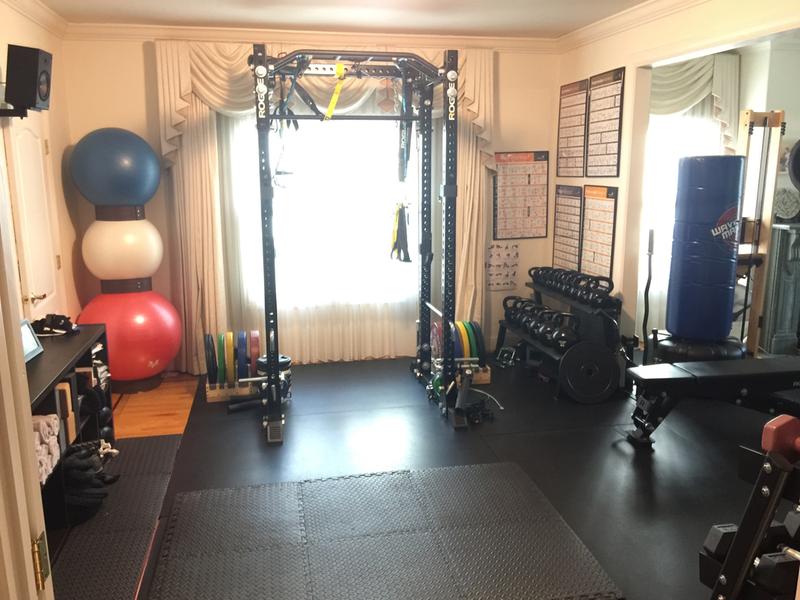 Rogue RM-390F Flat Foot Monster Rack
The fully updated Flat Foot Monster Rack is built for athletes, coaches, and gym owners who want the benefits of Rogue's heavy-duty RM-3 without having to bolt the unit to the floor. The RM-390F 2.0 features the same 3x3" 11-Gauge Steel uprights and over-sized 1" hardware as the standard model, but utilizes our Monster Squat Stand's triangle-plate base design to create a large, self-stabilizing foundation. With Version 2.0, the uprights also now include laser-cut pin position numbers on the front and back, and a keyhole pattern on the sides–creating compatibility with more add-ons and attachments. A set of 3x3" rubber feet help protect your flooring and prevent any movement of the unit during use.The Flat Foot Monster Rack stands 93" tall with a 24" (depth) inside depth and a 54" x 50" overall footprint. A Monster Single Skinny Pull-Up Bar and pin/pipe safety system are included standard, and the crossmembers at the top of the rack are now gusseted for extra strength and rigidity. Customers can choose between our standard Monster J-Cups or a pair of Sandwich J-Cups with a UHMW plastic core. The full rack–aside from the J-cups, safeties, and front pull-up bar–is powder coated in a new Satin Black finish.
The power rack Tim has is the Rogue RM-390F Flat Foot Monster Rack. This is one of Rogue's most stout power rack's and allows the user to use the rack without bolting it to the ground. Featuring 11 gauge 3×3 tubing, oversized 1″ hardware and pin holes, as well as many available attachments, this is one of the best racks a home gym can have.
In addition to the rack, a few accessories Tim has is an extra set of Sandwich J-Cups, Gymnastic Rings, Cannonball Grips, and Matador Dip Horns.
Barbell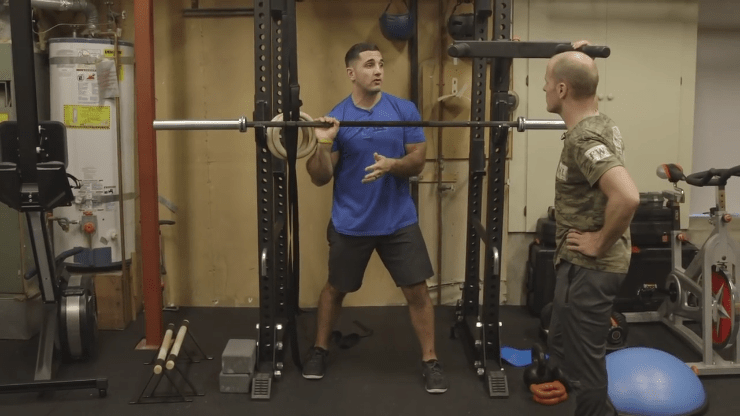 The barbell Tim Ferriss uses is the Rogue Bar 2.0.
The Rogue Bar 2.0 is actually our top pick in our ongoing Best Olympic Barbell series due to its outstanding combination of specs and price. Less than a decade ago, a barbell like this would have cost well over $500. Thankfully due to the growth of home gyms, there are now many excellent barbells at lower prices than ever before.
Rogue Fitness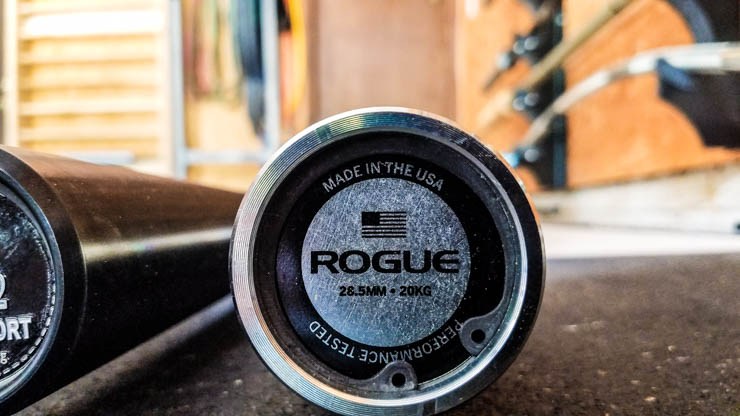 Rogue Bar 2.0
This is the next generation of the 28.5MM Olympic bar that helped launch the revolution. Now fully machined and assembled at the Rogue factory in Columbus, Ohio, the Rogue Bar 2.0 represents the highest level of precision engineering with a wide range of new features—including stronger 190 PSI steel, durable composite bushings, and CNC-machined groove sleeves with customizable color bands, available hereLike the original flagship Rogue Bar, Version 2.0 still offers convenient dual knurl marks for both Olympic and powerlifting, with a black zinc coated shaft and bright zinc sleeves. The addition of a groove in the sleeve enables athletes and coaches to more easily identify and differentiate bars by changing out the bands. The bar comes standard with Rogue-branded bands, but you can swap them out with any of the additional color options available, or even use any custom, personalized band that matches the dimensions.The Rogue Bar 2.0 is among the first in our arsenal to use composite bushings—a self-lubricating material often found in hi-tech aerospace equipment and military vehicles. For intense, high-rep training, these bushings dramatically minimize friction to both provide a reliable spin and help extend the shelf life of the bar itself.The Rogue Bar helped us cement our reputation at the CrossFit Games and beyond, and we believe the Rogue Bar 2.0 is a worthy successor to that mantle.
The Rogue Bar 2.0 features a 28.5 mm, 190K PSI Tensile Strength, Black Zinc coated shaft with a bushing rotation system and a price tag of only $255. A barbell is an area we suggest spending extra on due to the amount of use it receives and we're big fans of the Rogue Bar 2.0
Weights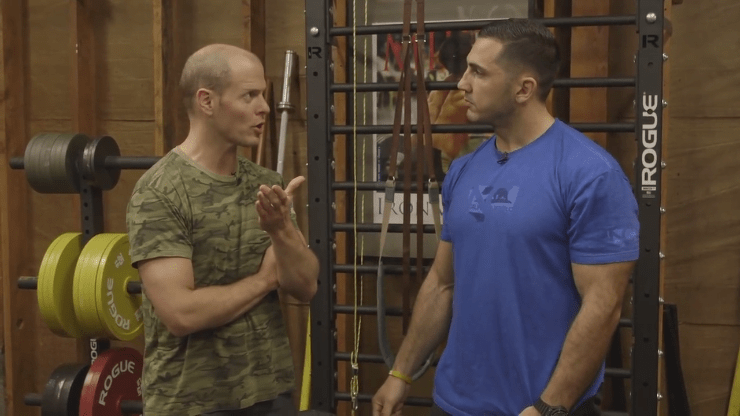 Tim spared no expense when it came to weight plates. Rather than choosing cheapy Standard Barbell plates, Tim went with Rogue Calibrated Steel Plates (the same ones I have in my garage.)
The Rogue Calibrated Steel Plates are the best value calibrated plates currently available. Not only are they color coded, but more importantly they're within 10 grams of the stated weight. Traditionally used for powerlifting competitions, these plates are just as effective on the platform as they are in a garage gym.
Rogue Fitness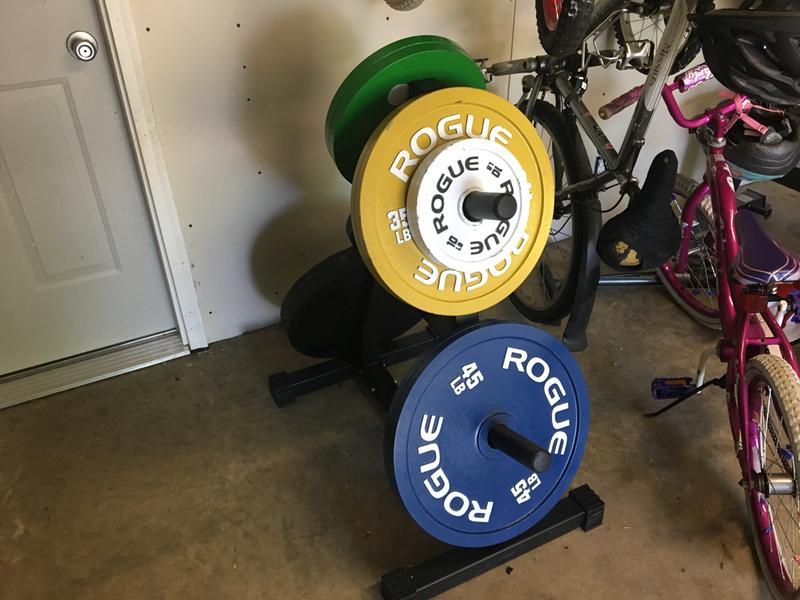 Rogue Calibrated LB Steel Plates
Machine calibrated for next-level precision, these durable cast-iron LB plates are accurate to within 10 grams in weight. Each disc is cut thin to allow for max loading capacity (up to 1500+LB) and color-coded for easy identification from a distance. The back of each plate includes calibration plugs (lead on smaller plates, brass on plates 5LB and up) for an ever greater level of precision. A 50MM center hole is designed for a snug fit on a standard barbell, and as a result, may not fit on some cheaper barbells not held to spec.Additional Specifications:Steel Powerlifting LB Discs Machine calibrated to within +/- 10 grams Calibration plugs on back of plates for increased precision 50MM collar opening Thin Design for 1500LB load capacity Low Gloss Powdercoat surface finish Exclusive Rogue branding, Artwork on one side only
Although these plates are a good value, they can get pretty costly. This said, you shouldn't ever have to buy weights again (unless you want bumper plates.) To be honest, I'm actually a bit surprised Tim chose calibrated steel plates over bumper plates. Bumper plates have more versatility, but it's likely because he spends a majority of his training time focusing on the slow lifts (squat, deadlift, bench, overhead press) than the classic lifts (clean and jerk, and snatch.)
Dumbbells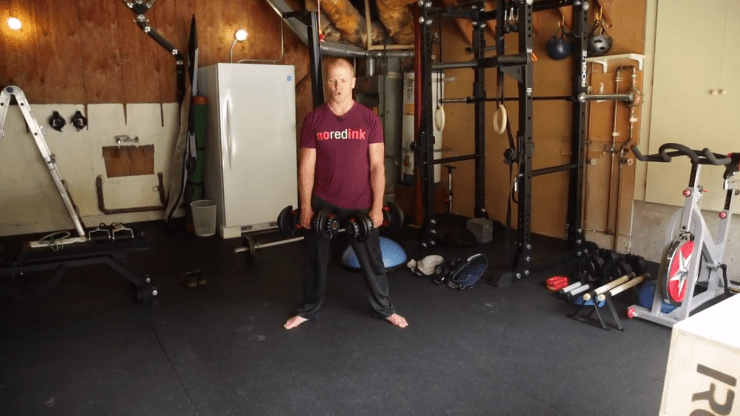 Dumbbells are an important part of any training program. The problem with dumbbells in a home gym is they often are both costly and bulky. Thankfully there are a lot of different options today for compact, selectorized dumbbells and the ones Tim Ferriss has is the Bowflex SelectTech 552 Adjustable Dumbbells.
Bowflex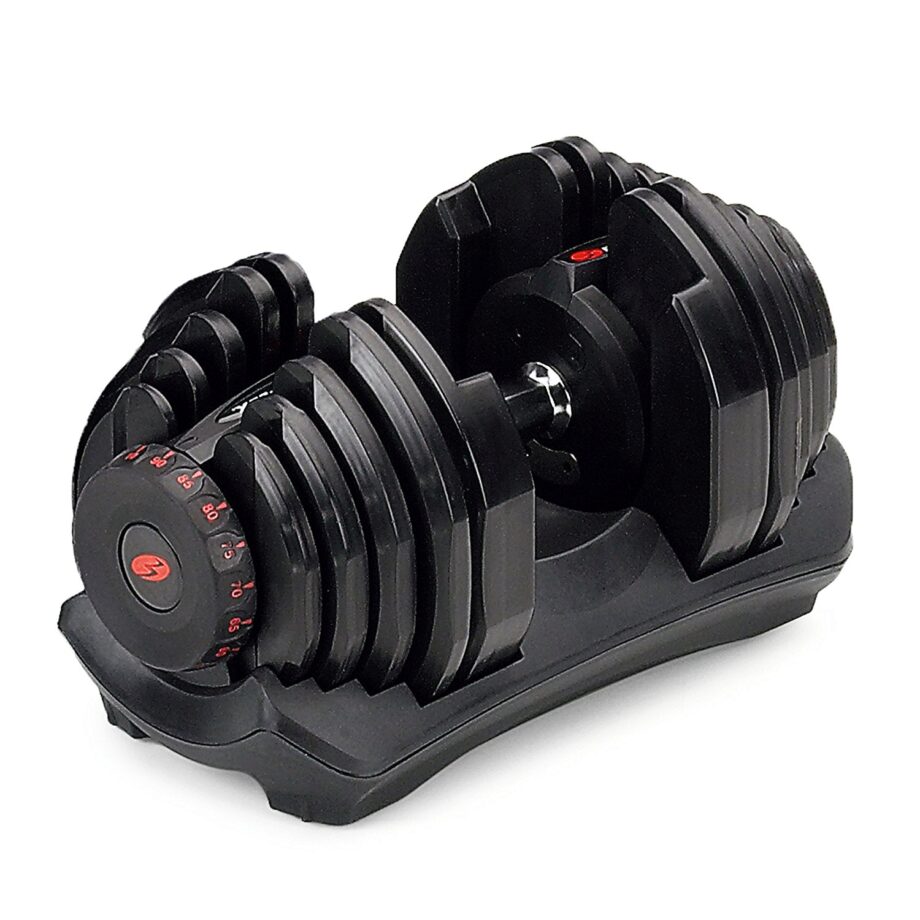 Bowflex SelectTech 1090 Adjustable Dumbbells
Just like all Bowflex SelectTech dumbbells, with just the turn of a dial you can automatically change your resistance from 10 lbs. all the way up to 90 lbs. of weight. No more picking up 17 different sets of dumbbells to give you the results you want!Use the Bowflex SelectTech App to journal your strength training Space efficient - say goodbye to 17 sets of dumbbells Select the weight you want with a turn of a dial.With just the turn of a dial, change your resistance from 4 kg (10 lbs) all the way up to 41 kg (90 lbs) of weight Each dumbbell adjusts from 10 lbs to 90 lbs Durable molding around metal plates provides for a smooth lift-off and quieter workouts
With a 4.5 star rating and over 3,800 reviews on Amazon, these are a fantastic value for dumbbells. This set, in particular, combines 15 sets of weights into one with adjustments all the way from 5 pounds to 52.5 pounds.
Thanks to the versatility of dumbbells, these can be used for everything from strength training to rehab and prehab.
Conditioning Equipment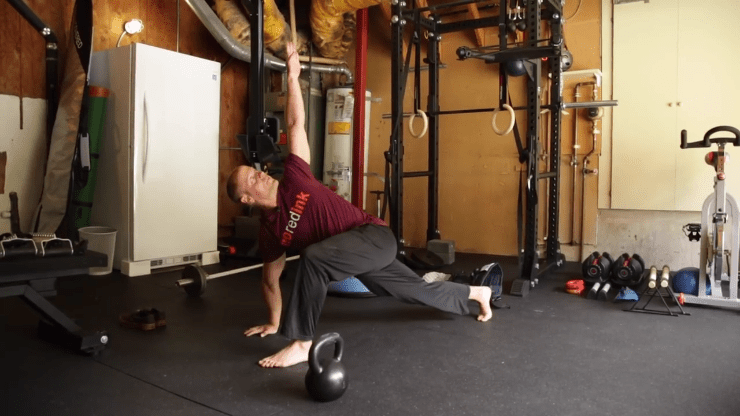 Tim Ferriss has a few different pieces of conditioning equipment in his home gym, which for most is all that you need (you would probably be fine with none actually.)
The first piece of equipment is the Concept 2 Rower. We're huge fans of the Concept 2 Rower for not only its effectiveness but also it's durability. We have yet to find a piece of conditioning equipment that can take the beating Concept 2 equipment can and still operate like it did on day one.
Concept 2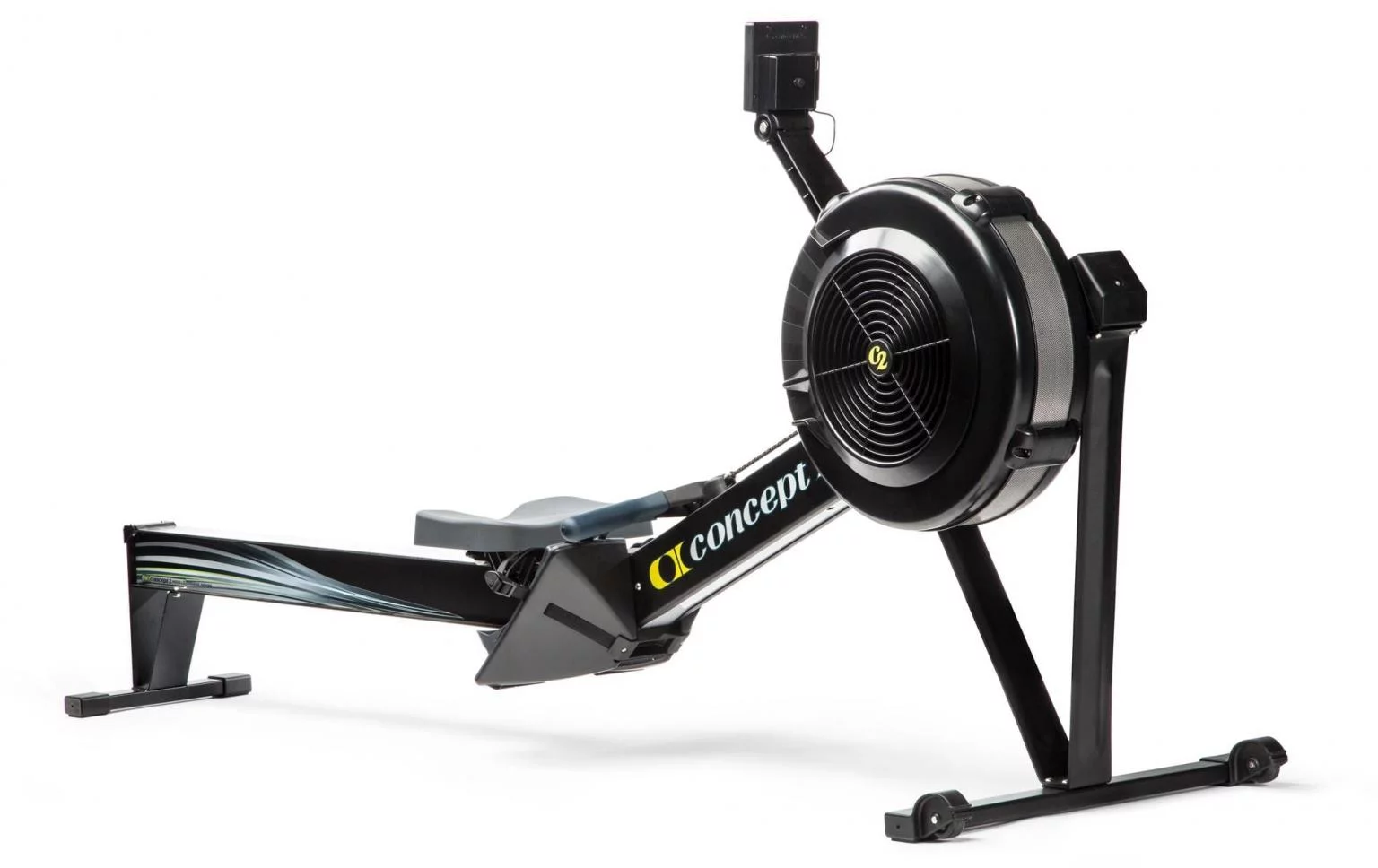 Concept2 RowErg
The Concept 2 Model D Rower is perhaps the most popular rowing machine on the market, found in commercial gyms and home gyms around the world.  It  provides a low-impact, full-body workout and uses air resistance generated by a fanned flywheel.  The Model D has an adjustable damper setting from 1 to 10 allowing you to move with ease or with more resistance and intensity.The Model D comes with adjustable foot-rests, a 14-inch seat height with an aluminum l-beam monorail and stainless steel track for a smooth back-and-forth slide.  This is a light cardio machine with wheels, which means you can move it with ease around your space. Also, for storage, the rower can be easily broken down into two segments, hung on a wall with a Rogue wall hanger, or simply tilted upright and stored vertically.  The PM5 Performance Monitor gives instant feedback on pace, watts, calories, distance, and rpms.  The monitor is easily adjustable, Bluetooth-compatible, and can easily connect to a heart rate monitor or the ErgData app.  
The Concept 2 Rower has been around for quite a while but started to gain mass acceptance thanks to the growth of the CrossFit Games. Often times when asked what our suggestion for someone wanting a single piece of conditioning equipment is, we suggest the Concept 2 Model D Rower.
The other piece of conditioning equipment Tim has is the Sunny Health & Fitness Pro Indoor Cycling Bike. This stationary bike certainly isn't the best available, but based on the price and reviews, it's a pretty great value. For something that's going to be solely used for personal use, this seems like a great option.
The last piece is the Armored Fitness XPO Sled which we reviewed this in the past and gave it high praise. It's an excellent sled that produces virtually no noise, yet tons of pain.
Stall Bars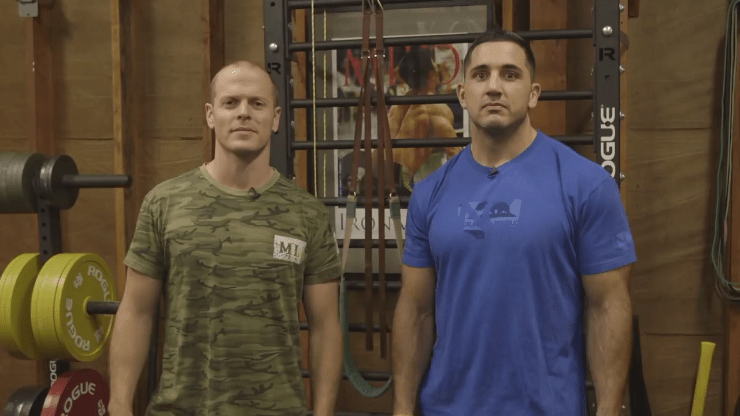 A piece of equipment that used to be found in every school gymnasium in America, but has since been relegated to niche gymnastic training centers are the stall bars.
We created a DIY Stall Bars article years ago after being introduced to them, and I use them as a daily part of my training. Since Tim follows GymnasticBodies, it makes sense that he would have a set of Stall Bars in his home gym.
The Stall Bars Tim has are the Rogue Stall Bar 3.0.
The Rogue Stall Bar 3.0 utilizes Monster Lite uprights along with your choice of wooden dowels or steel bars. Tim chose steel bars which are the same bars used on Rogue Pullup Bars.
If you're into gymnastic training, then stall bars are essential. Although we enjoy the process of building and designing our own, the Rogue Stall Bar 3.0 is a great choice.
Miscellaneous
Rogue Fitness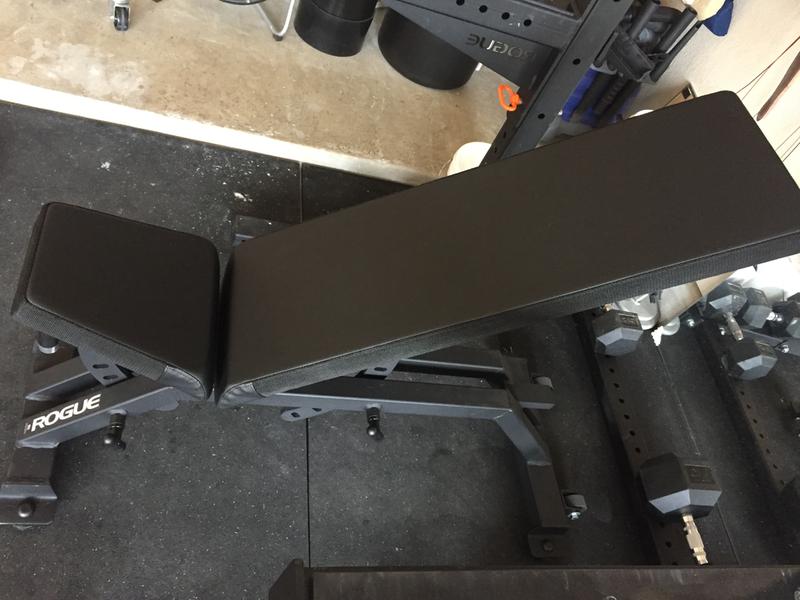 Rogue AB-2 Adjustable Bench
With more than 50 combinations of seat and back-rest positions to choose from, the AB-2 Rogue Adjustable Bench can easily adapt to each individual athlete, improving the overall efficiency and productivity of any strength training facility. No matter your size, workout preferences, or available training space, this compact, 11-gauge steel bench provides the rare combination of sturdiness and maneuverability that few other adjustable weight benches even attempt to match.The AB-2 Rogue Adjustable Bench includes six different seat settings and nine additional back rest positions, making it easily among the most versatile weight benches on the market. Unlike most commercial-brand FID benches, though, this customization element is not achieved at the expense of quality craftsmanship. Made in America, the AB-2 is a direct descendant of the time-tested Nebula 1080 Utility Bench, and includes load-bearing rubber feet for stability, cordura edges for enhanced durability, and a convenient handle and wheels for easy mobility.
There are a few miscellaneous pieces of equipment spread out in Tim Ferriss' gym that we'd like to point out.
The first and most notable is the Rogue AB-2 Adjustable Bench. This is Rogue's premier adjustable bench and is both stout and expensive. The Rogue AB-2 can adjust to 9 back positions and 6 seat positions. The pad is thick, firm, and the entire bench is able to hold just about any weight you'd ever be able to lift.
In addition to Tim's assortment of gymnastic equipment we've already detailed, he also has a set of basic wooden parallettes.
Parallettes are great for handstands, handstand pushups, pushups, as well as L-Sits and planches. Although we'd suggest starting with gymnastic rings, parallettes are a cheap and versatile piece of gymnastic equipment.
Tim also has a Rogue 3-sided Games Plyo-Box and a Metolious Hang Board for improving bounding and grip abilities.
Finally, Tim has a Bosu Ball that can be used for stability training as well as various core exercises.
Tim Ferriss Training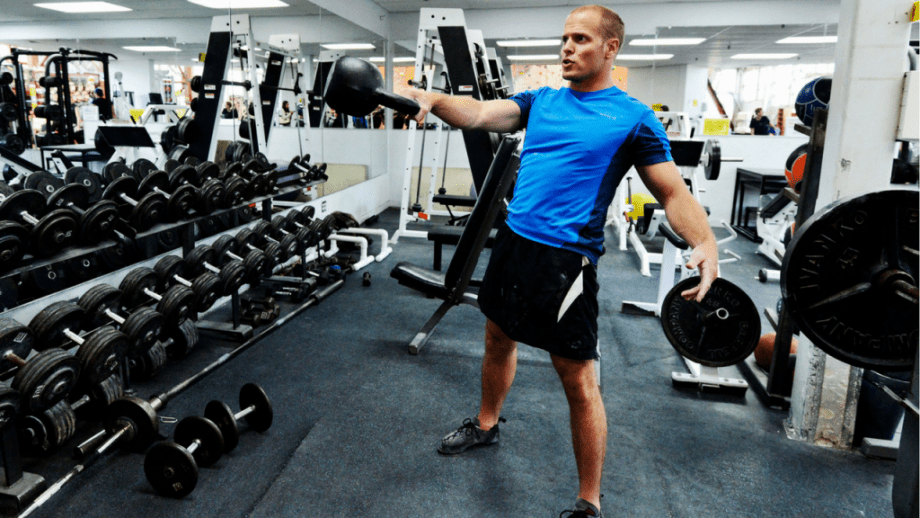 As we all should be, Tim's training seems to continually be evolving. Although most of Tim's previous thoughts on training can be found in his book the Four Hour Body, his newest types of training are best found in his podcast.
I've followed him vicariously for close to a decade now and remember his Geek to Freak training program which was all weight training based.
Now, it seems most of Tim's training is centered around Gymnastics and Acro-Yoga. These are both bodyweight training programs that rely on coordination, flexibility, and strength over one's own body.
If you're interested in training similar to Tim Ferriss, then I would suggest checking out Christopher Sommer's GymnasticBodies. There are many programs and a wealth of information to be had on his site.