We test and review fitness products based on an independent, multi-point methodology. If you use our links to purchase something, we may earn a commission. Read our disclosures.
For as long as I can remember, Fitbit has been a brand synonymous with fitness trackers. They have continued to put out quality products at a fairly reasonable price for the past few years. The Fitbit Inspire 2 fits the bill for a quality, reasonably priced fitness tracker that has all the basics. The Inspire 2 is an upgrade from the Inspire because of the addition of active zone minutes, swim tracking, and double the battery life.
In this Fitbit Inspire 2 review, I'll break down all the features you're dying to know about and give you the overall pros and cons of this fitness tracker. I'll test the compatible app, durability, battery charge, and exercise tracking features to give you a clear picture of the Inspire 2. I pride myself on giving honest, in-depth reviews that help my Garage Gym Review family make the best buying decisions.
My Favorite Things:
Under $100
20+ exercise modes
Daily move reminders
Water resistant up to 5 ATM/50 meters
Up to 10 days of battery life
My Callouts
No built-in GPS
Narrow touchscreen
Lack of altimeter
For more, check out my list of the best fitness trackers on the market today.
Fitbit Inspire 2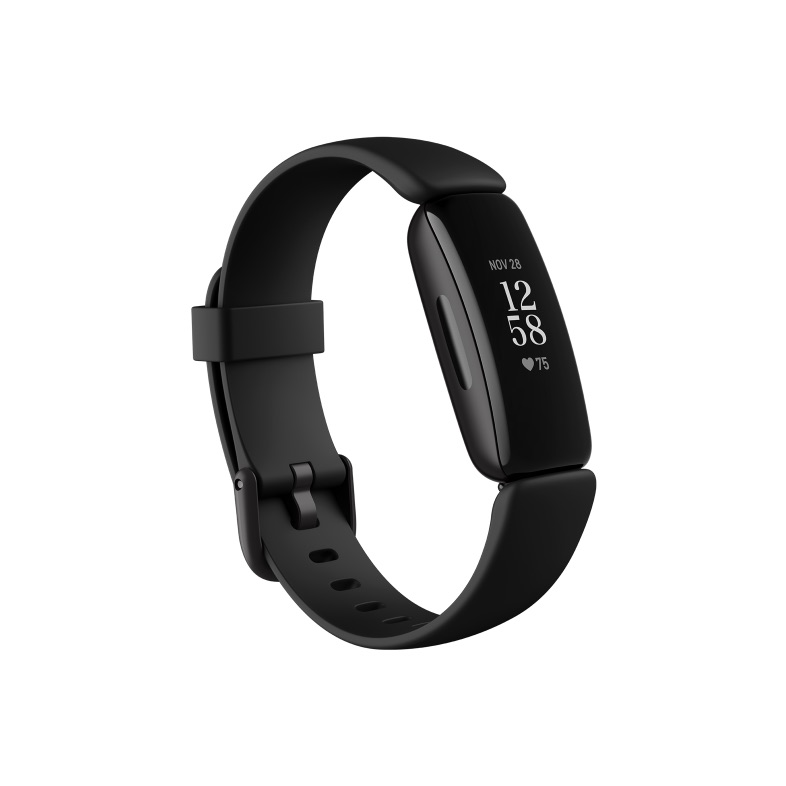 Fitbit Inspire 2
The Fitbit Inspire 2 is a fitness tracker that packs a big punch in a small package. For under $100, the Inspire 2 can track oodles of metrics, including your heart rate, calories burned, active zone minutes, daily readiness score, and steps in a day.Plus, you'll be able to specifically track over 20 different types of workouts. Whether you're into strength training, swimming, or running, the Inspire 2 will be able to keep up with your lifestyle.
Who Should Buy the Fitbit Inspire 2?
Great for:
Beginners looking for a no-frills way to track their fitness
People who are looking forbudget home gym accessories
Those who enjoy different ways to workout
Not recommended for:
Serious cardio junkies that need a built-in GPS to track very accurate routes
Someone who wants to track incline and decline
A technology fanatic interested in loads of data
What Does the Fitbit Inspire 2 Measure?
This slim fitness tracker gives a variety of measurements so you can stay on top of your health and wellness. Here are some you can expect to see when using the Fitbit Inspire 2.
Active zone minutes
Light, deep and REM sleep
Sleep score
All-day steps
Calories burned
Daily distance
Heart rate zones
Cardio fitness level
20+ exercise modes
Food logging
Real-time pace and distance when connected to smartphone
Workout intensity
Menstrual health metrics
Heart rate variability
Breathing rate
24/7 heart rate
Resting heart rate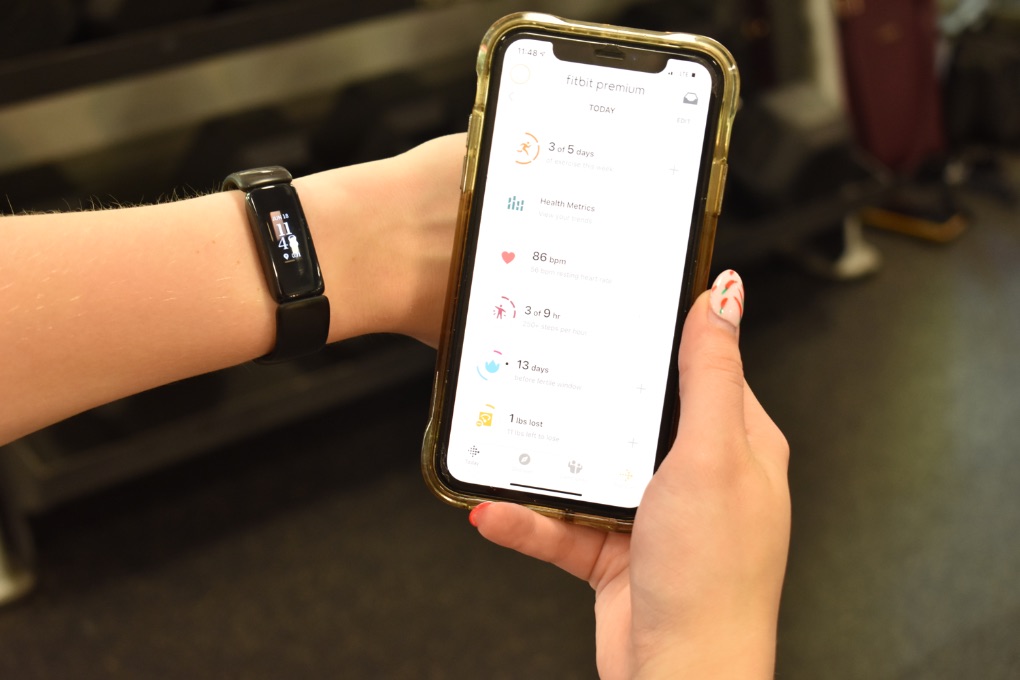 Design and Aesthetics
The Fitbit Inspire 2 comes in three colors– black, lunar white, and desert rose. I chose the black option but all three colors are the same price. The strap itself is made of silicone with a buckle made out of aluminum.
On the Fitbit website, you are able to purchase additional bands and clips to make your Inspire 2 feel personalized. The options range in price from $15 to $70. Included in the options are bands made of stainless steel mesh, leather, and rubber. You can also purchase a clip instead of a band for your Inspire 2 to take it from a wristband to something more discreet.
The display of the Inspire 2 is PMOLED, which generally offers less resolution than a more expensive AMOLED display. The screen is narrow at 1.4 inches and can be difficult for far-sighted users to see. Unfortunately, the screen is in greyscale and not in color, which I prefer.
I do appreciate that the display is a touchscreen. You're able to swipe up on the screen to access different features and settings.
On the side of the Inspire 2, there are two unobtrusive buttons that help you get more options for the tracker. When pressing the buttons, you'll be able to do things like see the battery life, turn on the water lock for swimming, and dismiss phone calls or alarms.
Adjustability
Similarly to the Apple Watch Series 6 smartwatch, the Fitbit Inspire 2 comes with two different bands to fit both small and large wrists. There is even a guide on the Fitbit Inspire 2 page to print out if you'd like to determine your sizing ahead of time. The small band fits a 5.5″ – 7.1″ circumference wrist and the large band fits a 7.1″ – 8.7″ wrist.
I found the Inspire 2 to be both easily adjustable (due to the buckle) and comfortable to wear. I was concerned about wearing it to bed in order to get the correct sleep data but it didn't cause any problems. It was equally comfortable when doing a strenuous workout. I didn't notice it moving around and it was easy to wipe sweat off the silicone band.
Technology
Although the Inspire 2 has more basic technology than some wearables, it still gives a variety of good data in an easy-to-digest manner.
The Metrics
Besides the common step counting, distance tracking, and calorie burning metrics you'd expect to see on a fitness tracker, the Inspire 2 offers extras beyond that.
One of my favorite features is the active zone minutes that Fitbit has recently added to many of their fitness trackers. The active zone minutes counts time you spend with your heart rate high enough to burn fat. To get your individual fat burn heart rate, you'll need to input data like age and weight as well as allow the Inspire 2 to get a good read on your regular HR. This is one of the upgrades made that the Fitbit Inspire HR does not have.
A few other cool features include guided breathing sessions to reduce stress, all-day heart rate tracking, and a SmartTrack feature to recognize you're working out – even if you forgot to start an activity timer.
Activity Tracking
For this price range, the Fitbit Inspire 2 has the ability to track quite a few different activities. Here are the 20+ exercises pre-entered and ready to use:
Running
Golf
Interval Workouts
Hiking
Martial Arts
Cycling
Pilates
Circuit Training
Stair Climbing
Walking
Yoga
Biking
Kickboxing
Bootcamp
Tennis
Swimming
General Workouts
Ability to add your own custom type of workout (such as Rope Pulls or KettlebellSwings)
RELATED: If you want a tracker made specifically with running in mind, check out my Garmin 245 Forerunner review.
GPS Capabilities
The Inspire 2 doesn't have built-in GPS, but it does have the ability to sync with your phone's GPS. This is inconvenient for those who don't want to have to bring their phones with them in order to track their running routes. On the plus side, with the connection of GPS to your phone, you'll be able to view a workout intensity map. This will show spots on your route that were particularly challenging or easy. This map shows changes in your heart rate to know when you were pushing yourself.
Pairing with your Inspire 2
If you have a device running on Apple iOS 12.2 and higher or Android OS 7.0 and higher, you're in luck. Your smartphone will easily pair to the Inspire 2.
Here's the easy setup process:
Turn on Bluetooth on your smartphone
Within the Fitbit app, click the "Today" tab
Tap your profile photo and the Inspire 2 option
Hit the notifications button
Follow the on-screen prompts given
Turn on notifications for apps within your phone you want to see on your tracker
Inspire 2 and smartphone should be paired! You will now see notifications on your tracker.
Sleep Tracking and Sleep Score
If you're willing to wear your fitness tracker to bed, you can get a variety of interesting sleep stats. The Inspire 2 measures how long you're asleep, how deeply you're sleeping, and the quality of your sleep. In the morning, you'll be able to view this information by sliding up on the watch's display or checking the Fitbit App. You'll also have the ability to set a nightly sleep goal. Fitbit (and also sleep experts) recommend getting eight hours of sleep, but you can change it to suit your preferences.
I was fascinated to find out more about my sleep. Since a one-year free Fitbit premium trial is included with the purchase of the Inspire 2, I was able to find out additional stats about how I was sleeping and what I could do to improve my overall restfulness.
If you're utilizing the sleep tracking feature, you'll also receive a daily sleep score based on heart rate, sleep stages, as well as time awake and asleep. The scores range from under 60 to 100. The ideal sleep score is 100, which would mean great sleep quality. If you want deeper sleep metrics, check out the Whoop Strap 3.0.
Stress Management
Working in tandem with your sleep information, the stress management tool within the app helps you determine a score from 1-100, with a higher score meaning you're showing fewer signs of stress. The app creates your score based on sleep data, exercise, and heart rate. You're able to check your score after a night of sleep.
To use this function, simply tap the stress management icon within the 'Today' tab to view the information. With Fitbit premium, you'll be able to see additional data and insight into your stress management score.
Menstrual Tracking
Within the Fitbit app, you're able to track your menstrual cycle (if you have one), ovulation, log periods, and analyze trends. Fitbit will ask to confirm if your period has arrived when you expected. Of course, this is not a substitute for an actual doctor or OBGYN. If you have medical questions, please consult a professional and not an app on a fitness tracker.
Cardio Fitness Score
The Fitbit app provides a way to view your cardio fitness score, which is otherwise known as your VO2 Max. Your VO2 Max measures the amount of oxygen your body is able to use when you're doing cardio, such as using the treadmill in your home gym.
The Inspire 2 will give you a score ranging between poor to excellent. Your score is determined using resting heart rate, sex, weight, and age. To give you the most accurate score, Fitbit also asks you to run for 10 minutes on flat terrain to get a better picture of your fitness level. I think this is a nice feature and it's motivating to see how I can improve.
Calorie and Food Tracking
The Fitbit Inspire 2 does allow you to track your daily calorie intake, which is a nice feature in theory. My gripe with this feature is that you have to add the meals on a computer first via fitbit.com.
After you've added a specific meal or food, you'll be able to easily add it on the app for future use. I just find the extra step of using a separate computer before being able to add it to the app cumbersome. This can get tiring if you don't eat the same thing every day.
Here are the steps to add a meal to your food log:
Go to fitbit.com on a computer and login to your account
At the top of the page, click 'Log' then 'Food'
On the right under the 'Favorites,' click 'Meal'
After clicking 'Create a Meal,' name the meal
You'll be able to add individual ingredients into the meal
Click 'I'm done' when you're finished adding ingredients
From there, go into the Fitbit app and click the plus icon to add the created meal to your food tracking log
Notifications
Once you've paired your Inspire 2 to your smartphone, you'll have the option to receive calendar, text, and call notifications on your watch. When you receive a call, you'll be able to answer via the watch, but it will transfer over to your cell phone. With text and calendar notifications, you'll only be able to see the first 250 characters.
As long as your watch is within 30 feet of your paired phone, notifications will show up on your tracker. The Inspire 2 has the capacity to hold up to 10 notifications at one time.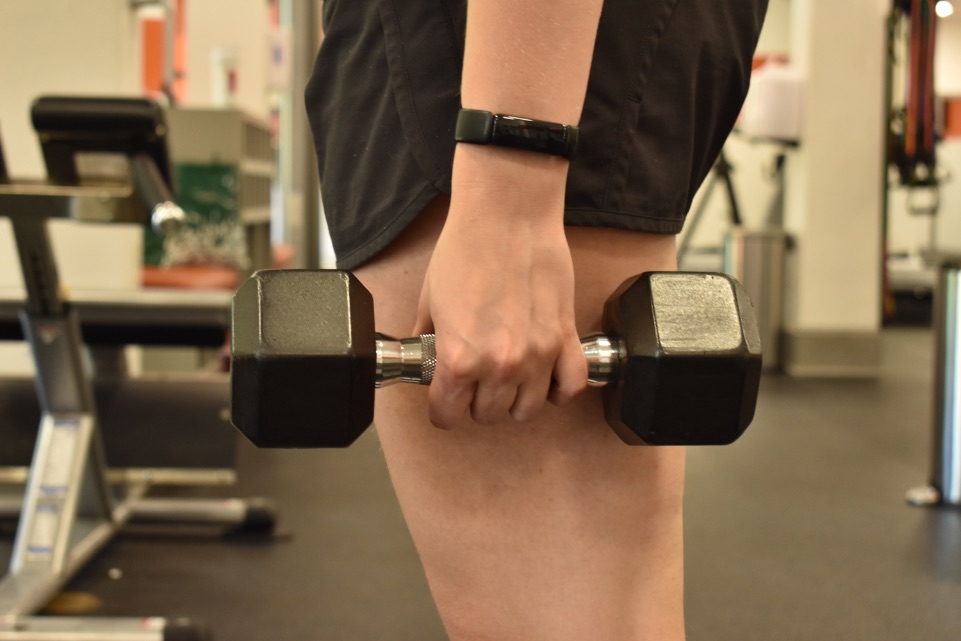 User Experience
Check out what I thought about both setting up and using the Inspire 2:
Setting up the Fitbit Inspire 2
When you're ready to download the compatible Fitbit app, you can visit the Google Play or Apple App Store on your smartphone. You'll be able to install the app for free.
In order to use the Fitbit app, you'll need to make an account. You'll be prompted to add a variety of information about yourself so Fitbit can get an accurate read on your approximate stride and daily calorie burn. Information they will ask includes sex, weight, height, and age. You will also be able to add a profile picture and first name that will be visible to other Fitbit community members.
Reminders to Move
A feature some may love and others may find irritating are the reminders to move. Fitbit will send you vibrations from your fitness tracker to remind you every so often to get up and walk at least 250 steps. This can be useful if you find yourself sitting for the majority of the day due to work.
The constant vibration can be frustrating if you don't have the opportunity to walk around when the notification is given. Luckily, you're able to adjust how often Fitbit sends these reminders or to turn them off completely.
Battery Life
When the Inspire 2 has a full battery, it can last up to 10 days on one charge. It only takes two hours to fully charge the fitness tracker. You'll be able to tell it is fully charged if there is a smiley face on the screen. However, if your tracker is connected with your phone and utilizing the GPS, the charge will drain much quicker than 10 days.
Fitbit App
A huge win for the Inspire 2 is the free included year of Fitbit premium. I will warn you that you have to put your credit card into the system in order to redeem your free year. Don't fret – as long as you cancel the subscription before the free year is up, you won't be charged a dime. Of course if you enjoy the app and want to continue paying for premium, it's only $9.99 per month or $79.99 yearly.
Even if you decide premium isn't for you, you'll still be able to utilize the basic Fitbit app after the trial ends. You can track daily activity, nutrition, sleep, and weight progress through the easy-to-use dashboard on the app. If you're new to working out, the app gives suggestions for basic workouts and different programs. There is also an option to take mindfulness classes.
Premium offers extras such as in-depth guided programs for both eating and exercising. Also included is a separate health tracking dashboard that tracks your heart rate, skin temperature, resting heart rate, and SpO2. For a beginner to intermediate exerciser, the 200+ video plus audio workouts can be a slam dunk for your fitness journey.
RELATED: Best Online Workout Programs
Community
With the Fitbit Community, you'll be able to connect with friends and discover groups of people with similar interests. There are a variety of different groups to join including ones based on location or types of workouts. You'll be able to share achievements and workouts with both friends and your groups.
This is a nice feature to feel connected with other Fitbit users and to share exercise goals and tips. With beginners, it's especially important to feel like you have support working out and I think the Fitbit Community can deliver in that aspect.
Fitbit Inspire 2 Specs
| | |
| --- | --- |
| Size | 1.47″ l x .66″ w x .5″ h |
| Water resistant | 5 ATM (50 meters) |
| Battery Life | Up to 10 days |
| Sleep tracking | Tracks light, deep, and REM sleep plus gives you a sleep score |
| GPS | Can synch with your phone (No built-in GPS) |
| Workout programs | Fitbit App (free) or through Fitbit Premium ($9.99 per month) |
| Compatibility | Apple iOS 12.2 or higher and Android OS 7.0 or higher |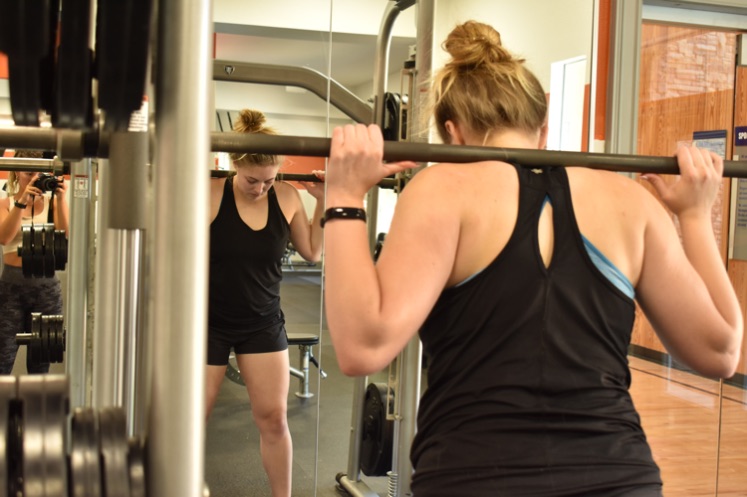 Buying Experience
I purchased the Fitbit Inspire 2 using the Fitbit website which included free shipping. It arrived in under a week with the fitness tracker, two different sized bands, and a charger.
Customer Service
There is a support page if you need assistance with your Fitbit or have additional questions. There are multiple ways to contact them including by phone, direct messages on Twitter, live chat, or email. Fitbit does state that they are having longer wait times than normal due to COVID.
If you have a quick question, you may be able to find the answer within the Fitbit Community forums page. Fitbit users can help others or you can search for previously asked questions. For longer questions or troubleshooting issues, I would recommend calling the customer service number at 877-623-4997 or emailing support@fitbit.com. Keep in mind that you may not get a response right away.
Warranty and Returns
The Fitbit Inspire 2 comes with a 45-day money back guarantee and a 1 year limited warranty. You have the option to add a two year protection plan for an additional $20.
If you want to return your Fitbit within 45 days, you must request an authorization number and ship the device back in its original packaging.
Customer Reviews
For the most part, customers seem to really enjoy the Fitbit Inspire 2. There were many positive reviews praising the long battery life, easy synching, and user-friendly app.
On the negative side, some people complained that the tracker vibrates too much for their liking. Luckily, you're able to turn off notifications and reminders to move. There were a few other critiques of the screen being hard to read, which I think is true if you're farsighted.
Final Verdict of our Fitbit Inspire 2 Review
The Fitbit Inspire 2 is a fitness tracker I would recommend for most people. My closing thoughts:
It's a great value at under $100.
With the ability to track over 20+ exercises, it can work for a variety of activity levels and interests.
Lack of GPS can be a negative for advanced runners or cyclists who want to track their exact routes without bringing their phone along.
Fitbit Inspire 2 FAQs
What is better, the Fitbit Inspire 2 or the Fitbit Charge 4?
The Fitbit Inspire 2 and the Fitbit Charge 4 have quite a lot in common. They can both track over 20 exercises, give you reminders to move, and count active zone minutes. However, there are a few differences. With the Inspire 2, you can get up to 10 days of battery compared to the Charge 4. The Charge 4 is more expensive than the Inspire 2, but it has built-in GPS. The Inspire 2 cannot tell you floors climbed or blood oxygen saturation but the Charge 4 can.
Personally, I think the Inspire 2 is best for beginners because it isn't super confusing and tracks all the basics you'd want to know. The Charge 4 has more features and might be better for someone who wants more data on their fitness. Always keep in mind your personal lifestyle and budget when deciding which activity tracker is better for you.
What's the difference between the Fitbit Inspire and the Fitbit Inspire 2?
The Fitbit Inspire 2 offers a variety of features that the original Inspire did not. Active zone minutes, swim tracking, and double the battery life are all new to the Inspire 2. The Inspire 2 also features a 3-axis accelerometer to track the patterns of motion of the user. This is definitely an upgrade from the original Inspire, which only offered the bare minimum of tracking steps, calories burned, and distance traveled.
Does the Fitbit Inspire 2 count daily steps?
Yes, the Fitbit Inspire 2 will count your daily steps. They can be viewed both through the Fitbit app or by swiping up on the tracker's screen.
Full Rating
Fitbit Inspire 2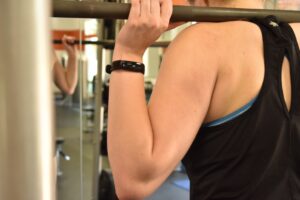 For as long as I can remember, Fitbit has been a brand synonymous with fitness trackers. They have continued to put out quality products at a fairly reasonable price for the past few years. The Fitbit Inspire 2 fits the bill for a quality, reasonably priced fitness tracker that has all the basics. The Inspire 2 is an upgrade from the Inspire because of the addition of active zone minutes, swim tracking, and double the battery life.In this Fitbit Inspire 2 review, I'll break down all the features you're dying to know about and give you the overall pros and cons of this fitness tracker. I'll test the compatible app, durability, battery charge, and exercise tracking features to give you a clear picture of the Inspire 2.
Product Brand: Fitbit
Product Currency: $
Product Price: 99.95
Product In-Stock: InStock