We test and review fitness products based on an independent, multi-point methodology. If you use our links to purchase something, we may earn a commission. Read our disclosures.
Barbells and dumbbells are most often seen in home gyms, but Mutt Bars are similar in that they're weighted exercise, but combine the functionality of a multi-grip specialty bar with fixed weight. Although I don't think they're a perfect replacement for incrementally loadable Olympic bars, they are a ton of fun and offer a unique way to do presses, curls, rows and other movements.
Mutt Bars Review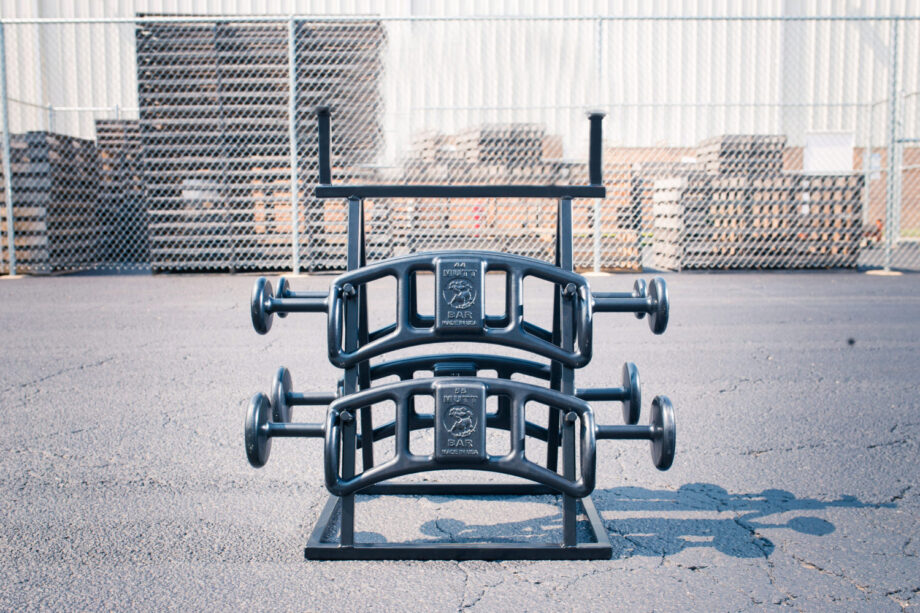 Mutt Bars
The Mutt Bar is exactly what its name would suggest–a new mixed breed of exercise bar, bringing together elements of the traditional Olympic barbell, curl bar, Swiss bar, dumbbells, and more; all in a single cast iron unit. Mutts are produced in four unique weight increments (22LB, 33LB, 44LB, and 55LB), and can be ordered individually or as part of a full four-bar set with a custom Mutt storage rack. All variations of the Mutt Bar are fully designed and manufactured in the USA. Their all-in-one, multi-handle molds offer the user the choice of a pronated, supinated, neutral, or wide grip–each ergonomically designed for optimal comfort through a wide range of high-rep routines. The bar's versatility is only matched by its simplicity. There are no plates, no collars, and no accessories required, so you can use it, store it, and transport it with ease. Because of their all-in-one efficiency, Mutt Bars are particularly great options for any facility with a limited budget or space. Additional Specifications:Made in the USAPatented DesignConstruction: Single Piece Cast IronMulti-Grip Design for Maximum VersatilityOverall Length: 33"Height: 10"Handle Diameter: 28MM (25.4MM for 22LB bar)Weight Options: 22LB, 33LB, 44LB, 55LBFinish: Medium-Gloss Black Smooth Texture Powder CoatMutt Bar branding in centerStorage Rack available on it's own, or with a Complete Set of Mutt BarsIMPORTANT: This bar is cast iron and should NOT be dropped. Accordingly, the Mutt Bar's Lifetime Warranty will not apply to any bar that has been damaged due to negligent or faulty use, alteration, maintenance, storage or handling by the user.
The Mutt Bars come in multiple weight increments and offer a stand to store and display the bars, but what really sets them apart is the unique feeling of the cast iron that is weighted throughout the handles. In this Mutt Bars review I'll jump into what it's like to unbox and train with the Mutt Bars from my garage gym.
My Favorite Things:
Multiple weight increments that can work for various strength levels
Excellent fit and finish
Many different grips for increased exercise variety
Weight uniformity (more on this later)
Lifetime warranty
My Callouts:
Not loadable so what you see is what you get in terms of weight
With the stand, they have a large footprint
Warranty is lifetime, but doesn't include drops
Are the Mutt Bars Worth it?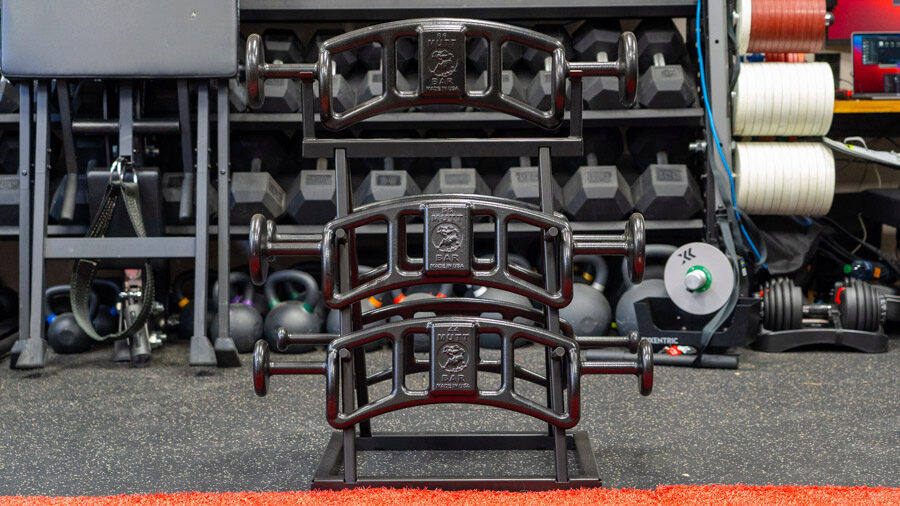 The Mutt Bars are a unique training tool. In a world of straight bars, loadable dumbbells, and specialty bars, it's nice to not have to worry about weight increments and simply grab and go. Rather than comparing directly to barbells as I think these vary quite dramatically, a better comparison are fixed curl bars you see in nearly every commercial gym the world over.
And, in that comparison, Mutt Bars blow them out of the water in their versatility and, in many ways, quality.
Keeping this in mind, I'd recommend Mutt Bars to:
Someone who is looking for a fixed weight set, i.e not loadable
Home gym owners that are less concerned with the amount of weight on the bar.
Those that want a lot of versatility in a relatively small package
These are NOT the bars for:
People trying to incrementally load their lifts over time
Those that plan to drop their weights
Unboxing the Mutt Bars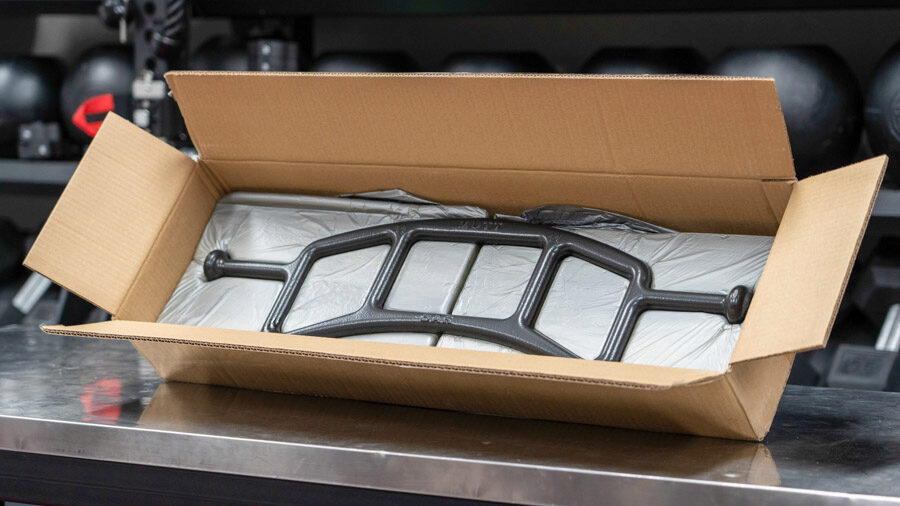 The Mutt Bars showed up on my garage step in standard cardboard boxes. After I grabbed my utility knife that has ripped through more tape than I'd like to admit, I was pleasantly greeted with the bars foam packed.
Pulling the first Mutt Bar out of the box (I started with the 11 lb'er) as if I was a knight unsheathing his blade I was happy to find no marks or scars on the bars.
Overall, the finish on the Mutt Bars is extremely well done with a glossy black shine that draws you to want to pick them up and use them.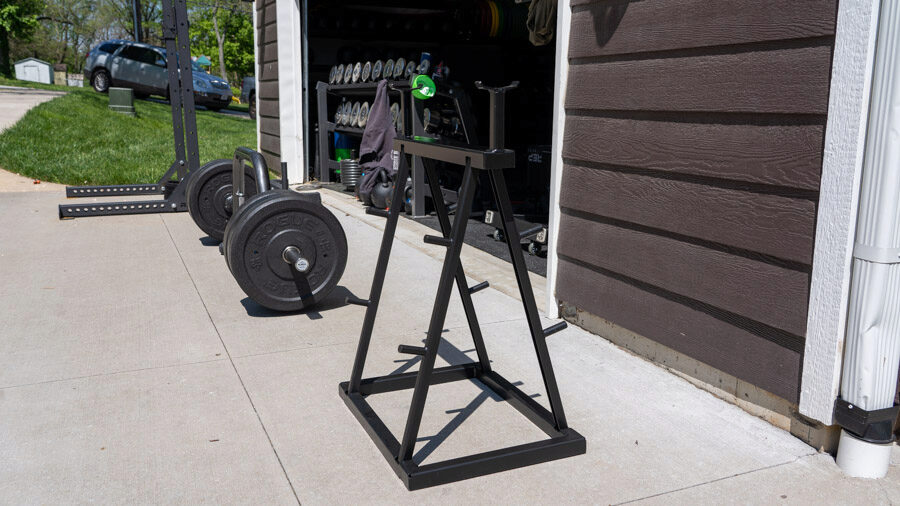 I finished unboxing the rest and then moved on to the stand. The stand is the only part of the puzzle that requires assembly and it's pretty straight forward. For most home gyms, I don't think the stand is the best option as it takes up unnecessary space, but it does look pretty darn sweet.
Once the stand was erected, I placed the bars on the pegs and stood back to marvel at the Mutt Bars standing atop their stand in a mountain of glory.
But, these aren't hood ornaments, these are training tools. Let's get to it.
Training with the Mutt Bars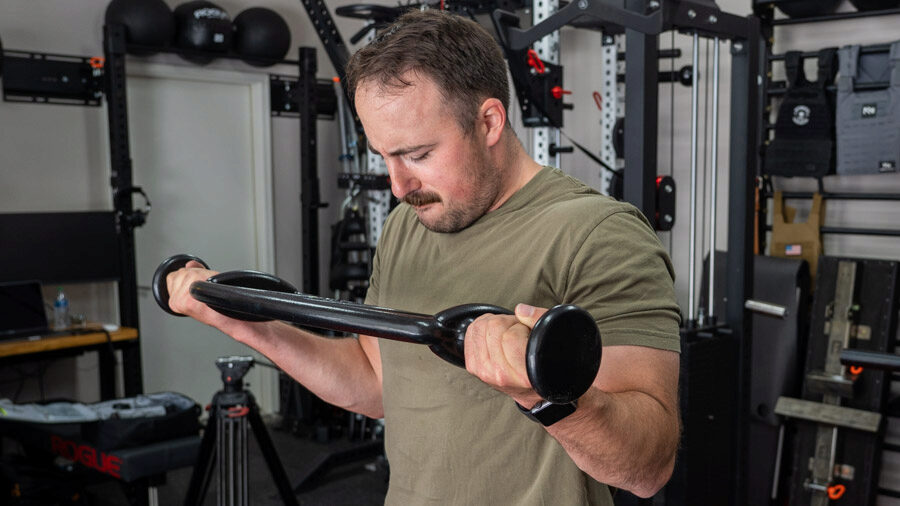 It will be of little surprise to GGR faithful that I, Coop, love barbells.
However, I'm not ONLY a fan of barbells. I also really, really like specialty bars and although Mutt Bars are a little bit different than others, I think they could reside in the specialty bar category.
Mutt Bars have caught my attention for a few years now. In a home gym, adjustability and loadability are highly valued features. It's the reason we recommend the best adjustable dumbbells for most people and think an Olympic barbell should be one of the first home gym purchases someone makes.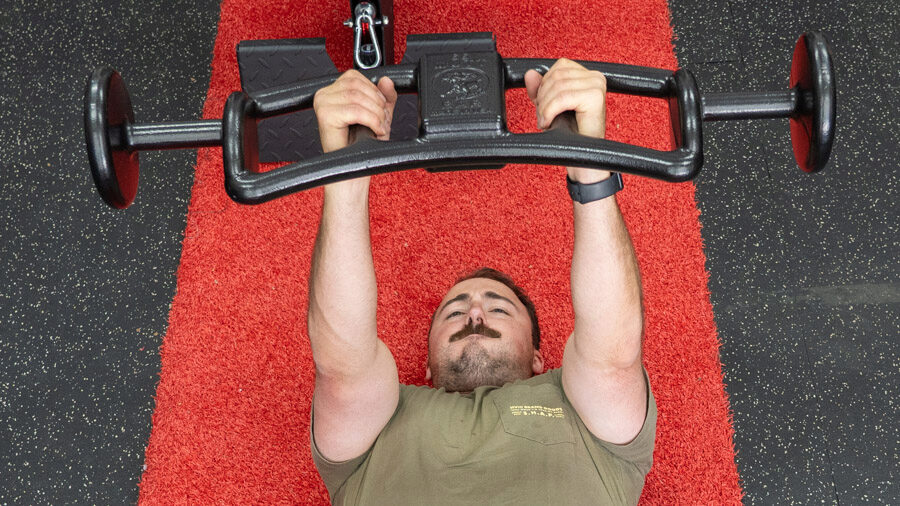 But, that doesn't mean Mutt Bars don't have a place at the home gym table.
No, although for most they don't make sense in front of barbell and dumbbells, they are a blast to use.
The most obvious advantage to Mutt Bars is their hybrid design. The goal from the creator of the Mutt Bar was to create a bar that could be used for the largest amount of weight training exercises possible, and this does a good job of reaching that goal. The unique hand placement options provide a ton of variety and I've found myself using them for accessory work more often where I'd typically just grab a barbell.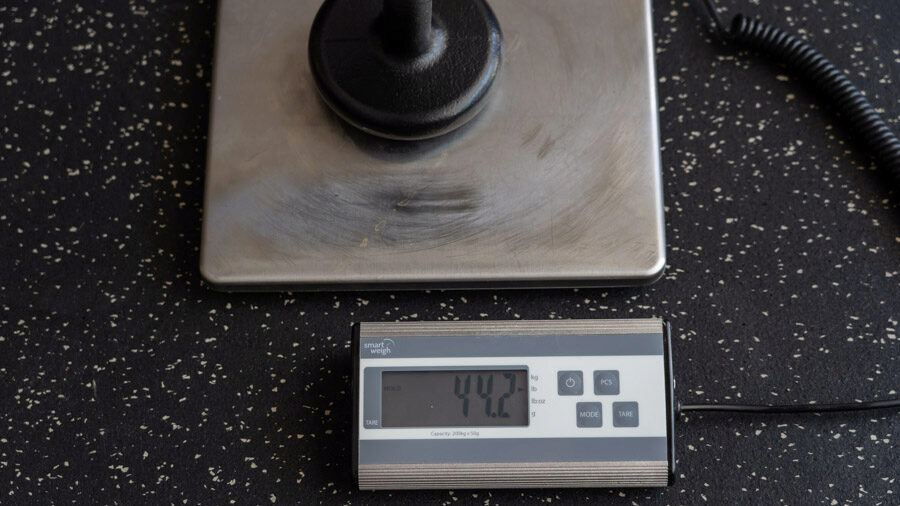 One thing that's not obvious from pictures is that Mutt Bars are deceivingly heavy. When I first looked at them in the box, I wondered if they were actually the stated weight due to how compact they are. However, when you pick them up, you realize they're every bit of the stated weight.
The reason a Mutt Bar can be so compact yet still way upwards of 66 LB is because they're made entirely of cast iron. There are no welds, bolts, or other parts keeping these together. They are single piece cast iron similar to most kettlebells. One unexpected positive on this is that the weight feels very evenly distributed.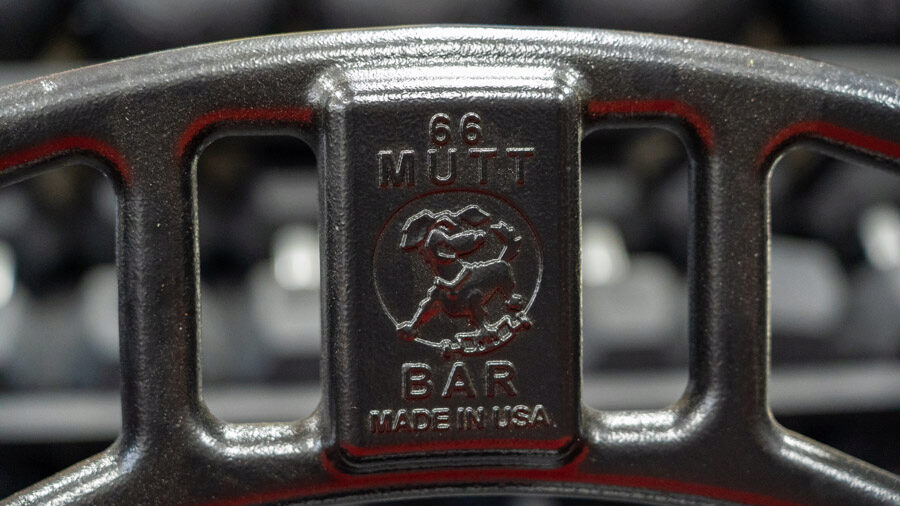 For comparison, most of the weight on a barbell is loaded on the ends. With a Mutt Bar, the handles change in thickness depending on the weight increment which gives the bars a very comfortable feel in hand. It's hard to describe, but the most apt comparison would be to Rogue Thompson Fatbells versus hex head dumbbells.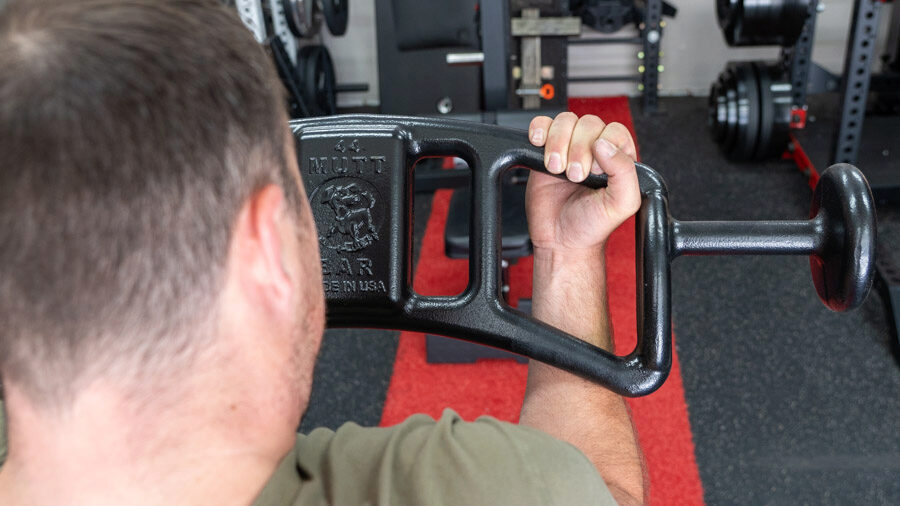 There are a lot of movements that you can do with a Mutt Bar, but the one I found myself using it for the most was bicep curls. Although not the most functional movement, I've always wanted arms like Charles Poliquin and will die trying to get them. The Mutt Bar is basically a curling machine.
You can use the internal neutral grips for hammer curls, switch to the outside grips for pronated or grab the curved bar and place the bar on your wrists for supinated curls.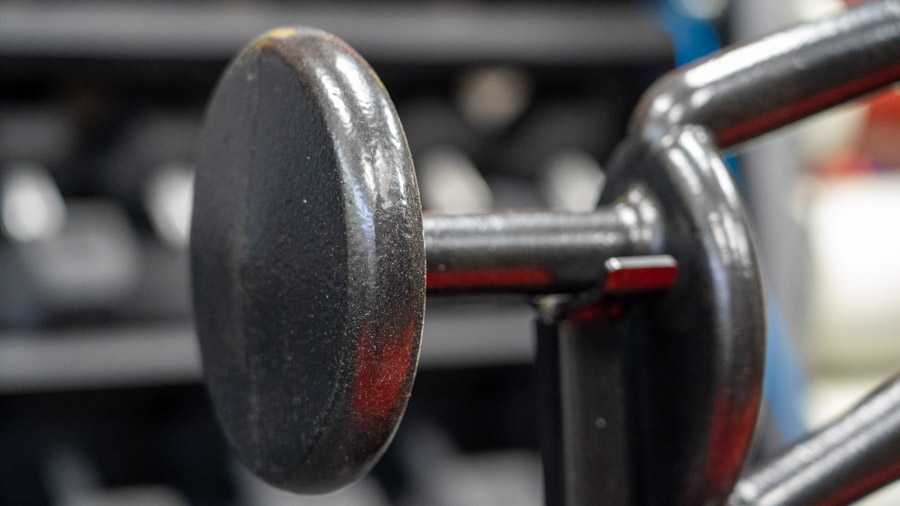 In addition to biceps, Mutt Bars have found their way into my training rotation for various press work. I really enjoy using them for tricep extensions, skull crushers, french press, and pullovers. The weight isn't quite heavy enough for using the bench press of the best weight bench, although I have used them with some bands and a close neutral grip for a close grip press burnout set at the end of a workout. The unique grip angles all feel great and the bars have become a go-to for training my arms.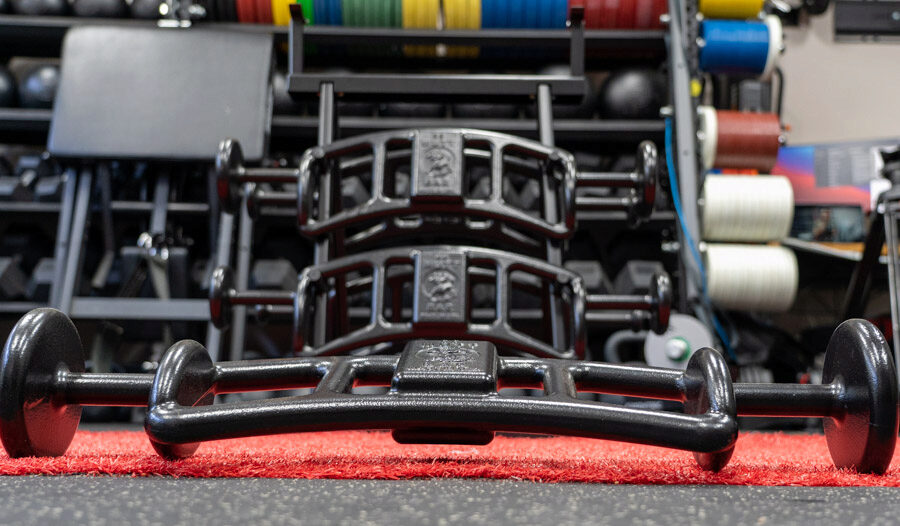 Mutt Bars FAQs
Are Mutt Bars Worth It?
Due to the Mutt Bars being made in the US of cast iron and then powdercoated, they're not the cheapest piece of gym equipment you could add to your home gym. For many, due to their fixed design, I think a barbell and EZ Curl Bar would be a better first purchase and after that I have no problem recommending Mutt Bars.
What it really comes down to is how often you'll actually use them. If you like a lot of variety and would use the different hand positions, you'll really enjoy them.
What Do You Do With a Mutt Bar?
A Mutt Bar can be used in many of the same ways an EZ-Curl Bar can be used. Obviously training arms is one, but they can also be used for presses, thrusters, or even front squats. One way I've been using them is placing one on the ground and then using the handles for various gripped push-ups. The instability also introduces another element of difficulty.
Can You Add Weight to a Mutt Bar?
The biggest downside to Mutt Bars is that they're not adjustable. On one hand, this stinks because you can't incrementally load them, however, on the plus side you never have to worry about taking the time out to change weight. So, no, you can't add weight to a Mutt Bar. Or, not traditionally at least.
One way you could add weight is by using magnetic weights often saved for dumbbells.
My Takeaways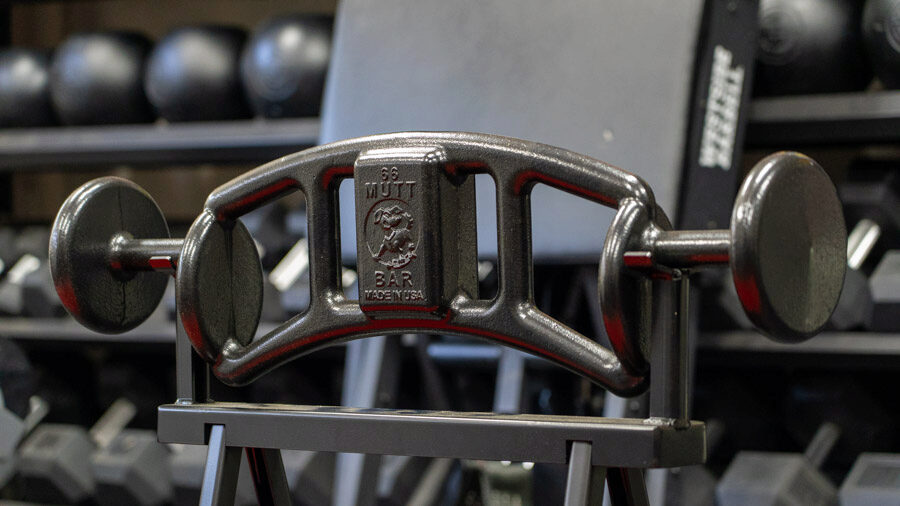 After training with the Mutt Bars for a few months, here are the things that most stood out to me:
The various handles add a lot of versatility for my monkey mind during training
The evenly distributed weight feels very balanced in hand
The powder coated finish both looks good and should last a long time.
They're not loadable, which can be a bummer for home gym owners.
If you don't like changing out weights and want a piece of equipment that can do a lot, albeit at a lower weight than some may be able to lift, then these may be a great option. However, I suggest first starting with finding the best Olympic barbell for your home.
Full Rating
Mutt Bars Weighted Exercise Bars
Barbells and dumbbells are most often seen in home gyms, but Mutt Bars are similar in that they're weighted exercise, but combine the functionality of a multi-grip specialty bar with fixed weight. Although I don't think they're a perfect replacement for incrementally loadable Olympic bars, they are a ton of fun and offer a unique way to do presses, curls, rows and other movements.
Product Brand: Mutt
Product Currency: $
Product Price: 106.50
Product In-Stock: InStock