We test and review fitness products based on an independent, multi-point methodology. If you use our links to purchase something, we may earn a commission. Read our disclosures.
As much as I love fitness trackers like the Whoop Strap 3.0 and the Garmin Forerunner 245, I know not everyone wants such an in-depth or costly fitness band. Some people simply want a user-friendly experience that will help them achieve their basic fitness goals. I believe the Xiaomi Mi Band 6 delivers just that – and at a reasonable price point.
In this Xiaomi Mi Smart Band 6 review, you'll hear my thoughts about tracking your workouts, sleep, and the compatible MiFit app. There have been 5 previous editions of the Mi Smart Band, and I'm excited to give you my thoughts on the added functionality and updated features.
Why You Should Trust Us
If you're not new here, you probably know I'm all about testing the latest fitness equipment in order to give you information before you buy. If you are new here, hi! I'm Coop and this is my actual full-time job.
I'm no stranger to testing wearables as I've tried popular options from well-known brands like Fitbit and Garmin – such as the Fitbit Inspire 2 and the Garmin Vivosmart 4. I've even previously written an article about the best fitness trackers on today's market.
Xiaomi Mi Smart Band 6
Xiaomi Mi Smart Band 6
This budget-friendly fitness tracker boasts many of the same functions that fancier devices have: sleep tracking, step count, heart rate, full-color touchscreen, water resistance, and a long battery life.Check out our full Xiaomi Mi Smart Band 6 review.
A Quick Look at the Xiaomi Mi Smart Band 6
The Xiaomi Mi Smart Band first hit the market in China in 2014. In the past seven years, Xiaomi has released six different versions. The most recent iteration, the Mi Smart Band 6, was first released in March of 2021. This version improved upon the Mi Band 5 with features like new activity tracking profiles, a flashlight feature, slightly larger screen, and the ability to view your blood oxygen level.
Related: The Xiaomi Mi Smart Band 6 made our Best Fitness Gifts list!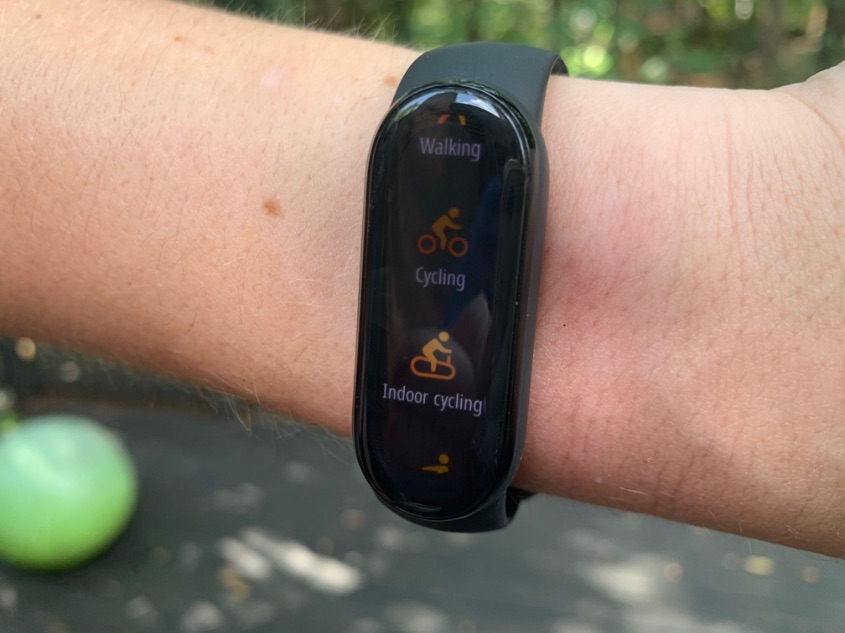 Coop's Tips:
Check out the workout history tab on your watch. You'll be able to see the day, time, and duration of your most recent workouts. This is a great tool to keep you accountable to your fitness goals.
If you have friends that own a Xiaomi Mi Smart Band, you can share your individual QR code (found under the MiFit App "Friends" tab) with them to view each other's sleep and activity info.
Forgot to charge your Mi Smart Band 6? No problem, with magnetic charging, the band is good to go in under 2 hours.
My Favorite Things:
Under $50
Tracks over 30 different exercises
Water resistant up to 50 meters
Has both a gyroscope and accelerometer
My Callouts:
Uncomfortable band
No built-in GPS
Not the most accurate for HIIT workouts (in terms of both steps taken and heart rate)
Is the Xiaomi Mi Smart Band 6 Worth It?
Great for:
Those looking for affordable fitness trackers
Beginners who want an easy-to use fitness tracker
People who are okay with variability in the data
Not recommended for:
Very serious runners (I would recommend the Garmin Forerunner 245 for these people)
People who want a smartwatch like the Apple Watch
Those who need very accurate tracking information
Working Out with the Xiaomi Mi Smart Band 6
I tested the Xiaomi Mi Smart Band 6 for over a month in order to see what it could do for a variety of workouts – including running, lifting, CrossFit, HIIT, and hiking. I had noticed in some reviews that people felt the step and heart rate counter was off on the Smart Band 6. I decided to put this to the test by wearing both my Apple Watch Series 6 and the Mi Smart Band 6 to see if there was a difference while working out.
Heart Rate
What I determined: There was a moderate difference, but I found it was more obvious in activities where your heart rate was really driven up. I did an OrangeTheory workout that had a combination of rowing, running, and strength training. I saw the biggest difference between the heart rate tracking on the Apple Watch versus the Mi Smart Band 6 while completing this workout. It seems the Smart Band 6 has a harder time picking up when your heart rate really revs up.
Daily Steps
I did also notice a discrepancy between the daily steps my Apple Watch thought I took and what the Mi Smart Band 6 said. It wasn't an insane difference, but the Mi Smart Band 6 seemed to count additional steps, even though both trackers were put on at the same time. This isn't a dealbreaker for me as I'm not super surprised my pricey Apple Watch was more accurate. However, if you're someone who needs very precise metrics, I would suggest going with a different fitness tracker like the Whoop Strap 3.0.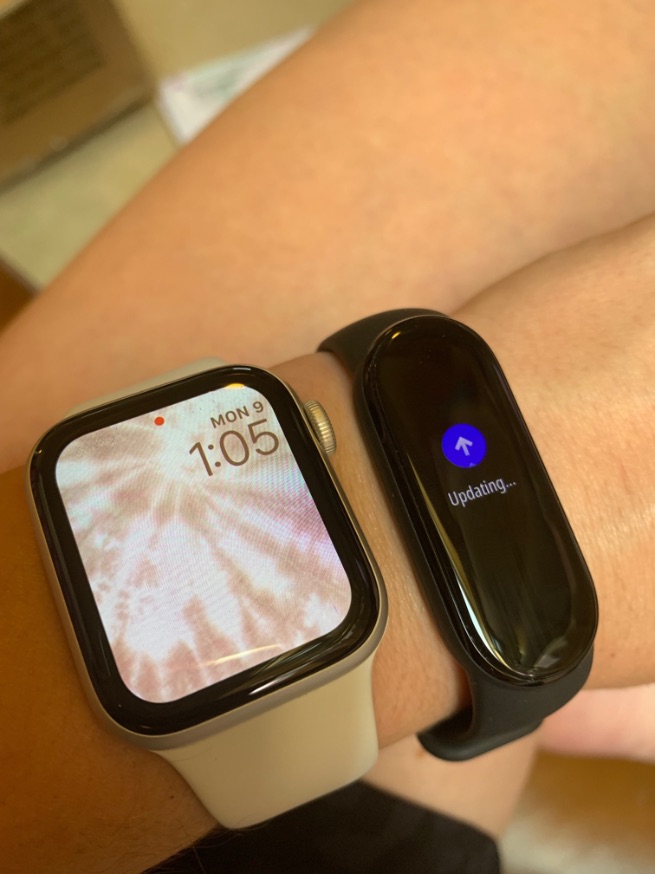 Additional Features
I do think there are some fun and useful features that are not present on other fitness trackers in this price range. The sleep tracking and general notifications you can view from your watch are some of the standouts to me. Although you can't actually respond to texts and calls that come in, it is nice to be alerted of them (if you connect your compatible smartphone to the Mi Smart Band 6).
Interestingly, in the Chinese version of the Mi Smart Band 6, you can respond to texts with pre-made messages, similar to what you can do on the Apple Watch. Another cool feature only available for the Chinese version? NFC, which gives the Mi Band the ability to make contactless payments. Hopefully it will be added to the US version soon, because that would be a huge point in this tracker's favor.
Sleep Tracking
The sleep feature is a nice addition to the tracker. I like being able to see how many hours I slept the past week. The Mi Band 6 will also keep track of the different stages of your sleep including REM, deep, and light. I can't tell you how accurate it is but I like generally seeing how I'm sleeping. My only complaint? I don't find the band itself to be the most comfortable so I'm not loving wearing it while sleeping. I probably will not continue to wear it at bedtime, but maybe my wrist is oddly sensitive and yours isn't.
Technology Benefits and Conveniences
There are a variety of things you are able to track both through the MiFit app and the Mi Smart Band 6 itself. Here's a list of what you can expect to see:
Calories burned
Distance traveled
Fitness tracking
Daily steps
Heart rate monitoring
Oximeter (SpO2 sensor)
Sleep time
Sleep breathing
Stress levels
Breathing quality (Leads you through breathing exercises)
Menstrual cycle
Calendar events
PAI score
Stress monitoring
Fitness Modes
There are 30 different sports modes that your Mi Smart Band 6 can record, which is almost double of that of the previous rendition, the Mi Smart Band 5. Some interesting additions include badminton, ice skating, and Zumba.
The Mi Smart Band 6 can also automatically track and detect six different activities:
Walking
Cycling
Running
Treadmill
Elliptical
Rowing Machine
Ordering Xiaomi Mi Smart Band 6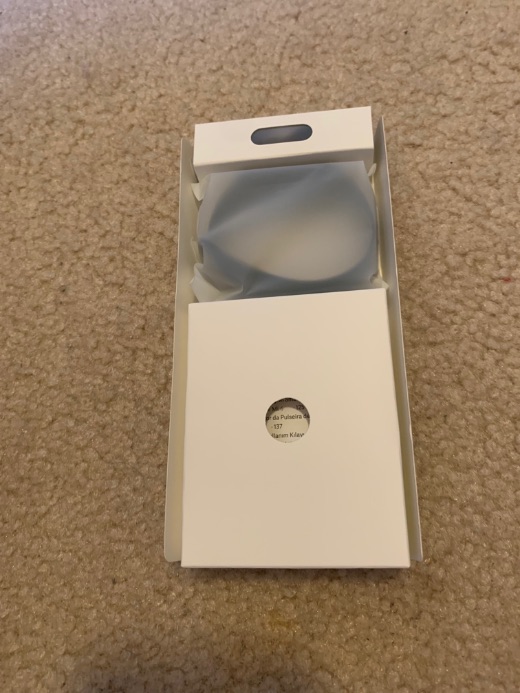 I ordered my Mi Smart Band 6 from Amazon, where it is currently priced under $50. The band is a standard black but you can purchase additional band colors separately. I personally decided to stick with black, but it was nice to know there are other options available if you prefer something different.
With the free regular shipping, my Mi Smart Band 6 came in less than a week. It arrived in a small cardboard box that had bubble wrap inside to keep it from shifting around in transit. In the package, expect to see your Mi Band, a compact white instruction manual, and an inconspicuous black charging cable. Simple and straight to the point. Just how I like it.
Setup
With how thick the little instruction booklet is, I was a little worried there would be a lot of steps to set up. Luckily, this wasn't the case as the majority of the pages were the same instructions in different languages to cater to a variety of customers.
Getting started was actually pretty straightforward. Here's what you'll need to do:
Charge your Mi Smart Band 6 with the provided charger.
Once your band is charged, download the MiFit App to your compatible smartphone (Galaxy, Android 5.0+, iPhone)
Turn Bluetooth on your smartphone.
Click the plus icon in the upper right corner to add your Mi device.
Click the 'Band' option.
Once the app, band, and phone are connected, you'll get a confirmation notification.
Size and Construction
With a screen size of 1.56 in and band width of 15 mm, the Mi Smart Band 6 is slightly longer than an Apple Watch with a thinner strap. It is fairly easy to read the screen because of the AMOLED color display. I like that the watch isn't in greyscale because it makes it more appealing to look at. You can change the watch faces to a variety of different displays depending on your personal preferences.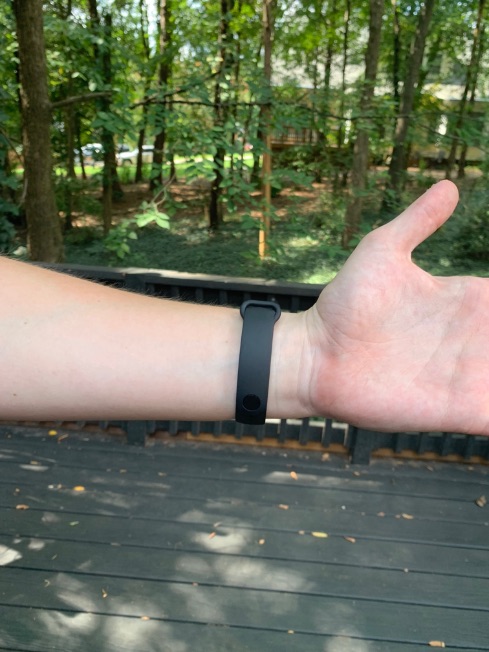 The band that comes with the Mi Smart Band 6 is made of silicone you might find on an Apple Watch strap. It does feel slightly more flimsy but that could be because of the thinness of the strap.
The durability seems pretty decent and on par with the Fitbit Inspire 2. I'll be interested to see how it holds up over the course of a year or so.
Xiaomi Mi Smart Band 6 Specs
| | |
| --- | --- |
| Brand | Xiaomi |
| Screen Size | 1.56 Inches |
| Band Width | 15 Millimeters |
| Display | AMOLED display (Touchscreen in color) |
| Water Resistance | 5ATM water resistance |
| Battery Life | Up to 14 days of battery life (125 mAh) |
| Bluetooth | Bluetooth 5.0 BLE compatible from Android 5.0 / iOS 10.0 |
| Fitness Modes | 30 |
| Visible screen diagonal | 2″ / 4 cm |
| Price | Under $50 |
| Band Displays | 60+ |
| Resolution | 152 x 486 pixels |
| Nits | 450 nits |
Customer Experience
Xiaomi is a Chinese company and isn't the easiest to get a hold of with customer service issues. I attempted to click the live chat link for the US, but it didn't load. Luckily, there is an email address provided for you to ask any questions: service.us@xiaomi.com
The Mi Band 6 has a 30-day satisfaction guarantee but you do have to get a return authorization before sending it back. You are also responsible for return shipping costs. With the purchase of your wearable, you get a 12-month limited warranty on the Mi Band Sensor plus 1 month on the cable and wristband.
Customer Reviews
With just over 180 reviews on Amazon, the Mi Smart Band 6 has an average customer review rating of 4.4 out of 5 stars. Positive reviews mentioned how much they liked the price tag and ease of use. Others said they enjoyed seeing messages and call alerts plus the various customization options.
Although there weren't a ton of negative reviews, some people did think the fitness tracker was difficult to see in the direct sunlight. Other comments mentioned they felt the steps were varied between the Mi Smart Band 6 and other trackers like the Fitbit Charge 4.
Final Verdict
If you're someone looking for a budget friendly fitness tracker that is easy to use, the Mi Smart Band 6 is a great option. However, if you're looking for more in-depth tracking or are willing to spend a bit more, I think there are better options out there. Here are my key takeaways:
User-friendly touchscreen interface with color display
Under $50
Not always the most accurate when tracking heart rate or steps during high intensity workouts
Long battery life of up to 14 days
Full Rating
Xiaomi Mi Smart Band 6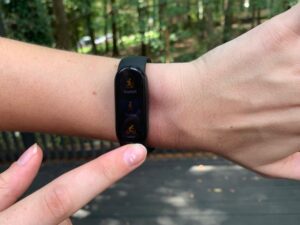 Some folks simply want a simple, user-friendly experience that will assist them in meeting their fundamental fitness objectives. The Xiaomi Mi Band 6 appears to do just that — and at a fair price.
Product Brand: Xiaomi
Product Currency: $
Product Price: 45.60
Product In-Stock: InStock
Xiaomi Mi Smart Band 6 FAQs
Can I answer calls on Mi Band 6?
You cannot answer calls on your Mi Band 6, but you can get an alert when your phone is ringing (provided you have connected your compatible smartphone with the band).
Does Mi Smart Band 6 have GPS?
The Mi Smart Band 6 doesn't have built-in GPS, which isn't surprising for the price. However, you can pair the watch to your smartphone like the iPhone, Galaxy, and Android to tap into the phone's GPS. This can be useful for tracking a bike ride or running route.
Is the Mi Band 6 worth it?
I think for the price, this is a great option for a beginner or someone interested in trying out a fitness tracker for the first time. It isn't an Apple watch and you shouldn't expect all the bells and whistles for under $50. I do like it and think it is worth it.