We test and review fitness products based on an independent, multi-point methodology. If you use our links to purchase something, we may earn a commission. Read our disclosures.
CrossFit training is characterized by repeated intense efforts including high-volume and/or heavy weightlifting, as well as running, jumping, and gymnastics movements. A CrossFitter needs a good pre-workout that can support all aspects of exercise performance, from strength to speed to muscular endurance.
RELATED: A Beginner's Guide to CrossFit Exercises
As a certified sports nutrition coach and CrossFit Level 1 trainer, I'm able to look at supplements through the distinct lens of whether or not they're good for CrossFit. In this guide to the best pre-workout for CrossFit, I analyze nine of the best pre-workout options and explain how they can improve your WOD performance.
Each of these pre-workouts has been personally tested by a member of our team at GGR, and rated with the following criteria in mind:
Formula: What key pre-workout ingredients are present? Are they there in the clinically studied dosages?
Third-party testing: Is the product tested for purity, potency, and/or banned substances?
Transparency: Is the label clear, or is the product made up of proprietary blends?
Side effects: Did our tester experience any problems, or do customer reviews indicate bad side effects?
Taste and texture: Was the pre-workout powder actually enjoyable to take?
And more
RELATED: Best Crossfit Equipment for Home Gym
Medical disclaimer: This article is intended for educational and informational purposes only. It is not intended as a substitute for medical advice. For health advice, contact a licensed healthcare provider.
Best Pre-Workout for CrossFit in 2023
Best Pre-Workout for CrossFit Overall: Transparent Labs Bulk
Good for: A boost in energy levels and athletic performance overall
Transparent Labs Bulk Pre-Workout is a fantastic all-in-one pre-workout supplement that supports energy, physical performance, and mental focus. This pre-workout earned 4.5 out of 5 points for the formulation category, because it features several key pre-workout ingredients and they're all present in clinically supported doses.
For instance, citrulline malate is present at a dose of 8 grams per serving, which is on the high end of the clinically recommended dose of 6 to 8 grams per day to achieve benefits like increased blood flow1 and increased endurance2.
Plus, Transparent Labs Bulk contains the branched-chain amino acids3 (BCAAs) isoleucine, leucine, and valine, three essential amino acids that play critical roles in muscle protein synthesis (the process that drives muscle growth) and post-workout muscle recovery.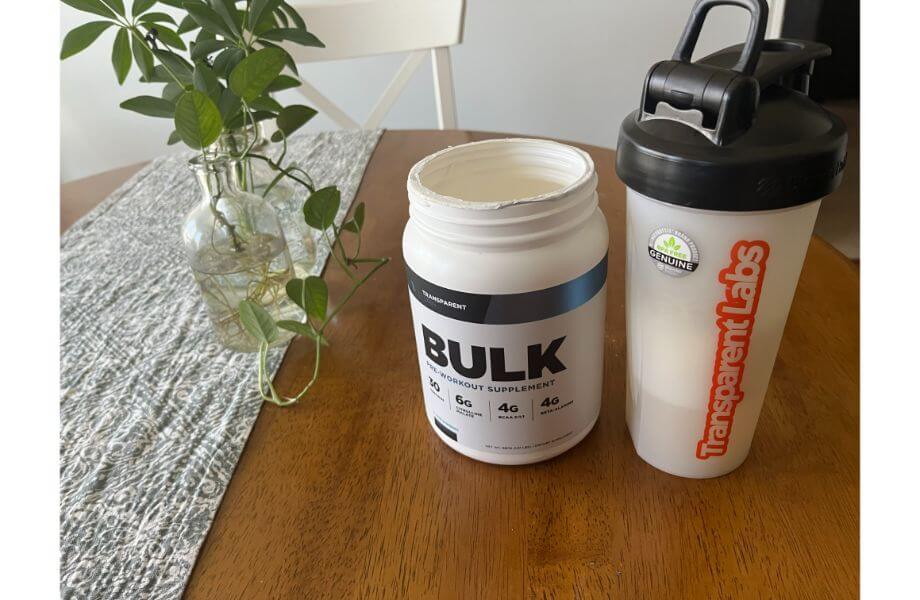 This is a great addition for CrossFitters, because supplementing with BCAAs may help you get a jumpstart on recovering from muscle soreness if you don't consume enough protein, according to 2022 research in the journal Nutrients4.
RELATED: Best Whey Protein Powder
With 200 milligrams of caffeine per serving, product tester, certified nutrition coach, and GGR performance editor Anthony O'Reilly says this pre-workout is ideal for people with a lower caffeine tolerance, as 200 milligrams is unlikely to produce effects in a caffeine-tolerant person.
Anthony tried the Blue Raspberry flavor and awarded Bulk 5 out of 5 points for taste, saying it tastes exactly like what blue raspberry should taste like. Additionally, Anthony says it mixes very clear and well with water, giving the powder 5 out of 5 points in this category also.
Read our full Transparent Labs Bulk review for more details on this pre-workout powder.
Price per serving
$1.66
Caffeine per serving
200 mg
Key ingredients
Citrulline Malate, Beta-Alanine, Branched-Chain Amino Acids (BCAAs),
Taurine, Betaine Anhydrous (BetaPure), L-Tyrosine, L-Theanine,
Alpha GPC, Caffeine Anhydrous, Theobromine,
Infinergy (DiCaffeine Malate), AstraGin, Boron, Vitamin D 
Third-party tested
Yes
Best CrossFit Pre-Workout for Long WODs: Podium Fuse Pre-Workout
Good for: Fending off muscle fatigue lactic acid build-up
A guide to the best pre-workout for CrossFit would not be complete without including a product from Podium, the supplements brand founded by five-time CrossFit Games Champion Mathew Fraser. While taking Fraser's pre-workout won't get you to the Games podium, it can definitely help you reach your personal fitness goals.
Podium Fuse pre-workout contains 200 milligrams of caffeine for energy, 4 grams of L-citrulline (which is below the clinically recommended minimum of 6 grams), 1 gram of L-tyrosine, and 150 milligrams of elevATP, a patented ingredient that, according to research in BMC Complementary and Alternative Medicine5, helps the body produce more ATP to power muscle contraction.
However, what a CrossFitter might be most interested in is the 3.2 grams of beta-alanine. This falls within the recommended dose of beta-alanine (3 to 6 grams), which has been shown to buffer lactic acid production in the muscles6, extending time to fatigue. When you're exercising at high intensities, it's really tough for your body to come back down from your lactate threshold when you keep moving.
That's why beta-alanine is an ideal ingredient in a CrossFit pre-workout: If you can extend the amount of time you're able to exercise intensely without reaching lactate threshold—the point at which lactate builds up in your blood faster than your body can clear it—you can enhance your performance.
According to the National Academy of Sports Medicine's certified sports nutrition coach course7, beta-alanine is most effective for efforts lasting between 1 and 10 minutes, on par with the length of most CrossFit workouts.
Jacob Penner, USAW-L2 and certified personal trainer, tried Podium Fuse and gave it 5 out of 5 points for taste and texture, and 4.5 out of 5 points for effectiveness. "This is a great product. It's not perfect, but it's great. I feel really energized and clear, optimistic, even," he says. " I think this is probably the best I have felt energy- and clarity-wise from a pre-workout that isn't high-stim. I was only supposed to be testing this, but I will definitely use the entire tub."
RELATED: Is CrossFit Bad For You? The Untold Truth
Price per serving
$1.49
Caffeine per serving
200 mg
Key ingredients
L-citrulline, beta-alanine, taurine, elevATP, L-tyrosine,
gamma aminobutyric acid (GABA), N580 Coffeeberry®,
Theacrine (as Teacrine®), Astragin®, Huperzine A
Third-party tested
No
Best CrossFit Pre-Workout for Energy: Legion Athletics Pulse
Good for: An energy boost via an effective dose of caffeine
For caffeine-tolerant individuals or anyone who needs an extra boost to get in the gym sometimes, Legion Athletics Pulse is our recommendation. This pre-workout is high in caffeine, boasting 350 milligrams per serving.
Additionally, it contains 3.6 grams of beta-alanine, 8 grams of L-citrulline, and 2.5 grams of betaine anhydrous, the latter of which has been studied for its potential effects on muscle mass and body composition8, sprint performance9, and more.
Present also is L-theanine in a dose of 350 milligrams, which may help offset some of the jitteriness from the punch of caffeine, but enhance the mental clarity effects and thus improve cognitive performance10—something that's really important in a complex CrossFit workout that requires quick and smart decisions.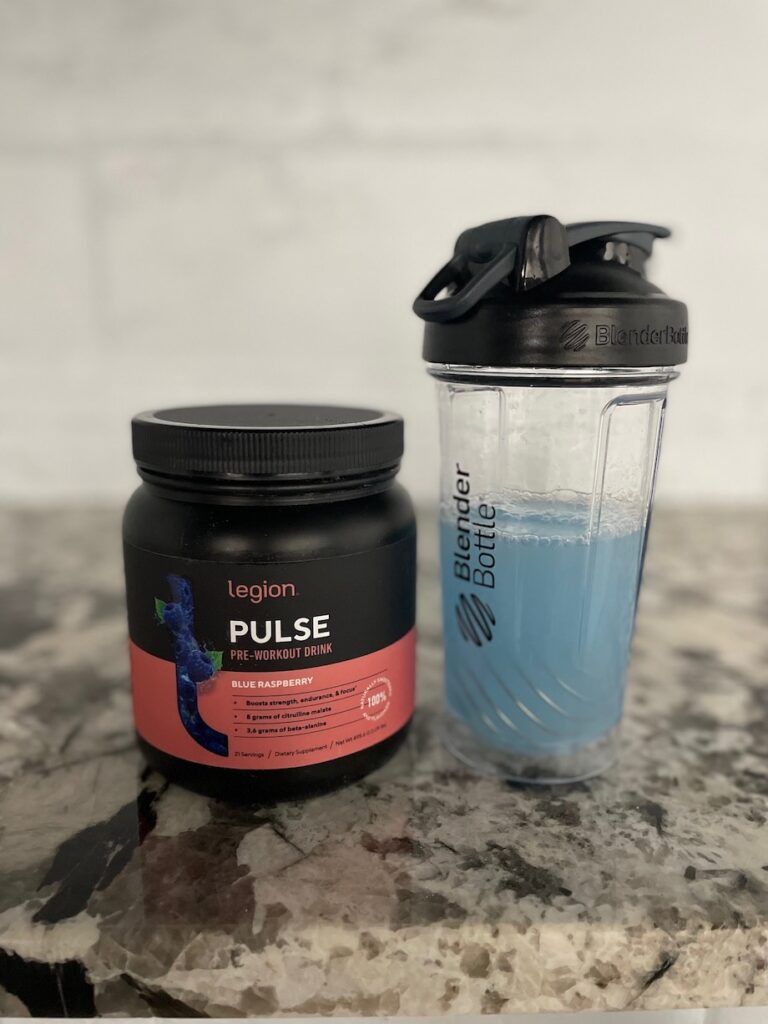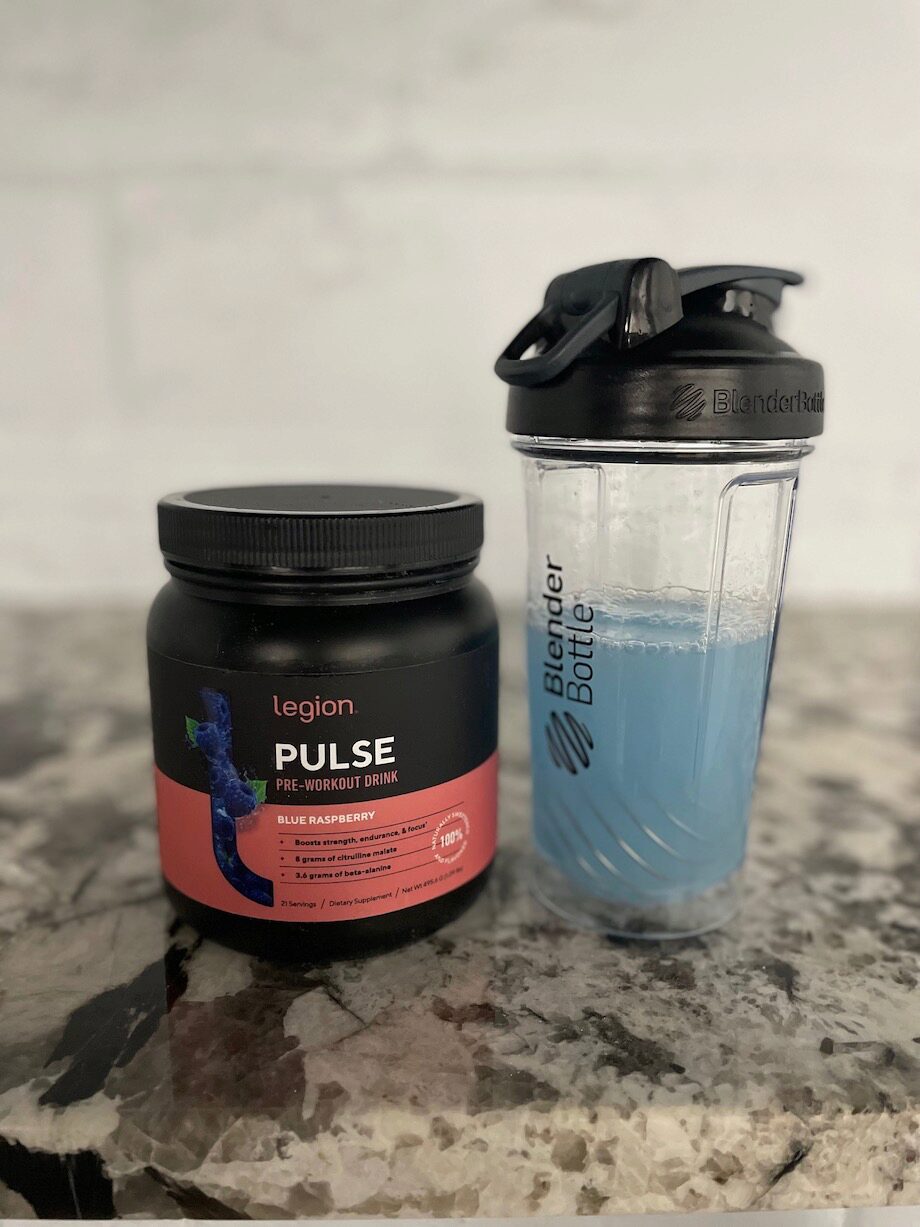 Certified personal trainer, product tester, and GGR senior editor Nicole Davis used Legion Athletics Pulse pre-workout before several workouts. "I tried the Blue Raspberry version with caffeine, but admittedly have not taken a full dose in one sitting, as that much caffeine scares me," Nicole writes in her full Legion Pulse review.
"That said, I think Blue Raspberry Pulse is very sweet (and a touch bitter) with a slight aftertaste," she continues. "This flavor isn't my favorite—next time I might try something a bit sexier, like Sour Candy—but, I can get it down in a few minutes without any issue." She ultimately awarded Legion Pulse 4 out of 5 points for taste, 5 out of 5 for solubility (no chunks or floaties, she says), and 4 out of 5 points for effectiveness.
RELATED: Guide to the Strongest Pre-Workouts
| | |
| --- | --- |
| Price per serving | $2.25 |
| Caffeine per serving | 350 mg |
| Key ingredients | L-theanine, citrulline malate, beta-alanine, alpha-GPC, betaine |
| Third-party tested | Yes |
Best CrossFit Pre-Workout for a Pump: Huge Supplements Pump Serum
Good for: Increasing blood flow and achieving a muscle pump
If you did a CrossFit workout, but didn't rip off your shirt to show off a massive muscle pump, did you really do a CrossFit workout? Jokes aside, CrossFit is high-intensity exercise capable of producing a serious pump due to the high-volume weightlifting often included in training.
Combine that with Huge Supplements Pump Serum pre-workout, and you've got a recipe for a bodybuilder-esque muscle pump. Pump Serum's formula is designed to increase blood flow to the muscles, widen blood vessels, and produce that "full" feeling in your muscles.
It does this through the use of several nitric oxide boosters, namely beet root extract, pomegranate extract, VasoDrive-AP, and GlycerPump. The former two are natural, plant-derived extracts known to dilate blood vessels and increase blood flow, according to research in the European Journal of Sport Science11 and Nutrients12.
VasoDrive-AP is a patented ingredient that inhibits an enzyme that constricts blood vessels, thereby working to increase blood flow. GlycerPump, another patented ingredient, is made largely from glycerol powder. Research13 suggests that GlycerPump is effective at increasing blood volume, which can increase athletic performance.
Pump Serum is a non-stim pre-workout, meaning it contains no caffeine, so it's probably not the best fit for someone who is looking for an energy boost. It does contain L-citrulline, another pump agent, and betaine anhydrous, which is thought to increase time to fatigue during intense workouts, according to 2022 research in the Journal of the International Sports Sciences Association14.
Kate Meier, GGR head of content, expert product tester, and CrossFit Level 1 trainer, tried Pump Serum in the Cherry Berry taste. She gave it 4 out of 5 points for taste, saying, "It isn't incredibly tart, but it is definitely sweet. It does taste like cherry with berries. The instructions say to mix it with 8 to 12 ounces of water; that made the taste too concentrated, so I mixed it with about 20 ounces and it was better."
Kate also gave Pump Serum 4 out of 5 points for solubility, noting that "It mixes well, but it seems to settle a little, so I just shook it before every time I took it. Doing that made every sip good."
Price per serving
$1.37
Caffeine per serving
0 mg
Key ingredients
L-citrulline, betaine anhydrous, GlycerPump (as glycerol powder),
beet root extract, L-tyrosine, Nitrosigine, agmatine sulfate,
pomegranate extract, VasoDrive-AP, Huperzine A, black pepper extract
Third-party tested
No
Best Budget Pre-Workout for CrossFit: Cellucor C4 Pre-Workout
Good for: A performance boost for high-intensity workouts without spending too much money
Cellucor C4 is perhaps the best-known pre-workout among CrossFitters. I remember stepping foot into the first CrossFit box I ever went to and seeing shelves lined with C4 pre-workout tubs and mini-fridges stocked with C4 Energy Drink, the popular pre-workout in a can.
C4 pre-workout costs about $1 per serving, but you can get it for even less if you purchase the larger tub and keep your eye out for Amazon deals. C4 scored 5 out of 5 points for pricing according to our testing methodology.
While it's not the most potent pre-workout, it's definitely worth a try for CrossFitters who are on a budget (because, let's be honest—most of our CrossFit budget goes to membership dues and, of course, new CrossFit shoes…)
Anthony O'Reilly, certified personal trainer and nutrition coach, says in his full C4 pre-workout review, "I was pleasantly surprised by how well C4 pre-workout boosted my energy and muscular endurance. I say 'pleasantly surprised' because several of its ingredients are under-dosed, meaning the amount is less than the clinically-recommended doses usually required to boost athletic performance."
For starters, this pre-workout contains a gentle 150 milligrams of caffeine, which coffee guzzlers and pre-workout slingers probably won't feel at all. However, for our caffeine-sensitive friends, C4's 150-milligram serving might be the perfect amount.
C4 contains beta-alanine, but it's under-dosed at just 1.6 grams. On the plus side, this means you're less likely to experience paresthesia, the pins-and-needles feeling that comes along with beta-alanine. (It's harmless and typically only lasts a few minutes).
It also contains citrulline malate, but at just 1 gram in contrast to the clinically recommended dose of 6 to 8 grams; and creatine nitrate, at 1 gram in contrast to the recommended 3-to-5-gram dose.
Based on all of the above points, C4 earned just 1.5 out of 5 points in the formulation category. Luckily, it excels in taste and texture, earning 5 out of 5 points in each of those categories.
And despite the under-dosed formula, Anthony would still recommend C4, particularly to beginners and athletes who may not be able to afford top-of-the-line, clinically-dosed pre-workouts such as Transparent Labs Bulk or Legion Pulse.
RELATED: The Fran Workout: CrossFit Coach Tips
| | |
| --- | --- |
| Price per serving | $0.83 to $0.99 |
| Caffeine per serving | 150 mg |
| Key ingredients | CarnoSyn beta-alanine, creatine nitrate, citrulline malate, vitamin C, B vitamins |
| Third-party tested | No |
Best CrossFit Pre-Workout for Building Muscle: Kaged Pre-Kaged
Good for: The boost you need to crush tough CrossFit workouts to stimulate muscle growth
Chelsea Rae Bourgeois, registered dietitian and GGR writer, writes in her Kaged Muscle Pre-Kaged Review that "If you're on the hunt for the best pre-workout supplement, Pre-Kaged is a worthy contender," and this goes for all types of workouts, CrossFit or not.
Bourgeois particularly likes that Pre-Kaged is third-party tested by an independent lab and Informed Choice-certified, meaning it's free from banned substances in sport as imposed by the World Anti-Doping Agency.
Besides the Informed Choice certification, here's what makes it great for building muscle and for CrossFit: It contains about 275 milligrams of caffeine per serving, which gives you the energy and focus necessary to push hard in the gym. Additionally, it contains 6.5 grams of L-citrulline for vasodilation; 2.5 grams of betaine anhydrous for endurance and muscle protein synthesis; 3 grams of fermented leucine, a branched-chain amino acid; and a 2:1:1 ratio of L-leucine, L-isoleucine, and L-valine.
RELATED: Best Pre-Workout for Muscle Gain
While Pre-Kaged is under-dosed for beta-alanine (it contains just 1.6 grams), it has some other ingredients that helped bump up its formulation score to 3.5 out of 5 points.
One uncommon ingredient is coconut water powder, which contains electrolytes such as magnesium and potassium for hydration. This is ideal when you work out at a CrossFit gym without an air conditioning unit, especially in the summer months. There's also the Spectra Total Orac Blend, which contains extracts from nearly 30 fruits and vegetables to provide antioxidants.
Nicole Davis, certified nutrition coach, personal trainer, and GGR senior editor, tested Pre-Kaged pre-workout and was mostly fond of the taste and texture. She tried Krisp Apple and says it definitely tastes and smells like apple candy, which is yummy, but there's an aftertaste due to the use of artificial sweeteners. Still, it was tasty enough to earn 5 out of 5 points for that category and 4 out of 5 points for texture.
Price per serving
$2.25 ($2.02 when subscribed)
Caffeine per serving
274 mg
Key ingredients
Beta-alanine, fermented BCAAs, patented creatine HCL, taurine,
L-tyrosine, L-citrulline
Third-party tested
Yes
Best Clean CrossFit Pre-Workout: Truth Nutrition Pre-Workout
Good for: knowing what you're taking is free from artificial ingredients
Many CrossFit athletes are concerned with eating a whole-food diet and prioritizing natural ingredients over processed foods in their diet. A nutrient-dense diet high in protein, complex carbohydrates, fiber, and health fats is what drives physical performance, after all.
If this resonates with you, you should check out Truth Nutrition Pre-Workout, which is stacked with some of the best pre-workout ingredients, yet free from artificial sweeteners, flavors, colors or dyes, and other artificial ingredients. We think it's one of the best natural pre-workouts.
In addition to typical pre-workout inclusions such as caffeine (150 milligrams per serving), BCAAs, and BioPerine (black pepper extract), Truth Nutrition Pre-Workout also contains coconut water powder and Himalayan sea salt for hydration, as well as antioxidants from tart cherry, Jerusalem artichoke extract, and quercetin anhydrous.
Another key ingredient in the formula is elevATP5, a relatively new patented ingredient that is thought to help the body produce more adenosine triphosphate (ATP), the "energy currency" of the body that powers muscle contraction.
You'll notice the complete lack of typical inclusions like citrulline, beta-alanine, and betaine anhydrous in this formula. It's not clear why Truth Nutrition left these out, but in spite of that, our product tester still really enjoyed the experience, rating it with 4 out of 5 points for effectiveness.
"I normally just take coffee before workouts, but I have played around with several pre-workouts. I didn't love the taste of this one, but I like the effects," says Agnes, a member of the weightlifting team that GGR head of content Kate Meier competes with.
"I feel really good on this pre-workout," she says. "I definitely feel energy from it; I don't have any tingles like I would get with other pre-workouts, which makes sense because there is no beta alanine, but I definitely get an energy boost."
Price per serving
$1.52
Caffeine per serving
150 mg
Key ingredients
Jerusalem artichoke extract, BCAAs, coconut water powder,
N-acetyl L-tyrosine, L-tyrosine, whole tart cherry, organic green coffee bean
(as Purcaf), elevATP, quercetin anhydrous, organic coffee fruit extract
(as NeuroFactor), BioPerine
Third-party tested
Yes
Best CrossFit Pre-Workout with Creatine: Gorilla Mode
Good for: Training sessions including short, high-intensity efforts like sprints and one-rep maxes
Creatine supplementation is shown to result in a number of performance improvements, from maximal strength to repeat sprint performance to muscular endurance. In fact, the benefits of creatine in the strength arena are so profound that researchers are beginning to look into the effects of creatine for cardio and endurance training.
RELATED: Best Creatine Supplements
Gorilla Mode Pre-Workout from Gorilla Mind is one of the best pre-workouts with creatine. You have the option to take one or two scoops of Gorilla Mode pre-workout. In a one-scoop serving, things are slightly under-dosed, with 2.5 grams of creatine, 4.5 grams of citrulline, 1.25 grams of betaine anhydrous, and 500 milligrams of agmatine sulfate, a compound derived from the amino acid arginine.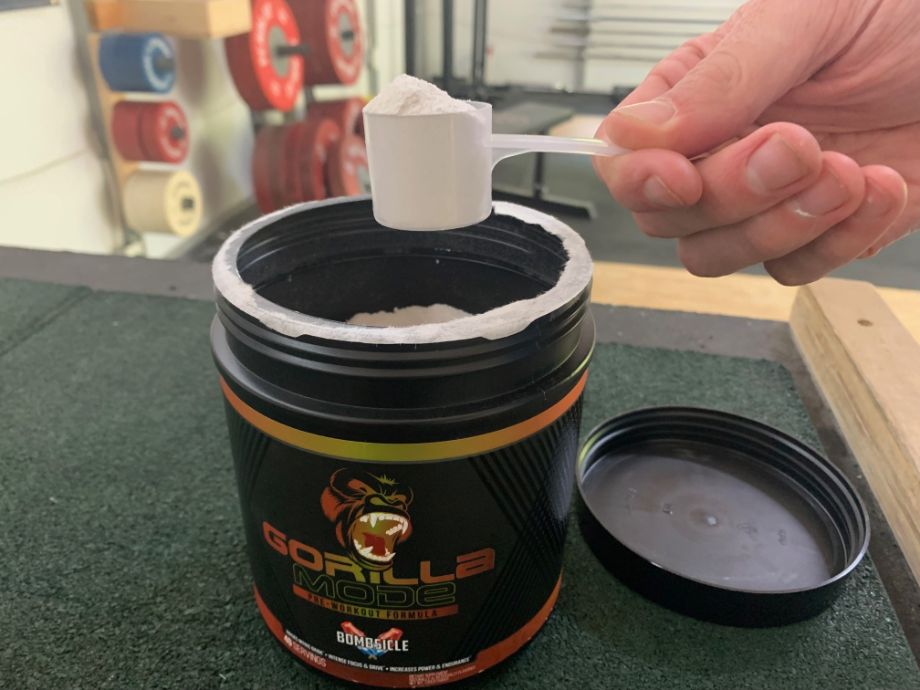 All of that doubles with a two-scoop serving, which then means the dosing of all ingredients is at the high end of the clinically recommended range. But if you double the dose, you're also doubling the caffeine, increasing that dose to 350 milligrams. That's all fine and dandy if you're a caffeine-tolerant person, but caffeine-sensitive individuals should take caution. Additionally, the FDA-recommended maximum for caffeine is 400 milligrams per day, so pay attention to your other sources of caffeine.
Jacob Penner, USAW Level 2 coach and certified personal trainer, says of Gorilla Mode, "Two hours later, I still feel pumped up like I did while I was working out, and I am not crashing the way you sometimes do after taking a strong pre-workout. I still feel focused. I've taken 50-plus pre-workouts, and this is one of my favorites. I'll definitely be using this in my workout routine."
Jacob rated Gorilla Mode pre-workout with a 4.5-out-of-5-star rating for effectiveness, saying, "I took this about 15 minutes before my workout; I felt very calm but energetic; I felt confident. I got a pump almost immediately. I also noticed I felt very warm; my skin felt warm. I didn't notice tingling at all with this one, which makes sense, because there is no beta alanine."
Price per serving
$1.25 or $1.17 with a 3-tub discount
Caffeine per serving
175 mg (350 mg for 2 scoops)
Key ingredients
L-citrulline, creatine monohydrate, GlycerPump, betaine anhydrous,
L-tyrosine, caffeine anhydrous, bioperine, kanna, agmatine sulfate,
Huperzine-A, N-phenethyl dimethylamine citrate, and malic acid
Third-party tested
Yes
Best Caffeine-Free Pre-Workout for CrossFit: 1st Phorm Endura-Formance
Good for: A performance boost without the jitters
For a caffeine-free pre-workout that still packs a punch, 1st Phorm Endura-Formance takes first place, in my opinion. This pre-workout is designed to increase stamina, and the formula shows it. With almost 200 milligrams of sodium per serving, plus 72 milligrams of potassium, Endura-Formance helps to keep you hydrated, which is critical for exercise performance.
RELATED: Best Stim-Free Pre-Workout
Additionally, one serving contains 5 grams of creatine monohydrate, a supplement known for its performance-enhancing effects on strength and power. There's also 3.2 grams of beta-alanine, a lactic acid buffering agent, and 2.5 grams of betaine anhydrous, which may help improve endurance.
On top of all of that, this blend contains two patented ingredients: PeakO2 and S7. The former, PeakO215, is thought to increase work capacity (aka stamina) by increasing oxygen uptake and reducing lactic acid buildup. The latter, S7, is a nitric oxide booster, so it widens the blood vessels and increases blood circulation.
I personally tested this pre-workout, and I went through the entire tub faster than I've gone through any other supplements. My only complaint is that it's sweetened with sucralose, but that's a personal preference.
When I was in the middle of an intense (very, very intense) training block for half-Ironman preparation, this pre-workout got me through many tough sessions. It's one of few pre-workouts that earned a score of 5 out of 5 for effectiveness. It also scored highly for taste and texture, earning 4.5 and 4 out of 5 points, respectively.
I liked the Berry Lemonade flavor a lot; it was certainly sweet due to the sucralose, but not in an overpowering way. This pre-workout powder mixes well, with no noticeable chunks, although it does settle at the bottom of the shaker bottle if you don't drink it right away.
Price per serving
$1.50
Caffeine per serving
0 mg
Key ingredients
Sodium, potassium, creatine monohydrate, beta-alanine, betaine anhydrous,
L-tyrosine, PeakO2, S7
Third-party tested
Yes
More Than 50 Other CrossFit Pre-Workouts Researched and Tested
The nine products featured above represent a tiny sampling of the pre-workout supplements we have tested across our time. As certified personal trainers, nutrition coaches, and athletes, we think it's critical to fairly evaluate pre-workouts and provide honest reviews, so we've personally tested more than 50 options. Below are some additional pre-workouts we considered for this guide.
Transparent Labs Bulk Black: Another Transparent Labs favorite, Bulk Black is a high-end pre-workout that builds upon the Bulk formula. They're similar, but Bulk Black contains more caffeine (275 milligrams per serving), as well as B vitamins and vitamin D. Honestly, either is a good choice for CrossFit athletes; the choice really comes down to the caffeine content.
Transparent Labs Lean: This could be a good alternative to Transparent Labs Bulk for people who have weight-loss goals. In addition to typical pre-workout ingredients, Transparent Labs Lean contains three ingredients thought to stimulate weight loss in a variety of ways: choline bitartrate, acetyl-L-carnitine, and chromium picolinate. However, as discussed in our guide to weight loss pills that don't work, the verdict is still out on how effective these ingredients are for weight loss, if at all.
RELATED: Best Weight Loss Supplements
Kaged Pre-Kaged Sport: Another good pick from Kaged Muscle, Pre-Kaged Sport is similar to Pre-Kaged. It's a bit lower in caffeine with 188 milligrams per serving. It's also lower in some of the pump ingredients, like citrulline, so it's a good pre-workout for beginners.
Onnit Total Strength + Performance: This is one of the best pre-workouts with BCAAs, although it's on the expensive side at about $2 per serving. Total Strength + Performance is high in herbal ingredients due to the focus on mental performance in this blend.
Klean Athlete Klean Pre-Workout: Klean Pre-Workout doesn't contain much at all. The formula includes beet root extract and 75 milligrams of caffeine per serving, along with some sodium and vitamin C, but that's really it. Our testers didn't notice an effect after taking it.
How We Picked and Tested the Best Pre-Workout Supplements for CrossFit
Our ratings are not random. Each of the pre-workouts featured in this guide was tested by a GGR editorial team member or a member of our broader product testing team. We rate every pre-workout according to a predetermined testing methodology that covers the most important factors in pre-workout quality. (Here's our full supplement testing methodology.)
RELATED: What to Look for in Pre-Workout
Price Per Serving
Pre-workout pricing can range from $0.80 per serving on the low end to upwards of $2 per serving on the high end. We score pre-workout in this category as follows:
To get a 1-2, price falls above $2
To get a 3, price falls around $1.50
To get a 4-5, price falls less around $1.00 or less
Formulation
We look for key pre-workout ingredients that are known to make a difference in physical performance—and we look for the clinically recommended dosing. For instance, we evaluate supplements facts labels to look for:
Caffeine: about 200 milligrams
Creatine: 3 to 5 grams
Citrulline: 6 to 8 grams
Beta-alanine: 3 to 6 grams
Betaine: 2.5 grams
We also look for proprietary blends, which do not disclose the amount of each ingredient in the blend. Proprietary blends result in reduced scores. Additionally, inclusion of questionable and/or banned ingredients brings scores down and results in an editor's note warning of potential side effects. Such ingredients include extremely high doses of caffeine per serving (more than 400 milligrams), dendrobium, synephrine, DMAE, rauwolfia vomitoria, and yohimbe extract.
RELATED: Best Pre-Workout for Women
Taste and Texture
While entirely subjective, we think it's important to let readers know if the product tastes good (or not) and dissolves well (or not). In addition to using our own experiences to score this category, we look at customer reviews to find any recurring complaints regarding taste and solubility.
To score 3 out of 5 points (an average score) in these categories, a pre-workout must taste OK—not stellar, but not gross—and dissolve acceptably well, meaning no major chunks or graininess. Worse experiences result in lower scores; better experiences result in higher scores.
Effectiveness
Our product testers take note of whether they feel an energy boost, get a muscle pump, or otherwise feel different and/or better during their training session when they take a certain pre-workout. This, too, is subjective, but is a good indicator of whether or not a pre-workout actually does anything.
RELATED: Best Pre-Workout for Men
Side Effects
Any reported side effects from our product testers or customer reviews influence the product's score in this category. If our tester feels terrible after taking it and it seems that many customers also do, the product earns only 1 out of 5 points. A few minor complaints from our tester or customers results in a score of 3 out of 5 points. And a product earns the full 5 points if neither our tester nor any customers seem to have had any side effects at all.
Third-Party Testing
Third-party testing is very important, especially for pre-workout supplements, which have a history of not disclosing the amount of caffeine or other stimulants. At GGR, we prioritize independently tested supplements and label transparency, rating pre-workouts according to this scale:
To get a 1, this product is suspicious. It's definitely not third-party tested, and the company doesn't seem very transparent either. There are high levels of stimulants that have been shown to have detrimental effects.
To get a 3, the company seems fairly transparent but the product is not certified by a major organization like NSF, Informed Choice/Sport, or Banned Substance Control Group (BSCG).
To get a 4-5, the company is fully transparent and the product is third-party tested by one of the above organizations.
Customer Reviews
We spend a lot of time looking at customer reviews, particularly searching for recurring customer complaints or any comments about severe side effects. The score a product earns in this category is the average rating on the company website, Amazon, or a third-party site like TrustPilot.
Benefits of Pre-Workout for CrossFit Athletes
The benefits of pre-workout for CrossFit are the same as the benefits of pre-workout for any physical endeavor: enhanced performance. In particular, pre-workout can help with the following components of exercise:
Energy: Caffeine provides energy and has well-documented benefits on athletic performance.
Strength and power: Some ingredients in pre-workout, specifically creatine monohydrate and elevATP, interact with the anaerobic energy systems in the body and can help your body produce greater amounts of power.
Endurance and stamina: Ingredients such as beta-alanine and betaine anhydrous act as buffers against fatigue, helping you to work out harder for longer.
Blood flow: Citrulline and various nitric oxide boosters, such as beet root extract and pomegranate extract, increase blood flow by widening the blood vessels. This results in a muscle pump and greater delivery of oxygen and nutrients to the working muscles.
Mental acuity: Caffeine, L-theanine, theobromine, and other ingredients can help you stay focused during your workout.
Dosing and Interactions
Pre-workout formulas contain many different ingredients, so it's important to carefully read the ingredients label and, if you take prescription medications, double-check with your healthcare provider that it's safe for you to take. If you don't take prescription medications, you likely don't need to worry, but it never hurts to consult a professional.
Best Pre-Workout for CrossFit: FAQs
What do Crossfitters use for pre-workout?
CrossFitters use many different pre-workouts. Among the most popular are Cellucor products, Podium products, and energy drinks like FITAID, NOCCO, and Red Bull. 
What protein powder do Crossfitters use?
Popular protein powders among CrossFitters include whey and casein protein powders from 1st Phorm, Impact, MyProtein, Ascent, and Dymatize.
What is the best post-workout drink for CrossFit?
A good post-workout drink for CrossFit is anything that includes at least 20 grams of protein and at least 30 grams of carbs. 
These statements have not been evaluated by the Food and Drug Administration. This product is not intended to diagnose, treat, cure, or prevent any diseases.
References
Gough LA, Sparks SA, McNaughton LR, et al. A critical review of citrulline malate supplementation and exercise performance. Eur J Appl Physiol. 2021;121(12):3283-3295. doi:10.1007/s00421-021-04774-6
Stanelle ST, McLaughlin KL, Crouse SF. One Week of L-Citrulline Supplementation Improves Performance in Trained Cyclists. J Strength Cond Res. 2020;34(3):647-652. doi:10.1519/JSC.0000000000003418
Neinast M, Murashige D, Arany Z. Branched Chain Amino Acids. Annu Rev Physiol. 2019;81:139-164. doi:10.1146/annurev-physiol-020518-114455
VanDusseldorp TA, Escobar KA, Johnson KE, et al. Effect of Branched-Chain Amino Acid Supplementation on Recovery Following Acute Eccentric Exercise. Nutrients. 2018;10(10):1389. Published 2018 Oct 1. doi:10.3390/nu10101389
Joy JM, Vogel RM, Moon JR, et al. Ancient peat and apple extracts supplementation may improve strength and power adaptations in resistance trained men. BMC Complement Altern Med. 2016;16:224. Published 2016 Jul 18. doi:10.1186/s12906-016-1222-x
Hobson RM, Saunders B, Ball G, Harris RC, Sale C. Effects of β-alanine supplementation on exercise performance: a meta-analysis. Amino Acids. 2012;43(1):25-37. doi:10.1007/s00726-011-1200-z
Sutton, Brian, et. al. Certified Sports Nutrition Coach Certification. National Academy of Sports Medicine (NASM). 2021(22);4.
Cholewa, J.M., Hudson, A., Cicholski, T. et al. The effects of chronic betaine supplementation on body composition and performance in collegiate females: a double-blind, randomized, placebo controlled trial. J Int Soc Sports Nutr 15, 37 (2018). https://doi.org/10.1186/s12970-018-0243-x
Pryor, J.L., Craig, S.A. & Swensen, T. Effect of betaine supplementation on cycling sprint performance. J Int Soc Sports Nutr 9, 12 (2012). https://doi.org/10.1186/1550-2783-9-12
Owen GN, Parnell H, De Bruin EA, Rycroft JA. The combined effects of L-theanine and caffeine on cognitive performance and mood. Nutr Neurosci. 2008;11(4):193-198. doi:10.1179/147683008X301513
Roelofs EJ, Smith-Ryan AE, Trexler ET, Hirsch KR, Mock MG. Effects of pomegranate extract on blood flow and vessel diameter after high-intensity exercise in young, healthy adults. Eur J Sport Sci. 2017;17(3):317-325. doi:10.1080/17461391.2016.1230892
Domínguez R, Cuenca E, Maté-Muñoz JL, et al. Effects of Beetroot Juice Supplementation on Cardiorespiratory Endurance in Athletes. A Systematic Review. Nutrients. 2017;9(1):43. Published 2017 Jan 6. doi:10.3390/nu9010043
Patlar S, Yalçin H, Boyali E. The effect of glycerol supplements on aerobic and anaerobic performance of athletes and sedentary subjects. J Hum Kinet. 2012;34:69-79. doi:10.2478/v10078-012-0065-x
Arazi H, Aboutalebi S, Taati B, Cholewa JM, Candow DG. Effects of short-term betaine supplementation on muscle endurance and indices of endocrine function following acute high-intensity resistance exercise in young athletes. J Int Soc Sports Nutr. 2022;19(1):1-16. Published 2022 Mar 22. doi:10.1080/15502783.2022.2041988
Hirsch KR, Mock MG, Roelofs EJ, Trexler ET, Smith-Ryan AE. Chronic supplementation of a mushroom blend on oxygen kinetics, peak power, and time to exhaustion. J Int Soc Sports Nutr. 2015;12(Suppl 1):P45. Published 2015 Sep 21. doi:10.1186/1550-2783-12-S1-P45