We test and review fitness products based on an independent, multi-point methodology. If you use our links to purchase something, we may earn a commission. Read our disclosures.
In our guide to the CrossFit Open 2023, we answer all of your questions about the start of the CrossFit Games season.
Each year, hundreds of thousands of people compete in the CrossFit Open. If you're new to CrossFit, you may be wondering what all the hype is about—and you may have a lot of questions, like:
What is the Open?
Can anyone do the Open?
Should I do it?
What's the big deal with the Open?
Is the Open the same as the Games?
We answer all of these questions and more in this guide to the CrossFit Open.
Related: Is CrossFit Bad for You?
What Is the CrossFit Open?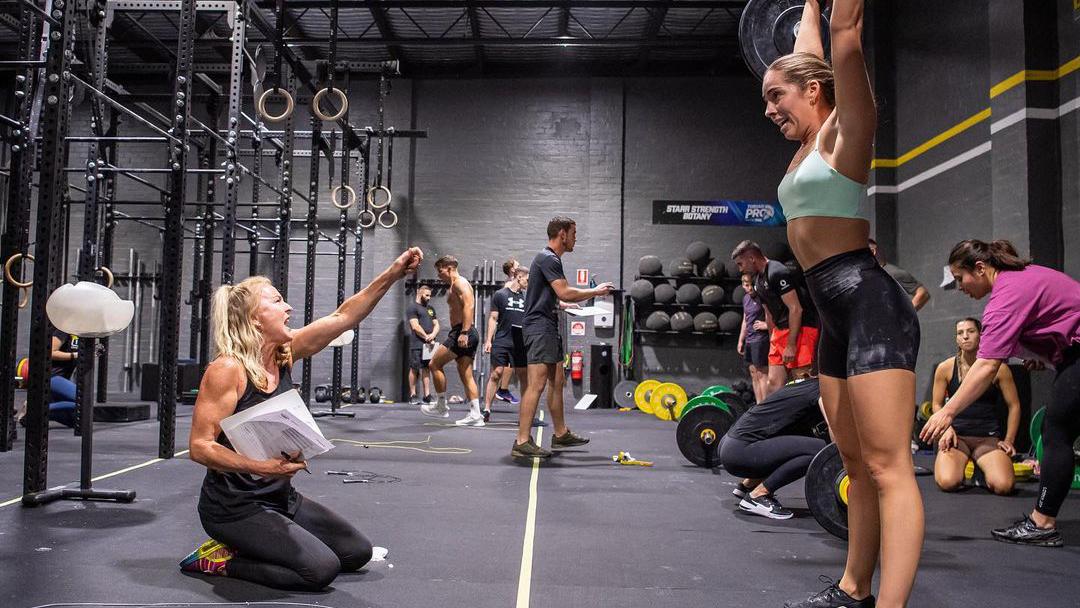 The CrossFit Open is an open competition for anyone and everyone in the world (who's 14 years of age by July 14, 2023) to participate in—yes, everyone, regardless of fitness abilities.
The Open consists of a series of workouts that are released weekly each year in late winter and early spring. There used to be five workouts in each Open, but in 2021, the CrossFit programming team switched it to three workouts.
Anyone can sign up and complete the workouts in their assigned competitive region (such as Oceania Europe, or North America East) and division (a specific age group, team, or adaptive division). We'll go more into divisions and regions later in this guide.
The CrossFit Open is the first part of the CrossFit Games season, and it serves as the initial qualification period. Although the Open is an international competition in which anyone can compete, only the best athletes in each division and region will continue onto the CrossFit Quarterfinals.
When Is the CrossFit Open 2023? (CrossFit Open Dates 2023)
In 2023, the CrossFit Open will begin on February 16 with the release of 23.1. The competition will last three weeks and conclude on March 6, 2023.
You can see the dates for the entire 2023 CrossFit Games season on our CrossFit events calendar.
CrossFit Open Workout Release Dates
During the Open, workouts are released weekly. Typically, they're released during a live event that's streamed on the CrossFit Games TV channel on YouTube. Each workout in 2023 will be released on Thursdays at noon Pacific Standard Time (PST), and athletes have five days to complete the WOD.
23.1
CrossFit Open Workout 23.1 will be released on Thursday, February 16, 2023. Athletes have until Monday, February 20 at 5 p.m. PST to complete the workout.
Workout 23.1
Complete as many reps as possible in 14 minutes of:
60 calorie row
50 toes-to-bar
40 wall-ball shots
30 cleans
20 ring muscle-ups
W: 14lb ball to 9ft target, 95lb cleans
M: 20lb ball to 10ft target, 135lb cleans
23.2
CrossFit Open Workout 23.2 will be released on Thursday, February 23, 2023. Athletes have until Monday, February 27 at 5 p.m. PST to complete the workout.
Workout 23.2
23.2A:
Complete as many reps as possible in 15 minutes of:
5 burpee pull-ups
10 shuttle runs (1 rep = 25 ft out/25 ft back)
Add 5 burpee pull-ups after each round
23.2B:
Immediately following 23.2A, athletes will have 5 minutes to establish:
1-rep-max thruster (from the floor)
23.3
CrossFit Open Workout 23.2 will be released on Thursday, March 2, 2023. Athletes have until Monday, March 6 at 5 p.m. PST to complete the workout.
Workout 23.3
Starting with a 6-minute time cap, complete as many reps as possible of:
5 wall walks
50 double-unders
15 snatches (weight 1)
5 wall walks
50 double-unders
12 snatches (weight 2)
If completed before the 6-minute time cap, add 3 minutes to the time cap and complete:
20 strict handstand push-ups
50 double-unders
9 snatches (weight 3)
If completed before the 9-minute time cap, add 3 minutes to the time cap and complete:
20 strict handstand push-ups
50 double-unders
6 snatches (weight 4)
♀ 65 lb, 95 lb, 125 lb, 155 lb
♂ 95 lb, 135 lb, 185 lb, 225 lb
CrossFit Open Age Groups And Divisions 2023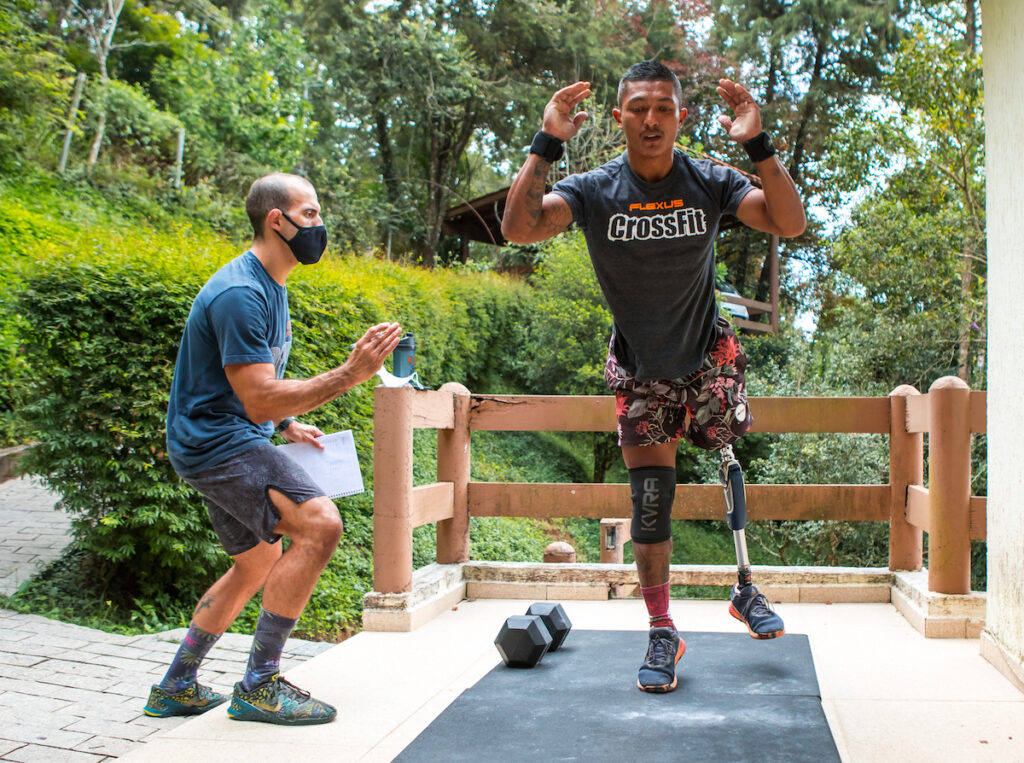 According to CrossFit, Inc, there are 37 total divisions for the Open in 2023 (36 for individuals and one for teams). They are as follows:
Individual:

Individual men (ages 18-34)
Individual women (ages 18-34)

Age Groups:

14-15 men, 14-15 women
16-17 men, 16-17 women
35-39 men, 35-39 women
40-44 men, 40-44 women
45-49 men, 45-49 women
50-54 men, 50-54 women
55-59 men, 55-59 women
60-64 men, 60-64 women
65+ men, 65+ women

Adaptive:

Men, upper extremity; women, upper extremity
Men, lower extremity; women, lower extremity
Men, multi-extremity; women, multi-extremity
Men, vision; women, vision
Men, short stature; women, short stature
Men, seated with hip function; women, seated with hip function
Men, seated without hip function; women, seated without hip function
Men, intellectual; women, intellectual

Team
Adaptive athletes must meet certain eligibility requirements to qualify for their expected division. You can read more about the eligibility criteria and get more details on CrossFit adaptive divisions here.
CrossFit Games 2023 Regions
There are seven competitive regions for CrossFit in 2023:
North America West
North America East
South America
Europe
Africa
Asia
Oceania
An athlete's region is primarily determined by their country of citizenship. For those who are citizens of the U.S. or Canada, there is a secondary deciding factor: the address of the athlete's CrossFit affiliate or their residential address if competing unaffiliated.
For example, if you live in Arizona or British Columbia, you'll be assigned to the North America West region. If you live in Ontario or Florida, you'll be assigned to the North America West region.
If an athlete faces extenuating circumstances, they may petition for a change of region. The only circumstances that may grant an athlete a change of region include:
The athlete has been living in a different country since or before February 16, 2020.
The athlete would face extreme financial hardship in order to travel to their expected Semifinal.
The athlete's country is facing political hardship that may restrict the athlete from traveling to or from their expected Semifinal.
The athlete has an immigration or visa status that may restrict them from traveling to or from their expected Semifinal.
If you need to submit a petition for a region change, you can do so by completing this form by February 1, 2023 at 5 p.m. PST. CrossFit, Inc, will inform athletes of their decisions before the Open begins on February 16.
Read more about competitive regions and exemptions.
How to Register for the CrossFit Open
Registering for the CrossFit Open is simple and easy. Here's how to do it, according to CrossFit HQ:
Go to Games.CrossFit.com and click "Register."
Log in to your athlete profile or create an account if this is your first time participating in the Open.
Add or edit your athlete information. This includes selecting your competition region, CrossFit affiliate (your gym), and your division (e.g., age group, elite, scaled, adaptive, etc.)
Sign the waiver.
Pay the registration fee ($20).
That's it! You're now registered for the CrossFit Open—congrats!
How to Submit CrossFit Open Scores
Score submission for the Open varies depending on how you choose to compete: affiliate or unaffiliate.
If you compete unaffiliated, AKA at a home CrossFit gym or other non-CrossFit gym, you'll need to take videos of your workout performance each time. If you compete affiliated, or in a CrossFit-affiliated gym, you'll work out with a judge who will give you a scorecard.
Each week during the Open, you'll have to submit your score by 5 p.m. Pacific Standard Time on Mondays.
Here's how to do it:
Complete the workout.

Video your performance and fill out the scorecard or work out with a judge and fill out the scorecard. (Here's a sample scorecard.)

Log into your athlete portal and submit your scorecard and video.
See your name populate on the global leaderboard to find your rank!
You can find the full 2023 CrossFit Games rulebook here, where there is more detailed information on submitting and validating scores.
How to Prepare for the CrossFit Open
Signing up for the Open can feel intimidating, daunting, and frightening. But it's also a time to be excited and hyped for what's to come. Here are some expert tips on how to prepare so you can feel your most confident when it's time to compete.
Physical Preparation
Here are some tips to help you prepare your body for the Open.
Complete Past Open Workouts
Though there's no telling what type of workout CrossFit will release in any year, one of the best ways to prepare is to complete Open workouts from years prior. Doing so will give you a good idea of what physical stimuli you're likely to endure—monostructural endurance, gymnastics, maximal strength, max-effort intervals, and any combination of these.
Work On Your Weaknesses
Every CrossFitter has a unique collection of movements they despise doing. Those are the ones you've got to do. Every CrossFit Open consists of workouts that, in one way or another, encompass all 10 skills that the best CrossFit athletes possess. Those are as follows, defined by CrossFit founder Greg Glassman:
"Cardiovascular/respiratory endurance: The ability of the body's systems to gather, process, and deliver oxygen
Stamina: The ability of body systems to process, deliver, store, and utilize energy
Strength: The ability of a muscular unit, or combination of muscular units, to apply force
Flexibility: The ability to maximize the range of motion at a given joint
Power: The ability of a muscular unit, or combination of muscular units, to apply maximum force in minimum time
Speed: The ability to minimize the cycle time of a repeated movement
Coordination: The ability to combine several distinct movement patterns into a singular distinct movement
Agility: The ability to minimize transition time from one movement pattern to another
Balance: The ability to control the placement of the body's center of gravity in relation to its support base
Accuracy: The ability to control movement in a given direction or at a given intensity"
Eat for Fuel
Eat, eat, eat! During the CrossFit Open, your body will be working very hard. If you don't eat sufficient calories, you won't be able to perform at your best. Make sure to eat balanced meals each day and prioritize high-quality carbs and protein.
Hydrate Properly
It's important to hydrate before, during, and after workouts to keep your body at its best. Even mild dehydration can limit your performance, according to the book Sport Nutrition, 2nd Edition1, by authors Asker Jeukendrup and Michael Gleeson. As for how much to drink, it depends on your overall activity level, how much you sweat, the temperature outside, and many other factors. The American College of Sports Medicine recommends2 drinking 16 to 20 ounces of fluid four hours before exercise and an additional 16 to 24 ounces post-exercise for every pound of body weight lost in fluid. Don't forget that you need electrolytes, too.
Recover After Each Workout
Workout recovery is as important as the workout itself. Make sure to rehydrate, refuel with protein and other nutrients important for muscle repair3, and get plenty of sleep to bounce back from the Open workout. Stretching, foam rolling, cold water immersion, and other techniques may help, although evidence is inconclusive4.
Mental Preparation
Completing the CrossFit Open is as much a mental pursuit as it is a physical one. Here are some ideas for mentally preparing for each workout.
Create a Workout Strategy
When the WOD is released, take a few moments to devise a strategy that will work for you. Everyone has different capabilities, strengths, and weaknesses, so don't rely on someone else's strategy. Open workout strategies can include breaking up the rep schemes, choosing your scaling options, and planning for rest intervals.
Here's an example of a strategy for Open workout 17.5. The workout is:
10 Rounds for Time
9 Thrusters (95/65 lb)
35 Double-Unders
For me, 65 pounds is a moderate weight, and 35 double-unders is easy for several sets. Here's how I would perform this workout:
For the first five rounds, I would do everything unbroken (meaning without breaks), and use my transitions as rest. That is, I'd plan to take two to three deep breaths each time I switch from the barbell to the jump rope and vice versa.
For rounds six, seven, and eight, I'd break up the thrusters into two sets—one set of five and one set of four. I'd do the double-unders in two sets as well; one set of 20 and one set of 15.
For rounds nine and 10, I'd return to unbroken sets on both movements.
Someone with more experience than me would do this workout unbroken all the way through. Someone with less experience may need to break up the sets from the very beginning.
Do the Workouts With a Group
The Open is more fun when you do it with a group of other CrossFitters. Many CrossFit gyms host events for each Open workout, and run heats so many of their members can perform the workout on the same night as the Open announcement.
Usually, afterward, there are drinks and snacks and everyone hangs around for a party. It's a really fun time, and I encourage everyone who does the Open to do it this way! It makes the workouts far less daunting and the whole experience becomes more engaging.
What to Expect During the CrossFit Open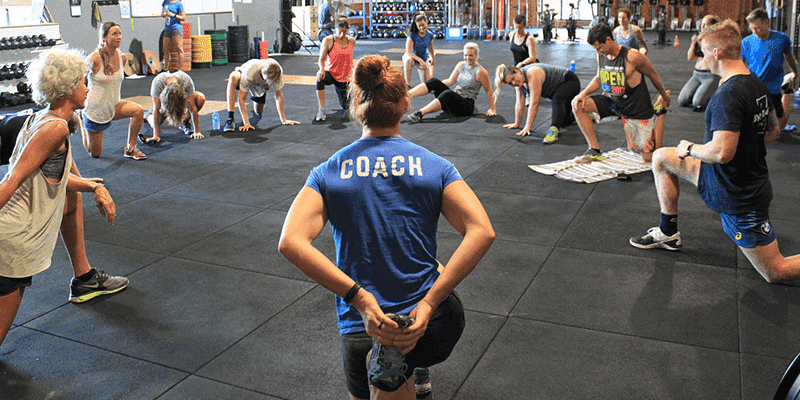 After reading this guide to the CrossFit Open, I hope you feel more prepared and excited to compete. Here are some final thoughts on what you can expect during your first CrossFit Open.
Expect to work hard. Open workouts are notoriously difficult. None of them will be easy, even if you scale, but that's the entire point.
Expect to surprise yourself. The Open is a beautiful time during which many people achieve their very first pull-up, push-up, muscle-up, toes-to-bar, or handstand push-up; or achieve a new one-rep max squat, overhead press, or deadlift.
Expect to be frustrated. You won't always get the score you want, and that's okay. You signed up and you tried your hardest and that's what matters.
Expect to make memories. You won't forget the times you went all-out after the Open livestream or the times you achieved a "first."
FAQs About the CrossFit Open
Where is the CrossFit Open?
The CrossFit Open is conducted virtually. Each athlete performs each workout at home or at their CrossFit affiliate and submits scores (and videos, if necessary) online.
Can you scale the CrossFit Open?
Part of the beauty of the CrossFit Open is that you can choose your own path. Everyone who competes in the Open can choose to perform scaled versions of the workouts, whether you're in an individual, age group, or adaptive division. 
CrossFit releases scaled standards for each workout at the same time that the RX versions are released. In 2023, CrossFit will not release specific scaled standards for adaptive divisions.
Should I do the CrossFit Open?
The CrossFit Open is a great way to push yourself to your limits and make timeless memories. It's also a fun way to make friends at a CrossFit affiliate and become more immersed in the CrossFit community. You may surprise yourself with your fitness abilities when you sign up for the Open!
Can anyone do the CrossFit Open?
Yes! Anyone who is 14 years or older may compete in the CrossFit Open.
What equipment do I need for the CrossFit Games Open? 
The 2023 equipment list includes: 
Dumbbells 
Medicine ball
Barbell
Bumper plates
Pull-up bar
Gymnastics rings
Kettlebells
Jump rope
Plyo box
Rowing machine 
Wall space
Floor space
What exercises will be in the NOBULL CrossFit Open?
Last year and years prior, the Open included a wide variety of movements, from box jumps to burpees to snatches to wall walks to chest-to-bar pull-ups. Each year, you can expect to see the same breadth of movements across a variety of workout types, including AMRAPS, triplets, and max strength tests.
Who qualifies for the CrossFit Open?
You don't need to qualify for the CrossFit Open. Anyone who is at least 14 years old may sign up and compete, no matter their fitness level.
What happens after the CrossFit Open?
After the CrossFit Open, the fittest athletes in each division move through the rest of the CrossFit season: onto the Quarterfinals, then Semifinals, and finally, the CrossFit Games. The 2023 NOBULL CrossFit Games will take place in Madison, Wisconsin, as it has in previous years.
References
Jeukendrup, A. and Gleeson, M. (2010) Sports Nutrition. 2nd edn. Human Kinetics Publishers.
Roy, Brad A. Ph.D., FACSM, FACHE. Exercise and Fluid Replacement: Brought to you by the American College of Sports Medicine www.acsm.org. ACSM's Health & Fitness Journal 17(4):p 3, July/August 2013. | DOI: 10.1249/FIT.0b013e318296bc4b
Mielgo-Ayuso J, Fernández-Lázaro D. Nutrition and Muscle Recovery. Nutrients. 2021;13(2):294. Published 2021 Jan 20. doi:10.3390/nu13020294
Dupuy O, Douzi W, Theurot D, Bosquet L, Dugué B. An Evidence-Based Approach for Choosing Post-exercise Recovery Techniques to Reduce Markers of Muscle Damage, Soreness, Fatigue, and Inflammation: A Systematic Review With Meta-Analysis. Front Physiol. 2018;9:403. Published 2018 Apr 26. doi:10.3389/fphys.2018.00403