We test and review fitness products based on an independent, multi-point methodology. If you use our links to purchase something, we may earn a commission. Read our disclosures.
My father is unnaturally obsessed with music from the 1960's and 1970's. This is likely why I couldn't get the song "Spirit in the Sky" by Norman Greenbaum out of my head while writing these Spirit treadmill reviews. Although this song has little to do with cardio machines, at least Tim, my dad, would be proud of my selection.
However, you didn't come here for my music analysis (but if you want that, check out my favorite workout playlists on Spotify). Instead, I'm going to run (hehe) you through all the residential, commercial, and medical Spirit treadmills on the market.
Getting Into the Treadmill Spirit
GGR's team of expert product reviewers and testers are so good at what they do that it's, well, shocking. I mean come on. Certified personal trainers, former college athletes, and nutrition coaches all in one place? It's a no-brainer to enlist the help of GGR's qualified squad for your next fitness equipment purchase.
Which Spirit Treadmill Should You Buy?
Spirit Fitness is a (mostly) cardio-centric brand with an extensive product catalog. They have rowing machines, ellipticals, exercise bikes, climbers, steppers, and yes, plenty of treadmills. Within their treadmill repertoire, Spirit has three different categories: residential, commercial, and medical.
With six residential options, seven commercial SKUs, and one medical treadmill, you certainly won't be starved for choice. If you're looking for a durable but not overly pricey machine, a residential Spirit treadmill may be the ideal choice for you.
For those who run a personal training business, crave durability, or just have a lot of space and money, the commercial treadmills from Spirit will certainly be up your alley.
Lastly, if you're recovering from an injury, have balance issues, or own a rehabilitation facility, the medical-grade Spirit treadmill will likely be a hit with you.
Residential Spirit Treadmills
Spirit XT185 Treadmill
Good for: Someone who needs an extremely sturdy treadmill
Spirit XT185 Treadmill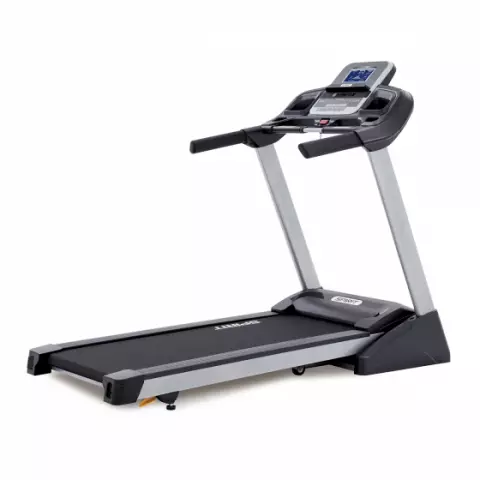 Product Highlights
Lifetime frame, motor, and deck warranty
Motor is 2.75 CHP, which isn't super powerful
Very sturdy while being used
275-lb user weight capacity
Pros & Cons
Pros
Very sturdy
Useful jump buttons on the display
10 levels of incline
Foldable
Low step-up height
Cons
2.75 CHP motor
Lacks a touchscreen
275-lb user weight capacity
Bottom Line
This is an entry-level machine from Spirit, but it doesn't perform like one. Grab this machine if you're someone who wants a durable treadmill for under $2,000.
The Spirit XT185 treadmill is considered the entry-level model from Spirit, but it certainly doesn't perform like one. When I used the XT185, I was shocked at how sturdy and well-made it felt. Based on the specs, I was expecting to be underwhelmed, especially for the $1,900 price tag.
This machine has a 2.75 CHP motor, which is less powerful than we typically hope to see. However, I was impressed with how quiet and unmoving the almost 230-pound machine really was. The cooling fan hit me in just the right spot, and the low step-up height is excellent for those who struggle with instability.
The jump buttons on the display are responsive and great for those who like HIIT. Nothing is more frustrating than when the buttons lag behind on a machine and eat up precious seconds of your sprint sessions. You won't find any of that here: The XT185 was quick to react and change both incline and speed when buttons were pressed.
Plus, unlike many of the other treadmills produced by Spirit, the XT185 actually folds. You'll be able to move the compacted machine around on the included transportation wheels (pretend I'm swooning right now).
It is worth noting that this machine's deck is a little smaller than we'd typically like to see. A 20-inch-by-55-inch deck isn't horrible, but it is better suited for shorter runners or people who plan to use their treadmill primarily for walking or jogging.
Commercial Spirit Treadmills
Spirit CT800 Treadmill
Good for: Someone who wants a commercial-grade treadmill at home
Spirit CT800 Treadmill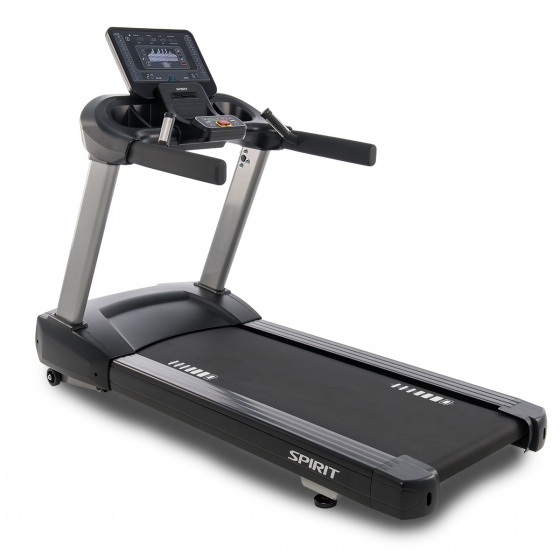 Product Highlights
4.0 CHP motor
Large deck for people of various heights
Very heavy machine
450-lb user weight capacity
Lifetime frame warranty
Pros & Cons
Pros
4.0 CHP motor
450-lb user weight capacity
Lifetime frame warranty
Large deck
Bluetooth connectivity
Cons
Lacks decline options
Expensive
No touchscreen
Heavy machine
Bottom Line
The Spirit CT800 treadmill is a great option for those who can afford the hefty cost and have the space for the large footprint.
Want to get your heart rate up with a commercial treadmill from Spirit? We have you covered. The around-$4,000 commercial Spirit CT800 treadmill has a lot to offer. The 22-inch-by-60-inch running surface is wide and long enough for folks of various heights and sizes. I am particularly fond of the powerful 4.0 CHP motor, which will allow users to run, sprint, and walk to their heart's content.
Even though the CT800 has an LED display instead of a touchscreen, you will still be able to enjoy various apps. Once you've connected your device and treadmill via Bluetooth, you'll be able to choose from various app integration options like Zwift, Strava, Kinomap and more.
Besides being able to hear compatible programming on the built-in speakers, you'll also be able to connect your chest strap or heart rate monitor to your device and machine.
There isn't much to dislike about the CT800. However, if I'm being nitpicky, I do wish it folded. Although I'm aware that most commercial treadmills do not fold, this machine would be essentially perfect in my eyes if it did (and if it didn't weigh 380 pounds).
Medical Spirit Treadmills
Spirit MT200 Gait Trainer Treadmill
Good for: Someone recovering from an injury
Spirit MT200 Gait Trainer Treadmill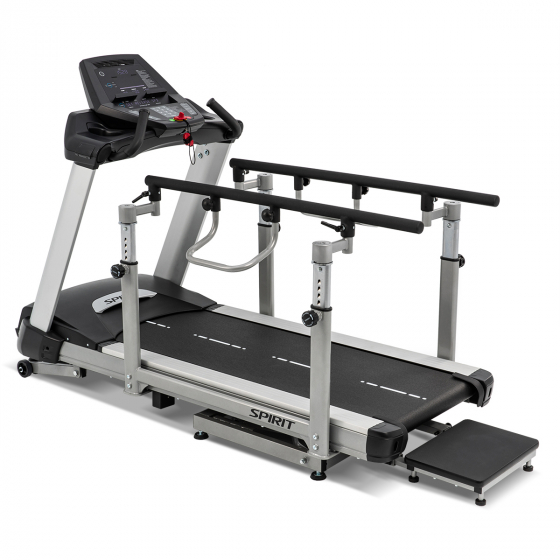 Product Highlights
Handrails are adjustable to support different people's needs
Step-up can be removed
Large deck is ideal for people of all sizes and heights
Very expensive and considered commercial-grade
Extremely heavy
Pros & Cons
Pros
3.0 CHP motor
Handrails on either side of the deck
440-lb user weight capacity
Incline and decline
Has preset programs
Large running surface
Sturdy machine
Cons
Expensive
Heavy and difficult to move
Doesn't fold
Lacks touchscreen
Bottom Line
The Spirit MT200 Gait Trainer treadmill is ideal for rehab facilities, someone with a lot of space, or those with balance issues. However, the cost may be off-putting to some.
When I was recovering from my ankle reconstruction surgery, I would have loved to have the Spirit MT200 Gait Trainer treadmill. This rehab-centric cardio machine clocks in at a pricey $11,000, but it appears to be worth every dollar.
Constructed out of sturdy materials like steel, this 496-pound treadmill is virtually unmoving. Users will be treated to adjustable handrails, which are great for relearning to walk (like I had to do) or those who need assistance due to balance concerns.
Not to worry though: This machine can be used for other types of cardio besides rehabilitation exercises. Thanks to the 3.0 CHP motor and a 10 mile-per-hour speed limit, you'll also be able to enjoy sprint sessions, running workouts, and long jogs (plus everything in-between). I'm also a fan of both the extensive incline and decline options.
Plus, folks that are on the heavier side can also use and enjoy this machine, thanks in part to the 440-pound user weight capacity. This makes the MT200 Gait Trainer a really inclusive option for more people.
However, with a high weight capacity comes a heavy machine. The MT200 is 496 pounds when set up and 547 pounds when it arrives at your doorstep. You'll definitely need a friend or two to help you move this machine, especially since it isn't a folding treadmill.
Spirit Treadmills Comparison Chart
| | | | |
| --- | --- | --- | --- |
| | Spirit MT200 Gait Trainer Treadmill | Spirit CT800 Treadmill | Spirit XT185 Treadmill |
| Type of treadmill | Medical | Commercial | Residential |
| Price range | Under $11,000 | Around $4,000 | Around $1,900 |
| HP motor | 3.0 CHP | 4.0 CHP | 2.75 CHP |
| Dimensions | 94″ L x 36″ W x 56.5″ H | 85" L x 35.8" W x 60.6" H | 77.5″ L x 35″ W x 57.5″ H |
| Warranty | Lifetime frame, 10-year motor, 3-year deck, parts, and labor | Lifetime frame, 5-year motor, deck, parts, 2-year labor | Lifetime frame, deck, and motor, 5-year parts, 1-year labor |
| Treadmill belt | 22" W x 60" L | 22" W x 60" L | 20" W x 55" L |
| Display | LED screen | LED screen | Blue backlit LCD screen |
| Step-up height | 9.69″ | 7.87″ | 5.87″ |
| Maximum user weight | 440 lbs | 450 lbs | 275 lbs |
| Weight | 496 lbs | 380 lbs | 229.3 lbs |
| Speed range | 0-10 MPH | 0.5 – 12 MPH | 0.5-10 MPH |
| Incline options | -10-15% decline/incline | 0-15% | 0-10% |
Brand Policies
Let's take a closer look at Spirit's brand policies. Will they stack up to the industry standards? Find out below:
Warranty
All of Spirit's residential treadmills have a lifetime frame and motor warranty, which is excellent. When it comes to Spirit's commercial treadmills, you get a lifetime frame warranty and various years ranging from five to 10 on the motor.
Although ideally the motor warranty would match the frame's warranty, this is still really impressive. For some additional background, we generally expect to see 15 years to life for frame warranties on high-quality treadmills.
Returns
Spirit offers a typical 30-day return policy on all of their items. However, if you want to return anything, you first need to get a return authorization number. This can be obtained by calling 800-258-4555.
Once you've done this, you can then ship the item back. Unfortunately, the customer is responsible for all shipping costs. This can really add up, especially if you're shipping a 460-pound behemoth of a treadmill. I've never shipped anything that large, but I can assume it wouldn't be cheap if mailing a freakin' priority envelope is almost $10.
It is also worth noting that you may have to pay a 20-percent restocking fee upon return. Just don't ship back a damaged product in non-original packing and you likely won't be additionally charged.
Financing
After successfully scouring the internet, I have determined this: Spirit Fitness only offers financing on commercial products (and if you own a related business). If you do fall into this category and want to break your payments up into more manageable chunks, check out this Spirit Fitness Commercial link. The webpage will allow you to learn more about how the brand can assist with loans and related financing for your gym or personal training center.
Spirit Treadmills FAQs
Is Spirit a good brand for treadmills?
Yes, Spirit is a good brand for fitness products of all types. They make high-quality residential and commercial machines with impressive specs. Even one of the least-expensive treadmills from Spirit, the XT185, is very sturdy and runs like a champion.
Who owns Spirit treadmills?
Dyaco owns Spirit Fitness, including the entirety of their treadmill lines.
What are the top 5 home treadmills?