We review free products that we receive and participate in affiliate programs, where we may be compensated for items purchased through links from our site.
See our disclosures page for more information.
In addition to a barbell, squat rack, and weight plates, a weight bench is an essential piece of home gym equipment, and there are thousands of different options to select from. For weight benches, in particular, there are adjustable benches, FID Benches, flat utility benches, and then a myriad of unique benches for specific movements.
A weight bench offers a ton of versatility for your workouts, and using a bench as a stable surface is integral to a ton of strength training exercises like chest presses, dumbbell bench presses, incline rows, tricep dips, and more. With that being said, you want to make sure you get your purchase right by choosing a sturdy, functional bench that works for you.
In this guide, I will be distilling all of the options that I've tested and reviewed over the years and giving you my recommendations for the best weight benches for every price point and strength level.
Why You Should Trust Us
We've researched more than 100 weight benches, used more than 50 of them, and legitimately put 23 of them to the test for bench press, dumbbell workouts and other exercises. We put the hard work into exploring the many options out there to help you narrow down the best value weight benches.
The Best Weight Benches For Home Gyms
After researching, I've determined that the REP Fitness FB-5000 Competition Flat Bench is the best flat utility bench for most people, and the REP Fitness AB-5200 Adjustable Bench is the best adjustable bench.
It is rare for the same company to take two of the top spots, but these are the best weight benches of 2022 on a value basis for those training in a home gym. Keep reading to learn more about each of these benches and narrow down which is going to be the right fit for you.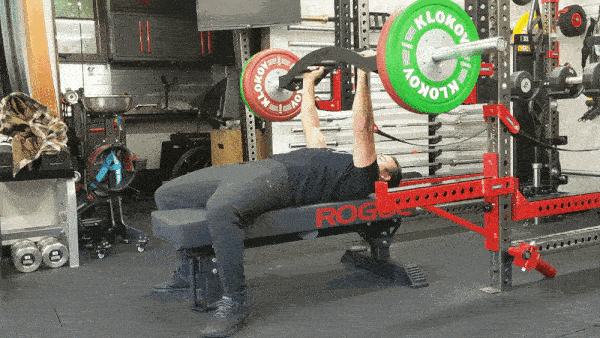 Best Flat Weight Bench: REP PR FB-5000 Flat Bench
Best Flat Weight Bench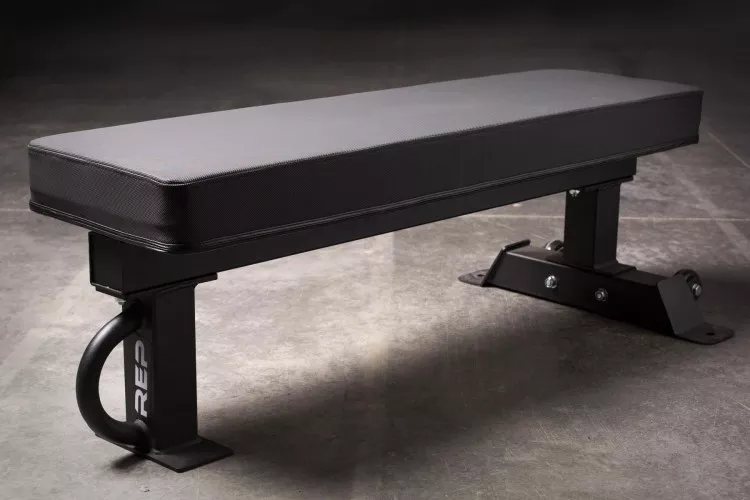 REP FB-5000 Competition Flat Bench
The Rep Fitness Competition Flat Bench is designed to handle the heaviest weights, and has compatibility with the Rep Fitness Wide Pad or the Thompson Fat Pad (with 4-bolt mounting pattern, please check yours) for those seeking an extra-wide pad. A heavy-duty bench for big lifts. Why a 3-Post Flat Bench? Nothing in the way of your feet, at powerlifting competition spec height, and rated to 1,000 lbs at an incredible price. Dims: 17" high (top of pad), 48" long (pad), 12" wide (pad), 62 lbs. 4" thick pad. Designed to meet IPF specs of height, width, and length Heavy-duty 3x3" 11 gauge steel frame with even thicker connecting plates. Durable vinyl upholstery with 4" thick pad with plywood base. Connects with 4 bolts. 2 extra bolt holes on frame for future pad compatibility. 17" height from floor to top of pad. Our bench height allows athletes to use proper positioning of the feet, and arch the back to push up serious weight with proper form. Height stays the same when using the Rep Fitness Wide Pad. If swapping our pad for the Thompson pad (must be 4-bolt mount pattern), total bench height will increase 1/2 inch, and you will need to purchase (4) 3/8"(dia)x1"(length) bolts. 3-foot design for ease of leveling, and to ensure front support does not get in the way of foot positioning. *Please note* Front foot DOES NOT need to be perfectly flat in order to be stable while you're laying down on the bench. Similar to a tripod--lay down and let all 3 points support you, not just the front foot. Welded metal endcaps Handle and wheels for easy transport. Easy assembly, 15 minutes with a wrench.
Good for: Anyone at any fitness level looking for a high-value flat weight bench
My Favorite Things:
Three-post design
Weight capacity of 1,000 pounds
Grippy vinyl on a thick foam pad
3-in x 3-in 11-gauge steel
17-inch height
My Callouts:
Quick assembly required
Not the highest quality bench, but the best value
30-day return period and restocking fee applied to returns
The REP Fitness FB-5000 Flat Bench is the best flat bench currently available. REP is absolutely dominating most other companies in terms of great value benches, and this is their magnum opus. When you factor in the number of great features and detailed thought that went into the FB-5000 and compare it to the price point of the competition, it's no wonder that this bench received over 80% of the votes when we asked the Garage Gym Community what the "best flat bench for most people" was.
This is a competition-style flat bench with a heavy-duty design capable of handling weights up to 1,000 pounds. REP covered every detail, including grippy vinyl to help push against during the bench press. Construction-wise, this bench has a 3-inch x 3-inch 11-gauge steel frame with 7-gauge connecting plates. It features a height of 17 inches from the floor to the top of the pad, and, most notably, a three-post design with wheels and a handle for easy maneuverability and the ability to tuck your feet uninhibited under the bench.
The thick foam pad is similar to the Rogue Competition Fat Pad and the Thompson Fat Pad, although not quite as big (which I think is a good thing for most people). Are the padding and vinyl overall as nice as Rogue? No, and that's the case for most REP products due to them being imported with less expensive products. But, does REP's competition pad get 95% of the way there with a much lower cost? Yes, definitely, which is the reason I recommend it.
RELATED: Rogue Westside Bench + Thompson Fat Pad review
Not only do we think it's one of the best, but so do most others including our friend and YouTuber Brandon Campbell Diamond as well as the Garage Gym Community on Facebook. In addition to all of the specs we listed, the REP FB-5000 also comes in a variety of colors to match your rack. We're partial to the glossy black version, but the red, blue, and textured versions look great as well.
Read my full and in-depth REP Fitness FB-5000 Competition Flat Bench review to get more details.
(If you like the FB-5000 but don't need as high of weight capacity and want to spend a bit less then the REP FB-4000 Flat Weightlifting Bench is a very similar bench with lower gauge steel and therefore weight capacity)
Best Adjustable Bench: REP AB-5100 Adjustable Bench
Best Adjustable Bench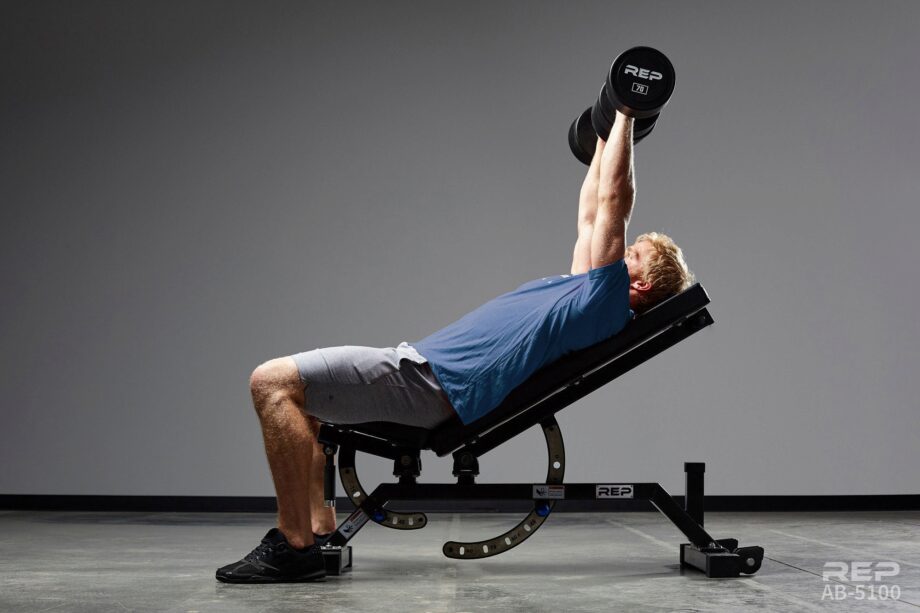 REP AB-5100 Adjustable Bench
Simple, stable and strong as an ox, the AB-5100 version is perfect for commercial gyms that just need a heavy duty adjustable bench, or someone who wants the best for their garage gym. Commercial grade features include an 11 gauge steel frame, high end metallic and hammertone color paint finishes, rock solid stability, thick vinyl and padding, laser cut numbers, and more. A full FID bench with the optional decline attachment, the solid steel pin locks into place at multiple angles for any bench workout - incline, decline, or flat. With other inferior benches at over twice the price - make the smart choice and go REP. 11 gauge steel frame with a 1,000 lb capacity 7 back pad adjustments and 4 seat pad adjustments with laser cut degree markings on a stainless steel wear guard 17.5″ to top of pad in flat position. 12" pack pad width. 3 large steel supports on the back pad and 2 on the seat pad for rock solid stability. Pivoting urethane grip handle and wheels for easy maneuverability Simple 20 minute assembly with a wrench and allen key (provided). 4 bolts attaching the base to frame, and 8 bolts attaching pads to frame. Everything else is pre-assembled
Good for: People who want flat, incline, and decline bench options
My Favorite Things:
Can be used flat, incline or decline
7 back pad adjustments
5 seat pad adjustments
Ladder adjustment system features laser-cut numbering
Incredible stability
My Callouts:
Not quite as good as the REP AB-5200
Foot attachment sold separately
Has a 3-inch pad gap
Not IPF-regulated 17 inches from the floor
REP Fitness took the top spot for both the flat bench and adjustable bench categories this year. This is a pretty rare occurrence, but it's hard to deny their supremacy in making great value benches.
RELATED: REP AB-5200 FI Adjustable Bench Review
The AB-5100 bench uses a ladder-style adjustment system that is quick and easy to change. It features laser-cut numbers, stainless steel details on the handle and logo, and overbuilt caster wheels for easy maneuverability.
The adjustment system also has quite a few options including seven back pad adjustments and five-seat pad adjustments. The back pad adjustments include the following: -15, 0, 15, 30, 45, which are laser-cut in the side of the ladder system. This is a premium feature typically found only on benches that are much more expensive.
When flat, this incline bench is 17.25 inches tall from the floor to the top of the pad. Ideally, it would be 17 inches, however, this is extremely hard to do in an incline bench, if not impossible, so this is a good compromise. Understand that this is a heavy bench, weighing in at 117 pounds. It shouldn't be difficult for most people to maneuver, but due to its weight, it's extremely stable and has a capacity of up to 1,000 pounds.
The pads themselves are premium with a grippy vinyl top, high-density foam core, and a plywood backing. The benchtop has a width of 12.25 inches with, most notably, a larger 3-inch gap between the back and seat pads.
(For another great FID bench at a higher price point, check out my Rogue AB-3 Adjustable Bench review.)
Best High End Bench: Rogue Monster Utility Bench 2.0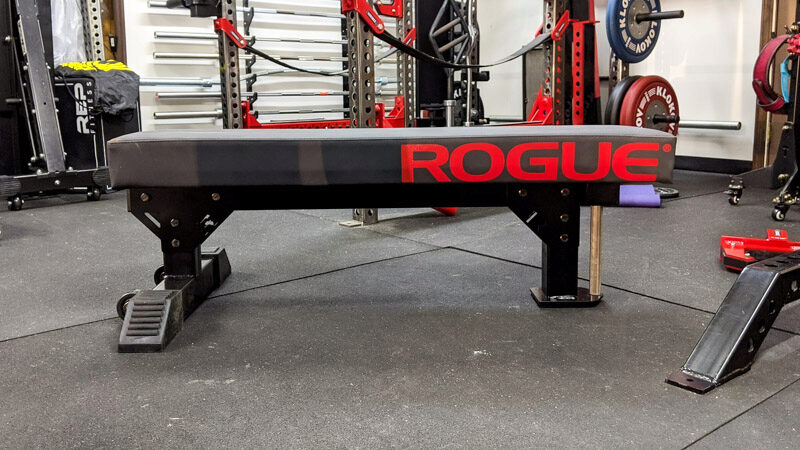 Best High End Bench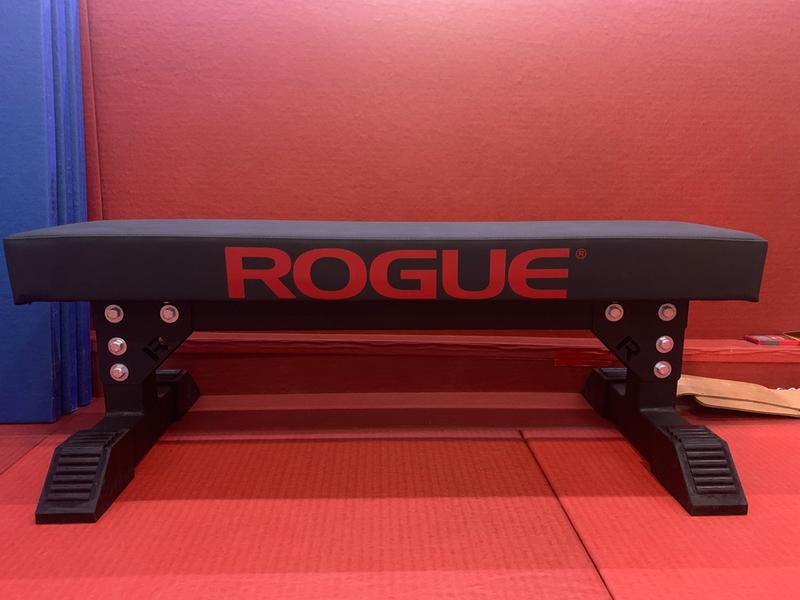 Rogue Monster Utility Bench
The Monster Utility Bench is designed with an extra-wide 24" base and a heavy-duty 3x3" 11-gauge steel frame. Manufactured in Columbus, OH, each unit ships disassembled from our warehouse to reduce shipping costs, and comes with all necessary hardware for a quick set-up, including a set of rubber feet for added sturdiness on uneven surfaces. The overall footprint is 44" long x 24" wide.You can customize the Monster Utility Bench during the ordering process by selecting your preferred bench height (standard vs. shorty) and type of bench pad (standard vs. Competition Fat Pad vs. Thompson Fat Pad). Our new Shorty Bench option allows athletes to use a Fat Pad while keeping the unit at a more traditional flat bench height.
Good for: People who want an incredibly sturdy bench and don't mind the cost
My Favorite Things:
Three-post bench with plenty of room for your feet
Wheels and handles for moving
Ability to store in standing position
3-in x 3-in 11-gauge steel construction
Multiple height options
My Callouts:
Expensive at just under $300
Powder coat finish
Wobbles a little when stored in standing position
The Rogue Monster Utility Bench 2.0 has a soft spot in my heart. I initially did a review on the bench and rated it pretty average largely because we knew what it could be. Then it happened. Rogue basically took all of our critiques and redid the bench based on our specs.
Is it perfect? Of course not. Is it still more expensive than our top pick, the REP FB-5000? Yes. But, oh man is it sweet.
The Monster Utility Bench 2.0 uses multiple pad options, including the almighty Thompson Fat Pad, with a three-post design, wheels on the back, and a handle on the front, as well as the ability to stand up to store away.
One explanation for the higher price tag is that it is made in the USA from US-sourced steel. It uses 3-inch x 3-inch steel all throughout the bench, including the frame and the cross member, and the legs. That's 11-gauge steel, which is the same steel as what's on a Rogue Monster Rack.
What this translates to is being able to put as much weight on it as you'd like. No matter if you're benching or doing some other sort of strength training, the bench won't budge.
Now, one thing I'd like to mention about the standup option: it's not very secure. I've got a Rogue Thompson Fat Pad on mine, and if you walk by it in the gym, it teeters and totters, making you nervous it'll fall over. It wobbles because the pad is so thick and there isn't enough weight.
Rogue also released a Shorty Version designed for a Thompson Fat Pad or their Competition Fat Pad. This allows the bench to sit 17 inches above the floor, from the floor to the top of the Thompson Fat Pad. They have a tall version that is 17 inches tall with a thin pad, but because I like my pads fat and I kind of look like Donnie Thompson, I wanted 17 inches to the top, so I bought a short frame.
Now, this is the Monster bench, which means it's Rogue's top the line, creme de la creme best bench, best offering they have, however they're using the same textured powder coat they use on the infinity line. I don't get why you would use a texture powder coat on this when you could use gloss black or other colors.
See my full Rogue Monster Utility Bench 2.0 review for more information.
(The Rogue Flat Utility Bench 2.0 was our previous Top Pick for the best flat bench and still another product we love if you want to check it out.)
Best Budget Foldable Weight Bench: Fitness Reality 1000 Super Max Weight Bench
Good for: People who need space-saving designs in an inexpensive exercise bench
Best Budget Foldable Weight Bench
Fitness Reality 1000 Super Max Weight Bench
As the most popular of all adjustable weight benches on Amazon, the Fitness Reality 1000 Super Max Weight Bench is very reasonably priced. It weighs only 35 pounds and is incredibly easy to move around. There are six back rest positions and multiple foot rest positions.
My Favorite Things:
Folds in half
Weighs just 35lbs
Easy to store
Priced under $150
My Callouts:
Claims to be rated for 800lbs but feels more like 300lb weight capacity
Narrow pad
Lower quality materials
The Fitness Reality 1000 Super Max Weight Bench is the most popular adjustable bench on Amazon. It folds all the way up for very easy storage and weighs just 35 pounds. Honestly, it's probably one of the lightest, easiest-to-move benches there is.
Also, as an adjustable bench, it has six levels to move the backrest from flat into an upright position. The foot bar at the base of the bench also offers adjustability.
Although this is rated for 800 pounds, I would be nervous at anything over 300 pounds. Also, many reviews complain about how narrow the pad is and how cheap the materials are. But, for under $150, what do you expect?
Fitness Reality does have a no-gap upgrade on Amazon that has incline and decline positions. We haven't used it, but we're willing to bet it's probably about the same quality as the 1000 Super Max. These may get the job done, but they won't be the best piece of equipment for your home workout.
Best Flat Bench for the Money: Titan Flat Weight Bench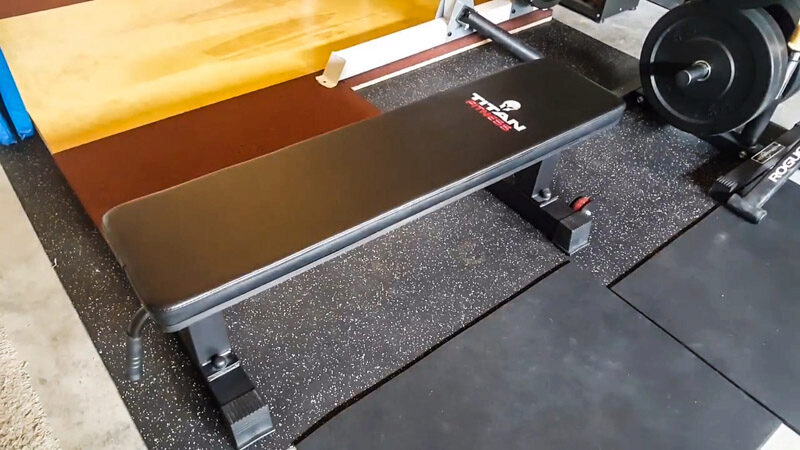 Best Flat Bench for the Money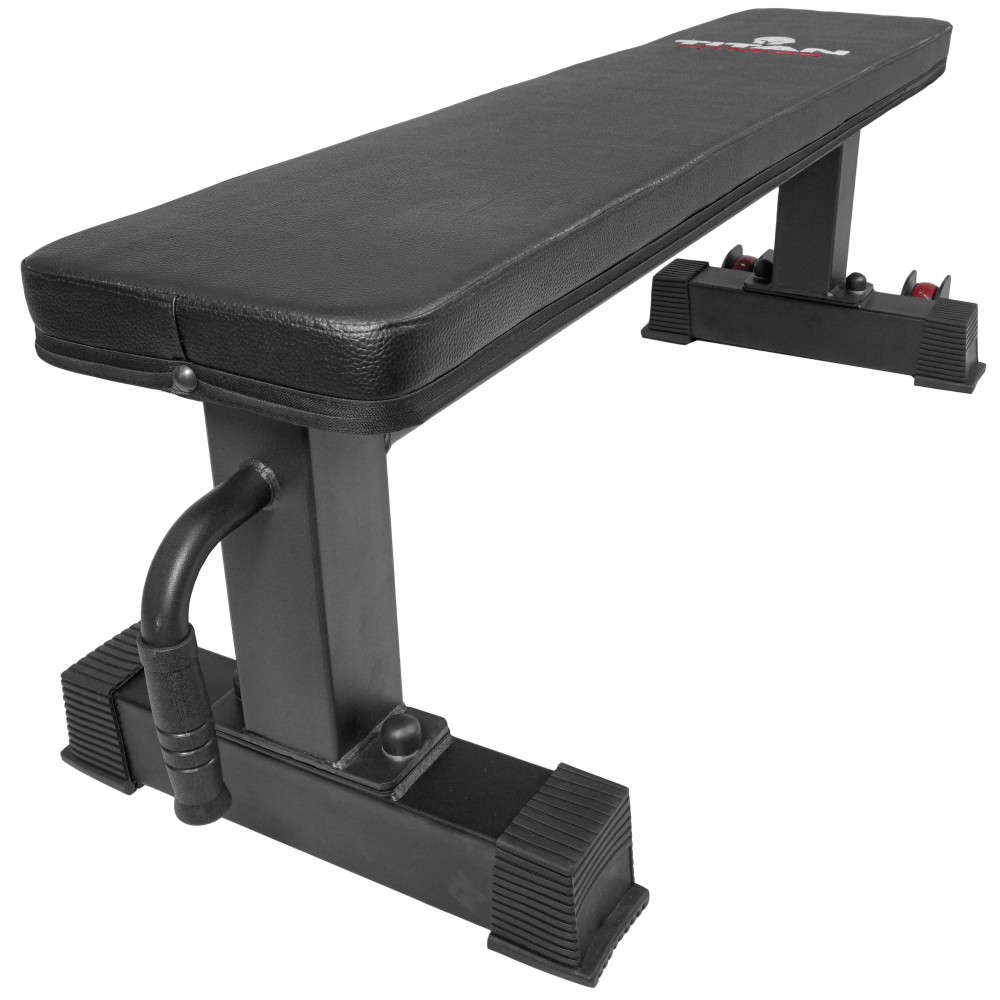 Titan Flat Bench
The Flat Bench by Titan Fitness is designed with enough integrity to handle your massive gains. Built at the perfect height for bench pressing and padded for long lasting comfort. Complete your home gym and your exercise routine!Features:- Meets requirements for Competition Bench- Rigid Steel Base- Comfortable Padding- Sleek Leather Finish- Wheels for Quick Workout Changes
Good for: Someone who wants a feature-filled bench with a high weight capacity at a good price
My Favorite Things:
Priced under $150
Free shipping
Max capacity at 1,000 pounds
Wheels and handle for easy moving
My Callouts:
Cheaper vinyl on the pad
Lower quality padding
Some shipping and packaging issues
The Titan Flat Weight Bench combines a high weight capacity and good features at a great price. This is pretty much Titan's bread and butter: selling imported equipment that gets you 90% of the way there, compared to equipment that costs twice as much. Sure, the quality of the welds, packaging, vinyl, etc., isn't at the level of Rogue or some of the other brands on our list, but in terms of "getting the job done," it pretty much hits every checkbox.
RELATED: Best Budget Home Gym Equipment
Despite the low price of under $150 (depending on the deals, such as Black Friday or Labor Day, it might cost considerably less.), the Titan Flat Weight Bench has a max weight capacity of 1,000 pounds. To be honest, weight capacity ratings are a bit subjective. Although it says 1,000 pounds, it could likely hold more than double that, but suffice it to say, it will basically be able to hold any weight you plan to use for chest presses.
In addition to the high weight capacity, the bench includes two wheels on the back and a handle on the front leg for easy maneuverability. There are similarly priced benches that I weighed against this one, but what put this bench over the top was the addition of the wheels and handle for a similar price.
As with any Titan Fitness product, there are many issues discussed in the review sections. Things like pieces missing, the packaging being broken before the customer received it, surface rust within the tubes, and other minor things. This is incredibly annoying, but most of the faulty reviews are from 2017 and 2018. I have noticed that in the past year or so, Titan has cleaned up their act in a lot of ways in this area.
(You can also check out the REP Fitness FB-3000, which has a similar weight capacity as Titan's, similar padding and vinyl, and similar gauge steel used on the frame, but does not include wheels and a handle.)
Best Affordable Bench: Ironmaster Super Bench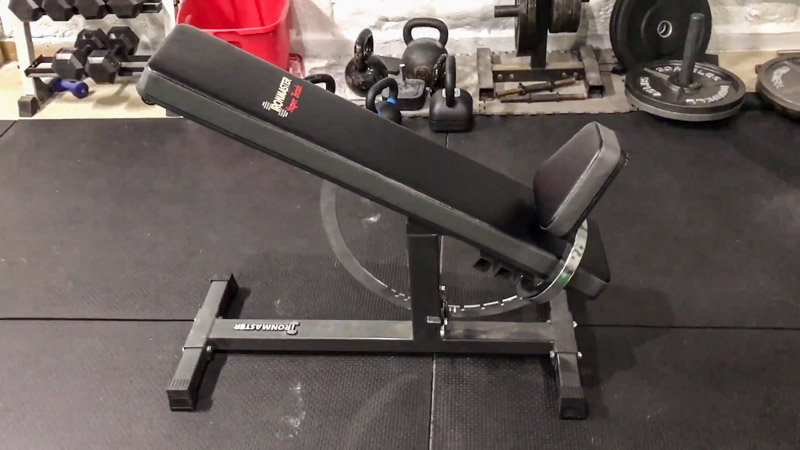 Best Affordable Adjustable Weight Bench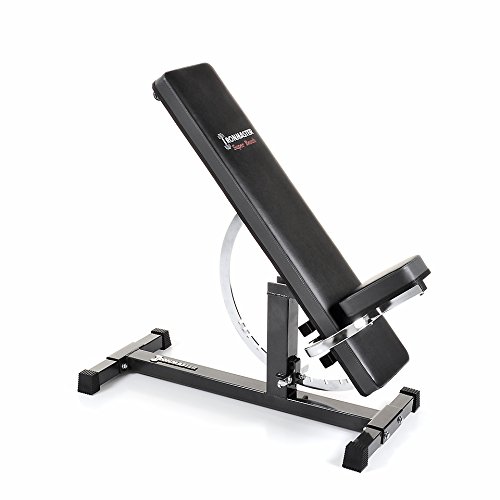 Ironmaster Super Bench
Super Strong, Super Versatile, Flat, Incline, Decline, Upright, 11 Angle Bench! 11 lock out angles: Inclines, Declines, Flat and Upright. 0, 5,10, 20, 30, 40, 50, 60, 70, 75, 80 and 85 degrees. Powder coated grey metallic frame with chrome components. 44"x 10" x 3" heavy duty pad and stitched vinyl upholstery. Very comfortable. 20" flat bench height. 17" x 41" footprint. The 3 position incline seat fits users of different heights. 1000 lb rated, 11 & 12 gauge super strong steel frame. (600 lb rated for incline/upright positions.) Unique adjustment ring with foot lever adjust operates from both sides and locks up tight! Patented design. Incline seat follows backrest pad at any angle so it will always be perpendicular unlike other benches where the seat can have a shallow angle allowing the user to slide off. Ultra stable strong platform in aII positions yet is easy to lift and move. Does not need wheels. Bench weighs 65 lbs. Accepts a growing list of optional attachments like the Crunch Situp, Dip Bar Handles and Chin Up Bar. Ships pre-assembled except for feet so you can start lifting in just a few minutes. SUPER STRONG 1000 LB RATED. Heavy duty, stable bench platform, but still easy to pick up and move, very space efficient design. QUICKLY ADJUSTS TO 11 ANGLES WITH PATENTED FOOT LEVER. Quickly adjusts from decline to upright from either side of the bench. MULTI FUNCTIONAL, PROVEN DESIGN. Ideal for dumbbell training, barbell, machine or cage work. Perfect for use with dumbbells, smith machines, cages or racks. Check out all the amazing attachments available - more than any other bench in the world! SUPER STRONG 1000 LB RATED. Heavy duty, stable bench platform, but still easy to pick up and move, very space efficient design. SOLID WARRANTY AND SUPPORT WITH OVER 35 YEARS OF PROOF. 10 year structural warranty and 1 year on upholstery. Ironmaster is always at the ready to help if needed.
Good for: A quality adjustable FID workout bench that doesn't sacrifice quality
My Favorite Things:
Priced around $300
11 different positions for incline and decline
Multiple attachment options
Weighted for 1,000 pounds
My Callouts:
Tall for a bench: 20 inches
Cheap vinyl casing on the padding
Wheels sold separately
The Ironmaster Super Bench is one of the most underrated and best affordable adjustable weight benches in the market. It has a high weight capacity of 1,000 LB, 11 adjustment angles, a myriad of attachments, and costs right around $300 (which is great for adjustable benches; check the market).
(If you want a shorter height and a bit more premium features, Ironmaster offers the PRO Super Bench version that has a height of 17.2 inches, includes wheels, and a better vinyl for $50 more.)
I'm actually surprised we don't see more people in the home gym community using the Ironmaster Super Bench. One of the things I like most about the bench is the attachments that are available. Every once in a while, a company will release a bench with attachments, but I have yet to see anything even close to the number of attachments that are offered on the Super Bench.
Here's a quick list of all the attachments available for the Super Bench (brace yourself):
Crunch Situp Attachment
Bar Dip Handle
Chin Up Bar (yes, a pull-up bar for your bench)
Leg Attachment (designed for leg extension and leg curls)
Preacher Curl Pad
Wheel Kit
Hyper Core Attachment (a hyperextension bench for your… bench)
Lat Pulldown (no, I'm not kidding. It attaches to the bench)
Spotter Stand
Now, as with anything, it's not all rainbows and sunshine, there are some cons to the bench. The foam and vinyl aren't very high quality. The chrome pieces are plated in decorative chrome that can end up chipping and looking a bit ugly over time. It doesn't come with wheels, but they have to be bought separately and there's no option to add a handle to move it around. The last con to the bench is that its height measures 20″ from the ground to the top of the bench.
By the way, the Super Bench does come with a 10-year structural warranty and 1-year warranty on the upholstery; this is great for any bench, but especially for one that's imported.
Best Bench With A Barbell Rack: Rogue Combo Rack
Best Bench and Rack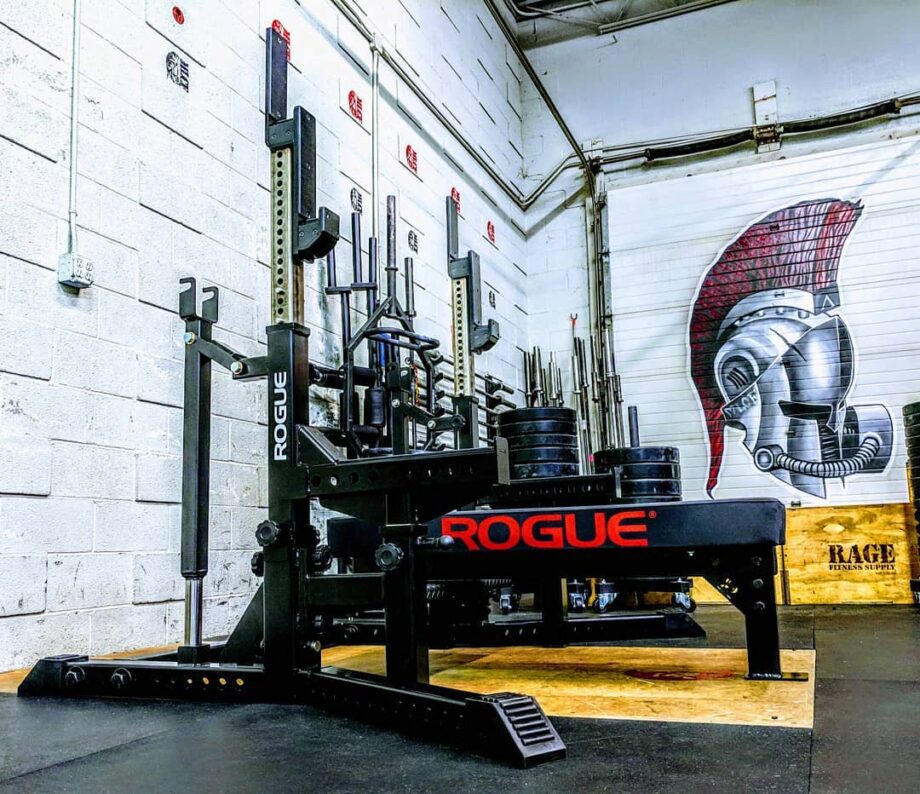 Rogue Combo Rack
In developing the Rogue Combo Rack, we worked directly with the International Powerlifting Federation to produce a 2-in-1 bench/squat rack that's not only IPF certified for 2019 competition use, but also uniquely engineered for easier custom adjustments and greater overall stability. Manufactured with pride in the USA, the Combo Rack features a sturdy wide-angle base, two fully adjustable 3x3" 7-gauge steel uprights, a set of drop-in Safety Spotter Arms, and a removable Rogue Bench equipped with a competition Fat Pad and diamond-tread spotter decks. All of these components come with tightening knobs for a lock-in set-up and extra peace of mind. When you want to switch between athletes of different sizes, the height of the J-cups can be quickly adjusted using our unique jack system—with no need to waste time removing plates from your barbell. Simply use the lever arms to raise or lower the position, referring to the laser-cut numbers in the uprights for guidance. Both the jack handles and the telescoping tubes of the uprights are made from stainless steel, as are the (4) machined pins used to set the upright height. Storage for these pins is integrated into the jacks themselves. As another unique feature, the Combo Rack's uprights can be positioned straight or angled inward 5 degrees, allowing larger athletes to put their hands on the outside of the J-cups while squatting. The Combo Rack comes equipped with a lever-arm jack system and telescoping uprights to enable custom height adjustments without having to remove plates from the bar in advance. Because there are two separate pairs of J-cups (one set for Squat and one for Bench), the racked bar height is adjustable from a minimum height of 29.461" (from the floor) up to 68.405". Shorter athletes can also elect to use the higher bench J-cup positions for squats. Bench J-Cup Range (from floor): 29.461" up to 57.461" Squat J-Cup Range (from floor): 40.405" up to 68.405" Each J-cup also includes an acetal roller where the bars rests to allow for easy adjustments left to right while the user is getting set up. The uprights on the Rogue Combo Rack are manufactured from 3x3" 7-Gauge Steel with laser-cut numbering and an MG Black powdercoat finish. The telescoping tubes are made from stainless steel. A set of (4) stainless steel machined pins are used to set the uprights' height, which can be adjusted using the 1" on-center holes. Athletes can set-up the uprights either straight-up or angled inward 5 degrees; the latter set-up enables larger athletes to put their hands on the outside of the J-cups when squatting. The Combo Rack's bench comes standard with a competition Fat Pad (50" L x 12.5" wide x 4.5" thick). The top of this durable pad sits 17.5" above the floor. The bench also includes two diamond tread spotter decks that are finished in a texture black powder coat to provide "grip" and a stable platform. Athletes can easily remove the bench to set up the rack for squats. The steel spotter arms on the unit measure 19.5" in length x 3" wide, and include stainless steel telescoping tubes + a UHMW plastic covering to protect the bar should a lift be failed. The spotters are also easy to remove when you switch over to squats. Made in the USA Squat/Bench Combination Rack IPF Competition Certified Footprint (w/ bench): 77.25" x 80.25" Inside Width: 43.5" Total Weight (including bench): 505LB 3x3" 7-gauge steel construction Jack - Lever Arms for height adjustment (2) Adjustable Uprights with laser-cut numbering & MG Black powdercoat finish (4) Machined Pins (4) J-Cups (2) Steel Safety Spotter Arms - 19.5" x 3" (1) Bench w/ Fat Pad and Spotter Decks Rubber Feet and UHMW Plastic to protect equipment and surfaces
Good for: Competition powerlifters looking to maximize training with a bench and rack
My Favorite Things:
Easy customized adjustments
International Powerlifting Federation-certified
Comes with safety spotter arms
Jack system easily change J-cup height
Made in the USA
My Callouts:
Rods instead of plates on J-cups
Weighs 505 pounds (with the bench)
Cost is $2,500+
If you're looking for the highest quality combination of a bench and squat rack, the Rogue combo rack is it. Now, you have to get past that $2,500+ price tag. There are definitely more affordable ways to pair a bench with a rack. However, it won't be Rogue heavy-duty steel quality or offer as many customizations as this does.
First, this is one of the few combo racks you'll find that has been competition certified through the International Powerlifting Federation. That means that it was built with all the specifications to be able to be used in competition. The bench is a flat bench with a Fat Pad that can be easily removed, allowing you to use it for squats and accessory lifts, as well as other back workouts.
Why I really like this bench is that it was built with safety in mind. Rubber feet provide stability while in use, and the spotter's arms are included (and also easily removed for squatting). There are also two spotter decks that feature a grippy diamond tread.
This is a top-of-the-line piece of equipment, so you can expect to pay top dollar. It's what could be used in a powerlifting competition. If you want cheaper options, they are definitely out there.
RELATED: Ultimate $1,000 Budget Home Gym
Best Weight Bench on Amazon: AmazonBasics Flat Weight Bench
Flat Bench Budget Pick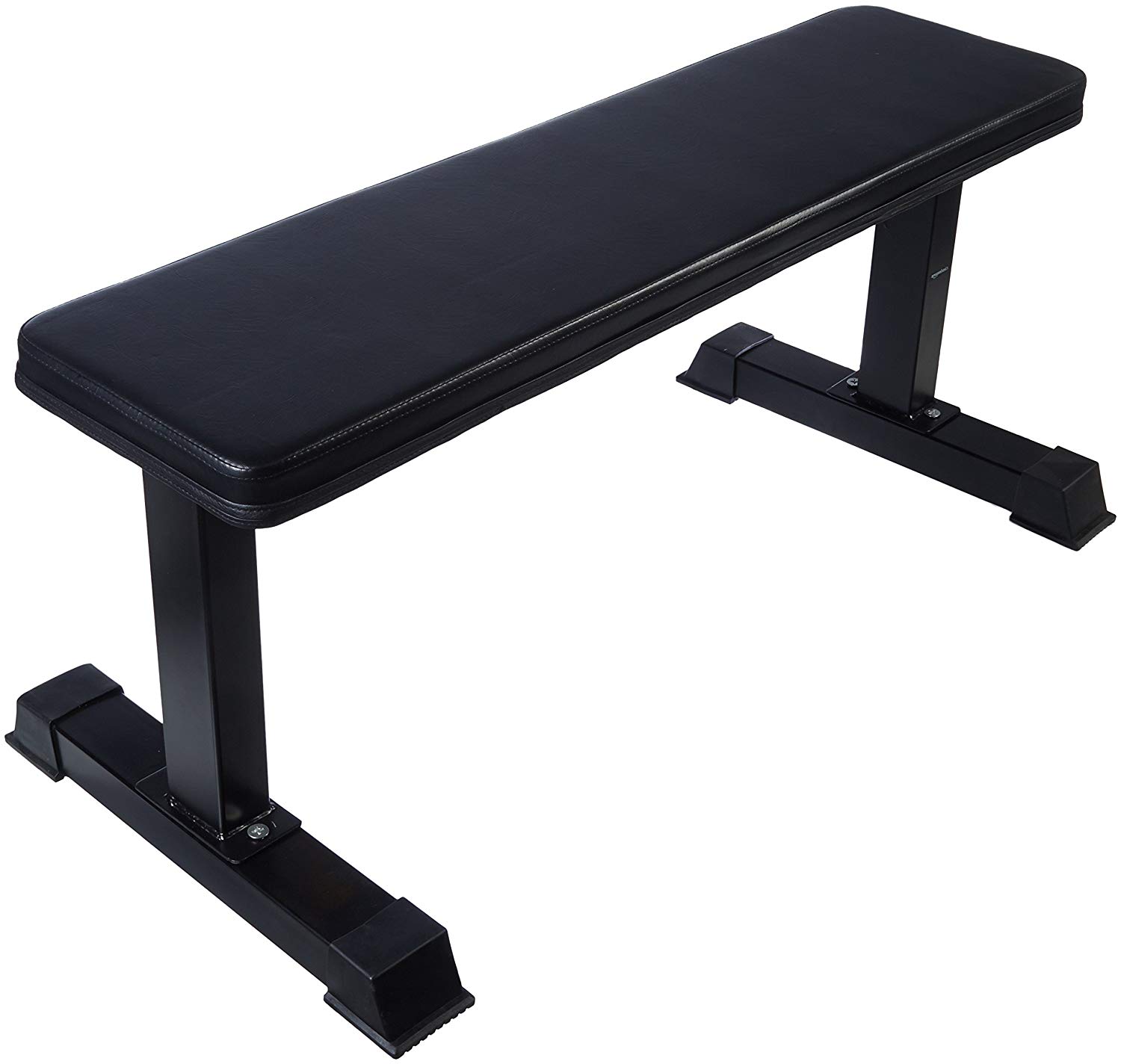 AmazonBasics Flat Weight Bench
Enhance your home gym with the AmazonBasics Flat Weight Bench. Whether you're just getting started or you're a seasoned trainer ready to take it up a notch, the versatile workout bench functions as a phenomenal foundation for any at-home fitness routine. Burn fat and build muscle with help from the AmazonBasics Flat Weight Bench. The flat weight bench measures 41 by 11 by 17.9 inches (LxWxH) and weighs 24 pounds. Use the workout bench for anything from bicep curls with dumbbells while seated to chest presses and flys with dumbbells while flat on your back. The sturdy equipment also works well for bench presses with a barbell or simple bodyweight exercises like tricep dips off the side or floor-to-bench plank and push-up routines. Easily achieve an intense full-body workout in a small amount of space with the AmazonBasics Flat Weight Bench. Made of high-quality materials, including a heavy-duty steel tube frame, the sturdy equipment stands up to the most rigorous of hard-core workouts. The weight bench provides a smooth PVC top surface for optimal comfort and support, making it easier to keep the focus on your form. The flat weight-lifting workout bench assembles quickly and easily. Weighing 24 pounds, the bench can be moved from basement to backyard or garage or from one apartment to another for flexibility when setting up your home gym. Once in place, the bench offers reliable stability thanks to its upside-down T-shaped legs and feet.
Good for: Those looking for an incredibly inexpensive bench that still offers some value
My Favorite Things:
Priced under $50
Free shipping with Prime
Quick assembly
Likely has a higher weight capacity than the listed 385lbs
My Callouts:
Small dimensions
Not adjustable
Low-quality materials
The AmazonBasics Flat Weight Bench is one of the most surprisingly good pieces of equipment we've used. It's under $50 with PRIME Shipping, has a good height, a decent weight capacity for most users, and assembles quickly.
RELATED: Building a Budget Home Gym on Amazon
Here's the thing, Amazon lists the total weight capacity of the bench at 385 pounds. This means that between the user weight and the barbell/dumbbell weight, the bench isn't recommended for a weight higher than 385 pounds. To be honest, I tested the bench to a much higher weight and have had many readers use it for much higher without any flexing or issues.
Understand that this is still an ultra-budget bench. The dimensions and size are pretty small for a utility weight bench. Also, it's not adjustable, which means there are no decline or incline features. The foam padding isn't outstanding and neither is the vinyl and although it's sturdy, in comparison to some of our other picks, it's not quite there. The construction and comfort are solid, but this is something you'd find in a home gym and never in a commercial gym setting.
For an in-depth look, read my AmazonBasics Flat Weight Bench review.
How to Choose the Best Weight Bench
If you're looking for the best weight bench for your home gym, the first step is deciding if you need an adjustable bench, flat utility bench, or Olympic weight bench. Then, there are a few more factors you should consider before you purchase.
Overall Construction
The overall construction of a weight bench is related to which materials are used and how they're combined from an overall perspective. The question here is, how does the construction of the bench compare to its cost? I like to look for 11-gauge or other heavy-duty steel. If there is a lot of plastic, move on.
Size
Give consideration to the measurements and size of the bench, especially if you're limited on space or want to use the bench with a power rack or other home gym.
Weight Capacity
Regardless of whether the weight bench is flat or adjustable, it should have a weight capacity that allows the trainee to increase the weight they're lifting without fear of damage to the bench. Up to a point, a bench should also increase its weight capacity in accordance with the asking price.
The average bench might support about 600 pounds, but the quality ones will be rated for 1,000 pounds or more. That's higher than most of us will likely ever need for our weight training, but it's nice to have goals.
Warranty
Does the bench come with a warranty? Does the company selling the bench have a history of servicing warranties and will they be around for as long as the product is warrantied? You'll see a lot of benches come with 10 years to up to a lifetime warranty. Stay away from benches only guaranteed for a year.
Shipping/Packaging
Does the equipment come in beat-up cardboard boxes often? Is the shipping timely? I often hear from readers about issues in regards to their shipments and it can play a big part in the equipment if parts are missing or there are broken pieces.
Also, factor potential shipping costs into the overall price of the equipment. Some of these benches have attractive prices but level out once you account for shipping.
Assembly
A lot of home gym equipment is made overseas today, and as such, things often come disassembled with a lot of nuts and bolts and assembly required on the user's end. The amount of assembly required should reflect the price point. Benches are typically pretty easy to assemble.
Bench Height
The IPF (International Powerlifting Federation) standard is 17 inches from the floor to the top of the bench, and this is what we prefer. It's harder to have a 17-inch height benchtop on an adjustable bench due to the mechanisms required for inclining the top, but the closer the better. The reason you don't want an extremely tall benchtop is that it's difficult to arch during the bench press, which is what most powerlifters do.
Foam Density
The foam used on the bench pad should be dense enough to provide stability, but soft enough to allow for comfort. If you're shopping online, that's not an easy thing to test. You can take my recommendations and read user reviews for starters.
Vinyl Grippiness and Durability
The vinyl on the benchtop should be grippy to allow the trainees' traps and shoulders to dig into the bench without sliding. The vinyl should also be durable to last years without ripping or overly stretching. This is another factor that you either have to test in person, or take my word for it, or read user reviews.
Stability
The more stable the bench, the better; obviously. I am a big fan of flat benches that have a single post on the front leg to allow the trainees' feet to push under them, but it does often come with a sacrifice in stability. Adjustable benches should be stable at all incline seat positions, especially if they're going to be used with attachments for things like declining sit-ups.
Ease of Use
If the bench is flat and light, it's pretty easy to move around without a handle and wheels. However, if it's heavy, has movable components, or is just awkward, wheels aren't just wanted, but needed. Nearly every adjustable bench should have wheels and a handle.
Seat and Back Pad Adjustment Positions
The more positions for the back pad and seat pad to be adjusted to, the better. It's also nice if the back positions have markings for the pad angle in degrees (laser-cut is superior to stickers), and if the angles are available at popular positions like 30, 45, and 85 degrees.
Pad Compatibility
Most bench frames use a standard pad mount pattern. The reason this matters is that there are now more third-party bench pads available, and if your bench frame doesn't stick to a standard mounting pattern, you won't be able to use the pads.
Flat Benches vs. Adjustable Benches
The bench press is the undisputed greatest upper body strength training exercise ever created. There's a reason it's one of only three lifts used in powerlifting. There's a reason the 225 pound Bench Press REP Test is judged as part of the NFL Scouting Combine (the all-time REP record stands at 51 reps by the way.)
And, there's also a reason that nearly every home gym in the known universe has a weight bench of some shape or form.
There are few that would argue against the efficacy of heavy bench presses for increasing strength, muscle mass, or simply trying to look better. However, there is some debate on which should be purchased in terms of fitness equipment: a flat bench, adjustable bench, or both?
Unfortunately for most reading this, you're likely looking at getting one or the other. Although I'd love to recommend to all of our readers that you should have as many benches as are currently pilfering my garage gym floor (nine as of this writing; and, just like I tell my wife, they're there for "testing purposes"), the fact of the matter is that there's little need or even want for most people to have more than a solid flat bench and a versatile adjustable bench.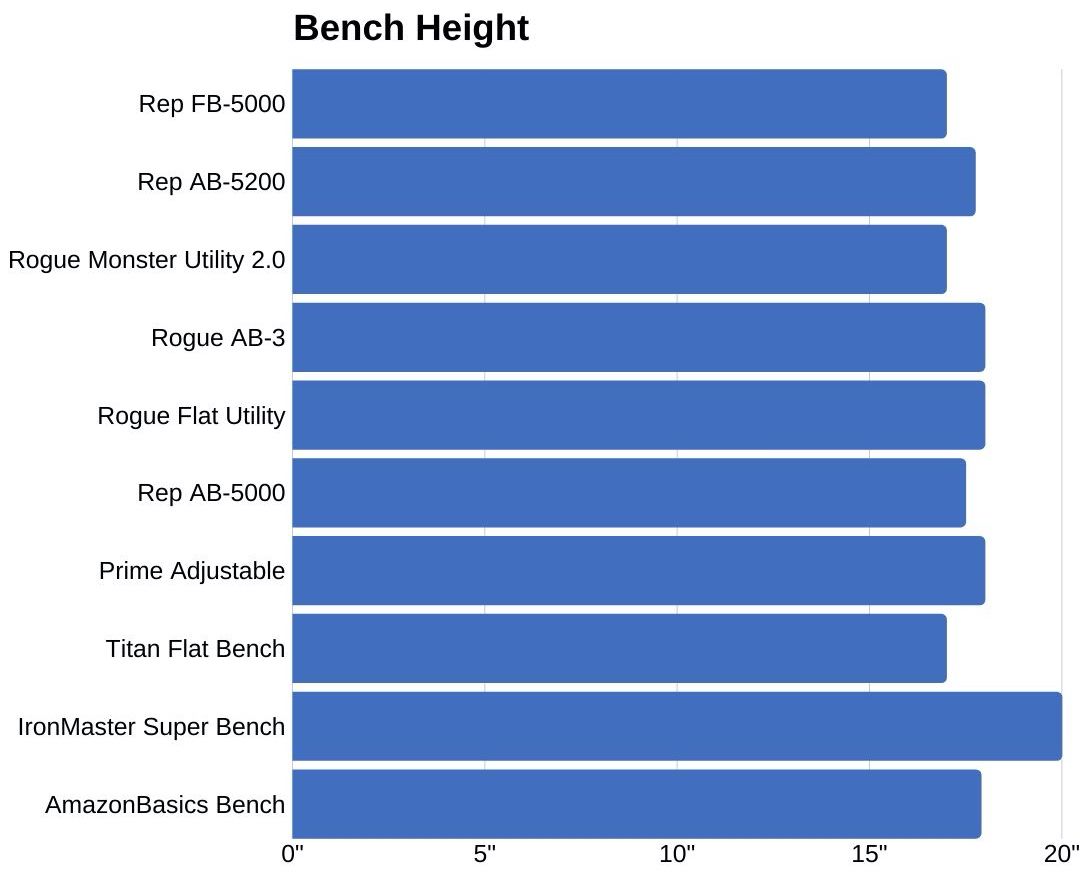 The Flat Bench
First off, the flat bench is vastly superior to the majority of adjustable benches (also known as incline benches, FID–flat, incline, decline–benches, and decline benches; all of which will be used interchangeably throughout this review) on the market.
A flat bench, thanks to its simple design, is rock solid making it great for benching with both a barbell or adjustable dumbbells (as well as other implements like kettlebells, Fatbells, and CMB's), and can also be used for other full-body workout movements like dumbbell rows, plyo-box jumps, box squats. If so desired, it can be stacked on plates for seal rows. Simplicity is great for its cost savings and reliability.
RELATED: Barbell Exercises
However, the flat bench isn't perfect, because it doesn't offer quite the versatility that the adjustable bench does.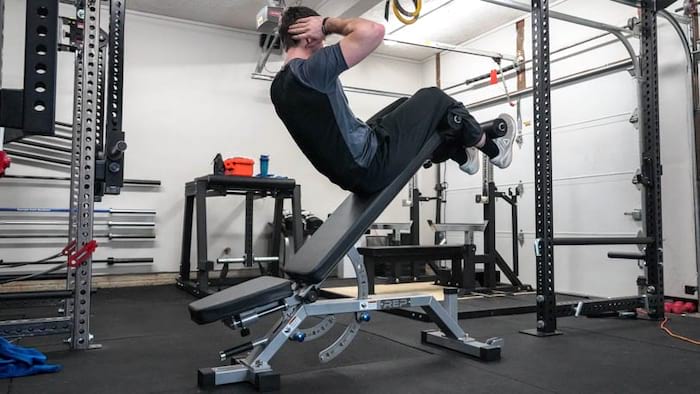 The Adjustable Bench
For most lifters, the adjustable bench does everything a flat bench does, as well as it does, but also has increased multi-purpose functionality.
Now, someone who has spent a lot of time with their back on a bench pad knows that a flat utility bench with a welded spine and a high weight capacity is superior to an adjustable bench that rocks, flexes, and has a much lower capacity for slag iron.
With this said, because most wouldn't recognize the differences between a flat bench and a solid incline bench (we trust all of the ones in this review), we suggest an adjustable bench for most people. If you're into powerlifting, compete in a strength sport, or just want to know that you're using optimal equipment, you should get both.
An adjustable bench, though, will allow trainees the ability to increase their exercise selection dramatically, target different primary movers, and never have to Macgyver something because they lack the equipment for the movements they want to do.
RELATED: How to Build a Powerlifting Home Gym
So, should you get an adjustable bench or just a flat bench? Beginners who are just getting into strength training or aren't sure what to do should just go with one of our budget flat bench picks.
Others who know their way around the gym a bit would be fine with just an adjustable bench. Those that compete, like having a lot of versatility, or are just gear heads like me should get both.
How I Picked the Benches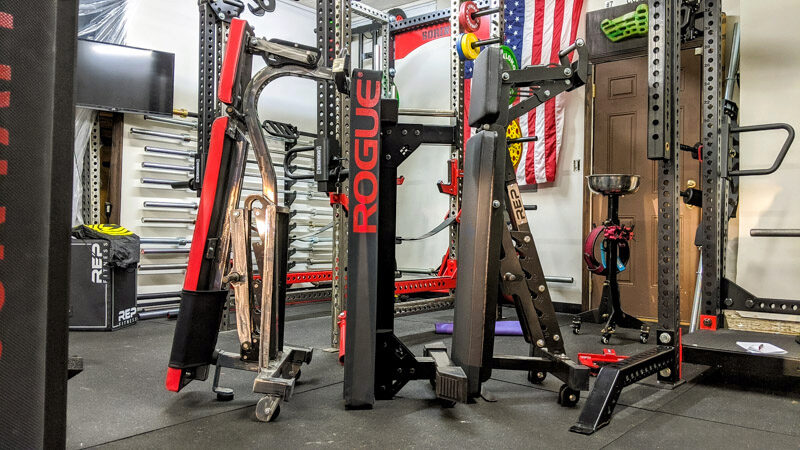 In order to properly recommend the best weight benches, it requires spending a large amount of time with your back on a lot of different bench pads.
I could arguably say that, despite not having the heaviest bench press in the world (my current PR is 325 LB at 185 LB bodyweight), I have likely used, owned, and reviewed more weight benches than just about anyone in the world.
In addition to all of the benches I have personal use with, I've also researched, helped design, and provided feedback for many more weight benches than most people have.
As with all of our Best-In-Class Reviews, I first started by taking stock of what I have on hand. This includes all of the benches in my garage gym, my personal training studio, as well as about seven other friends' garage gyms where I just store my equipment and let them use it.
After seeing what we had on hand, as well as reviewing the hundreds of benches that readers of Garage Gym Reviews have rated and reviewed on our Product Dashboard, I began to narrow down the list some.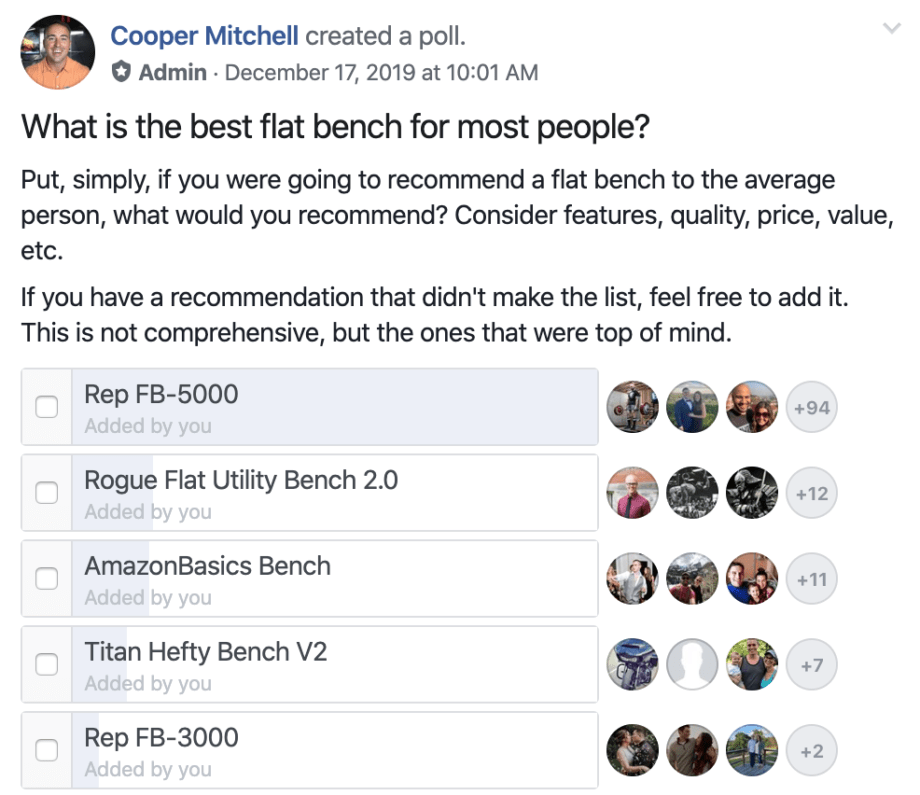 I then, as I always do, tried to get a feel for what the community collectively believes are the best flat and adjustable benches available. We did this via Instagram, the Garage Gym Community Facebook Group (90,000+ members strong as of this writing,) and elsewhere like Reddit. If you haven't spent a ton of time in these places, you'd be surprised to find out just how passionate people are about their favorite equipment.
This is good in that people care, but it can also be bad in that it takes a keen eye to weed through the people who are just dogmatic about their favorite companies and those who truly feel like the equipment they're using is best. I suppose this is another reason why Best-in-Class Reviews like this are so important.
In addition to all of this research, I researched all of the major marketplaces like Amazon, Walmart, and eBay, as well as the manufacturer sites like Rogue Fitness, Titan Fitness, REP Fitness, EliteFTS, and others.
Although I typically take athletes' opinions with a grain of salt (gifted athletes are known to have the talents to overcome bad equipment), we did talk to some powerlifters who lift substantial loads as well as some CrossFit athletes and bodybuilders.
The fact of the matter is, this was one of the clearest cut rankings we've ever done for a product category. Others, like barbells and bumper plates, we're much more difficult in determining how to rank, but this was not so for benches (especially flat benches).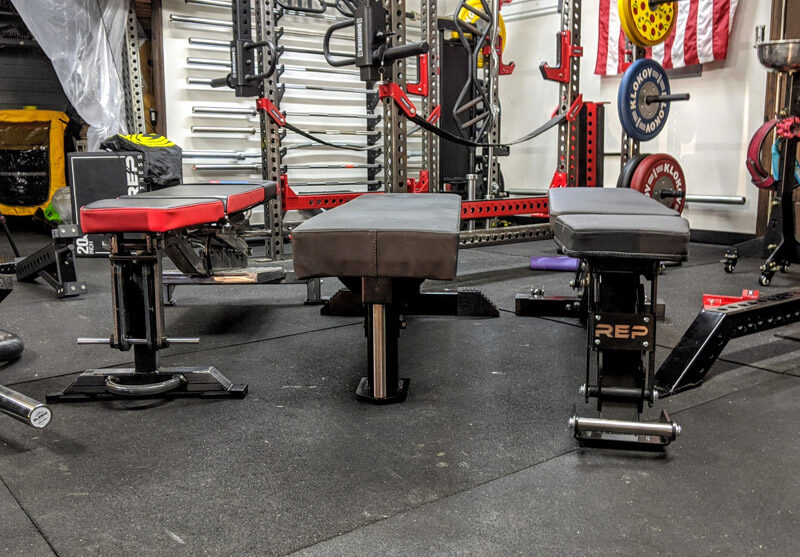 Frequently Asked Questions About Weight Benches
What is the best weight bench for a home gym?
My top picks were pretty much synonymous among everyone I asked, and they were also littered with options from REP Fitness. In all honesty, both in Garage Gym Reviews' opinion and much of the community, REP Fitness is by and large making the best benches for the average home gym owner, which is crazy considering how much farther Rogue Fitness seemed to be ahead just a couple of years ago.
Is it worth buying a weight bench?
Yes, yes, yes – a million times, yes! A weight bench transforms your typical dumbbell or resistance band workouts by adding in actual weight. Push-ups are great, but bench press is better. Give your biceps and triceps a boost!
The weight bench is such a multifunctional piece because you can use it for so much more than simply a barbell bench press. You can use the weight bench for:
Dumbbell presses
Bulgarian split squats
Support on dumbbell rows
Dumbbell fly
Incline exercises
Ab work, like leg raises and decline situps
A place to sit when you're tired
Back workouts
You don't have to buy a super expensive bench, at least not right away. But I consider the weight bench to be an essential part of every home gym.
How much should a weight bench cost?
You're going to get what you pay for. Sure, Amazon lists weight benches for an incredibly cheap price, but then you'll get an incredibly cheap bench. My top pick for the best flat weight bench is under $200, so you really don't need to spend an arm and a leg. It just depends on how high-quality, high-feature you want to go.
Do you need a weight bench for your home gym?
Adding the best weight bench to your home gym setup may seem extra, but if you want to develop muscle mass and grow muscle, you may need to get a weight bench.
The Competition
Rogue Adjustable Bench 2.0: This is a great adjustable bench at a pretty good price point. The issue is that it costs more than our Top Pick from REP and doesn't have the feature set such as being able to stand up, as many adjustment options and it's more expensive. We've given a shortened review on it with reasons to and reasons not to buy it here.
Rogue AB-2 Adjustable Bench: Same as the AB-3, but without the decline option.
Rogue Fold-Up Utility Bench: This is a great option for those short on space and that want to hang their bench up, but it's pretty pricey for a rather simple flat bench.
Rogue Westside Bench 2.0: I really like this bench, it's been proven, I have one at our personal training studio, but for most people, it's absolutely overkilled.
Rogue Monster Westside Bench: Just a bigger, beefier version of the Westside Bench 2.0. Honestly, this bench is more about looks than functionality.
Rogue Thompson Fat Pad: This is my favorite bench pad, although it is pricey. Donnie Thompson really revolutionized the industry a bit with this release as pretty much every company has copied it since.
REP FB-3000 Flat Bench: We've written an in-depth review on this bench and were very happy with it when it came out. Although we still recommend it due to how strong it is for the price, we think the FB-5000 is a superior option for not significantly more.
REP FB-4000 Comp Lite Bench: Essentially the FB-5000 with 14-gauge steel. If you're just looking for something cheap, this is a good option, but it's not that much less than the upgraded version.
Related: The REP FB-4000 Comp Lite Bench made our Best Fitness Gifts list!
REP AB-3000 FID Adjustable Bench: We've written a full review on this adjustable bench, and again, this was one of the best value incline benches available when released, but REP has since improved nearly every aspect and offered it in different versions. We still like it, but prefer others.
<iframe width="640″ height="364″ src="https://www.youtube.com/embed/S_qo4ek8alM" frameborder="0″ allow="accelerometer; autoplay; encrypted-media; gyroscope; picture-in-picture" allowfullscreen></iframe>
REP AB-3100 Adjustable Bench V3: This bench almost stole the best budget adjustable bench spot from Ironmaster. We love the price point, color options, and overall build. It's a good bench at a fantastic price.
FringeSport Gym Bench: A no-frills flat bench that is very sturdy, but doesn't offer anything outstanding other than a pretty good price when you factor in shipping and that it's a fully welded frame.
FringeSport Super Adjustable Bench: Not a fan of the pad designs that are used.
FringeSport Pro-Lift Incline Bench: I've used this bench from another company that sells it. It looks like the Rogue Adjustable Bench 2.0, but it feels much cheaper.
Titan Adjustable FID Bench: Very similar to the REP AB-3000 Adjustable Bench, but has oversized front feet that get in the way when benching. Prefer the REP alternative.
Titan Hefty Bench V2: This is essentially the Titan Fitness version of the Rogue Monster Utility Bench. It's not bad and is honestly one of their better benches, but it does have the big feet in front that get in the way when trying to arch, although the grippy pad is nice.
Titan Drop-In Power Rack Bench: I call this one the, "Built By Brandon Bench" as it was designed and teased by Brandon Campbell and then the idea was stolen by Titan Fitness without notifying Brandon of it being done. Kind of sad, but Titan did mess up part of the design as discussed by Brandon in this video.
Titan Decline Bench: This is the best adjustable bench that Titan Fitness sells. I actually really like this bench, use it often and despite it being one of the more expensive Titan items, they did a good job with it. My biggest complaint is that the back spine piece should be made out of thicker gauge steel.
Marcy Flat Utility Weight Bench: This is very similar to the AmazonBasics Bench and is often sold at the same price. Honestly, it's a toss-up between the two as they're practically the same.
Bowflex SelectTech 5.1 Adjustable Bench: This is another popular bench on Walmart and Amazon. I haven't used this one yet, so I won't comment too much other than the price for a bench with only a 480 LB weight capacity seems a bit high.
Vulcan Prime 3×3 Flat Bench: This is a good utility bench from Vulcan Strength. The problem is it's at a similar price as the FB-5000 but doesn't have a single post leg. The height is good and it's beefy so it is an option for those that don't want REP or feel the need for a single leg post in front.
Vulcan Prime Adjustable Bench: I really like the looks of this bench, especially at the price point. I haven't used it or heard from many others who have, so I'm going to hold off on rating it until I do.
EliteFTS Collegiate 0-90 Bench: As with most EliteFTS products, this is a very solid, extremely well-built in the USA adjustable bench. This issue is, the feature set is kind of low in comparison to the price point.
EliteFTS 0-90 Degree Signature Bench: This is an absolute monster, but much too expensive for most people.
EliteFTS Garage Line Dumbbell Flat Bench: A strong flat bench at a good price for Made in the USA, however, when you factor in shipping, it gets pretty expensive.
EliteFTS Garage Line Dumbbell 0-90 Degree Bench: Basic, no-frills incline bench. Again, when shipping is factored in, it's a bit expensive for what you get.
Sorinex 0-90 NP3 Adjustable Bench: I like this bench. I have two of them. The issue isn't that it's good, it's that it's very expensive and way out of the price range for most home gym owners. The quality is impeccable, it's insanely strong, has diamond plate spotter platforms, and is just overall a Sorinex level of the quality bench. If you have the money to spend, you won't be disappointed.
Related: Check out the Zeno Gym Bench Pro review.