We test and review fitness products based on an independent, multi-point methodology. If you use our links to purchase something, we may earn a commission. Read our disclosures.
If you were to ask most home gym owners what five items everyone needs, odds are many would say a quality weight bench (right after dumbbells and barbells). And you'd probably get a lot of people telling you to go for an adjustable weight bench, allowing you to target multiple muscle groups at different angles But, adjustable benches can often get pricey.
It doesn't have to be that way, and our FLYBIRD Adjustable Bench review shows you that you don't need to break the bank to get a high-quality piece of equipment to unlock your home gym setup's full potential. This is one of those cases where you're actually getting a little more than what you paid for, and we think many home gym owners will get a lot of value out of this bench.
More Than 60 Benches Tested — Call Us the Benchwarmers
As you'll see in this review, there are thousands of people who we think the FLYBIRD Adjustable Bench would be perfect for, but there's just as many who would be wasting their money on it. People have different training goals, budget and space restraints, and personal preferences that will determine the best weight bench for them.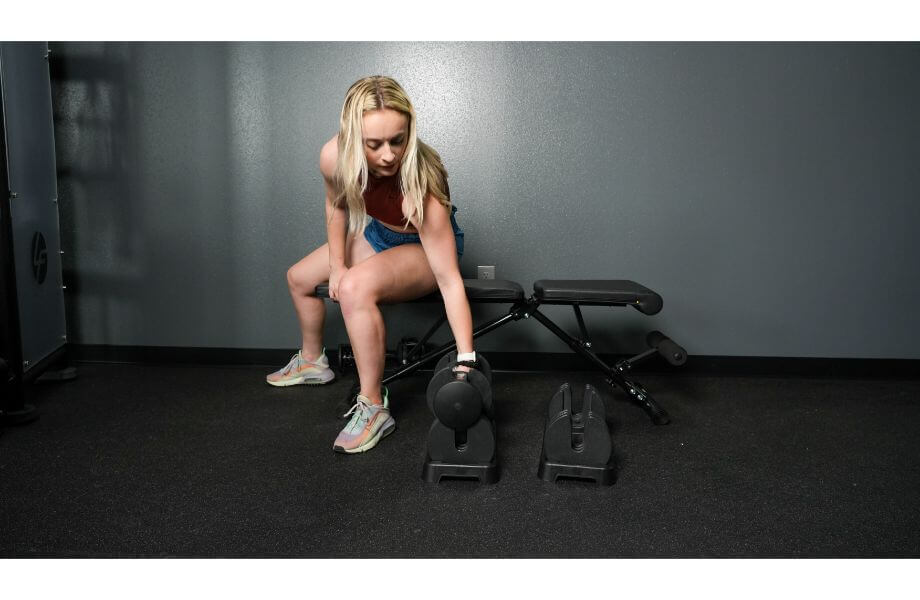 And our team is the perfect mix of people to help you find what works for you. We're a group of certified personal trainers, CrossFit coaches, active and former athletes, and overall fitness enthusiasts who have trained in everything from garage gyms to studio apartments, and just about everywhere in between. What other website can boast that type of versatility? That's right—none.
A Very Affordable Bench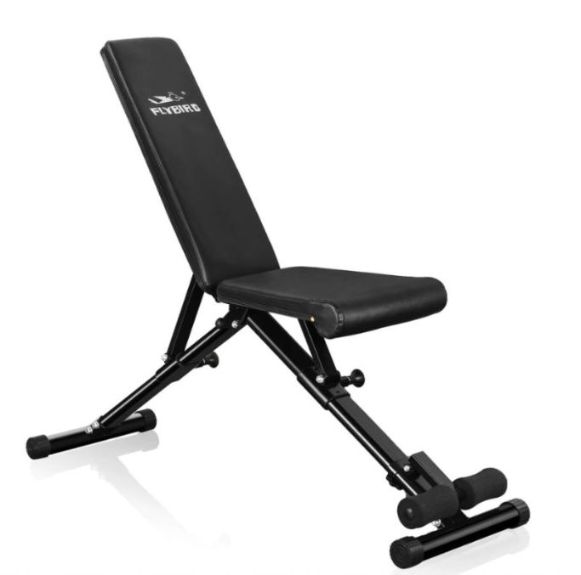 FLYBIRD Adjustable Workout Bench
The FLYBIRD Adjustable Workout Bench is a great choice for the home gym owner who's looking for an affordable and compact bench. At only 26.4 pounds, this bench is incredibly lightweight and can still withstand up to 800 pounds of weight. Yes, that's not as much as other brands' benches but for many home gym owners it's more than enough.Plus, you get an incredible amount of value from this adjustable bench. It has seven back positions–including incline and decline–three seat positions, and four foot pad positions. Not only that, when it's not in use the FLYBIRD bench can fold to about 30 inches in length so it can be stowed anywhere.One big downside of this bench is it's a bit too tall for shorter lifters (from the ground to the back pad is about 18 inches), and there's a pad gap of around two inches that may be a problem for some.
A Quick Look at the FLYBIRD Adjustable Bench
FLYBIRD was launched in 2016 to provide home gym owners with high-quality, yet affordable strength training equipment. As of this writing, the company offers three main products: Weight benches, adjustable dumbbells, and doorway pullup systems.
The FLYBIRD Adjustable Bench modelFB149, that we're taking a look at today, is a budget-friendly bench that can fold for easy storage, and comes with a foot pad. It has a good number of adjustment positions (seven for the backrest, three for the seat, and four for the footrest) and utilizes an easy-to-use lock pin adjustment system.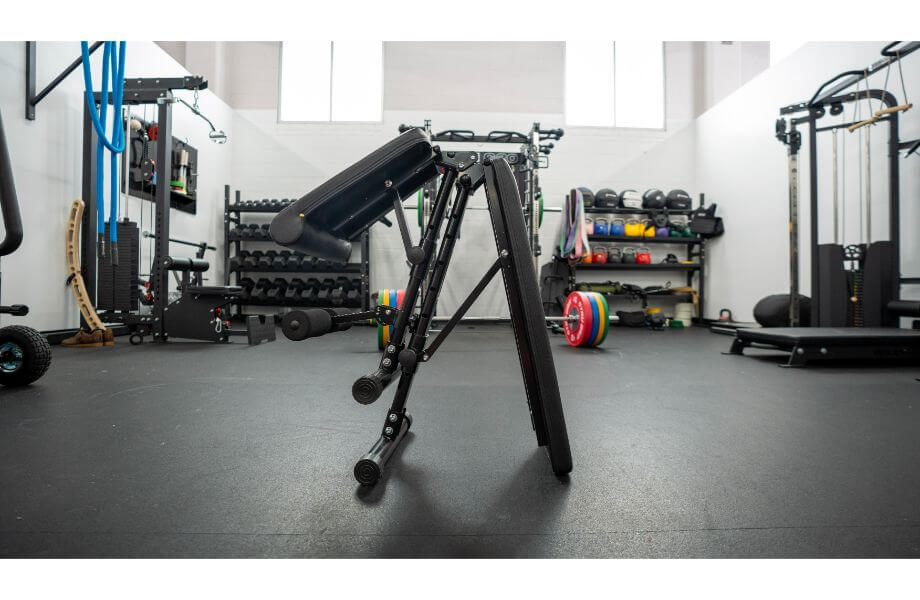 Most home gym owners shouldn't have a problem with the bench's 800-pound maximum weight capacity, but if you're someone who's benching 500+ pounds regularly, that might be an issue.
Our Tips
Think long and hard about whether this is the bench for you, because once you open it you can no longer return it for a refund.
Pros:
Extremely affordable, at around $150
Only weighs 29 pounds, and it folds for easy storage
Offers decline and incline adjustment positions
Cons:
Customers still complain of the bench being a bit too tall for some users
Max weight limit is 800 pounds, which may be too light for some lifters
Pad gap between back and seat pad is around 2 inches
Is the FLYBIRD Adjustable Bench Worth It?
As of this writing, the FLYBIRD Adjustable Bench sells for around $150 (not including shipping and handling), and that's a great price for an adjustable bench–heck, it'd be a great price if it was a flat bench, too.
Similar products by brands like REP Fitness, Bowflex, and Titan Fitness start at around double that (Titan's Incline Bench V2 is the same price, but at a much lower weight capacity, and to be honest, we have a lot of problems with it).
And when you consider the value you're getting for this bench, that number becomes even more attractive. It can fold when not in use, has an impressive number of adjustment positions, and has a weight capacity that works for most people.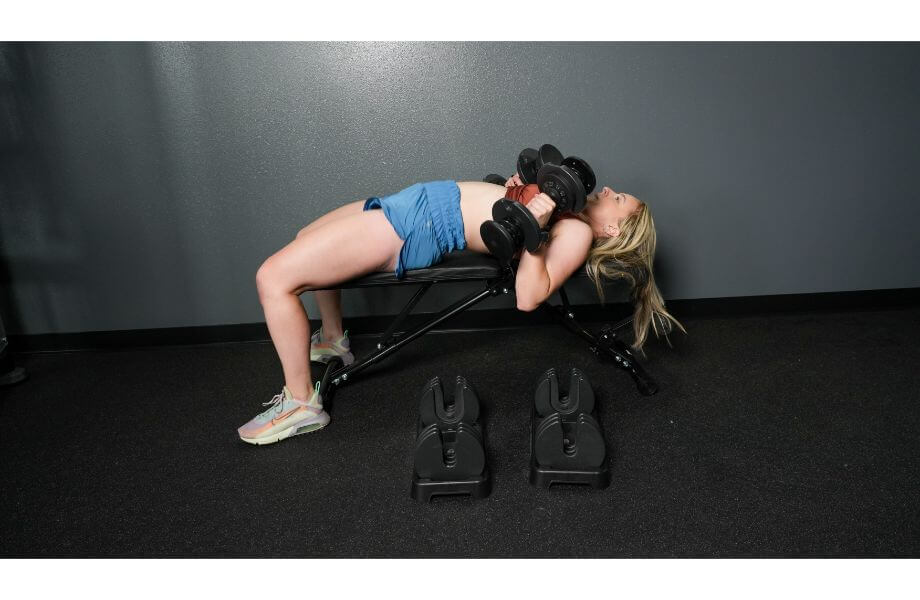 Now, it's not all rainbows and kittens with this bench. Some of our not-so-favorite things about it are the fact that it's a little too tall for some people (including GGR Editor Nicole Davis, who tested this bench), sub-par foam padding, and a sizable pad gap between the back and seat pads. Some of that is due to the price (you do sacrifice some quality with budget home gym equipment), but we'll touch on how other issues may affect your training experience.
Great for:
Those on a budget
People who don't care for assembly (it ships pre-assembled)
Anyone looking for compact exercise equipment or a stowable bench
Not recommended for:
Shorter people, but FLYBIRD insists it's taking care of the height issue
Those who need a bench with a high weight capacity
Home gym owners looking for the best-of-the-best
FLYBIRD Adjustable Bench Specs
| | |
| --- | --- |
| Footprint | 49.2" L x 15.7" W x 44.5" H (at highest setting) |
| Weight | 26.4 lbs |
| Weight capacity | 800 lbs |
| Construction | Steel |
| Pad gap | Roughly 2" |
| Back pad length | 30.3" |
| Pad width | 10.6" |
| Back positions | 7 (including incline and decline) |
| Seat positions | 3 |
| Foot pad positions | 4 |
| Warranty | 1-year for frame, 30 days for pad |
Workout Experience With the FLYBIRD Adjustable Bench
The FLYBIRD Adjustable Bench is not something that a powerlifter or bench press world record holder Julius Maddox will ever use. This is a workout bench meant for the average home gym athlete who simply needs something to support them during moves like the bench press, but also shoulder presses, tricep extensions, step-ups, and incline and decline bench press movements.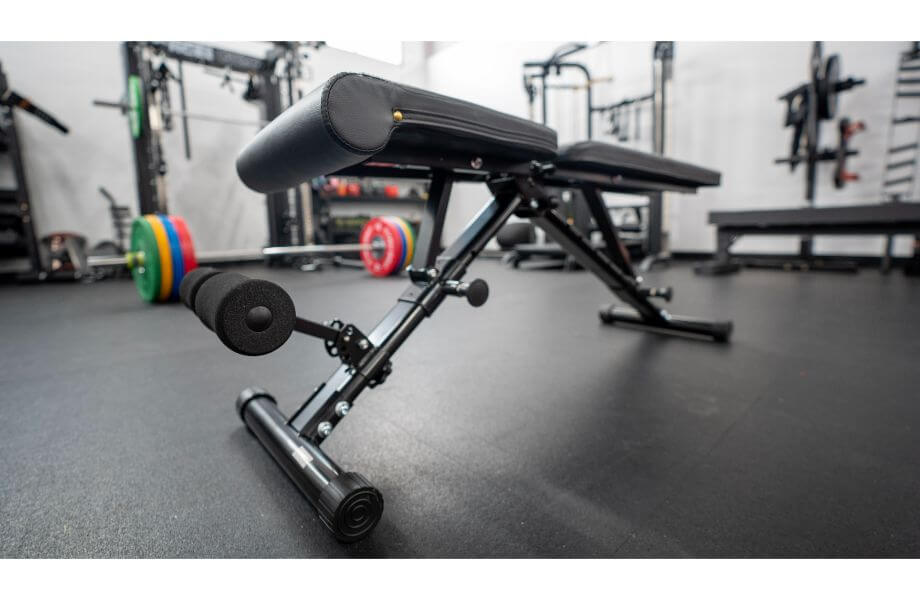 Nicole said the bench felt sturdy, though not as heavy-duty as a bench from a brand like Rogue Fitness (which makes sense given the price). The foot pads, she added, were a nice touch and could be used for extra stability during different exercises.
The lock pin system is secure enough that you shouldn't have to worry about the bench moving on you in the middle of a workout, and the back pad felt a little more slick than a Rogue or REP bench. It didn't feel unsafe in any way, but it's definitely not as grippy as more expensive benches.
Bench Height
One of Nicole's main complaints, which was echoed by other online reviews, was that the bench's height didn't allow her to get her feet planted on the ground because it was too tall. For reference, she's 5 foot, 3 inches and the bench is 18.8 inches from the ground to the back pad.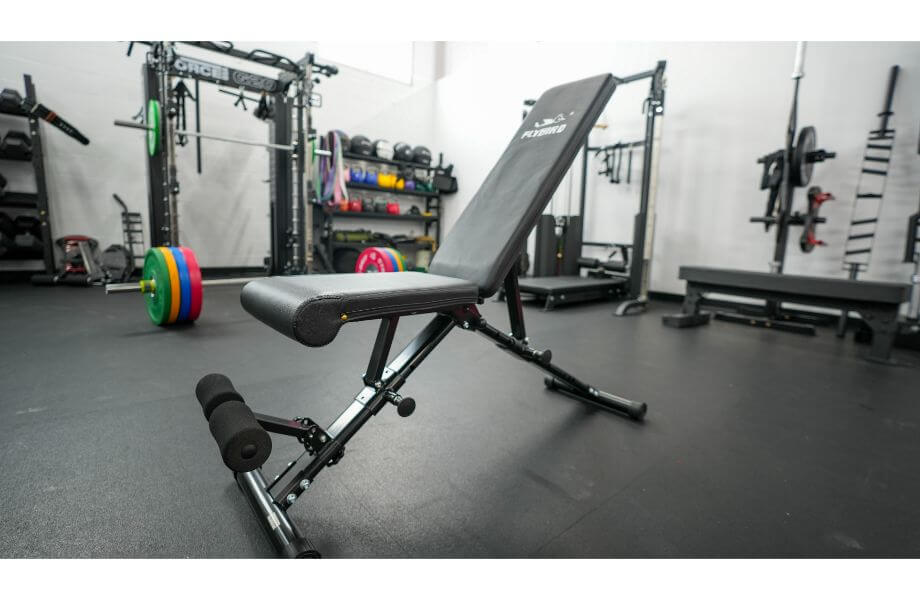 The bench actually used to be taller than that, but FLYBIRD reduced it to that height after customer complaints of it being too high.
Even its current height is unnecessarily high. Weight benches approved for use in International Powerlifting Federation competitions only need to be 17 inches, so we find it strange that a company would go higher than that. For one, it doesn't allow for ample foot drive (which allows for force production to give you a stronger bench), and it also makes it difficult for shorter people to use it.
Sure, you can bench with your feet on the bench but that's a very controversial move in the lifting community and some might not be comfortable doing that.
We'll see if FLYBIRD reduces the height of the bench again, and if it does we'll keep you updated.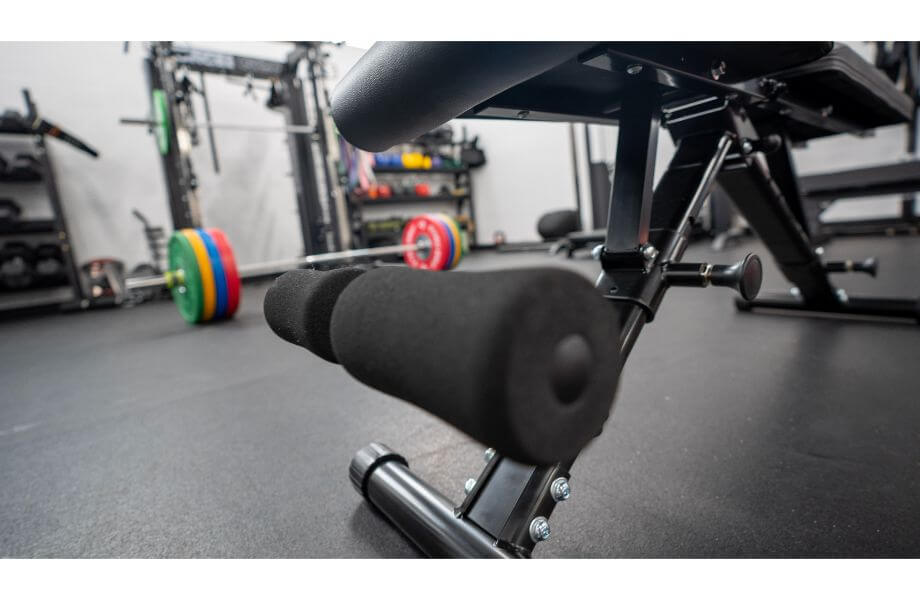 Pad Gap
Unless you're working with the REP Fitness AB-5000 Zero Gap Adjustable Bench (which has a special mechanism to eliminate the space between the back and seat pads), any weight bench you use is going to have a pad gap. The FLYBIRD Adjustable Bench has about a 2-inch gap from Nicole's measurement, which is standard for most budget models. And while it might not be a problem for some people, it was something that Nicole felt during testing.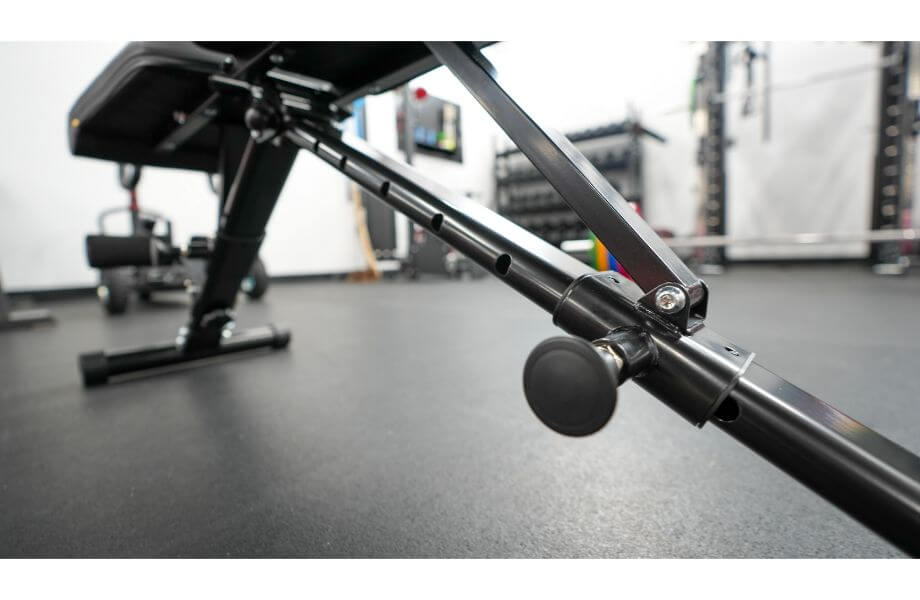 Footprint and Stowability
The FLYBIRD Adjustable Bench is smaller than most weight benches, coming in at only 49.2 inches in total length (the back pad alone is about 30 inches in length and 16 inches in width). For comparison, the foldable Fitness Reality 1000 Super Max Weight Bench has a 33.5-inch backrest and is 59 inches in total length. 
The compactness of the FLYBIRD weight bench is good if you're looking for a space-saving piece of equipment, but it can only support people up to 6 foot, 2 inches.
If you're not Paul Bunyan, you'll appreciate that this compact bench can easily fold in half by pulling the out pin.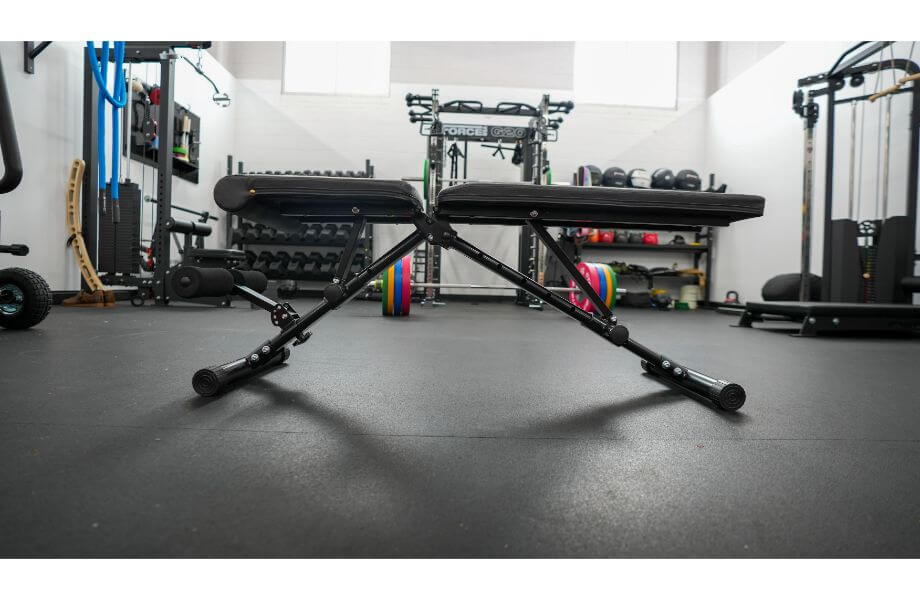 Construction and Durability
FLYBIRD only says the bench is made with "quality steel," so we're not sure just how high-quality it is. But for the price, we're not expecting a 7-gauge steel frame or anything like that (the lower the number, the thicker the steel).
That said, the bench feels stable and durable for the most part. It does feel a little cheaper than a Rogue bench, but again, that's not surprising. The stitching and welding look clean for the price.
Ordering and Assembling the FLYBIRD Adjustable Bench
This is usually the part where we'd ask GGR Operations Manager Sam "AsSAMbly" Presley what the assembly process was for this product, but the FLYBIRD Adjustable Bench actually ships pre-assembled. Simply open the box, rip up all the plastic protecting it, and get to benching.
Ordering is as simple as clicking "Add to Cart" and entering your shipping and billing information.
Customer Service
FLYBIRD can be reached via email, or you can text them at (253) 733-1752 any time Monday to Friday during business hours, 9 a.m. to 5 p.m. Pacific Standard Time.
Financing, Warranty, Returns
FLYBIRD offers financing options through Klarna starting at $37.49 per payment. You simply have to select Klarna at checkout.
The FLYBIRD Adjustable Bench has a one-year warranty for the frame, and only 30 days for the pad.
You can return the bench within 30 days of delivery for a full refund (minus shipping and handling), but only if it's unopened and unused. Once you open the box, your only hope to get your money back is Amazon or Facebook Marketplace.
Customer Reviews
With more than 1,300 reviews, the FLYBIRD Adjustable Weight Bench has a 4.7 average rating. Most reviewers were happy to report that the bench offered more value than a fast food menu.

But not everyone was lovin' it, as some people agreed with Nicole's assessment that the bench was too tall for some home gym owners.
Final Verdict of Our FLYBIRD Adjustable Bench Review
There are many home gym owners who simply want a bench they can lie down on during certain movements, don't want to spend a lot of money, but still want something that will support them. The FLYBIRD Adjustable Bench meets all those qualifications, and if you're someone who's not super serious about growing your bench press, you can get a lot of use out of this.
For the price, you simply can't beat the number of adjustment positions (the ability to have a decline position is a major plus) and stowability of this bench. We recommend it much more than budget benches you'd get off Amazon or any name-brand benches you'd find in Walmart or other big box stores.
The bottom line:
Not for people looking to bench heavy weights
Great for those looking for a bench that can support full-body workouts
Adjustable seat, backrest, and foot pad make it a great value
Maximum user height of 6 foot, 2 inches, but also too tall for some shorter lifters
Very little wobble, but not as secure as more expensive benches
Great foldable bench option
FLYBIRD Adjustable Bench Rating
FLYBIRD Adjustable Bench FAQs
Does FLYBIRD make good benches?
We'd say that FLYBIRD makes middle-of-the-line benches that are perfect for home gym owners who don't lift super heavy weights and want to save money. It's certainly not the best, but you won't find many others in its price range that give you incline and decline positions, and it's durable enough that it should last you many years.
Is it worth getting an adjustable bench?
Absolutely. An adjustable bench gives you more access to different exercises, which allows you to target muscle groups from different angles. A flat bench, for example, won't allow you to do incline bench presses or give your back support during shoulder presses.
Are foldable benches good?
Foldable benches can be as good as a utility weight bench, which can't be folded, and they have the added benefit of being able to be put away when not in use.