We test and review fitness products based on an independent, multi-point methodology. If you use our links to purchase something, we may earn a commission. Read our disclosures.
One of the benefits of having an adjustable weight bench in your home gym is being able to do a variety of exercises. You can lift dumbbells, do a bunch of core work, and try out many other strength training routines. However, one thing that's not particularly easy (or typically recommended) to do on this type of fitness equipment is Nordic curls.
If you really want to target your hamstring muscles effectively, we'd suggest using a Nordic curl bench. They're designed to make Nordic hamstring curls much easier to do so you can effectively complete the workout.
The Tib Bar Guy Nordic Weight Bench gives you the best of both worlds. It allows you to boost your hamstring strength with Nordic curls and continue doing all the things that regular benches offer. In this Tib Bar Guy Nordic Weight Bench review, we will share all the deets so you know if this is a good choice for you.
Reviews You Can Rely On
We've been doing Nordic curls for years. Before there were actual Nordic benches, we were improvising and putting various DIY techniques to the test. The founder of Garage Gym Reviews himself, Coop, has even tried several DIY Nordic board setups. He's even put the Rogue Floor Glute to the test. 
Whether you want to know which Nordic benches are worth the buy or which traditional weight benches are worth a try, we've got your back. Our testers include competitive Olympic weightlifters, CrossFit-L1 trainers, athletes, certified personal trainers, and more. We've Nordic curled and bicep curled on various products to give you an honest review. That way, you don't have to make the mistake of purchasing something that's not a good fit for you.
Tib Bar Guy Nordic Weight Bench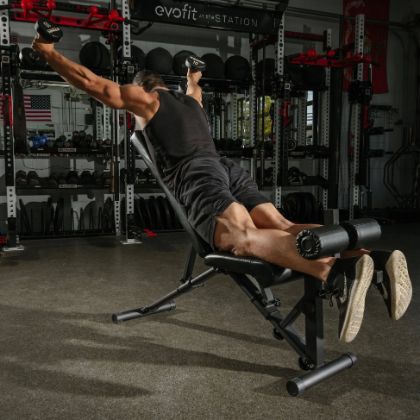 GGR Score: 3.6
Product Highlights
A combination of the Nordic floor bench and traditional incline bench

14 adjustable positions

Priced affordably

Ships worldwide
Pros & Cons
Pros
Adjustable bench with Nordic attachment
90-day satisfaction guarantee
Designed in the USA
Steel construction allows for a 700-lbs max weight
14 adjustable positions
Cons
10-in back pad which may not be suitable for larger users
Not the highest quality materials
Bottom Line
The Nordic Weight Bench is an adjustable bench that combines the traditional weight bench with the Nordic Curl bench so you can perform anything from an incline bench to a Nordic hamstring curl.
A Quick Look at the Tib Bar Guy Nordic Weight Bench
The Nordic curl is becoming super trendy these days, thanks to the Knees Over Toes Guy (AKA Ben Patrick) as @kneesovertoesguy on Instagram. People are finding all kinds of ways to try to do them, including DIY setups like using their couches. However, there is equipment that can make it easier and safer for them to perform the movement. That's where Tib Bar Guy Nordic Weight Bench comes in.
The company, Tib Bar Guy, is dedicated to providing equipment for ATG training and home gyms. ATG training is mostly about moving your body in a way that lessens knee pain and allows you to work through an injury. Their Nordic Weight Bench, along with their other products, like the Solo Tib Bar (great for the tibialis anterior) and the Slant Stack (used with slant boards), are designed to help you safely perform various strength training exercises like leg curls.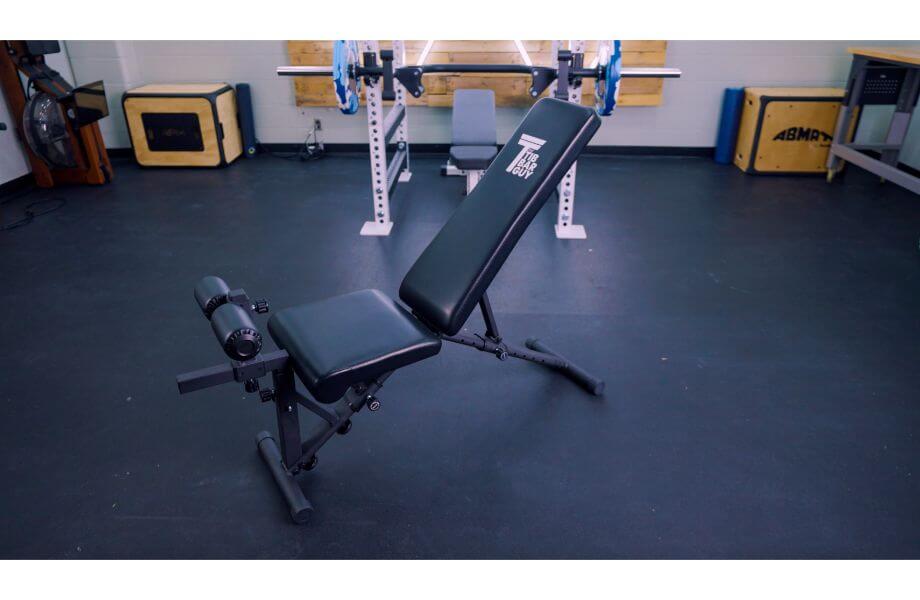 The Tib Bar Guy Nordic Weight bench is touted as being the first and only traditional weight bench and Nordic floor bench combo, so it's pretty unique. Plus, it's not as expensive as you might expect it to be. For less than $250, you're getting basically two sets of home gym equipment, which is a steal. However, even with the cost and versatility, is it worth it? That's what this Tib Bar Guy Nordic Weight Bench review is here to help you find out.
Before You Buy
If you don't plan on doing Nordic curls often, it might be better to just get a regular adjustable weight bench at a more affordable price.
This is not a super high-quality bench. The focus was placed on adding the Nordic curl features, so the foam, vinyl, and other parts aren't the best.
If you already have a weight bench, it might make more sense to buy the Nordic curl attachment by the Tib Bar Guy (EZ-Nord) if it's compatible.
Video Review
Is the Tib Bar Guy Nordic Weight Bench Worth It?
We've been in the fitness business long enough to know that this bench isn't going to be the perfect choice for everyone. While it's an excellent option for beginners and advanced trainees who want to execute Nordic curls correctly, there may be some things about it that just don't tickle your fancy.
"The Tib Bar Guy brand isn't the only exercise company out there that's jumping on the Nordic curl bandwagon with Nordic weight benches," Coop says. Therefore, why choose this one?
Let's go ahead and get into some of the pluses and minuses of this particular bench. After all, that's the only way you'll be able to determine if it would likely be a good choice for you. 
Great for:
Athletes who want an all-in-one bench with Nordic bench features.
Someone who is looking for a lightweight bench that is easy to move 
Budget-conscious trainees who want to maximize their home gym space
Not recommended for:
People who are looking for a heavy-duty bench
Athletes who experience back pain or discomfort when lifting on a flat bench.
Tib Bar Guy Nordic Weight Bench Specs
| | |
| --- | --- |
| Price | $239 |
| Footprint | 62" L x 16" W x 19" H |
| Weight | 38 pounds |
| Weight Capacity | 700 pounds |
| Adjustment Positions | 9 back pad adjustments; 5 seat pad adjustments |
Excellent Versatility: Ways to Use the Nordic Weight Bench
The Tib Bar Guy Nordic bench is a versatile piece of exercise equipment that you can use in many different ways, depending on your workout program."The bench loses some points on sturdiness," Coop says, "but it is stable enough for people to do traditional bench workouts in its horizontal position."
Decline Bench Exercises
This bench can be used for different decline exercises; however, Coop says it can be uncomfortable because the decline angle is very extreme (roughly 30 degrees). He believes there are potential ways to work around this declination challenge, though.
RELATED: Is the REP Fitness AB-3000 2.0 Review the Best FID Bench?
Because there are nine positions that the back pad can be adjusted to, this opens up a lot of potential lifting exercises that you can do on the bench. The seat pad also boosts five additional adjustments, allowing for more refinement.
Traditional Bench Exercises
This bench is primarily designed as a Nordic bench with traditional foot rollers at the end of the bench. However, unlike many Nordic benches, this one doesn't have a foot pad at the end. Some users may object to this from a comfort perspective, but it does allow for a wider range of exercises.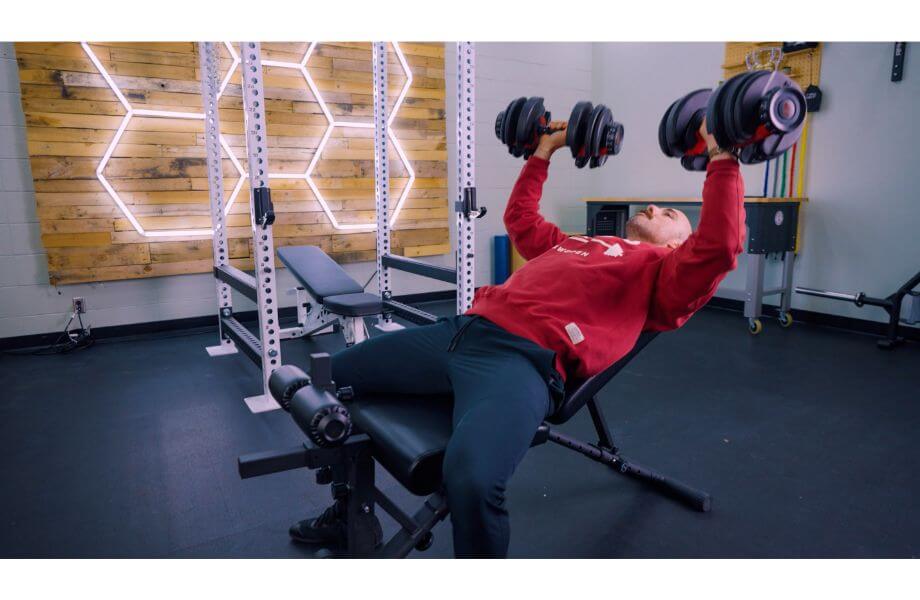 For instance, you can still do traditional bench exercises like skull crushers, shoulder presses, and seated bicep curls. In addition, the adjustable leg rollers allow you to do leg extensions. If you have a barbell and a power rack, there are endless upper- and lower-body exercises you can do with this thing.
Nordic Curls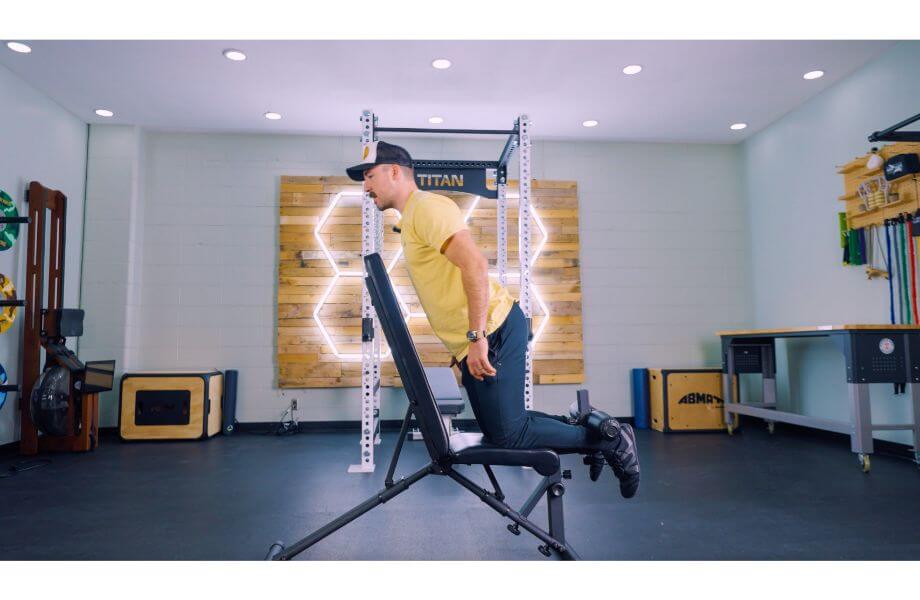 Of course, one of the greatest exercise benefits of this bench is that it allows for beginner and progressive Nordic curls. Initially, you might prefer to have your back pad completely vertical. However, as you build up your hamstring strength and get comfortable with the movement, you can move the back pad further back. After time and significant practice, you may be able to execute the Nordic curl in a full range of motion where the back pad is in complete horizontal alignment.
Being able to adjust the back bench to different angles so that it fits your comfort level is crucial for Nordic curls. Even advanced athletes might need to ease into the movement. This bench is designed to fit the ATG training method, which is about lessening pain and injury, so don't give yourself an injury trying to do the most.
Lat Pull Downs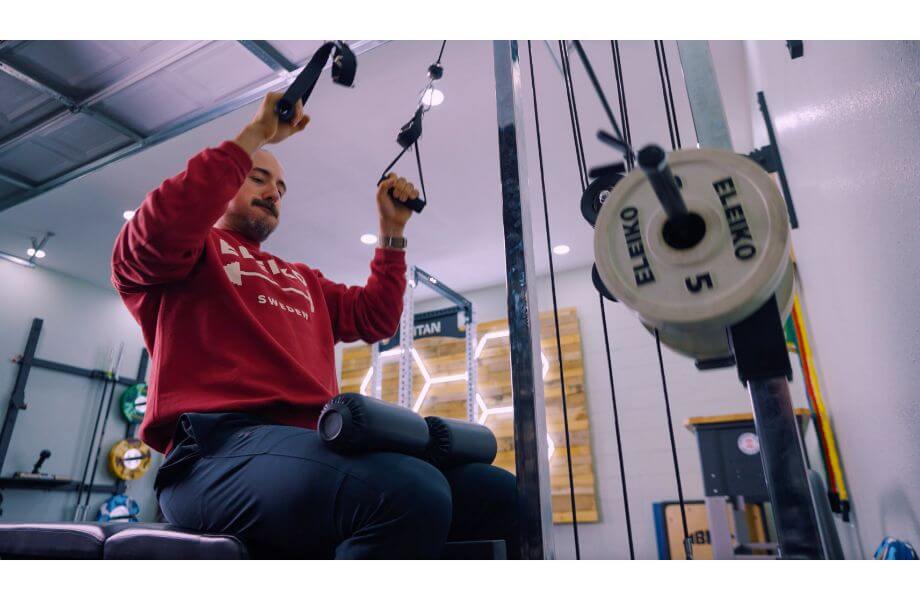 Coop noted that this bench and its Nordic rollers could also be used for lat pull-downs with some adjustments. So this could be a great addition for some athletes. In fact, Coop says that this may be the best reason for purchasing this particular piece of equipment.
RELATED: In-Depth Titan Fitness Weight Plate Lat Pulldown Review
Is The Tib Bar Guy Nordic Bench Portable?
The Tib Bar Guy Nordic Bench is 62 inches long, 16 inches wide, and 19 inches high. At 38 pounds, it's lighter than many traditional weight benches. Therefore, its ability to be moved around really comes down to your own comfort level. If you're okay moving something that's almost 40 pounds, this shouldn't be an issue.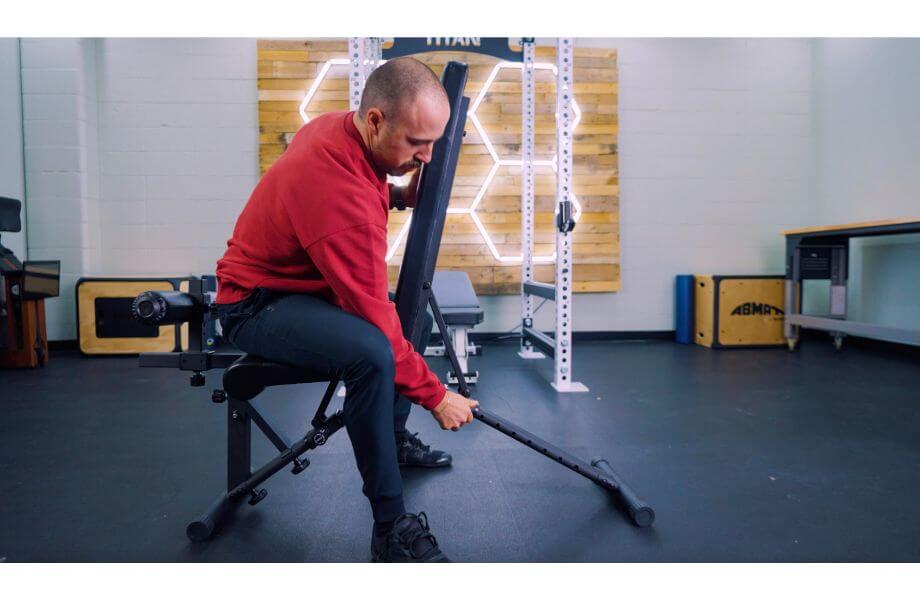 Stability and Durability
There are some concerns about the bench's stability, especially when compared to bigger and heavier benches. Coop demonstrated this when he tried doing Nordic curls in a horizontal position. He noticed that there was some wiggling from side to side. This wiggle is likely not a safety concern and will probably not bother most trainees, but it's worth pointing out.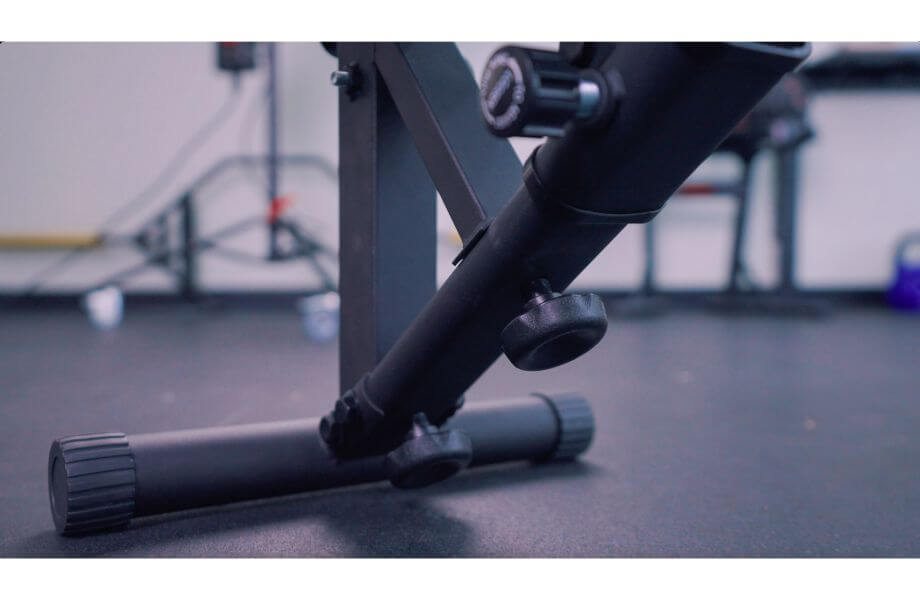 Coop also notes that the construction is not great despite being made of steel. He says the vinyl was less than ideal, too. It wasn't very grippy, which could be problematic. The foam on the rollers isn't very cushiony, either. Some adjustment points are not very smooth with plastic pieces, and Coop also highlighted parts of the bench that will rub against each other in different positions.
The Customer Experience The Tib Bar Guy
So, if you decide to go with this Nordic Bench by the Tib Bar Guy, what can you expect from the brand?
Return Policy
The Tib Bar Guy offers a 90-day, no-questions-asked return policy. This means that you can return the product if you ordered the wrong thing or simply if you're dissatisfied with the product. However, it's essential to know that the 90-day clock starts ticking from the day you order the product.
Another caveat is that you will be responsible for the return shipping cost. This total will be subtracted from your return.
Do They Provide a Warranty?
At the moment, the Tib Bar Guy warranty does not cover this product. It only applies to some of The Tib Bar Pro and The Solo Tib Bar, which are used for tib raises. This may change over time, but it is something to keep in mind when you're considering pushing the button to buy the bench.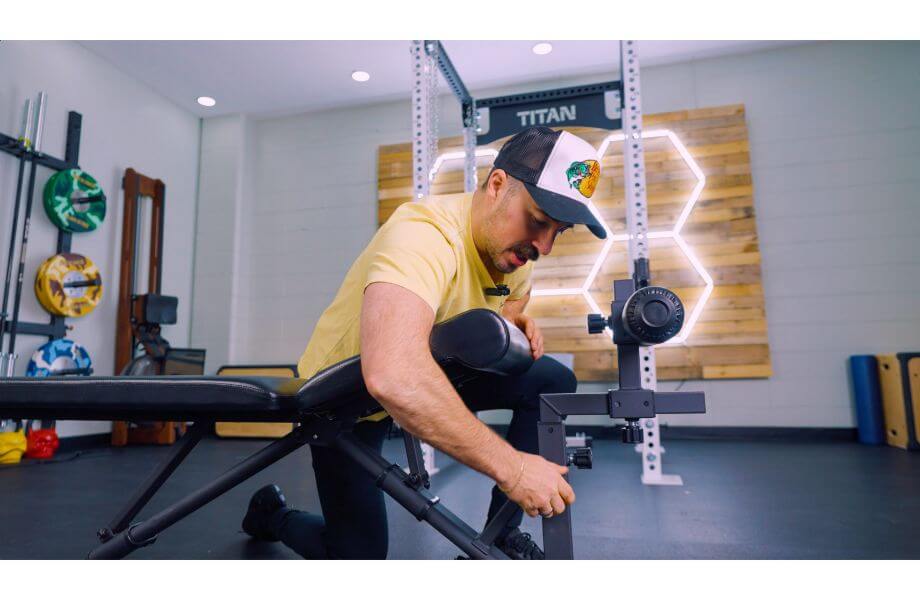 Ordering and Assembling the Tib Bar Guy Nordic Bench
If you reside in the United States and plan on ordering the Nordic Weight Bench, you'll love this! Once you've ordered and paid for the product, the Tib Bar Guy will ship your bench the very next day, except on Saturdays and Sundays. Most people who purchase the product in the United States receive it at their door within two to five days of ordering. Not surprisingly, international deliveries can take longer, so expect about ten days for this.
The Tib Bar Guy markets this bench as being fairly easy to assemble since it doesn't require any tools. We definitely like that you don't have to pull out a screwdriver or wrench to put it together, but we wouldn't exactly call it seamless, either. You might notice that some parts of the bench are difficult to maneuver, so don't be surprised if you have to yank them a bit to get parts in their proper place. However, even with the bench being stiff, you should still be able to get it assembled in about 20 minutes.
Customer Reviews
A wide variety of positive reviews of the bench can be found on The Tib Bar Guy's website. Many of these positives mirror what Coop had to say in his video review.
For example, Steven P. said, "Just started Nordics, and this bench is perfect! It's super versatile for other exercises, which makes it a great value." David C. added, "This Nordic Bench is 100% solid and a great find. It is both versatile and durable, a great find." The only negative noted in one of the reviews was that the bench seemed a little bit wobbly.
Tib Bar Guy Nordic Weight Bench vs. Freak Athlete Nordic Curl Mini
Freak Athlete Nordic Curl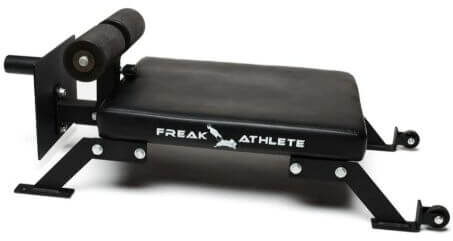 GGR Score: 4.3
Product Highlights
18" x 24" surface, which supports users up to 6' 10'  and boasts a 350-lb weight capacity

Portable with built-in transport wheels

Designed to enable exercises typically completed on a full-sized GHD machine
Pros & Cons
Pros
Portable
Compact
Affordable
Lots of exercise choices
350-lb weight limit
Only weighs 45 lbs
Full-size footplate
Cons
Sells out quickly
Not quite as versatile as a full-sized GHD (can't do ab exercises)
Counterbalance required
Bottom Line
Freak Athlete's Nordic Mini is a good option for home gym owners who want a GHD but do not have the space.
According to our expert product testers, the Freak Athlete Nordic Curl Mini is still the gold standard if you want to incorporate Nordic curls in your home gym setting. Even though it is compact, it does what it does and does it very well, thanks to its durability.
As we note in our Freak Athlete Nordic Curl Mini review, this product is 45 pounds, making it slightly heavier than the TBG Nordic Weight Bench. This is interesting because the latter also provides the weight bench component, so one would assume it would be much heavier. In addition, the TBG product is almost 30 inches longer than the Freak Athlete Nordic Curl Mini.
There is a slight price difference between the two as well. The Tib Bar Guy's bench is $239, and The Freak Athlete's Curl Mini is $299. This price difference is interesting, and here's why. The Freak Athlete Nordic Curl Mini is not as versatile, and you can only use it to perform the Nordic hamstring curl. On the other hand, you can bench presses, lat pull-downs, and more with the Tib Bar Guy product. You'd honestly expect The TBG Nordic Weight Bench to be pricier than it is since you're basically getting two sets of gym equipment in one.
The stark differences between the two products mean you must think about what you want your equipment to do before buying. If you only want to jump on the Nordic curl bandwagon, then the Freak Athlete product is for you. On the other hand, if you want a product that can do more things, just not as well, then it is worth considering the Tib Bar Guy option.
Final Verdict of Our Tib Bar Guy Nordic Weight Bench Review
Coop and our Garage Gym Reviews team found many positives associated with the bench. Its ability to allow exercisers to train for progressive Nordics rather than jumping straight into challenging full Nordics is currently unmatched. We also can't neglect the product's flexibility, as you can do a lot of different exercises on this bench.
However, Coop wasn't shy to talk about the downsides of this bench either. One of the downsides is the bang for the buck. Quality-wise, Coop compares this bench to the FLYBIRD Adjustable Weight Bench, which is only $150. He also says that attention to detail was not always there. For example, there is one screw that an athlete runs the risk of cutting themselves on if they are either bench pressing or doing Nordic curls. Along a similar line, the seat pad is too wide and gets in the way of performing various exercises.
The final verdict for this bench is that it is a great idea but that it might need additional thought and refinement before it is worth adding to your home gym. However, it may still be worth taking the plunge right now if you're focused on progressive Nordics or want a lap pull-down bench.
If we had to sum it up, The Tib Guy Bar's Nordic Bench:
Boosts versatility
Struggles with design and stability and requires some additional modifications
Clocks in at a high price for the quality that you're actually getting
Tib Bar Guy Nordic Weight Bench Rating
The Tib Bar Guy Nordic Weight Bench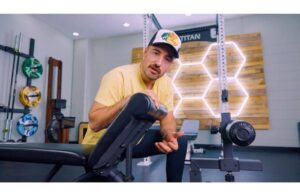 In this Tib Bar Guy Nordic Weight Bench Review, we're revealing everything you need to know to decide if it's a good option for you.
Product Brand: Tib Bar Guy
Product Currency: $
Product Price: 239.00
Product In-Stock: InStock
Tib Bar Guy Nordic Weight Bench Review FAQs
What is the Nordic Weight Bench?
The Nordic Weight Bench is a traditional weight bench and Nordic floor bench all-in-one. Currently, it's the only one of its kind!
What Exercises Can You Do With the Nordic Weight Bench?
You can do everything you'd do with a regular weight bench, but you also have the option to correctly perform the Nordic hamstring curl.
How Heavy is the Nordic Weight Bench?
This bench is only 38 pounds, which is lighter than some of the other brands out there.