We test and review fitness products based on an independent, multi-point methodology. If you use our links to purchase something, we may earn a commission. Read our disclosures.
Lat pulldown machines have been around since the dinosaurs first roamed the Earth. Okay, not really, but they're been a gym staple for as long as I can remember. Finding budget options for these large and in charge machines is a hot topic in the home gym community, which is why I was excited to try the Titan Plate Loaded Lat Pulldown V2. Under $500 with free shipping? Yes, please!
In this Titan Plate Loaded Lat Pulldown review, I'll share my honest opinion on the quality, value, and who I believe this machine is best for. I'm here to help you make good purchasing decisions by giving you all the insider information you need to know before buying.
Why You Should Trust Us
Almost daily, I get requests to talk about and review budget home gym equipment. I don't blame you guys – these machines really add up quickly. Just look at the Rogue Monster Lat PullDown/Low Row that I have previously reviewed. Almost $3,000. Phew.
I've tested and reviewed all kinds of budget-friendly gym equipment – the Sole F63 Treadmill, Titan Fan Bike, Rogue Fitness RML-90SLIM Rack, and Fringe Sport Longhorn Buffalo Bar to name a few. Although I know good quality when I see it, I also understand budget options sometimes have to cut a few corners to drive the price down. I'm always sure to call out these areas so you're not surprised when you purchase a piece of budget gym equipment.
Titan Plate Loaded Lat Pulldown V2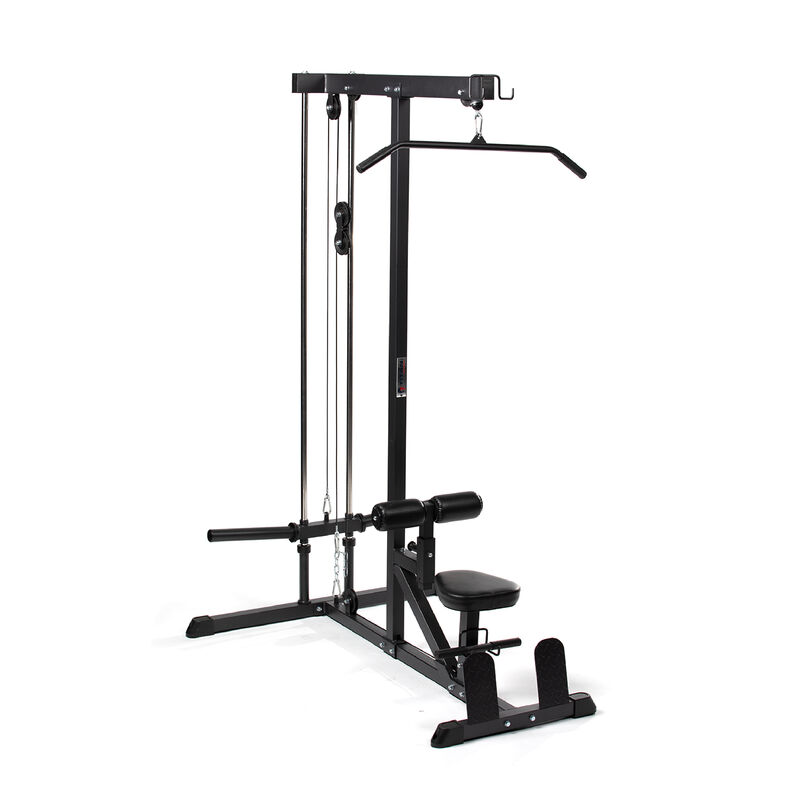 Titan Plate Loadable Lat Tower V2
The Plate Loadable Lat Tower by Titan Fitness® answers this question. Add some hefty weight to this machine, and strengthen your back with plate-loaded lat pull-downs. Mix it up with high-intensity low rows to target your arms and back – building your biceps, rhomboids, and trapezius muscles altogether. Both the lat pull-down and low row handle are included with our Lat Tower, but weight plates must be purchased separately. The thigh pads have four adjustable positions, to accommodate athletes of all body types. The weight sleeves are 13 inches long each, giving plenty of room to stack up on plates. New in the version 2 is an additional reinforcement brace, between the seat and the main upright, to increase overall stability.VERSIONS 2 UPDATE: New in the version 2 is an additional reinforcement brace, between the seat and the main upright, to increase overall stability.
A Quick Look at the Titan Plate Loaded Lat Pulldown
Titan makes a lot of affordable equipment. Heck, I've even written a review on building a budget home gym from Titan Fitness equipment only!
Coop's Tips
Make sure you wrap the cables as you're putting the machine together!
Regularly clean and oil the guide rods for longevity
This lat pulldown machine isn't collapsable, so plan where you will put it before it arrives.
My Favorite Things:
Under $500
You can use barbell weight plates you already own
400 pound weight limit
My Callouts:
Subpar welds
Size and depth are not the most ergonomic
Included accessories could be better quality
Is the Titan Plate Loaded Lat Pulldown Worth It?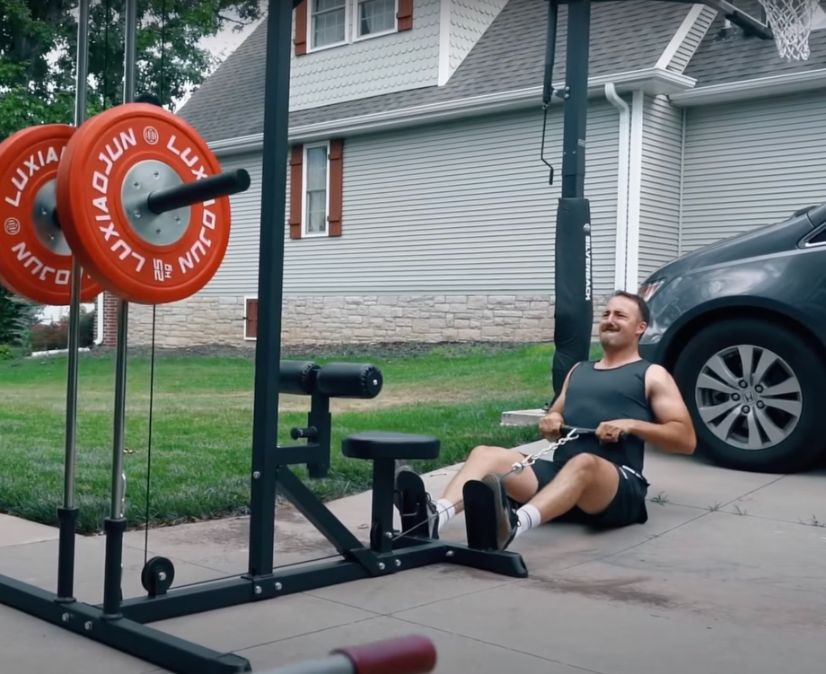 This lat pulldown machine is a solid option for a lot of people, but not my pick for everyone. Read on to see if I would recommend this piece of equipment for you.
Great for:
People who already own lots of their own plates
Back focused exercises
Individuals looking to stick to a budget
Not recommended for:
People starting from scratch because the cost will add up if you're buying lots of Olympic weight plates
Someone who is tall because you may not be able to get a full stretch
Individuals tight on space
With so much buzz around the Titan Plate Loaded Lat Pulldown machine, I knew I needed to put it to the test. I've previously tried (and loved) the Titan Fitness Lat Tower, which is almost three times the price. The main difference between the two is the included weight stack on the Tower versus the weight plate sleeves on the Pulldown.
I think both have their merits, and which is right for you depends on what you're looking for. With the weight stack of the Lat Tower, you simply stick the selecter pin into your desired weight and get started. There is a bit more work involved with loading the Lat Pulldown since you have to physically add weight plates to the sleeves.
If you already own a lot of plates, buying the Loaded Lat Pulldown makes a lot of sense. You're saving money and you get an extra 100 pounds in weight capacity. With the Lat Tower, you only get 300 pounds but there is less effort on the front end since you only have to use a pin to select your weight.
Using the Titan Plate Loaded Lat Pulldown
The Titan Plate Loaded Lat Pulldown machine comes with two accessories: a low row handle and a lat bar. Although I like that Titan did include accessories with this piece of equipment, they are not great quality. The lat bar has a rubber grip, and I wish Titan had instead made it knurled or sent the stainless steel option.
Something I really do like about this machine is the diamond plate footing on the low row component. It allows you to securely press against it and really target your back muscles while doing a seated row.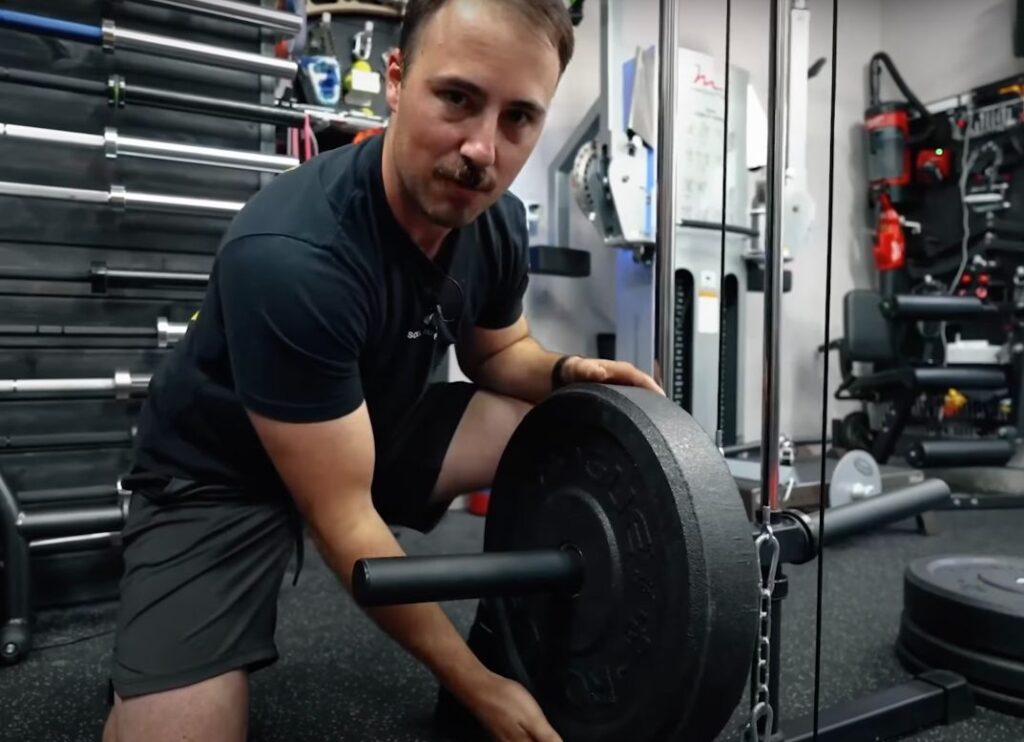 I used this machine to do different grip lat pulldowns (shocker), low rows, and tricep pushdowns. This isn't the most versatile piece of equipment, but it is a classic for a reason. If you're tight on space, I'm not sure purchasing the Loaded Lat Pulldown makes a lot of sense because it has a relatively large footprint with not many uses.
I do like the powder coat Titan added to the Lat Pulldown because it isn't overly gritty or smooth. It also makes the machine less likely to rust, which is especially important if you have a garage gym that may be subject to extreme temperature changes throughout the year.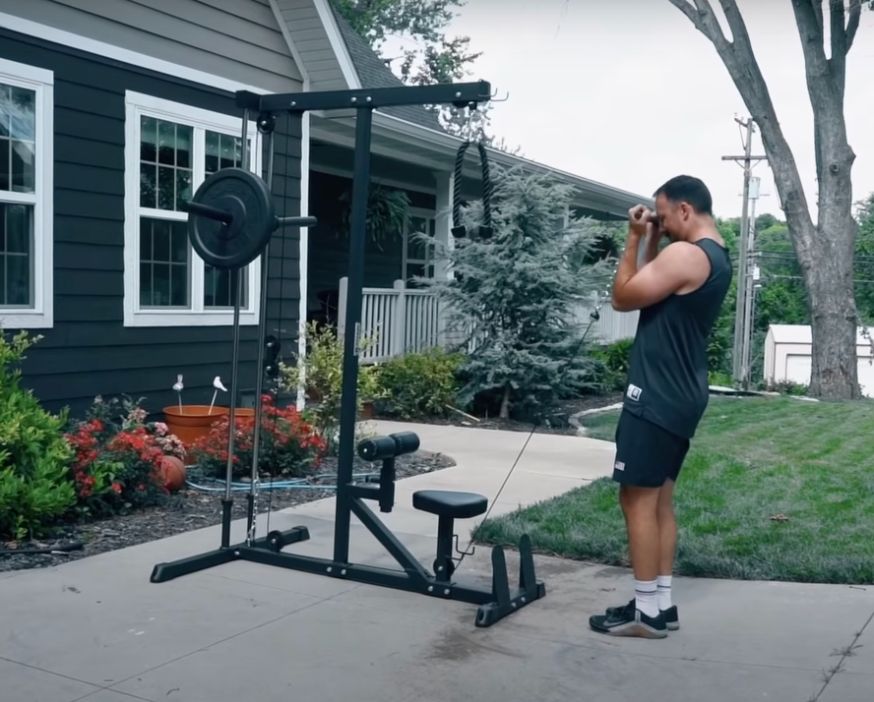 While using the machine, I noticed the weight trolley isn't very smooth, which is probably due to the plastic bushings inside the pulley system versus the typical high-quality bearings you'd expect to find. The cable is lower quality and pretty thin but not horrible for the price. However, I do really like the guide rods because they remind me of the ones on the pricier weight stack version.
Footprint and Construction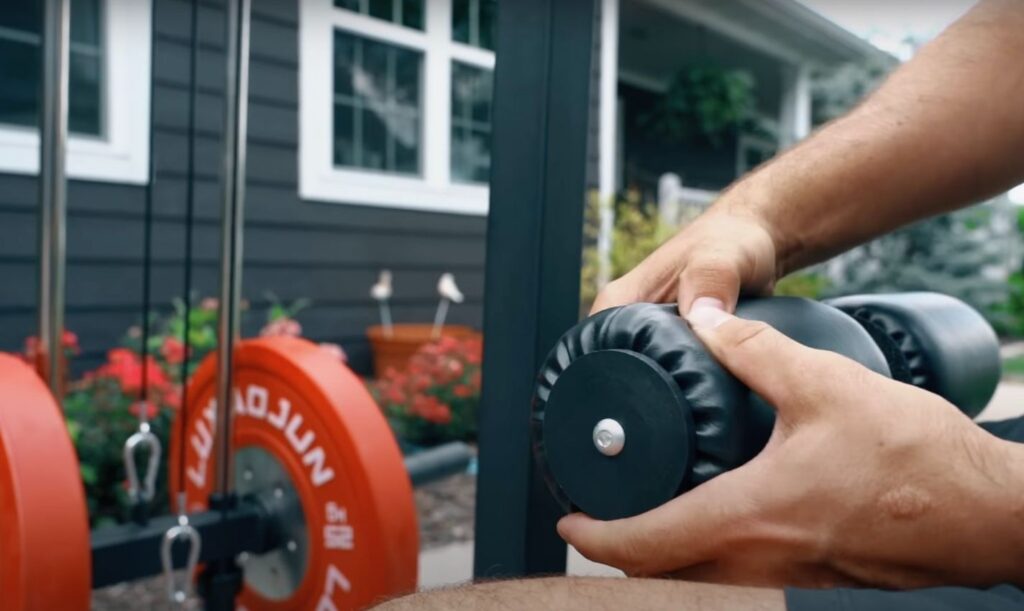 I won't beat around the bush here: This thing takes up a lot of space, and you'll need to be prepared for that when you purchase. With a depth of 57 inches and width of 47 inches, it is not compact. The height of 85 inches makes it an ideal choice for low ceilings but I'm not sure it is your best bet if you're tall. I'm 5'9", and while I'm able to get a great stretch while using the lat pulldown, I think you may struggle with the range of motion if you're really tall. Just my two cents.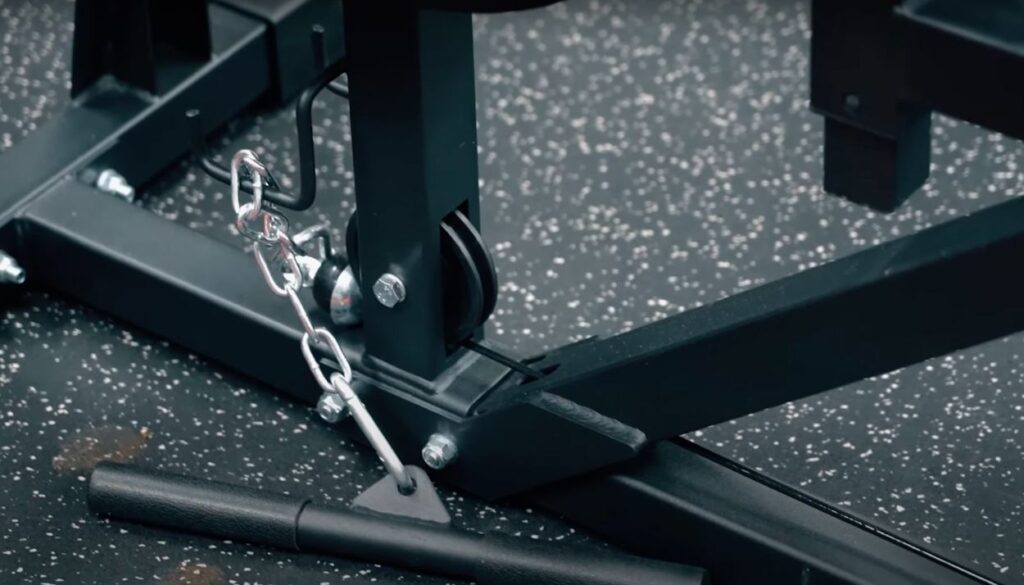 Construction-wise, this baby is made of 11-gauge steel. There are four bolt-down holes if you decide to secure the machine into the ground. However, this isn't the most heavy-duty lat pulldown machine I've used. It isn't on par with commercial gym equipment, but it doesn't pretend to be. The nylon pulleys are not going to be the smoothest or most consistent, but it gets the job done for the price point.
Ordering and Assembling the Titan Plate Loaded Lat Pulldown
Ordering the Titan Plate Loaded Lat Pulldown machine was seamless. Not only is the machine under $500, but you also get free shipping on all orders through the Titan website. I'm shedding tears of joy just thinking about it. Anyway, if you're not super jazzed about paying $500 all at once, Titan does offer financing options in 3,6,12,18, or 24 month increments with as little as 0% APR.
My order shipped in about a week (which is standard for Titan) and arrived via UPS. It comes in a large cardboard box and is very well packed. I didn't have any box damage at all. It took us about an hour to assemble, which isn't bad in the grand scheme of things. However, we probably assemble more fitness equipment than anyone you know so it could take you a little longer.
Titan's instructions aren't exactly the clearest so make sure you go slow and match up the correct pieces for each direction. Make sure you are wrapping the cables as you go to save yourself some serious frustration in the end. I would equate assembling the Plate Loaded Lat Pulldown machine to putting together a piece of Ikea furniture. It is slightly more complicated than it needs to be but you'll be willing to do it because the price was right.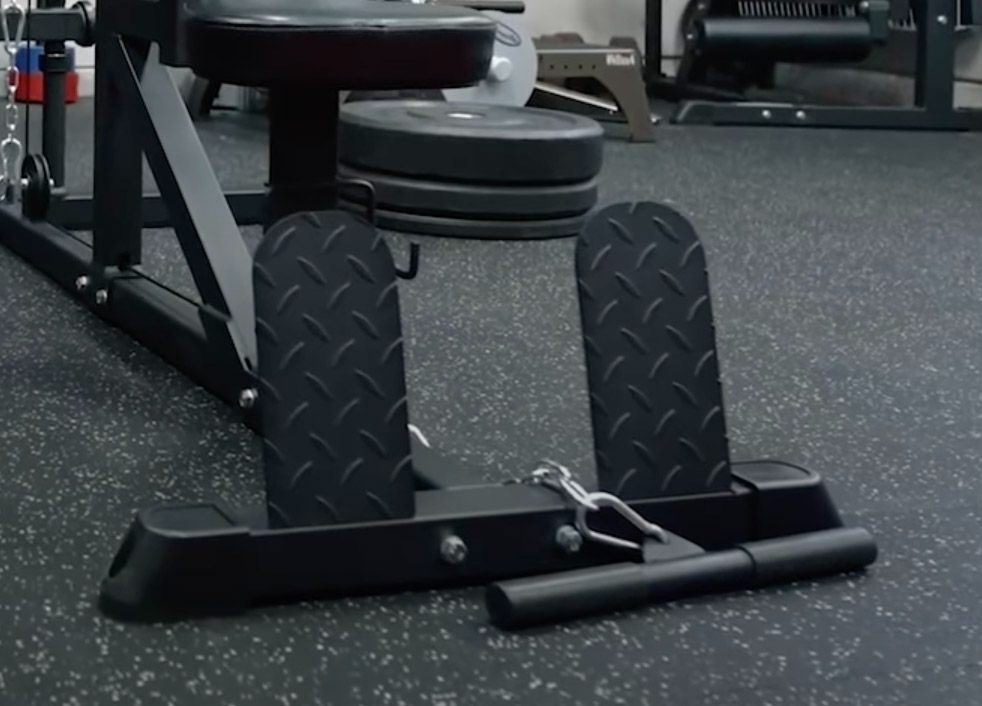 Titan Plate Loaded Lat Pulldown Specs
| | |
| --- | --- |
| Overall Height | 85-inches |
| Loadable Sleeve Length | 13-inches |
| Finish | Powder-Coated Black |
| Weight Capacity | 400 pounds |
| Overall Depth | 57-inches |
| Overall Width | 47-inches |
| Product Weight | 120 pounds |
| Material | Steel |
| Low Row Handle Length | 15-inches |
| Lat Handle Length | 37.5-inches |
| Thigh Pads | Four adjustable positions for athletes of all body types |
| Footplate | 4.5″ W x 9″ L |
Customer Experience
Titan Fitness has great customer service (in my experience). There are a variety of ways to contact them including through live chat, email, or phone. These are all easy to find by clicking the support button in the bottom right hand corner of the website.
The Titan Fitness Plate Loaded Lat Pulldown has a decent warranty of 1 year. Would I like to see a longer one? Yes, but I don't know if that is realistic for the price.
Returns are simple – you have 30 days from delivery to send back your item for a refund. You do have to pay the shipping cost for return so that is something to keep in mind since this machine is 120 pounds.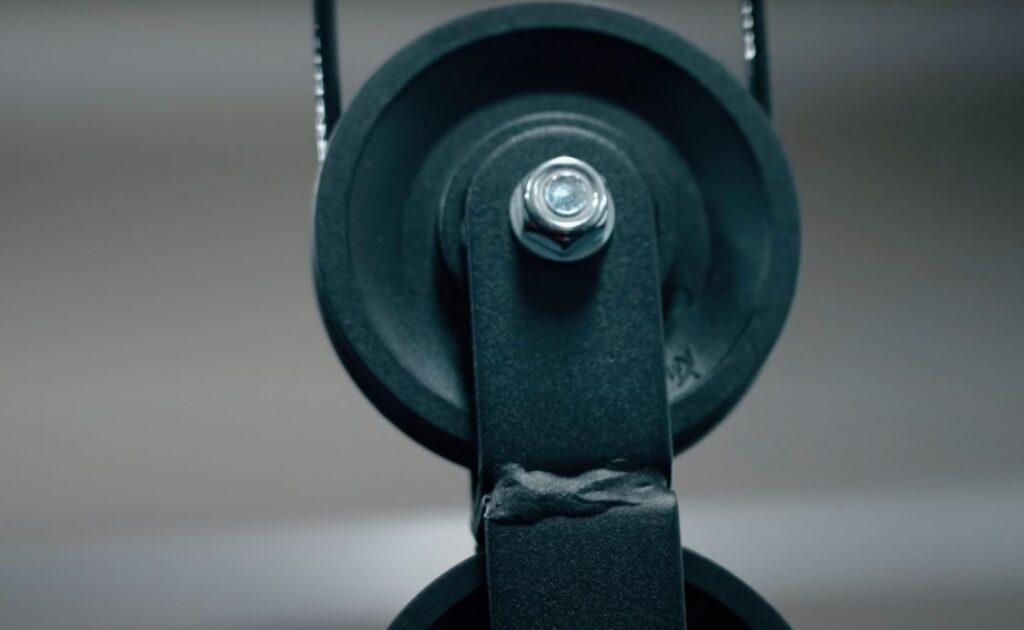 Customer Thoughts
With close to 40 reviews, the Titan Fitness Plate Loaded Lat Pulldown has an overall score of 5/5. People had really positive things to say about the value and included free shipping. Customers also seemed to think it was generally sturdy and well made for the price.
I did a video about the Titan Fitness Plate Lat Pulldown in June of 2021 and a lot of people sounded off in the comments about their love for this machine. It seems to have been a quarantine purchase for many, and, generally speaking, they were pleased with the quality for the price.
In terms of negative comments, some people mentioned the assembly steps were confusing (I don't blame them). The only other complaints were about the unit being on backorder but at the time of publishing, it is currently available.
Final Verdict
Titan Plate Loaded Lat Pulldown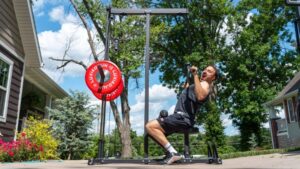 All in all, I think the Titan Plate Loaded Lat Pulldown is a solid piece of equipment for the price. Do I think it will last your entire life and be passed around generationally? No, but it gets the job done and is a good value for what it brings to the table. If you have extra cash to spend and want a little more quality, I suggest the higher priced Titan Fitness Lat Tower.
Product Brand: Titan Fitness
Product Currency: USD
Product Price: 499.99
Product In-Stock: InStock
Titan Plate Loaded Lat Pulldown FAQs
What is the weight capacity for the Titan Plate Loaded Lat Pulldown?
The weight capacity for the Titan Plate Loaded Lat Pulldown is 400 pounds. This makes it an ideal choice for a variety of lifters 
What are the dimensions of the shipping box?
The shipping box is 85″ x 14″ x 8″. 
What is the weight ratio?