We test and review fitness products based on an independent, multi-point methodology. If you use our links to purchase something, we may earn a commission. Read our disclosures.
Treadmills have a perilous history associated with torture and imprisonment. Thankfully, those days are over, but treadmill workouts can still feel a bit like punishment. In our modern world, treadmill manufacturers are going above and beyond to make at-home treadmill workouts engaging, and dare I say, fun?
At first glance, comparing the Horizon 7.8 AT vs Peloton Tread might seem like a far reach, but we think these machines are worth looking at side-by-side. The Peloton has a hefty price tag and a seriously large touchscreen, putting this in the high-end treadmill category. The Horizon isn't cheap either, but it doesn't have the integrated programming or touchscreen that some may be looking for. And that's just the tip of the iceberg.
Both of these smart treadmills can provide a great workout, but which is better for your budget and running needs? Read on to find out.
Cardio Machine Experts
At GGR, we have an expert team of product testers with thousands of hours testing treadmills, ellipticals, exercise bikes, and rowers. We are a mix of athletes, certified personal trainers, nutrition coaches, and CrossFit coaches. Our combined experience gives us the ability to put together comparisons and give you unbiased reviews on fitness equipment and treadmills alike. In this treadmill review, we're going to break down the pros and cons of both brands so you can determine the best treadmill for you.
Quick Look: Horizon 7.8 AT vs Peloton Tread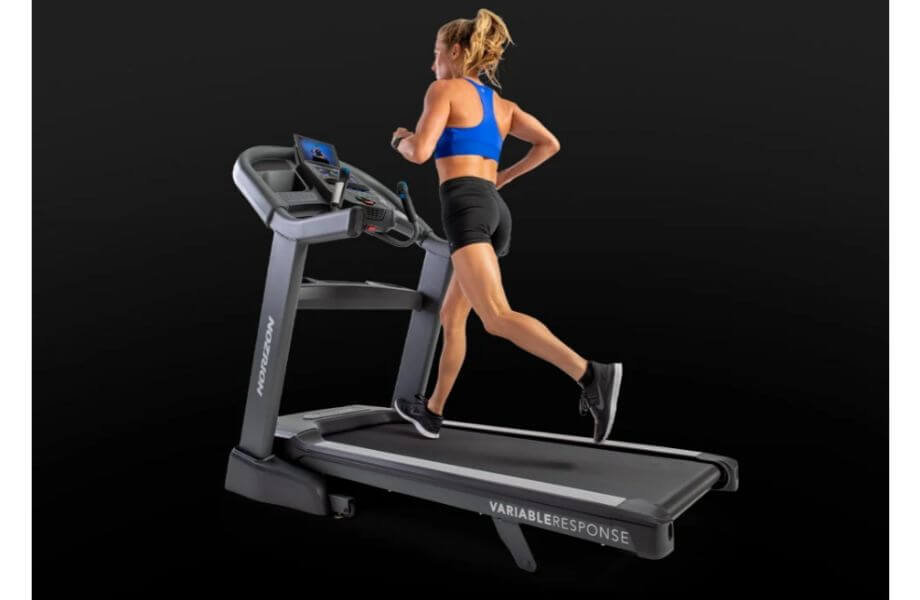 When it comes to owning a home gym, the most important part about buying a treadmill is finding the one you'll use. Nothing is worse than a treadmill being used as a clothing rack. We think both the Horizon 7.8 AT and the Peloton Tread have what it takes to be put to use, not just ignored in your home gym.
Price range aside, both treadmill models have the ability to connect with the Peloton app. However, Horizon is not limited to only one app. You actually use the treadmill without any additional apps or monthly subscriptions—or you can choose to connect with running-specific apps like Zwift, Nike Running Club, or the Studio app for HIIT workouts.
The Horizon's powerful motor is geared toward serious runners and allows you to customize how you want to integrate with apps. The Peloton Tread's motor will keep up with hard workouts, but it will be a nuisance to use without the monthly membership. Additionally, the Peloton has a smaller footprint than the Horizon and doesn't fold.
Who Should Buy the Horizon 7.8 AT
Serious runners
Anyone who doesn't mind using their own tablet or iPad to connect to Peloton or other fitness apps
Anyone who needs a treadmill with an inclusive 375-lb user weight capacity
Those looking for a foldable treadmill
Those who don't want to be tied down to one fitness app
Who Should Buy the Peloton Tread
Anyone who wants a large, built-in HD smart touchscreen
People interested in industry-best on-demand classes and interactive programming
People who want a leaderboard-style class alongside other Peloton members
Those who have fewer spending constraints
Horizon 7.8 AT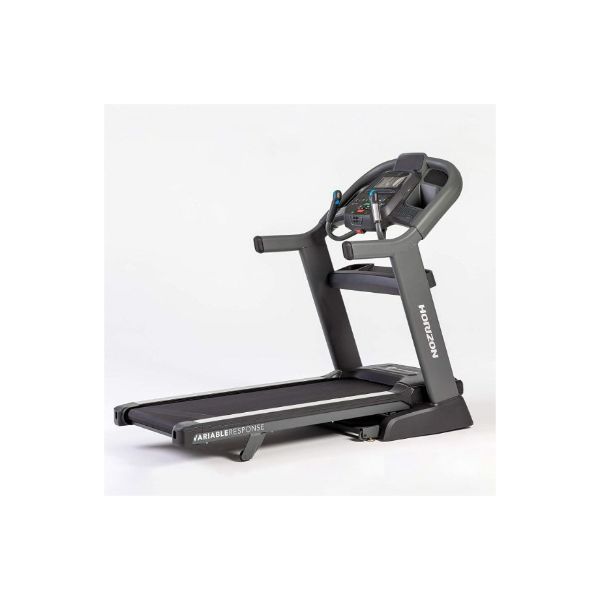 Horizon 7.8 AT Treadmill
One of the most respectable treadmills in Horizon's lineup is the Horizon 7.8 AT, the highest-grade model in the Studio Series. This treadmill features impressive specs, including a 22-inch-by-60-inch cushioned running deck, a powerful 4.0 CHP motor, a colorful 9.3-inch monitor, integrated speakers for an immersive experience, a rapid-charge USB port, and an included Bluetooth 4.0 heart rate strap. With the 7.8 AT, users can stream fitness classes from popular fitness platforms like Studio, Zwift, and Peloton all without a required subscription. That said, connection to third-party apps does require a personal smart device to access touch screen content, videos, or online classes. If you're someone who enjoys interval training, the 7.8 AT will likely be a great fit. Equipped with exclusive QuickDial controls and an integrated Sprint 8 HIIT program, runners can quickly and conveniently control speed and incline with the roller style control. Unlike grip-mounted buttons, the rollers allow users to tweak the speed or incline with minimal interruption to their run. Horizon provides an impressive lifetime warranty on both the frame and motor, which is testament to its quality design and components. As with all models in this Studio Series, the 7.8 AT features a folding design and transport wheels. However, with a weight of 330 pounds, it's not easily moved around. Additionally, when folded, it still has a large footprint so it's not very space-saving.
Peloton Tread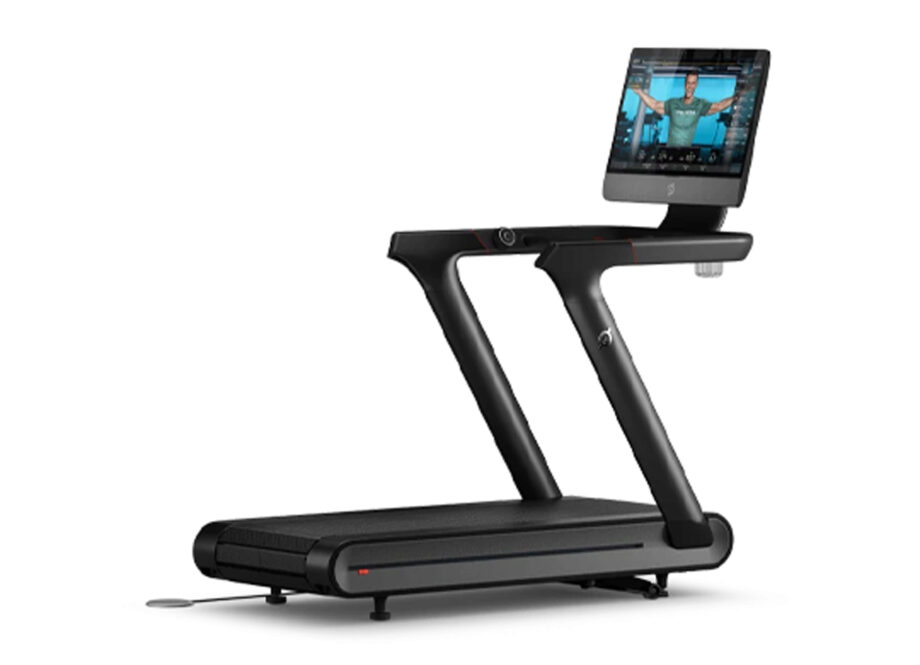 Comparison Chart: Horizon 7.8 AT vs Peloton Tread Specs
| | | |
| --- | --- | --- |
| Treadmill | Horizon 7.8 AT | Peloton Tread |
| Price | $1,999 | $3,695 |
| Footprint | 76" L x 37" W x 64" H | 68" L x 33" W x 62" H |
| Running deck surface | 60" L x 22" W | 59" L x 20" W |
| Warranty | Lifetime frame and motor, 5-year parts, 2-year labor | 5-year frame, 3-year motor and belt, 1-year parts |
| Heart rate monitoring | Yes | Yes |
| Weight | 330 lbs | 290 lbs |
| Incline and decline | 0-15% | 0-12.5% |
| Speed range | 0.5-12 MPH | 0-12.5 MPH |
| User weight capacity | 375 lbs | 300 lbs |
| Water bottle holder | Yes | Yes |
| Motor | 4.0 CHP (not confirmed by Horizon) | 3.0 CHP |
| Folding treadmill | Yes | No |
| Cushioning | 3-zone variable response cushioning | No |
| Workout programs | 10 built-in programs; connectivity to Peloton and Zwift | Peloton membership sold separately |
| Tablet holder | Yes | No |
| Wi-Fi | No | Yes |
| Bluetooth connectivity | Yes | Bluetooth 5.0 connectivity |
| Touchscreen display | No | 23.8" HD touchscreen |
Key Similarities Between the Horizon 7.8 AT And the Peloton Tread
Both have long running decks
Nearly identical speed ranges
Similar incline options, neither have decline options
You can utilize fitness apps on both machines
Both offer Bluetooth heart rate monitoring
Important Differences Between the Horizon 7.8 AT and the Peloton Tread
The Peloton Tread has a large built-in HD touchscreen to navigate the Peloton app
The Horizon 7.8 AT doesn't have a touchscreen, but instead has Bluetooth capability to connect to Zwift or stream Peloton with your own tablet or smartphone
The Horizon 7.8 AT has a higher weight capacity of 375 pounds
The Peloton Tread has 5-year frame warranty while the Horizon 7.8 AT has a lifetime frame warranty
The Peloton Tread costs over $1,000 more than the Horizon 7.8 AT
Workout Comparison: Horizon 7.8 AT vs Peloton Tread
The Horizon 7.8 and the Peloton Tread have similar speed ranges, incline levels, and running deck lengths. Both home treadmills are adequate for tall people or those with a long stride to have a natural gait on the ample running surface—the Peloton measures 59 inches length and the Horizon measures 60 inches. You'll also get similar results in incline controls and top speeds.
Although Horizon Fitness doesn't disclose the size of the motor on the 7.8 AT treadmill, our experience with the brand (and some additional research) indicates that this model comes equipped with a 4.0 CHP motor. This is a powerful motor for a treadmill and will support high speed and HIIT workouts. The Peloton Tread comes with a 3.0 CHP, which is still a powerful motor and will work well even for avid runners. However, the 7.8 AT has the edge here.
As a casual runner myself, I like the fact that the Horizon 7.8 AT comes with a cushioned running deck, making the impact of running a little softer on my joints. I think cushioned decks are ideal for interval training and hitting top sprint speeds. However, if you're a serious runner and training for road races, the Peloton Tread—without any cushioning—might be a better choice to mimic running on the road or track.
The Horizon offers another great feature for intervals: Quickdial controls, which let you rapidly change your incline and speed levels with a quick roll of a dial on top of two stationary handles at the center of the machine, below the console.
The Tread has similar dial controls that make it easy to change incline or speed settings during a trainer-led class. There is one dial control on the inside of each handrail. We also like that Peloton improved their safety features after some serious safety concerns with earlier models. Peloton has integrated a safety code on the touchscreen that locks the treadmill after 10 seconds of inactivity.
Horizon 7.8 AT vs Peloton Tread Tech Features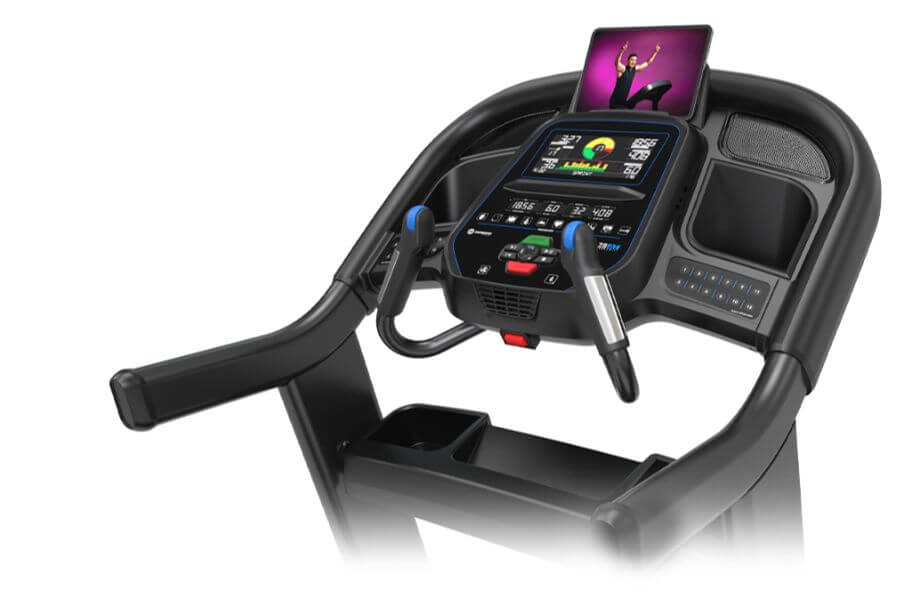 Although the Horizon is not as heavy on the tech features, we like that the tablet holder is placed in a way that won't block your metrics while you're streaming a workout or just watching your favorite show.
The Horizon comes with a heart rate chest strap with Bluetooth connectivity options to connect with Peloton, Zwift, Nike Running Club, or Studio apps. For the serious runner, Horizon's ability to pair with Zwift is terrific for off-season training. You'll be able to monitor and track your speed, cadence, and distance in addition to joining a virtual world with pace groups, time trials, and races.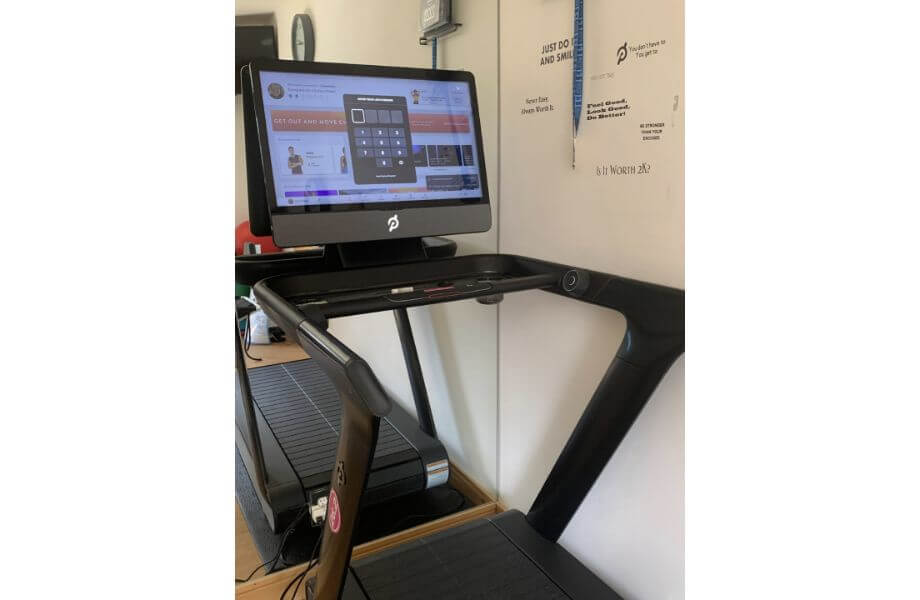 The Peloton Tread is fully integrated with the Peloton app on the built-in 24-inch touchscreen. The app is popular for its library of studio classes and on-demand workouts. The large touchscreen also makes it easy to read and navigate through the app with the touch of a finger. The sound from the built-in speakers is some of the best we've heard for music and hearing the instructor give coaching cues.
GGR staff writer Caroline Lubinksy is a fan of the Peloton app and thinks it's "intuitive, easy, and fun to use." She also mentions that the app itself is where Peloton shines. "The leaderboard classes and community are truly unique to the home workout experience," says Caroline.
Another cool tech feature we like about the Tread is the ability to connect your Apple Watch to the machine and view your heart rate right on the touchscreen. Bonus: You won't have to select the type of exercise you're doing from the watch, you can just start!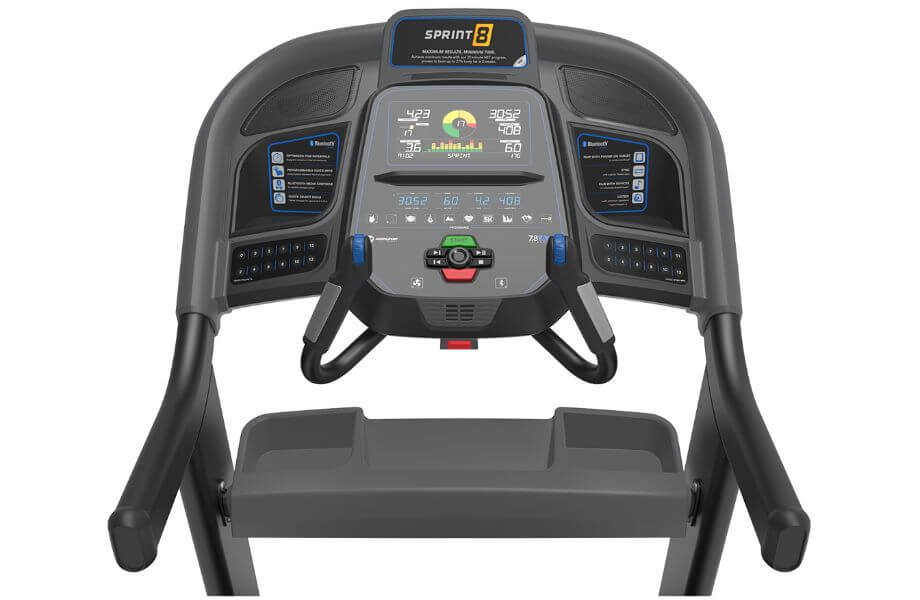 Company Policies
When comparing treadmills, the price range is an obvious focal point, but a company's policies on warranty, returns, and financing are equally important. Let's take a look to see how Horizon and Peloton compare:
Warranty
Winner: Horizon's lifetime warranty wins the battle of warranty policies.
Horizon
Horizon Fitness offers a lifetime warranty on the frame and the motor for all the treadmills in the Studio series, which includes the Horizon 7.0 AT, 7.4 AT and the 7.8 AT. There is also a five-year warranty on parts and a two-year warranty on labor.
Peloton
The Peloton Tread has an underwhelming five-year warranty on the frame and three years on motor and belt. Additionally, there is a one-year warranty on labor, the touchscreen, and all other components. The five-year frame warranty is well under industry standards we've come to expect from the cardio equipment we test.
Returns
Winner: Peloton has a better return policy, especially if you are a first-time customer.
Horizon
If you need to return a Horizon treadmill, you'll have to contact customer support to have your request reviewed or submit a return form. This request has to be done within the first 30 days of receipt to receive a refund. You'll be on the hook for a restocking fee and according to Horizon's website, the fee can be up to 20% of the item's cost (unless you had an in-room white glove delivery service).
Peloton
Peloton offers a 30-day return policy. You'll be on the hook for all shipping and delivery fees associated with returning your Peloton Tread back to the manufacturer.
If you're a new customer to Peloton, the Peloton Tread is eligible for Peloton's 30-Day Home Trial. This offer allows you to receive a full refund of your Peloton Tread, certain accessories, and membership payments made during the trial. However, interest paid to Affirm (Peloton's third-party financing partner) cannot not be refunded at the end of an unsuccessful Home Trial.
Financing
Winner: Horizon's offer wins with 0% financing regardless of the length of the term.
Horizon
Horizon offers treadmills to be paid for on a monthly basis if you apply for a line of credit through Citizens Pay. You can apply and get instant approval at checkout. Citizens pay offers 0% financing for as low as $56 per month and the ability to choose the length of loan from 12, 18, 24, or 36 months.
Peloton
Peloton offers a few different financing options through Affirm. You can choose to have a payment plan that spans 12, 24, or 43 months. If you qualify for a monthly payment plan, the 12-month plan is the only one that offers 0% APR. The other two options include 14.99% APR.
Horizon 7.8 AT vs Peloton Tread FAQs
What treadmills are better than Peloton?
This is a highly subjective topic. In our experience, you're either a raving fan of Peloton equipment and the app or you think it's overrated. We like to think Peloton is comparable to NordicTrack Commercial series treadmills with the combination of solidly built machines and the iFIT interactive programming—a strong competitor to the Peloton app. 
Do Horizon treadmills sync with Peloton?
You can stream the Peloton app with your own tablet or smartphone and have it safely placed on the tablet holder. Keeping up with a trainer-led class will be easy with the quick-dial controls near the console and the rapid sync capabilities of the motor.
How do you move a Horizon 7.8 treadmill?
The Horizon 7.8 AT is a foldable treadmill, which can reduce the footprint and make the moving process a little easier. However, we will admit that this machine is not easy to move. It's heavy and doesn't have transport wheels. The fact that it folds is helpful, but you'll need one person on either end to move this treadmill to a new location or a moving dolly to make up for no built-in wheels. 
Is Horizon or NordicTrack better?
It depends on what you're looking for and what your fitness goals are. Horizon is a great option if you're not committed to a certain app or brand of interactive programming. Overall, we like that Horizon is generally more budget-friendly for the serious runner. NordicTrack offers a variety of treadmills with touchscreens and some without, but all new models are enabled with iFIT technology or the ability to connect to iFIT.