We test and review fitness products based on an independent, multi-point methodology. If you use our links to purchase something, we may earn a commission. Read our disclosures.
The Rogue Monster Lat Pull Down/Low Row is one of the beefiest lat pulldown machines on the market. Featuring a 300 LB weight stack, ability to do pulldowns and low rows, made in the USA construction, and a great warranty this is one of the best lat pulldown machines available…although an expensive one.
Rogue Fitness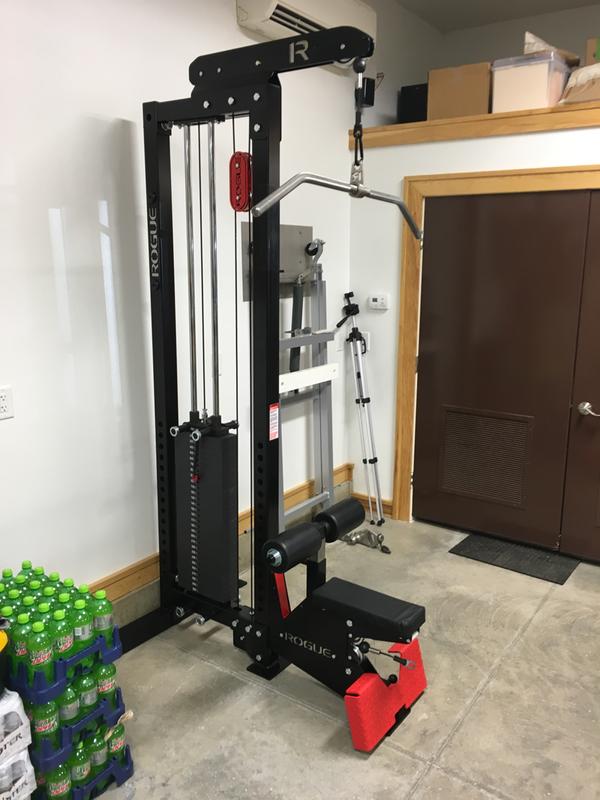 Rogue Monster Lat Pulldown/Low Row
MONSTER LAT PULLDOWN / LOW ROW (STAND-ALONE)This is the fully updated, freestanding version of Rogue's 100% American-made Monster Lat Pulldown and Low Row machine (a rack-mounted version is also available). Occupying just a 40" x 60" footprint, the 8' tall unit ships fully assembled, and includes a 300LB weight stack (10LB increments), stainless steel lat bar, diamond-tread adjustable footplate, 6" nylon pulleys, and a set of custom-built black carabiners—one each for the lat pulldown and the low row.Key Updates with This Version:Our latest Monster Lat Pulldown introduces larger 6" pulleys (vs. the original 3.5"), which help reduce friction and prolong the life of the cable. We've also upgraded the cable itself (USA Mil Spec) and added protective UHMW plastic to the tubes and pulley assemblies that the cable passes through. The eye (where the cable connects and carabiner clips on) is now machined in house from stainless steel, and all orders include a long term lubricant for the guide rods, allowing the weight plates to slide more smoothly.*The bottom of the rollers are 4" above the seat pad at their lowest position and 9" above the seat pad (26.5" above the floor) at the highest setting. The total width of the roller assembly is 24", and each roller is 8.5" long and 5" in diameter. A pop pin is included for locking the rollers securely into place.Additional Specifications:Made in the USA Stand-Alone Construction, 3x3" 11-gauge steel (Must be bolted to floor, mounting hardware not included) Weight: 605LB Height: 96" Foot Print 40" x 60" 300LB weight stack (10LB increments) NEW 6" Aluminum pulleys + UHMW covers NEW Cable built to US Mil Spec for aircraft cable NEW Stainless Steel Eye Satin Black and Rogue Red Powder Coat Finishes (1) Stainless Steel Lat Bar, built by Rogue (1) Set of Plastic Covered Band Attachment pins (2) Custom Black Carabiners (1) Diamond Tread Footplate: 18.75" wide x 8" tall, with 10 adjustment positions spaced 1.5" on center (1) Foam Seat: 16.5" long x 6.25" wide (1) Foam Leg Roller Assembly: 6 total adjustment positions spaced 1" on center*
Rogue Fitness, the company synonymous with the functional training community for high-quality equipment is now starting to focus more on the commercial gym market.
After building their name through the CrossFit Games and the CrossFit community, you should begin to see more of their equipment in your local globo-gyms and collegiate facilities.
The Rogue Monster Lat Pulldown is an absolute BEAST!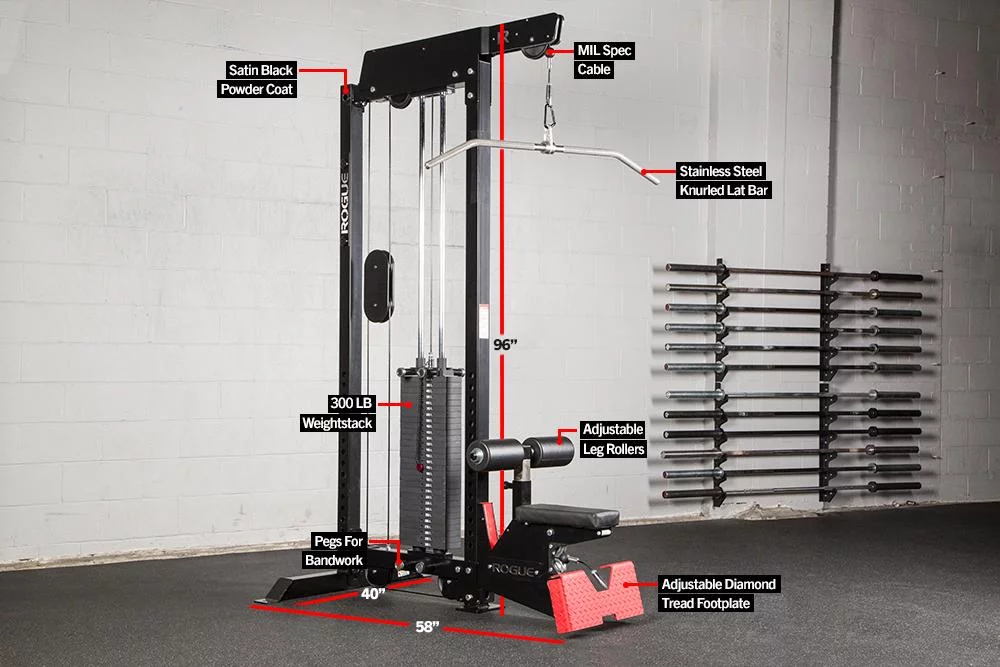 Not only does it combine Rogue's attention to detail, but the quality is out of this world!
Not to mention it's one of the only lat pulldown's made entirely in the USA.
If you're in the market to outfit your facility with the highest quality equipment available, you'd have a hard time beating Rogue Fitness. In reality, I'd like to get one of these bad boys for my garage.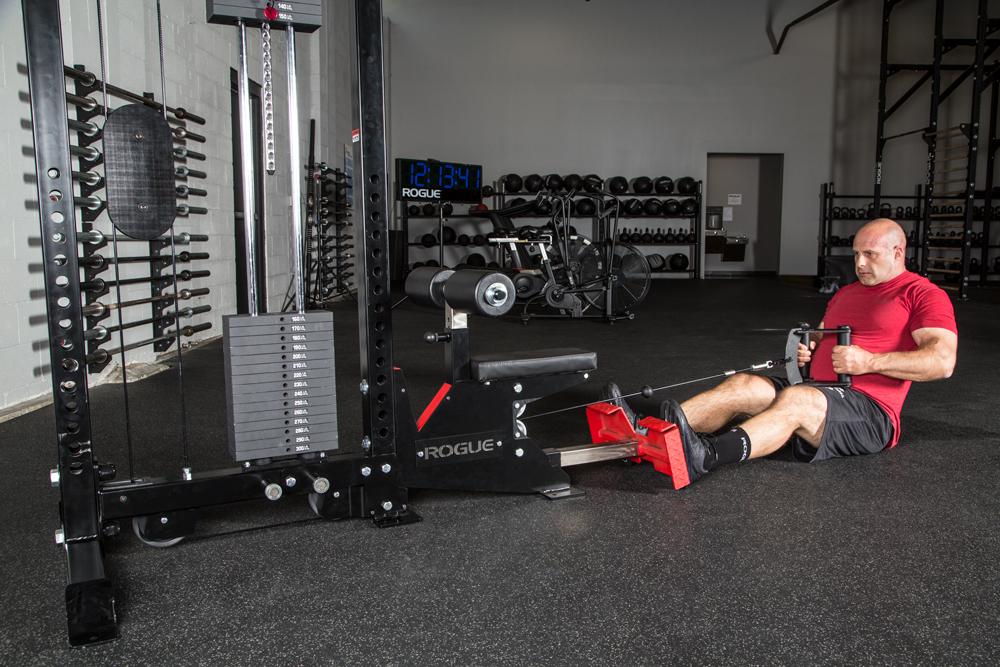 Specifications:
Stand-Alone Construction (Must be bolted to floor, mounting hardware not included)
Product Weight: 525 lbs
Height: 97"
Foot Print 40″ x 52″
300lb weight stack (10lb increments)
Satin Black and Rogue Red Powder Coat Finishes
(1) Stainless Steel Lat Bar, built by Rogue
(1) Set of Plastic Covered Band Attachment pins
Aluminum pulleys
Laser Cut ROGUE branding
(2) Custom Black Carabiners
(1) Diamond Tread Footplate: 18.75″ wide x 8″ tall, with 10 adjustment positions spaced 2″ on center.
(1) Foam Seat: 16.5″ long x 6.25″ wide.
(1) Foam Leg Roller Assembly: 6 total adjustment positions spaced 1″ on center.*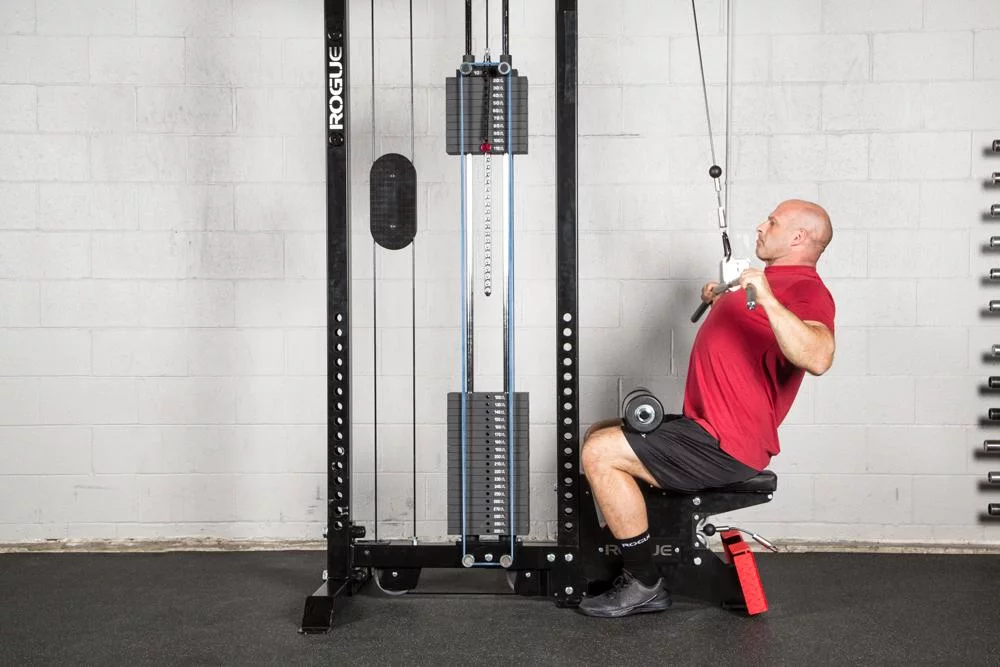 Rogue Fitness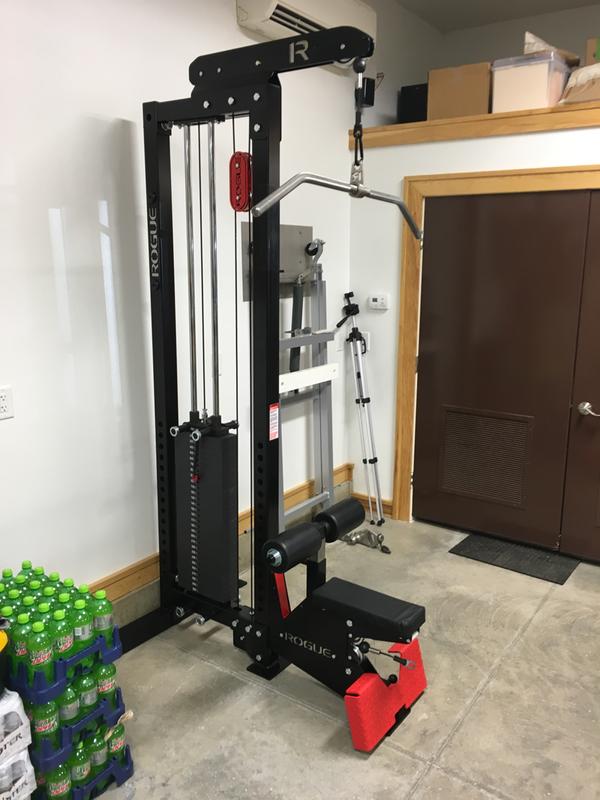 Rogue Monster Lat Pulldown/Low Row
MONSTER LAT PULLDOWN / LOW ROW (STAND-ALONE)This is the fully updated, freestanding version of Rogue's 100% American-made Monster Lat Pulldown and Low Row machine (a rack-mounted version is also available). Occupying just a 40" x 60" footprint, the 8' tall unit ships fully assembled, and includes a 300LB weight stack (10LB increments), stainless steel lat bar, diamond-tread adjustable footplate, 6" nylon pulleys, and a set of custom-built black carabiners—one each for the lat pulldown and the low row.Key Updates with This Version:Our latest Monster Lat Pulldown introduces larger 6" pulleys (vs. the original 3.5"), which help reduce friction and prolong the life of the cable. We've also upgraded the cable itself (USA Mil Spec) and added protective UHMW plastic to the tubes and pulley assemblies that the cable passes through. The eye (where the cable connects and carabiner clips on) is now machined in house from stainless steel, and all orders include a long term lubricant for the guide rods, allowing the weight plates to slide more smoothly.*The bottom of the rollers are 4" above the seat pad at their lowest position and 9" above the seat pad (26.5" above the floor) at the highest setting. The total width of the roller assembly is 24", and each roller is 8.5" long and 5" in diameter. A pop pin is included for locking the rollers securely into place.Additional Specifications:Made in the USA Stand-Alone Construction, 3x3" 11-gauge steel (Must be bolted to floor, mounting hardware not included) Weight: 605LB Height: 96" Foot Print 40" x 60" 300LB weight stack (10LB increments) NEW 6" Aluminum pulleys + UHMW covers NEW Cable built to US Mil Spec for aircraft cable NEW Stainless Steel Eye Satin Black and Rogue Red Powder Coat Finishes (1) Stainless Steel Lat Bar, built by Rogue (1) Set of Plastic Covered Band Attachment pins (2) Custom Black Carabiners (1) Diamond Tread Footplate: 18.75" wide x 8" tall, with 10 adjustment positions spaced 1.5" on center (1) Foam Seat: 16.5" long x 6.25" wide (1) Foam Leg Roller Assembly: 6 total adjustment positions spaced 1" on center*