We test and review fitness products based on an independent, multi-point methodology. If you use our links to purchase something, we may earn a commission. Read our disclosures.
The Crosswalk line from ProForm answers the question, "Can I get an upper-body workout on a treadmill?" These walking treadmills feature moving handles that operate independently from the walking belt. Each handle has a resistance knob that increases or decreases the difficulty of the push-pull movement.
While you won't find these machines on the ProForm website today, you may find them on third-party websites like Sears or Amazon, and there are countless pre-owned Crosswalks for sale through sites like eBay. In this ProForm Crosswalk 390 Treadmill review, we will walk through the basics of this now-discontinued machine and offer alternatives if you're looking for something similar for your home gym.
We Know ProForm Treadmills
Since Garage Gym Reviews was founded in 2014, we have been dedicated to testing and reviewing fitness equipment with the intention of providing readers with unbiased information. To date, our expert product testers—which includes personal trainers and marathon runners—have personally used dozens of the best treadmills, including more than 10 ProForm and NordicTrack treadmills.
Looking for an Alternative to the ProForm Crosswalk 390?
The ProForm Crosswalk 390 is a budget-friendly treadmill that offers a lower- and upper-body workout. If you're looking for a similar machine, there aren't many treadmills on the market that have moving handles. Therefore, we suggest two different options depending on which features you most want from a machine.
Best Treadmill Alternative to ProForm Crosswalk 390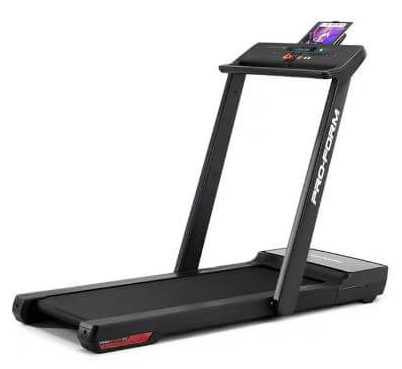 ProForm City L6 Folding Treadmill
The ProForm City L6 Folding Treadmill is the currently most affordable treadmill offered by ProForm. The L6 does not come with a built-in screen, instead it has a device holder for your table or phone. Similar to the other ProForm models the L6 utilizes iFIT programming with trainer-controlled speed, but you will have to stream classes from your phone or tablet.The L6 has a tread belt size of 17.5 by 45 inches, which is on the smaller side, but this treadmill is built to be compact. The overall footprint of this treadmill is 29 inches wide by 70.25 inches long and 44.5 inches tall. The treadmill handlebars fold down so it can be stowed away. The 1.6 CHP motor can achieve speeds of 0-8 miles per hour.There are limited online reviews of the L6 treadmill. Most users had positive experiences, enjoying the quick and easy assembly and compact design. One user did have the treadmill arrive broken and had difficulty with customer service. At the time of publishing, there are no user reviews about using iFIT with the L6 treadmill.
The ProForm City L6 is a treadmill priced under $600 and, like the Crosswalk, folds. It is designed primarily for walking and is lightweight.
Best Elliptical Alternative to ProForm Crosswalk 390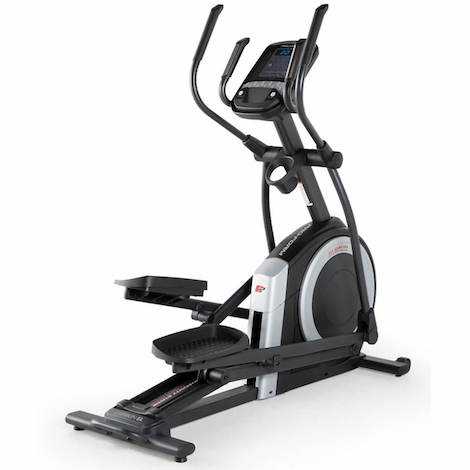 ProForm Carbon EL Elliptical
The ProForm Carbon EL elliptical is the cheapest machine in the brand's Carbon series. According to ProForm, the Carbon series ellipticals are characterized by adjustable, oversized, cushioned pedals and resistance and incline control.The Carbon EL elliptical has a 19-inch adjustable stride, 18 levels of silent magnetic resistance, and 0 to 20 degrees of incline adjustment. The incline is adjusted manually, so you will not be able to change it within the workout. The Carbon EL is constructed with a steel frame. The elliptical also has a five-inch high-contrast multi-color display and an integrated table holder. There are also front-mounted transport wheels so you can put the machine away after your workout. ProForm machines are all compatible with iFIT programming, and the Carbon EL comes with a free 30-day family iFIT membership. iFIT is an interactive streaming workout platform; they offer elliptical specific workouts along with strength training, yoga, runs, walks and among other things. While using iFIT elliptical workouts with the Carbon EL, you'll be able to utilize SmartAdjust technology. This allows iFIT's trainers to adjust your resistance during the workout so you can focus on your workout and not the settings. You can also use the Carbon EL without the iFIT membership. Reviews of the Carbon EL are mostly positive. Users found that the Carbon EL was sturdy, compact, with smooth pedals and had a large easy-to-read display. A few reviewers were upset the incline was manually adjusted rather than motorized. They also found the lowest resistance level surprisingly difficult. A couple reviewers also found the elliptical to be shaky while in use. There are reviewers that experienced product dysfunction and failure; including, power adaptor breaking, the pedal jumping off the track, and grinding components. There were mixed reviews on the difficulty of assembling the elliptical. Some people noted that the assembly needed a second person. There are reviewers that assembled the Carbon EL alone but it took several hours. Most reviewers did note that the instructions were clear and easy to follow. 
If you want a total-body workout from an affordable machine, the ProForm Carbon EL could be a great option. It's an elliptical under $1,000 that is iFIT-compatible.
A Quick Look at the ProForm Crosswalk 390
The Crosswalk 390 is one in a line of many similar machines from the brand. Because the Crosswalks are sold through third-party vendors, it's hard to track down just exactly how many models there are.
Most searches for the Crosswalk 390 result in either used machines on eBay or links to replacement parts on Amazon. Customer reviews are even harder to come by for this particular model number.
However, what we can tell you is that the Crosswalk 390 likely retailed for under $1,000 when it was sold new. You can now find it sold in used condition at a price far less than that. Here's a look at what we know about this machine:
Pros:
Resistance handles add upper-body workout
Foldable
Incline options
Belt cushioning for comfort
6 built-in workouts
Affordably priced
Cons:
No fancy touchscreen
Pulse grip heart rate monitor isn't always accurate
Not meant for intense running workouts
No Bluetooth/smart tech capabilities
ProForm Crosswalk 390 Specs
**Because the Crosswalk is no longer in production, exact specifications for the 390 are hard to pin down. Here is our best estimate at these specs based on research:
| | |
| --- | --- |
| Footprint | Dimensions unpublished |
| Weight | 150 lbs |
| Weight Capacity | 300 lbs |
| Motor | 2.5 HP drive motor |
| Walking Belt | Dimensions unpublished |
| Display | Basic LCD screen |
| Incline | 0 to 10% |
| Speed | 0 to 10 MPH |
| Programs | 6 custom programs plus manual mode |
| Warranty | Varies based on where you purchase |
RELATED: ProForm Pro 2000 Review
Key Features of the ProForm Crosswalk 390
The standout feature of the Crosswalk 390 is the ability to incorporate upper-body resistance training. Each handle extends from the bottom of the uprights that support the console, extending up and over the console at an angle. As you walk or run, you can move the handles back and forth, similar to the movement pattern on an elliptical. These handles each have their own resistance knob at the base, where you can adjust how hard or easy it is to move the handles.
As an incline treadmill, the Crosswalk 390 enables you to add intensity to your workouts. Incline levels go up to 10% with speeds reportedly as high as 10 MPH.
Footprint, Portability, and Durability
We haven't been able to find the exact size of the Crosswalk 390. However, it appears to be a compact machine that weighs roughly 150 pounds, which is on the lighter side for a treadmill. This is a folding treadmill that could potentially save you space. According to the owner's manual, you must be able to safely lift 45 pounds in order to lift and lock the deck into place.
RELATED: The Best Under-Desk Treadmills
It's worth noting that the Crosswalk 390 has a heavy-duty user weight capacity of 300 pounds. The 2.5 HP motor should sustain moderate workouts but isn't meant for high-speed, high-intensity workouts.
Ergonomics
The Crosswalk machines still available on sites like Sears and Walmart boast some sort of cushioned deck, including the brand's "ProShox" cushioning. We have used many ProForm treadmills, including the ProForm Pro 9000, which touts the brand's "ReBound Pro Cushioning."
If the Crosswalk 390 follows suit with ProForm's track record of cushioned decks, you can expect a pretty comfortable workout. However, the running belt on the Crosswalk 390 likely measures under what we'd recommend for a long stride. Reports on other Crosswalk machines have the treadmill belt clocking in around 50 inches long, far below our 60-inch standard for home use running treadmills.
Technology Benefits and Conveniences
By all accounts, this is a very basic machine, especially if you compare it to today's high-end treadmills. You won't find features like Bluetooth speakers, touchscreens, or cooling fans.
Instead, there is a basic LCD display that reports your workout metrics. There are six workouts that the owner's manual calls "iFIT workouts," but these aren't the interactive, trainer-led programs on iFIT treadmills. Instead, these are six workouts that adjust the machine's speed and incline for you as you move. Three of those workouts incorporate the moving handles.
The other additional features on the Crosswalk 390 include what the manual calls a "book holder" but could likely double as a media shelf, an accessory tray, and a safety key.
RELATED: Weslo Cadence G 5.9i Treadmill Review
Final Verdict of Our ProForm Crosswalk 390 Treadmill Review
If you're looking to buy the Crosswalk 390 used, be warned that this is little more than a basic treadmill with moving handles. Purchasing one for a few hundred bucks could be good for those looking for a total-body workout, but you can also find new ellipticals around that price range or slightly above it that have a lot more features and add-ons.
ProForm Crosswalk 390 Rating
ProForm City L6
If you're interested in an alternative to the ProForm Crosswalk 390 Treadmill, check out the ProForm City L6
Product Currency: USD
Product Price: 599.00
Product In-Stock: InStock
ProForm Crosswalk 390 FAQs
Is the ProForm treadmill worth it?
Our expert testers have found ProForm treadmills to be of excellent value. The machines currently sold on the brand's website are iFIT-compatible and, depending on the model, wallet-friendly. The warranties aren't quite up to industry standards, typically falling around 10 years for the frame and one year for parts and labor. 
Can you run on a ProForm Crosswalk treadmill?
Yes, most of the Crosswalk machines have top speeds of between 8 and 10 MPH. However, the motors are not meant to sustain heavy and frequent running. 
Does a ProForm Crosswalk LT have an incline?
Yes, the ProForm Crosswalk has a 10% incline.