We test and review fitness products based on an independent, multi-point methodology. If you use our links to purchase something, we may earn a commission. Read our disclosures.
The Titan Fitness Lat Tower is the best value lat pulldown for most home gym owners that we've ever reviewed. Everything from the packaging to the performance of the machine makes us feel like it's worth much more than the asking price.
In our Titan Fitness Lat Tower review, we'll explain why you should go for this high-value machine if you're looking to add a versatile piece of budget home gym equipment to your workout space. It's our favorite piece of equipment that Titan makes and I now own two–that's how much I liked it.
Best Value Lat Pulldown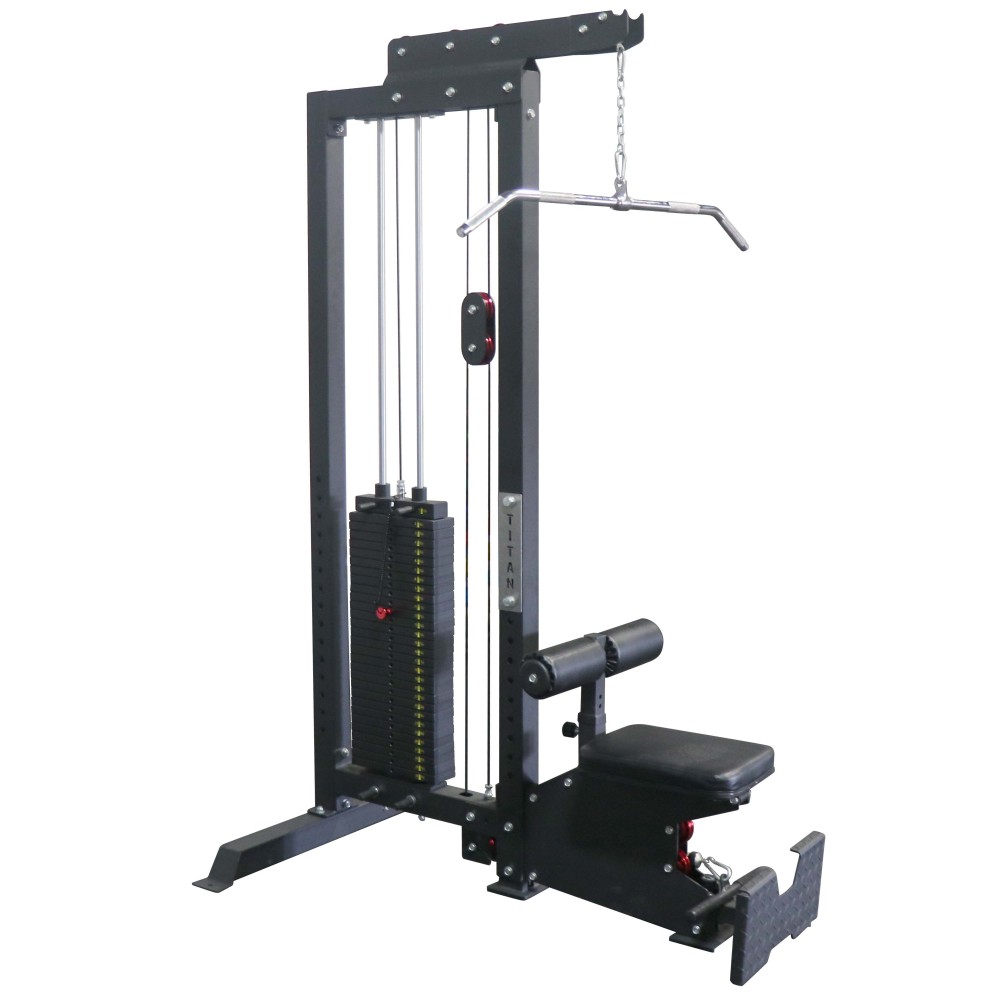 Titan Lat Tower
Achieve a greater workout with the Lat Tower from Titan Fitness™. This high quality stand alone unit features both a lat pull down and a low row position. Easily select your weight in ten pounds increments from 10 - 300 LB using the selector style pop pin. Each machine includes a lat bar and low pull handle. With 6 thigh pad positions and 8 footplate settings, this machine is designed to be used by any size athlete.Features: - Selector style weights from 10 - 300 LB. - 6 Thigh pad and 8 footplate positions. - Band pegs for adding resistance bands. - High quality steel construction and powder coated for a smooth durable finish. - Lat bar and low pull handle included.Specifications: - Floor Dimensions: 41" Wide x 57" Deep - Overall Height: 87" - Footplate Dimensions: 17" x 9" - Lat Bar Width: 42" - Lat Bar Diameter: 1" - Low Pull Handle Width: 14" - Low Pull Handle Diameter: 1" - Weight: 530 LB* Note: Low Row Handle not included! *
Why You Should Trust Us
Fitness equipment is what I know best, and I've tested products from just about every company out there (I'm doing my best to get to all of them). I've tested my fair share of Titan Fitness products over the years, and I visited their headquarters in late 2021 to speak with their CEO and get a quick workout at the Titan Arena Gym.
I also created a comprehensive guide on how to build a home gym with Titan products, so you can find the best budget barbells, weight plates, power racks, and more. I want to make it so that everyone, regardless of their budget or fitness level, can find high-quality gym equipment that works for them.
Plus, I'm thorough–I'll discuss everything from a machine's pulley system to how comfortable the thigh pads feel while you're using them.
A Quick Look at the Titan Fitness Lat Tower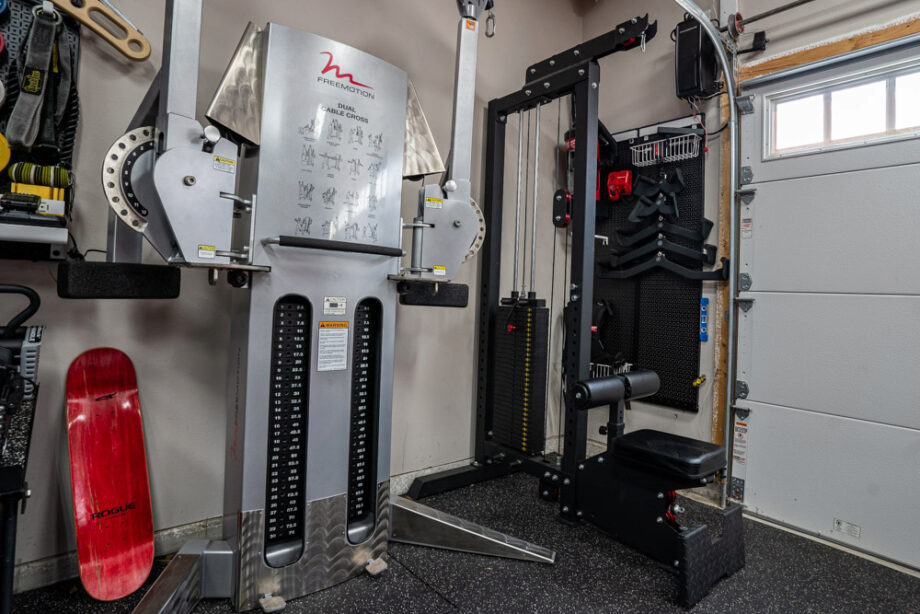 The Titan Fitness Lat Tower may be one of my favorite pieces of equipment Titan Fitness has ever made.. A super-solid selectorized lat pulldown and low row isn't necessarily a home gym essential, but it's definitely a piece of equipment that will be found in many serious home gyms, and commercial settings.
The Titan Fitness Lat Tower is somewhat similar to the Rogue Monster Lat Pulldown, but is budget-friendly and imported. It uses three inch-by-three inch uprights made of 11-gauge steel, with a matte textured black powder coat finish.
Coop's Tips
It might be worth it to invest in your own lat pulldown bar (the one that's included isn't very good.)
This machine goes out of stock fast, so if you're on the fence about buying it when it is available try to make up your mind as quickly as possible.
Although it's increased in price in recent months, it's still a good value for most home gym owners.
Pros:
Titan did a great job updating the footplate on the low rower part of the machine
Works multiple parts of the body, from your lats to your triceps
It uses a selectorized weight stack, a rarity in budget home gym equipment
Cons:
The chrome lat bar isn't high quality and the knurling is very aggressive
The vinyl on the seat isn't the best and could rip after continuous use, although they are updating this.
The machine can wobble a bit when you start lifting with heavier weights
Video Review
Is the Titan Fitness Lat Tower Worth It?
Although some of Titan's equipment receives questionable reviews, this piece rivals much more expensive ones that we've reviewed. With a sturdy build and clean finish, this lat pulldown is a great option for those looking for a commercial-grade piece of equipment at a fraction of the cost.
As with anything from Titan Fitness, the most obvious draw is the price. If cost didn't matter you would see most home gyms opt for Rogue Fitness, Sorinex, Prime Fitness, and similar companies' machines due to their overall higher-quality and more feature-filled designs.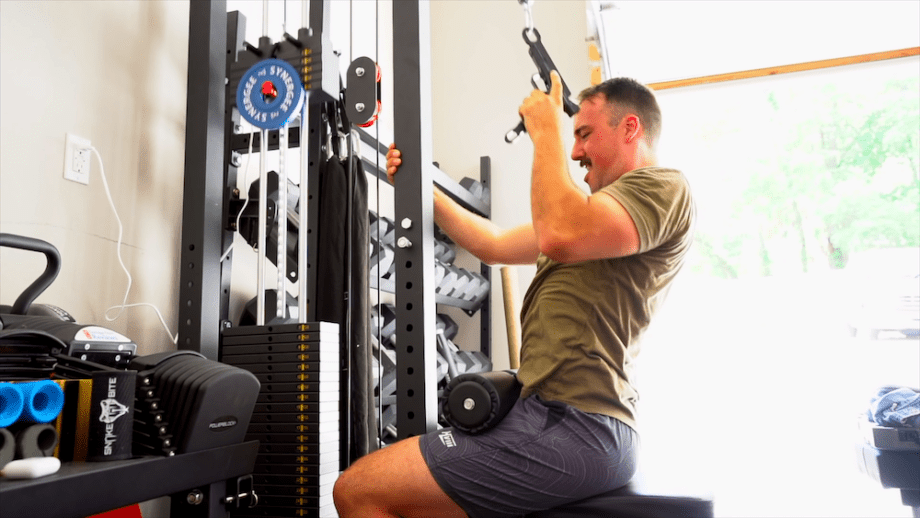 Now, this machine has increased in price as the cost of steel and other material has gone up–it's $1,700 now, compared to $1,500 just six months ago. But that's still much cheaper than Rogue and other companies, and the Titan Fitness Lat Tower is surprisingly high quality in comparison to their other offerings, and has an overall solid build and a super-heavy, smooth operating weight stack.
Great for:
Anyone looking for a versatile lat machine that does more than pulldowns
Home gym owners looking for a budget-friendly option
Anyone who is tight on space
Not recommended for:
People taller than 6-foot-2-inches, or shorter people who use low-hanging attachments
Anyone who wants the absolute best lat tower on the market, cost doesn't matter
Titan Fitness Lat Tower Specs
| | |
| --- | --- |
| Footprint | 87" H x 41" W x 57" D |
| Weight | 530 lbs. |
| Resistance | 10 lbs. – 300 lbs. |
| Weight capacity | 400 lbs. |
| Material | Steel/Aluminum |
| Finish | Powder-Coated Black |
Using the Titan Fitness Lat Tower
A large issue for many home gym owners is the single-use problem of many machines. A single-use machine generally isn't worth its storage space and is hard to justify in a home gym setting.
For instance, a preacher curl machine is great to have on arm day, but how often will it actually be used? Once you also factor in the issue of how much space a preacher curl takes up, it quickly becomes clear how big of a waste machines like it are for most home gym owners (especially those who might be tight on space or money).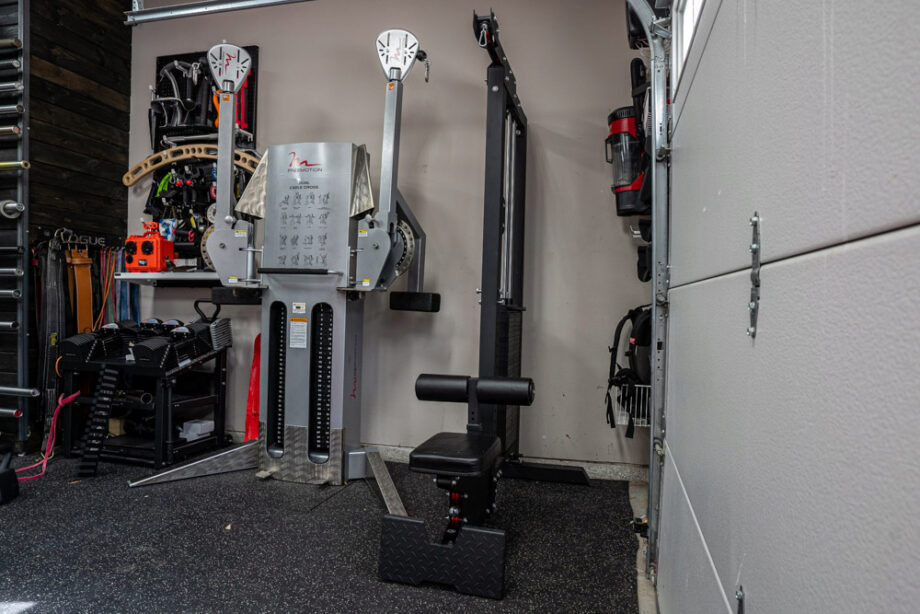 However, a lat pulldown machine offers a lot of versatility for the upper body. The Titan Fitness Lat Tower, unlike some of its competitors in the same price range, also offers a low row, which is a great way to increase the versatility of the machine. The low row handle is not included, but you can use just about any handle you have in your gym to perform the movement.
To use the low row, all you have to do is pull a pin and adjust it to your liking (there are six increments) to start performing seated rows.
In addition to the low row, the machine also comes with band pegs so resistance bands can be added to the stack, which allows for more complicated movements and even more functionality.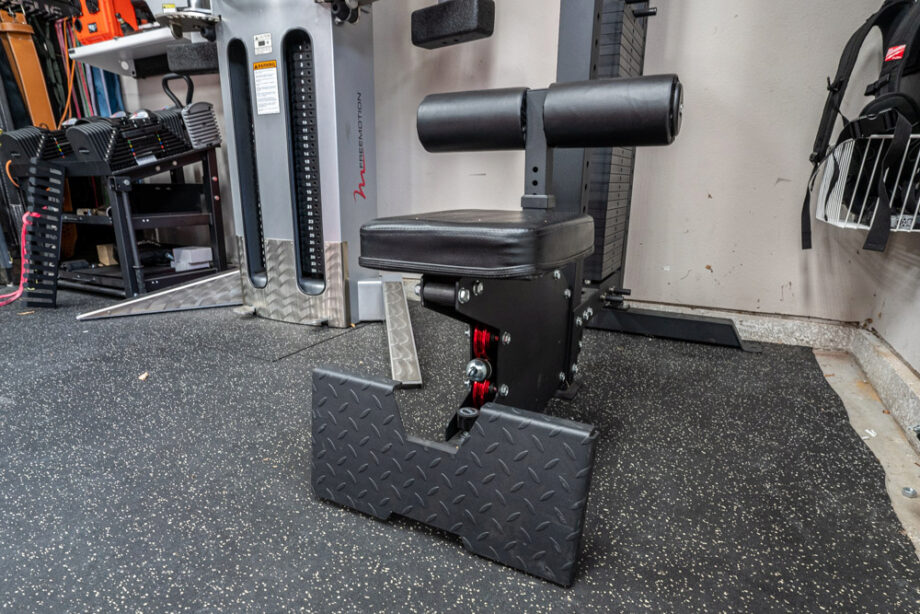 Although well built for the price, the Titan Fitness Lat Tower is a bit short for people who are taller than 6-foot-2-inches and shorter people who use low-hanging attachments. Range of motion is important on a lat pulldown, and I wish they would make it just 6 inches taller.
Trivial as it may seem, I could see how this may pose a serious problem for a 6-foot-4-inch person with long arms. Offering a short and a tall version would've been another good option, as some basement gym dwellers may want a shorter pulldown while others in a garage gym typically have the ceiling height to put taller machines in.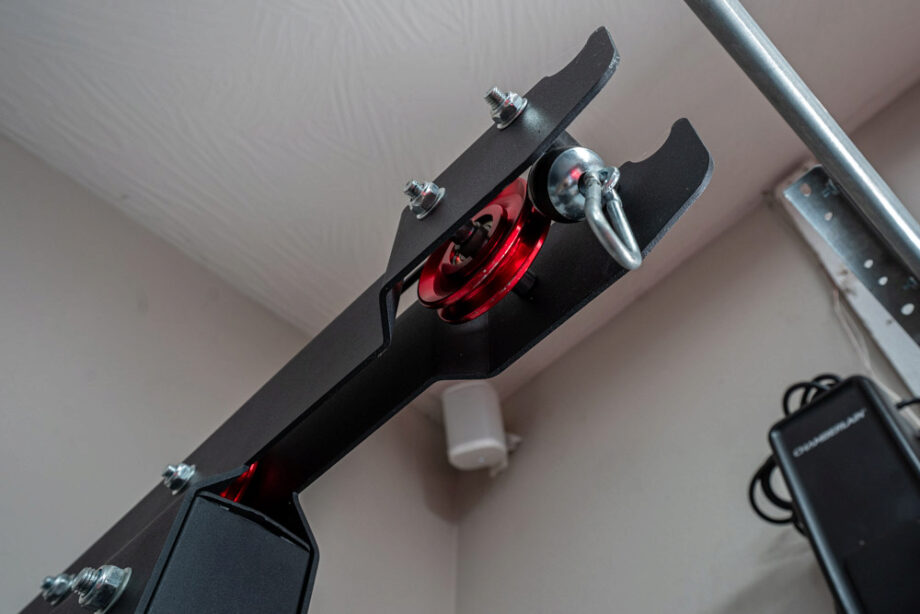 I do wish that Titan, as well as other companies, offered slide-on weights to adjust the system in five pound increments instead of just 10 pounds. This is something that isn't standard in the industry, but I wish it was. Prime Fitness offers it on their Functional Trainer, but even Rogue Fitness leaves it off their pulldown machine.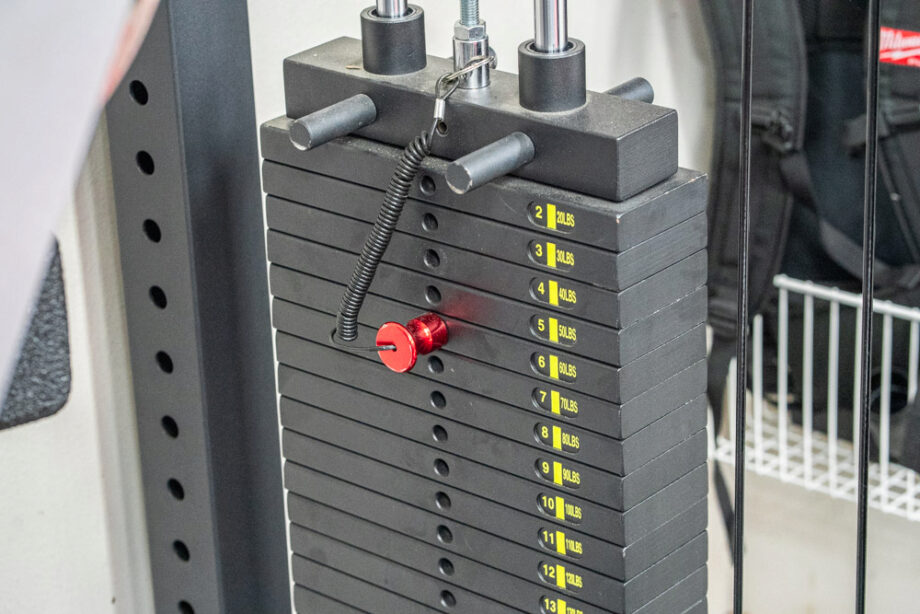 Overall, the machine is very solid but if you do not bolt down you may experience some rocking when you get to heavier weights and really get them moving. It isn't that big of an issue, but it doesn't contribute to peace of mind when you feel a whole machine move when you're using it.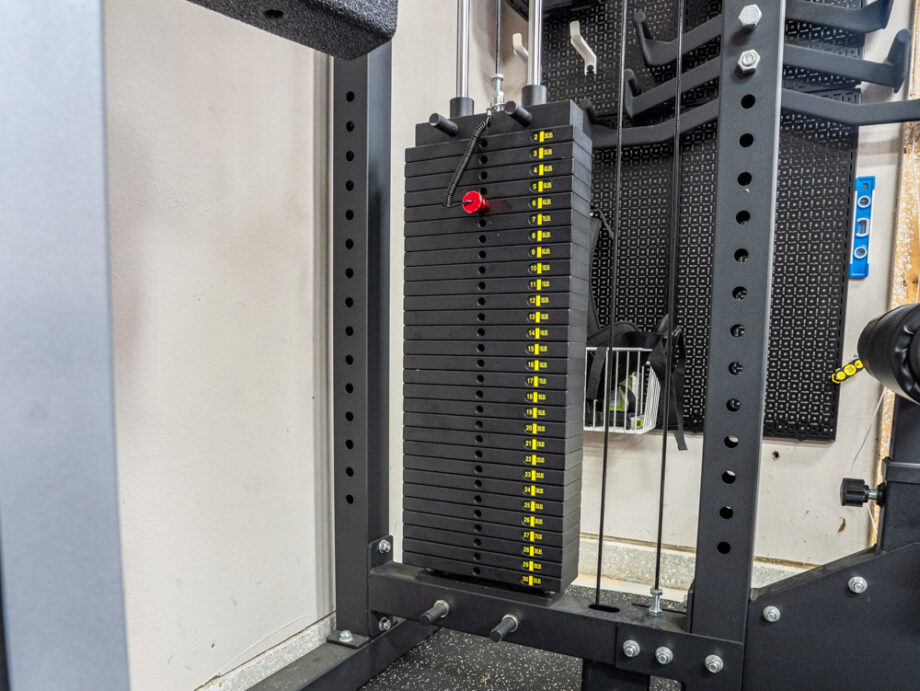 Footprint
For a heavy-duty multi-use machine, the Titan Fitness Lat Tower does not take up that much space, which makes it a great option for the average garage gym builder who isn't working with thousands of square feet or a large budget. With a 10-to-300-pound stack, the gym newbies and the hardcore powerlifter alike will find great use in this machine.
Here are the dimensions for the Titan Fitness Lat Tower:
87-inch height
41-inch width
57-inch depth
Construction and Durability
The construction of the Titan Fitness Lat Tower is of higher quality than usual, as they used the same 3-inch-by-3-inch uprights as their Titan X-3 Squat Rack, which contributes to a much more solid base than, let's say, the plate-loaded Titan Fitness Lat Tower.
They also fixed some other issues with their previous Lat Towers by increasing the stability of the footplate and by making sure the pulleys ran smoother with less friction on the surrounding pieces.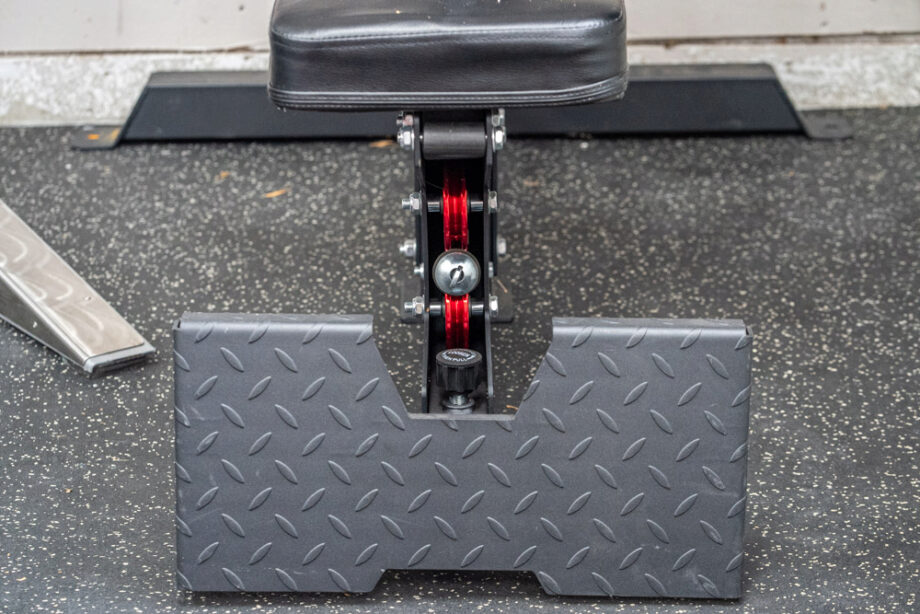 The first-generation model of the Titan Fitness Lat Tower had a footplate that utilized a single vertical bolt for securing it. With even little use, the footplate would come unsecured and rock back and forth. A minor annoyance, but one nonetheless. We sent the problem to Titan and within a couple of months, they fixed the issue on all of their machines.
Pulleys
The internals use a heavy-duty cable that wraps around anodized red aluminum pulleys that use ABEC 5 bearings that spin smoothly, and are the same as what's used in the Freemotion Dual Cable Cross (my favorite functional trainer).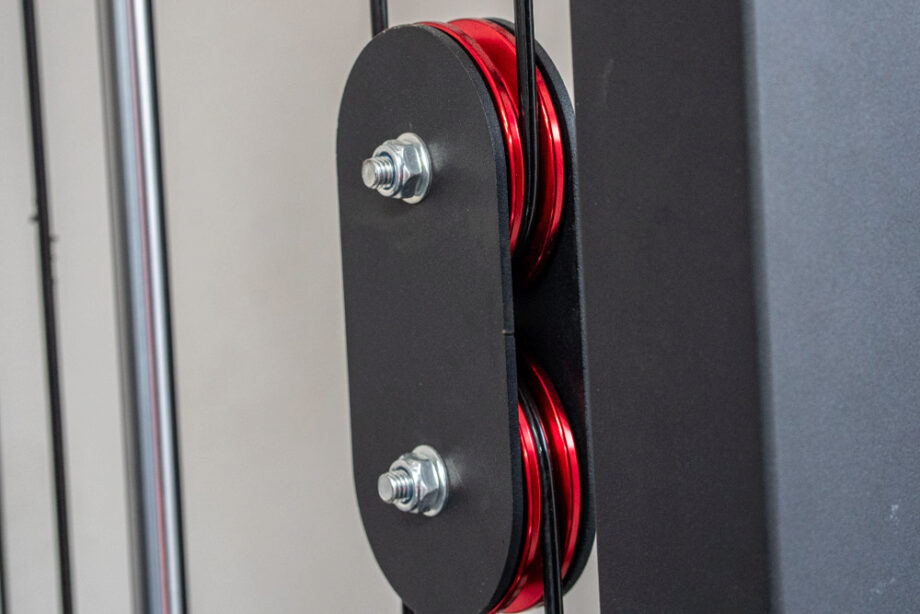 The pulleys used throughout the machine (there are over 10 of them) provide an extremely smooth pull and shouldn't wear over time.
Cushions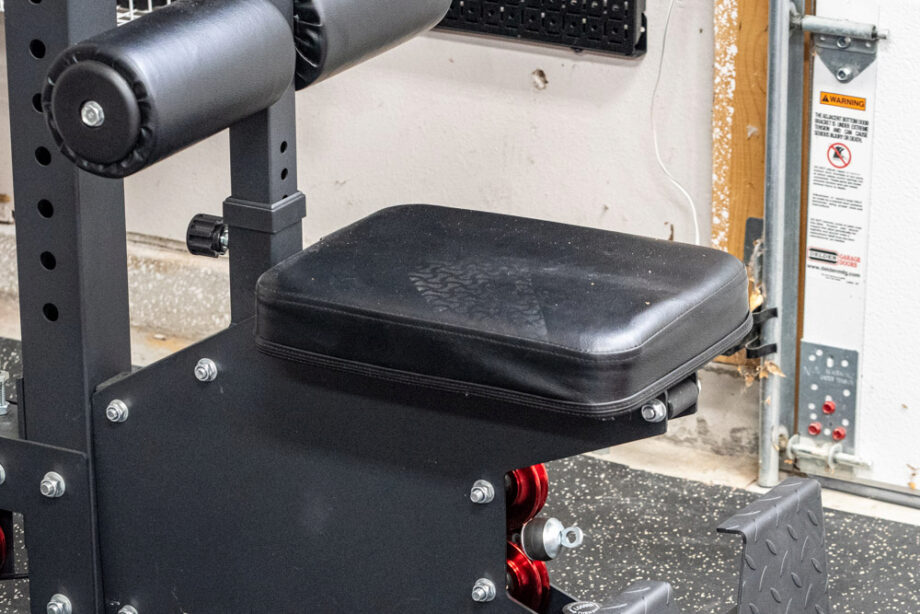 The seat rollers use a rather firm single layer high-density foam with a vinyl covering. This covering is the same that's used on the seat. The vinyl is clearly not as high quality as some other brands and could have the potential to rip after some heavy use. Although not a huge deal, having to tape the pad or replace it is unnecessarily annoying.This would be a cheap fix if you wanted to upgrade.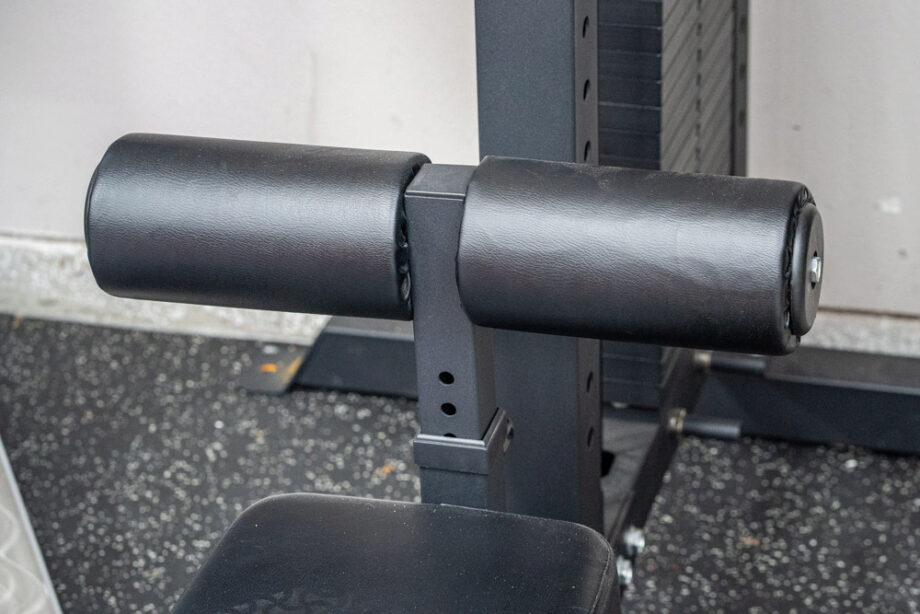 Lat Pulldown Bar
The machine does come with a lat pulldown bar, though it's kind of short and the knurl is a little too aggressive. It's nice they throw it in, but I'd prefer they send the stainless steel version instead for a slight upcharge.
Titan Fitness Lat Tower Vs. The Competition
The Titan Fitness Lat Tower is the best value lat pulldown that uses a weight stack in the market as of this writing. There isn't one I'd suggest over it at the price point, however, there are certainly competitor options worth considering.
Titan Fitness Lat Tower vs. Rogue Monster Lat Pulldown/Low Row
Rogue Lat Pulldown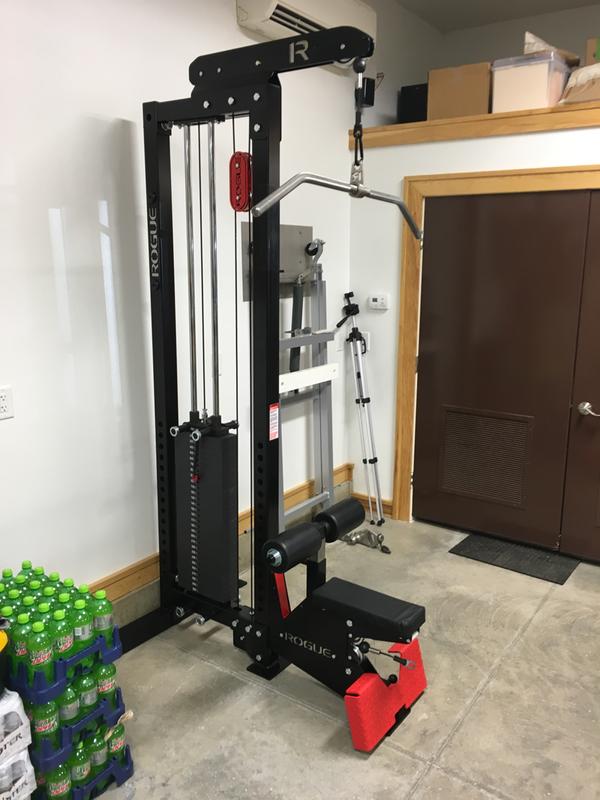 Rogue Monster Lat Pulldown/Low Row
MONSTER LAT PULLDOWN / LOW ROW (STAND-ALONE)This is the fully updated, freestanding version of Rogue's 100% American-made Monster Lat Pulldown and Low Row machine (a rack-mounted version is also available). Occupying just a 40" x 60" footprint, the 8' tall unit ships fully assembled, and includes a 300LB weight stack (10LB increments), stainless steel lat bar, diamond-tread adjustable footplate, 6" nylon pulleys, and a set of custom-built black carabiners—one each for the lat pulldown and the low row.Key Updates with This Version:Our latest Monster Lat Pulldown introduces larger 6" pulleys (vs. the original 3.5"), which help reduce friction and prolong the life of the cable. We've also upgraded the cable itself (USA Mil Spec) and added protective UHMW plastic to the tubes and pulley assemblies that the cable passes through. The eye (where the cable connects and carabiner clips on) is now machined in house from stainless steel, and all orders include a long term lubricant for the guide rods, allowing the weight plates to slide more smoothly.*The bottom of the rollers are 4" above the seat pad at their lowest position and 9" above the seat pad (26.5" above the floor) at the highest setting. The total width of the roller assembly is 24", and each roller is 8.5" long and 5" in diameter. A pop pin is included for locking the rollers securely into place.Additional Specifications:Made in the USA Stand-Alone Construction, 3x3" 11-gauge steel (Must be bolted to floor, mounting hardware not included) Weight: 605LB Height: 96" Foot Print 40" x 60" 300LB weight stack (10LB increments) NEW 6" Aluminum pulleys + UHMW covers NEW Cable built to US Mil Spec for aircraft cable NEW Stainless Steel Eye Satin Black and Rogue Red Powder Coat Finishes (1) Stainless Steel Lat Bar, built by Rogue (1) Set of Plastic Covered Band Attachment pins (2) Custom Black Carabiners (1) Diamond Tread Footplate: 18.75" wide x 8" tall, with 10 adjustment positions spaced 1.5" on center (1) Foam Seat: 16.5" long x 6.25" wide (1) Foam Leg Roller Assembly: 6 total adjustment positions spaced 1" on center*
The closest comparison to the Titan Fitness Lat Tower that's offered by Rogue Fitness would be their Monster Lat Pulldown/Low Row. Immediately, you're shocked that two seemingly identical machines could differ by almost $1,500 in price, (not including the fact that Rogue charges for shipping, and Titan has free shipping).
However, there are certainly some pretty clear differences between the two once you put some use into them. The Rogue option is clearly better in just about every way, however, the price point makes the Titan Fitness Lat Tower still a better value for most.
Unless you're a home gym owner with a large budget and a pension for the finer things in life, the Rogue Monster Lat Pulldown just won't make sense for most. It has all the trappings of a high-end Rogue Fitness piece: heavy stacks, great welds, rock-solid stability, a great finish, and a lifetime warranty all make the Rogue Lat Pulldown a better piece of equipment.
Regardless, you could buy two Titan Fitness Lat Towers for the price of one Rogue Monster Lat Pulldown (again, factoring in shipping costs). With these factors taken into account, I would recommend the Titan Fitness Lat Tower to any home gym owner or owner of a personal training studio.
With raving reviews and amazing quality for a Titan piece, you can't go wrong by choosing this over the direct competitors.
However, for a commercial gym, I would recommend a Rogue or Sorinex unit as they will take the beating of being used hundreds of times a day much better than the Titan. Although high quality, the Titan has some clear weak points that could become issues if it starts to get beaten up.
Titan Fitness Lat Tower vs Titan Fitness Lat Tower Loadable
In addition to the selectorized Titan Fitness Lat Tower, Titan Fitness also has a plate-loadable version aptly titled theTitan Plate Loadable Lat Tower V2. The loadable version has a greatly inferior design, however, it's half the price. If you're on a serious budget, the loadable version is a great option. It's cheaper and uses the weight plates you already have, however, a selectorized stack is a great convenience when switching between weights.
Titan Fitness Lat Tower vs. Rogue Slinger
The Rogue Slinger is a great option, however, it requires a Rogue rack to be used. If you have a Rogue rack, it may make sense, but we honestly haven't been too impressed with the piece.
Customer Experience
Titan Fitness can be reached via email, phone, text, or a live chat during regular business hours (Monday-Friday, 7 a.m.-6 p.m. U.S. Central Time). You can also submit a customer request form on its website that will be answered via email.
Warranty and Returns
Titan Fitness only has a 1-year warranty for its products that only covers production defects, and Titan can determine whether or not you're eligible for one.
The return policy is a little more generous, with the company giving you 30 days after it arrives at your house to return the product for any reason. It must be in new condition, and you won't be reimbursed for any shipping costs.
Tips for Assembling the Titan Fitness Lat Tower
The Titan Fitness Lat Tower showed up on my doorstep looking better than just about any other piece of Titan Fitness equipment I've seen. Rather than a dinky, single layer of torn up and damp cardboard, the piece showed up in a seemingly brand new wooden crate looking like a budget-friendly coffin.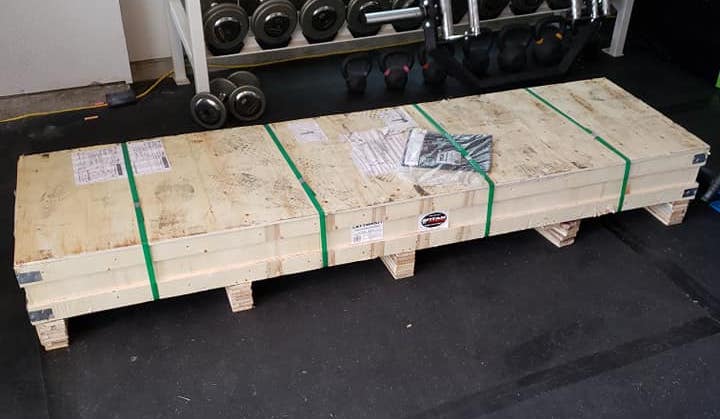 After I pried the top of the crate a la Ralphie's father from "A Christmas Story", before me stood an extremely well cared for and packaged lat pulldown machine (with, unfortunately, dozens of bolts.) Regardless, this is the best packaged Titan product we've ever reviewed (and we've reviewed a lot).
As someone who has assembled and disassembled one of these multiple times, the TItan Fitness Lat Tower is definitely not the easiest machine to assemble. With slightly unclear directions, I suggest making sure that you go slowly and take your time. You certainly do not want to have to retrace your footsteps like I have done multiple times.
That being said, mistakes happen to the best of us, so be certain to leave the bolts loose until you are completely finished. This also allows the machine to settle to your floor, which will help minimize any rocking that may happen during use.
Another tip for longevity would be to use silicone spray instead of WD-40 to lube the rods. Silicone spray will provide a better lubricant for a much longer period of time.
Although you are dealing with a machine, this piece of equipment will break in like any shoe or piece of clothing would. The cable, which appears short out of the box, will stretch a bit after repeated use and the pads will mold to your body.
As I previously mentioned, the machine is a bit short so if you're a taller guy or girl, I would recommend going for shorter carabiners on the cord which will give you an important inch or two.
Customer Reviews
The Titan Fitness Lat Tower's average rating is 4.8 out of five stars, with the vast majority of them being 4- and 5-star reviews. Only three reviewers gave it three stars, and nobody gave it anything below that.
Out of the three 3-star reviews, two of them centered around assembly or missing parts and the other one dealt with the overall height of the machine.
Aside from that, reviewers encouraged anyone to buy it and praised it for its great value.
"This piece of equipment is a great investment," reviewer Edgar T. wrote. "For me it works as good as the lat pulldown machine at the gym and even better because it offers the low row movement station as well. Not to mention when compared to other competitors you get way more bang for your buck."
Final Verdict of Our Titan Fitness Lat Tower Review
Is the Titan Fitness Lat Tower the best lat pulldown machine on the market? No, and there's some aspects of it that could be improved. But for the price, most home gym owners should probably go for this one over a more expensive model that's better suited for commercial gyms that will see much heavier traffic, unless they're on a tighter budget, in which case I'd suggest a plate-loaded option.
Titan Fitness Lat Tower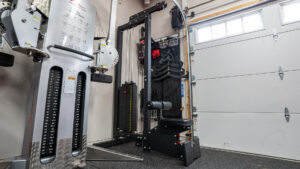 The Titan Fitness Lat Tower is the best value lat pulldown for most home gym owners that we've ever reviewed. Everything from the packaging to the performance of the machine makes us feel like it's worth much more than the asking price.
Product Brand: Titan Fitness
Product Currency: $
Product Price: 1699.99
Product In-Stock: InStock
Titan Fitness Lat Tower FAQs
Is a lat pulldown machine worth it?
A lat pulldown machine is a great piece of equipment for working out your back muscles, especially your lats (hence the name). But, you should look for a machine that offers a little more versatility such as a low rower and resistance band attachments, like the Titan Fitness Lat Tower, to get more bang for your buck.
What muscles does the pulldown machine work? 
The lat pulldown primarily works your latissimus dorsi, the back's largest muscle, but also works the rear delts, trapezius muscle, biceps, and rhomboids. 
Are lat pulldowns and pull-ups the same? 
Besides the fact that they're not the same movement, pull-ups actually have been shown to activate more muscles than a lat pulldown, though the latter is easier for most to execute.