We test and review fitness products based on an independent, multi-point methodology. If you use our links to purchase something, we may earn a commission. Read our disclosures.
Although a cable machine might not replace barbell and dumbbell training for all you hardcore lifters, when it comes to chasing the pump, the best functional trainers deliver smooth pulley action so you can slow down your movements and maximize the eccentric portion of any lift.
Depending on how much space you have in your garage gym (or lack thereof), a cable machine might be something you only dream about. However, what if it was possible to have a functional trainer with a fold-away design? If you've been shopping for a space-saving functional trainer, then buckle up, because we're about to get into the good and the bad in this Torque F9 Functional Trainer review.
We Try Rows, Flyes, and Hack Squats
When it comes to testing functional trainers, our expert product testers put them through a myriad of exercises including lat pulldowns, low rows, chest flyes, and shoulder burnouts. We're also a group of fitness industry professionals ranging from nutrition coaches to Olympic athletes.
We think our collective experience in the strength and conditioning arena helps provide you with the best reviews and most accurate information on each product we test.
Coop Mitchell, GGR founder and OG product tester, tested the Torque F9 and its folding capabilities to see who this functional trainer might suit best.
Torque F9 Fold-Away Functional Trainer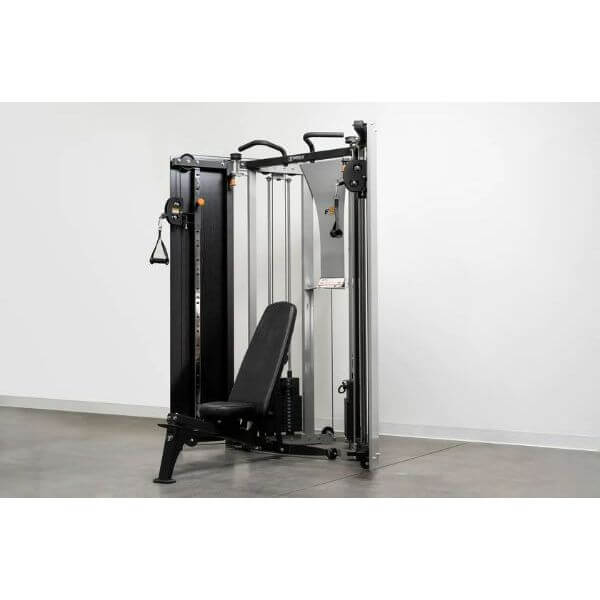 GGR Score: 3.4
Product Highlights
Compact functional trainer 

Fits in a 3-foot-by-3-foot corner

Comes with fold-away doors 

Available in 3 different weight stack sizes 

6 different accessories available
Pros & Cons
Pros
Compact and easy to store
Well-designed and versatile
Perfect for a gym looking for a space-saver
Cons
Reviews show that assembly is difficult for some
Expensive (especially the 225 LB stack)
Bottom Line
The F9 Fold-Away Functional Trainer is a full trainer with a small footprint that can be easily stored. Its design is sturdy and versatile, it even comes with a handful of accessories to help you customize your workouts.
A Quick Look at the F9 Fold-Away Functional Trainer
Torque Fitness might not have the same kind of brand recognition as other home gym brands like Rogue, REP, or Titan. However, Torque is used to outfit several big-box commercial gyms across the country. The brand also offers tons of fitness equipment ranging from barbells and squat racks to exercise bikes and slam balls.
Additionally, Torque manufactures an innovative weight sled called the TANK MX, which increased the brand's popularity and awareness after Joe Rogan talked about it on his podcast. This also sparked Coop to test and review the TANK MX, too.
However, for this review, I'm going to narrow my attention to yet another innovative product: the F9 Fold-Away Functional Trainer.
Before You Buy
There are two F9 models on the Torque website: one wall-mounted and the other free standing. The one we tested and reviewed is the free-standing model.
When buying, you'll have three weight stack options: 150, 200, and 225 pounds.
Price varies from $2,300 to $2,699 depending on the weight stack you choose.
For an additional $379, you can buy an adjustable bench that can be tucked inside the F9 when the doors are folded in the closed position.
Is the Torque F9 Functional Trainer Worth It?
If you're looking to invest in a mid-tier functional trainer but you don't have a sprawling home gym, the Torque F9 can offer you one of the more compact options available on the market. The F9 features practically maintenance-free nylon pulleys, a multi-grip pull-up bar, weight stack options starting at 150 pounds, and a decent 2:1 weight ratio.
All that said, Coop notes that the F9 will be worth it for folks who will take advantage of the fold-away feature.
Great for:
Folks who need a foldable, space-saving cable machine
Anyone who wants a cable machine with a chin-up bar
Home gym owners who want a selectorized weight stack
Not recommended for:
Folks looking for ultra-smooth aluminum cables
Anyone shopping for budget cable machines
People who prefer loading a cable machine with weight plates
Torque F9 Functional Trainer Specs
| | |
| --- | --- |
| Price range | $2,399-$2,699 |
| Footprint | 61.2" L x 69.7" W x 83.8" H |
| Folded footprint | 34.9" L x 44.6" W x 83.8" H |
| Product weight | 610 lbs |
| Dual stack | Yes |
| Weight stack options | Dual 150-lb, 200-lb, or 225-lb stacks |
| Effective resistance | 77.5 lbs, 100 lbs, or 112.5 lbs |
| Cable travel length | 94" |
| Pulley ratio | 2:1 |
| Accessories | T-grip short strap handles, chin-up/push-up assist strap, leg boot, squat harness, and snap hooks |
| Warranty | Lifetime frame, welds, and parts; 1-year upholstery, cables, and grips |
Using the Torque F9 Functional Trainer
The F9 might not stand out as the heaviest functional trainer, or the cheapest, but it does have a unique feature: it folds. "The fold-in feature is the most notable as well as the ability to fit well and seamlessly in a corner," says Coop about the F9.
When open, you'll have full access to your cable machine, and when you're done with your full-body workout, you can close the doors that house the uprights to hide the cable pulleys and weight stacks.
Not only will you get some floor space back, but the optional adjustable bench also has a seamless storage placement inside the folding mechanism (however, not to make your life more complicated, but we did not test the bench, so we cannot attest to whether or not this option is the best weight bench for your home gym).
The doors also feature a wood grain material for a sleek look when you're not chasing a pump in the home gym.
When I asked Coop what type of home gym owner would benefit from investing in the Torque F9, he answered by saying, "someone who plans to put this in a room where they don't want the trainer to be on display at all time," he says, reiterating that the folding mechanism is the standout feature on this machine.
Coop notes that folding the doors both inward and outward is easy because of the casters attached to the bottom of each door.
If you're ready to click "add to cart" on this F9 functional trainer, it's worth noting that you'll have three different weight stacks to choose from. You'll have the choice of dual stacks of 150 pounds, 200 pounds, or 225 pounds. The higher weight stack you choose, the price increases, too.
The F9 also boasts a 2:1 weight ratio, meaning that you'll have 75 pounds of effective resistance per 150-pound stack (and more if you choose the heavier stack options). We like seeing this ratio, because some functional trainers have 4:1 ratios, which really limit how much weight you can train with.
If you're not sure which stack to go with, Coop advises, "make sure to purchase the weight you'll want long term because I'm not seeing a way to buy an add-on kit for the weight stacks later on."
We also like the multi-grip pull-up bar position for practicing underhand, overhand, and neutral grip positions. The F9 also comes with a chin-up assist strap, so you'll have everything you need for a pull-up progression.
To use the assisted method, you'll place your pulleys around shin-height and connect the strap to each carabiner, letting the strap hang across the middle of the functional trainer. After selecting the weight of your choice, you will essentially stand on the strap as it provides you a counter weight from the weight stacks.
Footprint and Portability
The F9 offers a triangular footprint that allows you to wedge this into the corner of your garage gym. When the doors are open and ready to use, the footprint will take up about 5 feet in length by nearly 6 feet in width. When folded, it still requires about a 3-foot-square area.
The F9 is one of those machines that will need a designated location because it weighs over 600 pounds—hence the fold-away doors for making it look hidden and gaining back some valuable real estate in your home gym. Coop notes that the doors are super easy to maneuver and have a secure pop-pin locking system.
Durability and Construction
According to Coop, the F9 is a mid-tier machine and is a "well made trainer for the price," he says. "The cables are nice, but I wish pulleys were aluminum for home gym use."
Quick note on pulleys: Coop's preference (after testing tons of functional trainers) is an aluminum pulley over the nylon pulley because it offers superior slide and a smooth pull. In Coop's best functional trainer YouTube video, he goes into detail about nylon pulleys being used on commercial equipment because they require less maintenance.
"Nylon pulleys are cheaper to produce than aluminum, however the reason that commercial options put them within their machines is because they don't tear apart the cable like an aluminum pulley will," says Coop. Although this might not result in the smoothest pulling movement, the nylon pulleys on the F9 will certainly hold up to a lot of use in your home gym.
Speaking of the cable pulley, you'll have 94 inches to cable travel, which will allow you to perform chest flyes, glute kickbacks, overhead tricep exercises, and crossover movements without getting stuck at the end of the cable. The F9 also features two independent adjustable swivel pulleys and 17 positions to choose from on the uprights.
Torque Fitness F9 vs REP Fitness Functional Trainer
REP FT-3000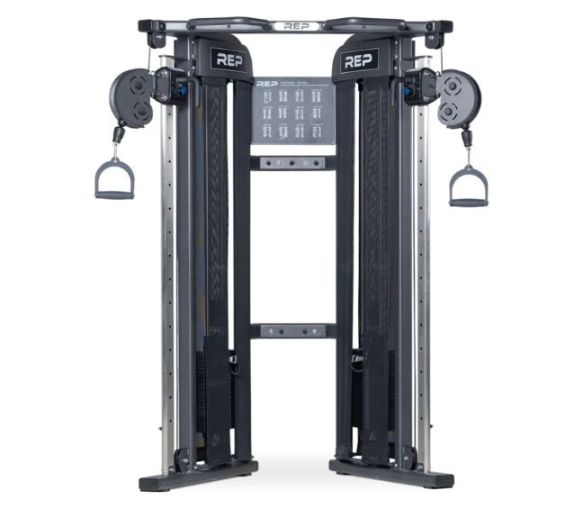 GGR Score: 3.7
Product Highlights
Only 34 inches in depth
Ships partially assembled
Lifetime frame warranty
Sells for $2,150, a relatively low cost for a functional trainer
Pros & Cons
Pros
Great price for a quality functional trainer
Compact and lightweight
Ships partially assembled
Cons
May be too short for taller lifters
No included attachments
Requires a bit of a break-in period
Bottom Line
The REP FT-3000 is a functional trainer that helps you save on space and money, but still delivers on quality.
The REP FT-3000 is GGR's pick for best budget functional trainer. Although it's not cheap at $2,150, it's actually fairly budget-conscious when it comes to cable machines.
The REP FT-3000 is comparable to the Torque F9 because they're around the same price point and have 2:1 weight ratios. However, the Torque offers 13 inches more in cable travel distance and heavier weight stack options. The REP is pretty compact for a functional trainer, but the Torque F9 still has the FT-3000 beat with the unique foldable design.
| | | |
| --- | --- | --- |
| | Torque F9 | REP FT-3000 |
| Price | $2,399-$2,699 | $2,149.99 |
| Footprint | 61.2" L x 69.7" W x 83.8" H | 34" L x 53″ W x 78″ H |
| Foldable | Yes | No |
| Weight stacks | Dual 150-lb, 200-lb, or 225-lb stacks | Dual 180-lb weight stacks |
| Product weight | 610 lbs | 770 lbs |
| Weight ratio | 2:1 | 2:1 |
| Cable travel length | 94" | 81" |
Customer Experience
We understand that when you buy strength training equipment, you're making a long-term investment in your health. We also know that it can be quite the chunk of money to dish out, too. That said, we like to dig into the overall customer experience for each brand we review so you have a better idea about the policies the brand upholds.
Warranty Policy
Torque Fitness offers a lifetime warranty on the F9 functional trainer for the frame, welds, and parts. Upholstery (like the optional flat-incline bench), cables, cable pulleys, grips, or other accessories have a one-year warranty.
Return Policy
If you need to make a return, you'll have a 30-day window from your purchase. If you decide you want to make a return or exchange, it's worth noting that Torque Fitness requires you to return the items in new condition, in the original packaging, and pay for all shipping costs.
Torque also applies a restocking fee to all returned products (with the exception of TANK-related items) that equals the amount of the original shipping cost in addition to 15% of the original price.
You will also be required to have a return authorization number to ensure that your return can be processed and accepted. The website states that the return authorization number must be clearly marked on the outside of the packaging for it to be processed.
To get your unique return authorization, you will need to contact the Torque service department by phone (763)-754-7533 or email sales@torquefitness.com.
Ordering the Torque F9 Functional Trainer
According to the Torque website, items over 120 pounds ship via an LTL freight carrier that will require a scheduled delivery. The exact details of the date, time, and location of delivery will be worked out between you and the carrier.
The website also notes that unless otherwise specified or requested by the customer, LTL freight delivery is a curbside drop-off. If your location cannot accommodate a full-size semi-truck, the brand requests that you alert Torque customer service so separate arrangements can be made with the freight company.
Financing Options
At checkout, Torque offers two different third-party financing options for your gym equipment: Affirm and PayPal Credit. If you go with either of these options, after clicking complete order, you will be redirected to the third-party website where you will complete the secure payment.
Affirm offers 0% APR if you qualify based on your credit history and rates range from 10 to 36% for other buyers. Affirm also lets you choose loan terms between three to 36 months.
PayPal Credit is another option during checkout and serves as a reusable credit line available pretty much anywhere that accepts PayPal. The PayPal Credit website states that for new customers, variable purchase APR is 23.99%, but if you pay off your loan in full within the first six months, you will not have to pay interest. It's worth noting that you will have to make monthly payments for this option.
Military Discount
If you are military personnel (veterans and activity duty) or a first responder (EMT, fire, or police), make sure you take advantage of the 5% off discount offered sitewide by Torque Fitness. You will have to take one extra step of calling or emailing the company so that a customer service member can review your proof of service and apply the discount.
Customer Reviews
The Torque Fitness website has 73 total reviews for the F9 cable machine, but no average rating is shown. I read reviews from both the lowest and highest ratings featured on the website.
That said, the lowest rating on the website was a 3-star review for the F9, and those customers mentioned things like the overall height of the machine, the assembly, and the shipping process. I looked for more reviews on Amazon, but the F9 is currently unavailable on the third-party retailer and there are no reviews displayed either.



Final Verdict of Our Torque F9 Functional Trainer Review
The Torque F9 Functional Trainer is a versatile cable machine with folding doors that allow you more floor space than a traditional functional trainer plus the ability to hide a bulky piece of gym equipment. It's also a solidly built machine with nylon pulleys that will not require a lot of maintenance. To review, here are the highlights we like about the F9:
The 610-pound machine will offer enough stability for any pulling or rotational movement.
The 2:1 pulley ratio gives you about 75 pounds of effective resistance for a 150-pound stack.
You'll have three weight stack options when selecting your machine online.
The F9 comes with several accessories including a pull-up assist strap.
Torque F9 Functional Trainer Rating
Torque F9 Functional Trainer
Will this fold-away cable machine be compact enough to suit your home gym needs? Find out in this F9 Functional Trainer review.
Product Currency: $
Product In-Stock: InStock
Torque F9 Functional Trainer FAQs
Which functional trainer is best?
Our expert product testers have tested a few dozen functional trainers in search of the best one. Although your home gym is unique and so are your needs, we compiled a list of the best functional trainers we've tested. Making it to the top of that list is the REP Fitness FT-5000, followed closely by Bells of Steel Functional Trainer and INspire Fitness FT2.
Can you build muscle with a functional trainer?
You can certainly build muscle with a functional trainer. According to a 2012 study1 published in the Journal of Physiology, researchers found that the amount of time a muscle is under tension is an extremely effective way to build muscle size, not just the amount of weight lifted.
That said, a functional trainer can help you train with a muscle-building, hypertrophy-style technique, which is popular in the bodybuilding community.
Is functional training better than weights?
A functional trainer can serve as a suitable all-in-one option for full-body resistance training. You can get stronger and grow muscle just like you can with barbells and dumbbells.
However, whatever type of equipment you decide to bring into your home gym (free weights, cables, cardio equipment, etc.) will depend on your space and how you want to train. The equipment you use and want to train with is truly the best option.
References
Burd NA, Andrews RJ, West DW, et al. Muscle time under tension during resistance exercise stimulates differential muscle protein sub-fractional synthetic responses in men. J Physiol. 2012;590(2):351-362.