We test and review fitness products based on an independent, multi-point methodology. If you use our links to purchase something, we may earn a commission. Read our disclosures.
Ellipticals can be a great addition to your home gym if you're looking for a low-impact workout that doesn't dampen the heart-healthy benefits of aerobic exercise. You'll be able to target multiple muscle groups and benefit from improving your endurance at the same time.
ProForm is currently running a promotion for a free machine—there's a treadmill, exercise bike, elliptical, or rower option—with the purchase of a three-year iFIT family membership. The machine we'll be talking about in this review, the ProForm Carbon E10, is the elliptical option.
With this promo, you can just pay for the iFIT membership, which is basically the value of the machine itself. Both ProForm and NordicTrack are offering similar promotions right now, and we think it's pretty tempting. In this ProForm Carbon E10 review, we'll evaluate what kind of home gym owner will benefit from buying an elliptical this combo deal.
We're Cardio Equipment Pros
When it comes to home gym fitness equipment, our expert product testers know what makes a high-value machine and what doesn't. We're a team of athletes, CrossFit coaches, certified personal trainers, and nutrition coaches. This is not our first rodeo with cardio.
While we haven't officially used or tested this elliptical model, we have, however, had our hands on a plethora of ProForm equipment and recently tested the ProForm Carbon EL, which is the base model in the Carbon series. We've also tested and written elliptical reviews for dozens of other brands, from budget machines to commercial ellipticals.
ProForm Carbon E10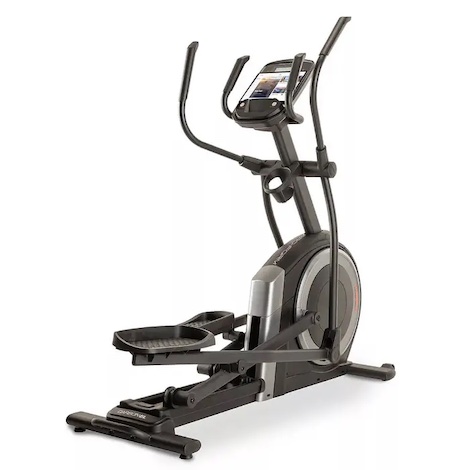 ProForm Carbon E10 Elliptical
The ProFrom Carbon E10 elliptical is the top-tier option in the brand's Carbon series of ellipticals. It's a traditional front-drive elliptical with an adjustable 19-inch stride—which will work well for users of most heights—and a 275-pound weight capacity, which is on the lower side for ellipticals. This machine offers 24 levels of magnetic resistance and a 20-degree power ramp to mix up your workouts, and the 25-pound flywheel should make for a stable and durable ride. There's a 10-inch touchscreen on this machine, on which you can take advantage of live and on-demand classes through iFIT. In fact, this machine is technically "free" if you sign up for a 3-year iFIT family membership. Front-drive ellipticals tend to be large, and this machine is no exception with a footprint of 68.5 inches long by 25 inches wide by 67.75 inches high. There's a 10-year warranty on the frame, two years on parts, and one year on labor, which, for the price of the machine, is a bit disappointing. 
The ProForm Carbon E10 Elliptical at a Glance
The ProForm Carbon series has two models available to purchase on its website: The Carbon EL is a base model and the Carbon E10 is a mid-tier elliptical. The ProForm Carbon E10 has a few standout upgrades that explain the price increase, including a 10-inch built-in screen and a heavier, 25-pound flywheel.
Additionally, with the current promotion, you'll get access to iFIT, an app with a vast library of online programming and on-demand workouts. If you're not interested in interactive programming, this might not be the best elliptical for your home gym. You'll get the most out of this cross trainer if you plan to utilize iFIT.
My Tips
The current 3-year membership promotion with free equipment can be paid for monthly with 0% financing if you qualify.
Get help to assemble, as this machine is pretty heavy and has many different parts.
Determine a permanent spot for this elliptical—it does have transport wheels but it doesn't fold and it's heavy enough to be a nesaunce for regular storage.
Pros:
3 years of iFIT interactive programming
10" HD touchscreen
25-lb flywheel
Cons:
Large footprint
275-lb user weight capacity
No EKG heart rate monitoring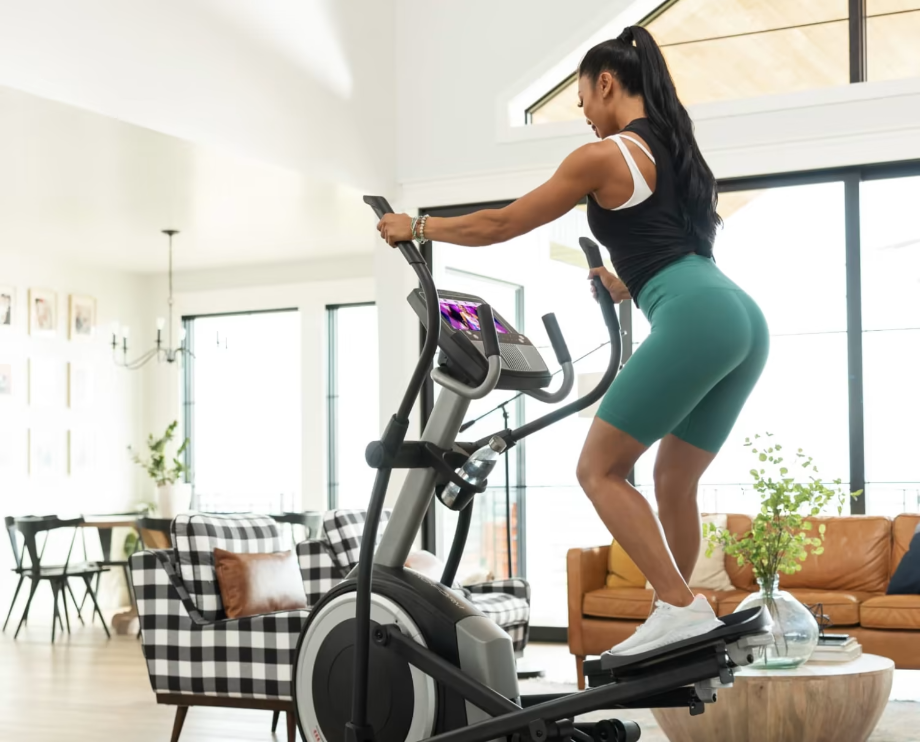 Is the ProForm Carbon E10 Worth It?
There are some quality features on the ProForm Carbon E10 that could certainly add value to your home gym and fitness routine. At the top of that list is the three-year iFIT family membership included with the elliptical purchase. iFIT offers an extensive online library of trainer-led studio classes, outdoor workouts, strength training sessions, and even yoga.
To purchase the membership and the elliptical trainer separately, it would be nearly $3,000. The iFIT membership is a family plan, allowing you to have up to five unique accounts registered. If you're not planning to share the membership with your family, there could be less expensive options for you.
We also like the 10-inch touchscreen and find it's easier to use than smaller touchscreens, like the 7-inch one found on the NordicTrack Commercial 9.9. We've tested larger screens, but 10 inches makes all the text legible and it's easy to navigate while you're actually bobbing up and down on the machine.
Great for:
People interested in interactive programming for the whole family
Anyone who wants to finance a quality piece of cardio equipment
People who need a low-impact cardio workout option
Not recommended for:
Anyone shopping for a budget elliptical
People who don't want or need interactive programming
People weighing over 275 lbs
ProForm Carbon E10 Specs
| | |
| --- | --- |
| Price | $1,403 |
| Footprint | 68.5" L x 25" W x 67.75" |
| Weight | 225 lbs (not confirmed by ProForm website) |
| Weight capacity | 275 lbs |
| Stride length | 19" adjustable stride |
| Display | 10" HD touchscreen |
| Flywheel | 25 lbs |
| Resistance | Magnetic |
| Resistance levels | 24 |
| Warranty | 10-year frame; 2-year parts; 1-year labor |
Customer Reviews
ProForm doesn't disclose individual customer reviews, so we often use websites like Amazon and Best Buy to get a feel for what real customers are saying. There were not many reviews on Best Buy, but overall the Carbon E10 has a 3.4-out-of-5 star rating. Most qualms were with receiving the packaging and putting the machine together.
What to Expect on the ProForm Carbon E10
Based on our experience with the ProForm Carbon EL, we can assume that we're going to find the same peace and quiet that we got from the magnetic flywheel on that machine. The silent magnetic resistance offers a quiet workout experience even when changing the digital resistance levels. A nice benefit to working out on an elliptical is that the machine allows you to change the levels of resistance, but always allows you to control the speed you pedal. You determine how hard you work.
The ProForm Carbon E10 has a heavy, 25-pound flywheel, which is well above our expectations for a home elliptical. A heavier flywheel reduces shaking and gives you a locked-down feel while pedaling. Both models in the Carbon series feature an inertia-enhanced flywheel, meaning the flywheel is weighted and balanced to optimize continuous spinning without any jostling.
We also like the fact you'll have two handles to choose from when working out. One set is stationary, and the other moves in sync with the foot pedals. We find the stationary handles are important for getting on and off the machine safely.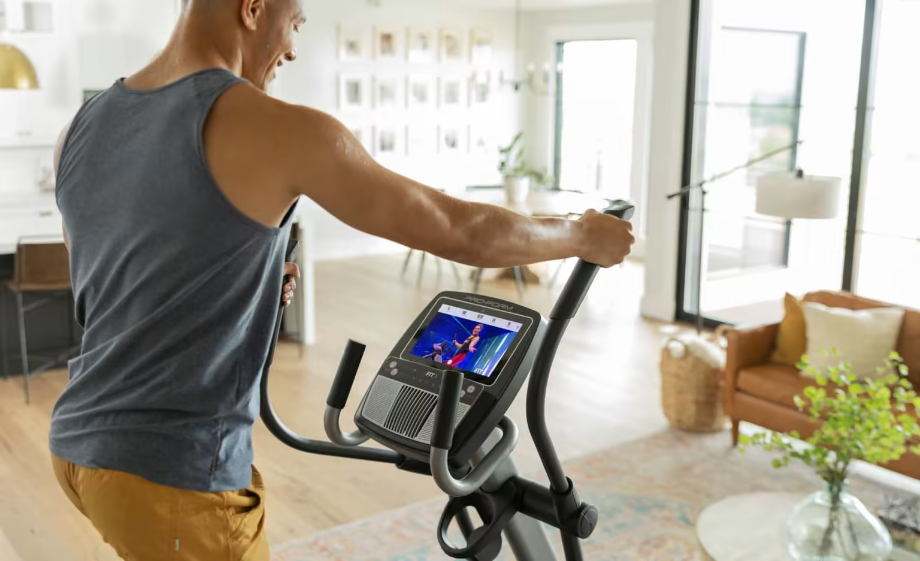 As far as additional safety features, it's worth mentioning that the ProForm website doesn't mention any locking mechanism or safety key. Plus, our product testers who combed over the Carbon E10 did not find any locking mechanism on that model either. We think this is an important thing to note if this machine will be in a shared space with kids or older adults.
Even without testing this machine ourselves, we know the 10-inch HD touchscreen will give you a workout experience you'll enjoy while using the iFIT app. We've tried smaller and larger touchscreens, and we're here to tell you that 10-inches is a happy medium. Graphics will come through clearly as well as your ability to use your fingers to navigate the screen while you're working out.
Footprint and Portability
The ProForm Carbon measures 68 inches long, 25 inches wide, and nearly 68 inches tall, which is similarly sized to the Carbon EL. It's certainly a large cardio machine, but not surprising for a solidly built front-drive elliptical.
The Carbon E10 has front-mounted transport wheels, making it possible to pick up the back end and move the elliptical around the room. We suggest with the large footprint, you dedicate a space for the machine so you don't have to tilt and wheel this 244-pound giant all over your home. We also appreciate that the ProForm Carbon E10 features oversized leveling feet so you can find the most stable position for your machine.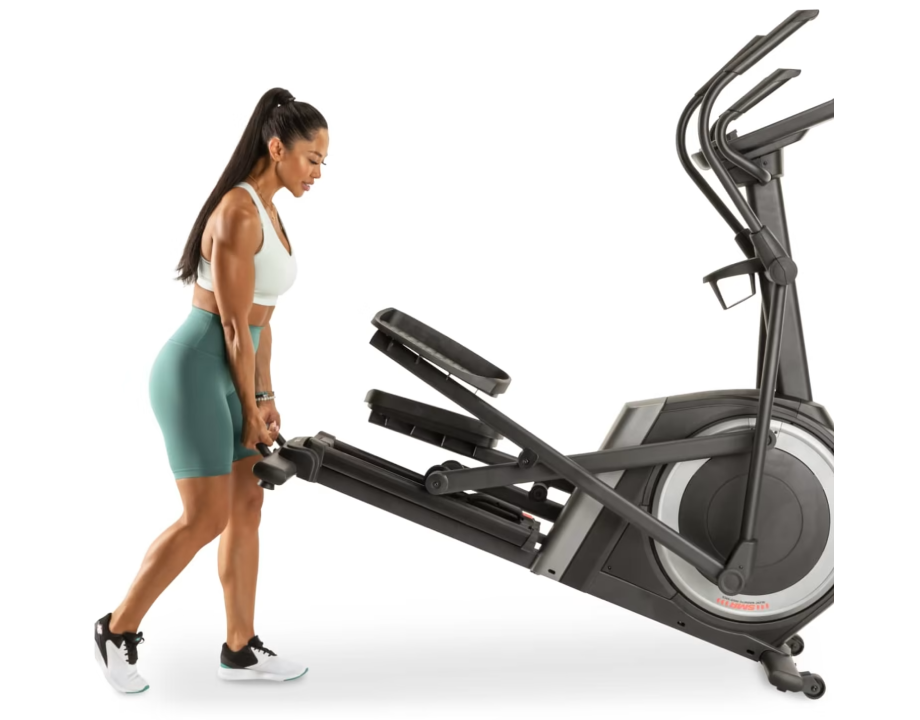 Your Comfort in Mind
The 19-inch stride length will work well for most people, and falls in the range of what we'd expect on a home elliptical machine. However, our recommendation is at least a 20-inch stride length for people 6-feet and taller for a more natural vertical stride.
The elliptical also features a conveniently placed water bottle holder and has oversized cushioned pedals to accommodate a variety of shoe sizes. The cushioning helps further reduce impact on the joints while you pedal in a vertical motion on the cross trainer. You'll also notice the soft touch grips on the handlebars make it easier to hold.
Technology and Conveniences
The current promotion offering you a three-year iFIT family membership will allow you explore all the app has to offer. We may not have had hands-on experience with the ProForm Carbon E10, but we definitely have tried iFIT. The Carbon E10 features a 10-inch smart HD touchscreen, fully integrated with iFIT workouts.
Our product testers like the iFIT app and some of the standout features compared to its main competitor, Peloton. Firstly, the iFIT family membership allows you to create five unique accounts, with all tracking and data stored separately. Secondly, we appreciate that you can log into multiple devices at the same time. That means you could be on the elliptical, doing a HIIT workout, and another family member could be doing a yoga session in the other room, streaming from a smartphone.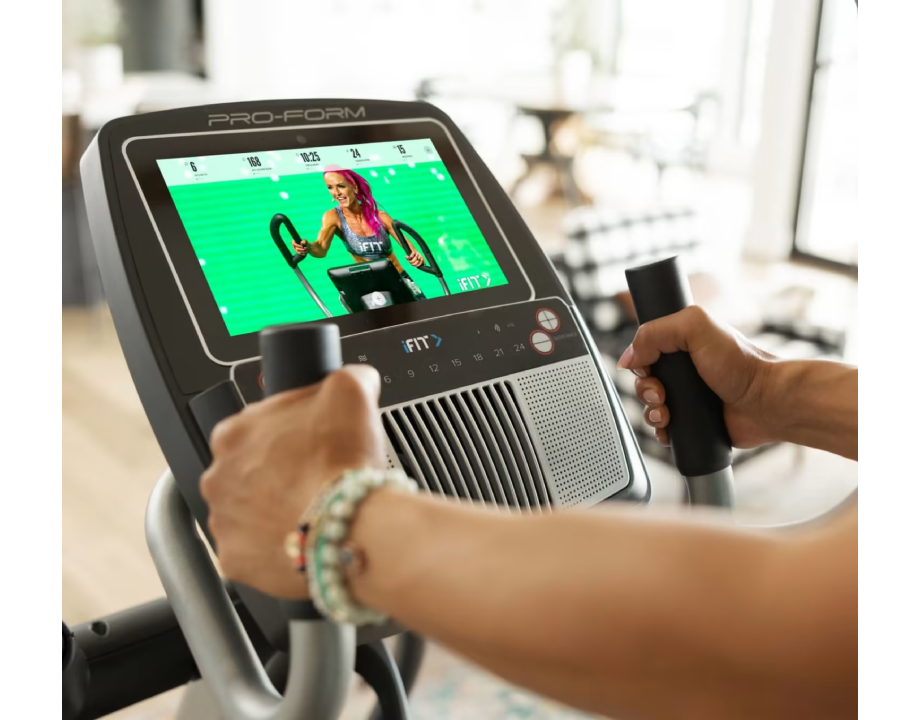 iFIT also has high-quality video production of studio classes and outdoor workouts filmed around the world. You'll get your blood pumping and have beautiful scenery to take in. Google Maps technology also allows you to drop a pin in nearly any location around the world to navigate the street view as if you were really there. This unique feature can make your workouts feel more engaging.
You'll also have the chance to join a trainer-led session where the resistance levels change based on the coaches' cues. You'll be challenged without even lifting your hand off the grips.
We think that the iFIT app has a lot of potential to add value to your workout routine. That said, you will need a strong and stable Wi-Fi connection to get the full experience of the machine. Based on our experience with iFIT, combined with customer reviews from other products like the NordicTrack Commercial 2450, the machine is nearly impossible to use without one.
In addition to iFIT, here are some other features of the ProForm Carbon E10 you might enjoy:
Dual Bluetooth speakers
Bluetooth headphone compatibility
CoolAire workout fan
ProForm Carbon E10 vs Sole E55
The Sole E55 elliptical has some distinct differences compared to the ProForm Carbon E10, but overall has a similar price point and a sturdy build. We've tested the Sole E55 and liked the 375-pound user weight capacity and the 20-pound flywheel. Both of the features make for a solid machine that won't shake. The Sole E55 also has a generous lifetime warranty on the frame.
The one thing we think it's missing is a touchscreen (but perhaps not that important to all home gym owners). However, the Sole E55 is compatible with the Studio fitness app, offering over 3,000 classes. Monthly memberships to Studio are sold separately.
| | | |
| --- | --- | --- |
| Elliptical | ProForm Carbon E10 | Sole E55 |
| Price | $1,403 | $1,499 |
| Footprint | 68.5" L x 25" W x 67.75" | 71" L x 27" W x 71" H |
| Stride length | 19" adjustable | 20" |
| Display | 10" smart HD touchscreen | 9" LCD screen |
| Warranty | 10-year frame; 2-year parts; 1-year labor | Lifetime for frame, 5 years for parts and electronics. 2 years for labor |
| Weight capacity | 275 lbs | 375 lbs |
| Machine weight | 225 lbs | 214 lbs |
| Resistance levels | 24 | 20 |
| Flywheel | 25 lbs | 20 lbs |
| Programming | iFIT | 6 standard, 2 custom, and compatible with Studio fitness app |
| Drive | Front | Front |
| Incline | No | 20 levels |
Sole E55
Sole E55 Elliptical
The Sole E55 elliptical is a sturdy and thoughtfully designed product from a highly reputable manufacturer. Like Sole's other ellipticals, the E55 is equipped with 2-degree inwardly sloped adjustable foot pedals designed to reduce stress on the ankle and knee.Featuring six standard, two custom, and two heart rate programs, users have a lot of variability in training options. Twenty levels of power incline enables a wide range of intensities suited for beginner and experienced cardio junkies alike. In conjunction with all this, the 15-inch pedals have a generous 20-inch stride length and glides both forward and backwards so users can target different muscle groups. The Sole E55 comes equipped with many notable conveniences. Built-in cooling fans, a water bottle holder, Bluetooth speakers, an integrated tablet holder, and USB port keep you cool, hydrated, and entertained. Monitor your fitness metrics on the 9-inch LCD backlit display then download the Sole app for free and transfer the information to FitBit, Record, MapMyRun, or Apple Health. Users find that the Sole app is not very user-friendly but still a nice perk.Weighing over 200 pounds, this compact machine supports a maximum user weight of 375 pounds.The E55 is not easily assembled so you may consider recruiting some friends or hiring a professional.
Customer Experience
For standard purchases on the ProForm website, you'll have 30 days to return your machine, and you'll also be charged shipping and restocking fees. However, with the current promotion of a free cardio machine with the iFIT three-year commitment, the general refund policy does not apply. Although it still seems possible to make a return (and cancel your iFIT membership) within the first 30 days on the ProForm website, it states "after 30 days, you may cancel your iFit membership at any time, but your remaining balance will then be due."
ProForm offers a 10-year frame warranty that falls within industry standards on ellipticals, but the best frame warranties are 15 years or more. ProFrom also offers a two-year warranty on parts and one-year on labor. From our experience and based on customer feedback we've read, ProForm is notorious for slow response times on support questions. The brand does have a live chat function, but it often directs you to call or email the support team.
Getting Your ProForm Carbon E10
One thing we like about the current ProForm promotion is that you have a choice to pay for the full amount up front or make monthly payments directly through ProForm's website with 0% financing at $39 for 36 months.
Although we haven't had our actual product testers assemble this model, we're confident that it's fairly similar to the ProForm Carbon EL, which was difficult to assemble. There were a lot of parts and screws and it took more than one person to put it together.
Final Verdict of The ProForm Carbon E10
In conclusion, this elliptical will be best suited for a family where more than one person will benefit from the iFIT family subscription included in the sale. We're fans of iFIT and even like the app for workouts off the cross trainer.
We also think this machine has a solid build based on what we've tried from the base model in this series. The fan, water bottle holder, and Bluetooth speakers are a nice bonus, too. From our experience with the ProForm brand, we know customer support can be tricky and it's worth knowing you'll have to be patient when purchasing from ProForm.
ProForm Carbon E10 Rating
ProForm Carbon E10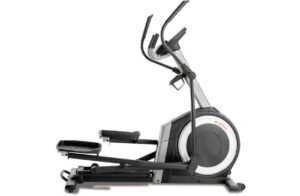 Read our ProForm Carbon E10 review to find out if you will like this solid elliptical machine with iFIT technology and a built-in touchscreen.
Product Brand: ProForm
Product Currency: $
Product Price: 1403.00
Product In-Stock: InStock
ProForm Carbon E10 FAQs
Does ProForm make a good elliptical?
We've tested and reviewed ProForm ellipticals, exercise bikes, rowers, and treadmills. Depending on your fitness goals and your budget, we think a ProForm elliptical can add value to your home gym.
How much does a ProForm cost?
The prices of different ProForm cardio machines and models vary. Some machines are priced well below $1,000 while others are closer to $1,600. Overall, ProForm tends to aim toward the more budget-conscious buyer as opposed to its sister company, NordicTrack.
How do you reset a ProForm elliptical?
Firstly, refer to your user's manual to find out the proper way to reset your ProForm elliptical. If you determine it does need to be reset, you'll need two people. One will use a paper clip to continuously hold the reset button hiding on the edge of the console down, while the other person presses the power switch into the on position. Keep the paperclip pressing on the reset button until the console turns on. 
Can I use my ProForm elliptical without iFIT?
You'll be able to use the elliptical in manual mode, but it is worth mentioning that to access manual mode, you'll need a strong and stable Wi-Fi connection to ensure you can still navigate the tablet.