We test and review fitness products based on an independent, multi-point methodology. If you use our links to purchase something, we may earn a commission. Read our disclosures.
The biggest difference between having a home gym and going to a commercial gym is you can put in the machines that you know are the best fit for you in your personal workout space. If you're someone who wants to improve cardiovascular fitness without the wear and tear that running may have on your joints, then finding a great elliptical trainer is a good idea.
In this Sole E55 Elliptical review, we'll cover the pros, cons, and details that will help you make the most informed decision possible on if this is right for you. I don't own this machine, but I did get to use it several times and am familiar with how it feels and performs. Plus, our team at Garage Gym Reviews has used the Sole E25, which is basically the E55's little sister.
Dozens of Ellipticals Tested
You don't know what you don't know when it comes to cardio equipment such as elliptical machines. That's why GGR is here for you. We got your back, and we want you to spend that hard-earned money wisely on fitness equipment that will provide the return on investment for both your dollars and commitment. Knowing what to look for and what works best will help you make the most informed decision possible.
Our product testers at GGR have spent hundreds of hours researching, testing, and training (that's the fun part) machines from brands such as Sole, NordicTrack, Sunny Health & Fitness, and many more. Let our experience serve you so you can have the best experience possible when you do any of the best elliptical workouts.
A Solid Elliptical Machine
Sole E55 Elliptical
The Sole E55 elliptical is a sturdy and thoughtfully designed product from a highly reputable manufacturer. Like Sole's other ellipticals, the E55 is equipped with 2-degree inwardly sloped adjustable foot pedals designed to reduce stress on the ankle and knee.Featuring six standard, two custom, and two heart rate programs, users have a lot of variability in training options. Twenty levels of power incline enables a wide range of intensities suited for beginner and experienced cardio junkies alike. In conjunction with all this, the 15-inch pedals have a generous 20-inch stride length and glides both forward and backwards so users can target different muscle groups. The Sole E55 comes equipped with many notable conveniences. Built-in cooling fans, a water bottle holder, Bluetooth speakers, an integrated tablet holder, and USB port keep you cool, hydrated, and entertained. Monitor your fitness metrics on the 9-inch LCD backlit display then download the Sole app for free and transfer the information to FitBit, Record, MapMyRun, or Apple Health. Users find that the Sole app is not very user-friendly but still a nice perk.Weighing over 200 pounds, this compact machine supports a maximum user weight of 375 pounds.The E55 is not easily assembled so you may consider recruiting some friends or hiring a professional.
A Quick Look at the E55
Sole Fitness is a brand that is well-known for its cardio machines such as ellipticals, treadmills, bikes, and rowers. As of this writing, the price of the Sole E55 is $1,499, which is middle-ground when it comes to price range for ellipticals.
As is the case with the other ellipticals in the Sole lineup, the E55 is a highly reviewed and rated cardio machine. It averages 4.5 stars on their own site. The pedals, quiet-drive system, and 25-pound flywheel are only the beginning of the features that make this a great asset for your home or garage gym.
My Tips
The cooling fans are strong. If your eyes are sensitive or if you wear contacts, don't have them pointed directly at your face.
The reverse motion is as smooth as the forward motion is. Use both to add variety and challenges to your workout.
If you're looking to add strength or improve lower body performance, don't be afraid to use greater levels of resistance as well as a higher incline. Runners and endurance athletes can adjust the dial to change the pedals to a setting that is comfortable for them.
Pros:
20 different incline levels
LCD white backlit electronic console
Bluetooth speakers and USB connection port so you can listen to media devices without headphones
Adjustable foot pedals
Quiet
Built-in heart rate monitor sensors and chest strap included
Weight capacity of 375 pounds
Multiple hand positions for comfort and performance
Large water bottle holder that can hold most shaker cups
Compatible with Studio for interactive workout programs
Cons:
The $1,500 price tag is still quite an investment for one piece
Large footprint
Studio subscription that offers certain data tracking and services is a separate monthly cost ($20)
Not easy to move
Is the Sole E55 Worth It?
The Sole E55 Elliptical is a great machine, but if you're working with a limited budget, it may not be the best option for you. If you're someone who has the "buy once, cry once" mindset, and you want to make the most out of the space you have available, then look no further. This elliptical will serve you well for many workouts to come.
Great for:
People who want to train hard and have the money to spend
People who need a joint-friendly cardio option with interactive programming options
Athletes who want extra features such as the fan, Bluetooth speakers, and dial adjustment pedals.
Not recommended for:
Sole Fitness E55 Specs
| | |
| --- | --- |
| Footprint | 71" L x 27" W x 71" H |
| Weight | 214 lbs |
| Weight Capacity | 375 lbs |
| Resistance Levels | 20 levels |
| Incline Levels | 20 levels |
| Flywheel | 20 lbs |
| Preset Workouts | 10, also compatible with Studio fitness app |
| Pedal Length | 15" |
| Step-Up Height | 14" |
| Stride Length | 20" |
| Transport Wheels | Yes |
| Bluetooth-Enabled | Yes |
| Built-in Fans | Yes |
| Warranty | Lifetime for frame, 5 years for parts and electronics. 2 years for labor |
| Preset Workouts | 6 standard, 2 custom, and access to over 3,000 classes with Studio membership |
An Expert Opinion on Working Out With the Sole E55 Elliptical
I don't own this machine, but I did get to use one that was in a gym I was at while traveling. I like using the dial adjustment on the pedals because I can set them to a position that makes it more comfortable for me to pedal without discomfort. Adjustable pedals can further take the strain off your joints on an elliptical as you can put the pedals in a position that best supports your gait.
The motion of the E55 is smooth, and it was quiet while I was pedaling in both directions. We found this quiet workout to be true in our Sole E25 review as well. Another thing we like is that there are up to 20 power incline levels on this machine. That means you can increase resistance (up to 20 levels) and increase incline. Doing so targets different muscle groups and increases the intensity of your workout.
I didn't use the heart rate strap, but it's good to know that the machine has one for those who do feel it is beneficial to use. I also didn't use the speakers because it was in a public gym, but the gym owner said they were great speakers. When we tested the Sole E25, our product expert did use the speakers and found the sound to be great.
The handlebars had multiple places I could put my hands, which is nice for variety. Also, having moving handles means you get a good upper body workout.
Related: Check out our Sole E98 review.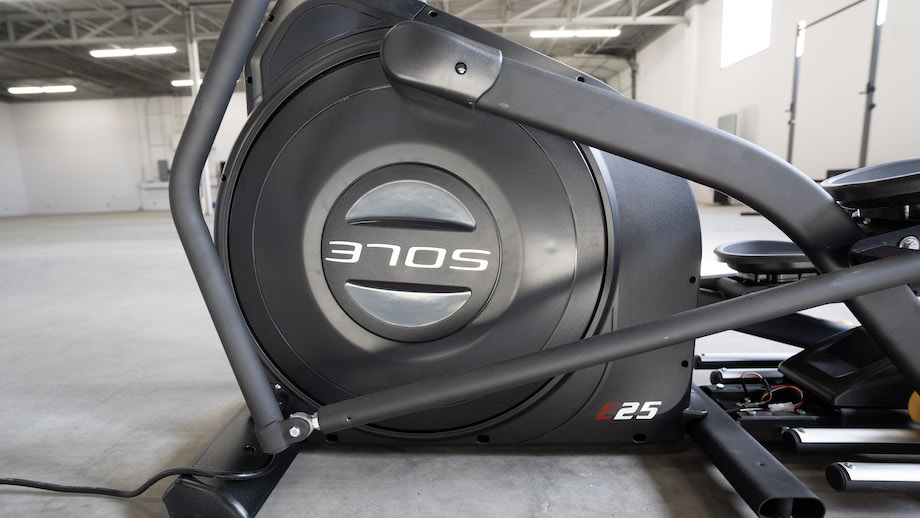 Footprint and Durability
The Sole E55 elliptical trainer is almost 6 feet tall and almost 6 feet long. That's quite a large footprint. However, all that machinery makes for a heavy-duty machine that can provide a great cross-trainer workout for advanced athletes, but it's also comfortable enough for beginners who are new to exercising. The 20-pound flywheel contributes the elliptical's smooth ride.
The user weight limit is 375 pounds, which isn't the heaviest in the Sole Fitness line, but it's still more than many others offer.
Technology
The Bluetooth speakers will enhance your experience while working out, especially if you're watching a video or doing an online workout with your tablet on the holder. If you're doing one of the standard workouts, the LCD display is easy to read and operate. No, there isn't a fancy touchscreen, but you still get all the workout data you need. Plus, it's intuitive and easy, so you can focus on training instead of struggling to make adjustments.
Customer Reviews
It's one thing to read a review from an unbiased guy on the internet, but hearing feedback from customers can be very valuable. Here are what some of the customers reported to Sole Fitness directly.


Many customers on Amazon had similar reviews, but not all of them were positive. There were people that were displeased as well, such as this gentleman.

Brand Policies
Sole Fitness offers a lifetime warranty for the frames as well as a five-year warranty on both the electronics and parts. Labor warranty is good for two years after purchase. They offer customer service by phone and email if you have questions or concerns.
Ordering and Assembling the Sole Fitness E55
The Sole E55 elliptical can be ordered through the Sole Fitness website as well as on Amazon and Dick's Sporting Goods. Ordering through Sole gets you free shipping, while you may have to wait a few weeks if you choose the Amazon option.
Financing options are available as well. As of this writing, Sole's offer is as low as $81 a month, while Dick's offer is for four payments of $375 each. If you order through Amazon, you can pay $125 per month for 12 months.
If you want Sole to put it together, you're looking at an extra charge of $300. You will have to assemble it yourself if you go through the other outlets. I didn't put the elliptical that I used together, but the gym staff said it took them three hours. Our product tester put together the Sole E25, and she reported that it took a few hours, and the instructions were not very clear. She said she doesn't recommend doing this alone unless you have experience assembling equipment.
Final Verdict of Our Sole Fitness E55 Review
All in all, the Sole Fitness E55 elliptical is a durable machine that provides multiple workout options and won't disturb others because it's a very quiet machine.
People who are stretching dollars as far as possible may want to save their money on this one and consider something like the E25 or another budget-friendly choice. However, if you have the space, can afford it and want a quality elliptical that will help you get a great cardio workout in, this would be a great option.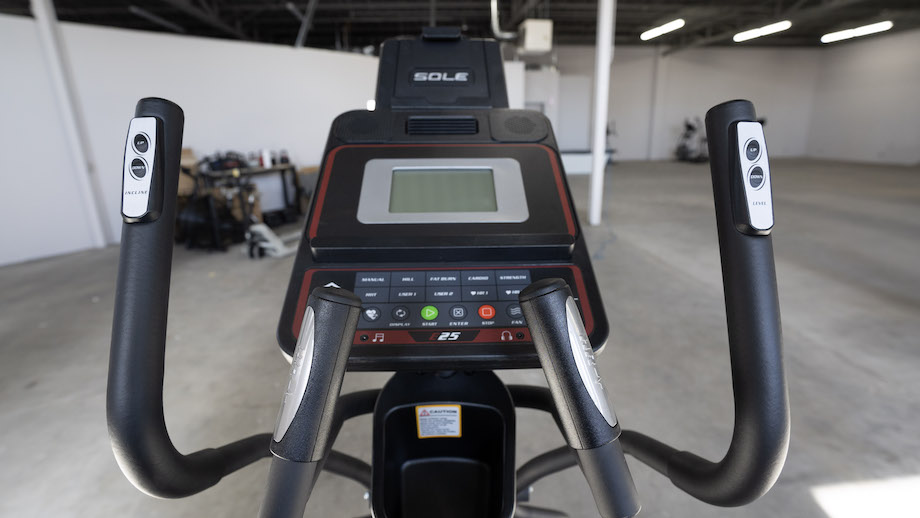 Sole E55 Rating
Sole E55 Elliptical
The Sole E55 Elliptical is a great value machine for those who can afford it. It has a number of preset workouts, is compatible with Studio (Sole's interactive programming platform), and has a number of luxury features like Bluetooth speakers and adjustable pedals.
Product Currency: $
Product Price: 1499.99
Product In-Stock: InStock
Sole Fitness E55 Elliptical FAQs
Does Sole make good ellipticals?
All of Sole's ellipticals have high reviews, and they appear to have many satisfied customers. We have one of their machines on our best ellipticals list, the Sole E25.
How much does the Sole E55 Elliptical weigh?
The E55 weighs 214 pounds, which is close to the E25 (212 pounds) and less than the E95 (236 pounds).
Is a Sole elliptical better than NordicTrack?
Both brands have their loyal customers for a reason. They both make machines that serve their customers well. Sole tends to have a few more budget-friendly options, whereas NordicTrack offers more commercial-grade machines with streaming interactive programming.
Does a Sole elliptical have an adjustable stride?
The maximum stride length is 20 inches. You can stride shorter lengths, but 20 inches should be plenty for most users.